The Best Raincoats To Have When You Travel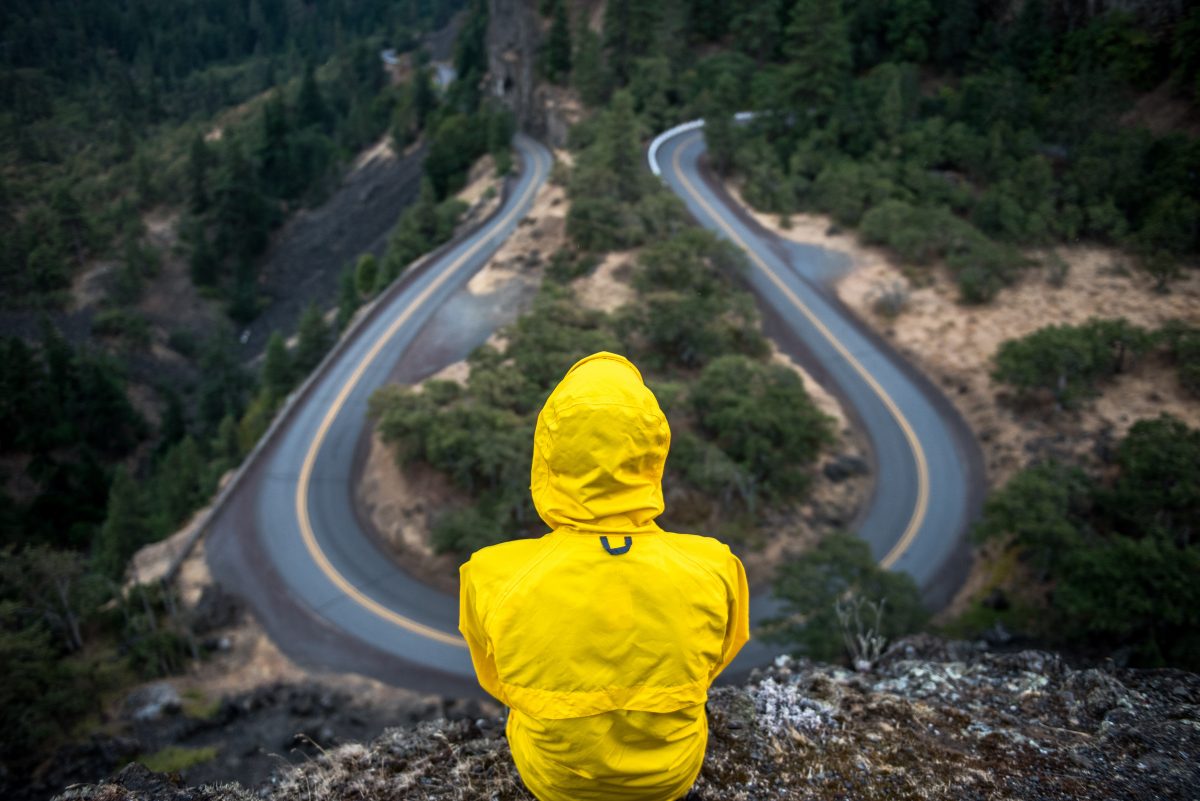 Grandmothers across the world tremble at the thought of their grandchildren being caught in rainstorms. It is their equivalent to Dante's 9th Circle of Hell.
Luckily, they can take a breath of relief, as there are now some awesome raincoats on the market. Jackets that can effortlessly shelter you from wind, rain, hail, and meteors. Well, maybe not meteors, but the point is – rain jackets are far more versatile than their name leads you to believe. They can be used for nearly any reason, at any time of the year.
If you're planning an excellent adventure, then pack that trusty 90s neon rain jacket you found at a garage sale. And if you can't find it, then check out the multiple brands below to find a raincoat that suits your style.
Raincoats For Women
1.
Adidas Linear Windbreaker ($45)
Ask any European soccer player what their favourite sports brand is. Chances are, they will say Adidas.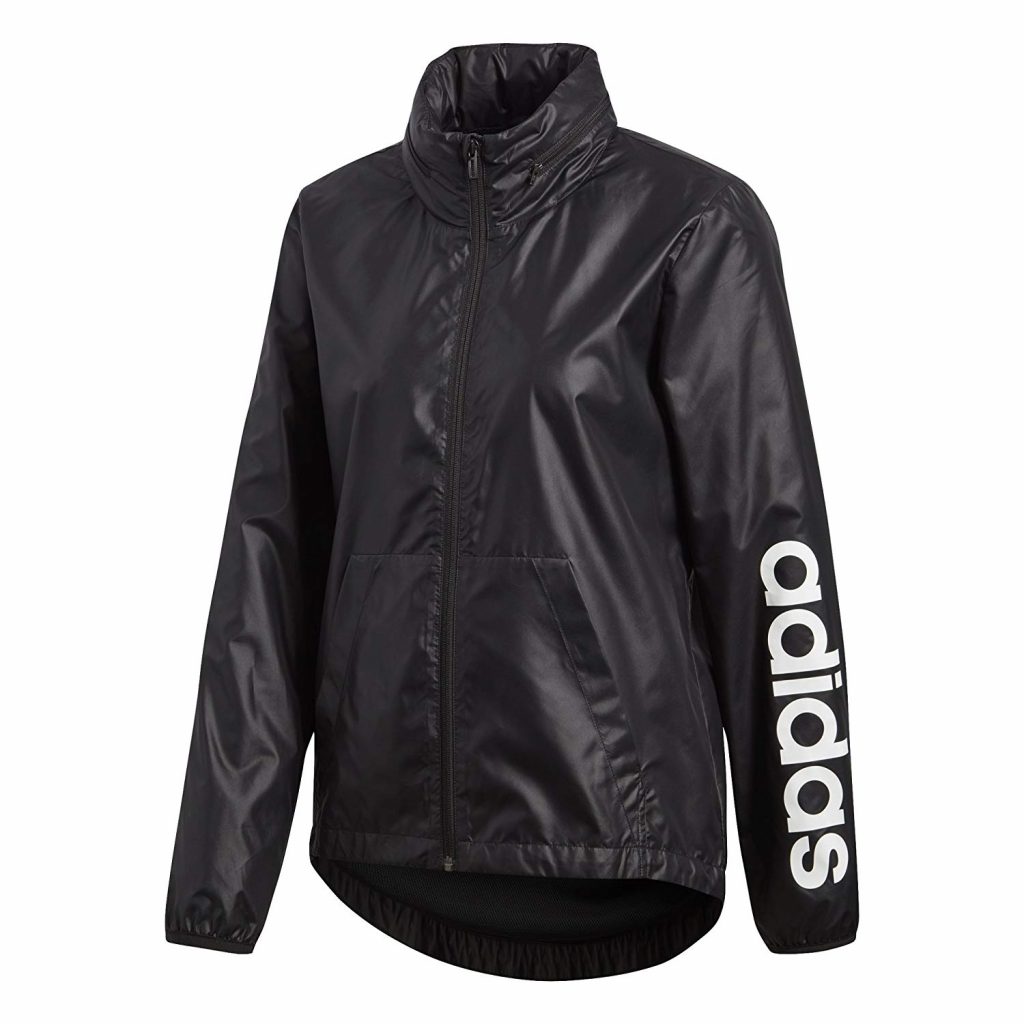 Photo from adidas.com
The ultra-popular manufacturer has been delivering quality products for decades now. And their Linear Windbreaker is just another testament to their greatness.
Taking a Linear Windbreaker out on a stormy summer day is the perfect way to stay comfortable. The lightweight raincoat is comprised of polyester and mesh lining, to not only protect from the elements, but also stay nice and cool. Designed with a packable hood and long tail, the Linear Windbreaker is sure to keep you warm and dry all spring, summer, and autumn.
2.
Columbia Women's Arcadia II Rain Jacket ($45 – $60)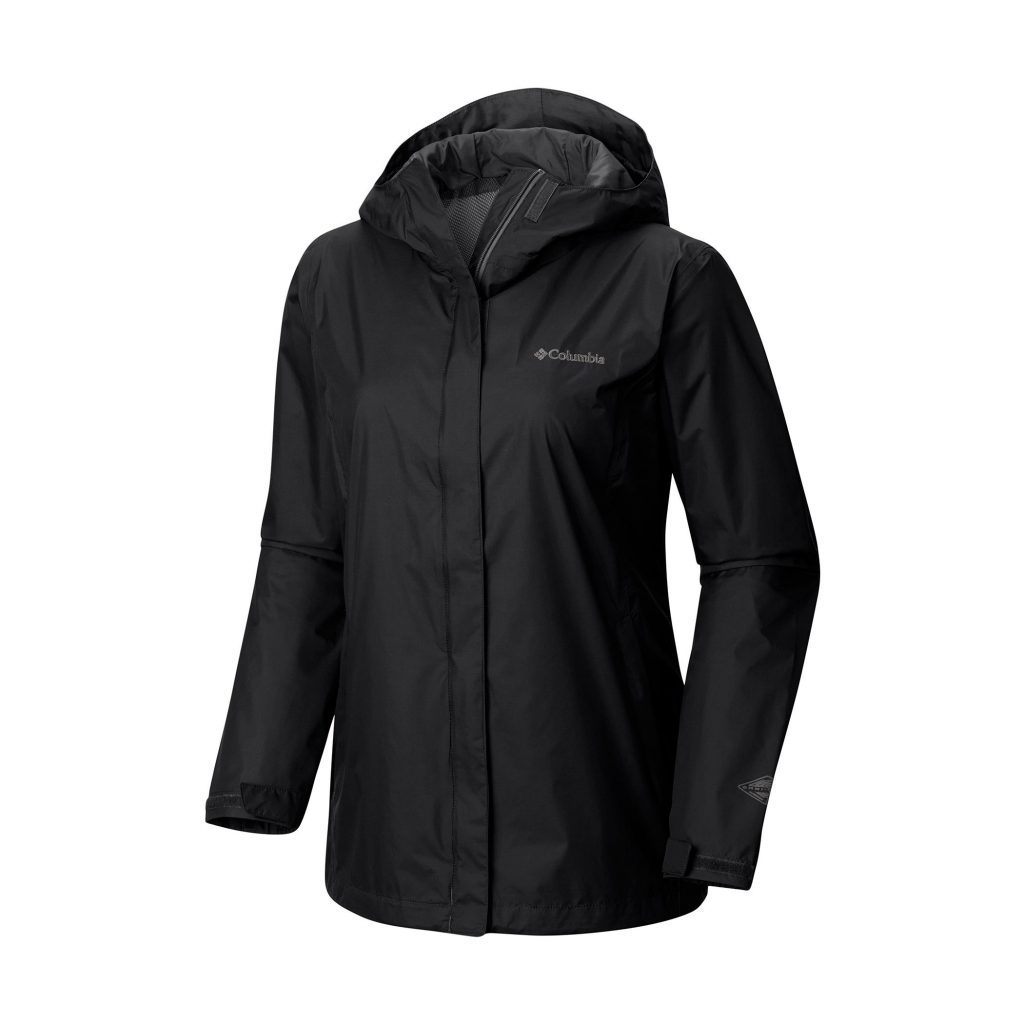 Photo from mastgeneralstore.com
Bring an Arcadia II Rain Jacket with you for all of your spring and summer adventures. Columbia's best-selling rain jacket is manufactured with Omni-Tech, a breathable, stain resistant material meant to keep moisture out.
The top quality product offers all of the needed essentials to fight the elements. It has an attached hood, zippered hand pockets, and drawcord hem to keep the jacket tight against the body. Yet the most impressive aspect is its compact size, as it can be folded into its own side pockets. Those who like to travel light can rejoice at the opportunity to fit the Arcadia II into a day pack or handbag.
3.
The North Face Women's Venture 2 Jacket ($99)
It's hard to deny just how great The North Face is. Nearly all of their products are excellent, with little room for improvement. The same holds true for the Women's Venture 2 Jacket.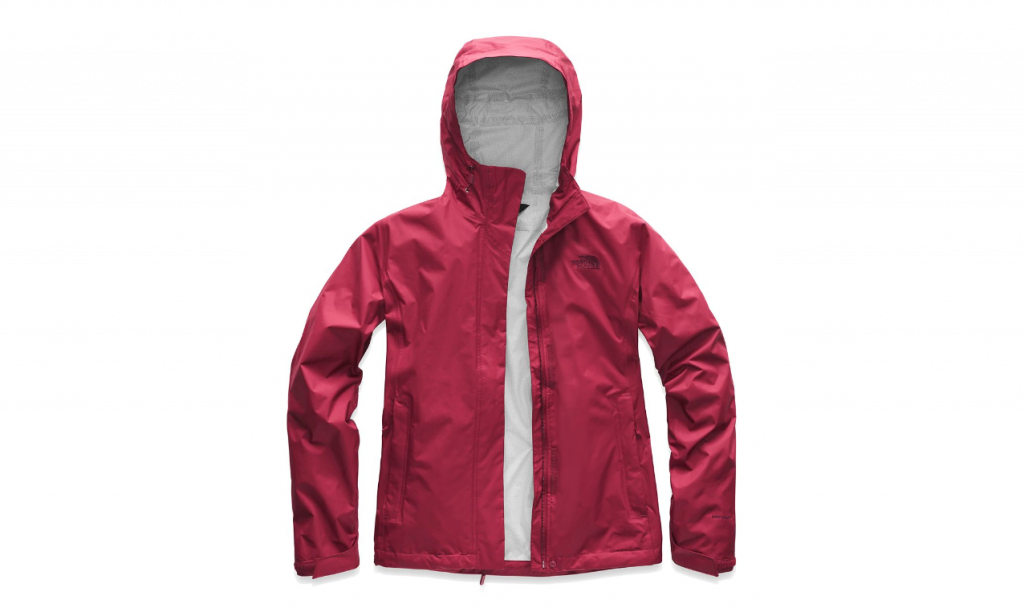 Photo from thenorthface.com
The sleek and stylish raincoat does exactly what it says – protect you from rain. And while the main focus is rain, the garment also does a superb job as a windbreaker. Which makes total sense, as the jacket is designed for hiking and outdoor activities.
Notable specs include pit zips for breathability, an adjustable hood, and hand pocket zips.
4.
Marmot Women's Precip Eco Jacket ($99)
Marmot is an up and coming brand that puts out some seriously good products. Such is the case with their Women's Precip Eco Jacket.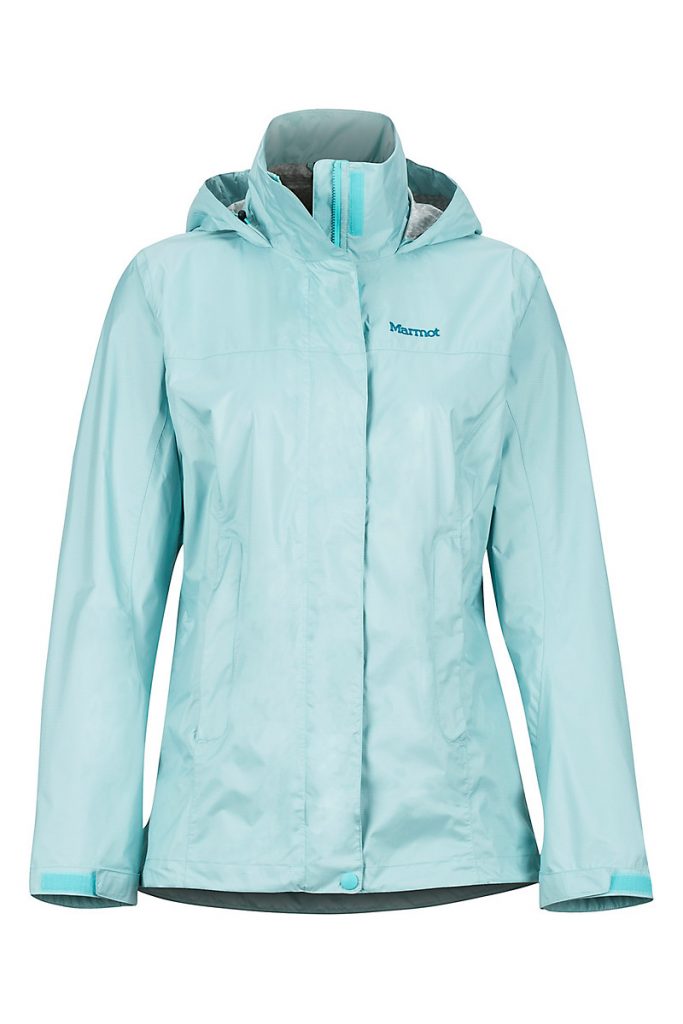 Photo from marmot.com
The Precip Eco Jacket is the ideal travel jacket in so many ways, as it effortlessly combats rain, wind, and chilly weather. Made of NanoPro fabric, the jacket manages to hold its own in the elements, while still being wildly breathable.
Besides the special fabric, the raincoat also has pit zips, Velcro cuffs, a hem cord, and pockets to fold the garment in on itself.
5.
Women's Paradox Waterproof & Breathable Rain Jacket ($35 – $40)
Explore every continent in Paradox's lightweight rain jacket suitable for any season.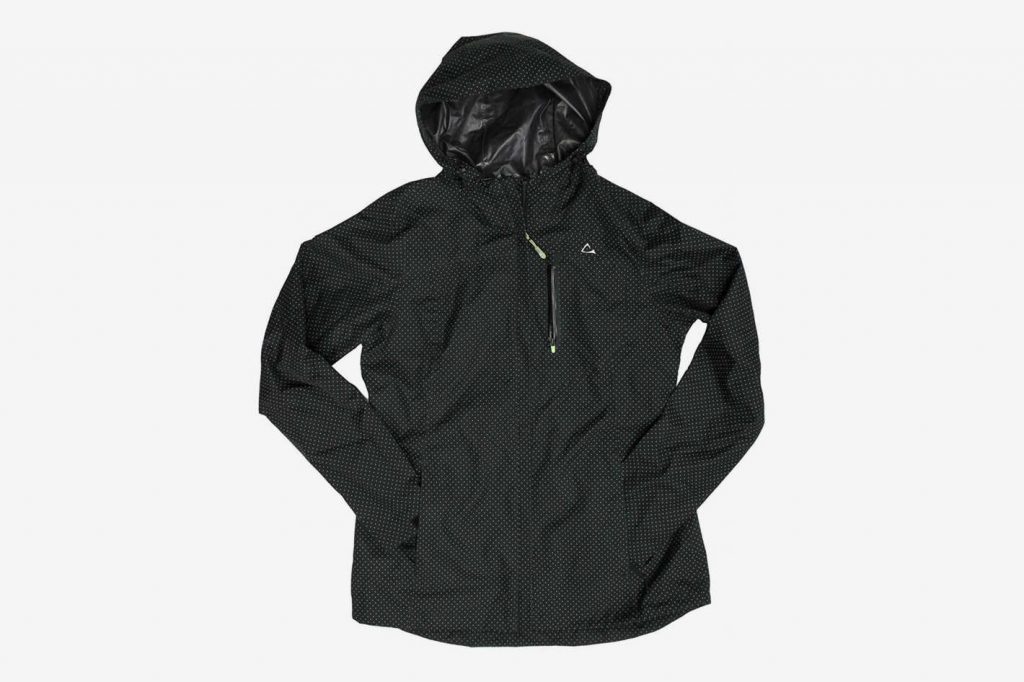 Photo from amazon.com
While Paradox may not receive as much notoriety as the aforementioned brands, it is certainly a fierce contender in the apparel industry. The Paradox Waterproof & Breathable Rain Jacket is made of a 100% polyester shell, with a 100% polyurethane coating. The combination creates a jacket that is not only resistant to the elements, but also lightweight and packable.
Not to mention that a rain jacket is also a great solution for those sunny spring days. And that is where Paradox's jacket really shines. The rain and wind garment provides UPF 50 protection, to protect skin when sunblock isn't an option.
Raincoats for Men
1.
North Face Apex Flex GTX ($229)
Some brands just consistently make great products. The North Face is one of those brands.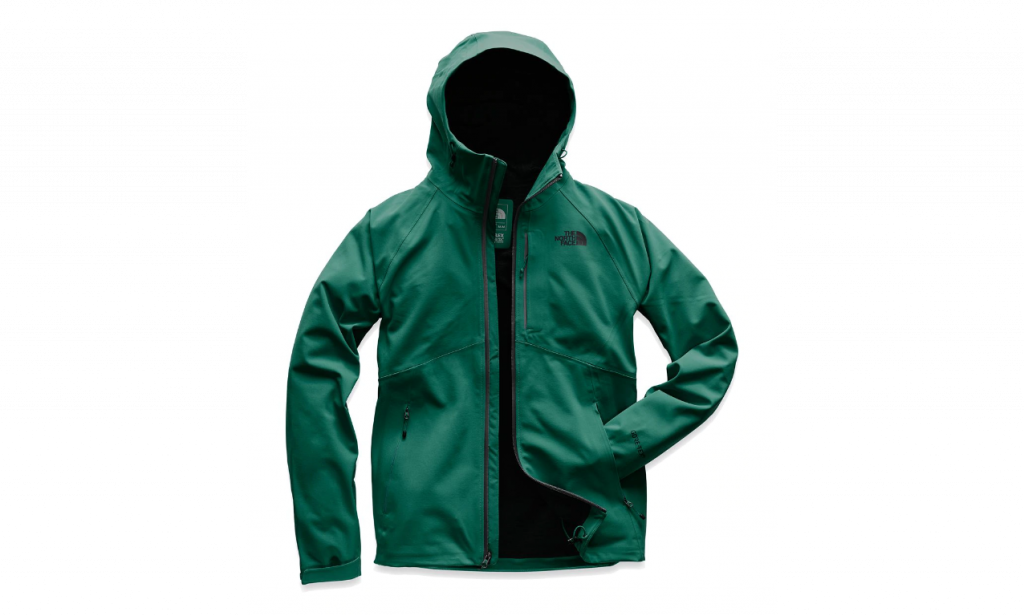 Photo from thenorthface.com
The Apex Flex GTX Jacket is an easy solution for the traveler looking to brave all of the elements. A soft outer shell is combined with GORE-TEX technology, to combat even the nastiest of storms. Whereas the interior is made of an ultra-soft knit to provide comfort year round. And when the weather gets too wild, the adjustable hood, pit zips, and Velcro cuffs come in handy to save the day.
2.
Arc'teryx Zeta SL ($299)
You can't put a price on the value of an ultra-storm worthy rain jacket. At least that is what the folks over at Arc'Teryx believe.

Photo from arcteryx.com
The Arc'Teryx Zeta SL is the premier rain jacket that really does keep water out. It's fashioned with GORE-TEX fabric, and an adjustable halo hood to keep liquids away from the body. Yet the design of the jacket is also top-notch, as it is specifically cut for athletic activities. Though the price may be a bit steep compared to other jackets, it is surely one that won't disappoint.
3.
Patagonia Torrentshell ($129)
Don't let a little bad weather sour your adventures. Just pack a Patagonia Torrentshell and challenge nature head-on.
Photo from patagonia.com
Few jackets offer as quality of protection against the elements as the Patagonia Torrentshell. Designed with 100% recycled nylon face fabric, the product is simply meant for the outdoors. Besides the material, the jacket also has some pretty well thought out designs. Zippered pockets are covered by storm flaps, to ensure that contents never see an ounce of moisture. To top things off, adjustable pit zips are present to dump excess heat at any time.
4.
Columbia Men's Watertight II Jacket ($44-$60)
It's no wonder that Columbia offers some pretty awesome rain jackets, as it is one of the largest apparel providers in the US. Needless to say, they have made some terrific models, such as the Men's Watertight II Jacket.
Photo from mastgeneralstore.com
The Watertight II Jacket covers all of the needed bases. Does it have an adjustable hood? Yes. Does it have a drop tail? Yes. Does it have zippered pockets? Yes.
Of course, it also doesn't hurt that the jacket is made of Omni-Tech; Columbia's patented water-resistant material. All that wrapped into one make for a pretty great travel jacket that comes in a boatload of colours.
5.
Frogg Toggs Pro Action/Advantage Rain Jacket ($40)
What may seem like a silly name, is the name of a truly award-winning brand. Frogg Toggs, which hails from Alabama, is a brand absolutely dedicated to protecting outdoorsman from wet weather.
Photo from froggtoggs.com
In case you aren't convinced, then feel free to snag one of your own Frogg Toggs Pro Action Rain Jackets. A specialised non-woven fabric makes up the entirety of the garment, which is as close to waterproof as possible. All seams are fully taped and sealed to guarantee water won't get into a single crack.
Above all, the jacket also contains molded polymer zippers, an adjustable hood, and zippered pockets to lock moisture out.
Raincoats for Kids
1.
Columbia Kids' Meander Meadow Jacket ($35)
The Boyle family over at Columbia works relentlessly to keep offering great products. And the Columbia Kids' Meander Meadow Jacket is just another slice of that craftsmanship.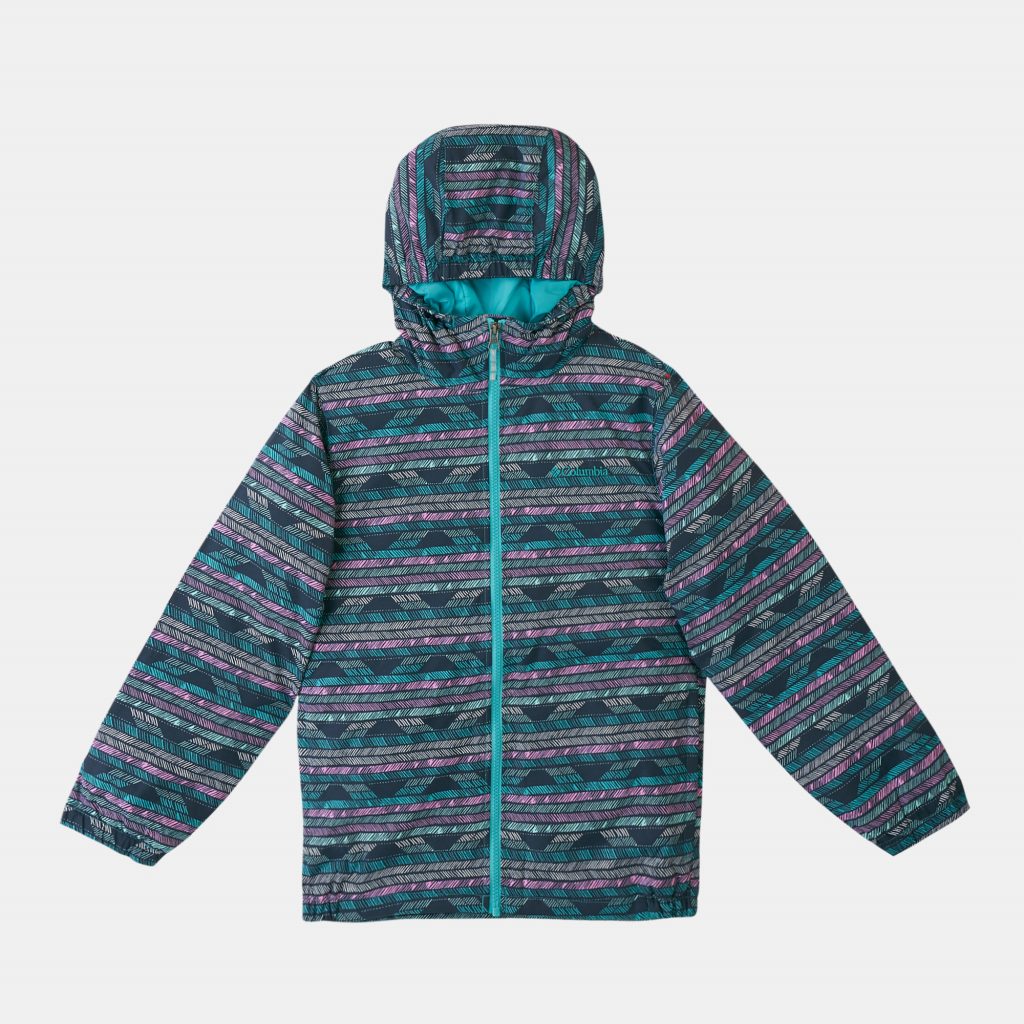 Photo from sssports.com
Waterproof fabric and flashy colours make the garment one awesome piece of work. Complete with a chin guard, elastic cuffs, and reflective details, it's no wonder the jacket is so popular. And of course, it doesn't hurt that there are also zippered pockets and elastic waistbands.
Best of all, boys and girls will certainly adore the colours and styles the jacket comes in.
2.
Lands' End Kids Waterproof Rain Jacket ($24)
While the name may be quite basic, the Lands' End Waterproof Rain Jacket is just what the little ones need on a wet day.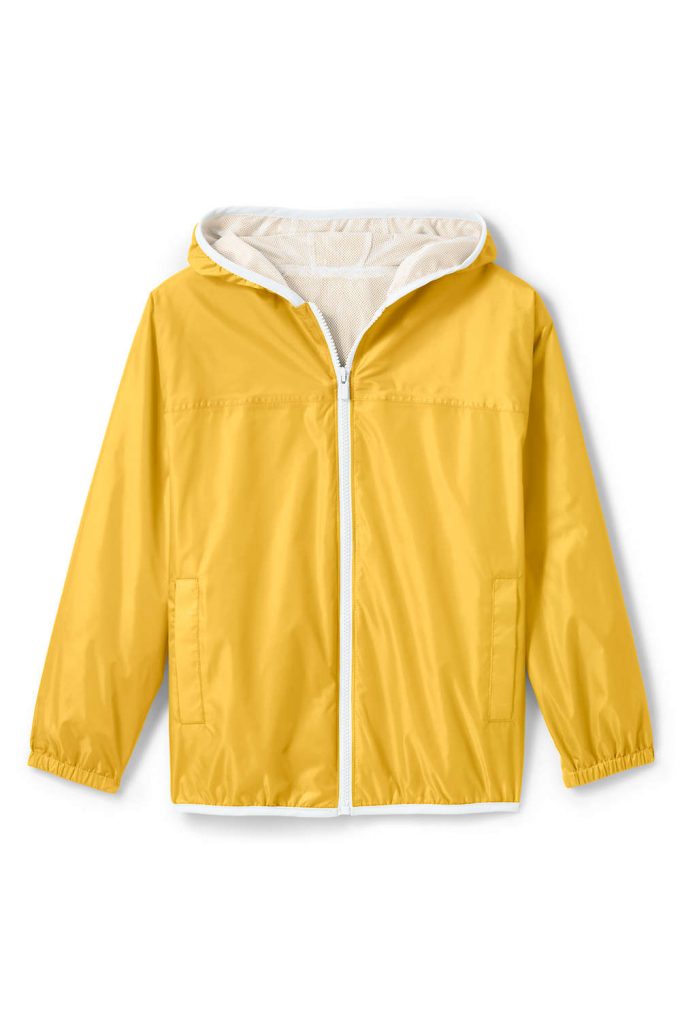 Photo from landsend.com
The waterproof and seam sealed jacket is complete with a 100% polyester shell lining, to keep those pesky raindrops out 24/7.
However, kids love to tear their jackets off when the weather heats up. So Lands' End has prepared for that, by adding a back pocket to stuff the jacket in to. Simply pack the jacket into a compact size, and toss it into a travel bag.
3.
REI Co-op Groundbreaker Rain Jacket ($28)
Traveling around with the kids can be tough. But it can be even tougher when the weather goes mad. Prevent those alligator tears from your young ones with the REI Co-op Groundbreaker Rain Jacket.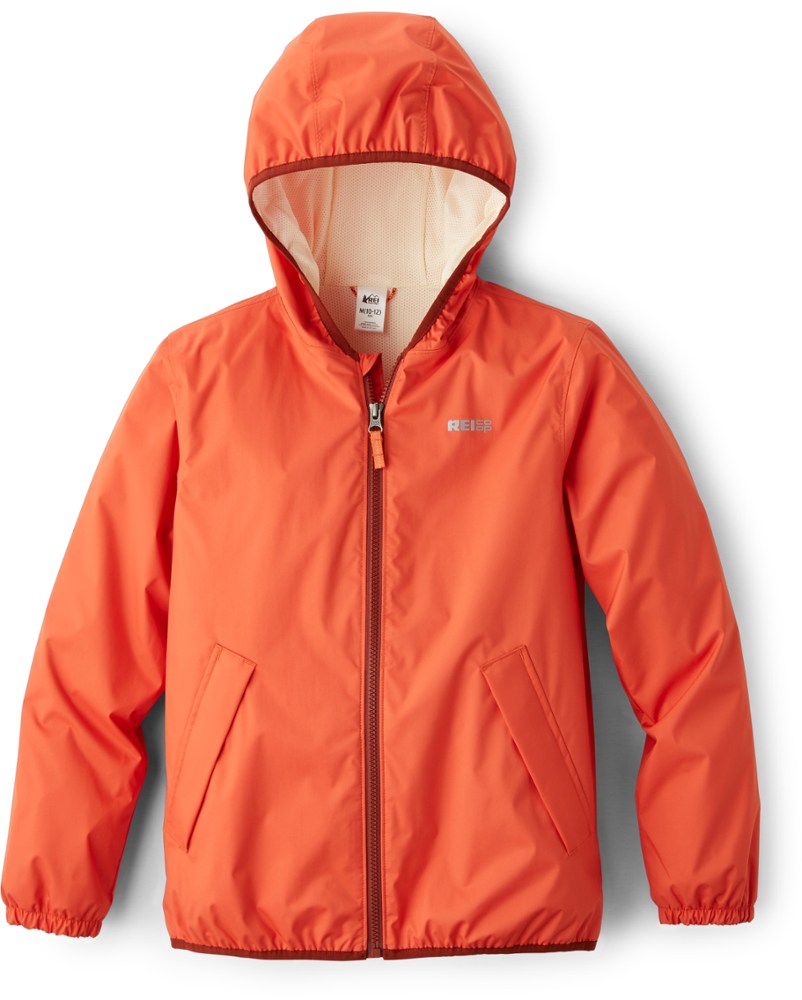 Photo from carolinarunner.com
The Groundbreaker's lightweight polyester shell is meant for rain, wind, and even juice spills. Furthermore, water is prevented from creeping in with seams that are sealed along the shoulders, arms, and hood. Unless the kiddos are taking a swim in a puddle, they will stay nice and dry all year long.
If you're going to be facing the elements head-on you might need these Duck Boots to go along with your raincoats!