A Comprehensive Guide to La Union, Philippines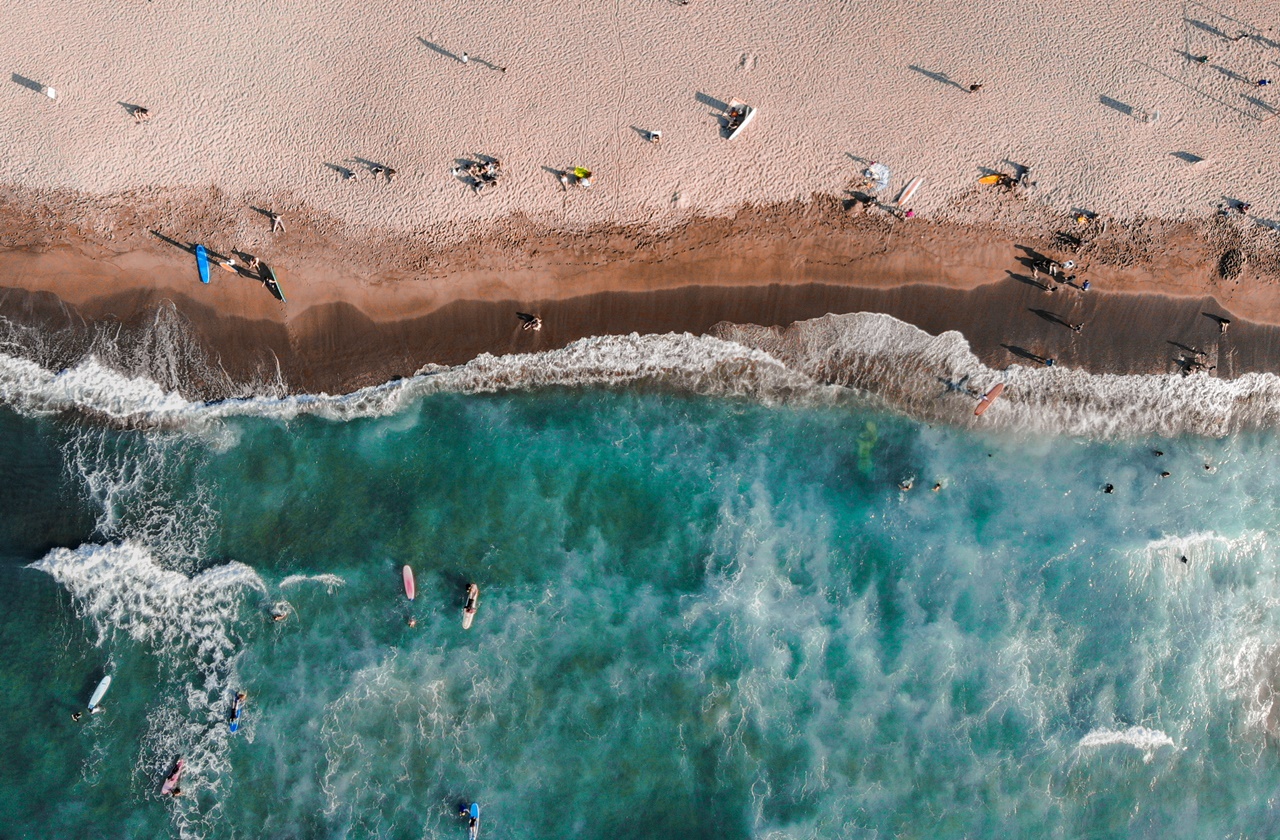 Blessed with warm weather and a stunning coastline, the Philippines has some of the world's best beaches and islands. The country is also a favorite among surfing enthusiasts thanks to its clean and world-class waves. And while most surfers and beach bums head to the island of Siargao to catch the best waves, there's also a hidden surfing hotspot near the metro: La Union. Also called the Surfing Capital of the North, La Union Philippines is a great destination for those who want to surf, but are short on cash to splurge on a ticket to Siargao. It is also within a few hours away from Manila, making it a perfect weekend getaway.
If you find yourself in the capital and itching for a quick vacation, look no further and plan a trip to La Union Philippines! This guide also includes a list of things to do, the best hotels, and must-try restaurants.
Where Is La Union Philippines?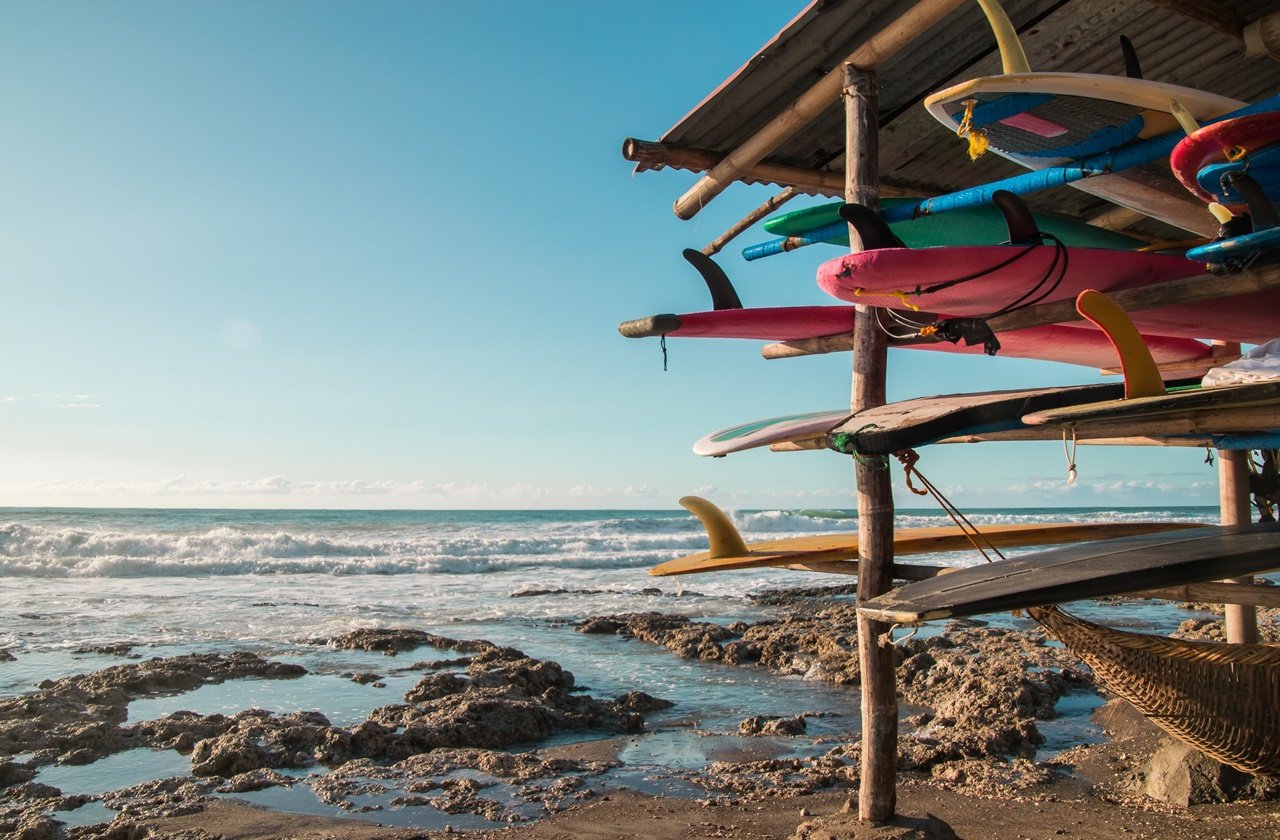 Photo by Vernon Raineil Cenzon on Unsplash
La Union is a province in the Ilocos Region of the Philippines. Its capital city is San Fernando and also serves as the center of the Ilocos Region. Additionally, La Union is bordered by the provinces of Ilocos Sur on its north, Benguet on its east, West Philippines Sea on its west, and Pangasinan on its south.
How to Get to La Union from Manila
From Manila, you can catch a bus going to La Union. The Partas Bus is the most popular bus company among locals and tourists and has two stations around Manila. One-way tickets to the province start at 10 USD and travel time is around 6 to 7 hours depending on the traffic situation. Travel time also depends on where your departure point is.
Since bus trips to La Union Philippines take a considerable amount of time, these trips leave on schedule and you will need to book online. You may also book a ticket on the spot, but there is no guarantee when you get to leave since most slots are on a reservation basis.
You can also get to La Union by car, however, the expenses are higher since you'll also pay for gas and multiple toll fees.
When Is the Best Time to Visit La Union Philippines?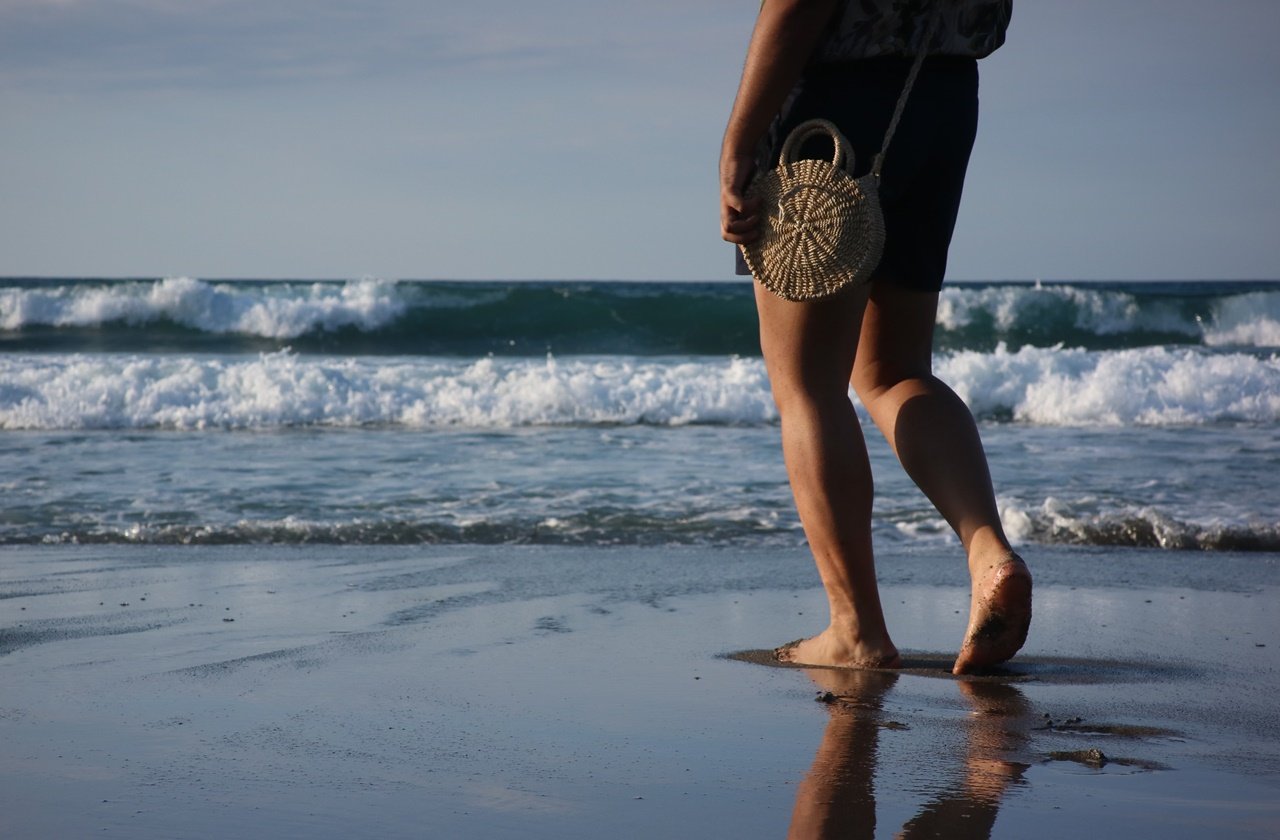 Photo by Kurt Liwanag on Unsplash
Knowing the best time to visit almost any province in the Philippines is easy since the country only has two seasons. The wet season runs from May to October while the dry season is from November to April.
If you want to catch waves at La Union, the ideal time to visit is from October to March. However, this also falls between the country's wet season. December to March is the best time to visit for good surfing conditions without the rainy and unpredictable weather.
On the other hand, if you just want to lounge by the beach or go sightseeing, plan your visit sometime between March to May. The waves aren't as strong and although the crowds can be thick, this shouldn't be an issue if you're up for socializing and mingling with fellow travelers and even locals.
Where to Stay
Vessel Hostel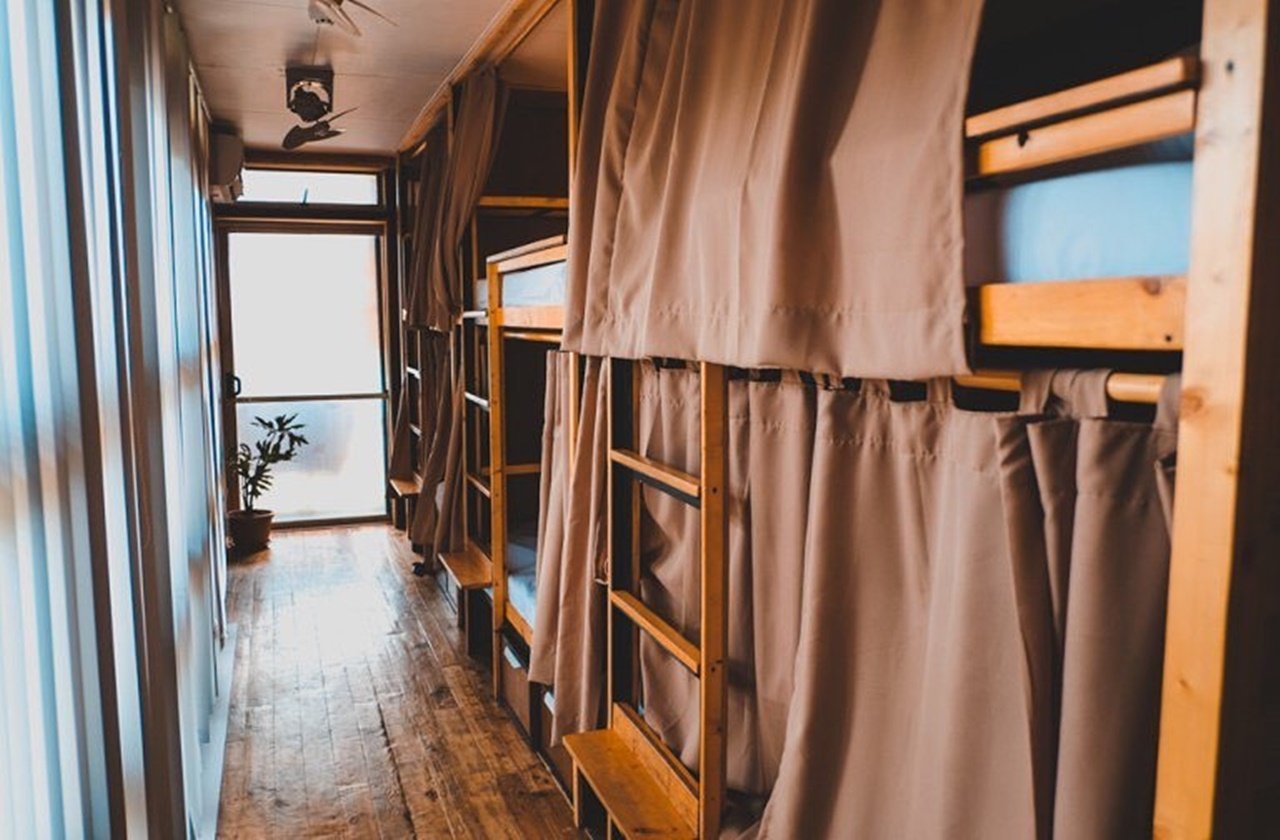 Photo from Vessel Hostel Facebook Page
Address: Urbiztondo, MacArthur Highway, San Juan, 2514 La Union
Price: Starts at 25 USD per night
Vessel Hostel is a dorm-type accommodation made from repurposed shipping containers. Located along the main highway, it is only a few minutes away from the beach and is a few steps away from some of the best restaurants in La Union Philippines. While it offers dorm-type rooms, the beds are cozy and curtains are provided for privacy. Additionally, you don't have to worry about the noise since the hostel itself is relatively secluded and accessible via a small street. At the roof deck, enjoy gorgeous views of the beach as you eat breakfast, usually bread, boiled eggs, bananas, coffee, and tea. If you're looking for straightforward yet comfortable accommodation, Vessel Hostel is the place to choose.
Flotsam and Jetsam Hostel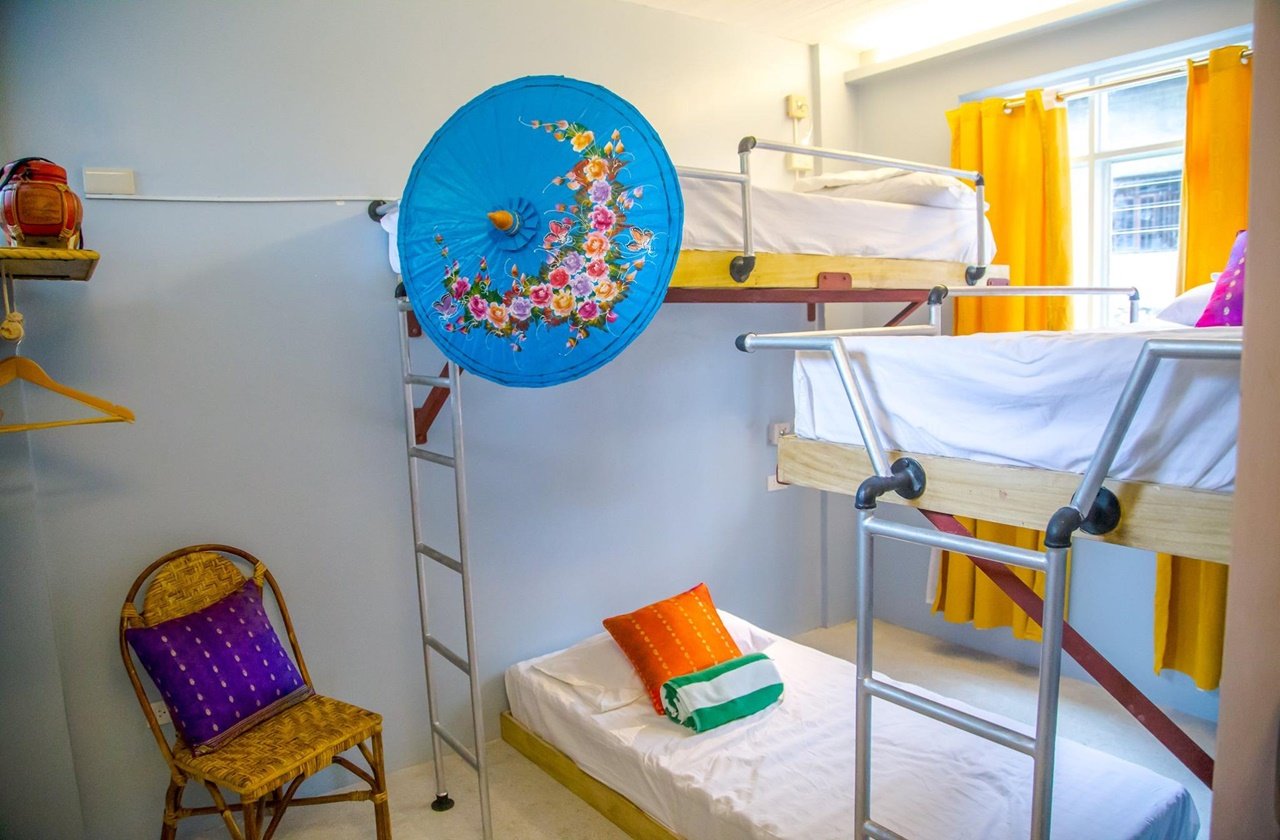 Photo from Flotsam and Jetsam Hostel Facebook Page
Address: 12500 MacArthur Highway, Urbiztondo, San Juan, 2514 La Union
Price: Starts at 36 USD per night
Flotsam and Jetsam Hostel is a social hostel perfect for travelers who want to eat, drink, and be merry. It has colorful lanterns, Japanese umbrellas, and all things hipster decorated all over the hostel. Unlike most hostels with almost little to no common areas, Flotsam and Jetsam is one huge socialization hub. You can find plenty of lounge areas complete with hammocks, pillows, and mats for guests to interact with each other. At night, the hostel transforms into one huge party hub where guests, and even those staying at other hotels, come to party the night away. Complete with access to the beach and an on-site restaurant and bar, Flotsam and Jetsam is your one-stop-shop at La Union Philippines.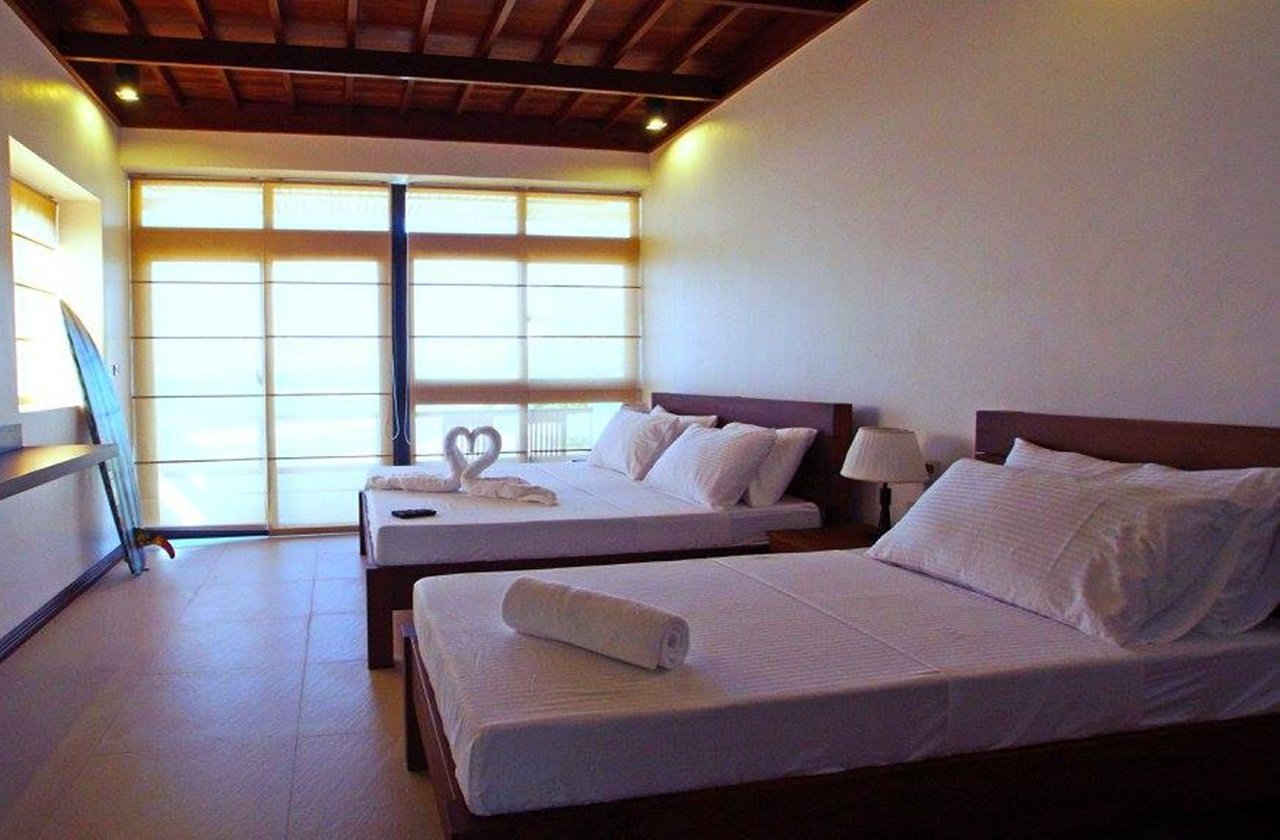 Photo from San Juan Surf Resort Facebook Page
Address: 238 Urbiztondo, MacArthur Highway, San Juan, 2514 La Union
Price: Starts at 61 USD
For families or groups of friends, San Juan Surf Resort is a popular choice. It has 43 spacious rooms that can fit up to 8 persons. Conveniently located a few steps from the beach, the hotel makes it easier for guests to go surfing or take a dip. The on-site restaurant, Coast Call, offers a variety of local as well as international dishes for breakfast, lunch, and dinner. If you have kids or friends who are interested in surfing, the hotel offers surfing lessons at San Juan Surf School, arguably the country's best surf school. Rates start at 10 USD per hour and the school also offers kayak and paddleboard rentals for those who prefer a more relaxing water activity.
Kahuna Beach Resort and Spa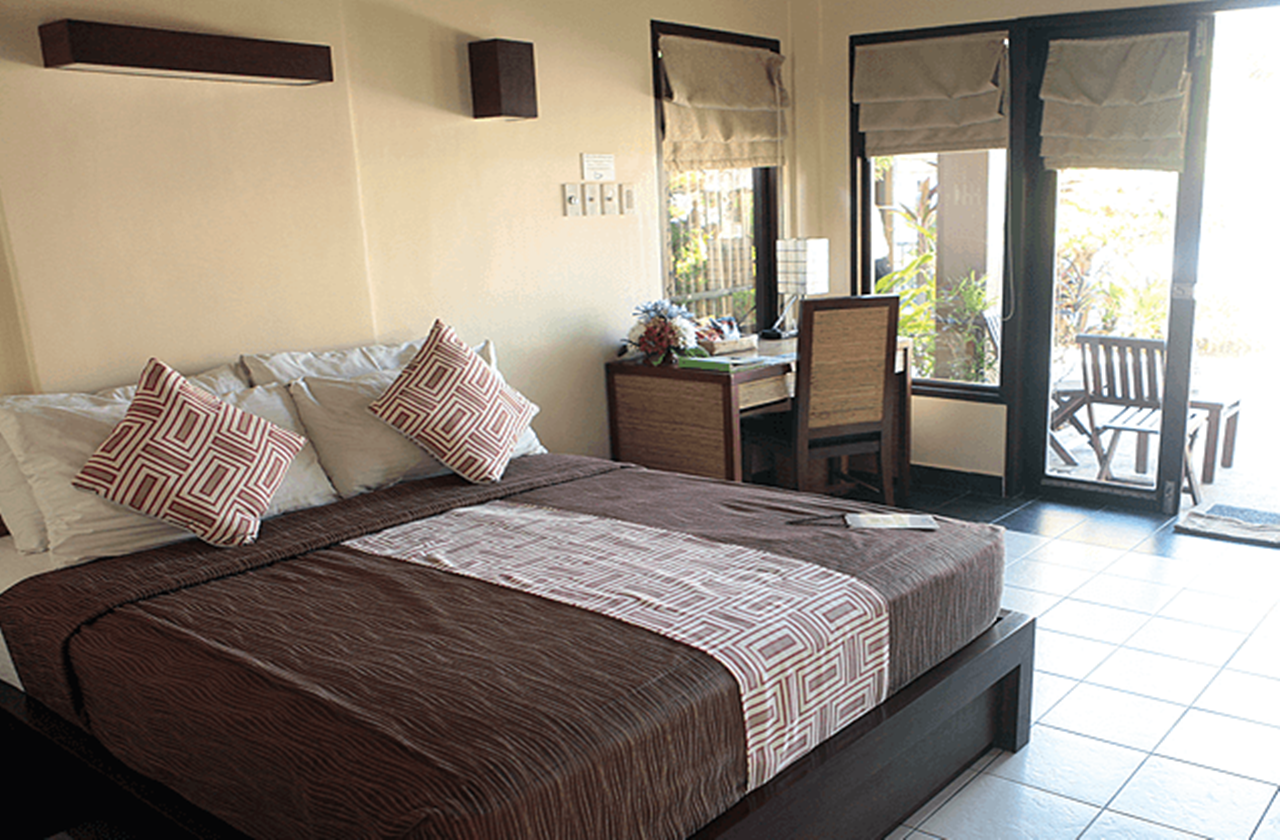 Photo from Kahuna Beach Resort and Spa Facebook Page
Address: National Highway, Urbiztondo, San Juan, 2514 La Union
Price: Starts at 133 USD per night
Enjoy a relaxing and romantic getaway at Kahuna Beach Resort and Spa. The resort offers 40 Balinese-Filipino-style rooms with garden or seaside views. Aside from world-class facilities, the resort offers three swimming pools, a restaurant that serves Asian and international cuisine, and a bar. The staff can also arrange day tours, surfing lessons, diving excursions, and mountain biking tours. After a day of adventure, indulge and pamper yourself with a full-body massage at the in-house spa.
Thunderbird Resorts and Casinos Poro Point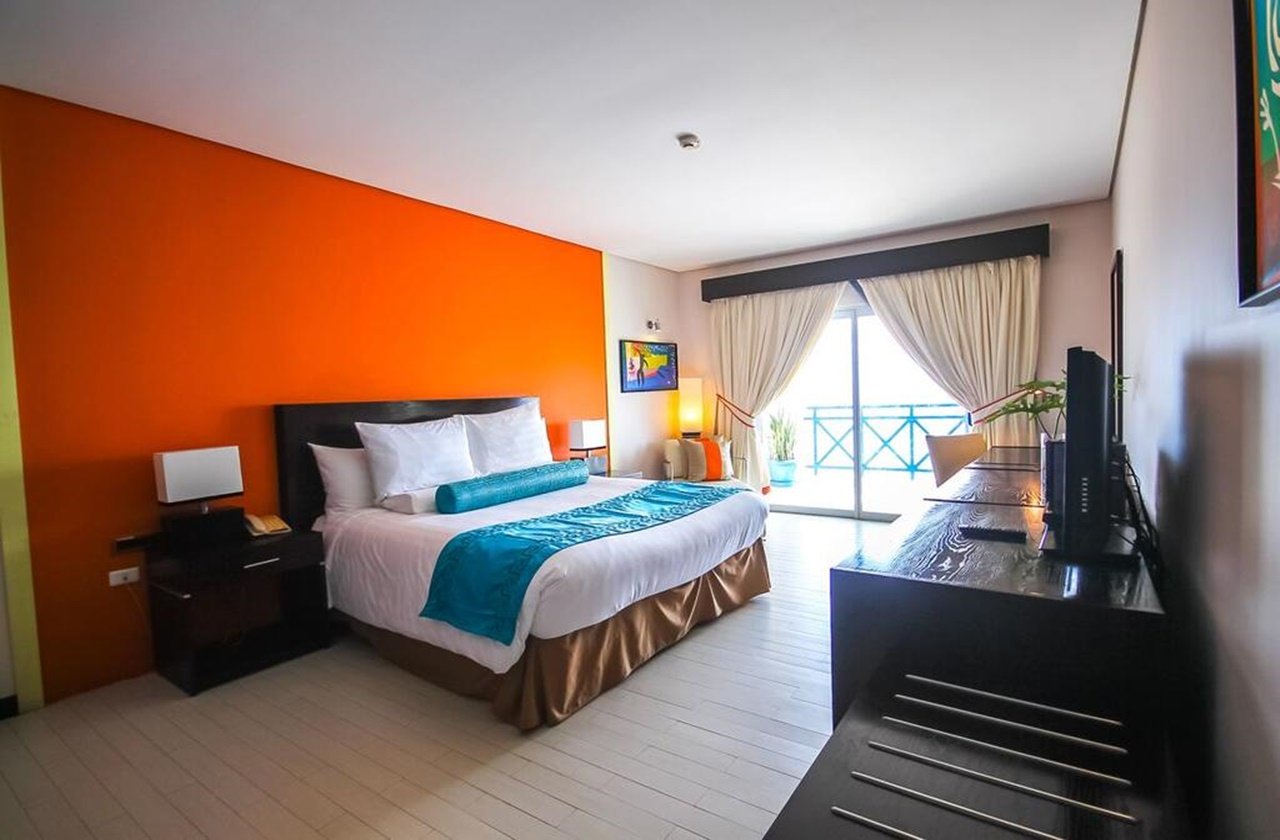 Photo from Thunderbird Resorts and Casinos Poro Point Booking.com Page
Address: Poro Point Freeport Zone, San Fernando, 2500 La Union
Price: Starts at 217 USD per night
For the ultimate stay at La Union Philippines, book at Thunderbird Resorts and Casinos Poro Point. This Mediterranean-style resort boasts an infinity pool, a golf club, wellness center, and other state-of-the-art facilities. There's also a casino with over 400 slot machines, table games, and more for guests who fancy a game of poker. As for its rooms, Thunderbird Poro Point offers well-designed air-conditioned rooms with private balconies that feature seaside views. Additionally, all rooms, suites, and villas come with a flat-screen TV, iPod dock, and en-suite bathrooms with heated showers and free toiletries.
Things to Do
Surf or Relax by the Beach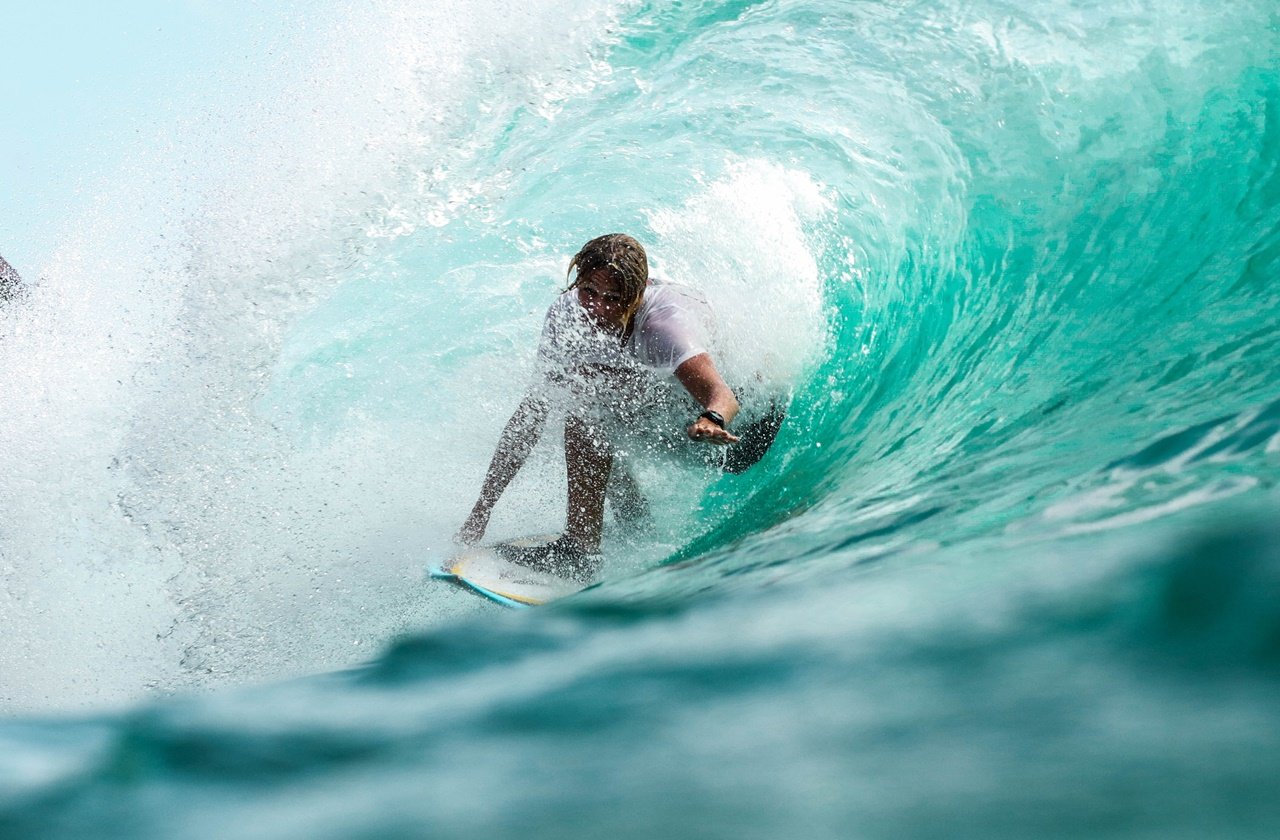 Photo by Jeremy Bishop on Unsplash
Without a doubt, one of the best things to do in La Union Philippines is to hang out at the beach. If you're staying in Urbiztondo, you're in for a treat as the popular Urbiztondo Beach is literally a few steps away. For surfers, catch the best waves and find out what makes this La Union one of the country's best surfing spots. Additionally, those who want to try out surfing can do so. There are plenty of licensed surfing instructors and surfing schools around. And given the Filipinos' friendly and encouraging nature, you won't have to feel shy about learning how to surf!
For those who prefer to just relax, bring your beach mat, sunscreen, and bask under the warm sun. You may even encounter vendors selling peanuts, gummy candies, and other snacks. Minutes before the sunset, most locals head to the shore to take pictures of the scenery.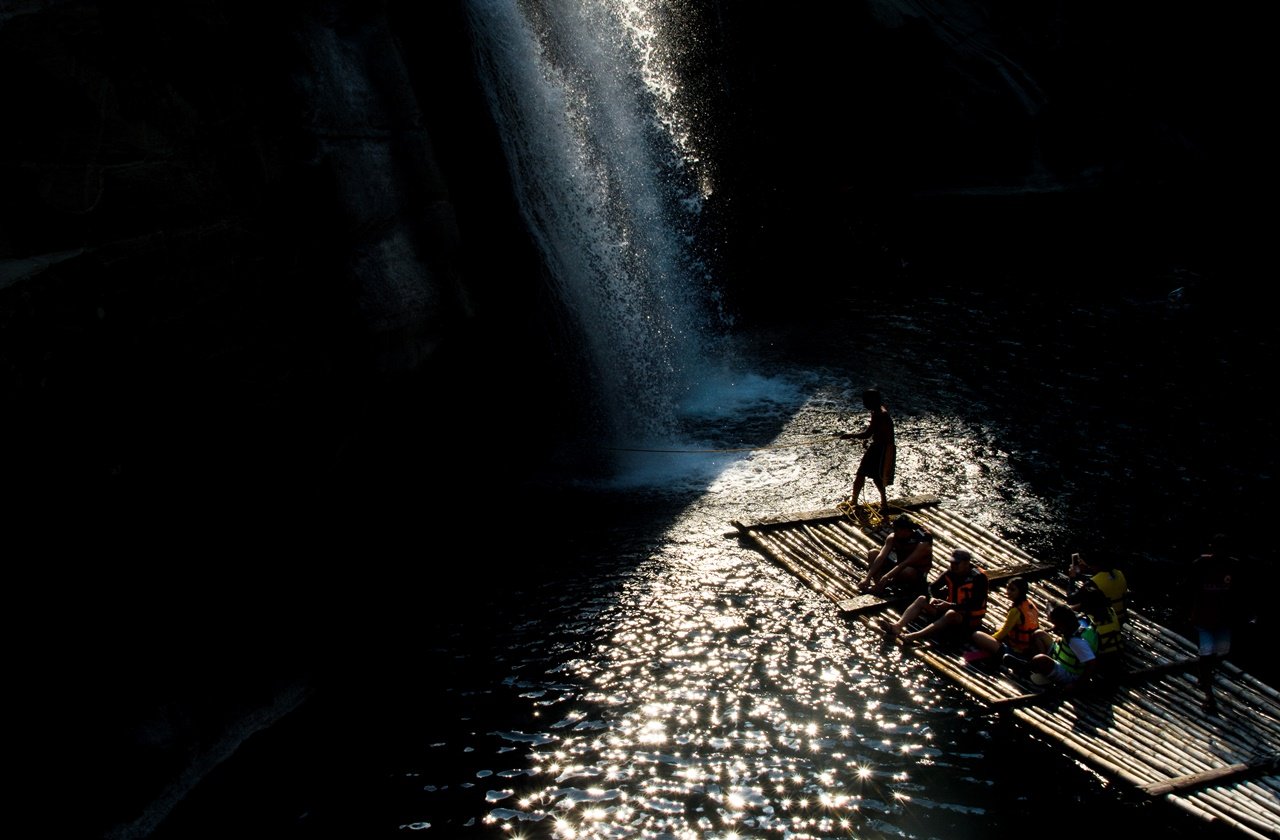 Photo by Emman Asuncion Foronda on Wikimedia Commons
Address: San Gabriel, La Union
If you want to take a break from surfing, go on a hike to Tangadan Falls in San Gabriel. There are two routes available: a longer yet scenic route through rushing streams and a shorter but more challenging one. Guide fees for a hike at Tangadan Falls start at 10 USD per group, so it's better to join with other travelers as a group. Going as a group is also better since you can get to meet new people and save money since you will split the costs between yourselves.
Hike past thick forests and be rewarded with the views of Tangadan Falls. Its spacious pool can accommodate plenty of visitors. Go on an exciting cliff-diving experience and feel the adrenaline rush as you jump from the falls into the water. Aside from swimming and cliff-diving, you can also rent bamboo rafts for an additional price and cruise along the foot of the falls.
Enjoy the Food and Nightlife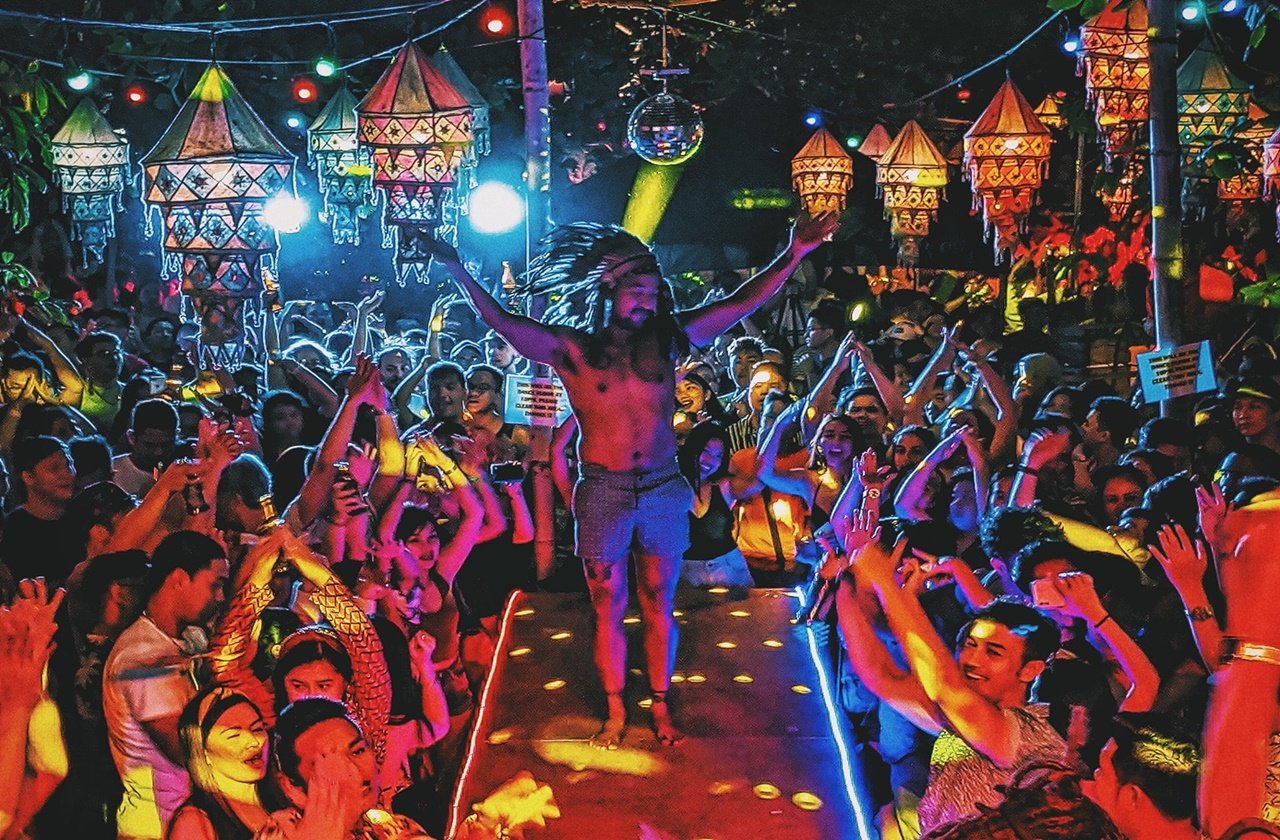 Photo from Flotsam and Jetsam Hostel Facebook Page
Although it looks like a sleepy coastal province, La Union Philippines has a thriving food culture and energetic nightlife. Near the beach, you can find plenty of hole-in-the-wall restaurants, famous establishments, and cafes and restaurants that are exclusive to the area. When visiting, it's impossible for one to not try out these places. Craving Greek or Mexican food? Check. Want to try out Filipino food? There are plenty of local eateries and home-cooked food you can try. If you want to know where to start, you can even ask the locals which ones will they recommend.
At night, the beachside restaurants and bars come to life when both locals and tourists mingle over drinks. Since these establishments are located next to each other, you can conveniently move from one place to another and go bar-hopping. Flotsam and Jetsam Hostel is one of the most popular places to go for parties, although you can also find other quiet and relaxed bars around.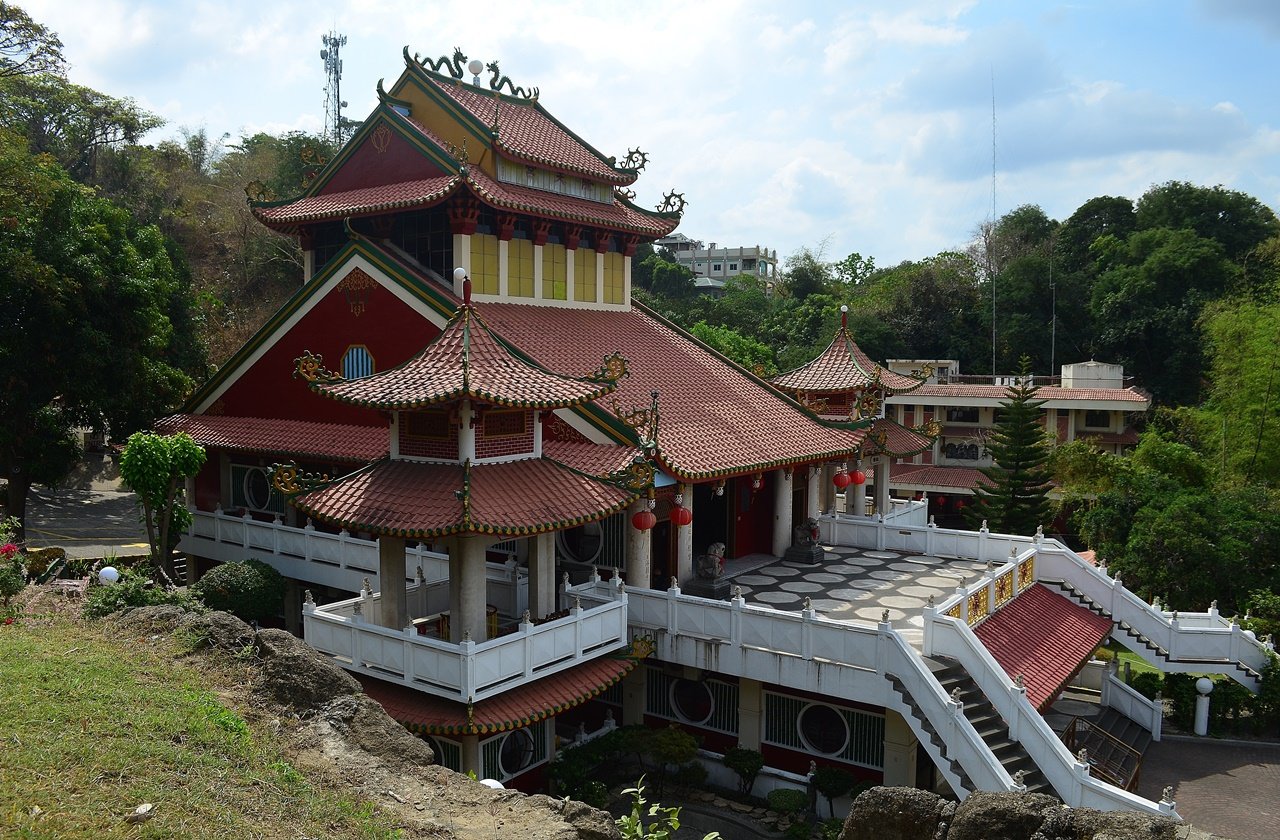 Photo by Etienne on Adobe Stock
Address: Ma-Cho Temple Driveway, Quezon Ave, San Fernando, La Union
Overlooking the city of San Fernando, the Ma-Cho Temple is a breathtaking Taoist Temple in La Union. It is also one of the few Taoist temples in the country along with the Cebu Taoist Temple and the Kiu Siao Grand Taoist Temple in Manila. The temple honors Mazu (also known as Ma-Cho), the sea goddess in Chinese mythology. Enter the temple and be in awe of its intricate designs and Chinese ancient decorations. Take photos of the Liang Thing Pagoda, walk around the Bamboo Garden, and don't forget to snap a commemorative photo with the Majestic Five Door Gate.
Unlike most Taoist temples, even those in Taipei, the Ma-Cho Temple welcomes visitors from different religions. Take note that since you'll be visiting a place of worship, certain dress codes may apply. There is also no entrance fee, so this is definitely one of the best free things to do in La Union Philippines.
Pick Fresh Grapes at Lomboy Grapes Farm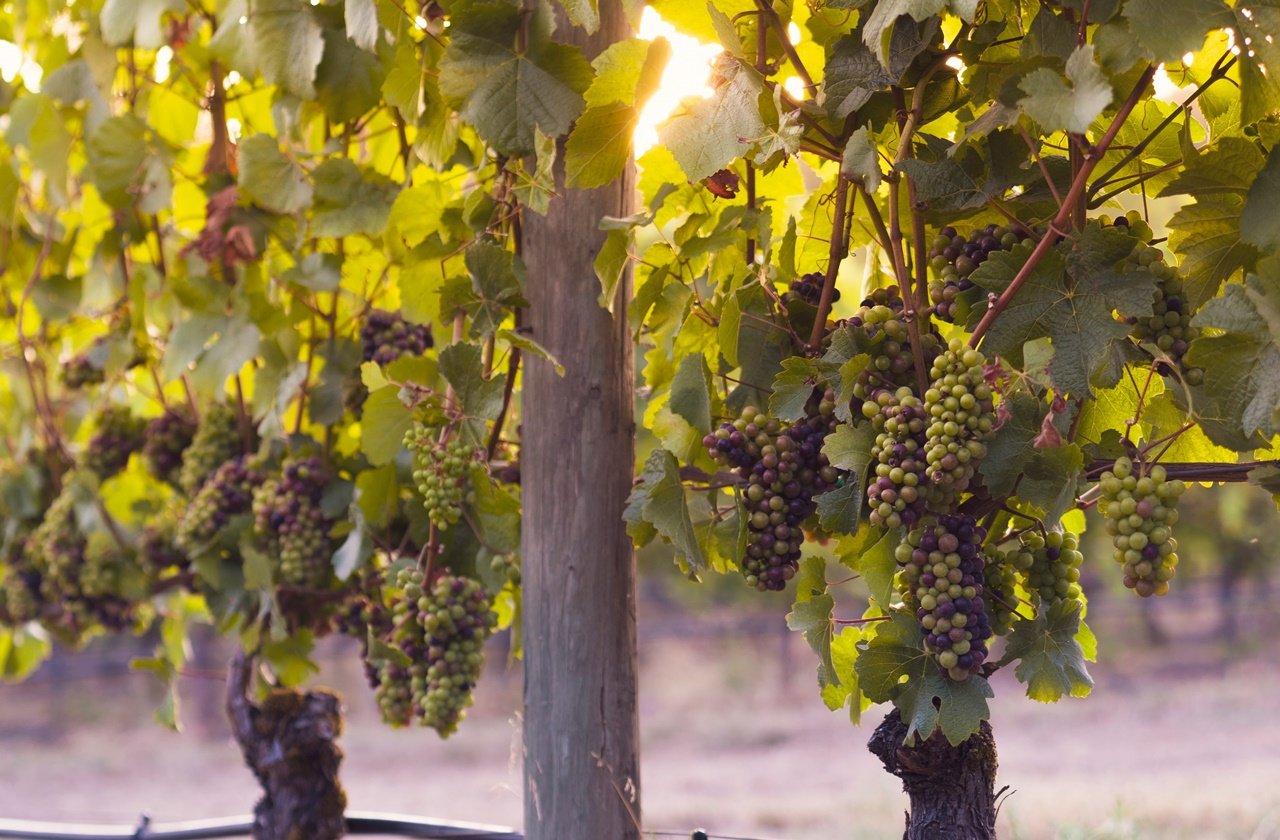 Photo by Dan Meyers on Unsplash
Address: 68 MacArthur Highway, Bauang, La Union
You don't need to visit the wine regions of Italy or in Napa Valley to see and get a chance to pick fresh grapes. Surprisingly, La Union's warm weather is also an ideal setting to grow and produce grapes. In Bauang, there are various grape farms that offer day tours as well as grape-picking opportunities. Lomboy Grapes Farm, established in 1972, is widely recognized as the best grape farm in the country.
With 20 hectares of land, discover more than 50 varieties of grapes. Enjoy a tour of the vineyard as you learn about the history of the Lomboy Grapes Farm. For an additional fee (starts at 3 USD), you may get to harvest fresh grapes when they are in season. However, be sure to contact the farm in advance to confirm if grape harvesting is available.
Where to Eat
Olas Banditos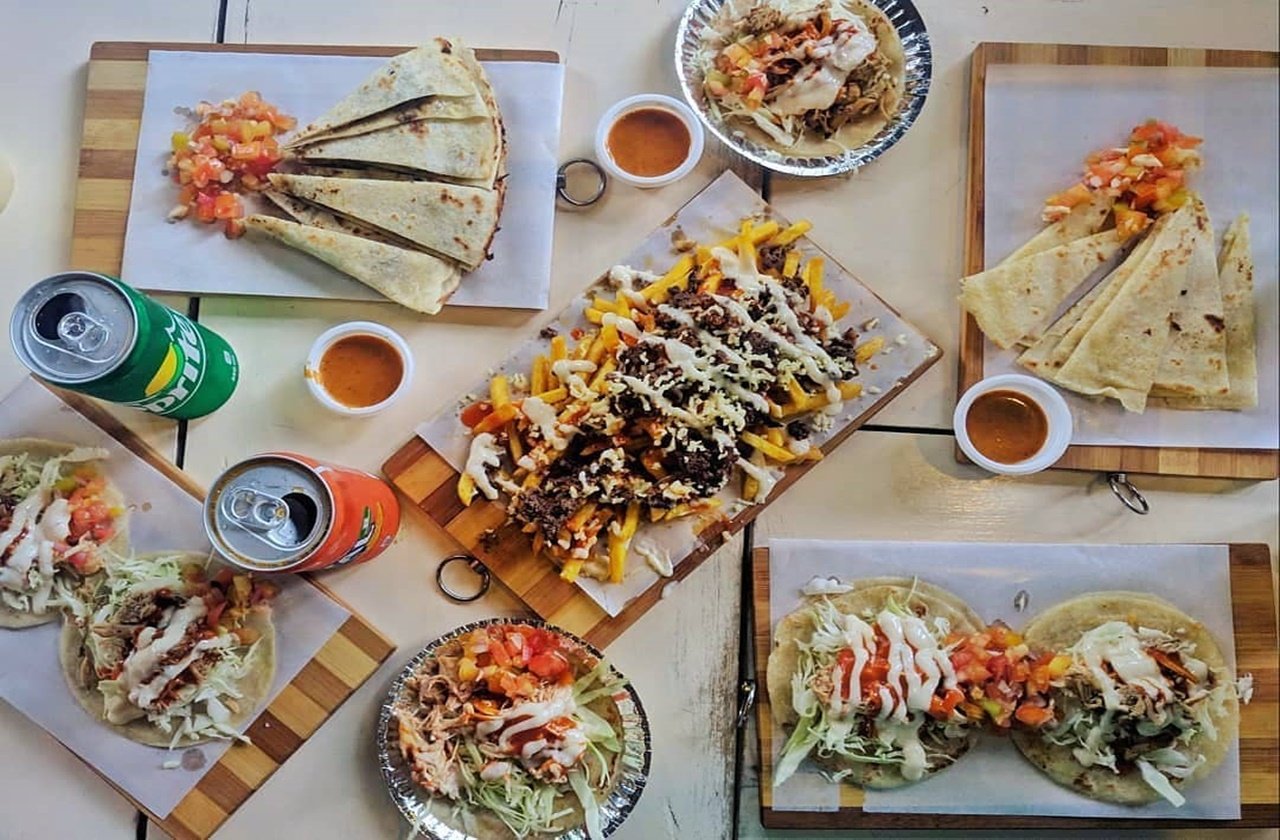 Photo from Olas Banditos Facebook Page
Address: National Highway, Urbiztondo, San Juan, 2514 La Union
Specialty: Mexican food
Olas Banditos is one of the unmissable restaurants in La Union Philippines. From the highway, you can see its signature skull drawing and warehouse-like exterior. The restaurant serves mostly Mexican cuisine so you can get your burrito, taco, and flauta fix here. They also have a local twist on the classic burrito called the Ilocos Norte burrito, made with fries, cheese, and Ilocos or Vigan longganisa (Filipino sausage). For a chill drinking session, Olas Banditos also serves beers and handcrafted cocktails.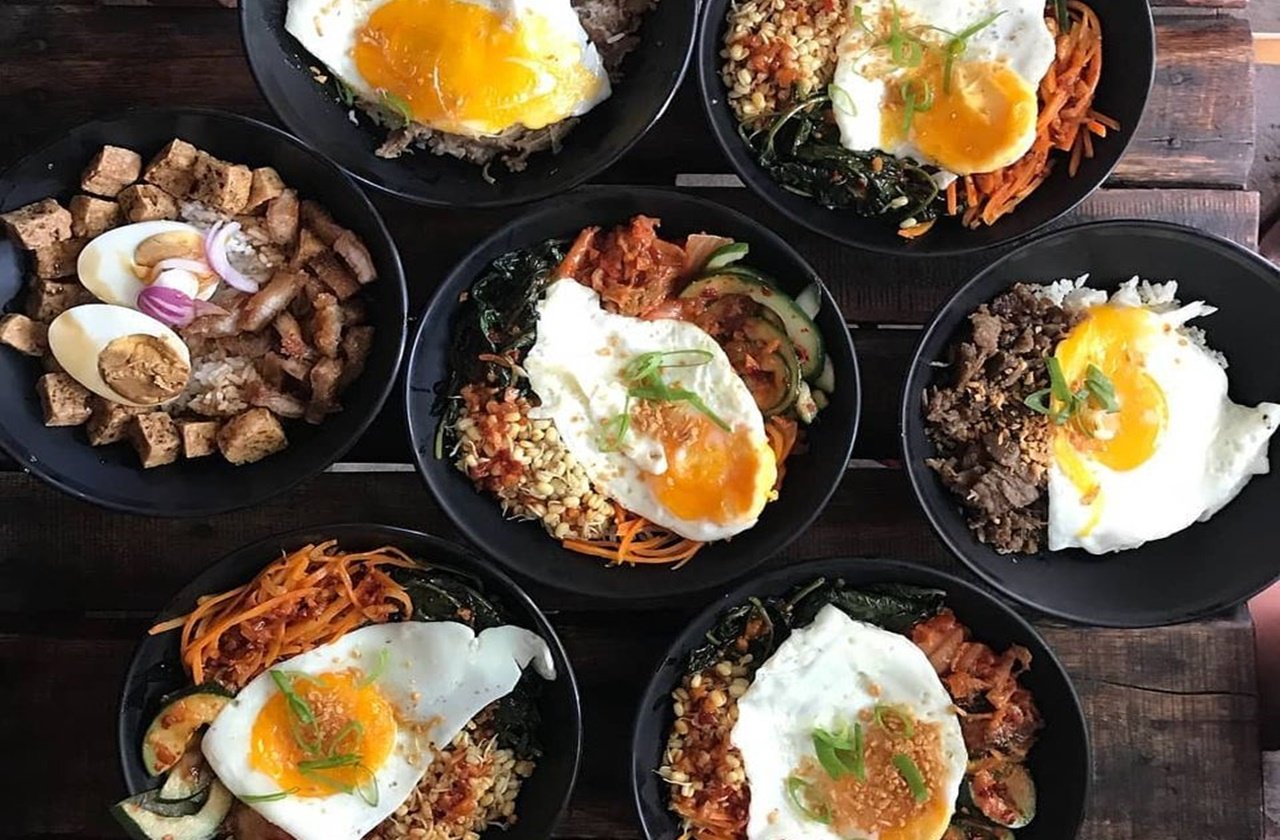 Photo from Tagpuan sa San Juan Facebook Page
Address: Urbiztondo Road, San Juan, 2514 La Union
Specialty: Filipino food
Looking for homey Filipino food? Tagpuan sa San Juan specializes in rice bowls topped with Filipino favorites. It's a small eatery, but their authentic and delicious food attracts a large crowd: from tricycle drivers having a meal and visitors sobering up after a night of drinking. Feast on a warm rice bowl topped with tapa (thinly-sliced beef marinated in salt and spices), pares (braised beef stew), or bagnet (deep-fried pork belly). Aside from rice bowls, they also serve other meals like mami (wheat flour noodle soup), goto (rice porridge with ox tripe), and lugaw (rice porridge). Since this is a popular restaurant, expect to see fully-occupied chairs and eagle-eyed customers waiting for the next available seat.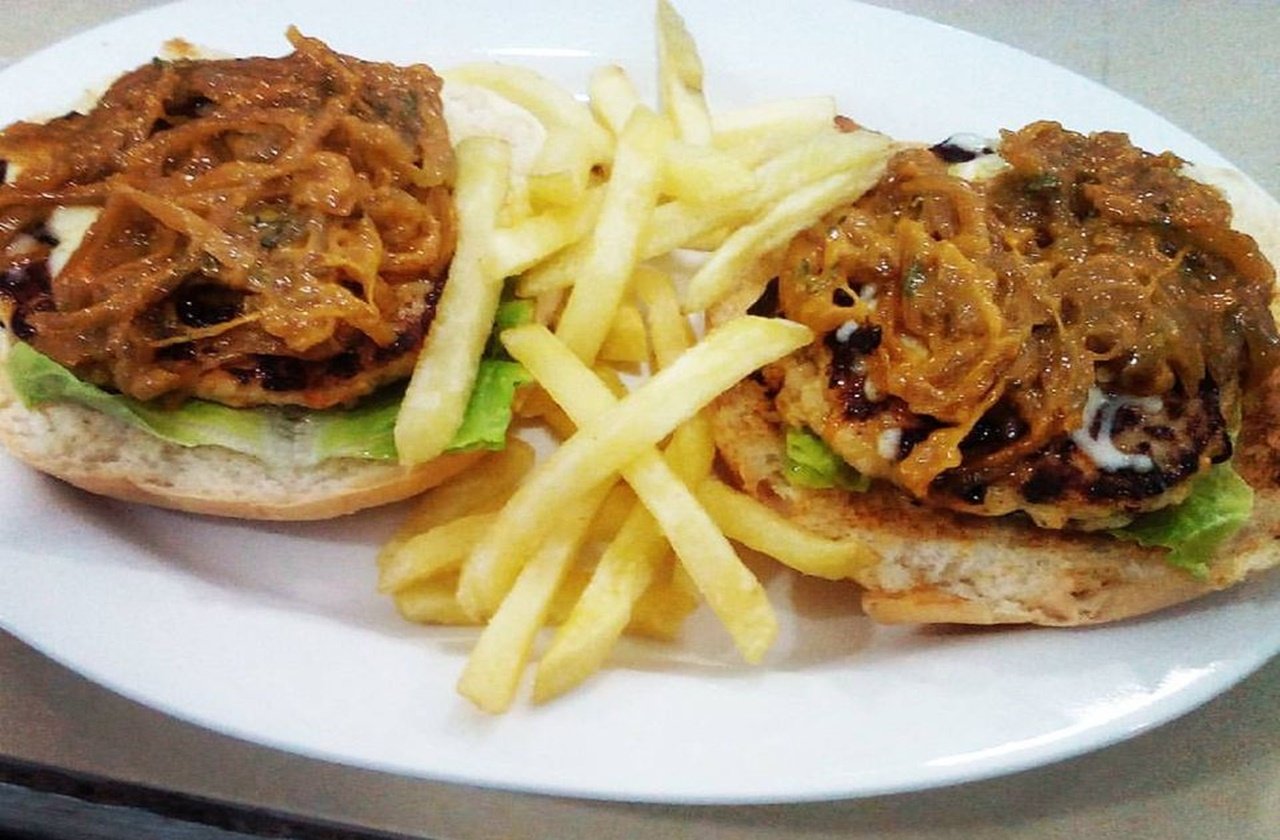 Photo from Gefseis Greek Grill Facebook Page
Address: National Highway, Urbiztondo, San Juan, 2514 La Union
Specialty: Greek food
Not far from Olas Banditos is another great restaurant in La Union Philippines. Specializing in Greek cuisine, Gefseis Greek Grill offers an open-air dining experience in front of the beach. This is also the go-to place for guests looking for something healthy, delicious, and affordable. Try their moussaka, grilled tuna, and souvlaki wrap paired with iced refreshments. The place gets packed with hungry customers from sunset, so make sure to come early or reserve a table in advance if you don't want to miss out on this.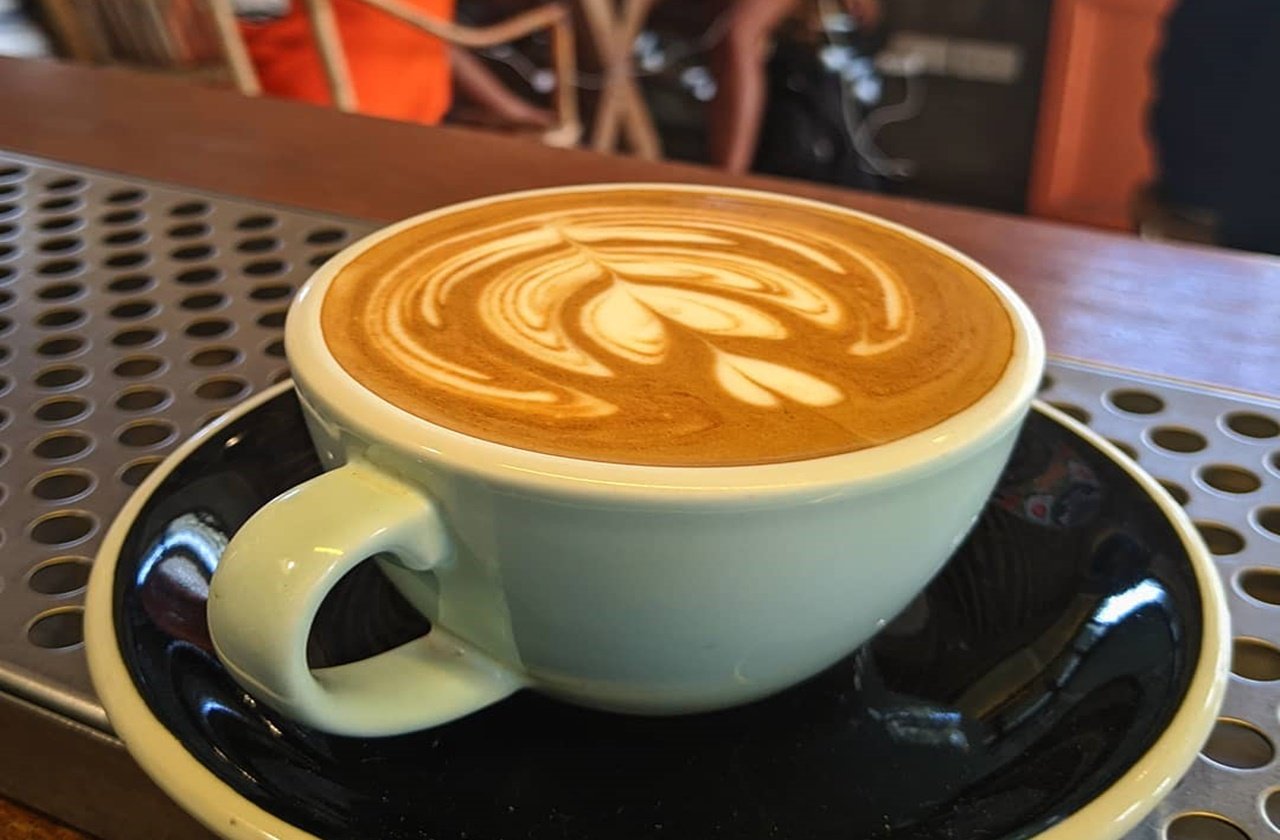 Photo from El Union Coffee Instagram Page
Address: The Great Northwest Travel Stop & Viewing Deck, MacArthur Highway, Urbiztondo, San Juan, 2514 La Union
Specialty: Coffee, dessert
A trip to La Union is incomplete without having a coffee break at El Union Coffee. Featured in numerous lists of best restaurants, El Union Coffee is famous for its cold brew coffee. The beans are locally sourced from farms in neighboring provinces. The cafe is also famous for its horchata and dirty horchata, just the same drink spiked with coffee. Enjoy a cup of cold brew of horchata with a skillet cookie or s'mores. It's not as close to the beach, but you get to interact with other customers and even the friendly baristas. As El Union Coffee is a popular stop for tourists, expect plenty of people dining in or waiting in line.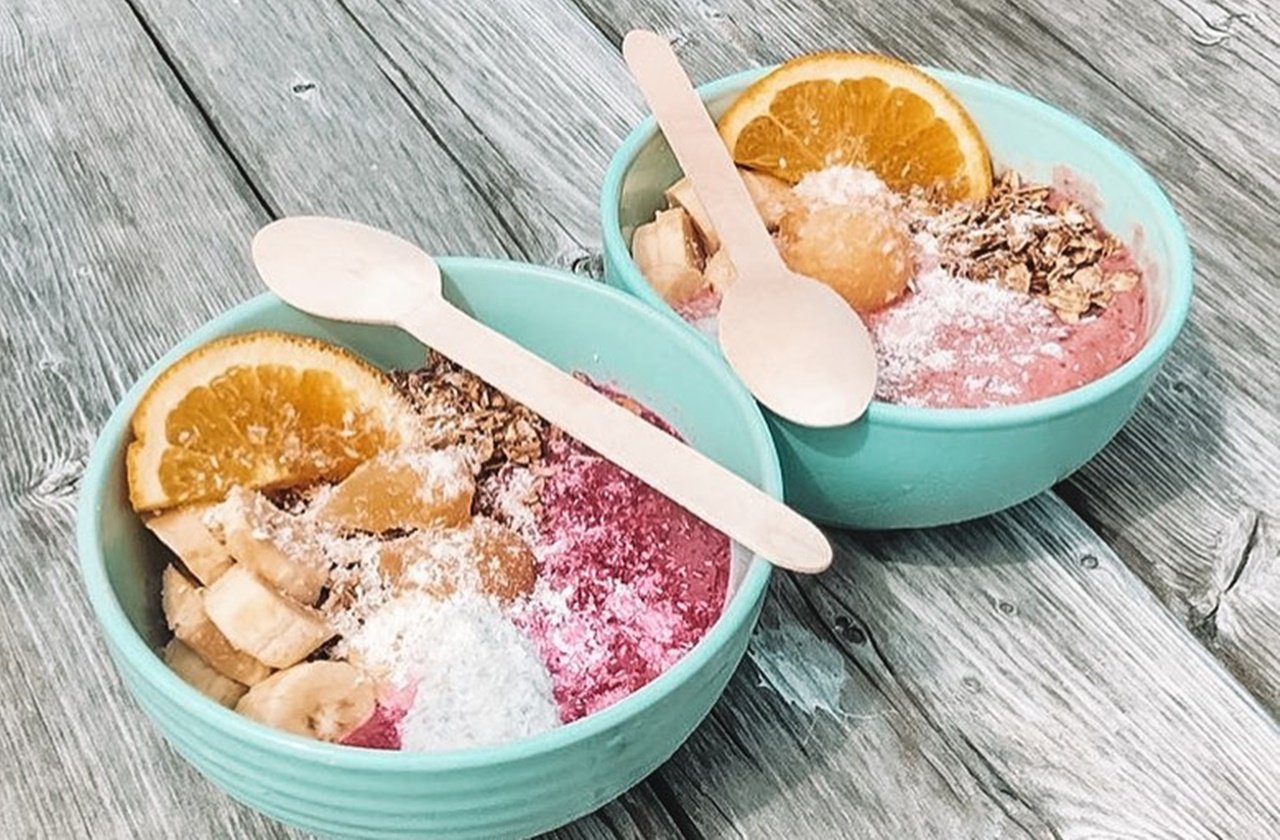 Photo from Makai Bowls Instagram Page
Address: The Great Northwest Travel Stop & Viewing Deck, MacArthur Highway, Urbiztondo, San Juan, 2514 La Union
Specialty: Smoothie bowls, iced desserts
Makai Bowls is another healthy and delicious restaurant in La Union Philippines, serving smoothie bowls and other fruit-based desserts. They use fresh fruits and exclude dairy in all their food, perfect for those with special dietary requirements. Try their Acai Smoothie bowl, made with bananas, acai, and coconut milk. Makai Bowls also serve seasonal smoothie bowls using dragon fruit, strawberries, or avocados. Other must-try desserts at Makai Bowls include fresh fruit shakes, popsicles, fruit parfaits, and chia bowls. The restaurant overlooks the beach so not only do you get to enjoy good food, but also a picturesque view of the sea.
Enjoy La Union's Easygoing Beach Vibe!
Located within a couple of hours from Manila, La Union Philippines is a great place to escape the hustle and bustle of the city. This is also a perfect destination for surfers, beginner surfers, and those who simply just want to enjoy the beach. There are also other non-beach-related activities for those who want to do some sightseeing. Visiting the Ma-Cho Temple, going on a hike to see Tangadan Falls, and picking fresh grapes are just some of the other things you can do here. Foodies can also enjoy staying here because of the many homegrown restaurants and cafes serving both local and international cuisine.
While many people flock to Siargao for surfing and food, La Union is another destination that should be on every beach lover's travel bucket list!