15 Best Festivals in the Philippines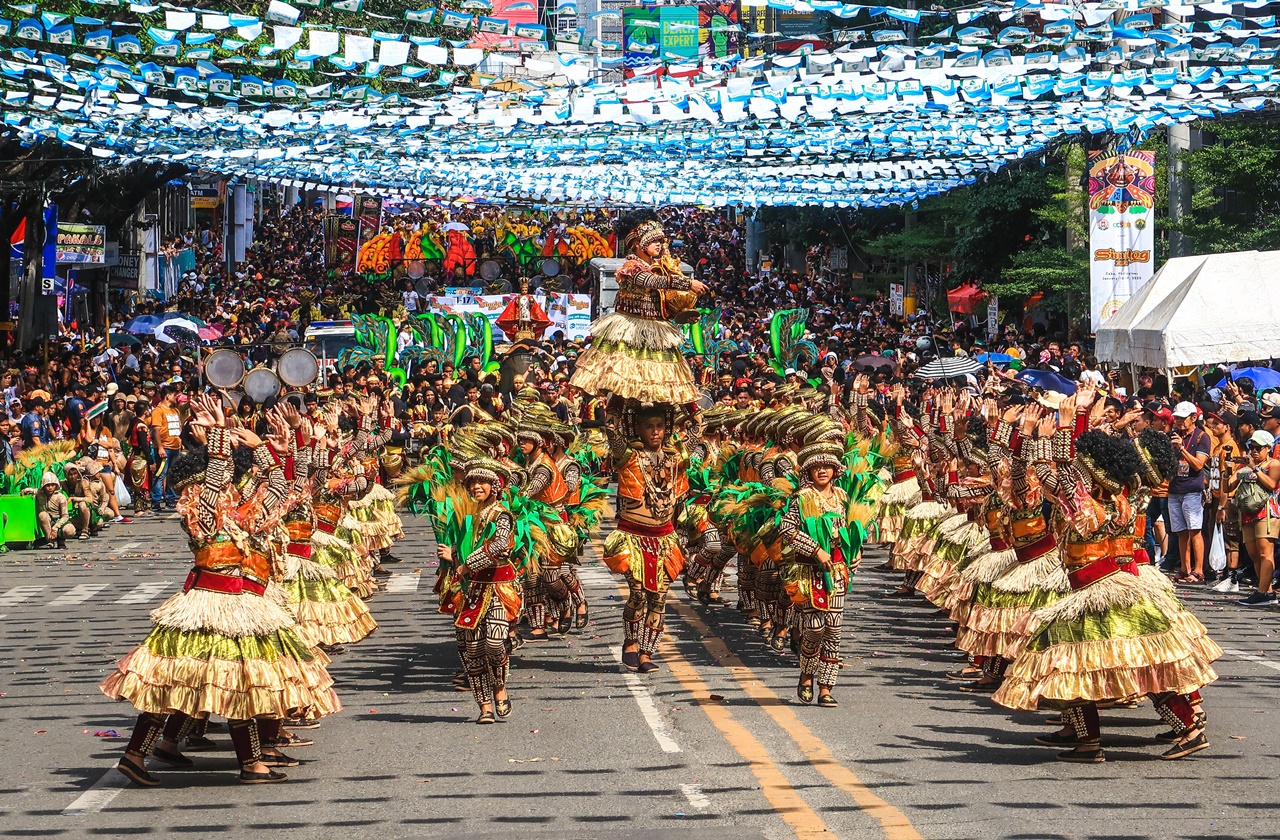 The Philippines isn't just known for its picture-perfect beaches and surfing hotspots. It is also famous for its exuberant and culturally-rich festivals, locally known as "fiestas". Additionally, these events are steeped in the country's history and celbrations often last for weeks and even months. Every year, festivals in the Philippines attract local and foreign travelers, drawn to the energetic crowds and the history behind them. In fact, most of these festivals are considered national holidays because of their significance in the Philippine culture and history.
If you're planning a trip to this beautiful archipelago, here are some of the festivals you shouldn't miss!
Things You Need to Know Before Travelling to the Philippines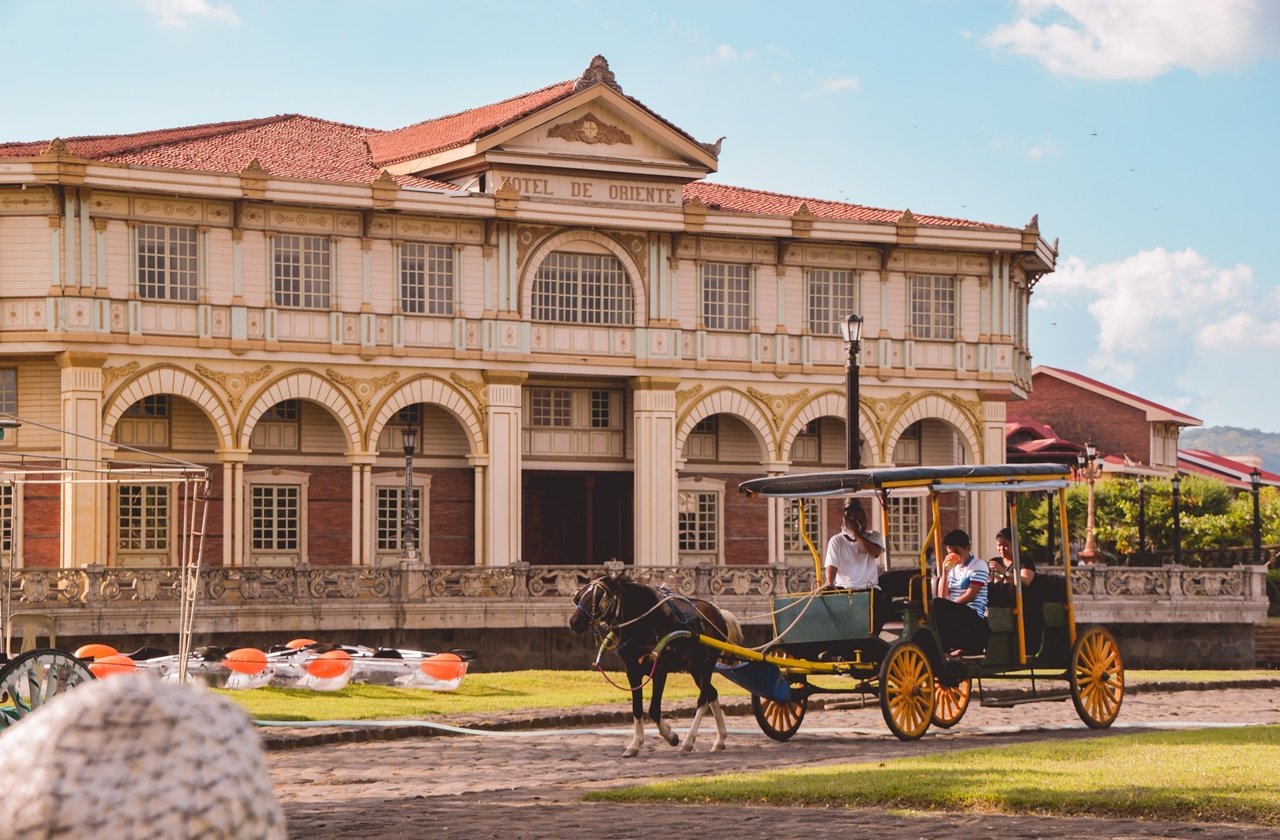 Photo by Vernon Raineil Cenzon on Unsplash
The Philippines has two distinct seasons: dry and wet. The dry season runs from November to June while the wet season is from July to October.

January to June is the best time to visit the country since most festivals occur within these months. If you want to surf in Siargao Island or La Union, April is the peak season for summer activities.

English is the country's second most spoken language after Filipino. You don't have to worry about the language barrier since most people understand or can speak English. It might not be perfect, but they deserve credit for giving extra effort into communicating with foreigners.

Filipinos are very hospitable and welcoming. Need help with directions? They will gladly help you. During festivals in the Philippines, they can even go the extra mile and invite you for drinks or lunch.

Jeepneys and tricycles are the country's common forms of transportation. Although you can find taxis in the capital, Manila, and other major cities, you'll have to ride a jeepney or a tricycle at least once during your stay in the Philippines.

Filipino cuisine mostly includes meat and rice. Heavily influenced by different cultures, you'll find chicken, pork, beef, and fish in all restaurants. Vegan and vegetarian options are available, although not all restaurants can accommodate certain diets.
Best Festivals in the Philippines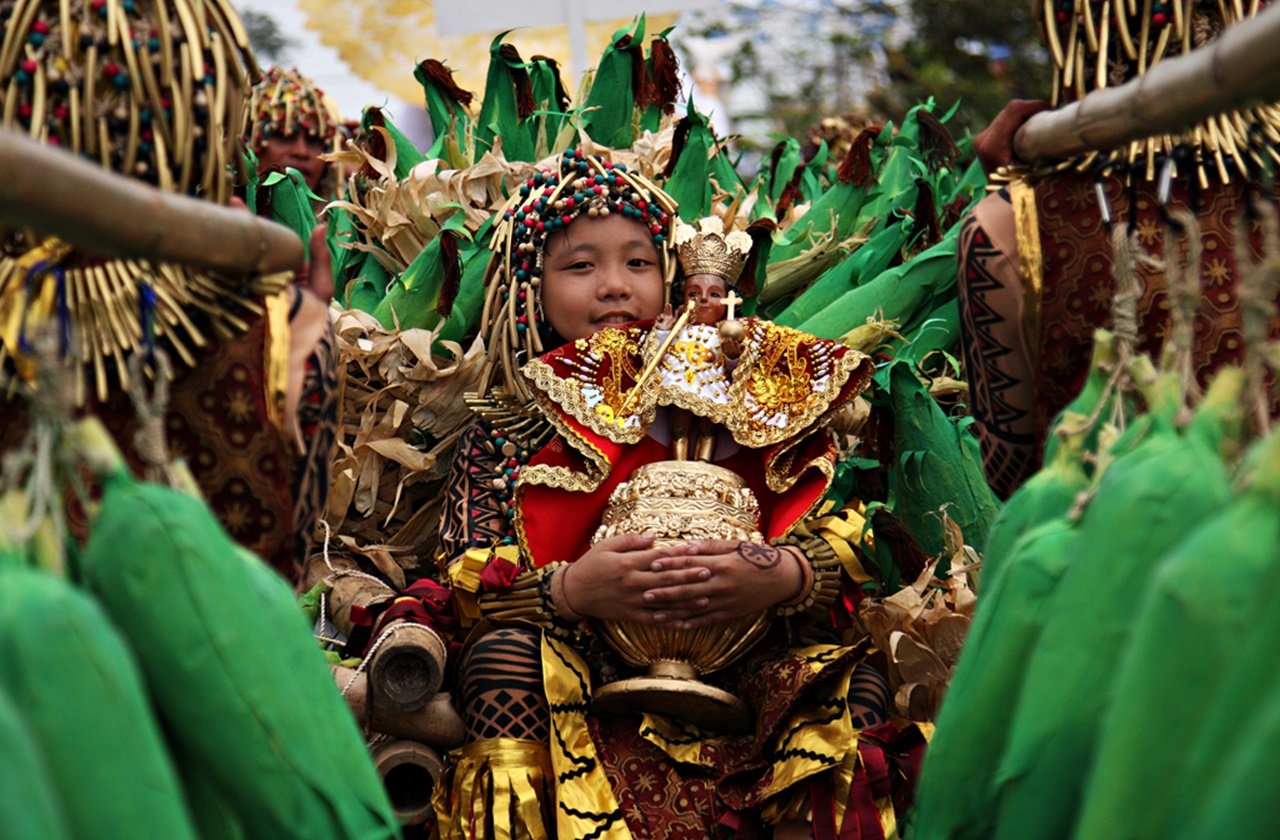 Photo by Roy Chan on Flickr
What to expect: Street parties, colorful parades with participants doing the Sinulog dance, evening pyromusical shows
Where to celebrate: Cebu City, Cebu
When: Every 3rd Sunday of January
How to get there: You can fly directly to Cebu via Mactan–Cebu International Airport. Otherwise, you can fly from Manila to Cebu, or hop on a ferry from neighboring islands like Bohol or Bacolod to Cebu.
The Sinulog Festival is Cebu's pride, apart from its white-sand beaches and turquoise waterfalls. It is also one of the biggest festivals in the Philippines, and perhaps in Asia as well. Sinulog Festival honors the Santo Niño de Cebú, the oldest Christian artifact in the Philippines, and was a gift from Ferdinand Magellan to Cebu's Rajah Humabon. The name Sinulog came from the Cebuano adverb "sulog" which meant "like water flowing movement", pertaining to the two-step forward, one-step backward dance performed during the grand street parade.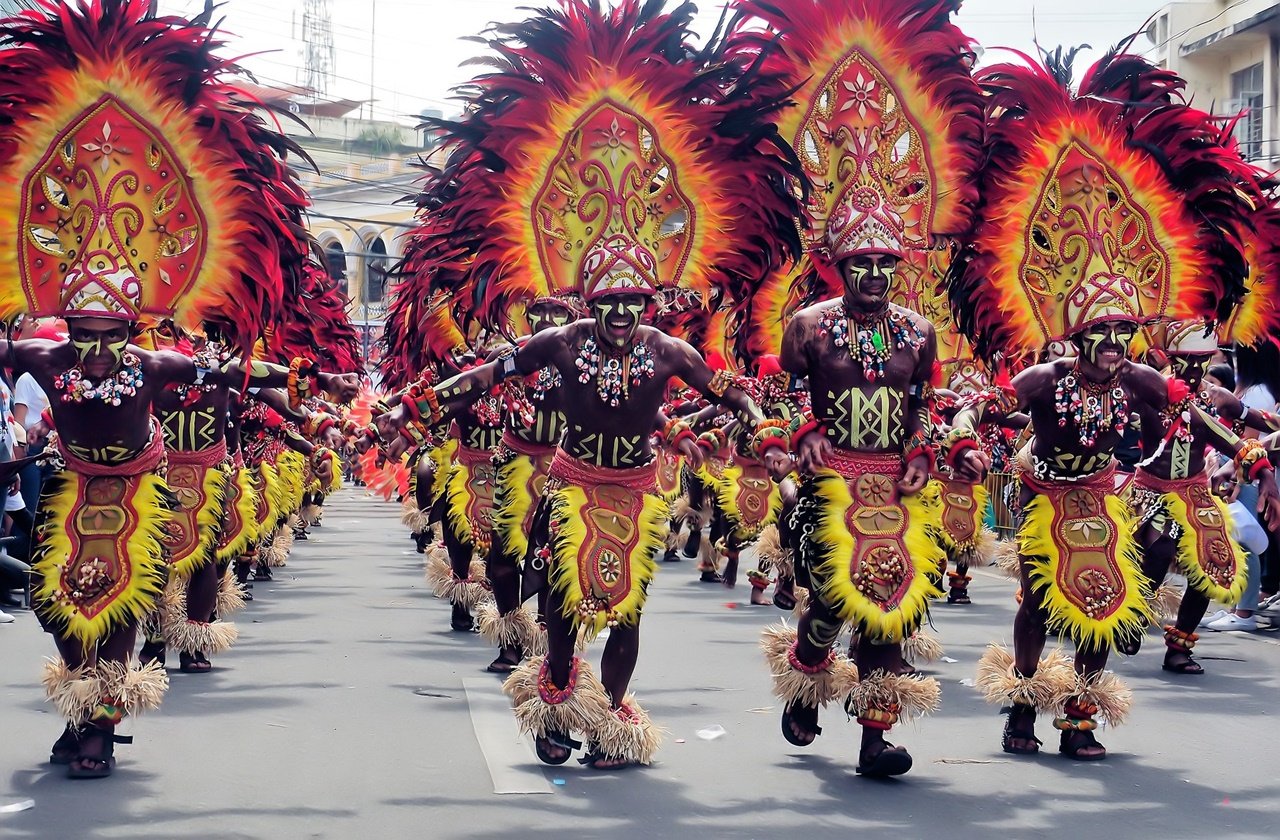 Photo by vinsky2002 on Pixabay
What to expect: Inter-school and inter-barangay street dancing contests, fluvial procession, beauty pageants
Where to celebrate: Iloilo City, Iloilo
When: Every 4th Sunday of January
How to get there: From NAIA, fly to Iloilo International Airport. Additionally, you can take ferries from neighboring islands or take a domestic flight to Iloilo.
Like Cebu's Sinulog Festival, the Dinagyang Festival also honors the Santo Niño. Additionally, the festival also celebrates the pact between the locals and the Bornean Datus. To add to its prestige, the festival won Best Tourism Event by the Association of Tourism Officers in the Philippines, as well as other awards. There are plenty of events to attend and sights to see at the festival, including the Ati Tribe competition where tribes dance around the street, chanting to the beat of the drum and percussion instruments. Complete the Dinagyang experience and munch on local delicacies like chicken inasal or silvanas at the food stalls around the city.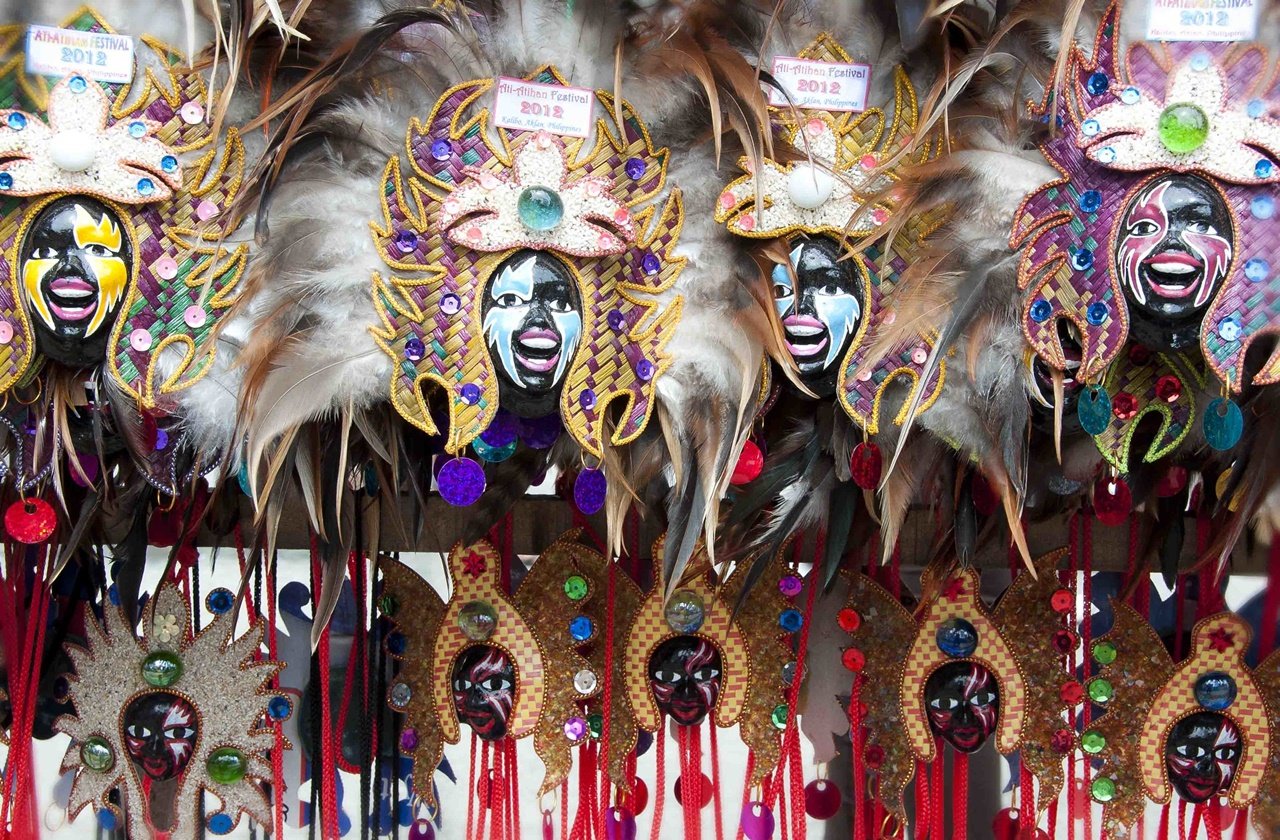 Photo by mike141213 on Flickr
What to expect: Lively dance parades featuring costumes made out of indigenous materials
Where to celebrate: Kalibo, Aklan
When: Every 3rd Sunday of January
How to get there: You can fly directly to Kalibo International Airport. Alternatively, you can also take a Roll-on Roll-off (RoRo) ferry.
If you plan on visiting the white sand beaches of Boracay In January, you may want to include attending the Ati-Atihan Festival in your itinerary. Also known as the "Mother of Philippine Festivals", it is one of the oldest festivals in the country and is where Sinulog and Dinagyang festivals took inspiration from. The festival initially began as a pagan festival meant to honor the Aetas, the original settlers of the island, and when the Spaniards arrived, it took a religious turn, honoring the Santo Niño. Unlike other festivals in the Philippines, what makes the Ati-Atihan a must-visit festival is that it lets you participate in the events. Come in your best Ati-Atihan look and sing and dance along with the crowds!
4. Philippine International Hot Air Balloon Fiesta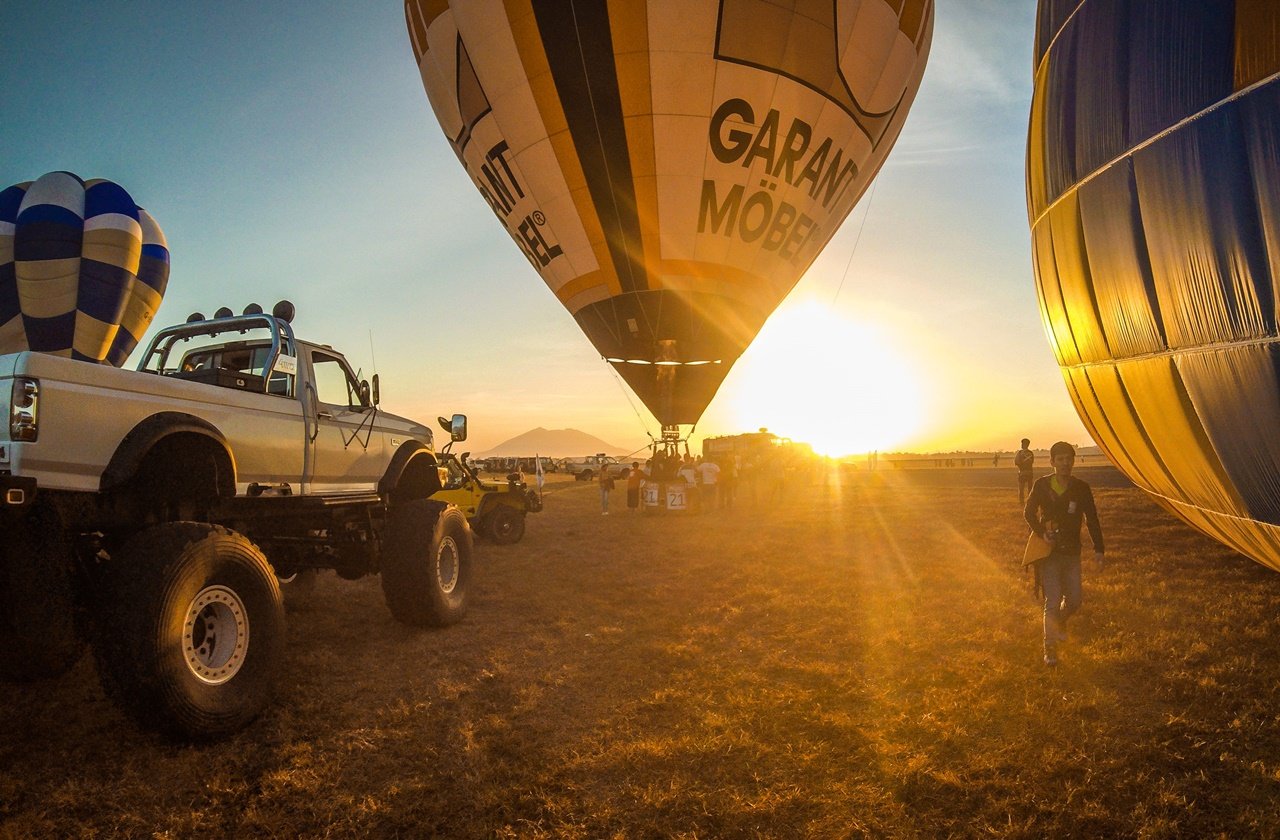 Photo by Cody McLain on Unsplash
What to expect: Aviation exhibitions, seminars, and demonstrations
Where to celebrate: Clark, Pampanga/Carmona, Cavite
When: February or March
How to get there: There are bus routes going to Clark or Carmona in all major bus stations in Metro Manila. Expect travel time to range from 2 to 3 hours, depending on the traffic situation.
As the longest-running sports aviation event in Asia, the Hot Air Balloon Fiesta is one of the festivals in the Philippines you shouldn't miss. This 4-day event used to be held at Clark in Pampanga, but over the years they branched out to hold the event in Carmona, Cavite. Expect to see dozens of hot air balloons in various colors soaring above the sky as well as remote-control airplane and helicopter flying exhibitions. Those who would like to pursue a career in aviation can also attend different seminars and symposiums. For a memorable experience, make the most out of the day and go on a hot air balloon or a tandem paragliding ride!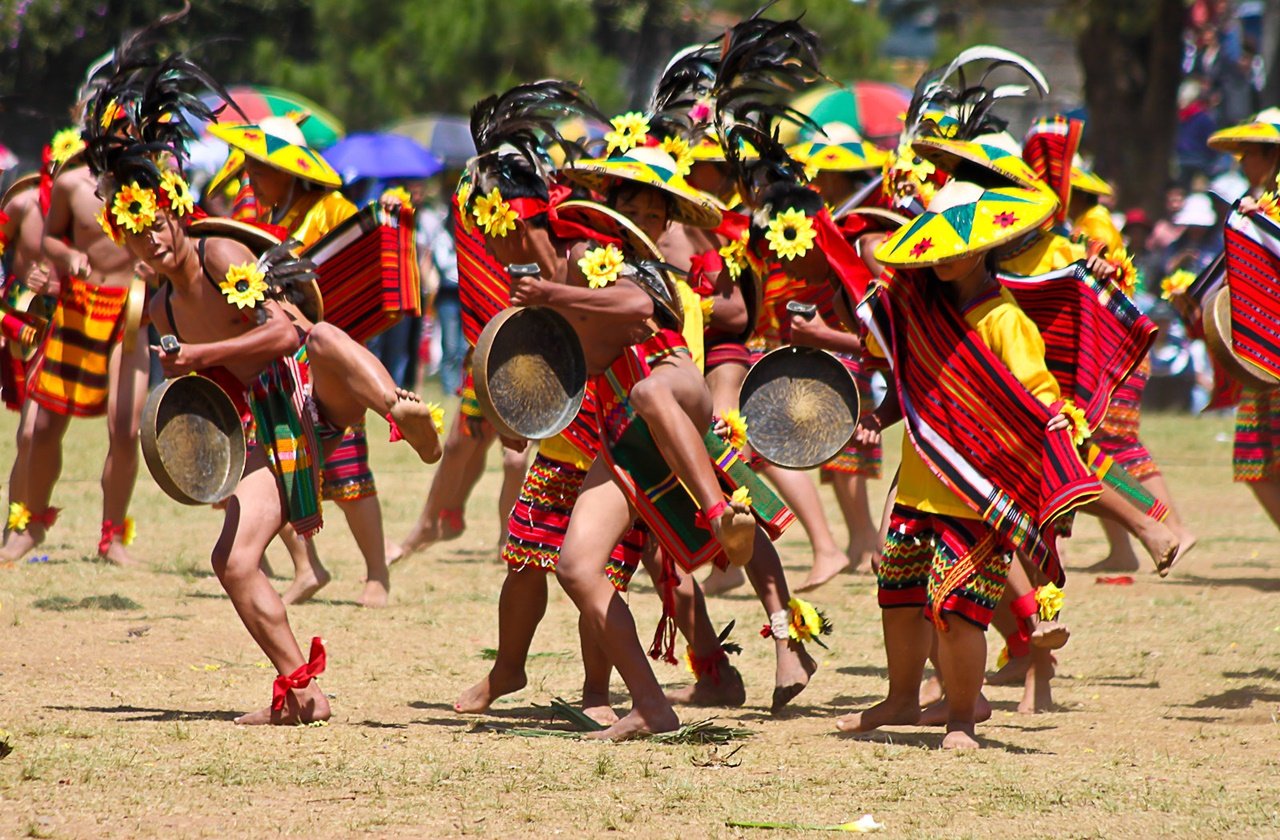 Photo by Miguel Isidro Photography on Flickr
What to expect: Street parades featuring floats made from flowers, trade fairs, and bazaars showcasing local products
Where to celebrate: Baguio City, Benguet
When: February
How to get there: Baguio is accessible only by land travel via NLEX-SCTEX or TPLEX. Tourists can either go by bus, private car, or scheduled vans.
Baguio's Panagbenga Festival is one of the longest festivals in the Philippines, celebrated during the whole month of February. Panagbenga Festival was created as a way to rise up from the tragedy brought by the 1990 earthquake. Derived from the local word meaning "a season of blossoming", you'll find the city literally in bloom as you watch the street dance and float parade, two of the most anticipated events during the festival. Admire the participants clad in various flower-inspired costumes and marvel gigantic floats covered and decorated with flowers.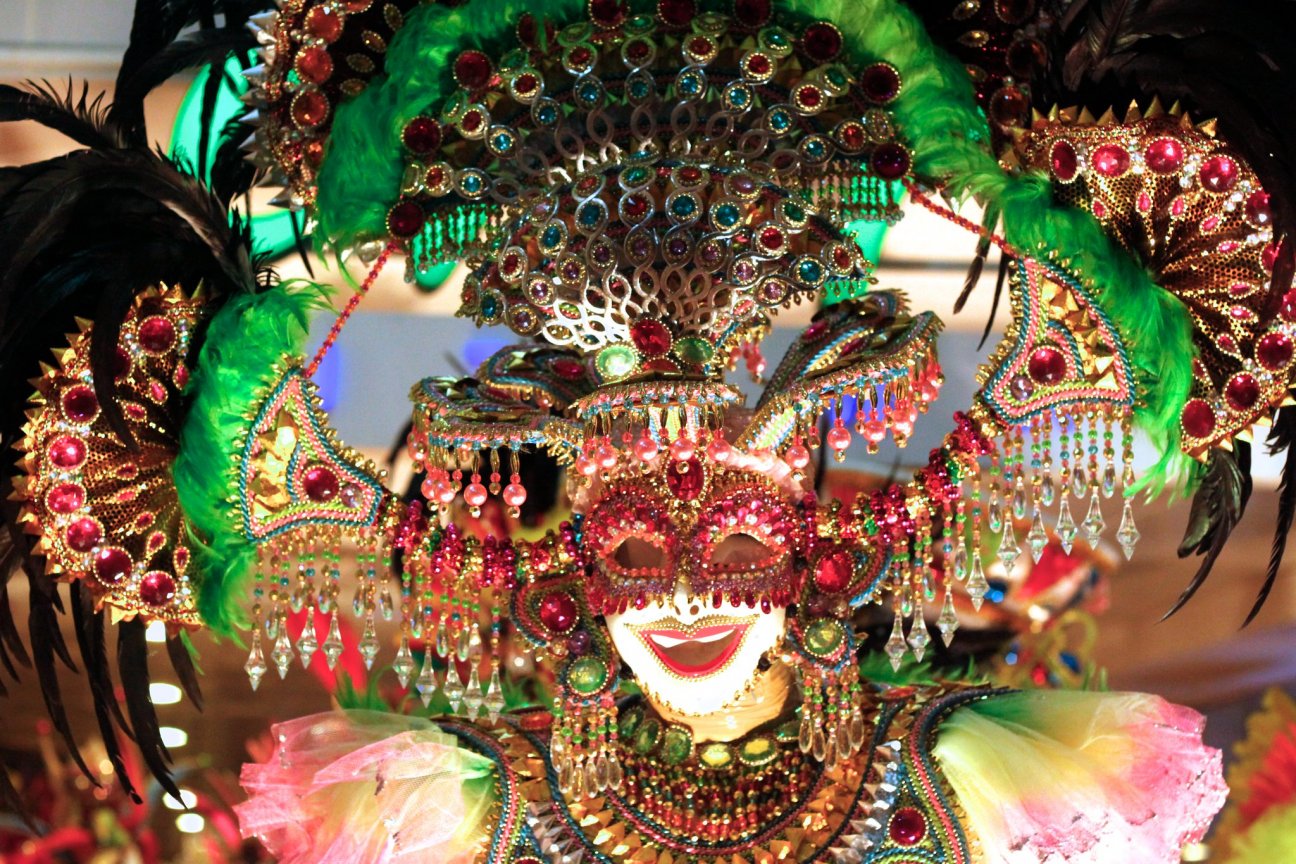 Photo by Bro. Jeffrey Pioquinto, SJ on Flickr
What to expect: Street dances, beauty pageants, food festivals
Where to celebrate: Bacolod, Negros Occidental
When: October
How to get there: Bacolod is an hour away from Manila by plane. Additionally, you can also take a ferry from Manila and other neighboring islands to Bacolod.
Hailed from Bacolod, the MassKara Festival was created as a way to uplift the locals during a time of agricultural crisis. Although it is a month-long celebration, the festival's main events happen on the fourth Sunday of October. During the MassKara Festival, you'll find locals and tourists alike wearing masks with smiling faces, a nod to Bacolod being the City of Smiles. Like most festivals in the Philippines, expect street dances, but find intricately designed masks that rival that of Venice. At night, stay tuned for the Electric MassKara, a lively parade boasting floats and masks with neon lights.
7. Pintados-Kasadyaan Festival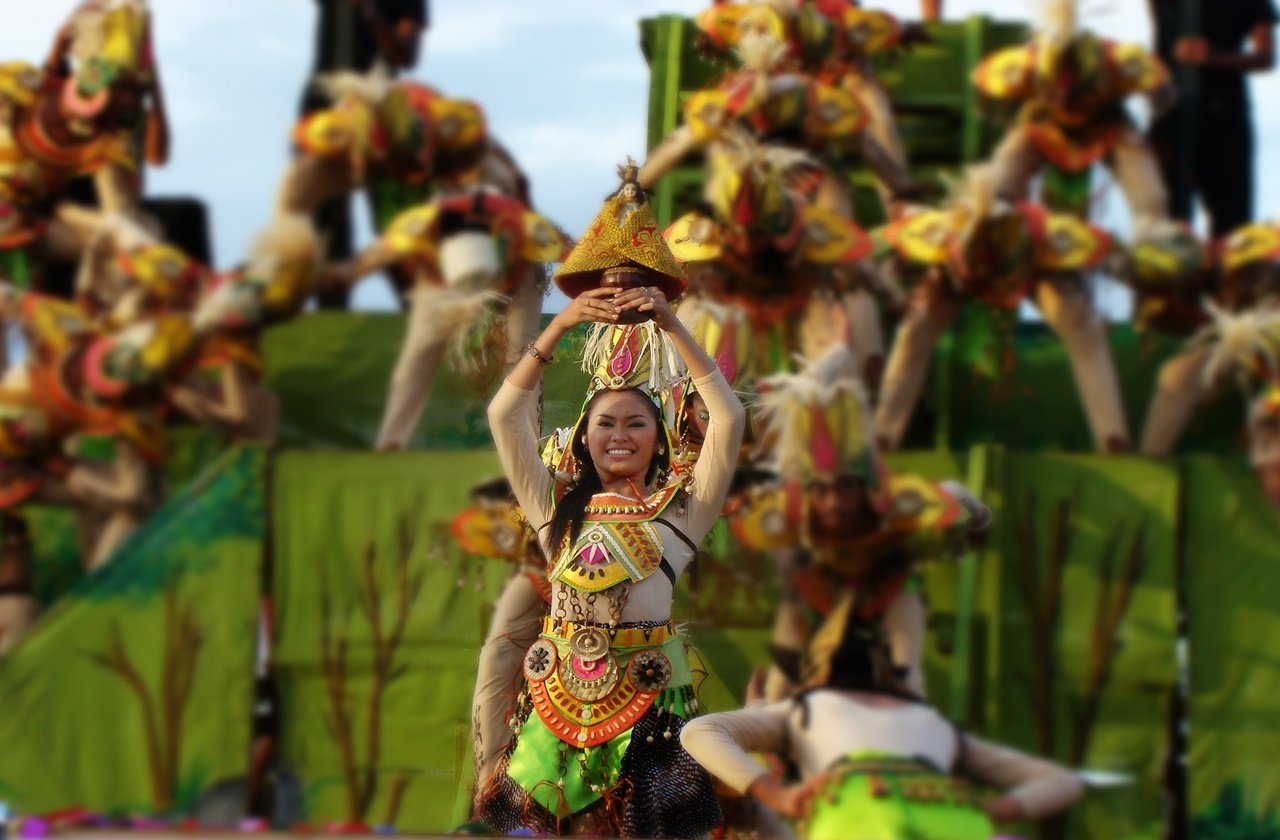 Photo by jelynnc on Flickr
What to expect: Huge street parades with participants wearing body paint
Where to celebrate: Tacloban, Leyte
When: June 29
How to get there: Direct flights from Manila to Tacloban are available. For a cheaper alternative, you can also take a ferry.
The Pintados-Kasadyaan Festival lets you get a glimpse of how the locals lived before the Spaniards arrived in the country. This festival dates back to the 1980s to pay tribute to the tattooed people of Leyte and has since been one of the most anticipated festivals in the Philippines. Expect lively street parades with locals wearing body paint in vibrant hues of green and blue. These designs resemble the armor used by warriors and symbolize the ancestral people of Leyte. Aside from the main parade, the city also hosts beauty pageants and other festive events.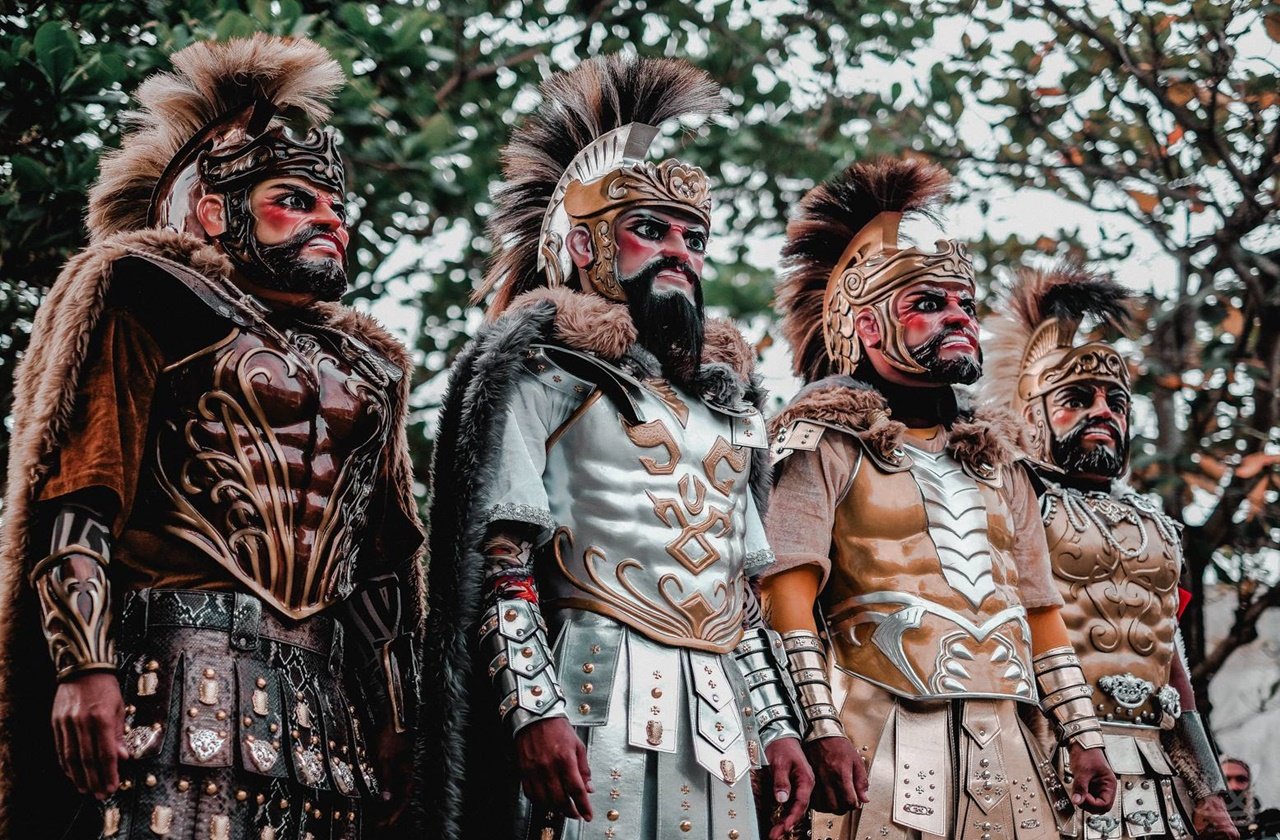 Photo by MORIONES FESTIVAL of MARINDUQUE PHILIPPINES Facebook Page
What to expect: Locals dressed up as Roman soldiers — complete with a breastplate, tunic, helmet, and spear — roaming around the streets
Where to celebrate: Marinduque Island
When: Holy Week (March or April)
How to get there: Marinduque is accessible by either bus or ferry. Since the festival happens during a national holiday, it's best to book your tickets ahead.
Being a predominantly Catholic country, Holy Week in the Philippines is a nationwide holiday. During this time, people go home to their hometowns and reflect on the life of Jesus Christ. The Holy Week is also when the small island of Marinduque celebrates its Moriones Festivals. Here, you'll find people dressed up as Roman soldiers roaming around the main streets playfully scaring children. In the evening, witness a reenactment of the search for Longinus, a soldier who punctured Jesus with a spear. Although there isn't much interaction going on for watchers, you'll see and appreciate the Filipinos' penchant for pageantry and theatrics.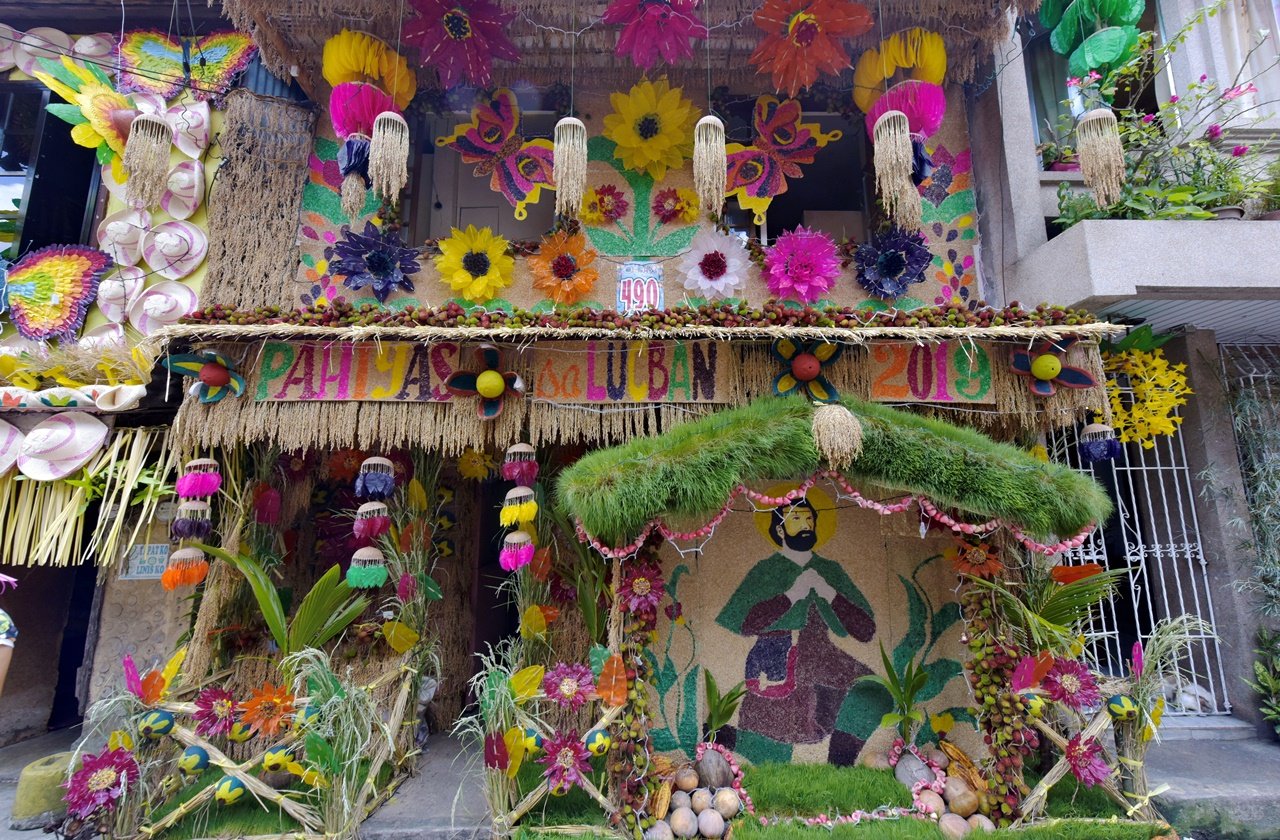 Photo by George on Adobe Stock
What to expect: Houses decorated with fruits, vegetables, and colorful kiping (rice wafers)
Where to celebrate: Lucban and Sariaya, Quezon
When: May 15
How to get there: You can ride a bus or take a private car going to Lucban or Sariaya via SLEX. Travel time from Manila can take up to 3 hours or more, depending on the traffic situation.
Held every mid-May, the Pahiyas Festival is celebrated in Quezon province in honor of St. Isidore the Laborer, the patron saint of farmers. The harvest festival brings out the local's creative and competitive side, designing their houses with agricultural products and colorful kiping, leaf-shaped wafers made from rice. Walk around the streets of Lucban and Sariaya and marvel at the creative displays. Best of all, you're free to snag a banana or two from the houses' decorations! Aside from the decorated houses, other Pahiyas festivities include parades starring papier-mâché giants and lavishly designed floats.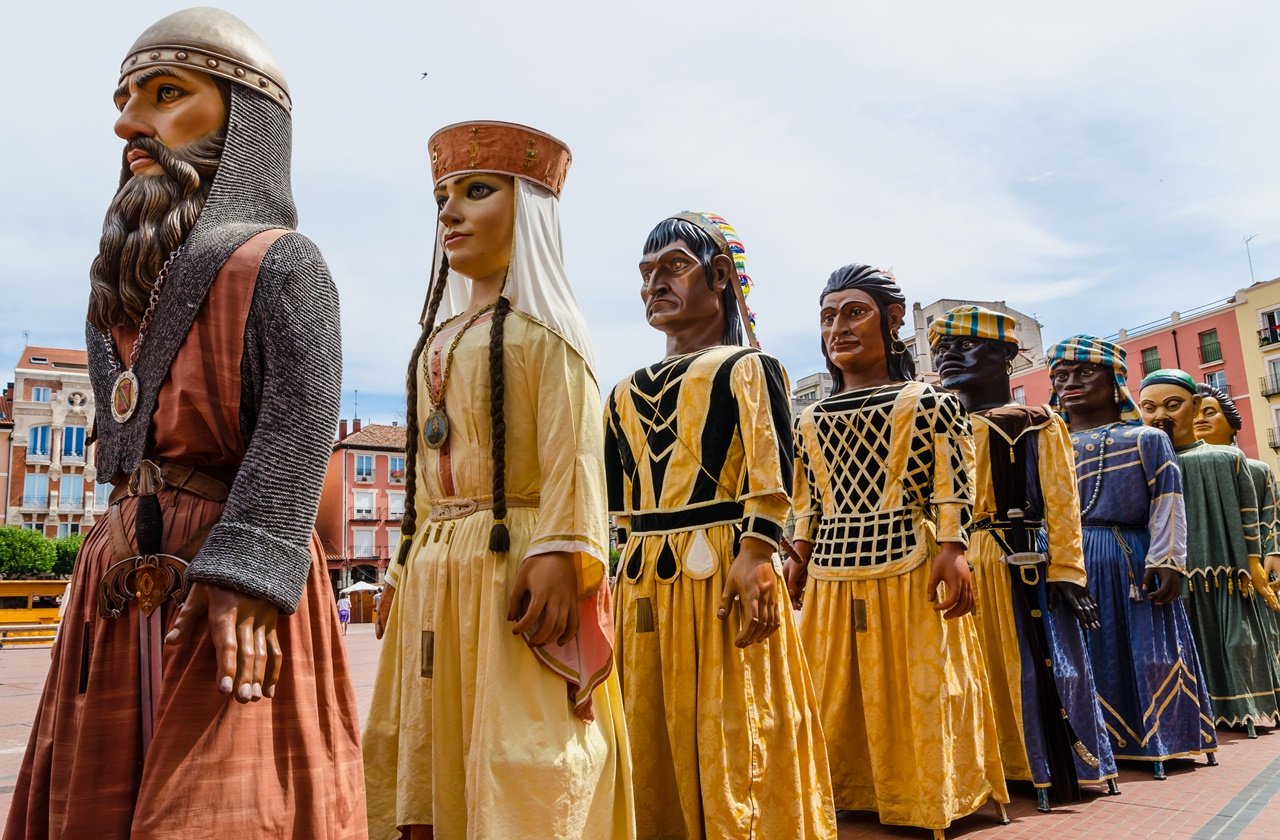 Photo by Alfonsodetomas on Adobe Stock
What to expect: Parades featuring giant papier-mâché puppets, water-splashing activities
Where to celebrate: Angono, Rizal
When: November 22-23
How to get there: There are buses along EDSA that pass by Angono. You can also ride a jeep or air-conditioned vans going to Angono and different parts of the city.
During the last weeks of November, head to the town of Angono in Rizal and witness one of the most unique festivals in the Philippines! Find towering papier-mâché puppets parading around the city while marching bands play energetic beats at the Higantes Festival. These puppets festival started as a small event mocking the bad hacienderos (land owners) who prohibited the common folk from celebrating, except for one festival every year. Since then, it evolved into a festival celebrating the feast of Pope St. Clement I. Other than the iconic puppets, another festival highlight is the basaan, or water splashing, where people will sprinkle water on each other as a form of blessing.
11. Giant Lantern Festival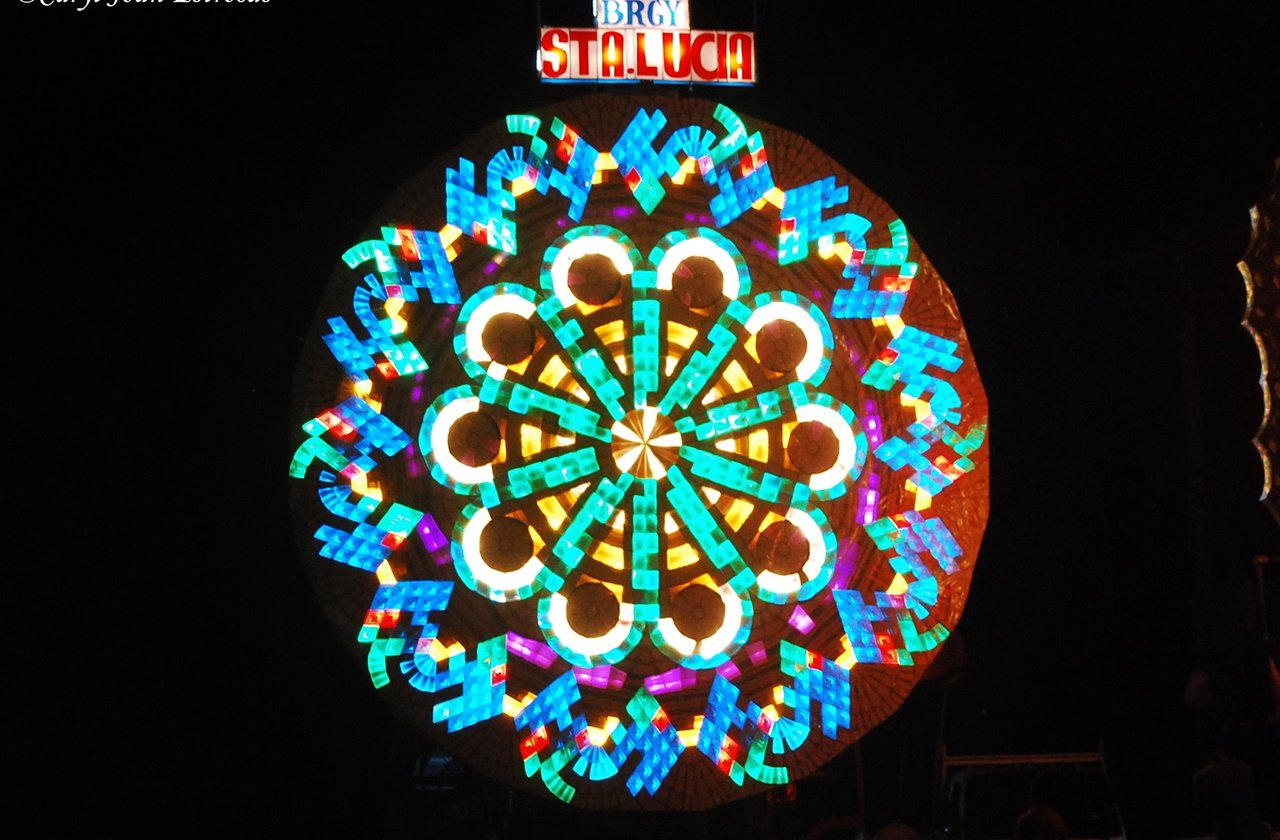 Photo by Caryl Joan Estrosas on Flickr
What to expect: Giant displays of parol (star-shaped lanterns) and light shows
Where to celebrate: San Fernando, Pampanga
When: December
How to get there: Take a direct flight to Clark Airport for a hassle-free trip. Otherwise, you can get to San Fernando by bus from Manila.
The Philippines is one of the best places to spend Christmas, and the Giant Lantern Festival is proof of that. Also known as the Christmas Capital of the Philippines, barangays of San Fernando compete in making the best parol, with some reaching up to 20 feet in diameter. In addition, these lanterns should only be made from locally sourced materials. These festive lanterns are paraded around town before the Christmas midnight mass and the winning barangay is awarded the best parol. Add in the Filipino's hospitable nature with the atmosphere in San Fernando and you'll have a memorable Christmas experience.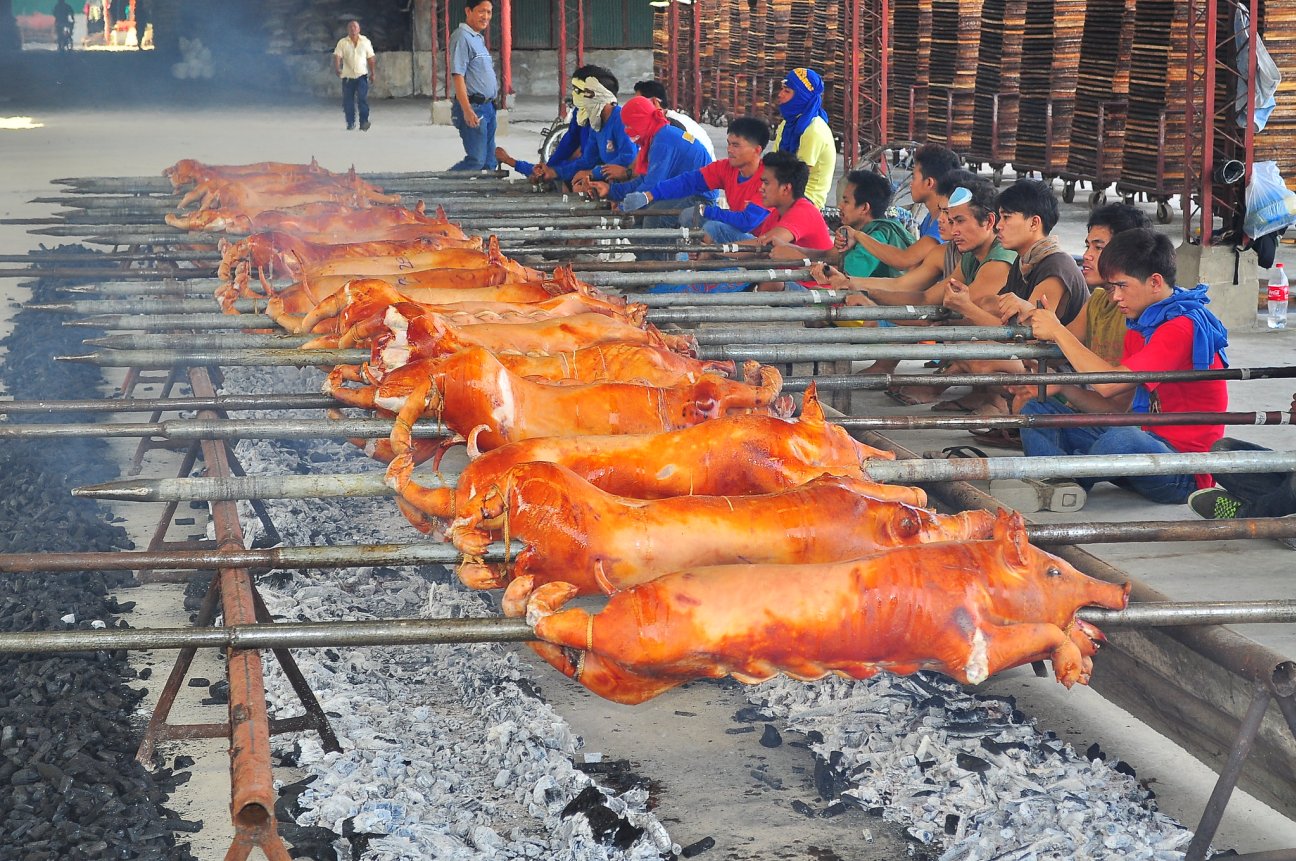 Photo by whologwhy on Flickr
What to expect: Street parade featuring roasted pigs, water-splashing activities
Where to celebrate: Balayan, Batangas
When: June 24
How to get there: Balayan is accessible by bus or by private car via SLEX. Travel time from Manila can take up to 3 hours or more depending on the traffic situation.
The Lechon Festival in Balayan is one of the most exciting festivals in the Philippines. It honors St. John the Baptist with a unique street parade — featuring none other than the lechon, a must-try Filipino food. Not only are these roasted pigs paraded around town, but they are also dressed in the most eccentric costumes. Expect to see roasted pigs dressed up as celebrities and popular characters. If you plan on attending this festival, get your waterproof cameras ready for the basaan, where people douse each other with ice-cold water. No one is spared as locals splash water on passers-by from their balconies or front yards. After the exhilarating water-dousing tradition, everyone is free to feast on the delicious lechon!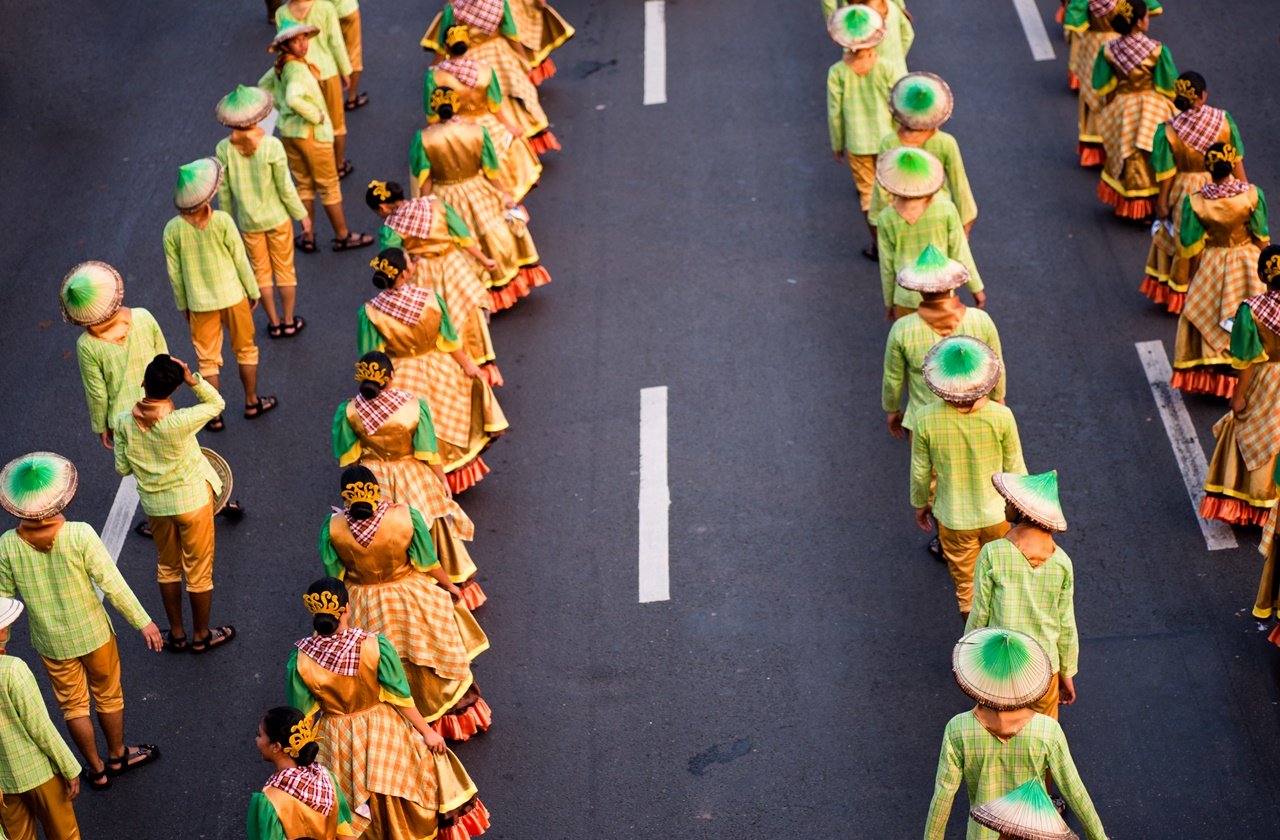 Photo by leonardovillasis on Flickr
What to expect: Showcase of all Filipino festivals in one big event
Where to celebrate: Pasay City. Metro Manila
When: April
How to get there: Pasay City is one of the most accessible cities in Metro Manila. You can reach the city by bus, private car, train, or jeep.
If you want to experience all Philippine festivals but you're short on time, go for the Aliwan Festival instead! The so-called "Festival of All Festivals" is actually a contest that aims to promote cultural diversity and showcase the various Filipino festivals. Despite being one of the newer festivals, it quickly became one of the most popular festivals in the Philippines. Every year, all 17 regions in the country participate in the festival's main highlights: a street dance competition, float parade, and beauty pageant. Because of the accessibility of Pasay City, you can easily join the festivities and see the country's festivals in one place.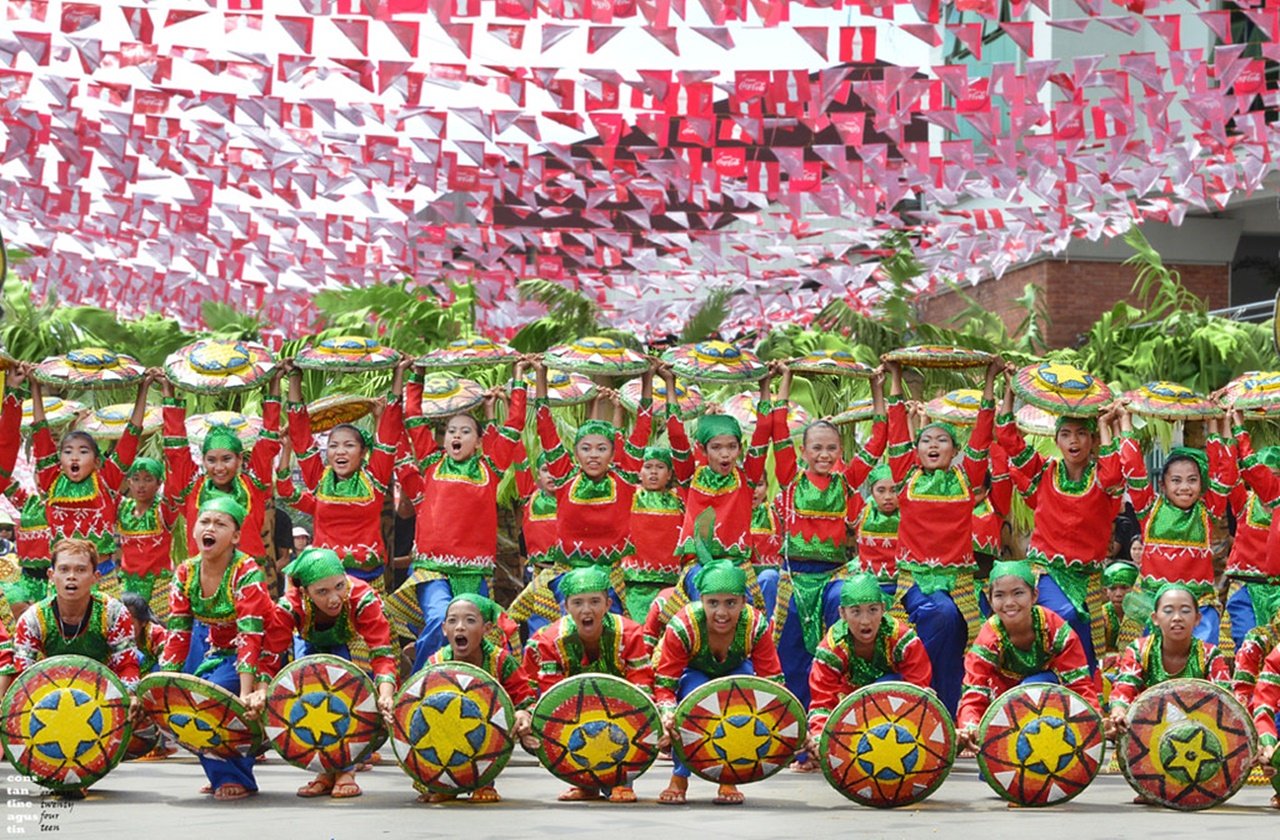 Photo by Constantine Agustin on Flickr
What to expect: Fluvial parades, tribal dance competitions, trade fairs
Where to celebrate: Davao City, Davao del Sur
When: 3rd week of August
How to get there: Direct flights to Davao are available via Davao International Airport. You can also fly or take a 3-day ferry ride from Manila to Davao City.
Held every 3rd week of August, Kadayawan Festival is celebrated in Davao City celebrates its as a tribute to its indigenous people. It also serves as a thanksgiving celebration for the city's bountiful harvest season. Join the Kadayawan festivities and learn more about the rich cultural heritage of Davao City. Explore the streets of the city, adorned with fresh fruits, vegetables, and produce. Aside from the parades, other events include the civic-military parade, cultural presentations, and beauty pageants.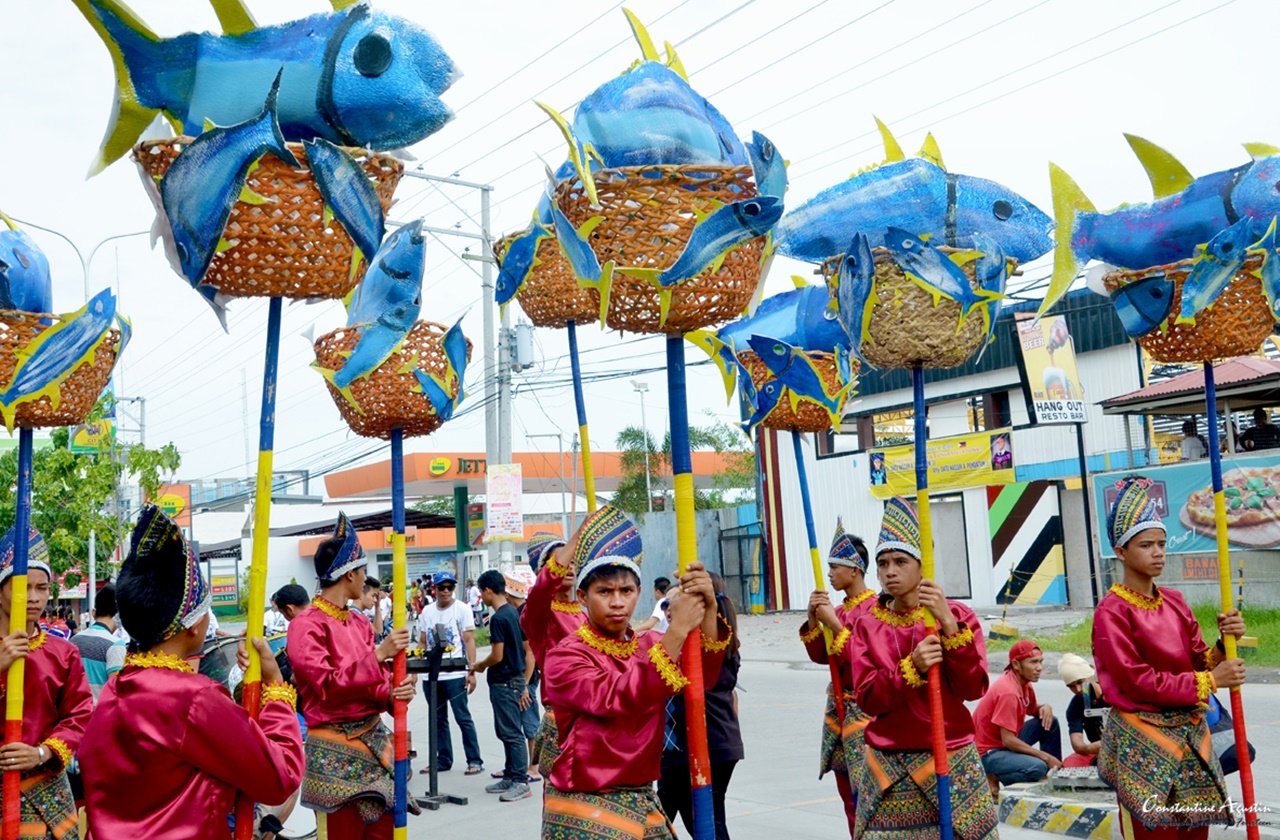 Photo by Constantine Agustin on Flickr
What to expect: Ocean-themed float parade, fresh tuna served along the street
Where to celebrate: General Santos City, South Cotabato
When: September
How to get there: General Santos City is less than two hours away from Manila by plane. Ferry routes are also available from Luzon and Visayas. If you're coming from neighboring cities, there are buses, jeepneys, and vans going to the city.
The city of General Santos (also called GenSan) is the Tuna Capital of the country, thanks to its sashimi-grade tuna. And what better way to showcase their wealth of tuna than by having a festival that revolves around it? Visit GenSan in September and witness this fresh, tuna-themed festival. Watch the street parade where locals showcase their bountiful catch, the exciting motorized boat race, street dancing competition, and more. Lastly, don't miss the Sugbahan sa Dalan, a long line of grills set up on the streets, where you can taste fresh tuna for free!
Tips on Attending Festivals in the Philippines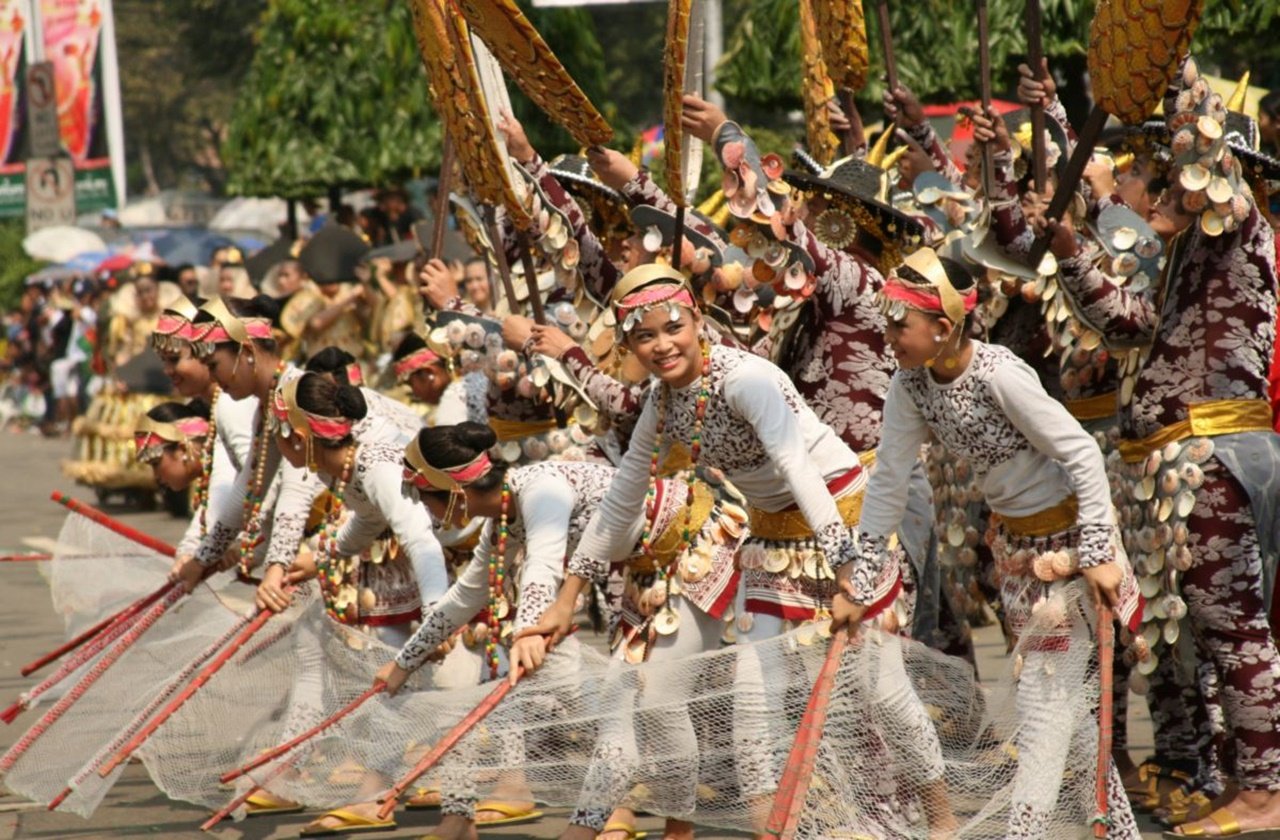 Photo by Rio Calle on Flickr
Plan ahead. Since these festivals are also nationwide holidays, expect that hotel and airfare prices will surge. Make sure to book your plane tickets and hotels in advance to avoid paying for a higher fee.

Expect big crowds. That being said, it's best to carry only the necessities and always secure your belongings. Don't bring too much cash or valuables since there may be pickpockets at the festival.

Stay hydrated. The Philippines is a tropical country and those who come from colder countries may find the weather extremely hot. To avoid dehydration, always have plenty of water with you.

Dress comfortably. You'll be attending a whole-day event which involves a lot of walking. Bring out your comfortable walking shoes and avoid layering clothes.

Don't forget to bring an umbrella and sunscreen. The weather in the Philippines can be quite unpredictable, and you wouldn't want to get caught in the heavy rain or risk having a sunburn.

Don't be afraid to socialize! Filipinos are very friendly and hospitable. You can even ask them to take your photos or ask for food recommendations.

Respect the country's culture. There may be certain aspects of a festival that are uncomfortable to see or watch, but understand that this is ultimately part of their culture. Culture shock is inevitable, but remember to be open-minded when attending festivals in the Philippines.
It's More Fun in the Philippines!
There's definitely more to the Philippines than its friendly locals and swoon-worthy beaches. With its history, one can't deny that the Philippines has a rich cultural heritage. This is also evident in the many festivals celebrated around the country. From festivals steeped in Catholic tradition to aviation-themed events, the Philippines has a very impressive list of celebrations.
Given the list of the must-attend festivals in the Philippines, take your pick and plan ahead! You're sure to learn and discover more about the Southeast Asian gem by attending these fiestas.