Top 9 Things To Do In Siargao Island, Philippines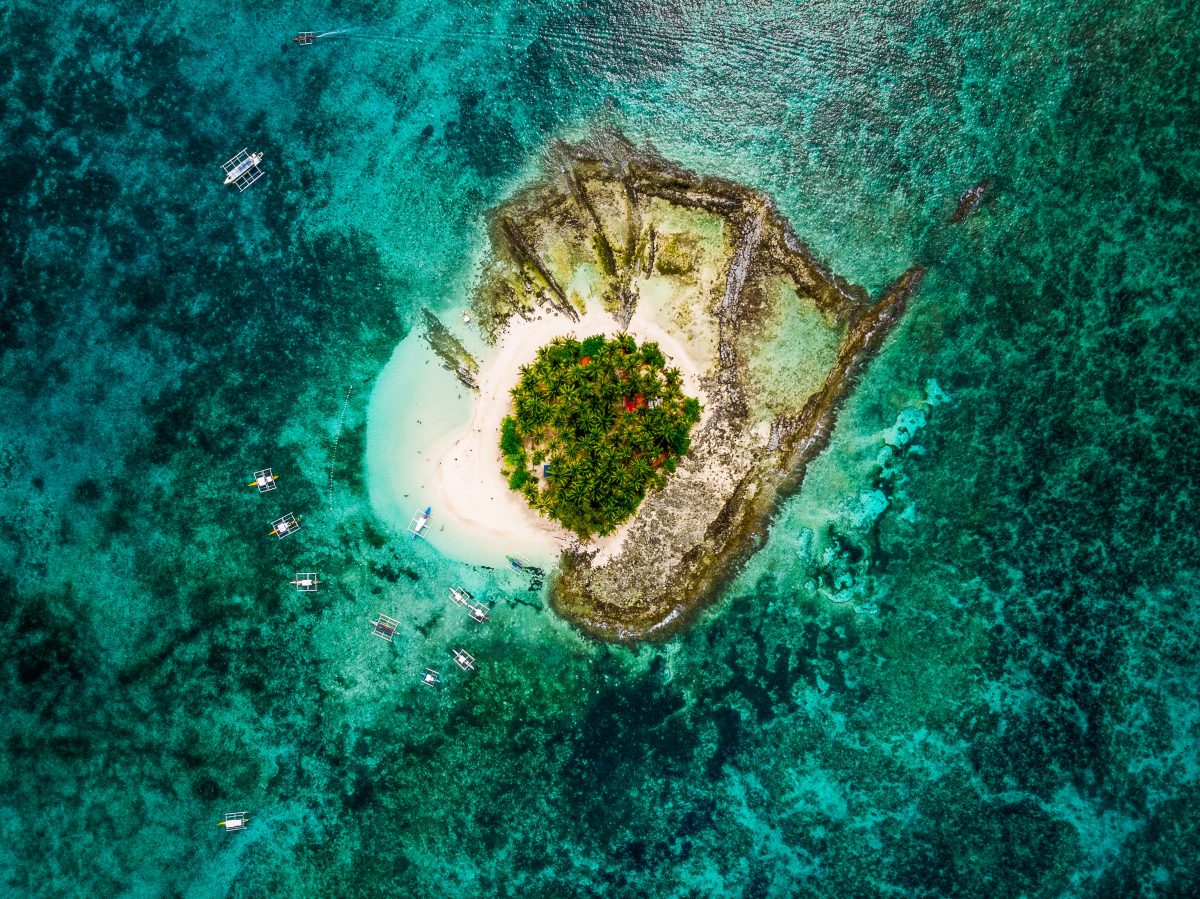 All hail to the surfing capital of Philippines — Siargao Island. While the island is stunning even just by lounging at the beach, traveling to Siargao Island travel is incomplete without surfing and island hopping.
Apart from that, Siargao is also popular with its dancing water waves and white-sand beaches. Riding a habal-habal, trying local meals, and visiting some lagoons and caves are some of the activities you can enjoy in Siargao.
If you're planning your next trip to this teardrop-shaped island, here's a list of the top 10 things to do in Siargao Island, Philippines.
1.
Go Siargao Surfing Like A Pro
Siargao attracts both local and international tourists by its natural charm and rolling shores. It is the Surfing Capital of the Philippines, so the first thing you should try is to surf.
However, if you don't know how to beat the waves, you can join one of the beginner's surfing lesson plan. Starting with an estimated price of 1,000 Php (19 USD) for two hours. Listed below are some of Siargao's Surf Breaks, in case you need to know.
For beginners, you can go to:
Giwan Beach

Quicksilver (Inner)

Jacking Horse (Inner)
If you're an intermediate-level surfer, move to:
Quicksilver (Outer)

Jacking Horse (Outer)

Stimpy's Rock Island

Salvacion

Cemetery

Daku
However, if you're an expert with sufficient experience with surfing or even an expert, try these locations:
Cloud 9 Siargao

Tuason

Pacifico

Burgos
Whether you're a newbie or a pro, the waves of Siargao beaches will be fun and adventurous. Tourists come into the island all year round, but the peak season for surfers is usually from July until late January. Take note that there's a Cloud 9 Surfing Cup, which happens every late September or early October, so expect a crowded island.
2.
Go Island Hopping Near Siargao
Siargao is an island close to many beautiful islands. They offer a three-island adventure that includes Guyam, Naked, and Daku. Each island has unique features of the water, sand, and rock formation pleasing to the eye.
The island hopping rate costs 1,500 Php (28 USD) for a group of 6 persons. Every island also has entrance fees amounting to 30 Php (0.60 USD) per person for Guyam, 100 Php (2 USD) for Daku, and Free for Naked. If you need a cottage, the rent costs around 200 Php (4 USD) to 350 (7 USD) Php per hour.
3.
Visit The Sugba Lagoon At Siargao
Sugba Lagoon is one of the most famous attractions in Siargao located in the northwestern part of the island. When you're in the lagoon, explore it by renting canoes, paddling boards, or bamboo rafts. For daredevils, go for cliff diving. The dive certainly will have you stunned silence. To make the best out of it, go snorkeling in the crystal clear water. Don't be surprised to witness some stunning corals and aquamarine.
To get to Sugba Lagoon, you should go first to Del Carmen Port. From there, you have to register your name at the local port authority. Then, ride the boat for 1,600 Php (30 USD) for six persons. The travel time from the port to the lagoon is almost one hour.
4.
Take A Trip To The Sohoton Cave
This place is so fascinating to see, even it's at a separate island from Siargao. It is quite expensive to go there, but it's worth the ride. You can find enchanting caverns, dazzling lagoons, and other little islands. In the middle part of Sohoton Cove, you'll see groups of stingless Jellyfish. Their peak season is from July to August.
To get to Sohoton Cove, you need to ride a boat at Dapa Port in Siargao Island going to Bucas Grande for approximately 3,000 Php (57 USD) to 3,500 Php (67 USD) for five persons. Other fees may also include entrance fee 50 Php (1 USD), and additional environmental fee 50 Php. Bring extra cash if you plan on hiring a tour guide for about 350 Php, and docking fee per boat 100 Php (2 USD).
5.
Take A Cliff Jump At Taktak Waterfall
Head up to Taktak Waterfall in Santa Monica for a one-day adventure. Explore and admire the splash of falling water. It's one of the places with less tourist, so you'll have a great time watching the beautiful Tak Tak Waterfall. If time persists, go swim at the turquoise water with peculiar rock formation pool at Magpupungko Rock Pools.
6.
Try The Local Food In Siargao
Never miss the opportunity to try Siargao's local dishes. Some recommended restaurants are Harana Surf Resort & Restaurant, Kermit Surf Resort & Restaurant, Mama's Grill, and Shaka Siargao. You've got plenty of options from eateries to international restaurants.
7.
Catch The Beautiful Sunset
After a day full of adventure, take a short breather. Catch a beautiful sunset by the beach. Cloud 9 Pier is quite too busy with tourists, but it's also a great place to watch a sunset. You can quietly sit down on the edge of a hut while watching the pastel burn sky turn into the dark.
8.
Ride A Habal-Habal (Local Motorcycle Transportation)
Habal-habal is a motorcycle taxi in the Philippines. While this transportation is arguably dangerous, but, trust us, it's actually safer than you expected. As one of the major transportation in Philippine, Siargao is no exception. To beat the crowd, transporting with a motorcycle is convenient and budget-friendly too. Don't be surprised to find that most drivers are all accommodating, especially if you're uncertain with your address; they make sure to get you to your final destination.
When your day of traveling is over, it's time to have some more fun and lively nightlife. You can go to a bar or go club hopping. If one thing Siargao is no shortage of is definitely the bars and clubs. For party-goers, here's your chance! Though parties usually kick off at around 11 PM, you might want to be there earlier to secure a good spot Some of the most celebrated nightlife venues are Bravo, Rum Bar, and Viento.
Where To Stay In Siargao?
In General Luna
Most tourists stay somewhere near the town of General Luna since it has many bars, restaurants, tours, port, and Siargao hotels.
Lampara Siargao Boutique Hostel offers the best value. It's an oceanfront boutique hostel situated at the exotic island of Siargao. It has a calm atmosphere and comes with air-conditioned rooms for supreme comfort. The place has everything you need in Siargao.
Kalipay Resort will give you the best atmosphere. Located conveniently at the center of General Luna, this place will make you want to stay longer. It features chill vices with modern designed rooms. Kalipay Resort is a luxury resort but not too pricey. It will give you a luxurious island life and not too far away from shops and restaurants in General Luna.
In Malinao
Malinao is not too far from General Luna. In here, you can have both luxurious and affordable Siargao island resorts with stunning landscapes.
Nay Palad. If you want something luxurious, book your stay at Nay Palad. It's not located in General Luna, but its beautiful exteriors and astonishing views will take your heart away. Enjoy quality food, top-notch hospitality, elegant villas, and other extra activities. They also provide an iPad for each room for guest use!
The Village Siargao for value. It is perfect for all kinds of travelers like solos, couples, families, or groups. The Village Siargao offers affordable rates and comfortable rooms. It has a porch for hanging out with other people, or you can drink a cup of coffee.
In Pacifico
Pacifico is famous for long stretch of white sand beaches, countless palm trees, and the relaxing sound of the Pacific Ocean's waves. It's also the best location to stay if you want to visit Magpupungko Rockpool and Taktak waterfall.
Grotto Gardens. Experience living a simple local life in here. It's gorgeous and peaceful with a beautiful view of mangroves. They can also cook delicious meals upon request. The staff are friendly and will help you with your itinerary if you're unsure.
Calypso Surf and Dive. Located at the northeastern part of Siargao Island. If you want a budget-friendly accommodation, book your stay here. It will give you some quiet time and away from the bustling sound of General Luna.
In Socorro, Siargao Island
Socorro is at Surigao del Norte and the deserted town in the islands of Bucas Grande. It's only an hour boat ride from Dapa Port in Siargao island. Socorro is the best location if you're going to Sohoton Cove and Lagoon.
Elena Hostel and Cafe. It is a budget-friendly inn with two elegantly-designed rooms. The place offers other extra activities such as fishing, table tennis, darts, hiking, and cycling. You can also get their Siargao & Sohoton National Park tour package if you don't have time planning your trip.
Serenity Oceanside Guest House. It is a guesthouse with large rooms, which makes it the best choice for families. It has a relaxing view of the sea with a very relaxed ambiance. The location is ideal if you are visiting Sohoton Cove. The perfect accommodation if you want some privacy, and enjoy uncrowded white-sand beaches.
How To Get There?
Traveling by air is the fastest means of going to Siargao. There's no direct flight from any international country, and you have to make a stop from any Philippine Airports in Manila, Cebu, Davao, or Surigao City going to Sayak Airport (Siargao). The fare depends on the season, and the cheapest is around 3,000 Php (60 USD) each ride.
Siargao Airport to General Luna
Once you arrive at Sayak Airport, you can travel to General Luna by various transportation modes.
Van. It is the quickest and most reasonable transportation mode going to General Luna. You will see parked vans outside the airport that you can rent. You can save more if you will share the ride with other passengers or if you're a group. Travel time is approximately 45 minutes, and the fare is 300 Php (6 USD).
Motorbike or Habal-Habal. You can rent motorbikes for 500 Php (9.60 USD) per day, or take a habal-habal (hired motorcycles) for approximately 500 Php per ride.
Multi-cab. It's a small multi-seater vehicle that almost similar to bonsai trucks. It has enough space to carry your luggage, but the price starts at around 1,500 Php (28 USD) depending on your destination.
When Is The Best Time To Visit Siargao Island?
Just like any part of the Philippines, Siargao has a dry and wet season from March to November, which is perfect if you intend to do other leisure activities. If your only intention is surfing, seasons don't matter as waves are strong all year round in Siargao. If you want to get some heat from the Sun, visit Siargao between March to May, as it's the best time to travel.
Final Words
Since early 2010, Siargao has been a favorite tourist spot known for its dancing waves, white-sand beaches, and blue bodies of water. With more and more people coming every day, it has expanded with different establishments such as hotels, resorts, restaurants, café, and bars. The local government and community have been working together to make traveling around Siargao more convenient. With its natural beauty and charm, no doubt Siargao Island is a favorite tourist destination in the Philippines.