Napa Valley Wine Train: Everything You Need To Know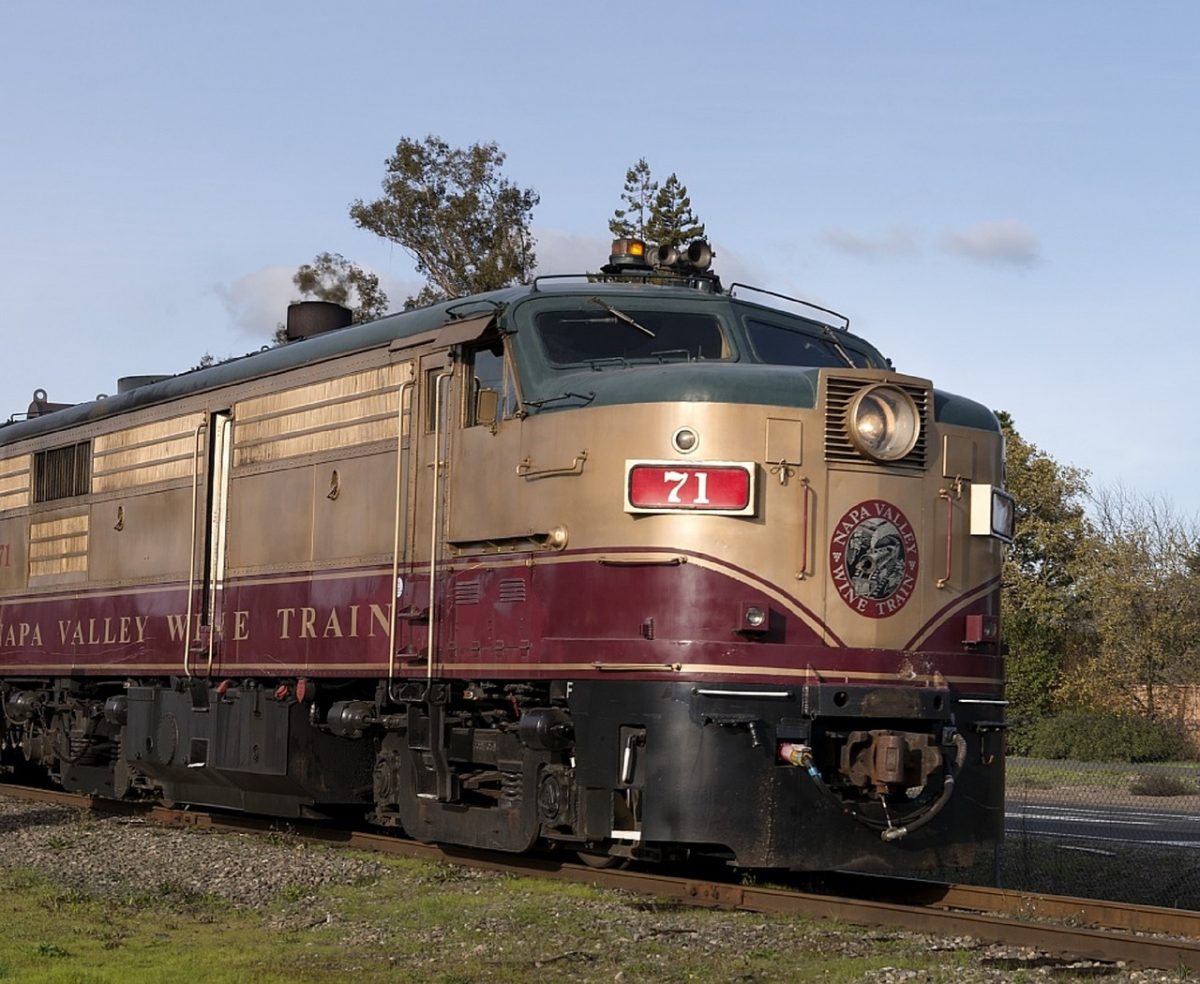 The Napa Valley Wine Train is an excursion train that runs between Napa and St. Helena, California. This tour takes you through the hundreds of wineries situated in Napa Valley.
This Wine Train passes through Yountville, Rutherford, and Oakville while serving you meals and wines in an elegant and vintage setting. You are provided extensive varieties of packages that you want to get into, some of which will include stopping for tours and have a tasting at wineries.
Though Napa Valley Wine Train packages seem expensive, the majority believes that the experience is always worth it. Treat yourself on an adventure and surprise your loved ones for a romantic trip in this wine train. We noted down some of the must-try tours for you to enjoy in this journey!
Experience A Full-Day Winery Train Tour
Experience a five or six-hour discovery on these full-day winery tours, as you venture through the vast land and experience some of the best wines this place has to offer. This tour will also reveal the art of winemaking and showcase some of the most elegant wine estates in Napa Valley.

The Legacy Tour offers you a four-course meal in between tours through three wineries; Robert Mondavi Winery, Charles Krug Winery, and V. Sattui Winery. You are given an hour to go through each winery and do some tasting.
Your first-course meal will be preceded by a glass of wine. After coming back from each tour, each course will be served which is as exquisite as the first one. Whatever dishes you may get during the tour, make sure to savour every bite while enjoying the beautiful landscape of Napa Valley.
For your final course, a sweet and savoury dessert will surely melt your heart on your journey back to the Napa Valley Station.

The Collective Tour is very similar to the Legacy Tour in the pattern it follows. The differences are the choices of cuisine and the wineries you are taken to during the stops. You will be visiting St. Supery Estate Vineyards, Beringer Vineyards, and Raymond Vineyards during this tour.
You don't have to worry about how different this tour is going to be, as you will be eating a four-course meal too! Furthermore, you should know that every experience on each tour is set up to be as awesome as possible. You will meet some very helpful staff who will tell you the stories of the various striking locations you pass along the way.
On the Estate Tour, you will be taken to three other wineries for your tours and tasting. Also, their four-course meal in between the tours shouldn't be missed out as well. Experience wine tasting in Domaine Chandon, Louis M. Martini and Inglenook Winery.
A welcome taste of sparkling wine will start your tour, paired with a light gourmet breakfast trio. The schedule for the Estate Tour starts at 10:45 AM which is a little different from the other full-day winery train tour.
4.
The Castle Winery Tour
This Castle Winery Tour is a 5 hours journey that will give you a tour to Castello di Amorosa. Castello di Amorosa is a 13th century medieval Tuscan castle and winery. You are given 2 hours to explore the grounds and taste the products of the vineyards.
While heading towards your destination aboard the Napa Valley Wine Train, you will get to enjoy a multiple course lunch to savour the moment. A shuttle will be ready to pick you up for your return once the tour is done.
5.
Ambassador Winery Tour
On the Ambassador Winery Tour, you'll get a multiple course gourmet lunch and tours through two of the most famous wineries in Napa Valley. This is another 5-hour journey that will take you to The Charles Krug Winery and The Raymond Vineyards.
You will be taken through this wineries while their stories are told to you. Enjoy the transition from an intimate barrel cellars to a living outdoor educational exhibit between these two wineries. Same as the rest of the tours, you also get to taste their wines.
Choose Between A Lunch Or Dinner Tour
If a full-day tour is a bit too much for you, then this suits you! Choose whether you wanted to start with the 11:30 AM Lunch tour or 6:30 PM Dinner. Either which, surely this will provide an exquisite experience for you to treasure.
1.
Have A Date In Gourmet Express
This package gives us a lot of scenic views and an amazing lunch. Have a taste of an amazing multiple course meal freshly prepared by a chef on board. Furthermore, for a full amazing experience, the selection of meals is seasonal. That means you get a meal with in-season local ingredients to make sure that it is tailored to your palate.
You are also given the option for a dinner package on the Gourmet Express. Between seeing the night scenes of Napa Valley and your multiple course meal, the whole tour will surely give you a very intimate scene. So bring your partners and spouse for a cosy night in Napa Valley Wine Train.
2.
Get Intimate At Vista Dome
The Vista Dome is the top deck of the two-story part of Napa Valley Wine Train. It is an observation-style dining car with big windows all around it for your viewing pleasure. This provides a private setting as it has limited but spacious seating in plush booths.
This tour offers a special menu, plus, you will be welcomed with a taste of sparkling wine. The dinner package of the Vista Dome is more intimate than that of the lunch. Perhaps the beauty of the night sky gives away the romantic vibe on its dinner tour.
Discover Special Tours
Spice up your excursion with some of these suspenseful, dramatic and jaunty experience. Here are some of their must-try special tours.
1.
Grgich Saturday Evening Tour
Grgich Hills Estate Saturday Evening Winery Tour is a 3-hour tour and available only on Saturdays. Experience VIP treatment with your fellow wine lovers and feel privileged as you get to enjoy the place all by yourselves.
After an exclusive 1-hour tour in Grgich Hills Estate, enjoy the moment on a 2 hours evening rail tour of Napa Valley. A delectable three-course gourmet dinner will be served aboard while on your way back to the station.
The Murder Mystery tour is one that engages your mind in the murder theatre provided. You get to ask the participants questions and do your best version of Sherlock Holmes.
You are also provided with a multiple course gourmet dinner while solving this bewildering mystery. The Murder Mystery tour is available only on some days of a month so make sure to plan ahead.
As the name implies, the Santa Train is a ride of festivities. Onboard music, games, and other forms of entertainment are available for you to enjoy. Share some hot cocoa and freshly baked cookies with your loved ones while reminiscing your childhood.
Get to experience an interactive musical journey at the station while on a 1.25-hour Christmas train ride. You also have the option to purchase additional beverages and snack boxes if you want. Same as with Murder Mystery, you need to plan ahead and reserve a slot as this is only available on selected dates.
To Summarise…
Regardless of whether you pick lunch or dinner, romance or mystery, or perhaps have an exclusive tour, you can't go wrong with this wine train. Napa Valley Wine Train brings you to a former period in time, in a sumptuously vintage setting.
Complete your California escapade by relaxing in their best spas!