A Guide to International Carry-on Luggage Size to Avoid Penalties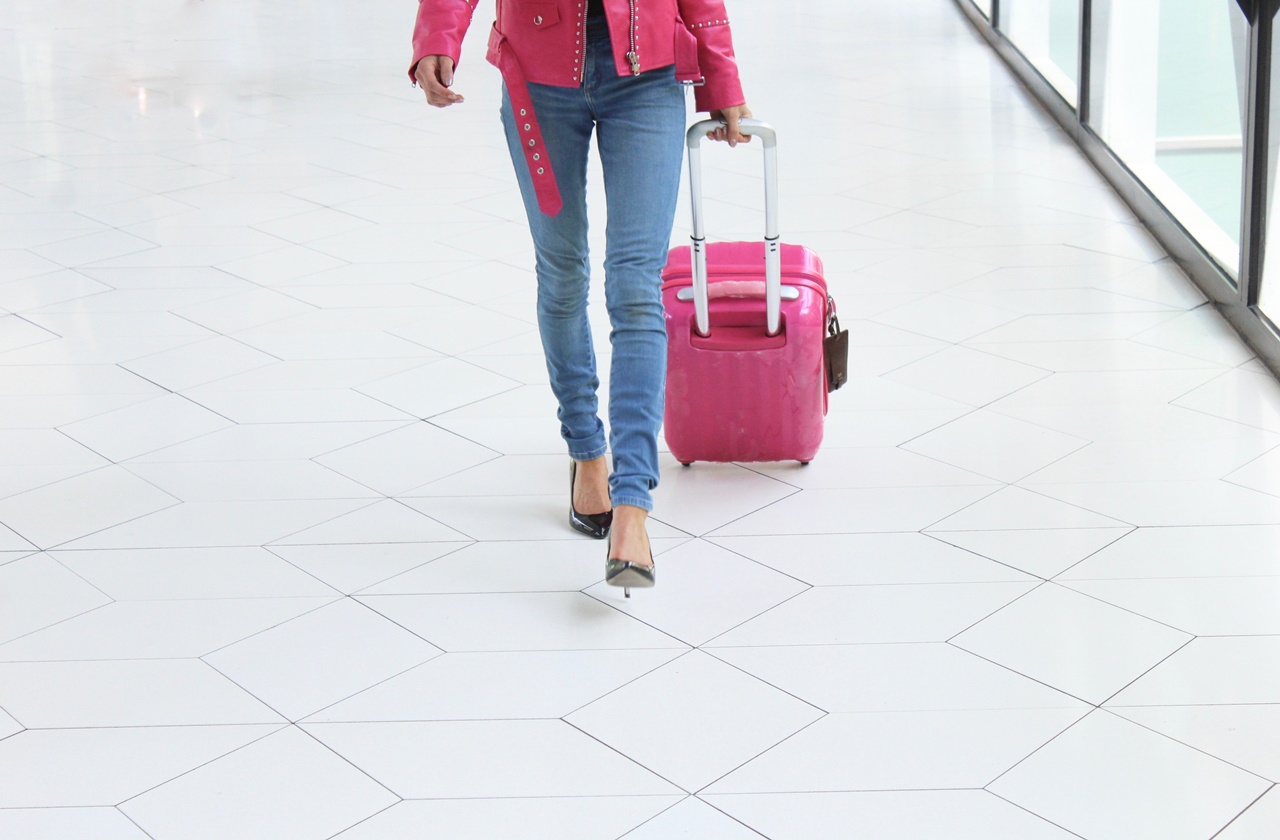 Your plane tickets are booked and ready, and you've completed your 5-day itinerary. Your accommodation is confirmed and all you need to do is to pack your things. But before you start rummaging through your closet, make sure that you have the right carry-on luggage with you. As a traveler, the last thing you want to happen is to have your carry-on luggage exceed an airline's maximum weight limit.
This is why knowing an airline's carry-on luggage size is important to avoid the dreaded penalties and fees. It's a confusing subject since there are so many airlines and they all have different policies. But once you get the hang of it, you'll be able to breeze through security checkpoints with your essentials.
What is a Carry on Luggage?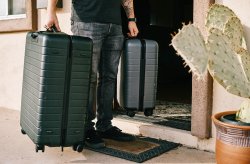 Photo by ConvertKit on Unsplash
A carry-on suitcase, also called handheld luggage, is basically any bag you bring on the airplane. Unlike check-in luggage, your carry-on luggage stays with you during the flight and is not checked in before your flight. Depending on the airline company or country, a carry-on luggage is also labeled as cabin luggage or hand luggage.
Carry-on luggage is normally stored in an airplane's overhead bin or under your seat. Trains are also equipped with storage spaces for carry-on baggage above the seats and designated spaces in between seats.
Carry-on Luggage vs Personal Item
Aside from your carry-on luggage, you are also allowed to bring a personal item on the airplane. A personal item is a separate bag, ideally smaller than carry-on luggage. It can be an underseat luggage, laptop bag, backpack, briefcase, or a camera case. Personal item specifications and restrictions vary by airline, but the general rule of thumb is that a personal item should be small enough to fit under the seat in front of you or under your seat. However, some airlines give specific dimensions for personal items. Other airlines also give separate weight limits for carry-on baggage and personal items and others give a combined weight limit.
If you have two bags with you, one must fit under the seat and the other one into the overhead bin. Also in some business or first-class flights, you are allowed an additional carry-on bag. On the other hand, some budget or economy flights only allow one carry-on luggage.
What to Look for in a Carry-on Luggage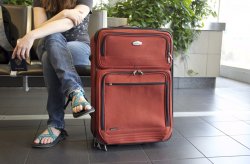 Photo by katyveldhorst on Pixabay
If you don't have a carry on luggage yet or if you are on the hunt for the cutest kid's luggage, look out for the following features:
Dimensions
Before buying the best carry-on luggage, make sure that it adheres to most airline carry-on size limits. If you have a favorite airline, it's best to choose a carry-on that is within their size limit. Although there's no strict size limit, the common size for most carry-ons is 22 inches x 14 inches x 9 inches. These dimensions include the wheels, retractable handles, and compartments.
Lastly, before buying a carry-on luggage, make sure that you measure it using a tape measure. Although there are dimensions provided on websites and on the tags, it's best to see for yourself that the luggage has the dimensions you need.
Hardshell or Softshell
Hardshell luggage is guaranteed to protect your items especially when it is tossed and turned multiple times during the flight. On the downside, it tends to be heavier and you might end up compromising some items because of the weight limit. Hardshell luggage is also less flexible and might be difficult when you need to cram it into small spaces and overhead bins.
On the other hand, softshell luggage is more lightweight and flexible, perfect for squeezing in overhead bins. If you want to purchase softshell luggage, make sure that it is made from ballistic or durable nylon. Softshell luggage should also be waterproof and stain-proof.
Wheels
It's important for a carry-on luggage to have durable and sturdy wheels. The last thing you want during your travels is to have a luggage with a malfunctioning or missing wheel. Fortunately, most carry-ons now have either two or four wheels, each with their own advantages and disadvantages.
Two-wheeled luggage rolls forward and backward on wheels and is easier to use on most uneven surfaces. However, its drawback lies in the fact that you have to drag it behind you, which causes strain on your wrists and shoulders.
Four-wheeled luggage, also called spinner luggage, has four wheels attached on the sites which turn 360-degrees, ideal for maneuvering around tight spaces. Spinner luggage also allows for more mobility and allows you to turn the bag sideways for narrow areas like plane aisles. Because it has four wheels, you can pull, push, or roll the bag next to you. On the flip side, its wheels are more prone to snapping off and take up more space in the overhead bin. For a more ergonomic option, choose a four-wheeled carry on luggage.
Pockets
Pockets are an important feature for carry-on bags, especially for travelers who like to keep their things organized. This is a common feature for softshell bags since hardshell bags don't allow that many pockets and outer compartments. Some carry-on luggage also has convenient outside pockets for last-minute items and electronics you need. There are also variants of hardshell luggage with a big outside pocket for travel documents and laptops for easy access.
What Is the Size Limit for Carry-on Luggage?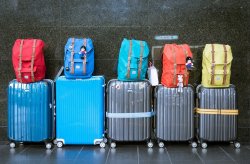 Photo by tookapic on Pixabay
Whether you're flying to a domestic location like Boston or an international destination like Madrid, every airline has its specific carry-on luggage size limit. However, there is no strict one-size-fits-all size limit for carry-on luggage. Because of this, it's important to check your airline's policy on luggage size and other important rules to avoid your bag being rejected with penalties.
If you want carry-on luggage that suits most airline's size rules, the commonly used maximum size is 22 inches x 14 inches x 9 inches. The measurements include all handles and wheels. That way, you don't have to buy different pieces of luggage every time you travel with a different airline.
What Is the Weight Limit for Carry-on Luggage?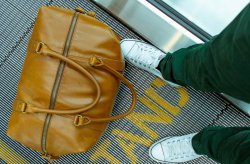 Photo by White Field Photo on Unsplash
Just like the size limit, there are no universal standards for the maximum weight limit for carry-on luggage. The carry-on size limit usually depends per airline, while some airlines don't require a weight limit as long as you are able to carry the bag into the overhead bin.
Most airlines have a weight limit of 7kg for carry-on luggage. Take note that there are other airlines that allow more, and some that have no set luggage weight limit. British Airways allows a weight limit of 23kg while United Airlines doesn't have a specified weight limit. For upgraded flights like business or first-class flights, the size and weight limit for carry-on luggage may be different.
Nonetheless, it's always a good idea to check with your airline for luggage policies. These policies are also subject to change without prior notice, so make sure to check every now and then you travel.
What is Allowed in a Carry on Luggage?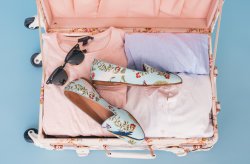 Photo by Arnel Hasanovic on Unsplash
Clothing, shoes, reading materials, gadgets, and medications are normally allowed in a carry on luggage. As a general rule, all important documents and items should be kept in your carry on luggage in case of delayed or missing checked luggage.
Liquids and Toiletries
All non-flammable liquids (shampoo, perfume, liquid medicine, cosmetic products, etc.), gels (hand sanitizers, toothpaste, hair gel, etc.), and aerosols (deodorant, insect, and hair spray, etc.) are allowed in your handheld baggage as long as they meet the restrictions. All must come in small or travel-sized containers under the TSA liquid limit of 100 ml (3.4 oz) and must fit in a single resealable bag no bigger than 1 liter (34 oz). Exceptions to the TSA liquid rule include baby formula, insulin, and other liquid medical necessities.
Jewelry and Valuables
Jewelry and other items of monetary value are allowed and are recommended to be in your carry-on luggage. These items are allowed as long as they meet security regulations. Airline carriers also recommend storing jewelry in your carry-on baggage instead of checked baggage since the latter may get delayed or lost during a flight. Before the flight, put your jewelry on a tray for individual screening.
Medication and Other Medical Equipment
As per TSA medication rules, medications and all prescription and over-the-counter medications are allowed in carry-on luggage in case of emergencies. Other medical equipment like inhalers, insulin and blood sugar test kits, EpiPens, canes, and more are also allowed. Take note that some of these items must be declared to screeners and are subject to individual screening.
Electronic Devices
Gadgets and electronics are allowed in carry-on luggage. They are ideally kept in handheld luggage since checked baggage is often tossed around before and after a flight. Power banks are also only allowed in a carry-on suitcase and are not allowed in checked baggage as they are combustible. Take note that you have to take these gadgets out of your carry-on luggage at the security checkpoint. Any other electronic items will also be scanned separately.
Batteries
Dry batteries (AA, AAA, C, and D) are allowed in both carry-on and checked baggage. Lithium batteries with 100 watt-hours or less are also allowed in your carry-on baggage as long as they are in a device. Loose lithium batteries are also allowed in your carry on bag.
Make sure to check with your airline for specific rules. Additionally, the check the TSA website for a list of allowed items for handheld luggage and checked-in luggage.
Is There a Difference Between a Carry-On Luggage and a Carry-on Bag?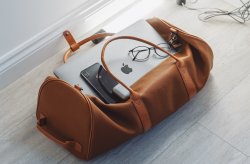 Photo by Oliur on Unsplash
There is generally no difference between a carry-on luggage and a carry-on bag. They are both pieces of luggage that are allowed inside an airplane. In most cases, a carry-on suitcase may be called differently, depending on the country. In North America, these are simply called carry-ons. On the other hand, some countries call it a carry-on bag, hand luggage, cabin baggage, handheld luggage, and more.
What Is the Standard Size for International and Domestic Carry-on Luggage?
There is actually no standard size for handheld suitcase, whether for international or domestic airlines. They all depend on the airline carrier. However, if you want a one-size-fits-most kind of carry-on luggage, make sure that its dimensions are 22 inches x 14 inches x 9 inches for most domestic carriers, and 21.7 inches x 15.7 x 9 inches for international carriers.
Carry-On Luggage Size Charts for International and Domestic Airlines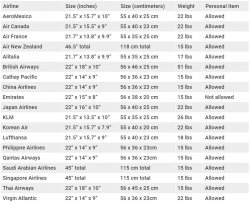 Photo from Touristsecrets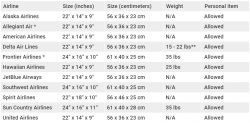 Photo from Touristsecrets
* – Only 1 personal item is allowed. Carry on luggage is subject to an additional fee.
** – Weight limit only applies in select locations. In Changi International Airport (SIN), carry on luggage should not exceed 7 kg (15lbs). In Beijing Capital International Airport (PEK) and Pudong International Airport (PVG), carry-ons should not exceed 10 kg (22 lbs).
Tips to Avoid Penalties and Fees for Carry-on Luggage
Research your airline's weight and size limit for carry-on luggage in advance. These policies are also subject to change without prior notice.
Take note that most size and weight limits are for economy-class passengers. Business-class and first-class passengers may have a bigger allowance.
Learn the art of packing light and smart. Also, look for travel-sized toiletries, lighter shoes, and items that aren't important and can be left at home. Use packing cubes so that all your items are organized.
Know which items are allowed and not allowed in your carry-on luggage. Aside from TSA-approved guidelines, your airline may also have additional rules on what items are allowed in your carry-on.
If you're uncertain about an item, pack it in your checked luggage or leave it at home.
Have your gadgets and electronics organized and kept in a designated bag. Larger gadgets will be scanned separately. In some cases, you might be asked to turn them on.
At the checkpoint, be sure to declare larger liquids that exceed the TSA liquid limit like medication, baby formula, and other items. Similarly, other liquids must be kept in a resealable bag.
For liquids, gels, and aerosols, follow the 3-1-1 rule. Don't forget the 3-1-1 rule when packing your liquids. All liquids, gels, and aerosols must be under 3.4 ounces, must fit in a quart-sized clear resealable bag, and only 1 bag is allowed per passenger.
For added security, make sure that your carry-on luggage has a tag with your name or contact details. That being said, there are plenty of luggage tags under 10 USD to avoid your bag being mishandled or mistaken for someone else's.
Consider investing in a portable luggage scale for your carry on baggage. That way, you are aware of your luggage's current weight.