15 Best Trekking Poles for Your Next Outdoor Adventure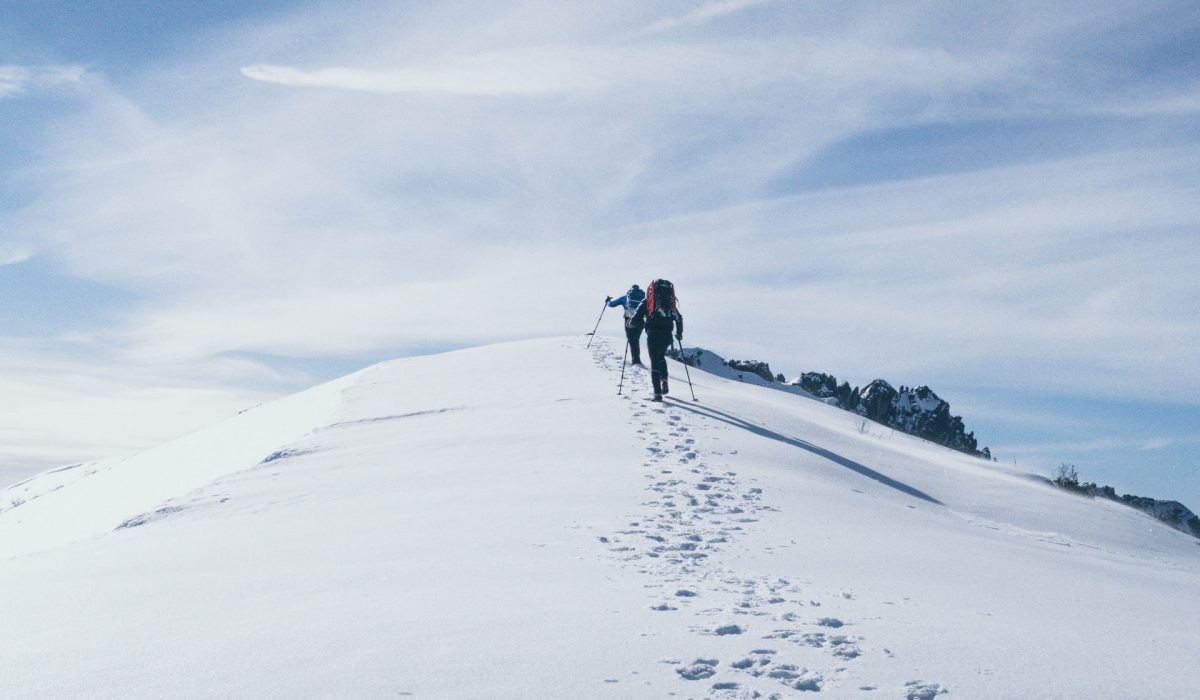 Trekking is a loose concept that is often deemed synonymous with hiking. Although there are similarities in terms of the concept, the differences boil down to the duration of the activity. Usually, when hiking, you will only cling to your hiking stick for a good 2 to 10 hours. Whereas, when trekking, you will be spending 24-72 hours of an arduous journey that includes camping, climbing and, of course, chaffed muscles.
With this in mind, it's a good thing to invest in a good trekking pole that can help you maximize your trek regardless of what season you plan to visit any of the National Scenic Trails in U.S. But how do you know which is the best trekking pole for you?
What are Trekking Poles?
Trekking Poles serve as canes that support your balance as you traverse in the steep mountains or ice-carpeted trails. Novice and professional trekkers alike use these poles to ensure their balance when they descend or ascend upslope steep trails while carrying their heavy backpacks. Trekking poles are also helpful when they cross streams or rivers, trudge slippery ice-carpeted trails, or gently pave the way in forest trails.
In some situations, trekkers can also use trekking poles to defend themselves against an attack from any vicious animals or harmful people, or probe a beach's depth or rigidity of the soil for safety. Some also use them as additional support to lightweight tents or makeshift laundry lines, or even tripods. Just don't forget to screw the additional piece of metal that will hold the camera or phone.
Thus, it is vital to find a durable trekking pole that will allow you to do all these activities.

Types of Trekking Poles
There are two types of trekking poles: Telescoping and Folding. Both trekking poles almost have the same concept, but they just differ in how the shafts are split into a more compact and easy-to-bring poles.
Telescoping Trekking Poles
Telescoping is the most popular and commonly known type of a trekking pole. When you extend this type of pole, the shaft has two or three slides to suit the comfortable height for you. Then, you can clasp, pivot, or click the locking mechanism to indicate that it has been securely locked.
Although it's heavier than a folding trekking pole, many trekkers still prefer this because it's easy to pack, assemble, and the height can be adjusted based on the comfortability of the person.
Folding Trekking Poles
With the vision of improving the ease in assembling and dismantling trekking poles, the folding trekking pole came into the picture. Its shafts are divided into three or four equal parts and are connected by a string. Usually, this string is nylon that links all of the shafts together. They are broken into pieces to make it easier for trekkers to pack them.
How to Choose the Best Trekking Poles
Now that you already have an idea of the different types of Trekking Poles, we assume that you already have a personal preference in mind. But aside from the type that you think would be good for you, there are other things that you have to consider.

Price
The best trekking poles cost from around US$22 to US$200. There is no specific type of trekking pole that is more expensive than the other since the price of each type depends on the material it was made of and, of course, the brand. A Cascade Mountain Tech Carbon Fiber Quick Lock is as cheap as US$45 per pair, while a Leki Women's Micro Vario Carbon can spike up to US$200. While both trekking poles are made of carbon and have foam grips, they differ in the reputation of the brand.
Shaft's Material
Aluminum alloy and carbon fibers are the two popular materials used in a trekking pole's shaft. While both materials are considered strong, they only differ in weight and durability. Shafts made of carbon fibers are lighter than that of an aluminum alloy. They only weigh six to nine ounces per piece. However, they can be frail especially in frigid weather.
On the other hand, shafts made of aluminum alloy are heavier, but they can last longer. Aluminum alloy's weight varies from nine to 11 ounces per piece and with considerable pressure, they will only bend.
Grip's Material
There are three main kinds of grips: cork,rubber, and foam. Each kind of grip responds to a specific need, so it will be hard to decide which one is the best. Most of the time, this depends on the preference of the trekker and the season they usually trek in the U.S.
If you're planning to trek in summer, a trekking pole with cork grips can be a good choice. When you're trekking, sometimes you unconsciously clench the grips that your palms usually get sweaty. But with cork grips, they resist the sweats from your palms so you will not have any callus from the friction between your palm and grip.
The rubber grip is good if you're planning to trek in winter. Rubber is a good insulator of heat, so it traps the heat that comes from your palms and it slows down its flow. Aside from that, this also reduces shock and vibration.
Lastly, if you're planning to go in the spring or fall when the weather is in the middle of being cold and warm, a foam grip is a good choice. Although it would absorb sweat, it is very comfortable to clasp on because it is soft.
Size
The general rule of thumb is when you hold the grip of a pole with its tips against the ground, your arms should form a 90-degree angle. This is not a problem with a telescoping trekking pole, since you can freely adjust the length of the pole to complement your height. However, it's a different case with a folding trekking pole since it already has a fixed division.
The average height of American men is 180 cm (5.9 feet) while 112 cm (5.4 feet) for women. To illustrate here are some guidelines that you can follow.
| | |
| --- | --- |
| Your Height | Suggested Trekking Pole's Height |
| 152 cm (5 feet) | 103 cm |
| 165 cm (5.4 feet) | 112 cm |
| 180 cm (5.9 feet) | 122 cm |
| 183 (6 feet) | 124 cm |

Best Hiking Trekking Poles
Weight: 18 oz
Type: Telescoping
Shaft Material: Aluminum
Grip: Cork
This is one of the Black diamond trekking poles recommended by veteran trekkers. Since it's made of aluminum, its construction is pretty solid and it could survive either a rocky or snowy trek. Their cork grips are also ergonomically shaped and equipped with an infallible Flickflock locking mechanism that will make your trekking worthwhile.
Weight: 10 oz
Type: Folding
Shaft Material: Carbon
Grip: Foam
Among the Black Diamond trekking poles, this is considered one of the lightest poles they have. The pair only weighs 10 oz, which is a plus point especially when traveling light is still a challenge for you. It also has an impressive Z-pole technology that allows you to easily assemble the poles by sliding until a small button secures the entire pole. However, since it's made of carbon, it might break into pieces under intense pressure.
Weight: 12 oz
Type: Folding
Shaft Material: Aluminum
Grip: Cork
This is usually recommended for winter use. It is lightweight and more affordable than most aluminum-made trekking poles. It is also easy to pack and dismantle, which is good for long journeys. However, under some intense pressure, it could also break.
Weight: 17 oz
Type: Telescoping
Shaft Material: Carbon
Grip: Cork
If you've made up your mind and you're up for a four-season challenge, this trekking pole is for you. Whether you're trekking on ice-carpeted trails or rocky trails, these poles are highly recommended. They are durable and sturdy regardless of the pressure or trail. Also, they have a metal FlickLock Pro lever lock, unlike others who only use plastic levers.
Weight: 20 oz
Type: Telescoping
Shaft Material: Aluminum
Grip: Rubber
Another Black Diamond trekking pole, this type of pole has a long reputation of durability despite its budget-friendly price. It's also similar to the Black Diamond Trail Ergo Cork, but instead of ergonomic cork grips, you have rubber.
Weight: 20 oz
Type: Telescoping
Shaft Material: Aluminum
Grip: Foam
If you define heavy-duty as a trekking pole with an outstanding shock-absorbing technique, then this one is for you. This trekking pole has a seamless rebound control regardless of the intensity of shock and pressure. This one is a bit complicated because it is durable yet heavyweight. If you are going on steep-inclined trails, you're looking for a durable pole. However, since you're going on a steep trail, it will also be a challenge to carry additional weight.
Weight: 16 oz
Type: Folding
Shaft Material: Carbon
Grip: Foam
This is one of the renowned trekking poles. It is known for being heavy, but it is durable and has an edgeless foam grip that gives you a more comfortable grip to withstand shocks and pressure.
Weight: 16 oz
Type: Folding
Shaft Material: Carbon
Grip: Foam
This is another type of Leki Micro Vario Carbon, but this one is recommended for women trekkers. It has an impressive grip and locking mechanism. Moreover, it's very easy to pack because it can be split into 15.5 inches.
Weight: 20 oz
Type: Folding
Shaft Material: Aluminum
Grip: Cork/Rubber
Another Leki trekking pole, this is one of the trekkers' favorites. With its ergonomic grips, ability to fold to 15 inches, and excellent Speed Lock 2 locking mechanism, this pole is worth its price. On the downside, for a folding trekking pole, this could be heavy.
Weight: 19 oz
Type: Telescoping
Shaft Material: Aluminum
Grip: Foam
If you're still testing the waters whether you want to make trekking a hobby, you can first try buying the Montem Ultra Strong trekking poles, one of the best budget trekking poles in the market. However, these poles could get a bit shaky when under pressure.
Weight: 16 oz
Type: Folding
Shaft Material: Carbon
Grip: Cork
Another Montem trekking pole, this type of trekking pole can easily be adjusted with its quick twist locking mechanism. Moreover, it's lightweight yet durable because of the innovative 3K Design that allows the poles to survive from too much pressure.
Weight: 16 oz
Type: Folding
Shaft Material: Carbon
Grip: Foam
MSR DynaLock Ascent Carbon is not just made up of a typical carbon material. Instead, it is Kevlar-reinforced, which makes it heat-resistant and sturdy. It also has a wider winter basket that makes this type of trekking poles highly recommended for winter treks. It's also easy to dismantle and it is considerably light. However, even if its grip is made of foam, it's not as comfortable as other foam-gripped trekking poles.
Weight: 19 oz
Type: Telescoping
Shaft Material: Aluminum
Grip: Foam
Another trekking pole from the MSR line, this is a heavy-duty trekking pole because it's made with aluminum and has a dual Dynalock locking mechanism that can surpass various demanding situations. Also, it's easy to pack because it can be shortened by three sections. It also includes both summer and winter baskets that will allow you to use the poles in any season.
Weight: 16 oz
Type: Telescoping
Shaft Material: Carbon
Grip: Foam (EVA)
Surprisingly one of the cheapest trekking poles, this lightweight trekking pole is made up of 100% carbon fiber, boasting lever locking mechanism and a comfortable foam grip. However, just like any other cheap trekking poles, this kind of trekking poles can break or bend under high pressure.
Weight: 17 oz
Type: Folding
Shaft Material: Carbon
Grip: Cork
Similar to the other Cascade trekking pole variant mentioned above, this one is also made up of 100% carbon fiber. Also, it has a cork grip that doesn't absorb your palms' sweat and it can be conveniently shortened to 16 inches when disassembled.
Final Thoughts
Choosing the best trekking pole is heavily influenced by the season and frequency of your trekking adventure. As you know, not all trekking poles are created equal; some are particularly made for a specific season. To get the full value of your money, it is best to find a more durable aluminum-made trekking pole. Even if it costs you a little bit more, in the long run, a durable trekking pole will save you from buying a new one every time you go on a trekking adventure.