The Ultimate Ski Trip Packing List in 2022
Wondering what to pack for a ski trip as you hit the ski slopes this winter? Then read on to find out how you can stay warm with the right ski clothing and gear! Whether you are heading to the neighboring ski resorts in Vermont, Aspen, or other parts of the world, our checklist covers all of the skiing essentials that you'll need that will keep you warm and toasty throughout your winter vacation. From equipment for skiing to après ski clothing and travel documents, here's our ski trip packing list to help you get packing.
The Ultimate Ski Trip Packing Checklist
Let us help you get things sorted with the use of a proper vacation checklist. Here's our printable ski trip packing list with all the essentials you will need to ensure a stress-free ski weekend.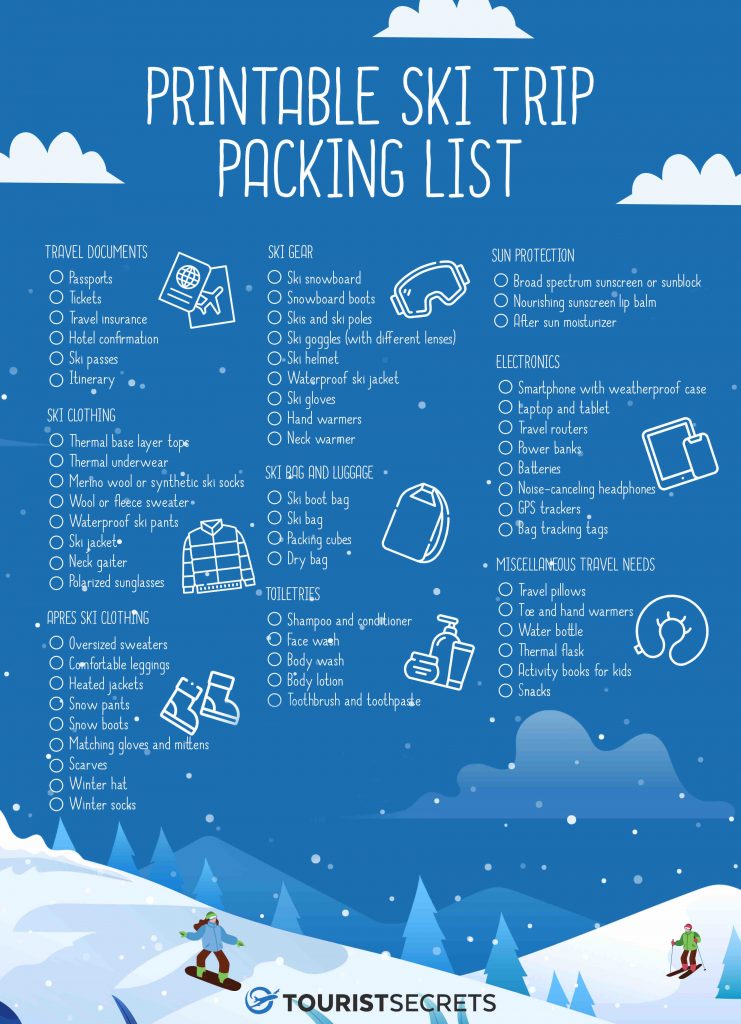 Ski Clothes Checklist
When it comes to any skiing holiday, ski clothes can make or break your trip. Whether for a short weekend getaway or a one-week family ski trip, it is always good to pack a couple of warm layers. Here are the essential articles of clothing to include on your ski trip packing list.
Ski Clothing
What to wear for skiing? For first-timers, we highly suggest wearing thermal base layers underneath your ski clothes to ensure that you stay warm. These thin yet highly insulated layers will keep the cold away without making you look like a dumpling. After all, if anything is unpredictable, it's the weather in ski resorts. So, the more prepared you are, the more confident you will be when it comes to braving the slopes.
Include the following on your ski packing list:
Thermal base layer tops

Thermal underwear

Merino wool or synthetic ski socks

Wool or fleece sweater

Waterproof ski pants

Ski jacket

Neck gaiter
Packing Tip: Experts also suggest choosing bright colors for your skiing clothing as these have proven to be safer. Bright-colored ski clothing and bold patterns stand out in a snowy environment and allow people to spot you easily. Keep this in mind when choosing clothes for your ski trip packing list.
Product Recommendations:
Merino wool socks

are your best bet when it comes to insulation and moisture prevention, which are important when it comes to your

skiing gear list

.

Having a good pair of

polarized sunglasses

is helpful in a snowy environment as well. These will block glare and allow you to enjoy the view without risking eye strain.

How to stay warm and toasty even while on a frozen mountaintop? A battery-powered

heated jacket

will keep even Elsa at bay. Add this to your

ski season checklist

!
Après Ski Clothing
For many, après ski is one of the highlights of any skiing holiday. After an exciting day on the slopes and experiencing the thrill of it all, a soak in a hot tub or a couple of hours by the fireplace is the best way to relax those sore muscles. But if you're planning for an intimate dinner in town after, your après ski clothing is just as important as your ski clothes. Especially if you're in Aspen or Utah, where there are many high-end restaurants to choose from.
Here are the essentials that will keep you warm yet fashionable:
Oversized sweaters

Comfortable leggings

Snow pants

Snow boots

Matching gloves and mittens

Scarves

Winter hat

Winter socks
Packing Tip: When putting together your ski trip packing list, always add an extra outfit for "just in case" moments. You'd be thanking yourself instead of the stars when it comes in handy!
Product Recommendations:
A

knitted beanie

will not only keep your head and ears warm, but it is also a great fashion accessory, especially with a matching pair of

knitted gloves

.

How to stay chic while keeping warm at the same time? An

infinity scarf

is a great accent to any outfit.

Aside from heat packs,

toe

and

hand warmers

are also good to have especially after hitting the slopes. Some of these can last for hours after activation so you need not pack a lot.
Ski Gear Checklist
Though you can always rent ski equipment at the ski resorts, opting to bring your own is also beneficial. Some of the ski gear that you'll need are:
Ski snowboard

Snowboard boots

Skis and ski poles

Ski helmet

Waterproof ski jacket

Ski gloves

Hand warmers

Neck warmer or neck gaiter
Packing Tip: Choosing the right goggle lens can help improve your visibility, especially on bright days. Pack dark brown, dark rose, or dark grey lenses with a heavy mirror. The mirror will deflect glare, while any of these colors can improve contrast and help you see all the bumps and dips in the snow.
Product Recommendations:
If you're traveling with kids, slip a

GPS tracker

in their ski jackets as a safety measure. The mountains can get crowded during ski season, so you would want to take all the precautions to ensure a safe trip for your family.
Ski Bag and Luggage
How to choose the right ski bag and luggage? The first thing you should think about is the type of ski bag. Sleeve bags is the most affordable option and is usually big enough to only hold your snowboarding gear or your skis and poles. Hard cases are best for added protection, but they aren't suited for carrying snowboards. Lastly, a coffin bag is the largest of the three. Though boxy, it can fit your snowboard and your ski clothes as well.
What is a good ski boot bag size? This depends on what's included in your ski trip packing list. If you plan on bringing extra gear or other equipment such as cameras, you'll need a bigger bag.
Product Recommendations:
Make sure you always know where your luggage is with a water-resistant

bag tracker tag

. Winter travel season can get hectic, so this will provide you with extra peace of mind.
Essential Toiletries to Pack
What toiletries do you need on your ski trip packing list? Since you will be exposed to harsh elements while out skiing, your focus should be on protecting any exposed skin. So, aside from the usual, here are other essentials to include on your packing list for vacation:
Broad-spectrum sunscreen or sunblock for the face and body

Nourishing sunscreen lip balm

After sun moisturizer

Vaseline (if you need extra hydration)

Bathing supplies (in case your accommodation doesn't provide them)
Packing Tip: To avoid spillage while you're in transit make sure you properly secure bottles with tape. You can also transfer its contents to more travel-friendly containers for convenience.
Product Recommendations:
When choosing a

sunscreen

, opt for one that is water-resistant and sweatproof so that it stays on your skin for a long time.

Keep your lips moisturized and protected from UV rays by bringing along a broad-spectrum

sunscreen lip balm

.

Pack a

hydrating moisturizer

if you're prone to getting dry skin in cold climates. Kids with sensitive skin will also benefit greatly from this, especially after being outdoors.
Vacation Essentials and Other Travel Needs
Putting together a family ski trip packing list is a lot of work. There are plenty of things to keep in mind aside from all the ski vacation essentials. You also have to consider other personal items such as your electronics and travel documents. Along with these, you should also have a handy pouch of electronics and "fun distractions" to keep you and your little ones entertained. Here are some suggestions to help you get sorted.
Important travel documents to include on your vacation packing list:
Passports

Tickets

Travel Insurance

Hotel confirmation

Ski passes

Itinerary
Other necessities for your holiday packing list:
First aid kit

Activity books/entertainment

Travel pillows

Power banks or batteries

Noise-canceling headphones

Water bottle or thermal flask

Toe and hand warmers
Packing Tip: It's best to compartmentalize your things so you always know where to look for them.
Product Recommendations:
How to Pack for A Ski Trip Flight?
How to pack your travel bag like a pro? Keep things organized even as you move by using packing cubes. These will help maximize the space you have available, too!
To lessen the load on your back (and make sure you're not sore before you even get on the slopes), opt for luggage that has wheels. There are hybrid duffle bags available, which lets you switch from plain duffel to wheeled luggage as needed. Lastly, always choose a bag that has plenty of compartments. Rolling duffle bags will come in handy for all the smaller items included on your ski trip packing list.
Product Recommendations:
Damp boots are a no-no! You can avoid this and make sure your boots are nice and warm when you wear them by getting a

boot dryer

.

Aside from

packing cubes

, use a

dry bag

along with your luggage to protect your valuables and keep them away from moisture. These are

packing essentials

you cannot skip.
Having A Ski Trip Packing List is Essential
Ski trips are a fun time for the whole family. You can make sure that everything goes as smoothly as possible by preparing a ski trip packing list beforehand. Aside from knowing exactly which things to take on a trip, it can help you prepare what to wear for skiing. It pays to be extra diligent and prepared, especially when it comes to your cold-weather gear. This way, you can enjoy your ski weekend or holiday without worry!
Not sure where to go just yet? Check out our top 10 winter getaways from around the world!