Which Japanese Castle Should You Visit?
When people think of castles, the first things that come to mind are the castles in Europe. Imagine the fairytale-like castles in Disney movies or those in period films and TV series! These castles also feature pointed turrets, high stone walls, and sprawling gardens. However, not many know that Asia also has some of the world's most beautiful and historic castles. The Japanese castle, in particular, doesn't have most of the features of European castles, but it is just as beautiful.
Like a castle in France, a Japanese Castle serves as a seat of power for a feudal lord, also known as a daimyo. During Japan's Warring States Period, these feudal lords built castles all over the country to intimidate enemies and serve as military headquarters. Strategically located along trade routes, rivers, and roads, warriors and their lords retreat to these castles during an attack. Another purpose of a Japanese castle was to show a daimyo's power, wealth, and influence. The larger and more opulent the castle is, the wealthier the daimyo. This is evident in its elegant exteriors and interiors, as well as its magnificent gardens.
Although most Japanese castles were destroyed over time by wars, earthquakes, and other natural causes, there are still some that have retained their beauty and elegance up to this day.
Structure of a Japanese Castle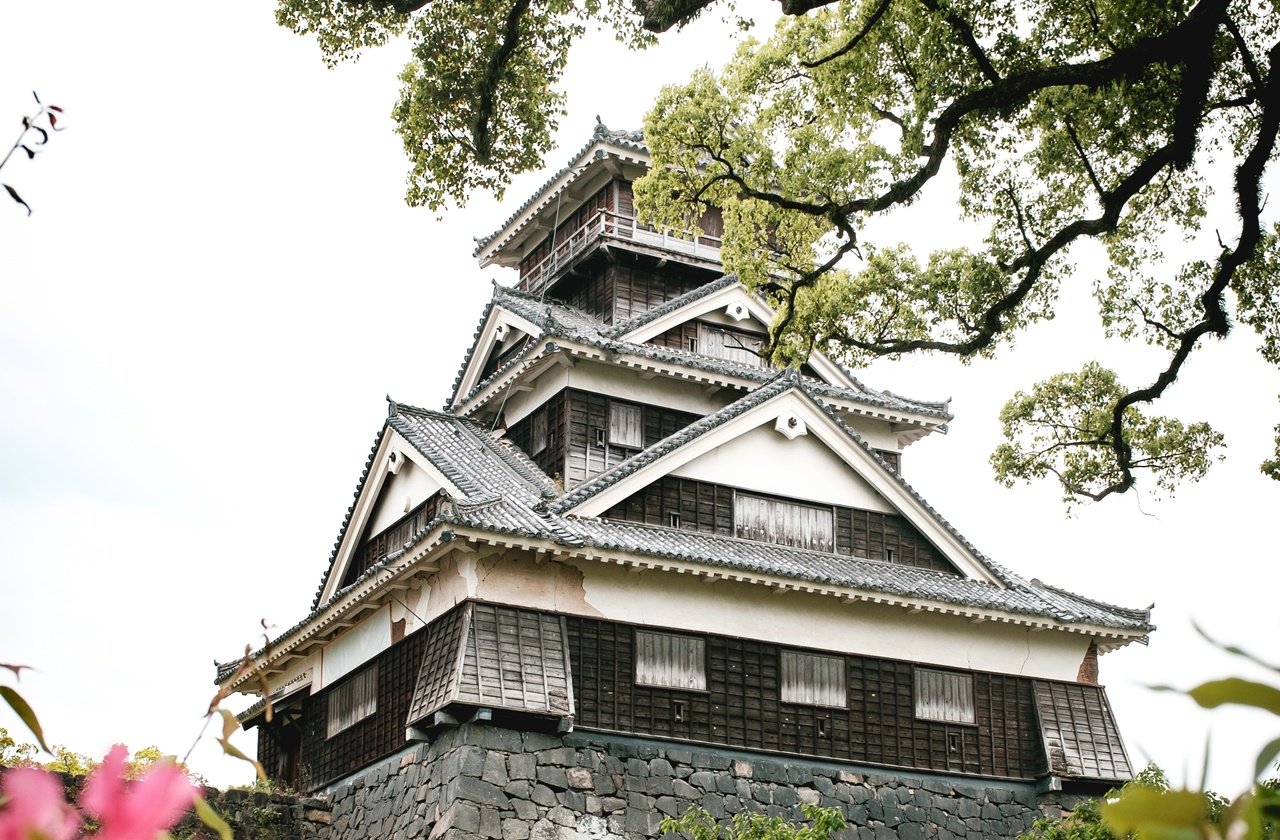 Photo by Christian Chen on Unsplash
Castle Tower (Tenshukaku)
Also known as the tenshukaku, the castle tower is the largest and most prominent feature of a Japanese castle. These pagoda-like structures are also the best-defended area, serving as the final stronghold of a castle. Most castles have towers between three to five stories, although there are more floors inside than what's shown on the outside. Having uneven floors also helps confuse attackers, preventing them from identifying which floor to attack. However, not all castles have these central keeps, although it became a main focal point of an entire castle.
Palace (Goten)
The lord's residence and main office can be found at the palace. Although not as high as the castle tower, the palace is one of the largest areas in a castle. Over time, castles have lost their palace, with only a few exceptions like Nijo Castle. Kumamoto Castle, Nagoya Castle, and Hikone Castle still have their palaces, but with some reconstructions and renovations.
Guard Towers (Yagura)
A yagura is a Japanese Castle's equivalent of a turret and functions as a lookout for castle guards. Additionally, they also serve as a defense and warehouse for stocking food and weapons during long battles. Often placed in corners, the guard towers usually have two floors and are smaller as compared to the main castle tower.
Walls and Moats
Walls and moats are a castle's primary defense structure. Earthen walls and stone walls were common in Japan, and fences made from steepled branches surround the top as a form of defense. Additionally, there are different kinds of moats in Japanese castles: a water moat, dry moat, and parallel trenches at the side of excavated mountains.
Gates
Japanese castles have a number of entrance gates surrounding the complex. Normally, a castle gate includes a large door with a turret on top of it. There are also gates in between high stone walls that hide gun holes to surprise attackers. Long gates, on the other hand, also function as samurai residences and guardhouses.
10 Best Japanese Castles You Shouldn't Miss
1. Himeji Castle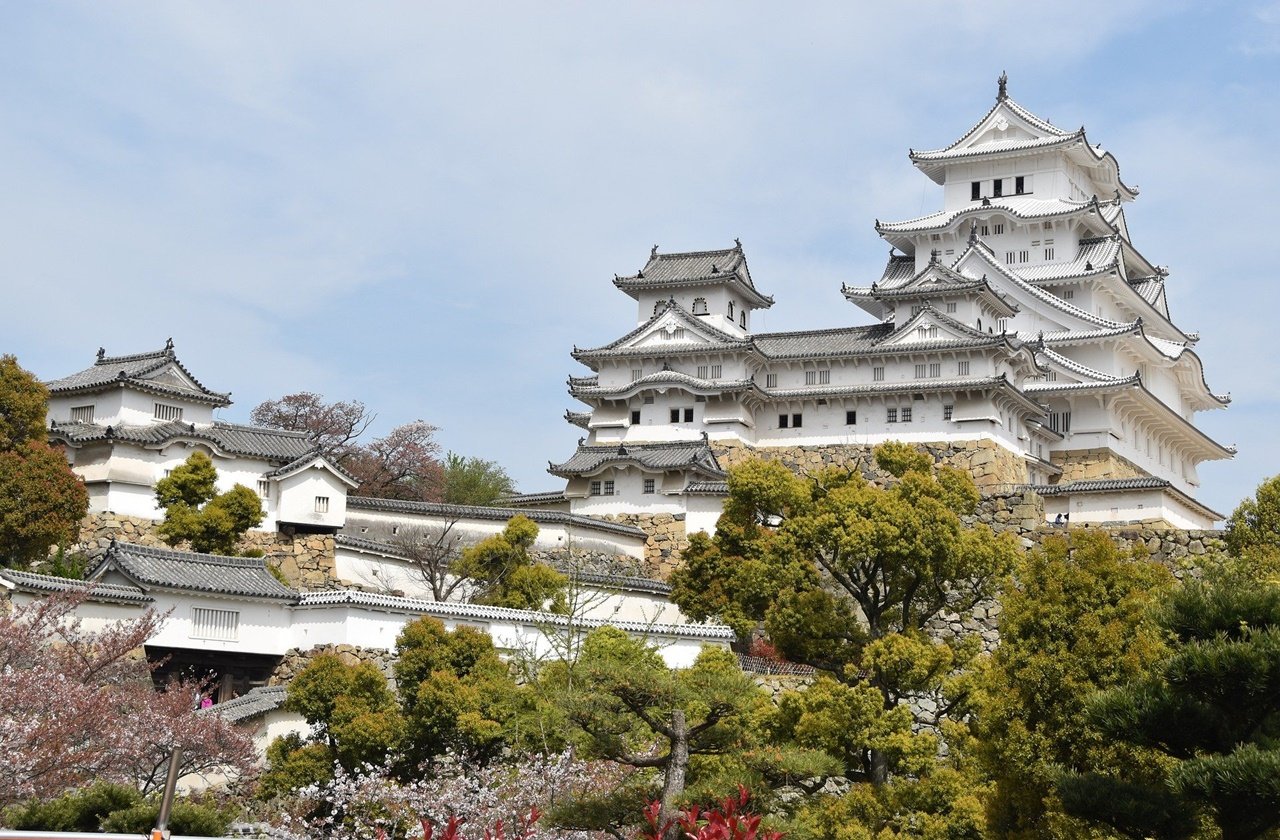 Photo by gosia64 on Pixabay
Address: 68 Honmachi, Himeji, Hyōgo 670-0012, Japan
Entrance fees: 1,000 JPY or 9 USD (adults), 300 JPY or 2.75 USD (students)
Opening hours: 09:00 – 17:00 (last entry: 16:00), 09:00 – 18:00 (last entry: 17:00) in summer
Located in Hyōgo Prefecture, Himeji Castle is one of Japan's prized World Heritage Sites. With its white exterior and pristine white walls, the castle earned its nickname, the White Egret Castle or the White Heron Castle as it resembles a bird taking flight. This Japanese castle is also the country's largest and one of the oldest, built in 1333. Unlike other Japanese castles, Himeji Castle was never damaged from wars, earthquakes, fires, and other natural disasters. That being said, it is one of the country's 12 original castles and one of the three premier castles. It is arguably the best example of Japanese castle architecture, with its defensive loopholes, hidden spaces, and angled chutes. In spring, the surrounding cherry blossoms give it an elegant, postcard-perfect look. For travelers staying in Kobe or Osaka, Himeji Castle is only a short train ride away from the two cities!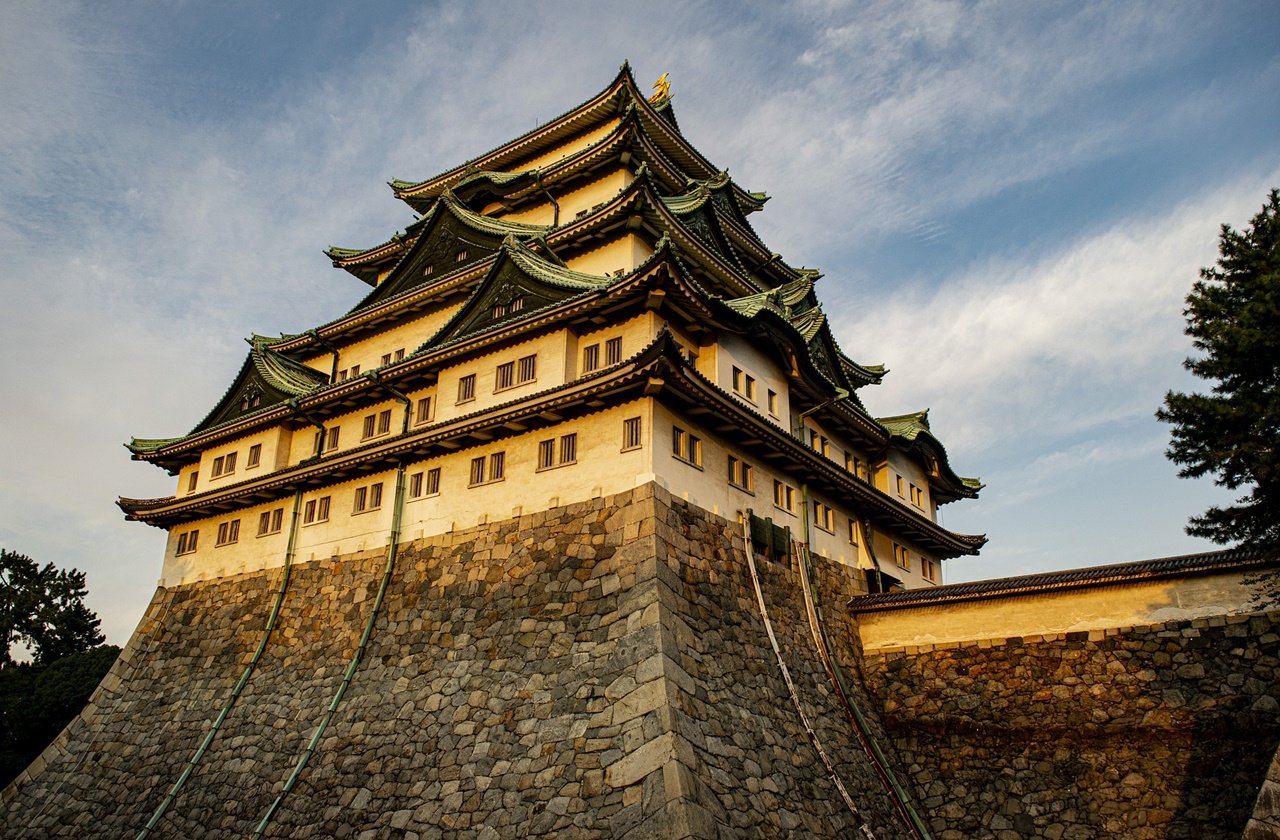 Photo by ToruBRA on Pixabay
Address: 1-1 Honmaru, Naka Ward, Nagoya, Aichi 460-0031, Japan
Entrance fees: 500 JPY or 5 USD (adults), free for children to junior high school students
Opening hours: 09:00 – 16:30 (last entry: 16:00)
Not only is Nagoya Castle a breathtaking structure, but it is also famous for its history. Centuries ago, the castle was known as Yanagi-no-maru, built by governor Imagawa Ujichika for his son. Later on, Oda Nobuhide seized the castle and changed its names to what is now known as Nagoya Castle. During the Second World War, the castle functioned as a military headquarters and a site for prisoners of war. Today, the castle houses an abundance of exhibits, artworks, and artifacts from its history. On your visit to Nagoya Castle, don't forget to spot the golden shachi, an animal with a head of a tiger and a body of carp, on the end of the topmost castle roof. From late March to April, the castle becomes a cherry blossom viewing hotspot, filled with locals and tourists.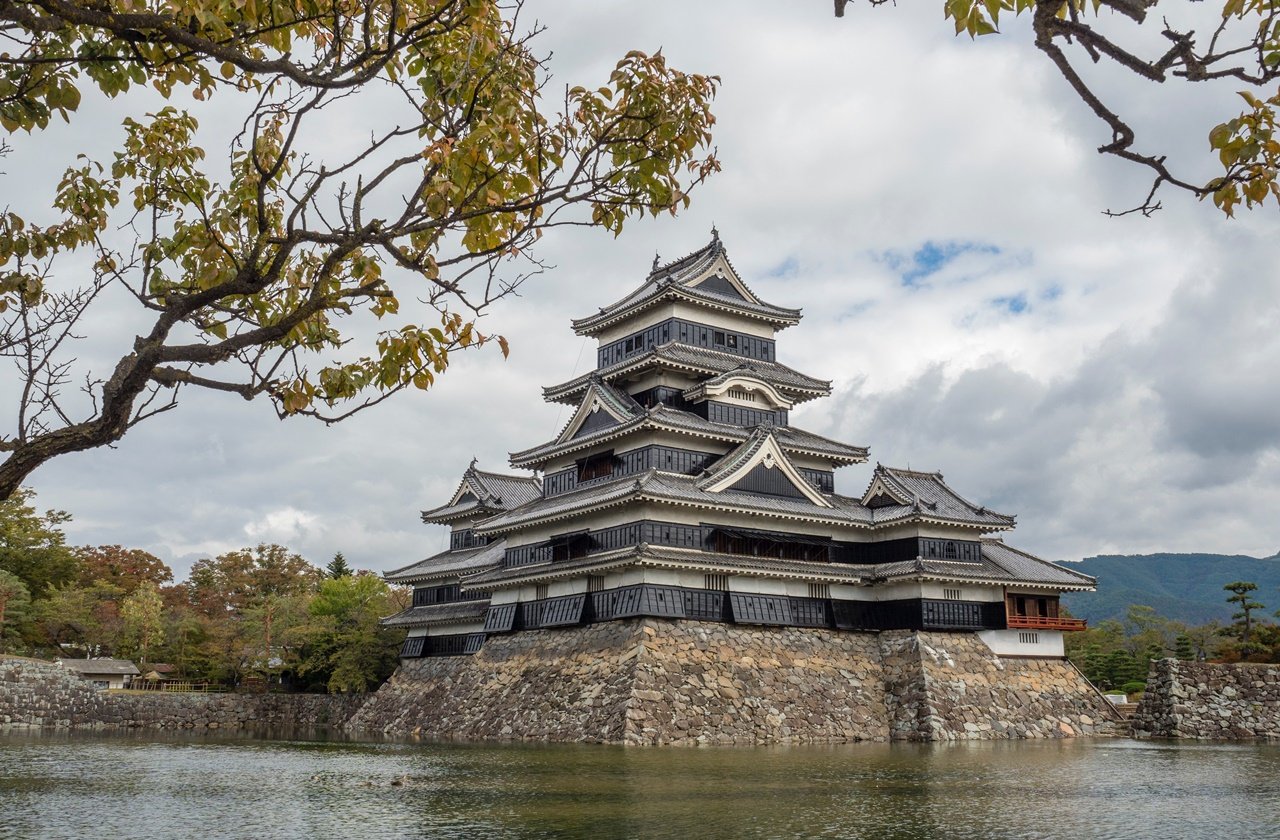 Photo by Alexander Schimmeck on Unsplash
Address: 4-1 Marunouchi, Matsumoto, Nagano 390-0873, Japan
Entrance fees: 700 JPY or 6.50 USD
Opening hours: 08:30 – 17:00 (last entry: 16:30)
While Himeji Castle has clean, white exteriors, Matsumoto Castle in Nagano is famous for having elegant, black walls. Also known as the Crow Castle, this Japanese castle is one of the 12 remaining original castles along with Hirosaki Castle and the likes. Additionally, unlike castles that sit on top of hills or mountains, Matsumoto Castle was built on a plain. To prevent enemy attacks during the war, the castle uses three layers of moats as well as small windows where rocks and other firearms were thrown. Explore the castle grounds and visit the museum housing weapons and other equipment used in the castle. Head to the top and catch gorgeous views of the Japanese Northern Alps and the town of Matsumoto.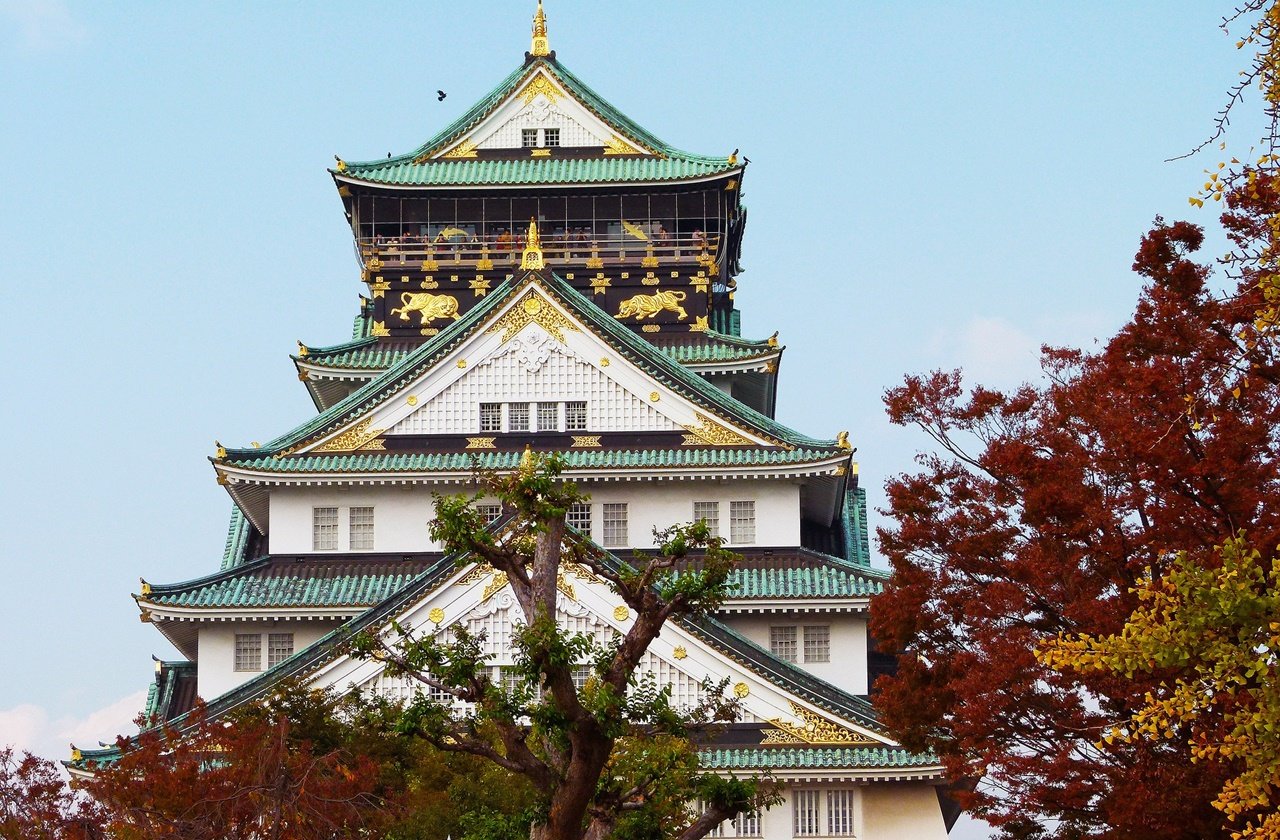 Photo by sharonang on Pixabay
Address: 1-1 Osakajo, Chuo Ward, Osaka, 540-0002, Japan
Entrance fees: 600 JPY or 5.50 (adults), free for children 15 years old and under
Opening hours: 09:00 – 17:00 (last entry: 16:30)
Osaka Castle is one of the most famous and most-visited Japanese castles. Built in 1583 by the great samurai lord Toyotomi Hideyoshi, the castle played an important role during the unification of the country in the Azuchi–Momoyama period. The castle features gilded roof ornaments and a tenshukaku that has five stories on the outside, but eight on the inside. In addition, the Osaka Castle complex includes a large garden with hundreds of cherry blossom and plum blossom trees. Other must-visit sites in Osaka Castle include the Hokoku Shrine, the Sengan Turret, and the Otemon Gate. Against the modern skyscrapers of Osaka, the castle stands out perfectly, adorned by trees that are breathtaking during spring and autumn.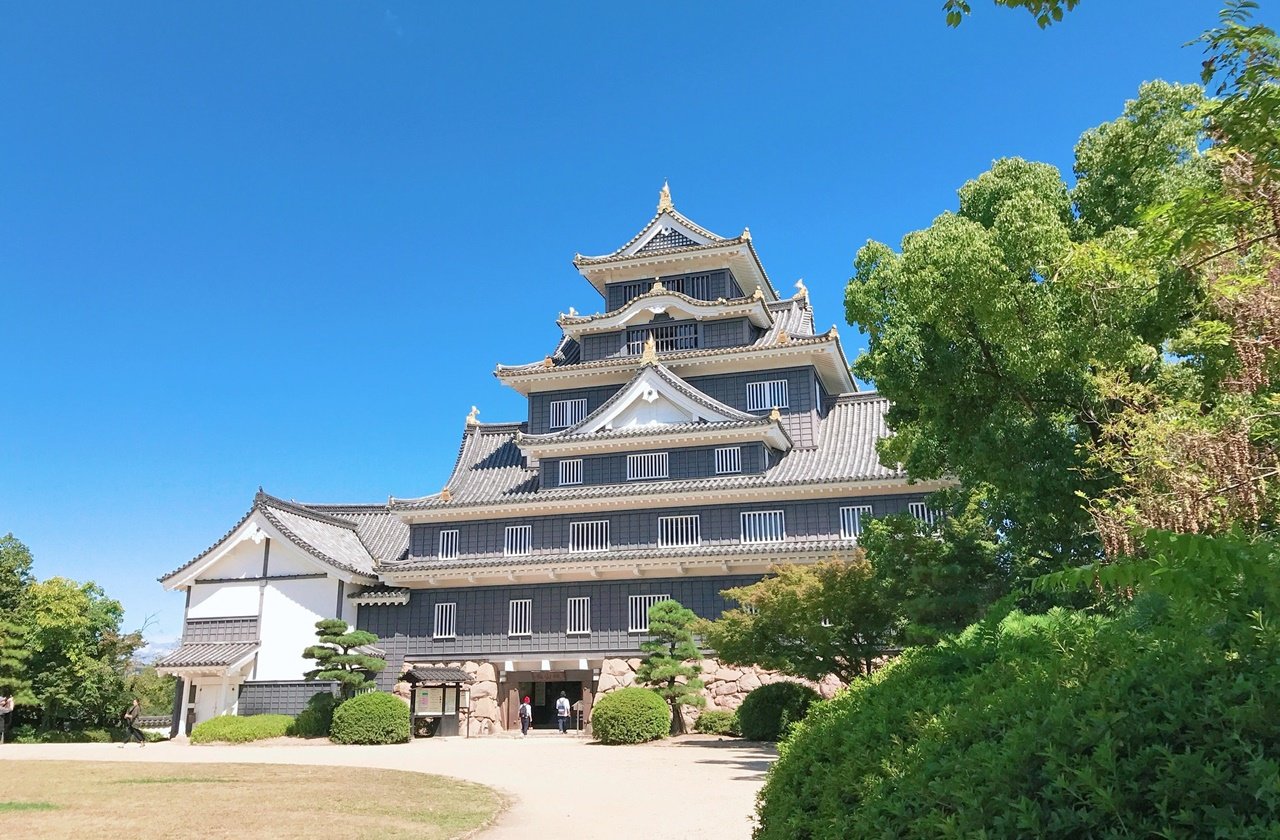 Photo by anatoliachy on Pixabay
Address: 2 Chome-3-1 Marunouchi, Kita Ward, Okayama, 700-0823, Japan
Entrance fees: 320 JPY or 3 USD (adults), 130 JPY or 1.20 USD (children 6 – 14 years old)
Opening hours: 09:00 – 17:30 (last entry: 17:00)
Like Matsumoto Castle, Okayama Castle has black exteriors, hence its nickname as the Crow Castle. Its origins date back to 1573 under Ukita Naoie, a Japanese daimyo. However, the construction was finished in 1597 by his son after Naoie's death in 1582. Unfortunately, the castle suffered from major damages and was burned to the ground by allied bombers in 1945. The only surviving structure was the Moon Viewing Turret, which became a designated cultural property years after. Reconstruction efforts started in 1964 and finished in 1966, with modern facilities like air conditioning and elevators. Today, the castle keep of Okayama Castle functions as a museum and a venue for pottery classes and workshops. Near the castle is the Kōrakuen, one of the Three Great Gardens of Japan along with Kenrokuen and Kairakuen.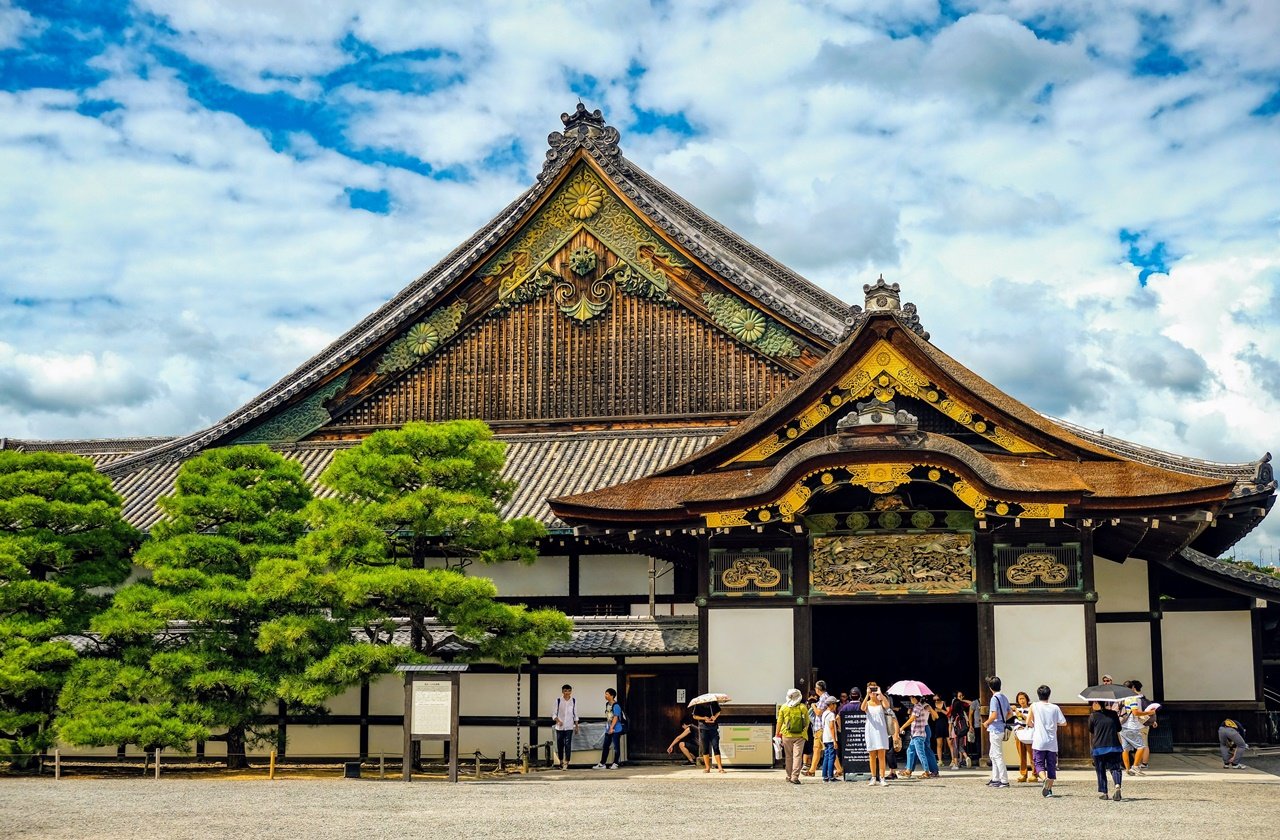 Photo by Eleonora Albasi on Unsplash
Address: 541 Nijojocho, Nakagyo Ward, Kyoto, 604-8301, Japan
Entrance fees: 620 JPY or 5.70 USD (adults), additional 410 JPY or 3.75 USD to enter Ninomaru Palace
Opening hours: 08:00 – 18:00 depending on season (last entry:17:00)
Nijo Castle in Kyoto looks more like a palace rather than a defensive castle. It lacks the towering castle keeps and ramparts that a normal Japanese castle would have. After all, the castle functioned as the residence of Tokugawa Ieyasu, the first Shogun of the Edo Period, when he would visit Kyoto. However, Nijo Castle's palace buildings are one of the best examples of palace architecture of feudal Japan, declared a World Heritage Site along with other historical monuments of Kyoto. Explore the ornately decorated palace grounds and see thousands of paintings at Ninomaru Palace, some of which are declared National Important Cultural Properties. Its gardens are also one of the best examples of Zen and daimyo-style gardens with their manicured shrubs and tranquil ponds.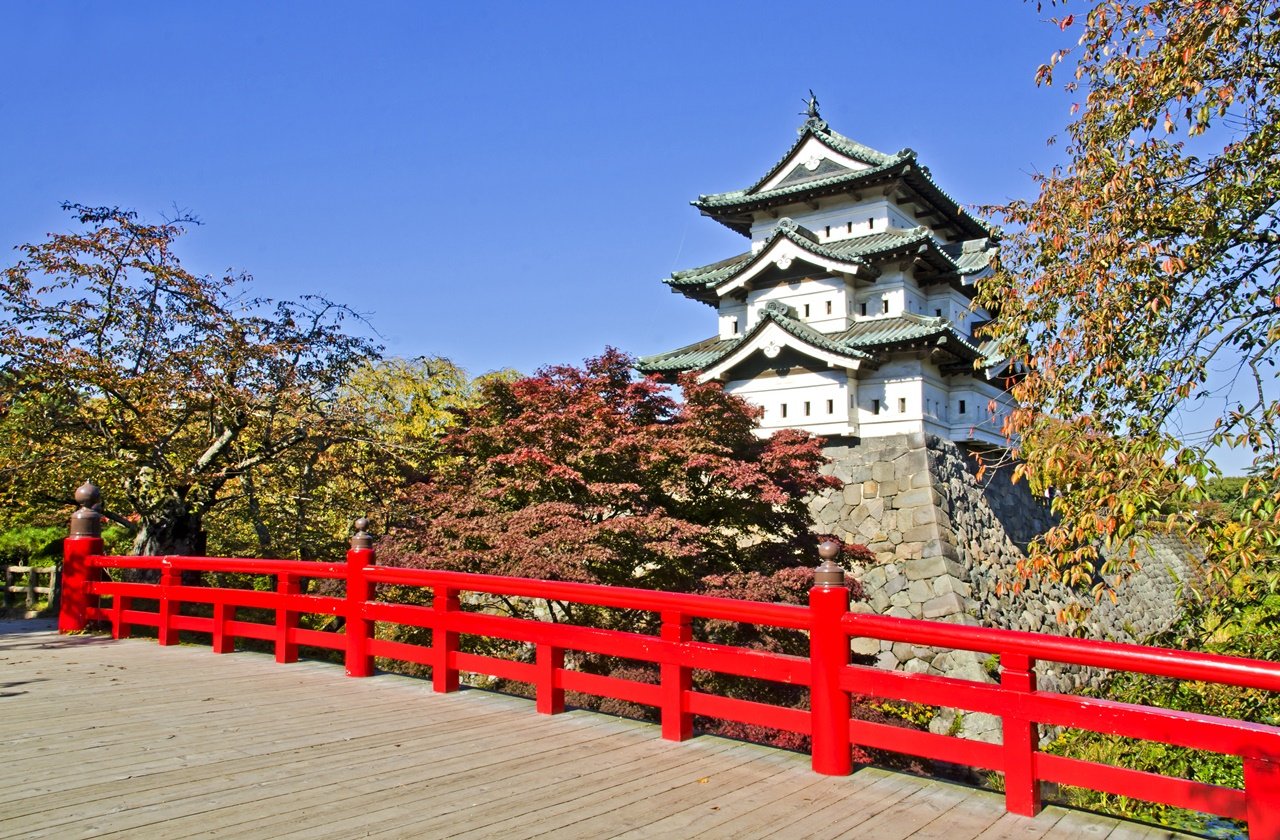 Photo by Pond Thananat on Adobe Stock
Address: 1 Shimoshiroganecho, Hirosaki, Aomori 036-8356, Japan
Entrance fees: 320 JPY or 3 USD (adults), 100 JPY or 1 USD (children)
Opening hours: 09:00 – 17:00 (last entry: 16:30)
Dating back to 1611, Hirosaki Castle was the former seat of the Tsugaru clan, a prominent samurai clan during the Edo Period. It originally had five stories, but the castle keep succumbed to a fire after a lightning strike. In 1810, Tsugaru Yasuchika rebuilt the keep, but only with three stories as per Tokugawa Shogunate laws at that time. Hirosaki Castle eventually became a National Historic Site in 1952 to guarantee its protection and heritage. Surrounded by over 2,000 cherry blossom trees, the castle is a popular hotspot during the much-anticipated cherry blossom season. In addition, Hirosaki Castle is also the site of the Snow Lantern Festival, one of the popular festivals in Japan.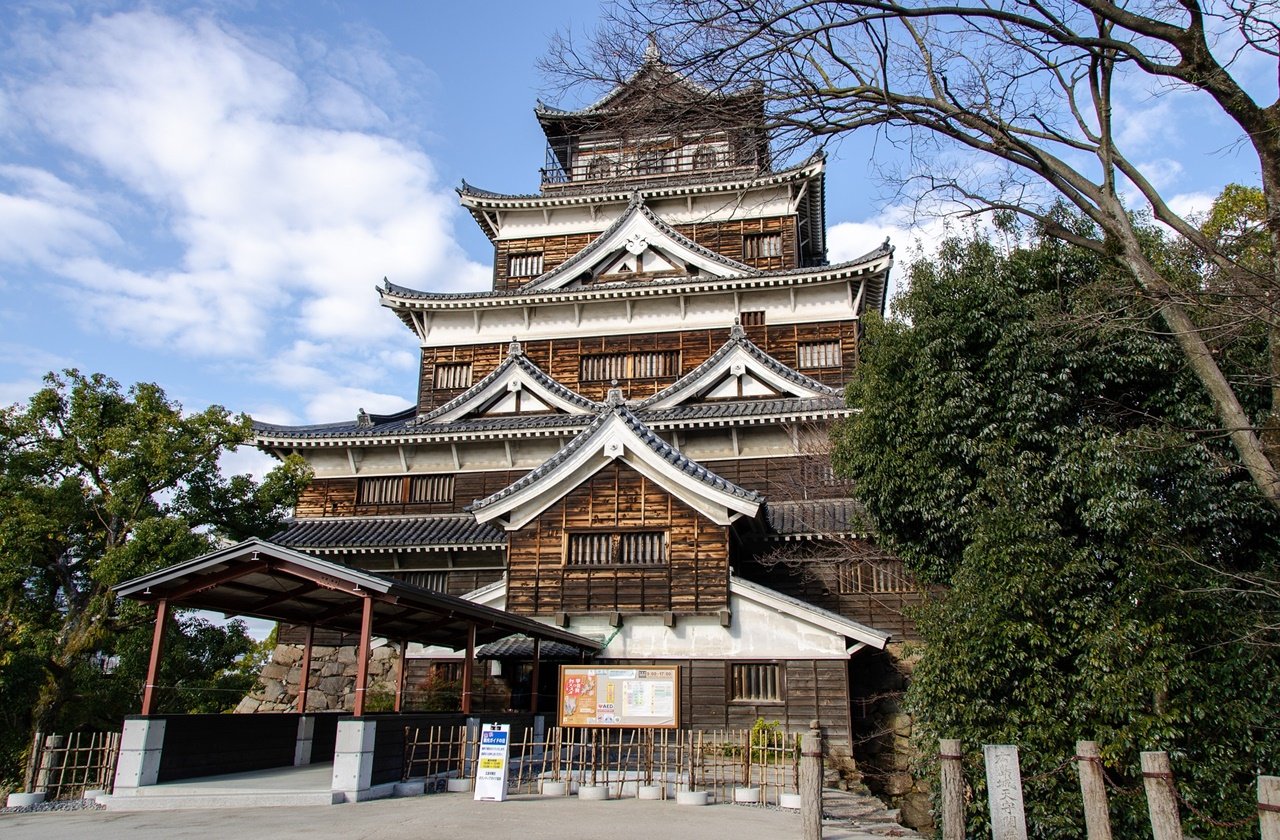 Photo by pen_ash on Pixabay
Address: 21-1 Motomachi, Naka Ward, Hiroshima, 730-0011, Japan
Entrance fees: free
Opening hours: April to September: 09:00 – 17:30 (last entry: 17:00); October to March; 09:00 – 16:30 (last entry: 16:00)
While most people visiting Hiroshima head to the Peace Memorial Park, Hiroshima Castle is a hidden gem and a must-visit Japanese castle here. Also known as the "Carp Castle", it sits on top of a plain, rather than on mountains or hilltops like other castles. Its wooden exterior gives it a rustic ambiance, highlighted by the pink flowers in spring and the gorgeous foliage during autumn. Hiroshima Castle became an important center of power in Western Japan until the unfortunate bombing of Hiroshima in 1945. The castle was then rebuilt in 1945 and today, it serves as a museum containing the city's history prior to the Second World War. On the topmost floor of the castle, catch panoramic views of the city and see the Atomic Dome.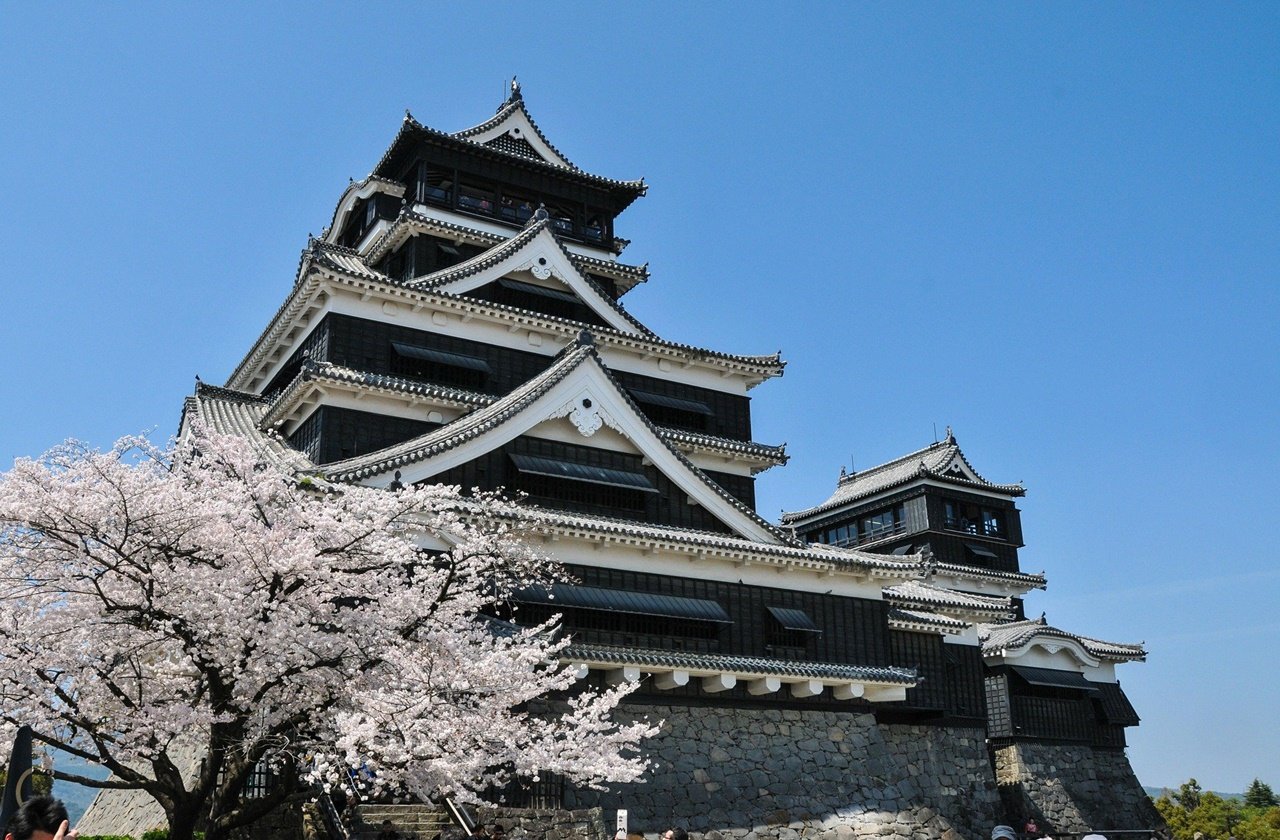 Photo by DeltaWorks on Pixabay
Address: 1-1 Honmaru, Chuo Ward, Kumamoto, 860-0002, Japan
Entrance fees: 800 JPY or 7.50 USD
Opening hours: 09:00 – 17:00 (last entry: 16:30)
Aside from Fukuoka, Kumamoto is among the must-visit cities in Kyushu, particularly because of its castle. Kumamoto Castle is one of Japan's three premier castles along with Himeji Castle and Matsumoto Castle. It has a black façade surrounded by more or less a thousand cherry blossom trees, making it a local favorite during the viewing season. Built in 1607, the castle was the center of power in Higo Province and was a key location during the Satsuma Rebellion in 1877. Unfortunately, the castle suffered major damages as a result of the 2016 Kyushu Earthquake. The castle keep and some towers survived, but roofs and other buildings were badly hit. Repairs are ongoing, and the castle keep is scheduled to open in April 2021, while other structures may take longer to be fully restored.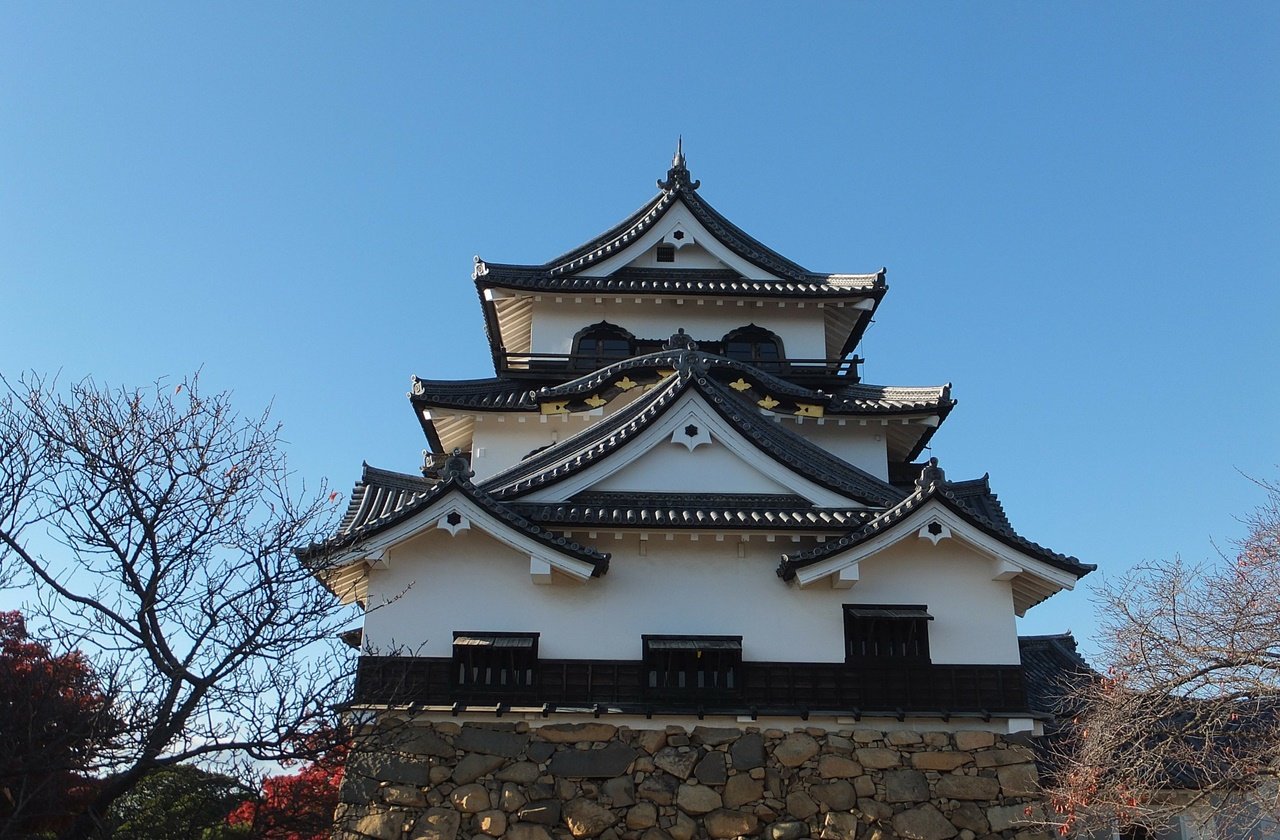 Photo by HanshinLyon on Pixabay
Address: 1-1 Konkicho, Hikone, Shiga 522-0061, Japan
Entrance fees: 800 JPY or 7.50 USD (adults), 200 JPY or 1.80 USD (children)
Opening hours: 08:30 – 17:00 (last entry: 16:30)
Hikone Castle in Shiga Prefecture is a gorgeous Japanese castle, dating back to the Edo Period. In addition, it is also one of the 12 castles that have its original castle keep intact as well as one of the few castles listed as a natural treasure. It served as a seat for the daimyo of the Ii clan until 1868 during the end of the feudal era. The castle features a three-story castle keep with structures that combine different traditional architectural styles. It also looks over Shiga and Lake Biwa, the largest lake in the country. At the northern end of the castle is the Genkyu-en, a Japanese-style garden. It is built around a pond with trees that turn into breathtaking hues of red, orange, and gold in autumn.
Discover the Beauty and Rich History Behind a Japanese Castle
Wonderfully preserved and restored, Japanese castles are among the tangible evidence of Japan's history. These castles served different purposes: from military headquarters to royal residences. Although some castles fell into the hands of enemy troops and sustained damages due to wars and natural disasters, they were rebuilt and reconstructed to their former glory. Like western castles, castles in Japan are also famous for their gardens, filled with ponds, pagodas, and trees that complement the beauty of the castle.
During the famous hanami (flower viewing) season, the castles attract plenty of locals and tourists admiring the flowers with a view of the castle. In autumn, the castles make a perfect backdrop for that Instagram-worthy shot! Strike a pose with the beautiful foliage or take a walk in the gardens and soak up the calm and peaceful environment.
On your trip to Japan, aside from going on a food crawl or visiting an onsen, plan a trip to a Japanese castle and gain a deeper appreciation for these postcard staples!