Best Things To Do In Kyoto, Japan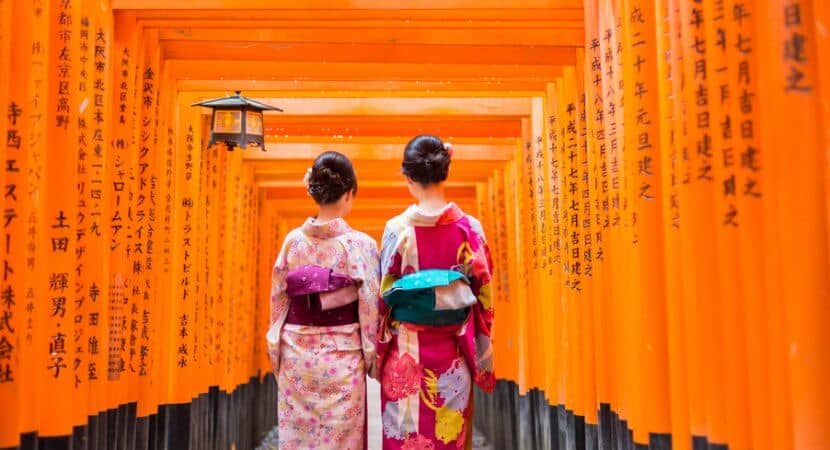 Japan is a land of unparalleled culture, beauty, and inner peace. All this, with stellar technological conveniences. While most cities like the capital Tokyo are brimming with modern advancements, Kyoto preserves the charm of rich culture and untainted nature, just for you.
Kyoto is the mirror to the best of Japan. It is no wonder that Kyoto ranks high on most travel itineraries. It is true that Kyoto in Japan is trending as the destination that every traveller wants to explore.
Much to See in Kyoto
Kyoto's sightseeing is a kaleidoscope of experiences. You will fall in love with the swaying bamboo forests, humbling tea ceremonies and unforgettable temples.
In addition to the vibrant performances, elegant Geisha, whimsical monkeys, and lastly, the beautiful seasonal cherry trees. If all this seems less, Kyoto offers more distinction with art galleries, Zen Buddhism meditation and an abundance of delicious food!
Kyoto City is an ideal getaway any time of the year, but, the best time to visit Kyoto would be in spring or fall. You can avoid the harsh weather and maddening crowds in this lean season. In spring, the city looks magical with blooming cherry blossoms. Contrastingly, Kyoto's fall is a soulful ombre of red, orange and yellow. In the fall season, you can see orange maple trees around scenic temples.
How to Get to Kyoto?
Getting to Kyoto is easy. Japan's amazing high-speed Shinkansen service will get you from Osaka to Kyoto in just 15 minutes! This train is also famously known as the bullet train.
This is the fastest route from Osaka to Kyoto. Tokyo to Kyoto can be possible in just 2 hours and 20 minutes via the Nozomi train. No matter when or how you go, Kyoto will charm you like no other.
To make your visit perfect, here's a travel guide on the best things to do in Kyoto.
1.
Wander through Fushimi Inari-Taisha Shrine
Ranking high on the charts of top things to do in Kyoto, the Fushimi Inari-Taisha Shrine is Japan's prized possession and a must-do for its striking promenade.
A Thousand Torii Gates
Erected in the honour of the god of rice; Shinto, this Kyoto Shrine is iconic for its dramatic walkway made from thousands of traditional torii gates, rooted artistically along the fringes of the holy path.
Here, you will love wandering from one ornate shrine to another. As you ascend the hill towards the Yotsutsuji Intersection, your eyes will thank you for a marvellous view.
2.
Explore the Kinkakuji Temple
Tucked magically amidst lush trees, atop the serene lake, the beautifully zen Kinkakuji Temple ranks high amongst all Kyoto temples and lake tower shrines. Kinkakuji is wrapped in gold leaf, with its top floor opulently gilded inside and out. The history of this place is as intriguing as its appeal. Many decades ago, this placed served as a retirement home for a famous Shogun, who wished to restore the temple after his demise.
Best Views at Sunrise
It's best to start early in the morning to experience a golden sunrise and avoid the crowds. Make a memory as the sun rays glisten off the roof to illuminate everything in sight!
3.
Indulge in a Japanese Tea Ceremony
If you hear or read, Chado or Sado anywhere in Kyoto city, know that tea is nearby. Indulge in an authentic tea ceremony at a Japanese tea house. This experience will complete your 'things to do in Japan' wish list.
A Tea Ceremony of Life
Japanese Tea Ceremonies are observed to be thankful for the company, in addition to appreciating the subtlety of taste. Aside from acknowledging utensils that ease the process, it is also practised to be mindful of the time.
Although popular throughout the country, this traditional practice in Kyoto is the most sacred you will ever experience, because of its strong Zen Buddhist roots.
4.
Believe in Legends at Kiyomizu-Dera Temple
Imagine a location perched atop a scenic hill, embraced by beautiful cherry trees, and beside the Otowa Waterfall.
The Kiyomizu-Dera Temple is just that sight!
The Kiyomizu-Dera Temple is a Unesco World Heritage Site famed for its magical appearance. Kiyomizu-Dera Temple is amongst Japan's most spectacular shrines. At Jishu Shrine, legends further narrate that if you can walk amidst the two stones with eyes closed, as a test before the God of Love, you will find true love!
Three Streams of Faith
The Japanese believe that the three-streams of the waterfall symbolizes success, love, and longevity. If you drink water from it, you will welcome good fortune into your life. Kiyomizu-Dera shrine is a structure of faith, especially for its beauty and purity.
5.
Marvel at Kyoto City from Kyoto Tower
Treat your eyes to a panoramic sight from the tallest building in the Kyoto city! Most modern amongst all of the Kyoto attractions, the Kyoto Tower is a reflection of modernity in a land of traditional temples. The telescopes and LED touch walls display important landmarks, making it easy to note the sight you are viewing.
Watch the Sunrise
Watching the sunset from high on the tower is an experience you can't trade. Soak into the Sun's diminishing soft rays, as they allow the light of urban night to take over and make your Kyoto travel unforgettable.
6.
Tease your Tastebuds in Kyoto City
Prepare yourself for an amazing introduction to Japanese food and Kyoto's food culture at Pontocho. Eating at the Pontocho food alley is one of the fun things to do in Kyoto. Restaurants dot River Kamogawa offering an array of gastronomical feasts!
Tips to Do it Right
Be it the finesse of fine dining with Kyoto Kaiseki or the thrill of cheap eats like Kyoto Sushi, there's something for every hunger pang here. Don't shy away from small shopfronts, or you might just miss out on the best Yakitori to eat in Kyoto City.
The hack for a happy belly is to choose a Japanese restaurant that appeals to your senses. It is only then that you will experiment with an open mind. And, even maybe re-order your favourites!
7.
Shop like a Local at Nishiki Market
Nishiki Market will seem like a wonderland to you if you love antiques, collectables, and ephemera. With every turn, your eyes will be greeted by handmade crafts, ceramics, textiles, and art.
There's Food Too
After you get hungry shopping, aromas of fresh seafood will linger around, urging you to sample the local buffet of dumplings, roasted tea, pickles, fish cakes, and the modestly heroic, yakitori. A day spent at Nishiki Market is a day well spent.
8.
Stroll Peacefully in Arashimaya Bamboo Grove
Famed as one of Japan's most photographed nature forest, the Arashimaya Bamboo Grove is the cherry on your sweet travel cake in Kyoto. You can take a train from Kyoto to Arashimaya, as it is covered in your Japan Rail Pass.
It is well-known that pictures of Arashimaya Bamboo Grove's beautiful walks are part of many travel itineraries. Maybe this place will make you leave behind a piece of your heart.
9.
Get an Art Fix at Manga Museum
If you're in the mood to explore unique things to do in Kyoto, aside from the usual stuff, here's some sauce. Origins of Japanese anime like Pokemon, Dragonball Z, and Sailor Moon can be found at Kyoto International Manga Museum.
If you love Japanese animation, this place will be your favourite hood in Kyoto city! Manga is loved and celebrated for its unique art style by adults and children alike. At Kyoto International Manga Museum you will get a Manga fix again!
Know how Mangan Began
A day at the museum will help you learn about the origin of Manga, allow you to lay your eyes on the best Manga works and understand its influence in life, post the tragedies of WWII.
As you explore the museum you will find artists in most corners creating manga. You might just be invited for some Manga love chatter or at best, you can even have your very own portrait made in Manga style!
10.
Amaze at Workmanship at Sanjusangendo Temple
The Sanjusangendo Temple is deceptive in appearance. In its exterior, it looks muted and simple. And contrastingly, on the inside, it is abundantly ornate wood and enamel work.
Part of the precious collectables is one thousand intricately detailed statues of Deity Kannon. The herculean task to make one thousand statues took one hundred years to realize!
At Sanjusangendo Temple, every gold-anointed Buddha appears to be the same. Look closer and you'll see that no two are alike. Here, you'll know a little more about the Japanese people. The temple, like the Japanese, is modest and amazing.
11.
Dress up in a Japanese Kimono
Ranking high on the bucket list of the cool things to do in Kyoto is dressing up in a Japanese Kimono. A sundry of Kimono boutiques dot the city's most visited locales, helping you look exotic in Japanese traditional clothing.
Rent a Kimono
Renting a Kimono in Kyoto is super easy! Take home a Kyoto souvenir from the Kimonos for sale. A Kimono is a traditional full-length Japanese robe.
In Japan, a Kimono is adorned at sacred festivals like weddings, prayers and formal occasions. The terms KI means "to wear", and MONO means "object"
Strike a Pose
You can wrap around the left side, over right to wear the Kimono right. A kimono outfit is paired with traditional zori or Geta footwear. After you rent your Kimono from a nearby boutique in Kyoto city, it's photo time. Pose like a royal couple with your stylish kimono obi and slay your profile on Instagram.
12.
Inhale the Scent of Cherry Blossoms
You'll agree that the best place to view cherry blossoms in Kyoto is at Maruyama Park! At Maruyama park, you will see pretty Cherry flowers, blossomed to perfection.
Maruyama Park is the perfect destination to study Cherry flowers. Moreover, you can learn all about the size, hue, texture and the variety in appearance of the flowers here.
A cup of piping hot tea, in the cool shade of the lush trees. While you are gazing at the cranes afloat in all their glory. This is an unhurried and tranquil experience only Japan can promise!
13.
Sample Classic Kaiseki Cuisine
You can't be in Kyoto and not sample Kaiseki food! Kaiseki Cuisine is very delicate on the tongue. In addition to being the most loved food in Kyoto, Kaiseki Ryoria is also a traditional multi-course fare.
It is famous as one of the world's finest meals. A host of Kyoto's Japanese restaurants cater to Kaiseki palettes.
If Tofu is your favourite vegetable, you'll be happy to know that Tofu is the hero of Kaiseki cuisine. Sample some fine Kaiseki food and taste melody.
14.
Interact with Kyoto's Geisha
Kyoto city is the Geisha Central of Japan, where you can see the beautiful Geisha girl! The Gion District is Kyoto's entertainment hub, famous for artists, theatres, and geishas.
Know the Geisha
Young ladies aged between 15-20 train to be Geisha or Kyoto Geiko. Similarly, the maikos live in the okiya or Japanese geisha house, under the care of a Kami-san (Mother of the house). Every Geisha aspires to be a perfect entertainer. Mostly, a Geisha performance is accompanied by a Jikata or a Shamisen player. For the Geisha Dance, all performers adorn the Geisha kimono.
Watch a Geisha Dance
A great way to spot a lot of Geisha in Japan is to be at Kyoto's annual Geisha dance in spring and fall. Here you can watch Miyako Odori. It is the most famous of all Geisha Dances in the month of April, in Kyoto. Enjoy the kabuki shows; a genre of theatre featuring dance and vibrant make-up. The Geishas look beautiful wearing their hypnotic make-up. Don't miss out on watching Geishas perform in Kyoto city. We promise it will definitely be the highlight of your trip to Kyoto, Japan.
And there you have it, here are all of Kyoto's must-do experiences in one compact guide. We have tried to combine distinct sights, suited for a week's itinerary in Kyoto. We hope our suggestions are aligned with your preferences. After your visit to Kyoto, do share your travel experiences with us. Write to us if you find more fun things to do in Kyoto. We'd be happy to add more experiences to our article.
Have a great trip to Kyoto! Sayonara!