Travel The World With Nanoblock Architecture Sets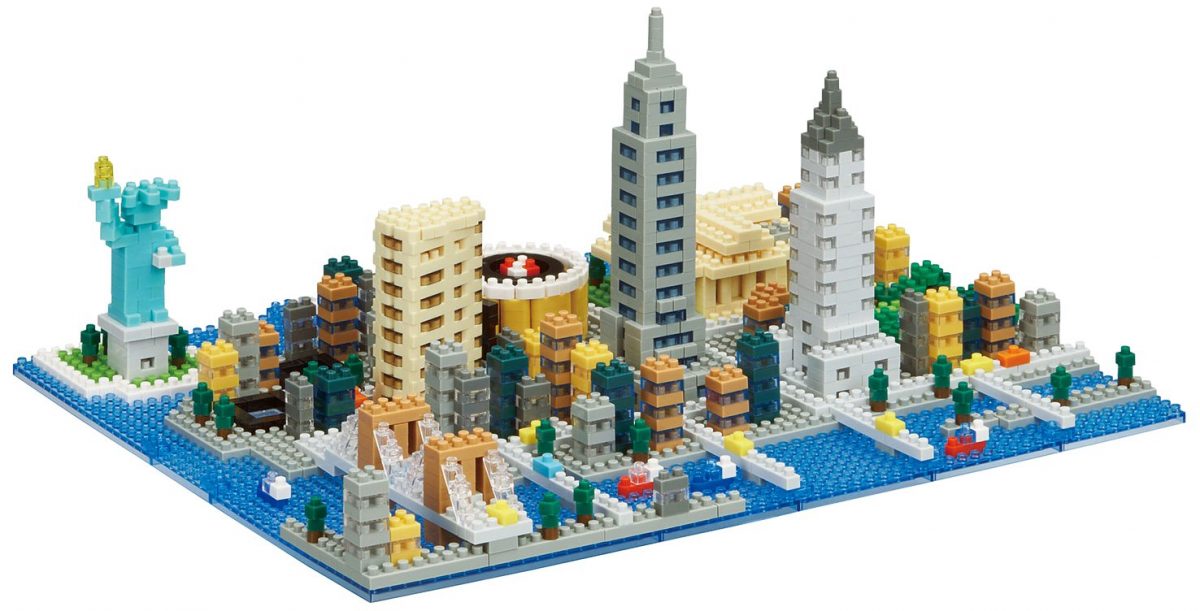 Looking for a fun and creative hobby to keep yourself entertained while in lockdown? Enter Nanoblock.
Nanoblock is a line of plastic construction toys made by the Japanese toy company Kawada. Much like Lego, each Nanoblock set is made up of small, colorful interlocking bricks. These bricks come together to form miniaturized models of real-world objects like musical instruments, animals, space shuttles, and more. Unlike Lego, however, Nanoblocks are even smaller and more compact. Each Nanoblock brick is about one-eighth the size of a Lego brick, with the smallest Nanoblock brick being a mere 4 mm x 4 mm x 5 mm. In short, Nanoblock carefully balances the intricacy of detail with size, making scale architectural models with stunning accuracy that are also easy to store and transport.
Kawada has released many different series of Nanoblock sets. The Miniature collection, for those just starting to explore Nanoblock as a hobby, has sets that range from 80-150 pieces. The Advanced Hobby collection, made for advanced collectors, consists of sets that are made up of several thousand pieces. In addition, Kawada has also released a range of sets based on various licenses. For instance, Kawada has produced Pokemon, Disney, and Sanrio Nanoblock sets, which are all must-have collector's items for fans of these franchises.
One of the most attractive series of Nanoblock is the Sights to See series. This series, made for the avid traveler, features designs of the most famous buildings and landmarks from all around the world. The Sights to See sets can comprise 200 to 1600 pieces, providing collectors with a broad range of difficulty to tackle. Here are some of the most memorable sets from the Sights to See series that you should add to your collection.
NANOBLOCK ARCHITECTURE SERIES SETS YOU SHOULD HAVE
1. LONDON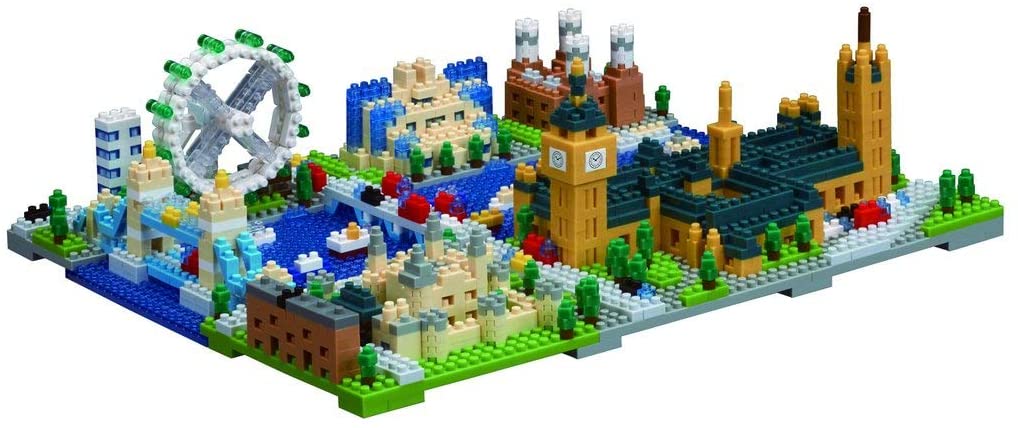 Level of difficulty: 4/5
Build London from scratch with this 1600-block set. It features micro-sized versions of some of London's most famous landmarks, such as Big Ben, Tower Bridge, and the Houses of Parliament. As one of the larger and more complex sets in the Sights to See series, this presents a challenge for both adults and children.
2. NEW YORK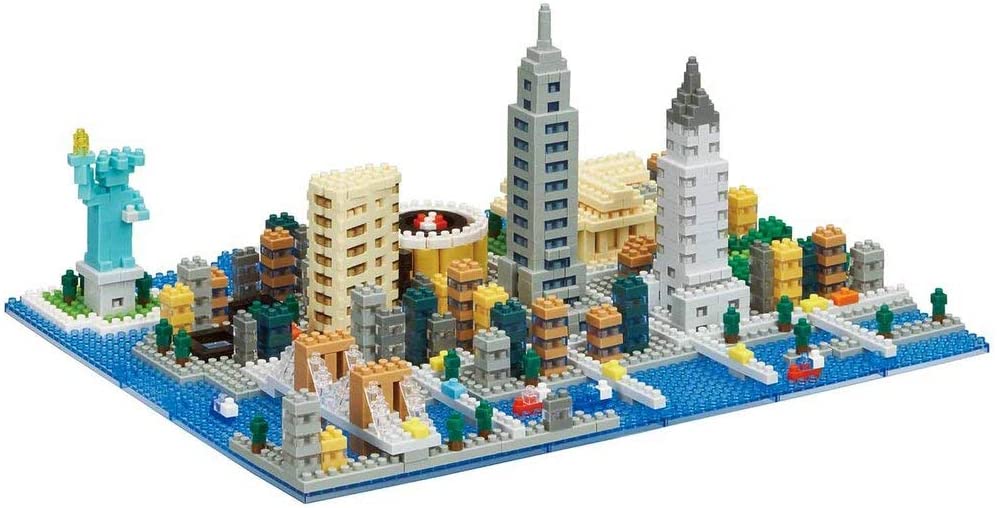 Level of difficulty: 4/5
Follow detailed instructions to recreate a panoramic view of the New York cityscape with this 1600-piece set. This Nanoblock set features well-known New York City landmarks like the Chrysler Building, the Statue of Liberty, and more.
3. SYDNEY OPERA HOUSE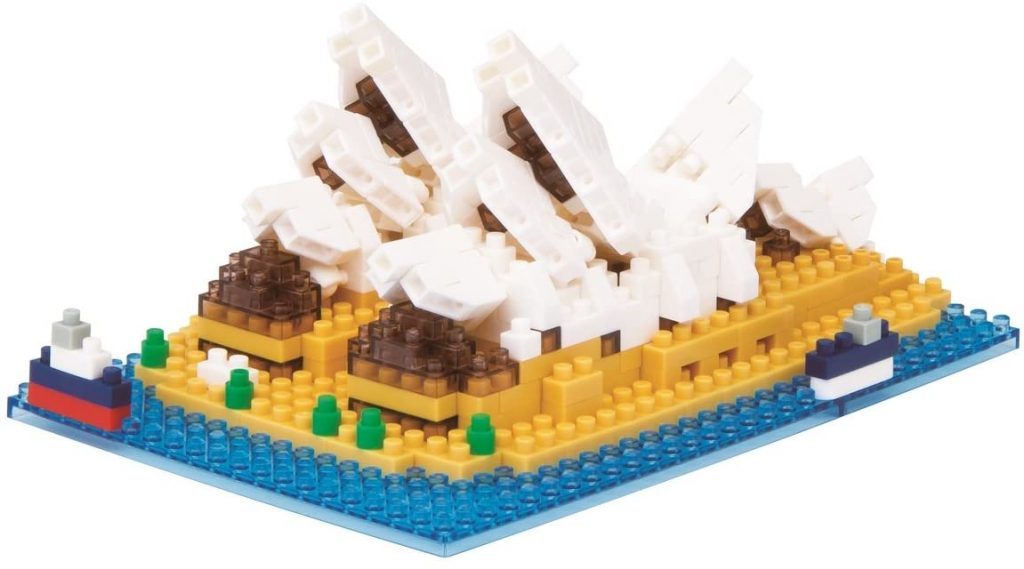 Level of difficulty: 3/5
One of Australia's most famous landmarks and Sydney's center of arts and culture, the Sydney Opera House can also be found as a Nanoblock set. Enjoy building this 430-piece set so you can have a piece of Sydney in your home with you.
4. HIMEIJI CASTLE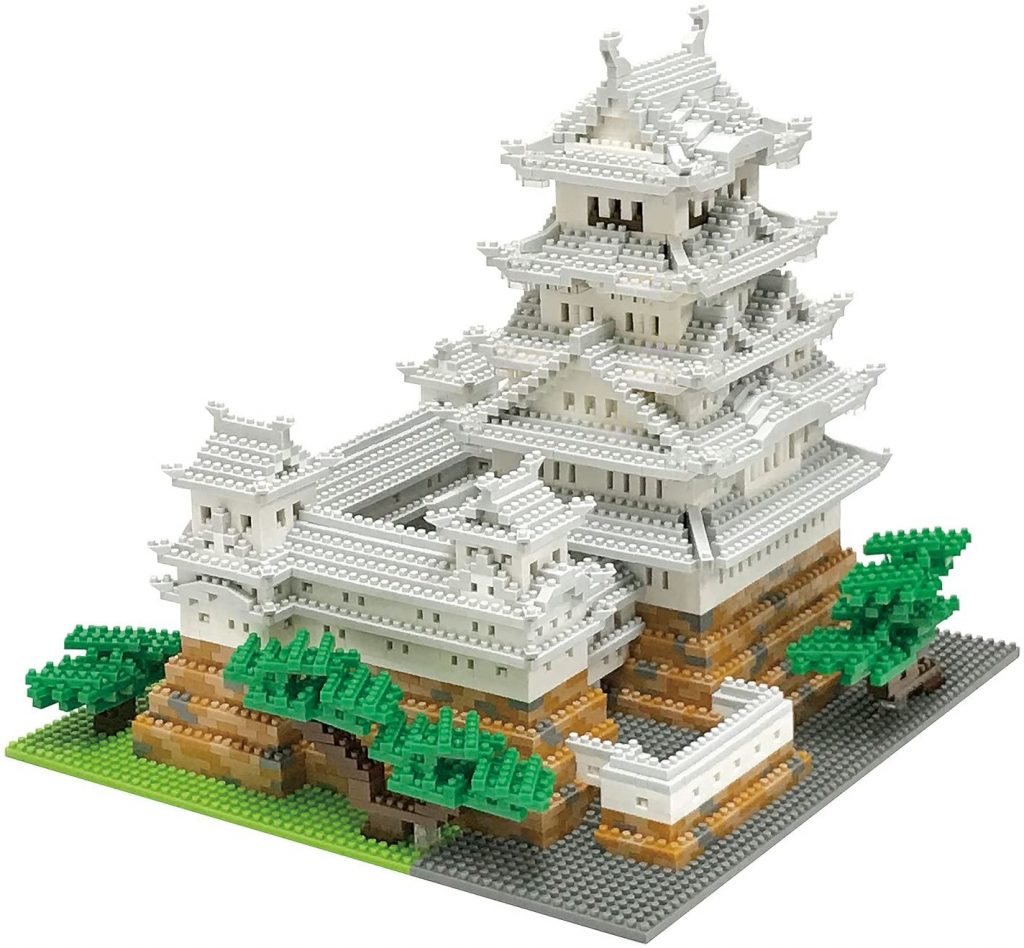 Regular Edition
Level of difficulty: 3/5
Deluxe Edition
Level of difficulty: 5/5
One of Japan's finest surviving architectural masterpieces, the Himeji Castle Nanoblock set is a collector's item that will appeal to fans of Japanese culture and history. Kawada released two different models of the Himeji Castle Nanoblock set. The regular set for starters, made up of 330 pieces. And the more detailed Himeji Castle Deluxe Edition, made up of 6000 pieces, for Nanoblock aficionados looking to really challenge themselves.
5. LOUVRE MUSEUM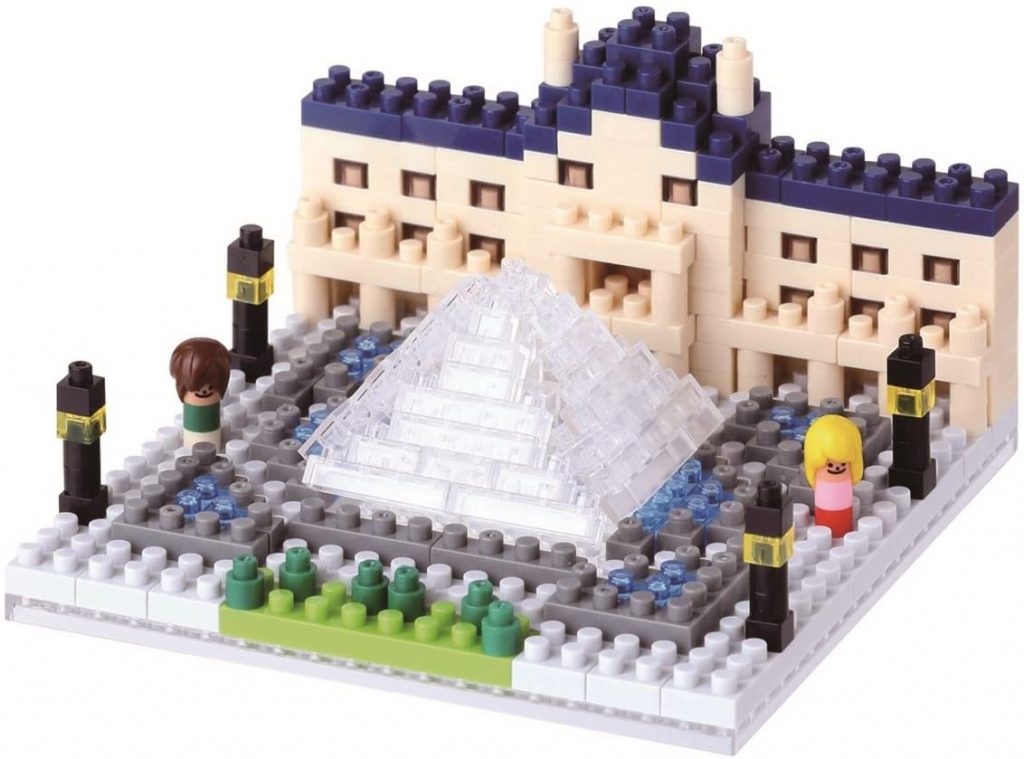 Level of difficulty: 3/5
The famous Louvre Museum can now be a part of your Nanoblock collection with the Musee Du Louvre block set. Comprising of 320 pieces, this model recreates both the museum building itself and the Louvre Pyramid, which serves as an entrance to the museum.
6. SAGRADA FAMILIA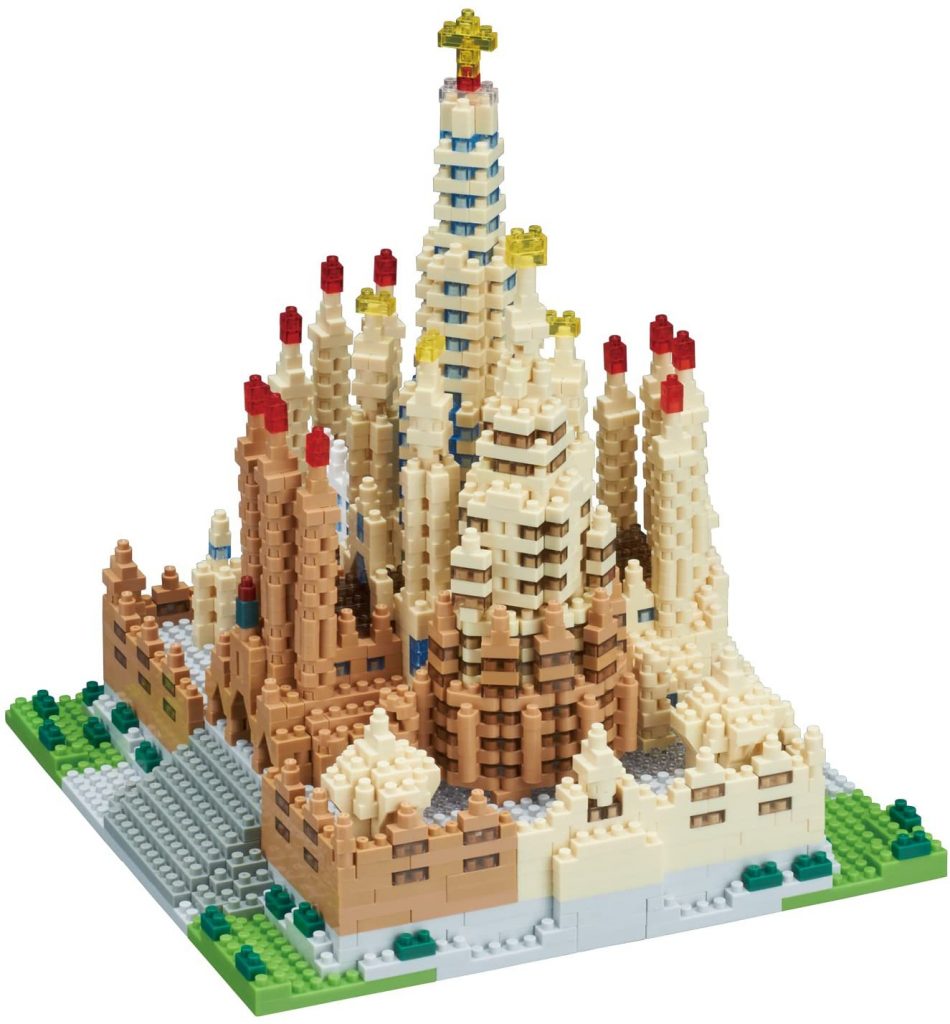 Regular Edition
Level of difficulty: 3/5
Deluxe Edition
Level of difficulty: 5/5
A famous church building in Barcelona, the Sagrada Familia is notable, above all, for being an unfinished construction. However, unlike the original, you can have a complete, miniaturized model of the Sagrada Familia in your home in just a few hours. As with the Himeji Castle, Kawada released two different models of this Nanoblock set. One for beginners, made up of 390-pieces, and a more complex Deluxe Edition that consists of 2660 pieces.
7. GREAT PYRAMID OF GIZA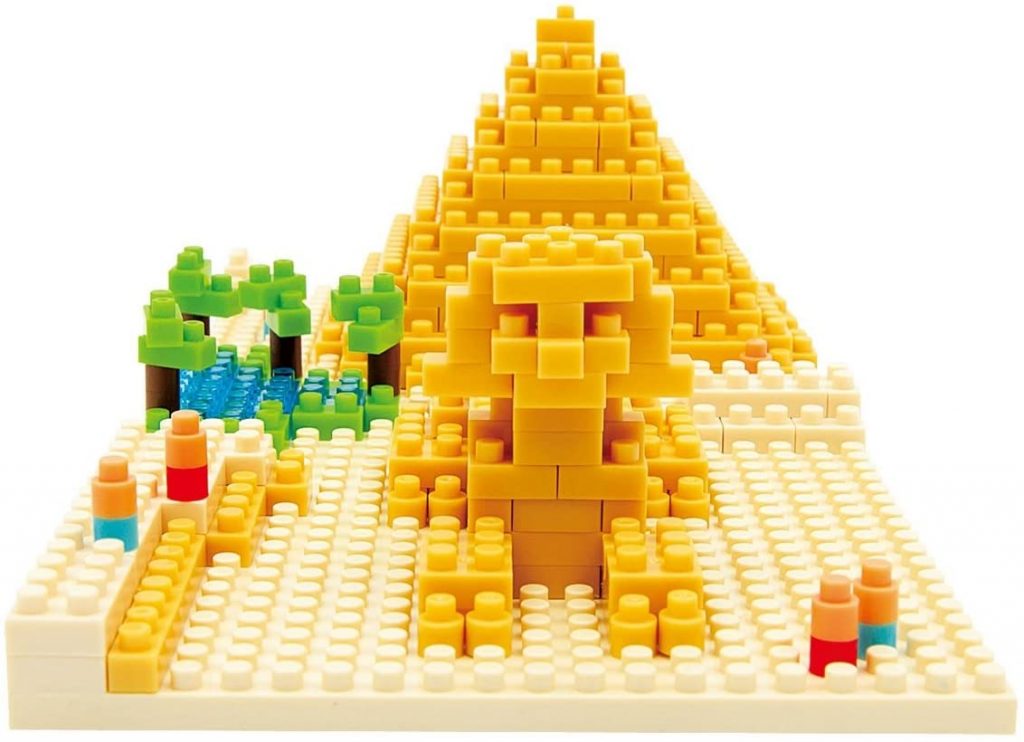 Level of difficulty: 3/5
The only one of the original Seven Wonders of the World still standing today. The Great Pyramid of Giza is thought to be the largest pyramid ever built, taking over 20 years to build. Fortunately, you can have the Nanoblock model, consisting of 130 pieces, in the palm of your hand in much less time.
8. BRANDENBURGER TOR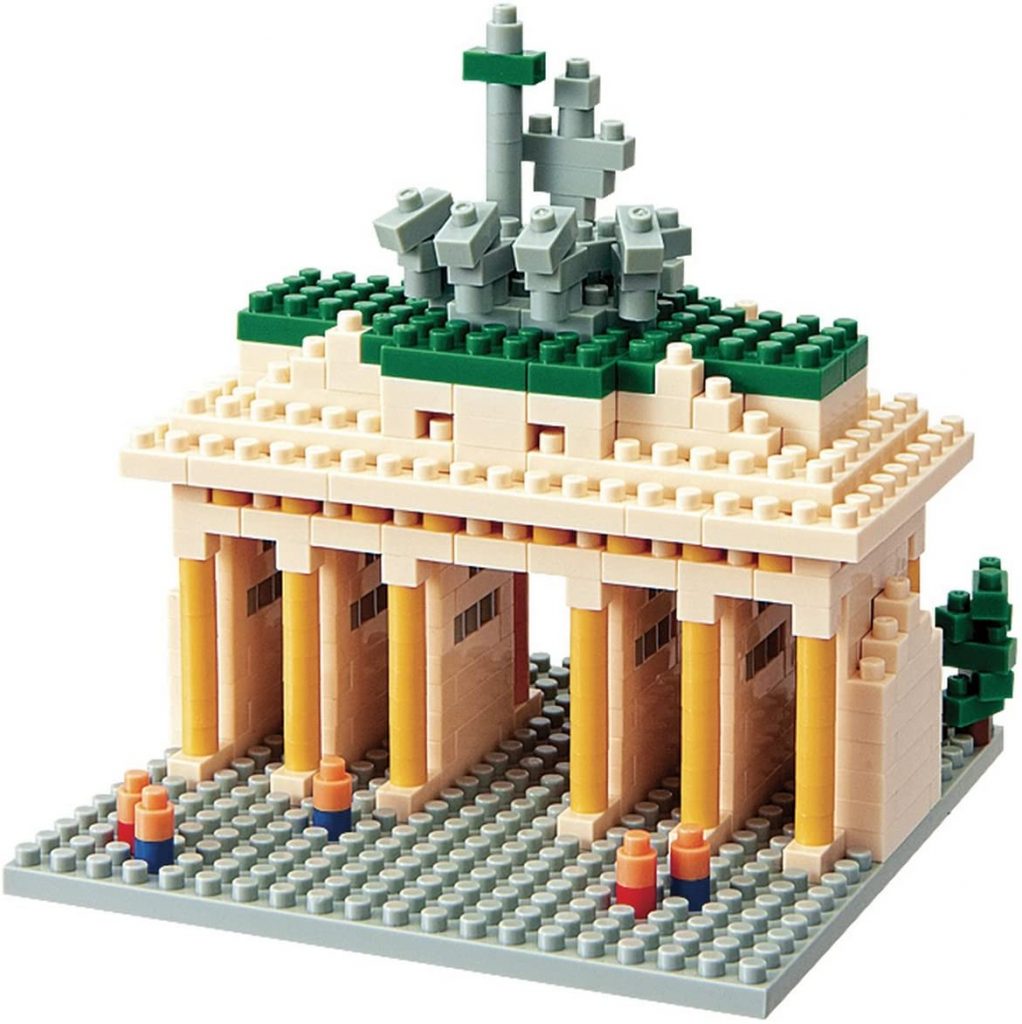 Level of difficulty: 3/5
Perhaps Berlin's most famous landmark, history buffs will recognize Brandenburg Gate as Berlin's only remaining historical city gate, and a symbol of both the division and reunification of Germany. Complete the Brandenburger Tor Nanoblock set, comprising of 460 pieces, to bring a little piece of German history to your home.
9. CHANGI AIRPORT CONTROL TOWER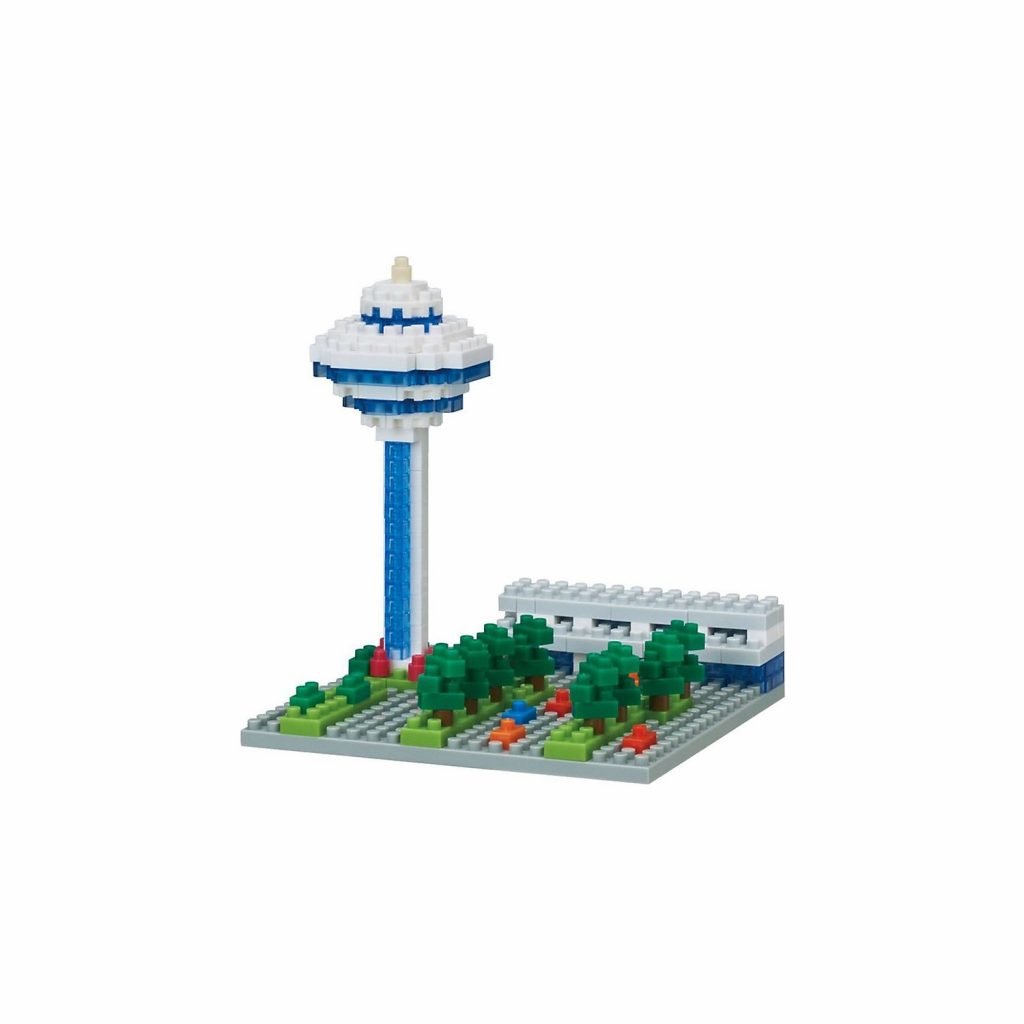 Level of difficulty: 2/5
The Changi Airport Control Tower Nanoblock set is a model of one of Singapore's most well-known and representative heritage sites. This 200-piece set is a great souvenir to have for those who've enjoyed their visit to Singapore's Changi Airport, which is consistently ranked one of the best airports in the world.
10. NEUSCHWANSTEIN CASTLE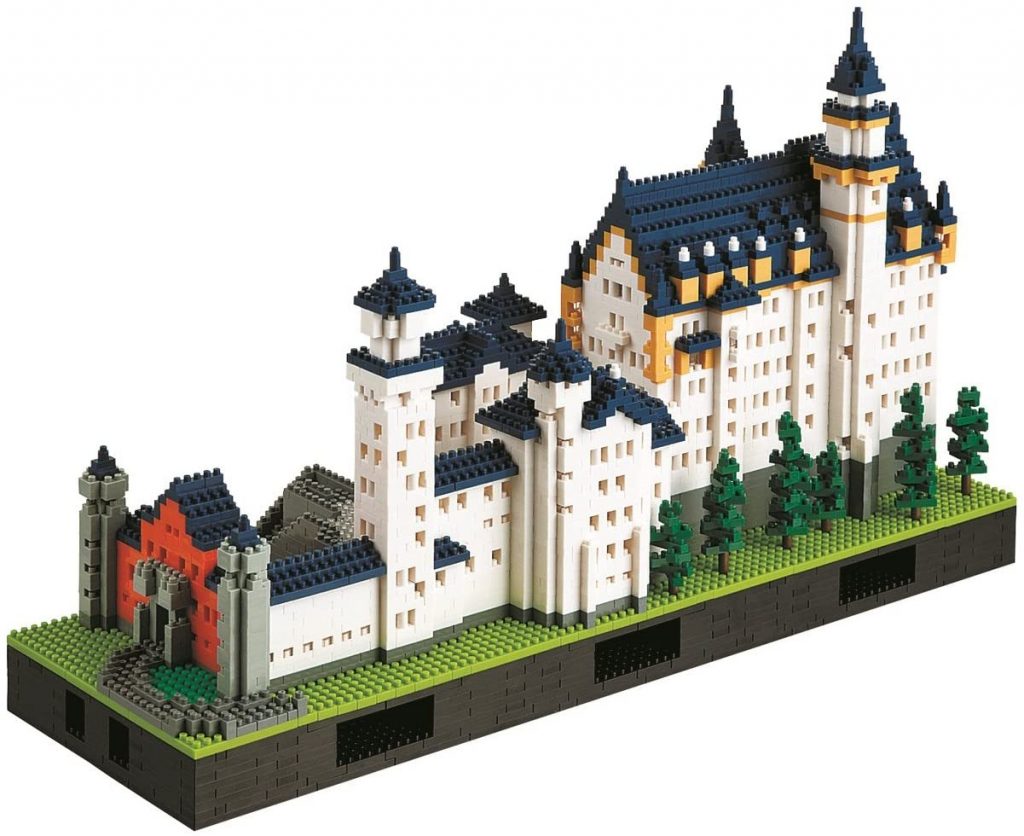 Level of difficulty: 5/5
The crowning glory of the Sights to See series, the Neuschwanstein Castle Deluxe Edition is the most challenging model there is. With a whopping 6000 pieces and requiring at least 10 hours to complete, the award-winning Neuschwanstein Castle is a must-have for Nanoblock hobbyists.
WHY SHOULD YOU OWN AT LEAST ONE NANOBLOCK SET?
Do not be deceived into thinking Nanoblock is a toy just for children. Nanoblocks can be an educational hobby for children, prompting them to use their cognitive skills to puzzle out the detailed instructions they need to follow. But playing with Nanoblocks can also be a fun challenge for adults. In addition, working with micro-sized Nanoblock pieces is a test of motor skills for adults and children, encouraging dexterity and patience in both.
Nanoblock sets also make for beautiful pieces of desk art or decoration around your house. Indeed, the compact size of the models makes them perfect for display anywhere in your home. Furthermore, the wide range of sets available caters to a very wide audience. As such, whether you like animals, vehicles, Disney, or even Street Fighter, Nanoblock has a set for you. The more affordable prices of Nanoblocks, compared to Lego, also make collection much cheaper for those who seek to collect every set in a series.
The Sights to See series is a very attractive collection to hobbyists, especially during this trying period of Covid-19. With international travel restricted, building this collection of world-famous landmarks is one way to experience travel vicariously and keep a small piece of these sights close to our hearts.