Top 25 Best Cities to Visit in Spain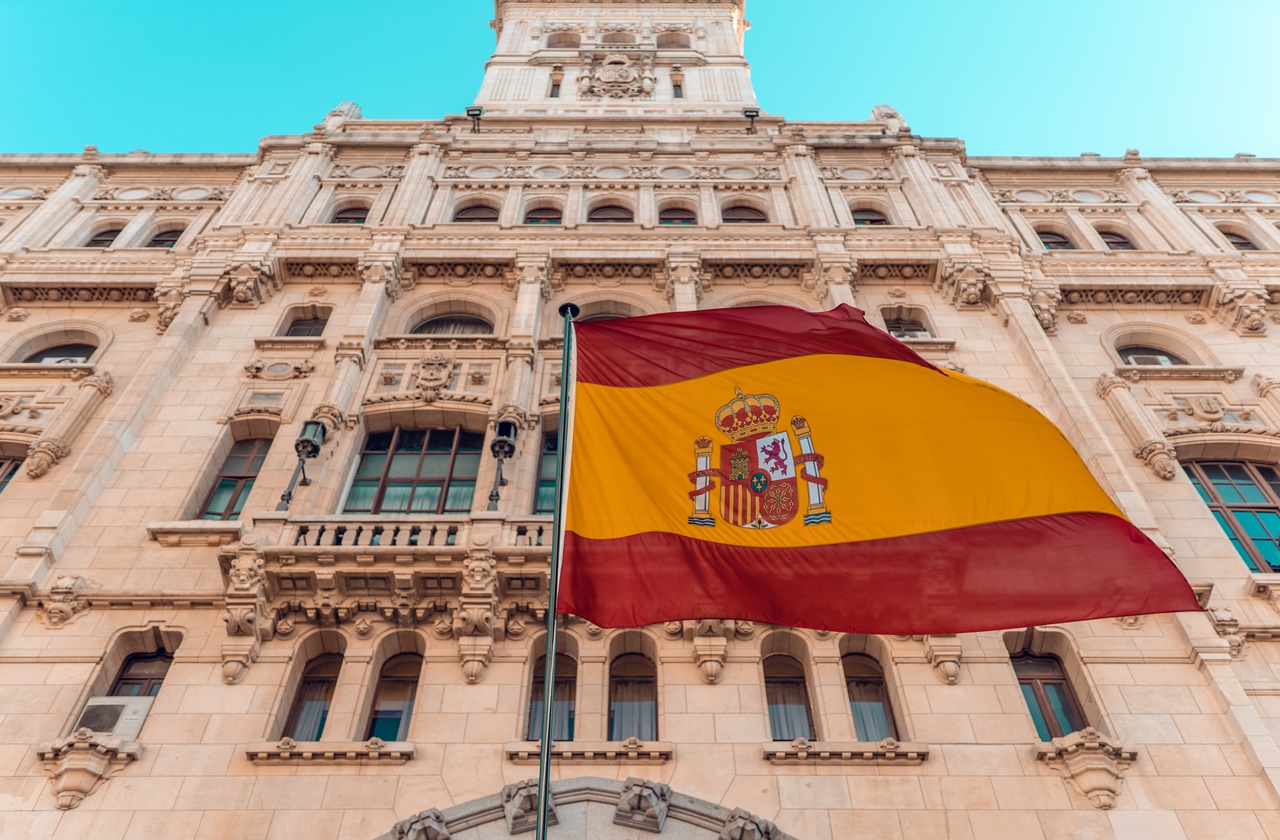 Spain is a majestic country filled with historical landmarks, architectural wonders, and natural sites. It is also home to powerhouse cities like Barcelona and Madrid, two of the best cities to visit in Spain, and perhaps in the world. In 2019 alone, Spain welcomed more than 80 million tourists, either visiting the beaches of Ibiza or the famous Sagrada Familia Basilica.
Whether you're a history buff, an architecture enthusiast, or simply a curious traveler, you will definitely appreciate our lowdown on the best cities to visit in Span!
Best Cities to Visit in Spain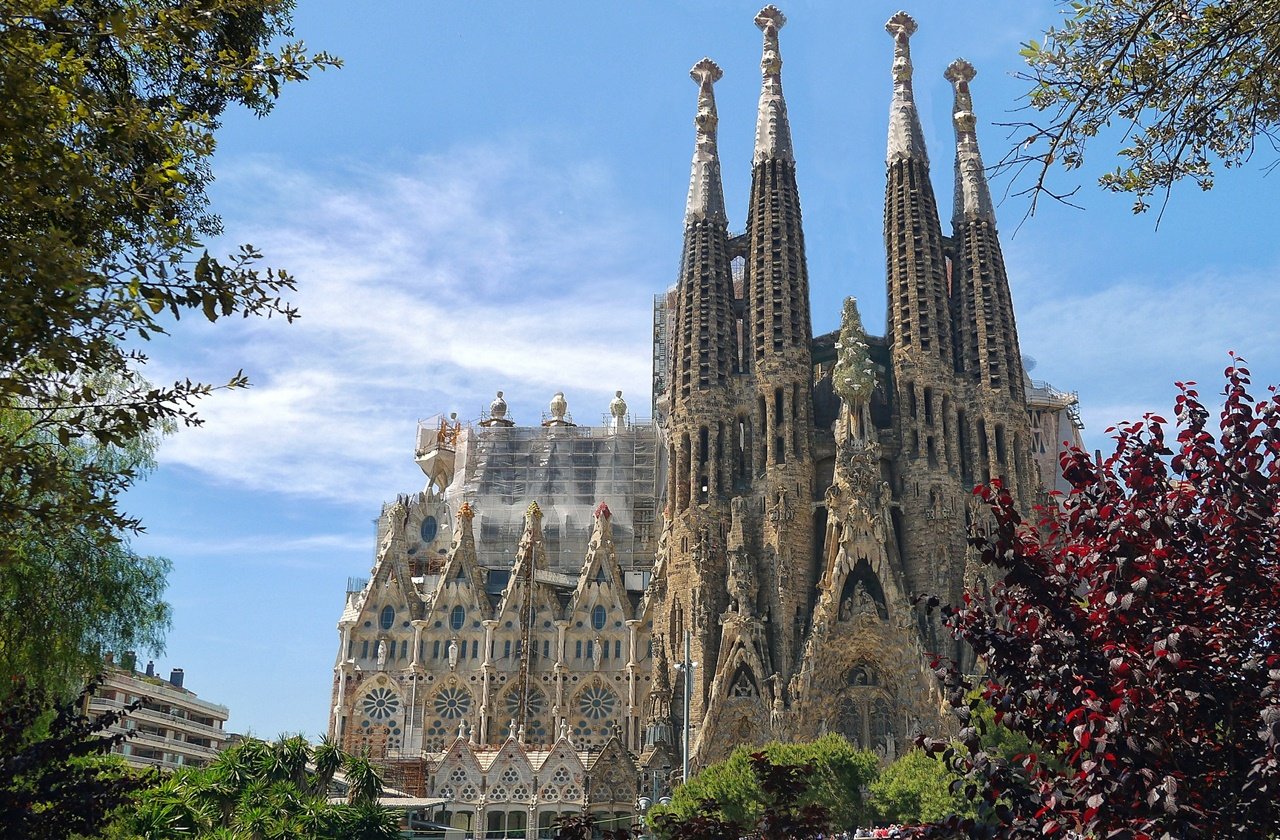 Photo by Patrice_Audet on Pixabay
When you think of Spain, Barcelona is surely one of the things that come to mind. It is also the second-largest city and the capital of the Catalonian region. As a city, it offers numerous tourist attractions, mouthwatering Catalan cuisine, and architectural treasures. It is also a city rich in UNESCO World Heritage Sites: from the iconic Sagrada Familia and other works by Antoni Gaudi to the Palau de la Música Catalana. Go on a hop-on hop-off bus tour and get a chance to see and explore the city's highlights at your own pace. Additionally, football fans shouldn't miss visiting the Camp Nou Stadium and watching an FC Barcelona match live. In short, this is one of the best cities to visit in Spain if you want an introduction to the country's culture, cuisine, and famous landmarks.
Must-visit sites: Sagrada Familia, Park Guell, Barceloneta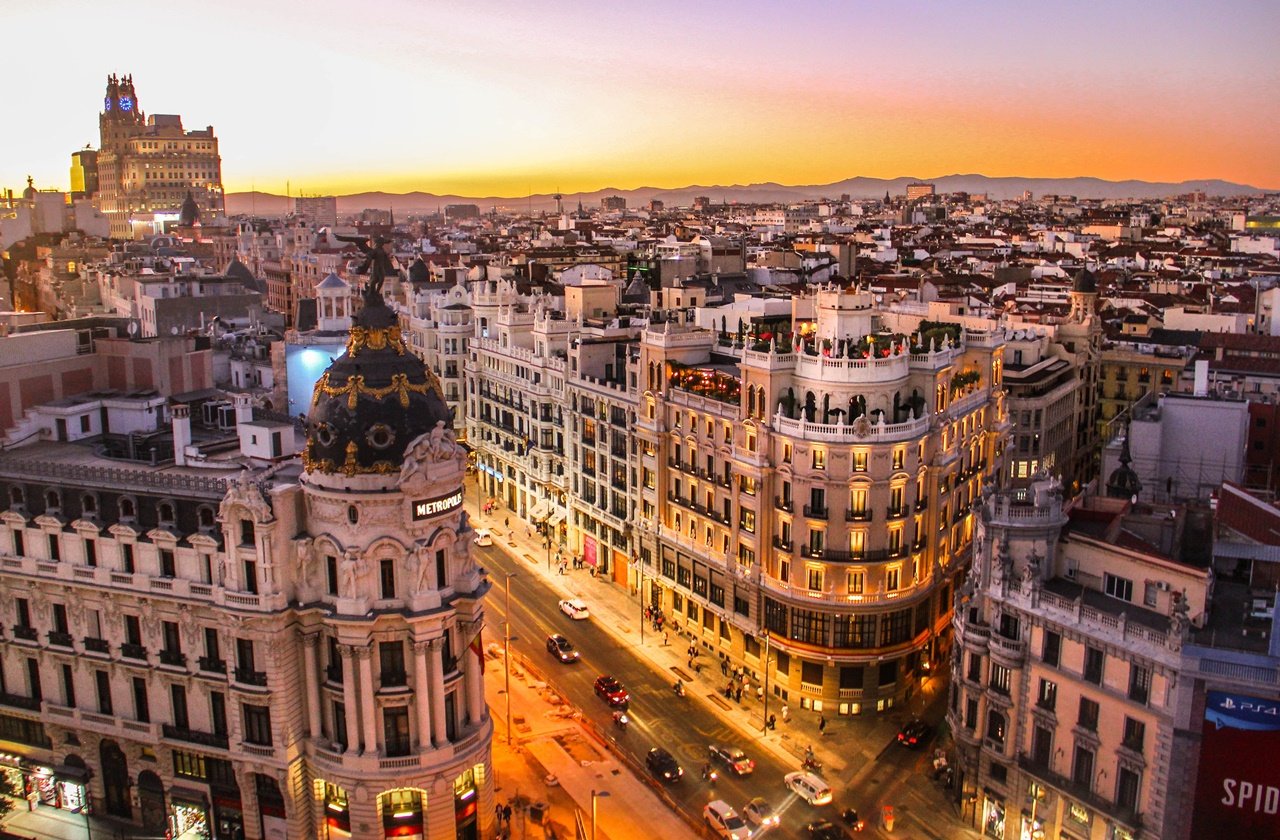 Photo by Florian Wehde on Unsplash
Madrid, Spain's capital and largest city, is definitely one of the best cities to visit in Spain! The city is filled with beautiful buildings and historic museums, some of which are the best in the world. Go museum-hopping at the Prado Museum, Reina Sofía Museum, and the Thyssen-Bornemisza Museum, also known as the Golden Triangle of Art. Discover the grandeur and opulence of the Royal Palace of Madrid, Europe's largest functioning palace. Also, find quaint cafes, lively pubs, and tons of picturesque buildings at every corner of this city. Its vibrant nightlife is also something you shouldn't miss!
Must-visit sites: Prado Museum, Reina Sofía Museum, Royal Palace of Madrid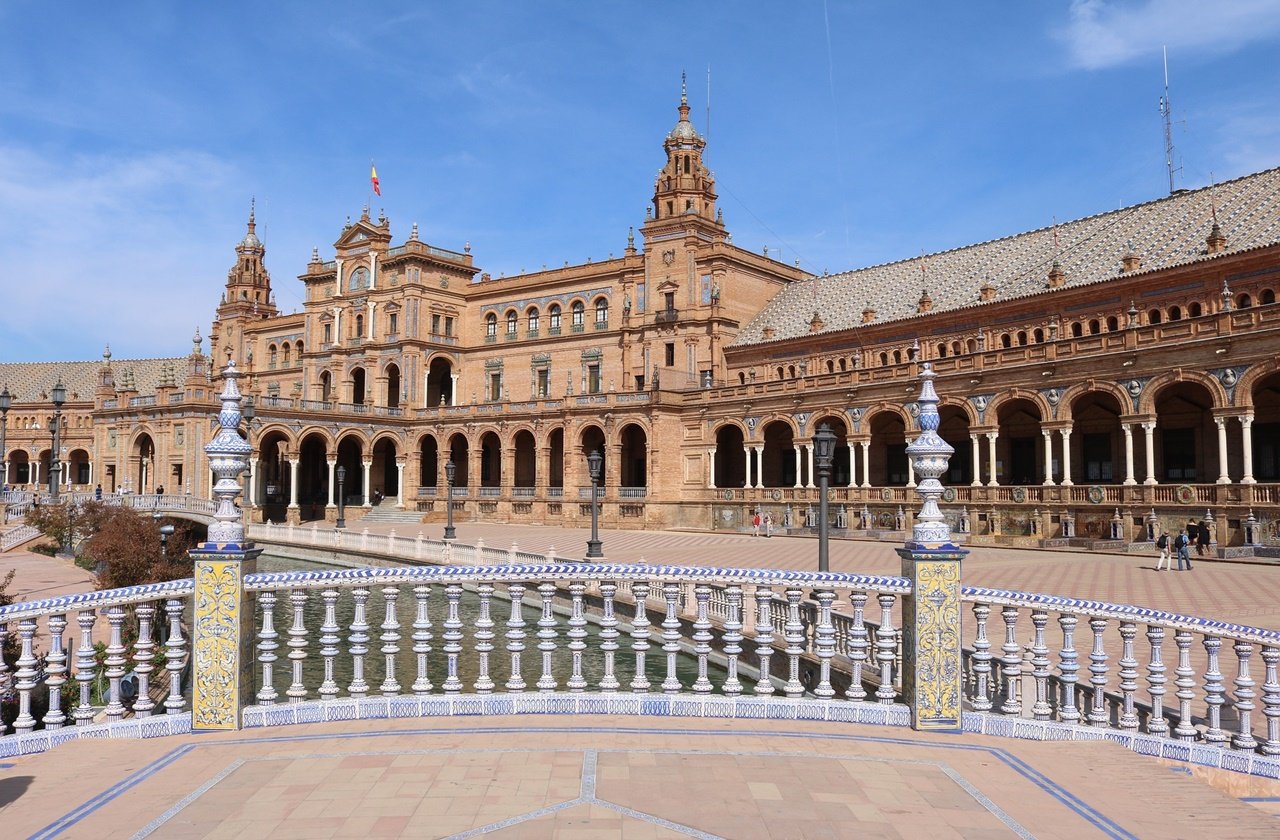 Photo by Medienservice on Pixabay
As the capital of the Andalusian region, Seville is one of the must-visit Spanish cities. The city offers plenty of tourist attractions, cobblestone-laden streets, and stunning Moorish-style palaces. Its historic center is among the largest and most beautiful in the world. Visit the Royal Alcázar of Seville, a stunning palace boasting Mudéjar architecture. Walk around the Plaza de España and be in awe of the different architectural styles. In addition to that, Seville is also popular for its flamenco scene, so don't forget to catch a flamenco show in the city. Or better yet, get on your dancing shoes and join a flamenco lesson with a professional dancer!
Must-visit sites: Alcázar of Seville, Plaza de España, Cathedral of Seville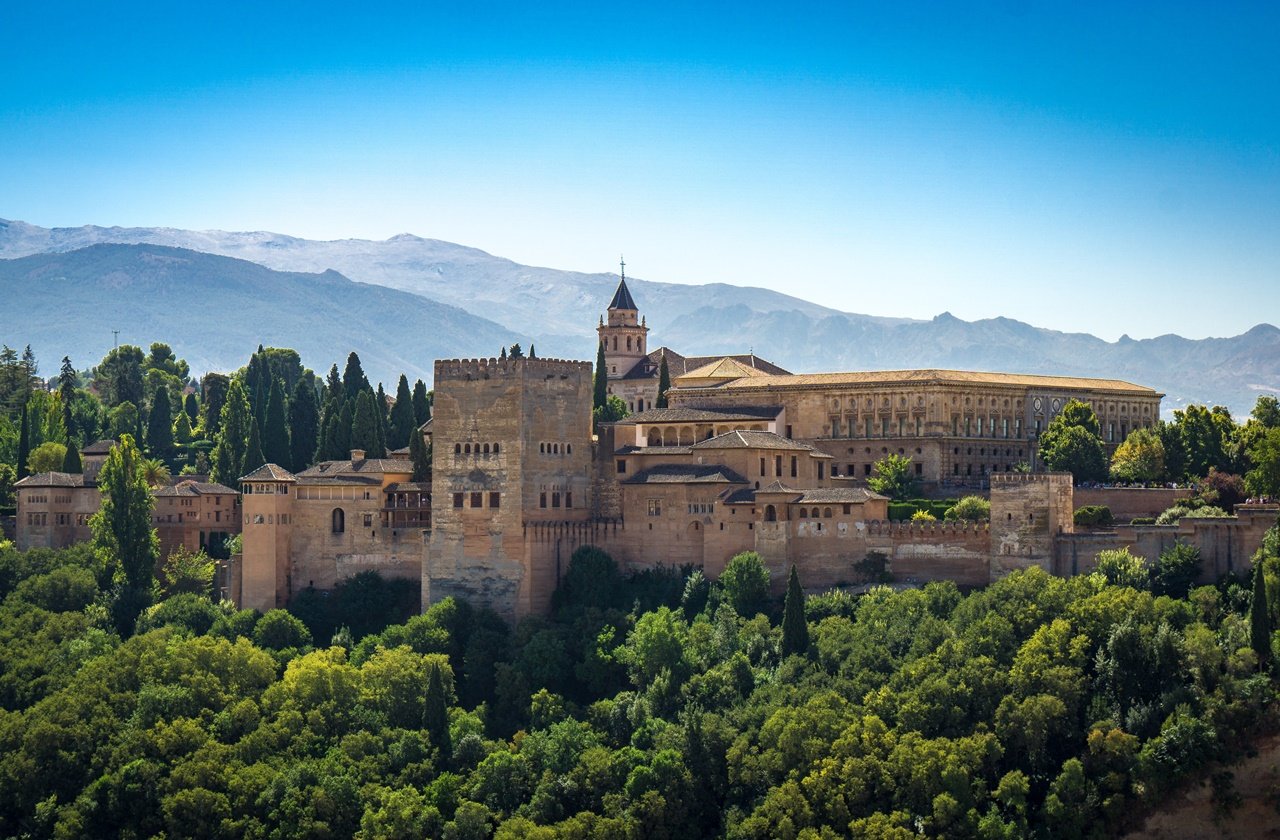 Photo by Petr Slováček on Unsplash
Visit Granada, home of the world-famous Alhambra Palace! This city in Southern Spain packs a lot of history and culture within its sites and gardens. If you're visiting Granada, don't miss the famous Alhambra and Generalife Gardens and get a deeper insight into what Spain was like during the Nasrid Dynasty. You can also go shopping and purchase handmade crafts at the Alcaicería, Granada's shopping district. Walk around the idyllic streets of the Albaicín and Sacromonte neighborhoods and watch the sunset from one of the miradores. Additionally, the Sierra Nevada Mountains is one of the best destinations all-year-round, offering activities like skiing and horseback riding.
Must-visit sites: Alhambra Palace, Generalife Gardens, Albaicín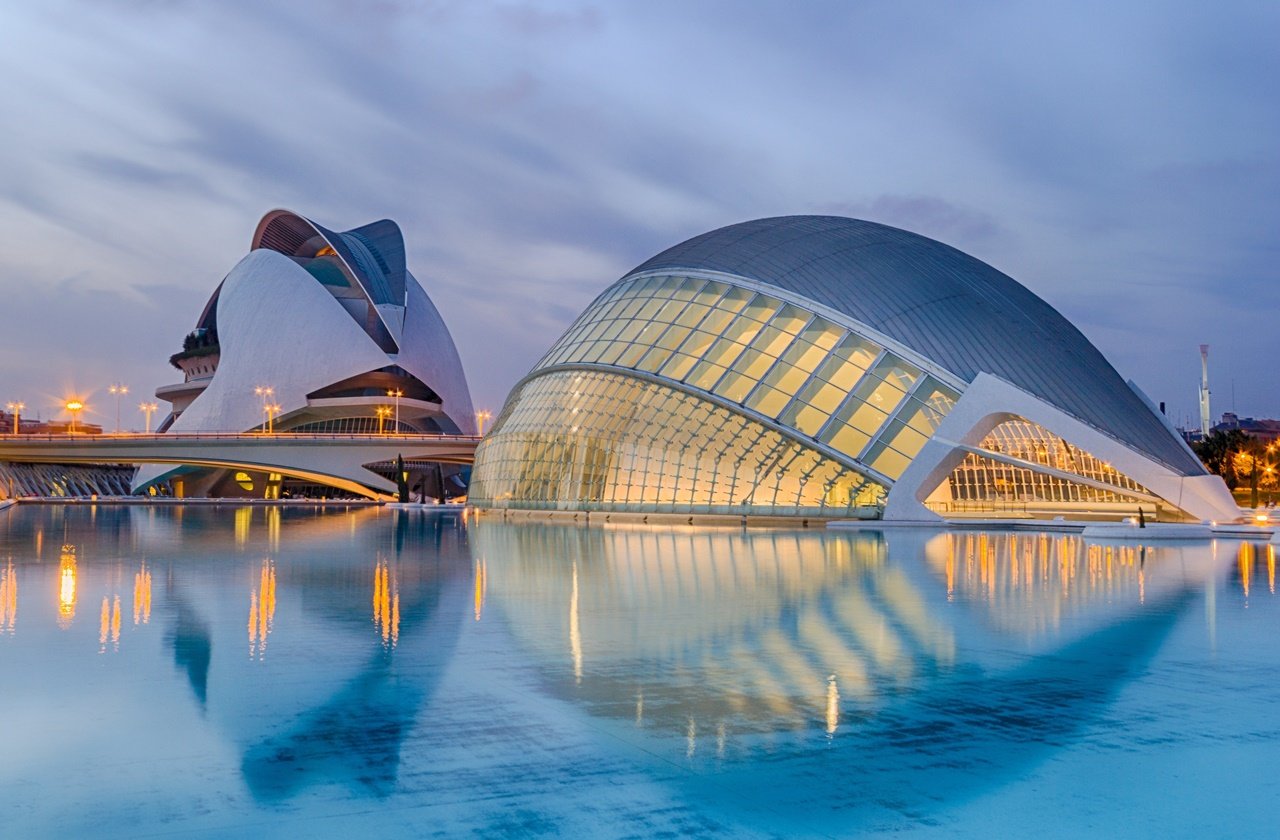 Photo by zebbache djoubair on Unsplash
Valencia is one of the best cities to visit in Spain for travelers looking for a mix of interesting architecture, cuisine, and history. It is also famous for being the birthplace of the iconic paella. Head to one of the many restaurants in the city and sink your teeth into an authentic Paella Valencia. Located near the Mediterranean Sea, Valencia also has some of the best beaches in Spain, perfect if you're visiting in the summer months. Aside from its beaches, the city is also known for the City of Arts and Sciences, a futuristic complex straight out of a sci-fi film. Valencia also hosts the eclectic Fallas Festival every year, attracting almost millions of visitors.
Must-visit sites: City of Arts and Sciences, Colón Market, Turia Park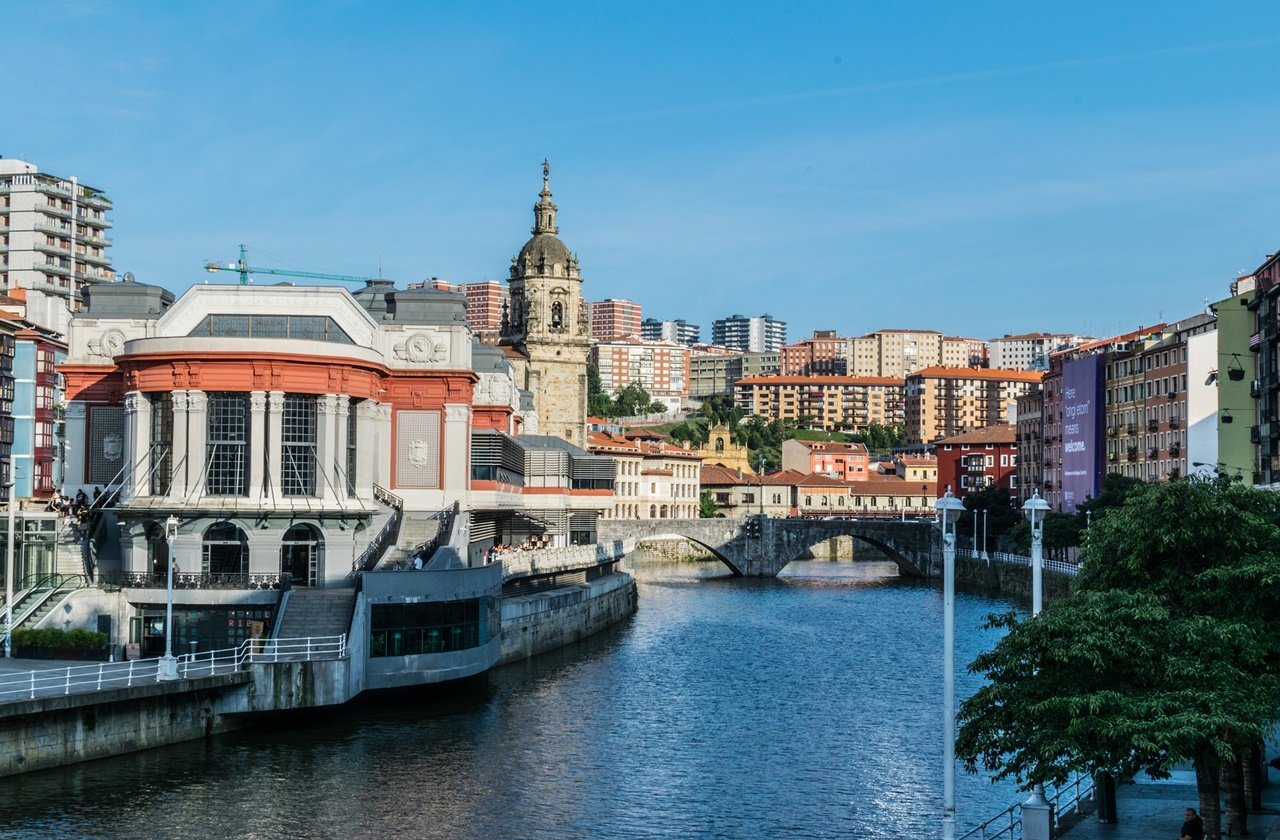 Photo by javierAlamo on Pixabay
Bilbao is a small city yet it's filled with many architectural wonders. It is famous thanks to the Guggenheim Museum Bilbao, one of the best works of contemporary architecture. The city combines Art Noveau and gothic architecture with modern architecture. See the city's highlights from a different perspective and go on a boat cruise along the Nervión River. Get to know Bilbao through its cuisine and sample delicious pintxos, the Basque counterpart of tapas, on a pintxos crawl. As one of the most creative cities in the world, you can also go museum-hopping, with the Guggenheim Museum being the first on your list.
Must-visit sites: Guggenheim Museum, Plaza Nueva, Casco Viejo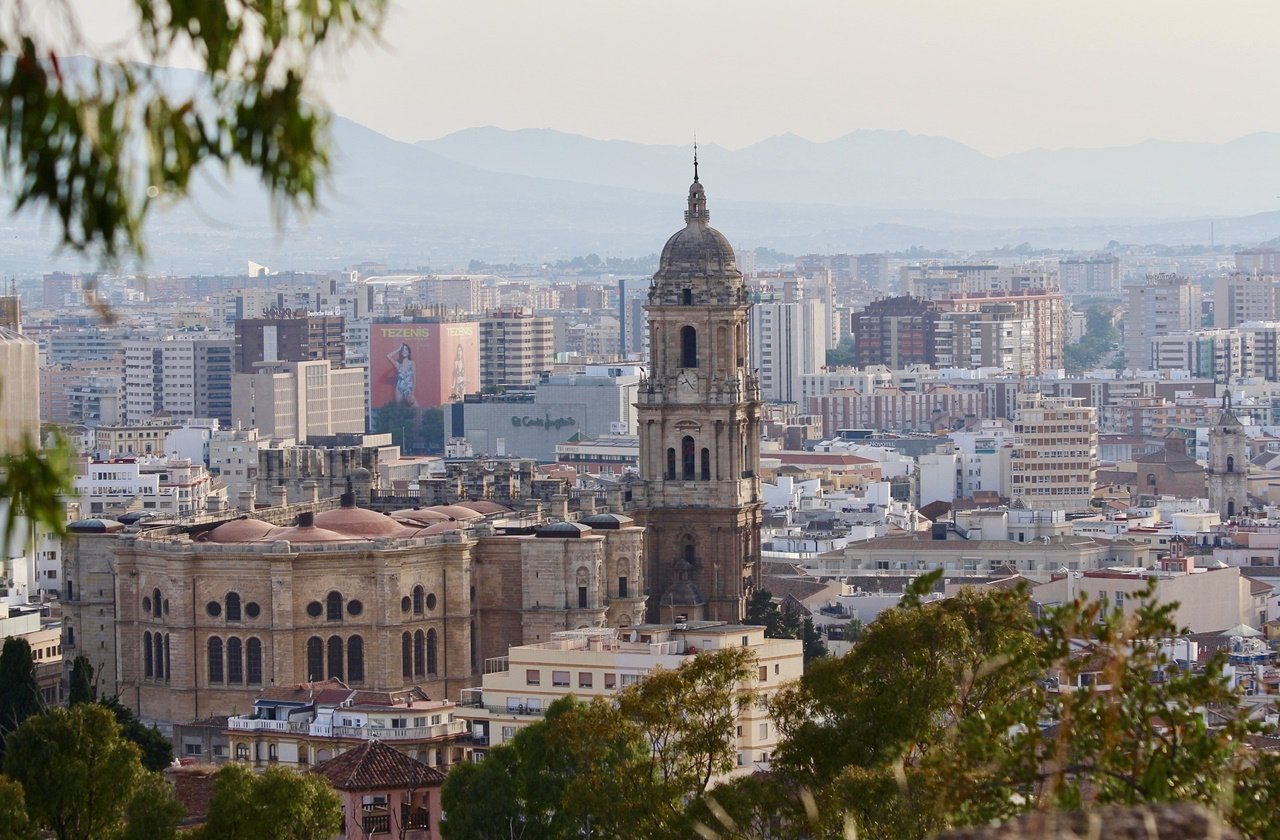 Photo by Barbara-Iandolo on Pixabay
Malaga is one of the world's oldest inhabited cities, famous for the towering Alcazaba. Located along the Costa del Sol, the city also has plenty of high-rise resorts and pristine beaches. Explore the historic Alcazaba of Malaga and catch panoramic views of Malaga's port from this palace-slash-fortress. If you're visiting in the summer, head to Playa de La Caleta and bask under the warm sun. Visit in mid-August and don't miss the Feria de Agosto, celebrated with colorful street parties and flamenco dances. Malaga is one of the best cities to visit in Spain if you want a laid-back summer getaway with a bit of historical sightseeing.
Must-visit sites: Alcazaba of Malaga, Playa de La Caleta, Picasso Museum Malaga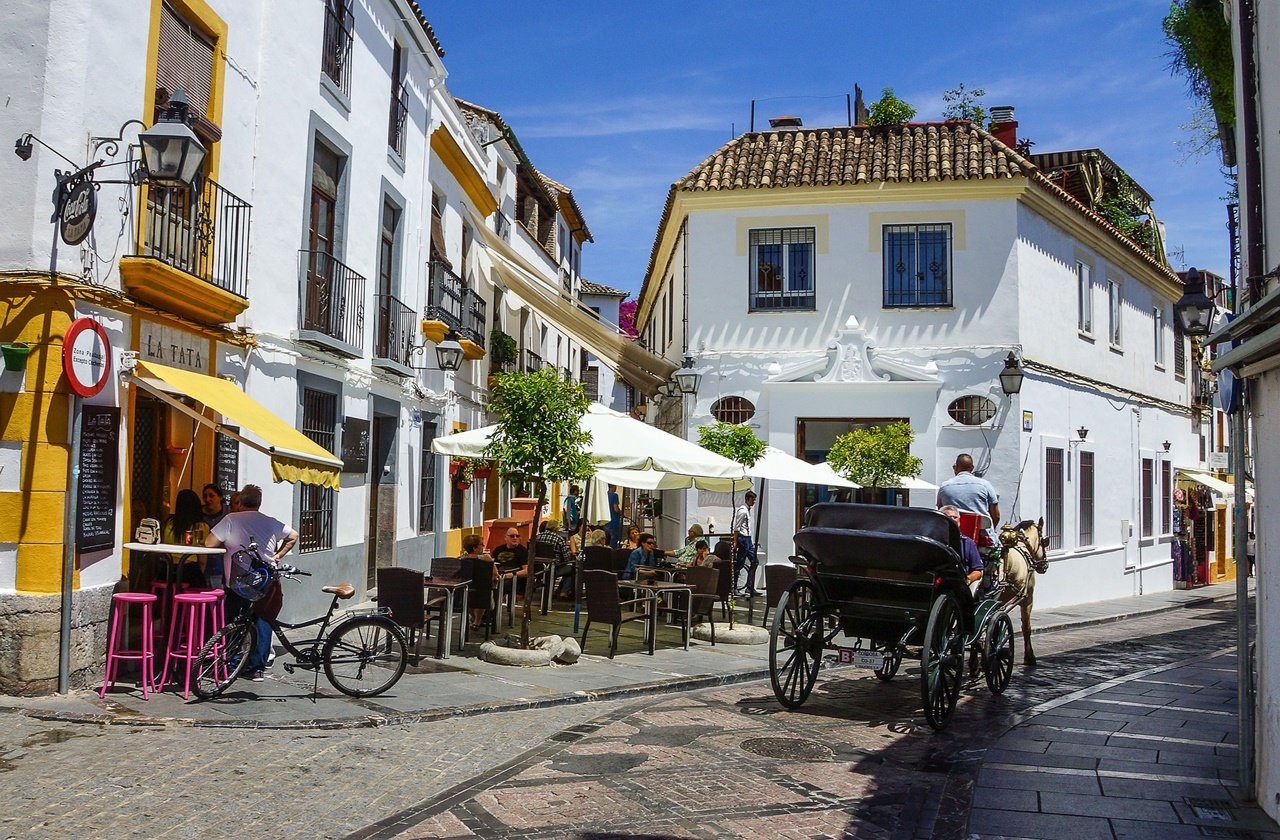 Photo by franky1st on Pixabay
Cordoba is one of the oldest towns in Europe and is also one of the best cities to visit in Spain. Its historic center is a dazzling maze of narrow streets and whitewashed courtyards surrounding the Mezquita, the city's popular attraction. Enter this gorgeous cathedral and admire its tall columns, painted in bright shades of red, a reminder of its Moorish influences. In addition, walk across the Roman Bridge, made popular by Game of Thrones, and take snapshots of the sunset. If you're visiting Cordoba, don't miss the lovely Courtyard Festival, celebrated every second and third week of the month. Residents decorate their patios with colorful flowers and open them to the public.
Must-visit sites: Mezquita of Cordoba, Roman Bridge, Plaza de la Corredera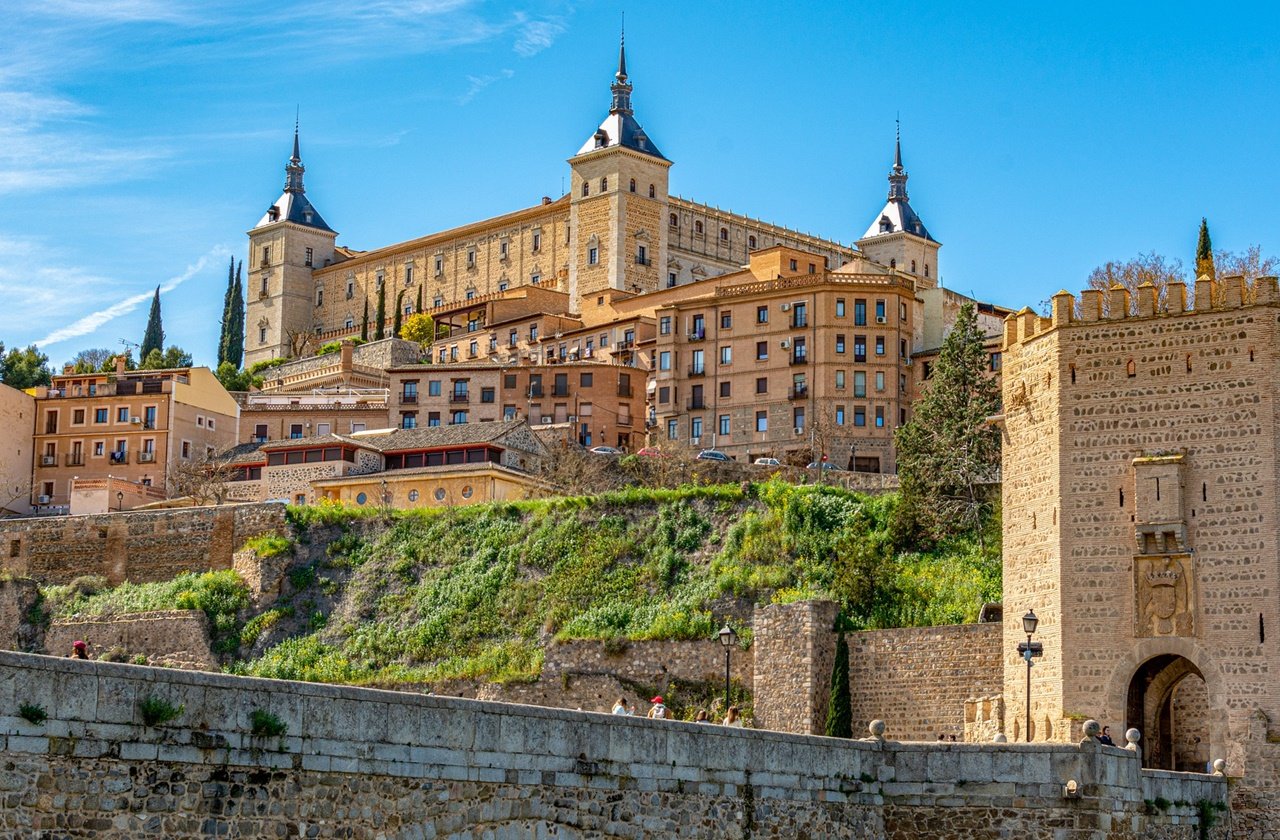 Photo by javierAlamo on Pixabay
Popularly known as the "City of Three Cultures", Toledo has Christian, Muslim, and Jewish influences around the city. It was also the capital of Spain from 542 to 725 AD. Today, it is one of the best cities to visit in Spain, thanks to its historical sites and landmarks that date back to the Roman Empire. Wander around its medieval streets and find all sorts of charming cafes and specialty shops. As you walk from one street to another, you'll see the influences of the three cultures coming in its churches and synagogues. Also, make sure to treat yourself to an authentic Marzipan, a local snack made from sugar, honey, and almonds.
Must-visit sites: Toledo Cathedral, Alcazar of Toledo, Monasterio de San Juan de los Reyes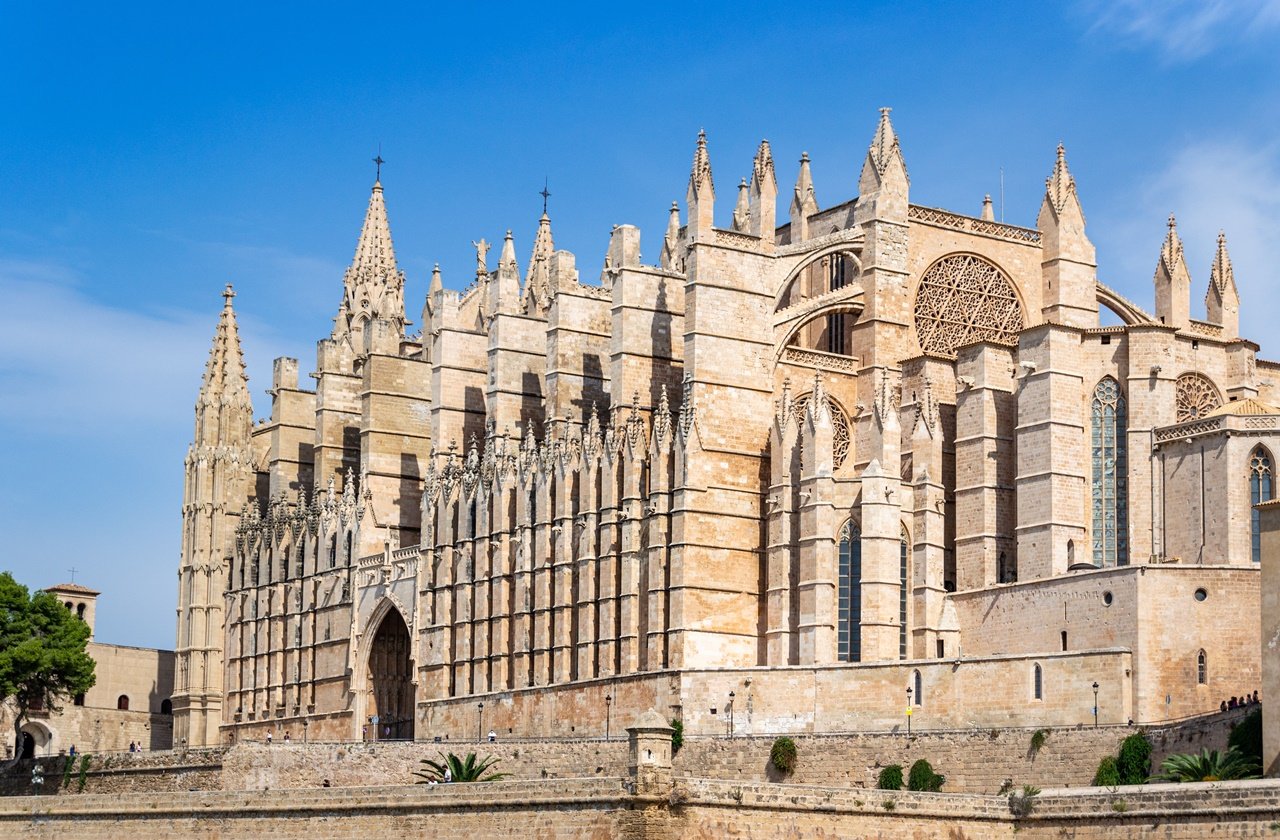 Photo by David Vives on Unsplash
With its rugged cliffs, sparkling waters, and historical sites, Palma de Mallorca is one of the best cities to visit in Spain. The capital of the Mallorca Island is also a popular destination, thanks to the number of golden sand beaches lining its shores. Head to one of the beaches and take a dip in its azure waters. Stroll around Palma de Mallorca's old town and find colorful buildings that rival the narrow streets of Florence. Also, don't forget to visit Bellver Castle, one of the rare, circular castles in Europe. The castle served as the residence for the Kings of Majorca, then became a military prison, and now a museum with a chapel.
Must-visit sites: Bellver Castle, Catedral de Mallorca, Palma Aquarium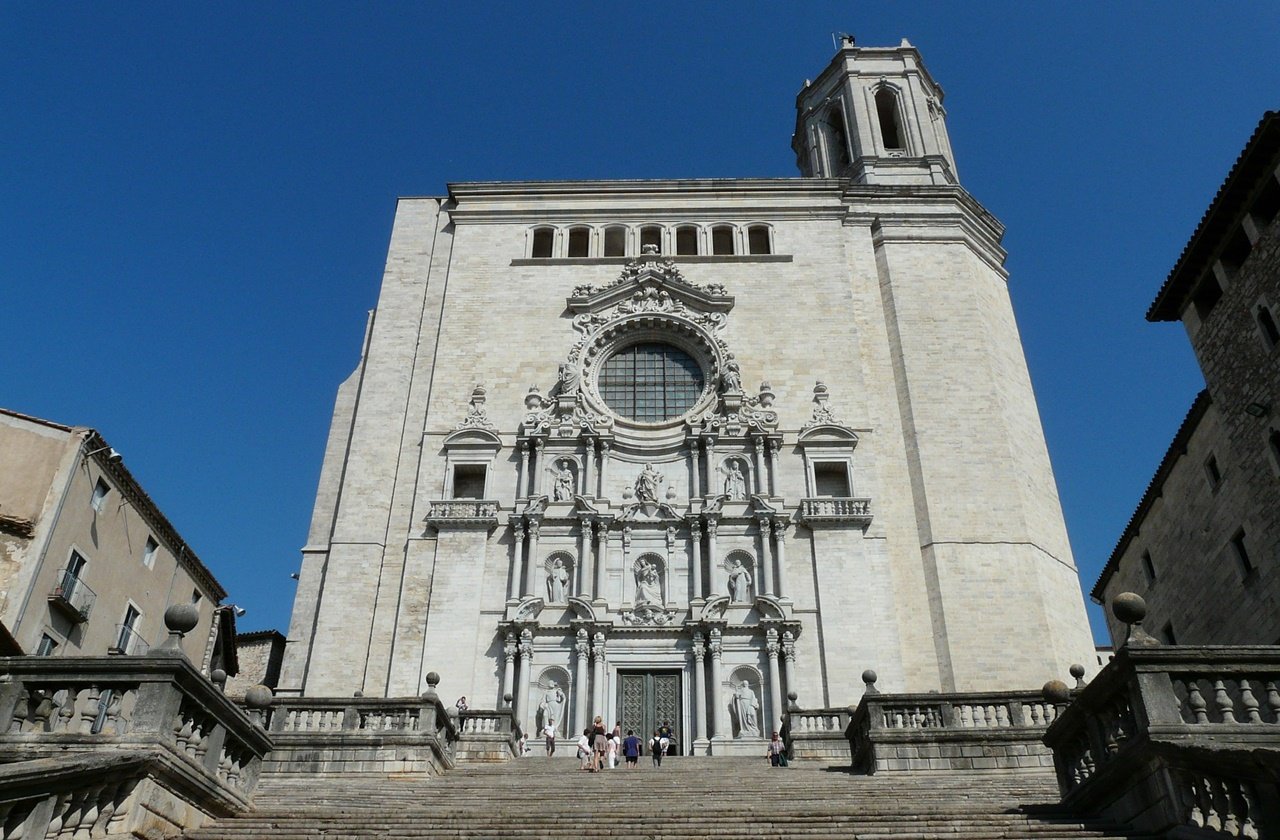 Filled with modern and medieval sites, Girona is a majestic city located near Barcelona and Costa Brava. The city's colorful houses along the Onyar is a postcard staple that many tourists visit. Navigate through the narrow streets of the old quarter and feel as if you've been transported to a different era. Walk along the city wall and catch breathtaking views of the city. Girona is also a hotspot for Game of Thrones fans because it was used as a filming location for the show's sixth season. Additionally, Girona Cathedral and the old quarter are the locations of one of the show's most iconic moments: Cersei's walk of shame.
Must-visit sites: Girona Cathedral, Girona City Walls, Onyar River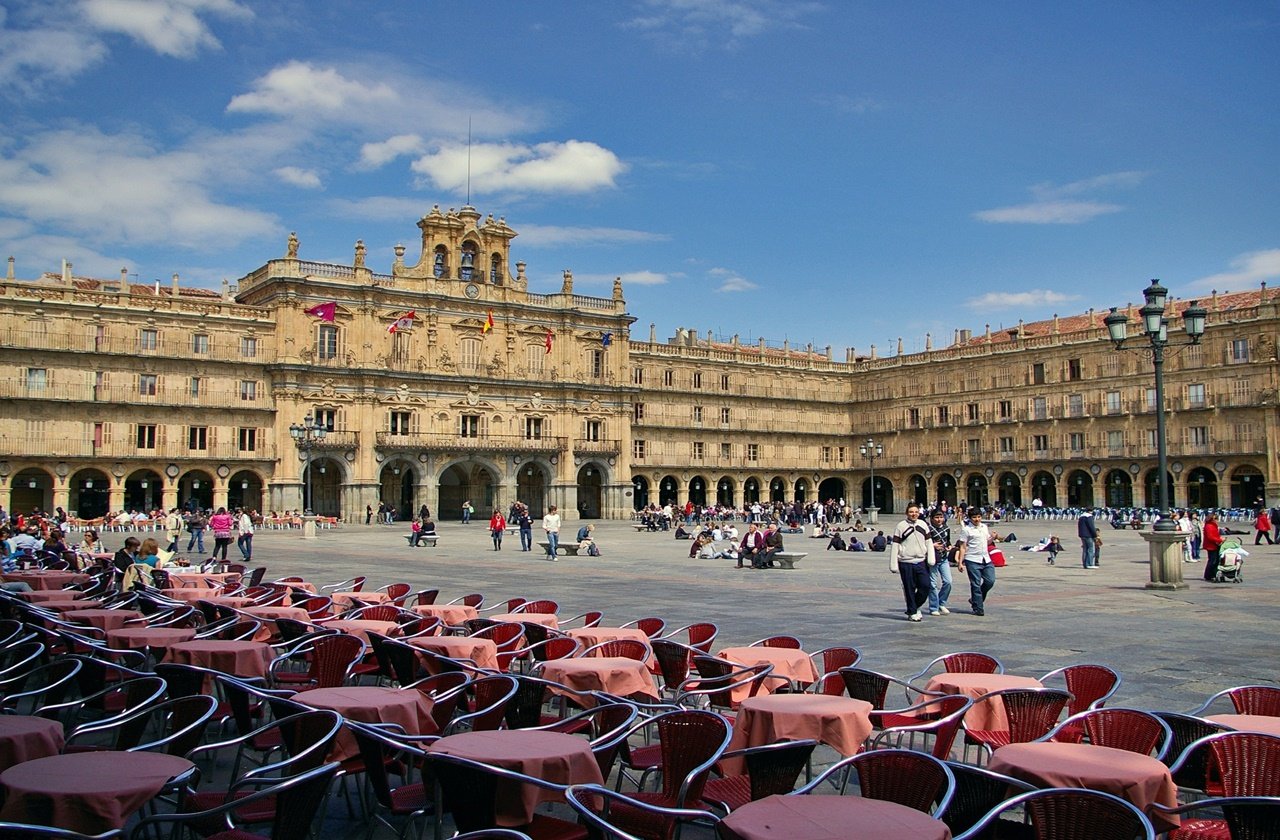 Photo by giljspereira on Pixabay
Salamanca is a popular city in Spain, home to one of the country's most important educational institutions, the University of Salamanca. That being said, you'll find plenty of young students in this lively city. Aside from its university, Salamanca is also known for its Old City. Admire the Gothic, Moorish, Renaissance, and Baroque monuments at this UNESCO World Heritage Site. Other popular landmarks in Salamanca include the Old and New Cathedrals, the Roman Bridge, and the Parque de la Alamedilla. Find rows of cafes, bars, and restaurants at the Plaza Mayor, the city's main public square. At night, the plaza is illuminated by the building lights, giving it a magical glow.
Must-visit sites: Plaza Mayor, Salamanca Cathedral, Parque de la Alamedilla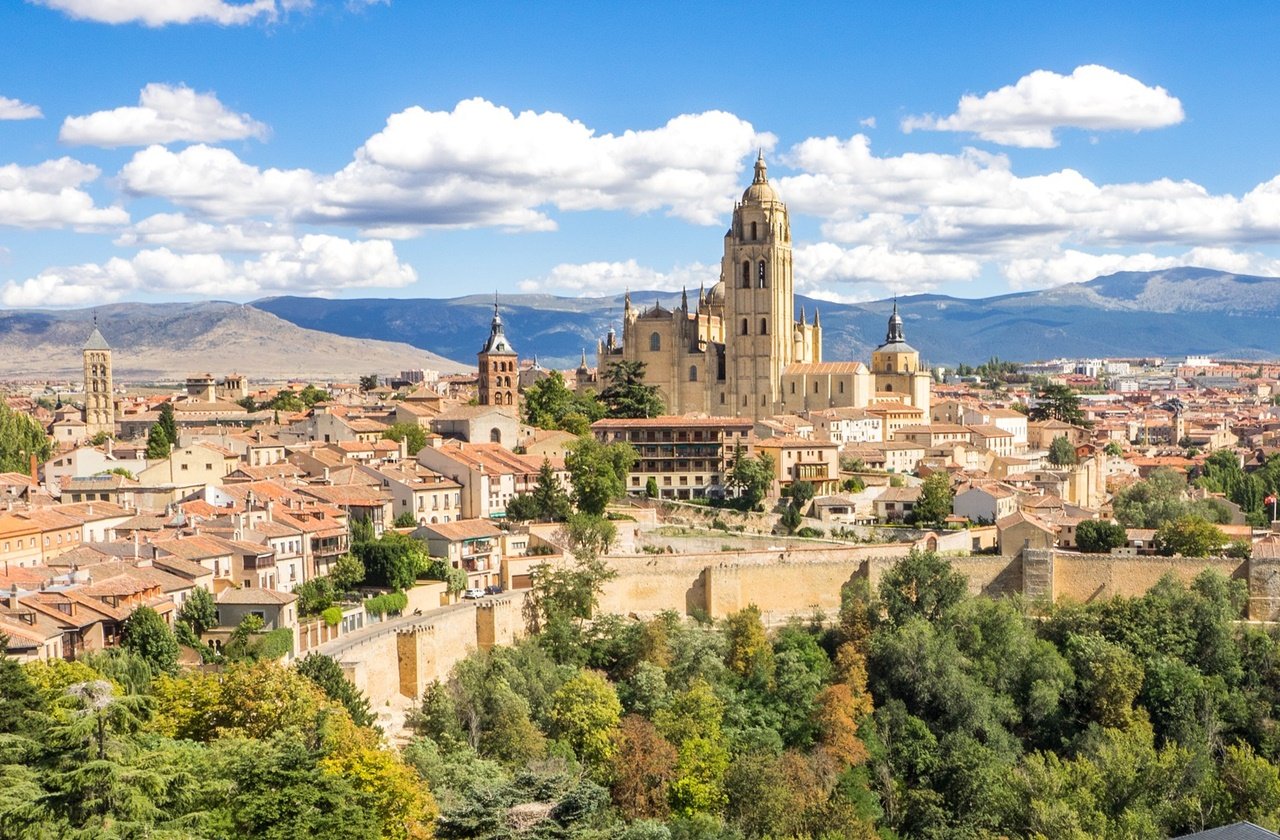 Photo by cascalheira on Pixabay
Explore the quaint streets of Segovia, located in the heart of Spain. Like most of the best cities to visit in Spain, Segovia's old quarter is declared a World Heritage Site, containing numerous historic buildings. When visiting this charming city, don't miss the Alcazar of Segovia, said to be the inspiration for the iconic Cinderella Castle. See the Aqueduct of Segovia, a towering landmark hailed as one of the "extraordinary engineering accomplishments" that exists in the country. Another attraction that shouldn't be missed is the massive Segovia Cathedral, the last Gothic cathedral built in Spain.
Must-visit sites: Alcázar of Segovia, Palacio Real la Granja, Jewish Quarter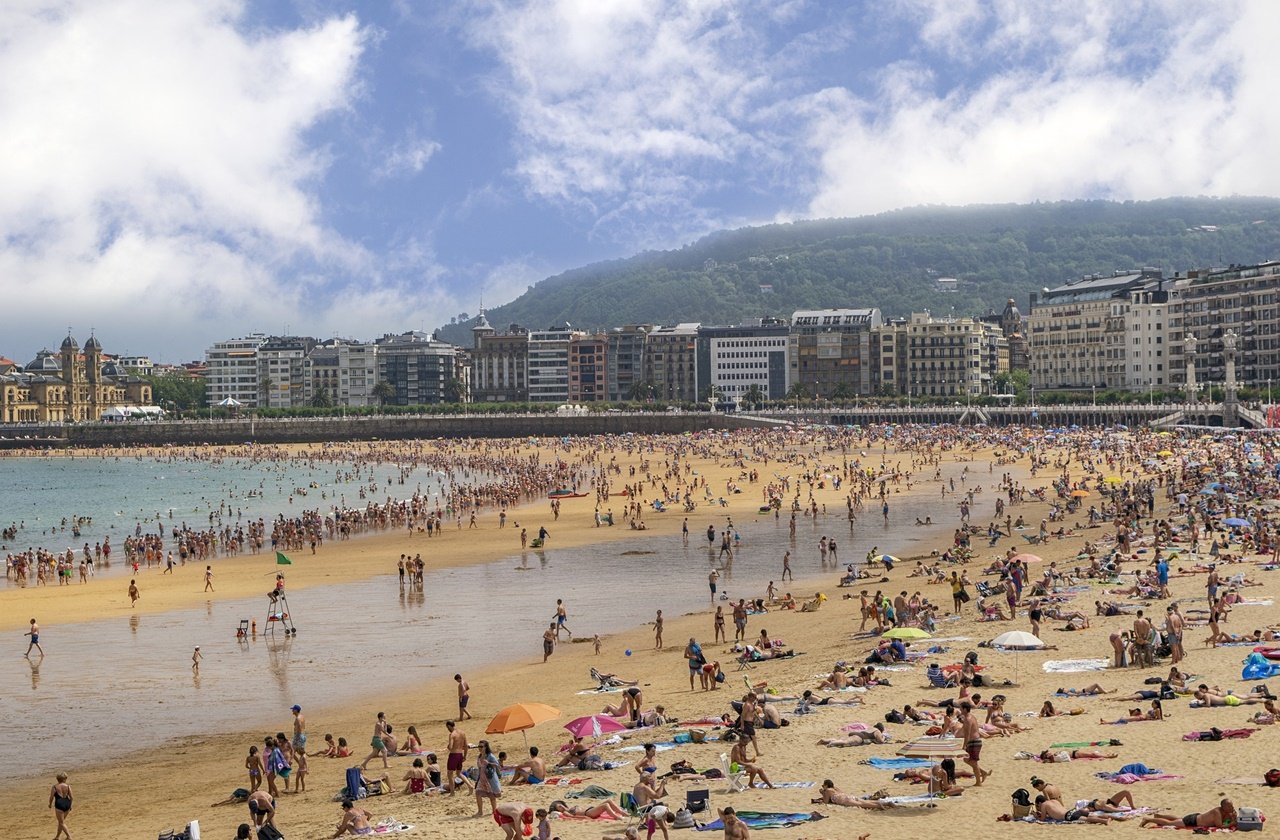 Photo by enriquelopezgarre on Pixabay
San Sebastián is the best summer getaway in Spain! With rolling hills, gorgeous beaches, and rich gastronomic culture, it's no wonder why the city was a favorite among former Spanish monarchs. Soak up the summer heat at Playa de la Concha, one of the best beaches in Europe, or zip past the waves at Playa de la Zurriola. After lounging by the beach, head to the Old Town, featuring plenty of historic and elegant art nouveau buildings. Then, grab a bite at one of the many pintxo bars and get a taste of authentic Basque cuisine at the Michelin-starred restaurants in the city. In September, the city also brings several Hollywood actors for the annual San Sebastian International Film Festival.
Must-visit sites: Playa de la Concha, Ayuntamiento de San Sebastian, Monte Igueldo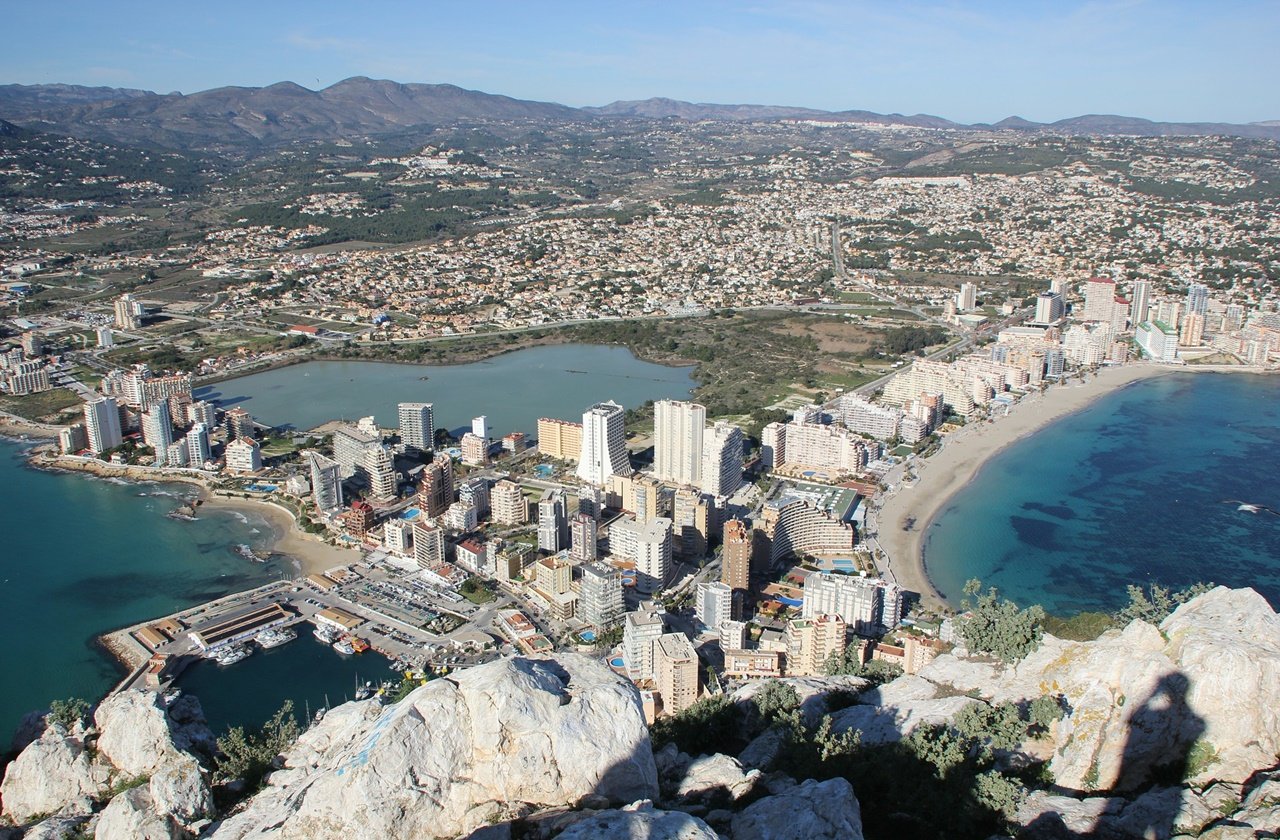 Photo by NachoRuiz on Pixabay
Filled with trendy restaurants and bars, stunning beaches, and Gothic cathedrals, Alicante is one of the best cities to visit in Spain. It is a small yet energetic coastal city with the best views of the Mediterranean Sea. Walk along the narrow streets of the old town, taking picture-perfect shots of the colorful buildings and fascinating architecture. Head to the Castillo de Santa Bárbara and be in awe of the sweeping views of the coast. Alicante's nightlife is also one of the things that draws tourists in, and the port city comes to life with rows of tapas bars and nightclubs, which are open until early morning.
Must-visit sites: Castillo de Santa Bárbara, Old Town, Explanada de España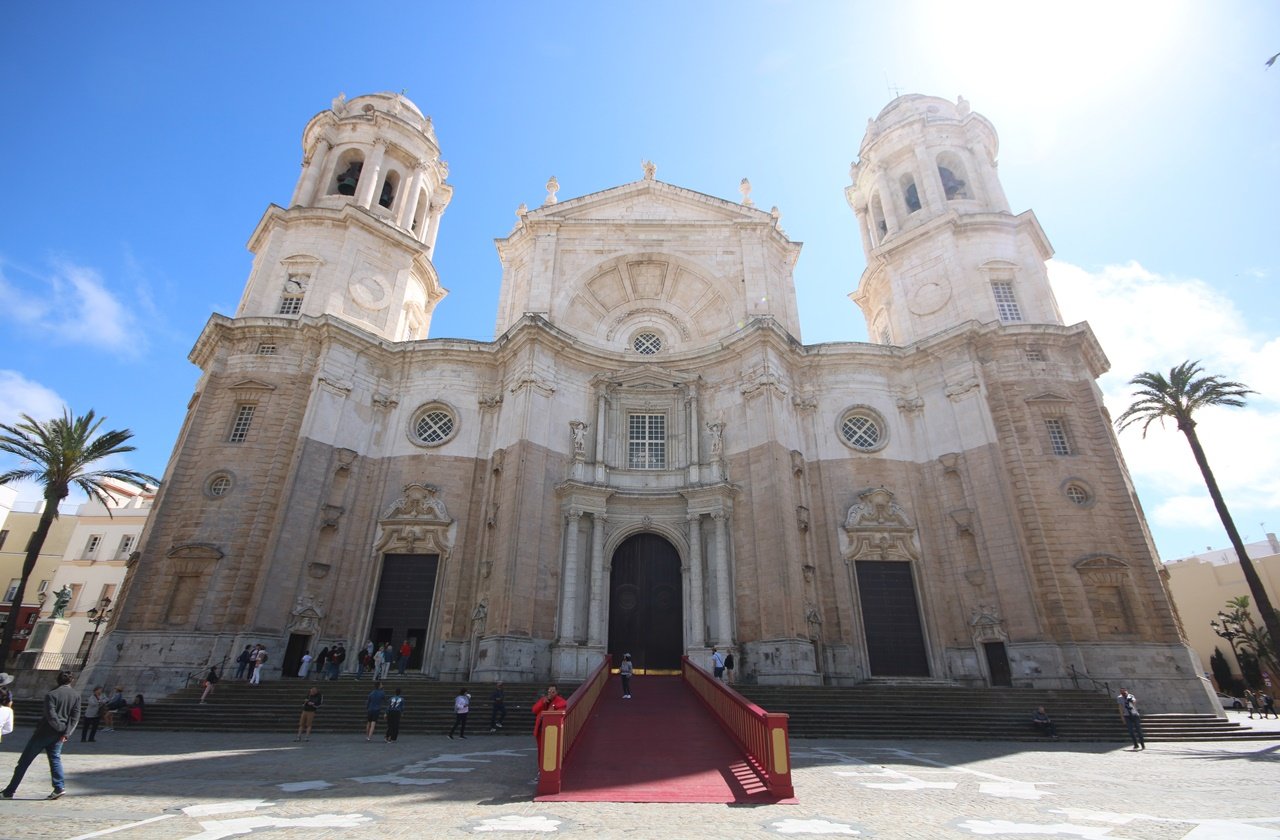 Photo by Jorge Fernández Salas on Unsplash
Cádiz is an underrated yet beautiful city in the Andalusian region. It is also one of the oldest inhabited cities in Western Europe, with some of its archeological remains dating back to more than 3,000 years ago. Find plenty of well-preserved landmarks and idyllic streets leading to large plazas in the Old Town. On the other hand, the newer areas of the city have modern buildings and vistas with parks boasting exotic plants. Climb the bell tower of the Cádiz Cathedral and get a bird's eye view of the city. Then, relax at Genovés Park, a beautiful seaside garden lined with perfectly manicured trees. As Cádiz is a coastal town, savor delicious seafood like calamari or crispy prawn.
Must-visit sites: Playa La Caleta, Cádiz Cathedral, Genovés Park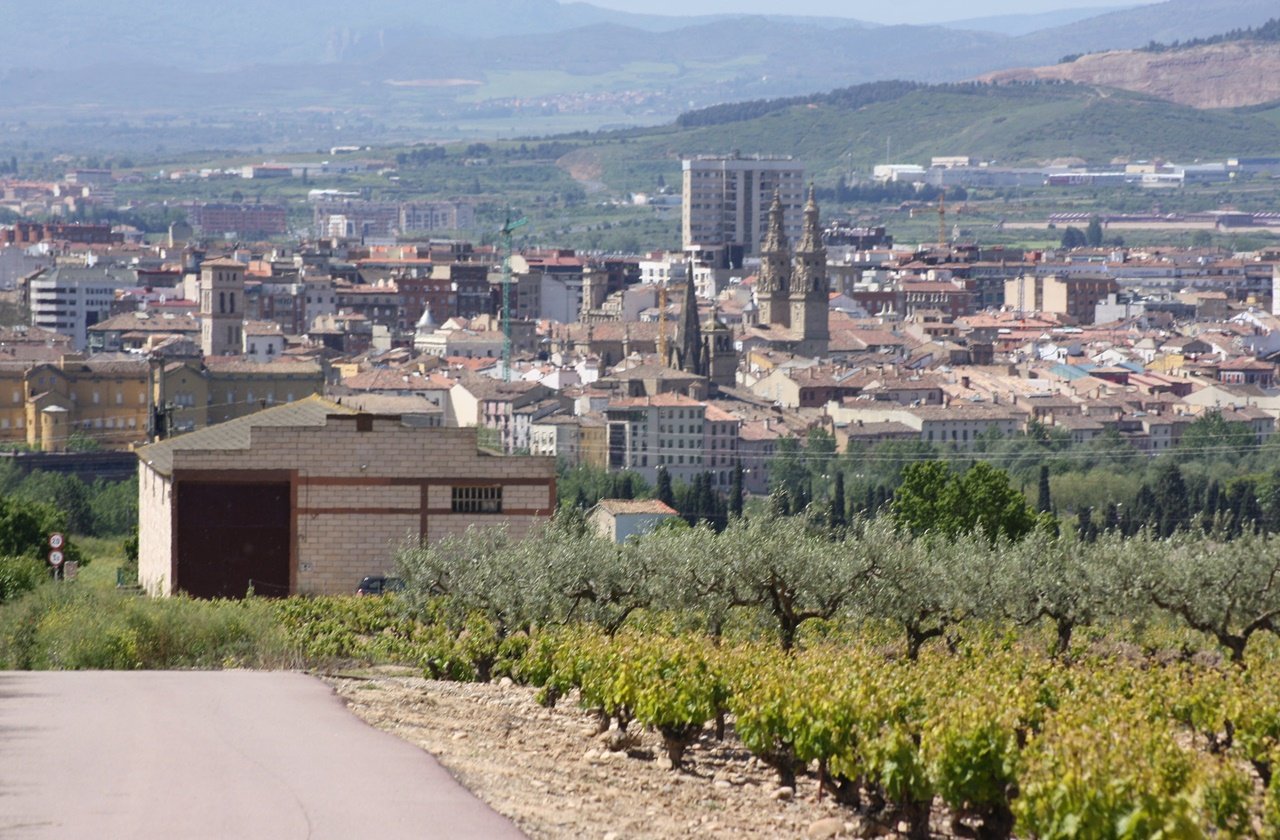 Photo by Hans-Jakob Weinz on Flickr
Located south of Bilbao is Logroño, a city rich in traditions dating back to the Middle Ages. The capital city of the La Rioja province is also known for its winemaking tradition and the abundance of churches found here. Visit the old town for pintxos, best paired with the local red wine. Additionally, you can find plenty of pintxo bars around the narrow streets, and this is the perfect opportunity to meet and have a chat with the locals. Lastly, go on a hike to the top of Monte Cantabria and get the best views of Logroño at sunset.
Must-visit sites: Monte Cantabria, Museo de la Rioja, Bodegas Marqués de Murrieta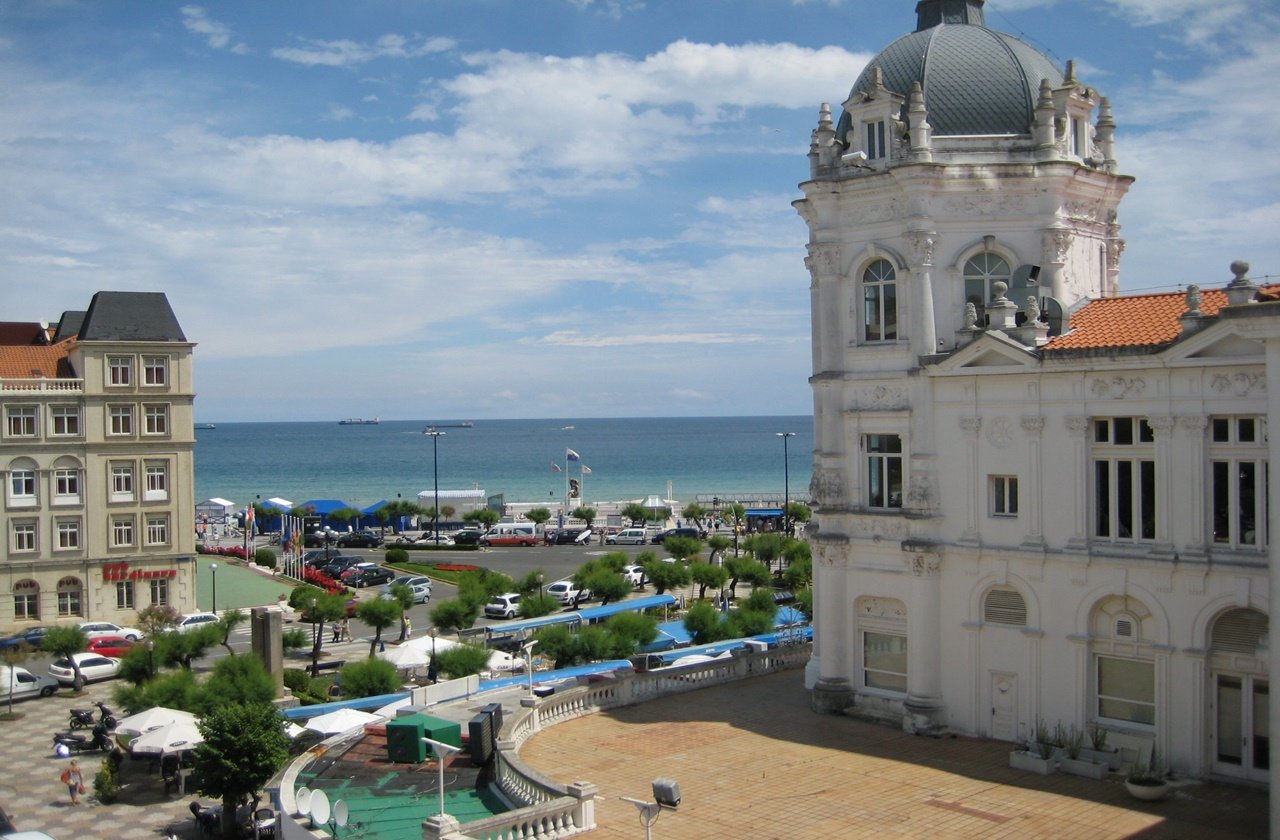 Photo by Tracey Adams on Flickr
Santander is a beautiful city that combines lush mountain landscapes, azure beaches, and elegant mansions. The city became a popular getaway for Spanish aristocrats, politicians, and members of the elite during the 19th century. Although most of its structures perished during the Great Fire of 1941, it still remains as one of the best cities to visit in Spain. Head to the Sardinero Beach, considered as one of the most elegant beach resorts in Spain. Visit the gorgeous Magdalena Palace, a sprawling palace that was once the summer home of King Alfonso XIII. At night, have drinks and bar chow at Plaza de Cañadío.
Must-visit sites: Sardinero Beach, Plaza de Cañadío, Magdalena Palace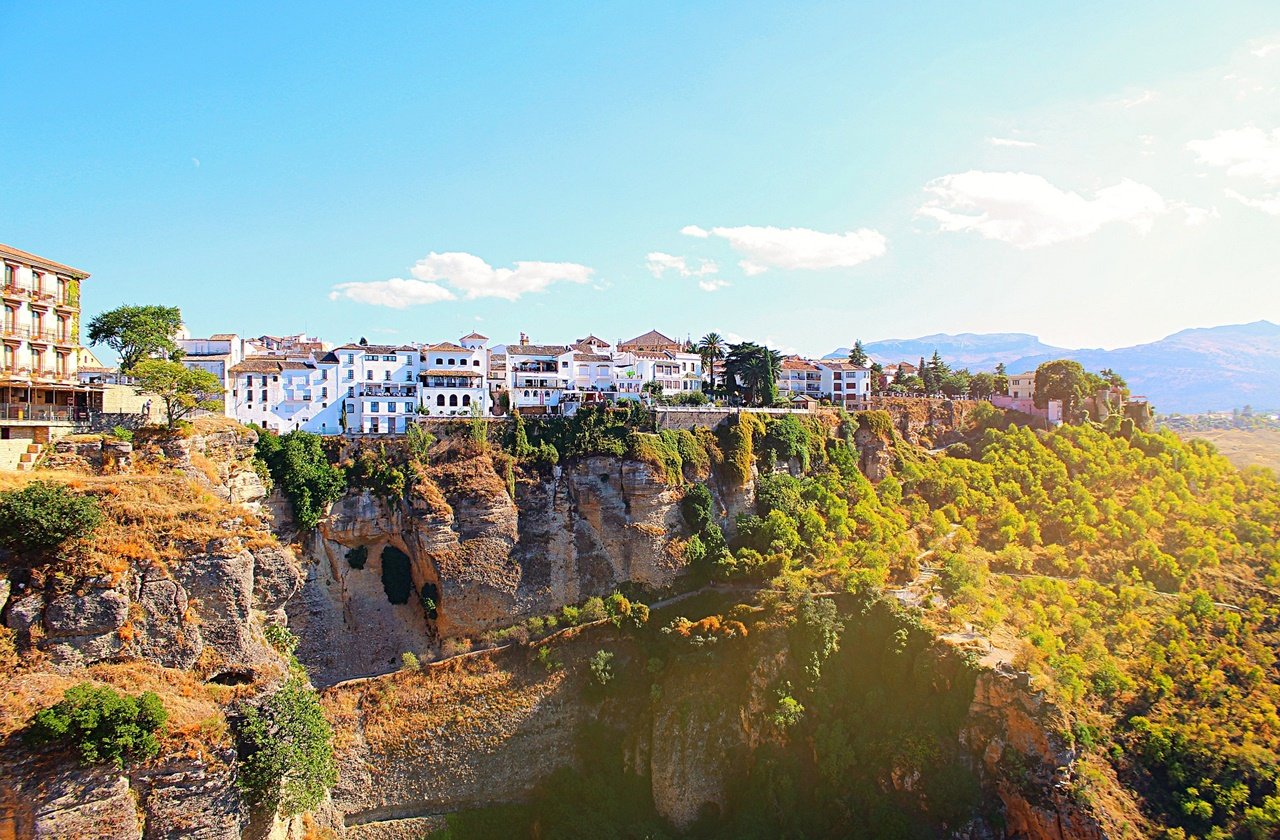 Photo by Jonny_Joka on Pixabay
Nestled on top of a deep gorge, Ronda is one of the best cities to visit in Spain. It is also one of the oldest cities in the country and is part of the Sierra de las Nieves Natural Park. The city was initially called "Arunda" by the Romans, meaning "surrounded by mountains". After the Romans left, the Moors took over the place, recognizing its strategic importance. Ronda's beauty has also been immortalized in the works of Ernest Hemingway and Orson Welles. Visit the New Bridge, connecting two parts of the town. As the birthplace of the modern Spanish bullfighting tradition, visit the famous bullring and see traditional matador clothes at the museum.
Must-visit sites: Plaza de Toros, La Casa del Rey Moro, Church of Santa María la Mayor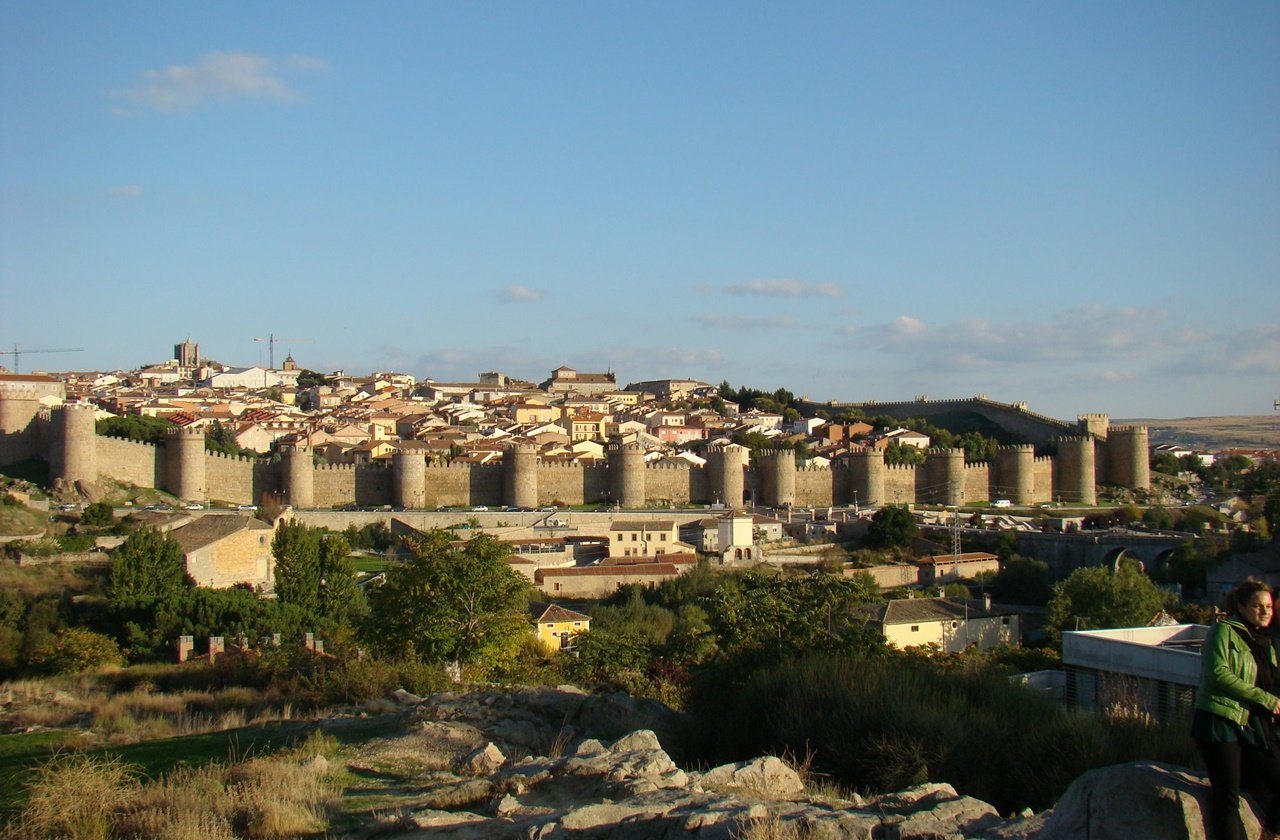 Photo by valakirka on Flickr
Avila is a Spanish city straight out of a fairytale, deemed by Orson Welles as the place he would like to live the most. The city is surrounded by its medieval-Romanesque walls, perched more than 3,000 feet above sea level. Begin your day and go for a relaxing stroll at the Plaza Mayor, lined with charming restaurants and cafes. See the imposing Ávila Cathedral and marvel at its Romanesque-Gothic architecture, one of the best in the country and walk along the Paseo del Rastro, a pathway that runs along the medieval walls. Lit up by the city lights, Avila becomes an ethereal city at night.
Must-visit sites: Plaza Mayor, Jewish Quarter, Ávila Cathedral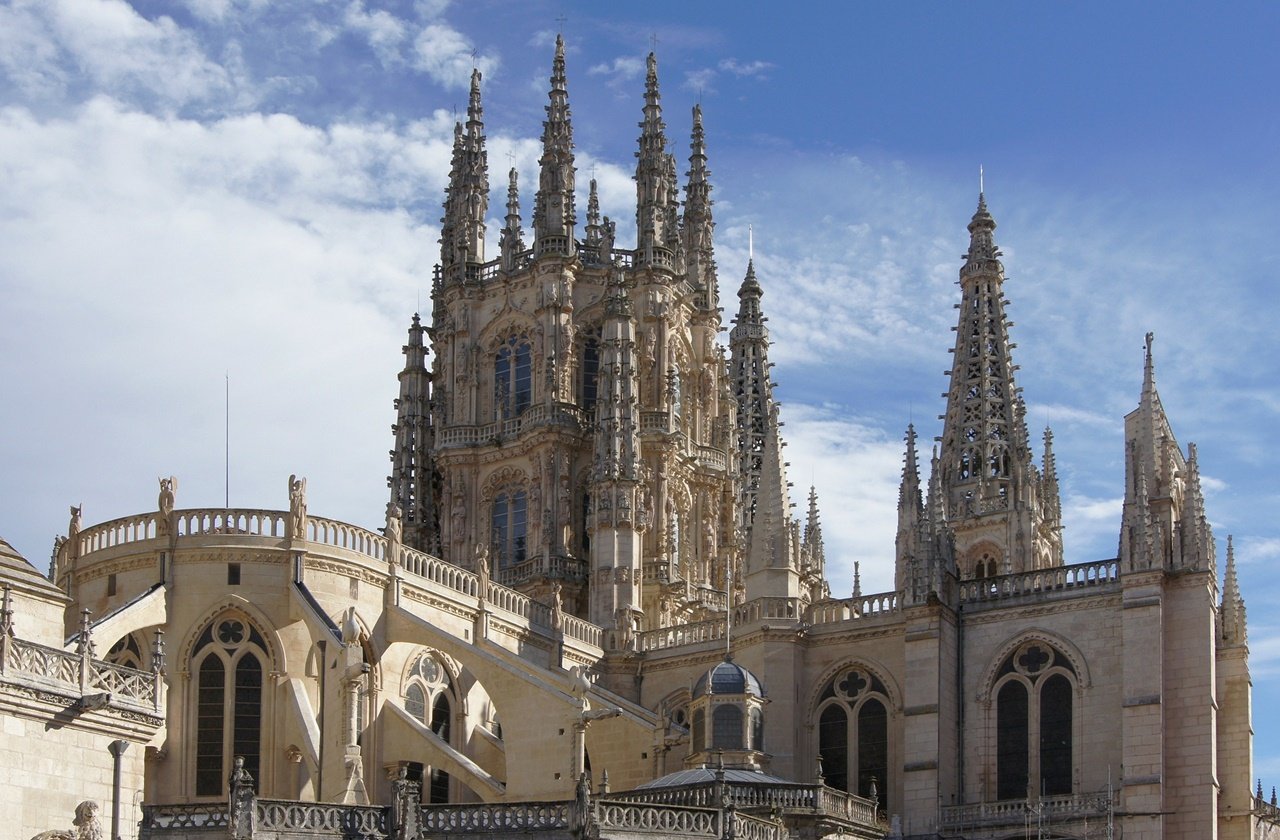 Photo by 12019 on Pixabay
Burgos is one of Spain's best medieval cities, filled with plenty of landmarks and places from storybooks. The city also has numerous parks, bars, and cafes, the perfect hangout after a busy day of exploring. See the remains of the first hominins in Europe at the Museum of Human Evolution. Don't miss the Burgos Cathedral, a World Heritage Site where the Spanish hero El Cid is buried. Before the day ends, climb up to the Mirador del Castillo and take photos of the sunset over the city. After an exciting day of sightseeing, head to the Old Town and grab a couple of drinks and tapas.
Must-visit sites: Burgos Cathedral, Mirador del Castillo, Arco de Santa María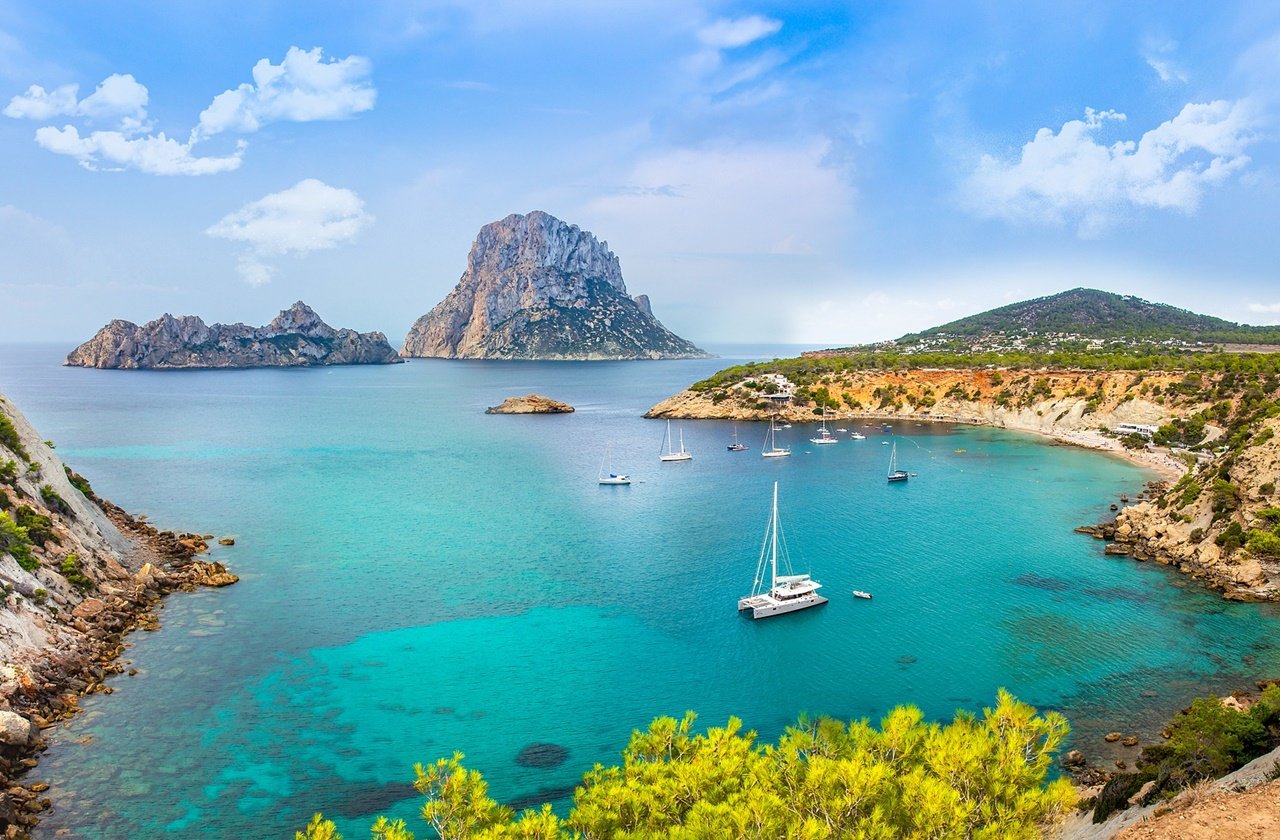 Photo by marucha on Pixabay
When it comes to Spanish nightlife and parties, Ibiza is always on top of the list! Frequented by celebrities, it is the place to be in the summer, thanks to the number of beach clubs lining its coast. Although Ibiza is a popular tourist destination, the city's old town is a protected UNESCO World Heritage Site. Other large areas of the island are also protected from commercialization and development. Visit Ibiza Town Marina and get a good view of the marina as you enjoy a cup of coffee. Explore the old town and find a variety of vintage shops, trendy boutiques, and cafes. Lounge by the Salinas Beach and enjoy an icy glass of cava sangria, perfect for a relaxing afternoon.
Must-visit sites: Ibiza Cathedral, Ibiza Town Marina, Figueretes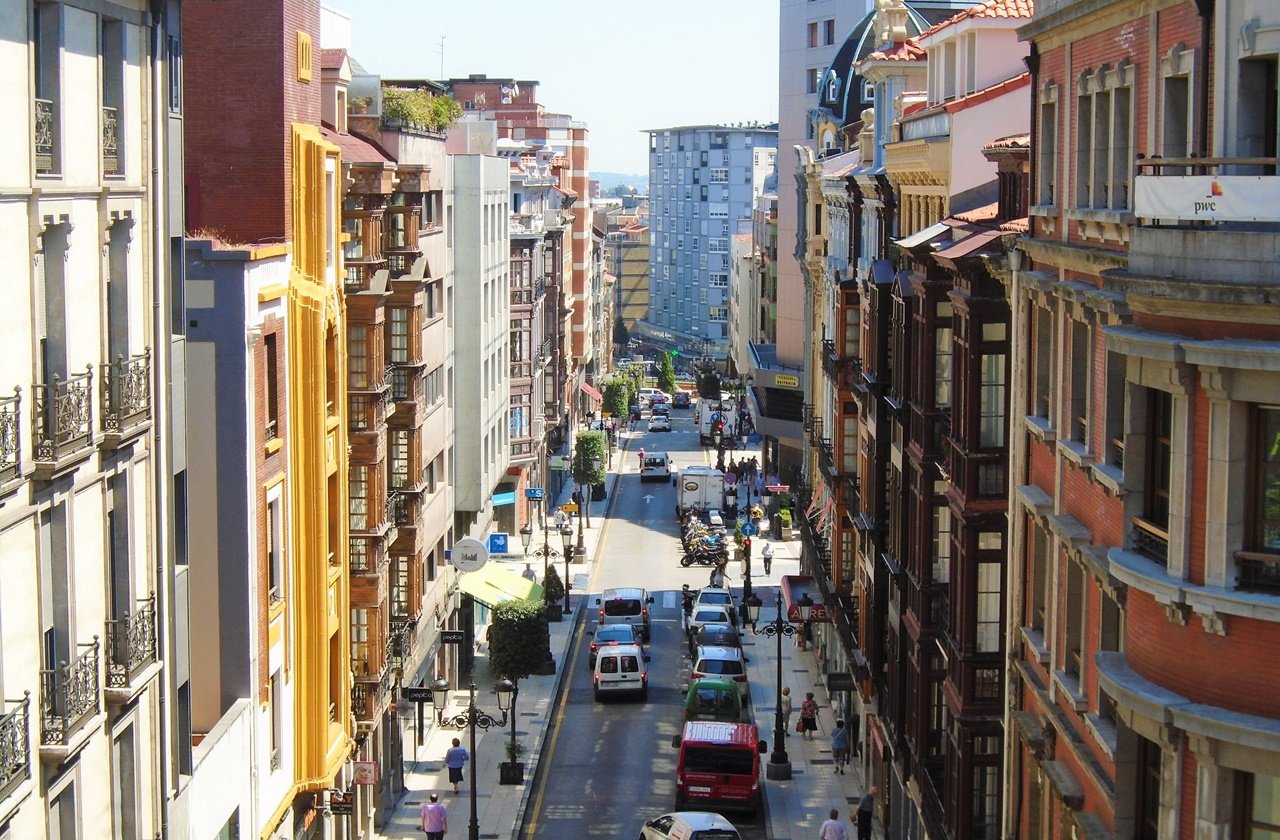 Photo by Alyssa Bossom on Unsplash
Most famous for its cider, Oviedo is one of the best cities to visit in Spain. Oviedo is the capital city of Asturias in Northern Spain, included in the New York Times' list of best places to go. The city is rich in medieval landmarks and stunning works of architecture. Oviedo also has some of the country's best art collections, hosted at the Museum of Fine Arts. Aside from its landmarks and sites, Oviedo is also a popular city for foodies! Sip on a refreshing glass of cider and eat an authentic cachopo (fried veal fillet with ham and cheese) at one of the local sidrerías.
Must-visit sites: Museum of Fine Arts, San Francisco Park, San Salvador Cathedral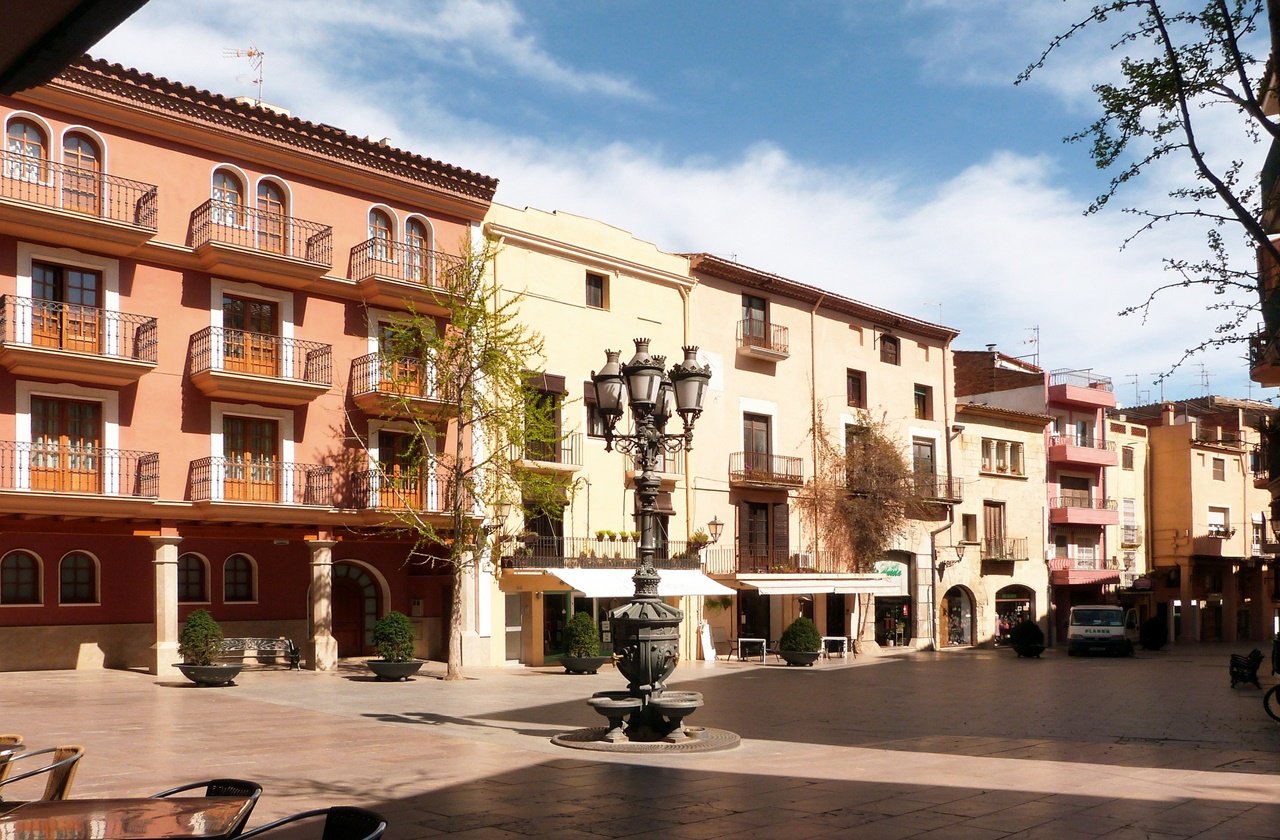 Photo by MontseSB on Pixabay
Tarragona is the best city to visit for travelers interested in Roman culture. The capital of the Province of Tarragona is filled with well-preserved ancient ruins, with the Roman Amphitheatre being the most prominent one. Find an impressive collection of mosaics, artifacts, and remains from the Roman period at the National Archaeological Museum. Located an hour away from Barcelona, Tarragona is a good destination for a quick but fruitful day trip from the Catalonian megacity.
Must-visit sites: Tarragona Amphitheatre, Tarragona Cathedral, National Archaeological Museum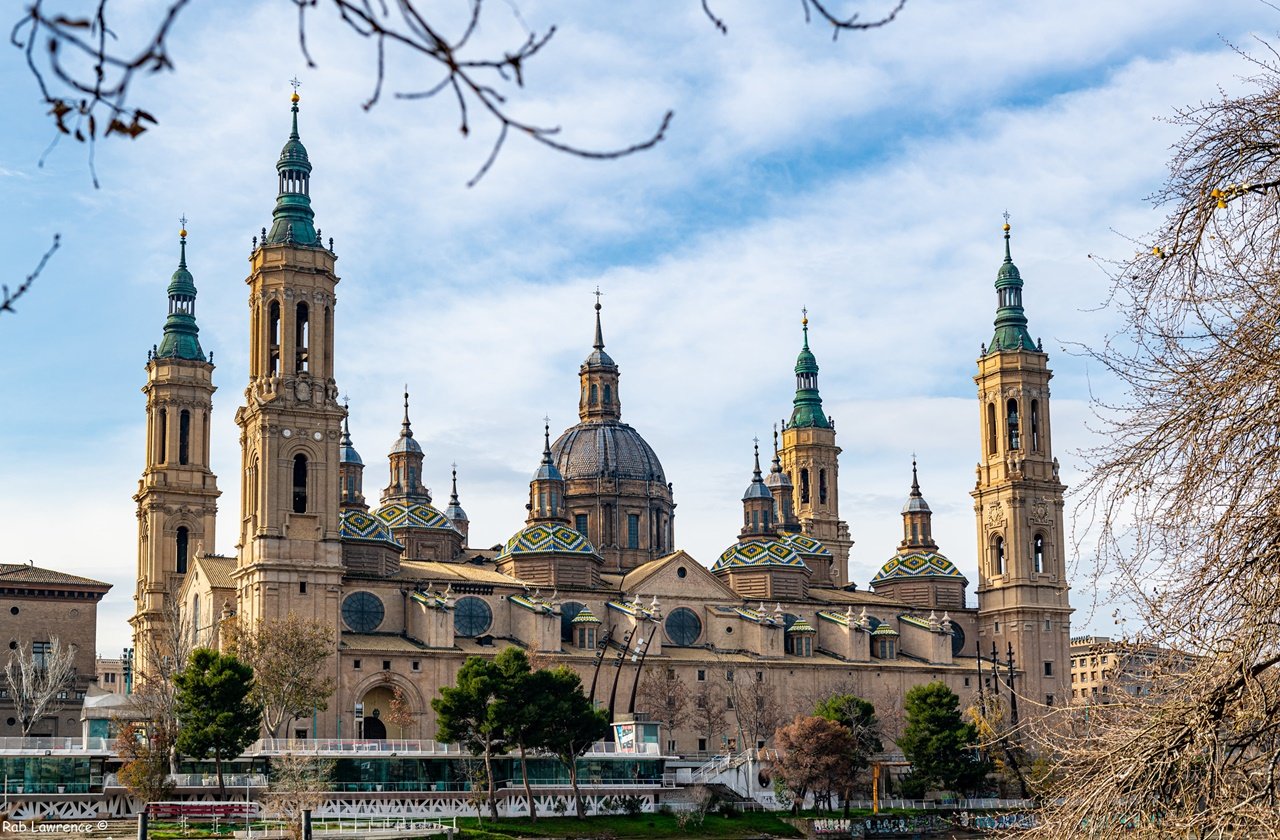 Photo by Rab Lawrence on Flickr
Strategically located between Barcelona, Madrid, and Bilbao, Zaragoza should definitely be on your list of best cities to visit in Spain! Zaragoza combines Mudéjar-style landmarks and Islamic and Roman architecture, making it a picture-perfect destination. The Cathedral-Basilica of Our Lady of the Pillar in particular is a sight to behold because of its colorful roof. Roam around the busy streets of the old district and find museums, religious buildings, and restaurants. In October, don't miss the Fiestas del Pilar, an event with lively parades, open concerts, and street parties.
Must-visit sites: Basílica de Nuestra Señora del Pilar, Cathedral and Tapestry Museum, Catedral del Salvador de Zaragoza
¡Vamos, Amigos!
Now that you know the best cities to visit in Spain, crafting a travel itinerary should be a breeze! If you want to know Spain in a nutshell, head to one of the major cities like Barcelona or Madrid. On the other hand, if you want a perfect summer destination, Ibiza and San Sebastián are your best choices. For historical sites and picture-perfect cities, head to Granada or Toledo. Nonetheless, there's always a Spanish city for every kind of traveler.
So, what are you waiting for? Pack your bags, grab the best airfare, and get ready for a holiday you'll never forget!