Things To Do In Seville, Spain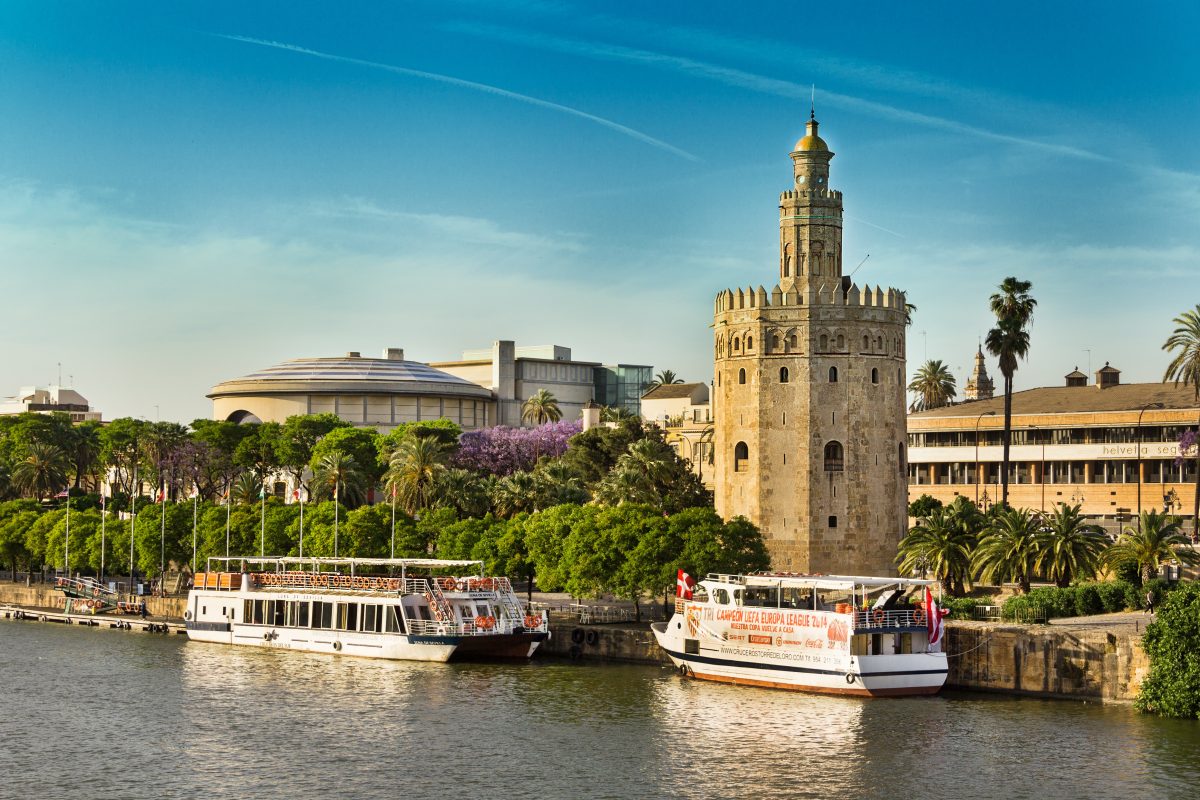 Most people think of Barcelona when they think of Spain. Barcelona is beautiful and certainly worth a visit, but it is certainly not enough people who appreciate the wonderful city of Seville, Spain. Particularly known for its rich culture, food, history, dance and energy. Even after spending a good span of time in Seville, there are endless things the vivacious city had to offer. From the gorgeous Spain attractions like cathedrals and museums to the mouth-watering tapas, you will not run out of things to do in Seville.
We've curated a list of our favourite sights, cathedrals, restaurants and places to give you a true taste of Seville. Though this list barely scratches the surface, we hope to cease your trip planning stresses and fly away now for an unforgettable trip to Seville!
1.
Visit Catedral de Seville (Cathedral Seville)
If you're familiar with Seville, you have probably heard about the Royal Alcazar de Seville or the royal palace. But, you may not be so familiar with the Catedral de Seville or Seville Cathedral. Known for its majestic outlook, Seville cathedral features the classic gothic architecture and is home to beautiful pieces of art and the stunning Giralda Bell Tower. Slow down your pace to admire the meticulous carvings and wander around the courtyard that fills with blooming orange trees. Though you might wonder its functionality, Cathedral de Seville is actively used as a touring sight by masses.
Join the tour where the admission fee is channelled directly back into the maintenance of the cathedral and care of the community (via the Archdiocese of Seville). While it may not have the iconic pieces of art like other museums, the quality of the art here is easily on par with what you might find at the Louvre. To add on, Catedral de Seville is relatively peaceful, slower pace and just as beautiful. If you're not a fan of hectic vibes, you'll definitely know where to go in Seville.
Seville cathedral tickets are 9€ (13 USD), but reduced rates are provided based on requirements. Comparing to many attractions in Seville, for everything Catedral de Seville's has to offer definitely worth every penny.
2.
Wander around Barrio Santa Cruz
Since you're already at the Seville cathedral, make a pit-stop at the Jewish Quarter where it's entrenched in history; from the welcoming of Jews to the area via the Catholic church to their imminent hostility and slaughter of thousands of citizens. If you read up on the area before walking through the hall, you'll easily feel the stories seeping out of the stone walls of the old synagogues.
Despite the disasters that took place in this sacred city, there is a lot of charm and beauty still to be found all over Seville. As you roam through the area, you'll notice many buildings are white on the inside and outside with accents of deep wood and iron featured. Take a deep breath it shall remind you how beautiful this part of the city is with the refreshing scent of orange trees wafting in the wind.
You're able to walk around this part of the city for free but we suggest signing up a tour at least for the first time. Trust us, you wouldn't enjoy the part when you're lost in labyrinth alleyways in Seville. Though the tour prices vary on length and time of year, generally, it's about 15€ (23 USD). Keep an eye out for good pricing on bundles to save some euros for extra tapas treats.
3.
Seville Plaza de España
The Plaza de España is in a word, breathtaking. It is something that can be seen across the city because of its two tall towers at either end. As a centrepiece among the exhibits, Plaza de Seville stood out particularly for its Renaissance architecture with the charm of classic Spanish ceramics.
There are multiple displays featuring the colourful ceramics, from doorways to fountains. As much as this is a historical landmark in Seville, it is also a place of business and commerce. There are offices in one section and a thriving tourist market right outside. It is reminiscent of Venice, Italy in that there are gondola-esque tours offered. Apart from that, there is also motorboat rentals, bike rentals and even horse and carriage ride through the Plaza.
Though some travellers might prefer to rent a bike to explore the area on their own pace. But, we recommend hiring a gondola boat to admire the Seville's scenery from a different angle. Don't forget to sample the pistachio ice-cream at a little ice-cream stands at the corner of the plaza. Most people opt to take pictures with their ice cream or on a balcony (which are stunning but sometimes crowded) and forget about the gorgeous ceramics. For the best pictures, look out for the brightly coloured pieces of art.
Pro Tips: Star Wars' fans, especially those who consider themselves location hunters cannot miss visiting Seville Plaza de España. Especially when it was featured in one of Star Wars' most iconic scenes. The best part, the admission to the Plaza is free.
No trip to Seville is complete without viewing at least one Tablao flamenco show. Among all, we recommend Tablao Flamenco El Arenal for its evolutionary singing cafes embracing the essence of the mid-nineteenth century.
As the show begins, you'll be served with delicious tapas dinner, accompanied by the Andalusian music and dances with a touch of gipsies influence. Throughout the performance, you'll see the authentic Flamenco dresses, hear the skilled guitar playing while immersing yourself in a relaxing atmosphere. The view is great from everywhere in the venue so even if you do not want to get dinner and just enjoy the show with a glass of sangria, you can. Although, the price for the dinner package is a little steep at 87€ (97 USD); however, the excellent entertainment and exquisite tapas is well worth the price. Not to mention, they are generous with their portions and the culture is some of the most vibrant in the world.
5.
Royal Alcázar of Seville
The Alcázar de Seville is considered a world heritage site. It's beautiful, historic and generally enchanting. After a Christian conquest, it was built over a Muslim fortress for the Peter of Castile. It's entrenched in history, both horrible and fascinating. The royal family uses the top levels as their home when they first arrived at Seville. And many locals were attracted and flock to the area knowing the royal family is in town.
If you understand Spanish, come here for the night tour. It's a dramatized version of famous events with actors retelling history. Unlike the day guided tour, this night tour is about 14€ (16 USD) and is easily worth the money. While some of the actings can be a little cheesy, it gives a personal touch to history and makes it feel much more real.
Pro Tips: We highly suggest buying tickets online so you don't have to wait in line. The general admission is very affordable at prices starting only at 1€ (1.2 USD) for certain days. If you want a tour and audio guide, it's about 7€ (8 USD).
This palace in Seville is slightly different than any other attractions in the area. One of the highlights is the historic remnant somewhat displaying a series of Roman influences. You'll notice there are Roman statues all over the property that contrast nicely with the Islamic mosaic floor done in a classic Roman style. Sign up a guided tour if you desire to learn more about the architecture and to discover the secrets behind these majestic walls.
Despite the beautiful architecture and décor of the Casa, the gardens are equally stunning too. They are impeccable and if you visit during the Springtime, there are these stunning pink blooms of bougainvillaea that adorn the tops of the buildings. The price of admission is about 12€ (13 USD) with special discounts for groups or students. If you're at all artistic, bring a sketchpad and sit in the gardens for a while.
7.
Feria de Abril de Seville (The Seville Fair)
Now that you've filled yourself up on history, religion and culture, it's about time to pick up the pace! If you're lucky enough to be in Seville during the Spring (April), you'll definitely want to attend the April Fair or Feria de Abril. It's a week-long festival that starts every day around mid-afternoon and often goes all night. It's packed with horses, bullfights, dancing, and food. Everyone wears bright colours like red or orange and the girls often accessorize with flamenco flowers in their hair.
Though there are endless activities you can do here. You for sure never want to miss catching a Spanish dancing show in Seville, go on bar crawls or stay in a public caseta. These have the best drinks (there's one that mixes wine with Sprite and while it sounds mad, it's addictive!), live entertainment and the highest quality Iberico ham you can't even begin to imagine. It's high energy and sure to leave you exhausted but wanting more! After all, this capital of Andalusia sure knows how to party.
8.
Museo de Bellas Artes Seville
Museo de Bellas Artes of Seville or Museum of Fine Arts is a great place to unwind a little. The entire museum is large enough to accommodate large crowds without feeling claustrophobic and it gives you ample time to appreciate whichever piece of art sparks your fancy. It features a lot of really lovely art, but the garden is on par of what it has to offer within the museum.
Take a break to stroll around the garden especially for the fountains and lush greenery that create the perfect setting for a relaxing day out. There are birds in the courtyard that was happy to sing for you and the Arabian influences on the architecture never seem to leave your sights. There is a lot of religious artwork that may not be everyone's cup of tea, but considering the strong religious history of Seville, it only seems appropriate.
Tips: For general admission, it cost 1.5€ (2 USD) and it's free for all Europeans. Avoid coming here on Monday as it's the time where they shut their gates.
9.
Parque de María Luisa Park (María Luisa Park)
As one of the most scenic parts of Seville, María Luisa park is stunning to visit anytime. Whenever it's a sunny day or a cloudy day, this park will not disappoint you. Stretches along the beautiful Guadalquivir River, this park also features some enthralling fountains, boulevards and benches that blend seamlessly into the botanical garden.
Inhale a deep breath of the Sevilles' orange trees scent the air as you stroll along the park. And keep in mind that Seville is known for their impressive dove population too. The birds, in general, are a little too comfortable around people (so watch your picnic foods!) but the monuments, flora and especially the Fountain of Lions, are worth it.
Conveniently, the Plaza de Espana Seville is situated across in the Park. So if you're in the mood for a bike ride, you can follow the meandering trail that leads you to the Plaza. It's a tranquil and welcome respite for the overstimulated traveller. But even if you're not exhausted, this little part of paradise is absolutely worth your time.
10.
Enjoy an impeccable Tapas
Gastronomy was born in Spain and tapas are one of the products of the gastronomic revolution. These small portions are featured in nearly every restaurant in Seville, with entire restaurants being dedicated to only serving tapas.
We recommend sampling these delicacies at La Brunilda, La Bodega de la Alfalfa and Dúo Tapas somewhere near Seville old town. These tapas bars offer delicious food like gazpacho and seafood from Seville, but on top of that, Iberico Hams has to be on your list. Fancy for a chic night out? Espacio Eslava serves contemporary tapas featuring a roof-top terrace overlooking illuminated Seville city.
Regardless of your dinner choice, all travellers who visited Seville always leave feeling full, both mentally and physically. If you need a place to escape for a while, Seville is an oft-overlooked paradise in the South of Spain. It has everything that Barcelona or Madrid might have but in smaller crowds and with a little less crowding.
Tourist Secrets
Seville is a movie makers paradise. Whether if it's the classic Lawrence of Arabia, Star Wars, or the most recent, Game of Thrones, you'll easily be lost hunting for these movies location.
Seville hosts one of Spain's best Fiestas including Feria de Abril, Semana Santa and more.
This city has more oranges than anywhere in Spain, particularly for its Seville orange.
Many travellers are here for the Mediterranean weather. With an average of 80 days of rain annually, this city is great for travellers to escape the winter chills.