13 BEST Things To Do In Barcelona, Spain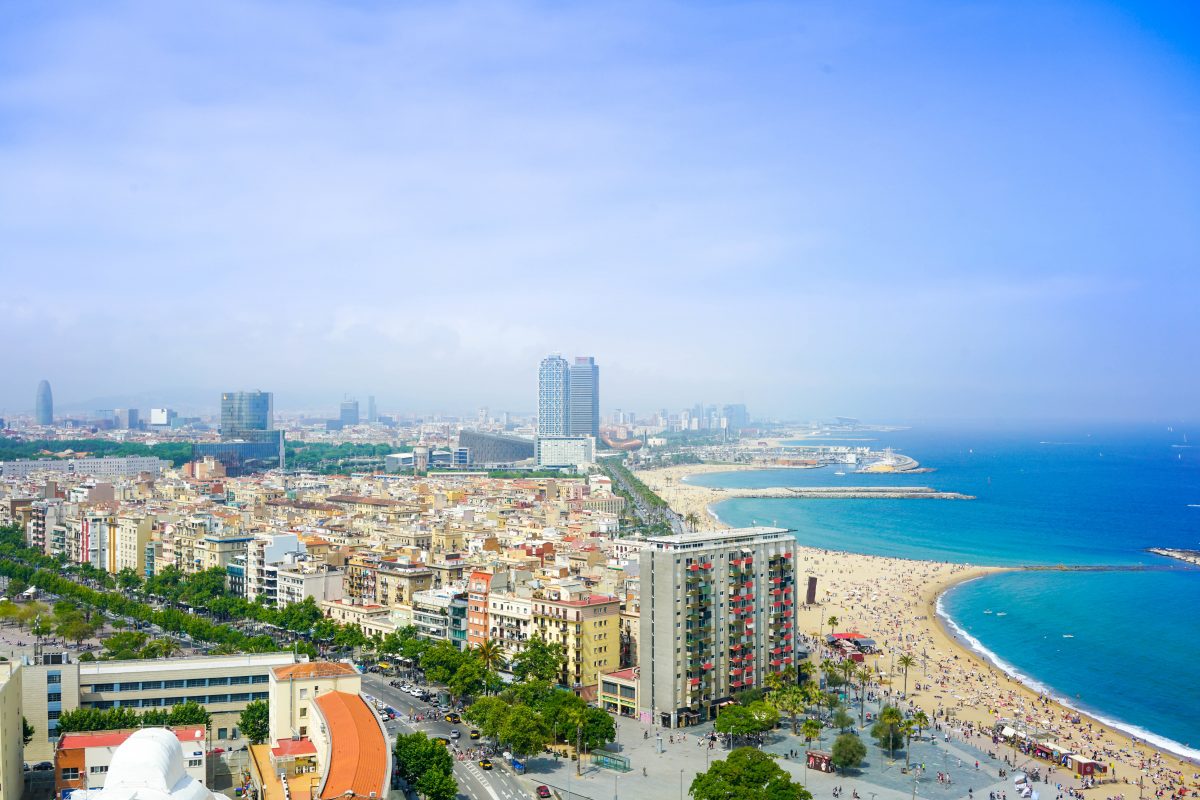 Barcelona, the capital of Spain's Catalonia region, is known for its gorgeous historic architecture, art, culture and buzzing nightlife. Sports fans may also know about this city for its local football club, FC Barcelona.
Let us take a look at the amazing things to do at Barcelona. Vamos!
1.
Seek out the majestic Sagrada Familia
The well known Sagrada Familia is an unfinished Roman Catholic church in Barcelona. It was designed by renowned Catalan architect Antoni Gaudí and was consecrated by Pope Benedict XVI, thus being proclaimed a basilica.
The Sagrada Familia has a long difficult history. There were many interruptions to its construction and is the source of some controversies. Still, people are drawn to this majestic spectacle and thousands of tourists flock to it daily.
Tickets prices for the Sagrada Familia
Like all of Barcelona's most popular attractions, ticket prices for the Sagrada Familia is rather high. Tickets can cost up to 40 euros, based on which areas you want to explore, and if you need an audio guide/ tour guide.
An alternative option would be to purchase a Barcelona city pass so you could skip the lines. Or buy a ticket in advance online.
2.
Peruse the spectacular Picasso Museum
Without question, Picasso Museum is a must-see attraction as it contains one of the most complete art collections by Spanish artist Pablo Picasso.
Picasso Museum reflects Pablo Picasso's relationship with the city of Barcelona. Pablo Picasso was born in Malaga, Spain and yet he chose to found the Museum in Barcelona. This is because Barcelona had a profound impact on his growth as a person and artist when he was young. Picasso Museum proudly reflects this by suspending thousands of his sketches of Barcelona on its walls, preserving his belongings and organizing sections of the museum after specific parts of his life.
3.
Create memories at Ciutat Vella
Ciutat Vella, which means "Old City" in Catalan, is a district of Barcelona which comprises of four unique precincts: La Barceloneta, El Gòtic, El Raval and Sant Pere, Santa Caterina i la Ribera.
Due to this, it is no surprise that Ciutat Vella clinched the title of being one of Barcelona's most popular tourist destinations. It is a four in one package deal, what's not to love? Ciutat Vella is also where you can get access to Plaza Catalunya, and following that, La Rambla and much more.
Ciutat Vella is a paradise for tourists. Food, luxurious hotels, and attractions can all be found a short distance away no matter where you are. Go ahead and make Ciutat Vella your destination of choice, pick out a hotel in Barcelona and start exploring!
4.
Brighten your day at Barceloneta
If you visit Barcelona, you need to visit at least one of its beaches along its 4.5km coastline. The most popular beach among tourists being in Barceloneta.
Barceloneta is a charismatic precinct in the Ciutat Vella district of Barcelona. The beach referred to as "Barceloneta Beach", is well known for its golden sand and scenic views. It is a tourist hotspot as it is only about 10 minutes away from the city's center, and a stone's throw away from the Barceloneta Metro Station. It is so accessible that there is no reason for you to miss it.
Besides having Barcelona's most famous beach, Barceloneta also has many fantastic seafood restaurants and nightclubs along the boardwalk. For sightseers, Barceloneta houses little fishermen's homes preserved over the centuries, museums and other historic structures for you to admire.
5.
Let loose at La Rambla
La Rambla (Las Ramblas) is a street that stretches for about 1.2km between El Raval and Barri Gòtic in Barcelona. It is not a neighborhood like Barceloneta, but it holds many interesting things.
La Rambla is full of character no matter how you look at it. As you walk down the path and start to discover the little treasures the shops have to offer, you will wish that the street never ends.
The street's tiles are made to resemble waves, which reflects La Rambla's origins as a stream. There are quaint little cafes, souvenir shops and much more. I should also mention that there are gorgeous trees lining the entire road, so it makes for a very picturesque view.
6.
Take your wallet and let loose at La Boqueria
La Boqueria is a large market in La Rambla, Barcelona. You wouldn't think that a market could be a city's landmark, but La Boqueria will surely surprise you.
Do you love food? La Boqueria is Barcelona's largest food market and was voted "Best food market in the world" by CNN in 2017, so you know that it truly has a lot to offer. Fish, red and white meat, the best cheese in the land, green munchies and many other delicacies can be found in this little corner of heaven.
Besides, La Boqueria is also a great spot to stop for lunch. There are high-quality gourmet restaurants littered along the path which provides fresh seafood meals and smoothies. However, if you're uncertain if it's necessary to tip in Barcelona, it's mostly depending on your likings. Though it's not a must to tip, it's always a nice gesture to tip for the excellent service and the great food. Master these tipping etiquette in Spain here.
7.
Go gallivanting around the Gothic quarter
The Gothic Quarter, more popularly known as the Barri Gòtic, is one of Barcelona's most famous landmarks. Located in the middle of the Old City, this Barcelona precinct features stylish buildings and antique shops. Its streets are narrow and almost medieval. It is almost like a place out of a fairytale! In addition, there are hidden alleyways you could chance upon, so you should be prepared for some serious exploration in Barri Gòtic.
In Barri Gòtic, there are several tourist landmarks that you should check out. The beautiful Santa Maria del Pi is a church with a tower looming over 50 meters tall. The building stands out so much that you could see its silhouette from the adjacent precincts.
Also, there is the Plaça Reial (Royal Square). This place is known for its charming and elegant atmosphere. With its restaurants, nightclubs and open-air concerts, it appeals to all kinds of people. This is especially so for the "night owl tourists" as the Plaça Reial transforms into a bustling tourist hotspot when the sun sets.
8.
Bear witness to the Barcelona Cathedral
Whilst in Barri Gòtic, you should make an effort to visit the Barcelona Cathedral. It is known to be the more "spiky" and "mature" counterpart to the Sagrada Familia. It has gargoyles and impressive spiked pillars. The Barcelona Cathedral is a sight behold, so you should definitely visit it at some point.
9.
Prepare for adventure at Parc de la Ciutadella
Parc de la Ciutadella is the largest park in Barcelona, Spain. It can be found between four different precincts: El Born, the Olympic Village, Barceloneta, and Arc de Triomf. So, if you are in the vicinity, consider paying a visit to Parc de la Ciutadella.
You'll be amazed by the park's majestic Cascada fountain. It features a statue of Venus standing on an open clam and other beautiful structures that are sure to catch your eye. It makes for a perfect photo opportunity. Following this, you could also visit the park's museums. Indeed, Parc de la Ciutadella is living proof that not all parks are just about nature.
Additionally, there are lakes in the park if you would like to take a scenic stroll along the waters, go rowing or settle down onto the green grass for a picnic. Indeed, there is something for everyone in Parc de la Ciutadella!
10.
Appreciate nature at the Barcelona Zoo
The Barcelona Zoo is the main attraction of Barcelona's biggest park, the Parc de la Ciutadella.
The Barcelona Zoo was made famous for raising "Snowflake", the world's only albino gorilla. Besides that, it is also one of the top Zoos in Spain as it offers a wide variety of animals and features open enclosures. Since there are no physical barriers between you and the animals, the experience of Barcelona Zoo will truly be out of this world.
11.
Marvel at the marvellous Maremagnum
If you want to shop in style while in Barcelona, this is the place for you. Maremagnum is the most famous shopping center in Barcelona and it's close to Port Vell.
The shopping hub features a large variety of clothing brands and many more retail goods. Just imagine your regular shopping center, and magnify it by a hundred. You'll want to visit the best that Barcelona has to offer.
What's great about this shopping complex is that it is surrounded by water. It can be accessed through a wooden bridge. At night, it is an absolutely stunning sight.
Finally, if you are in the area, you could also stop by the Barcelona Aquarium, Maritime Museum and Mirador de Colom. All of which can be found at Port Vell.
12.
Be awed whilst at Montjuïc
As the "birthplace of Barcelona", Montjuïc is a hill that houses many wonders that will catch your interest.
There is the Magic Fountain of Montjuïc (Font Màgica) where there are music, water and light performances. The Montjuïc Castle (Castell de Montjuic fortification), which used to serve as a military fortress, can be accessed by taking the cable car up the hill. Furthermore, there is also the Olympic Ring, a few art museums and gardens.
These are just a few out of the many landmarks present in Montjuïc. The journey is part of the experience, so next time you are in Barcelona, strap on your walking shoes and get exploring!
13.
Catch a glimpse of Camp Nou
How can a trip to Barcelona be complete without visiting Camp Nou? Since 1957, Camp Nou is the stadium of FC Barcelona. As the pride of Barcelona, you shouldn't miss the chance to visit Camp Nou where some of the world's greatest football legends play.
Camp Nou has a seating capacity of 99,354, making it the largest stadium in Europe and the third-largest in the world. In addition, Camp Nou also hosts major concerts and tours.
If you are a huge fan, you can buy tour tickets for the Barça Museum and stadium. Or better yet, get the "Players Experience Tour" tickets in order to enter the Barça changing room, press room and much more. How often can you boast about entering the locker room of one of the best football teams in the world!
Final Thoughts
Barcelona is a vibrant city with plenty of major tourist sites. Which part of Barcelona interests you the most? Let us know in the comments below and subscribe for more TouristSecrets!