Things To Do In Madrid, Spain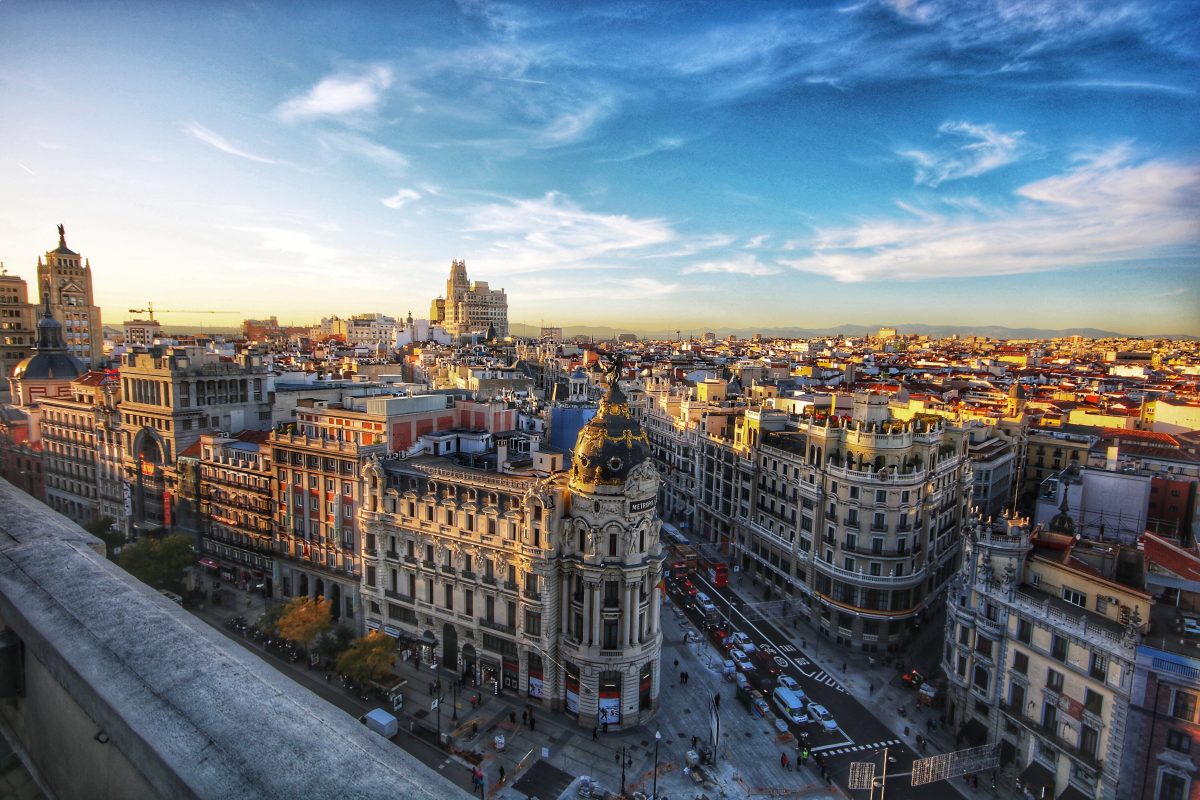 Guide To The Soul Of Spain, Madrid
Madrid is the largest city in Spain. It has a population of over 3 million. Madrid has a blend of eclectic modern architecture, some include Plaza Mayor and Plaza de Toros (bullring).
In addition to its artistic heritage with museums like Prado, Renia Sofia, Thyssen Bornemisza Museum featuring Spanish artists and other renowned artists like Pablo Picasso, Hieronymus Bosh, Francisco Goya, Joan Miro, Salvador Dali amongst others.
A Hub of Culture
Every corner has hubs of culture and entertainment and things to do in Madrid with family as well, to name a few El Retiro park Madrid, Warner Brothers Madrid (themed park) amongst others.
Visit the world famous tapas bars that vie for attention with gourmet restaurants and humble tavernas in adrenaline packed city that never sleeps. Head to Grand Via and simply watch the world go by, witness the culture and get your spirits high on fashion.
Best things to do in Madrid – Architect
Madrid is often described as the "City of a thousand faces". This attribute is reflected in the diversity of Madrid's architectural styles. A few of the rich and highly ostentatious buildings that mark the 16th-century areas of Old Madrid are located around the Plaza Mayor and Plaza de la Villa.
Plaza Mayor
Plaza Mayor Madrid has a wonderful renaissance square and is a combination of beautiful architecture packed with historical tales. There are nine entrances and within the porticoes and several cafes.
Head up to the 400-year-old bronze statue of King Philip III. Until today, Plaza Mayor and its adventurous architectures continue to experiment with various building styles and techniques.
Plaza de Toros
Plaza de Toros Madrid is the most prestigious bullring in the world. Bullfights are held from mid-May to September. Bullfights are the best way to get to know more about the culture and tradition of Spain.
Puerta del Sol
This square is close to the Casa de Correos and has the 20th-century statue of El Oso y El Madrono (i.e the statue of the bear and the strawberry tree) which is a symbol of Madrid since the middle ages.
Best Museums To Visit In Madrid
Museo del Prado
Also known as the Prado museum this is one of the world's premier art galleries. Featuring different types of paintings by famous Spanish artists, royal Goya paintings and others from across Europe.
The museum acts as a window of historical culture reflected in the form of Spanish art by famous Spanish painters. Masterpieces by great artists like Hieronymus Bosh the garden of earthly delights and Caravaggio religious paintings like the Head of Goliath, Velázquez, Durero, El Greco, Rembrandt are a must-see.
Spanish Romantic Artists
The artist with the maximum works at Prado is Spanish romantic Francisco José de Goya y Lucientes (Francisco Goya) whose 14 black paintings are a cultural umbrella. Entrance to the museum is through the eastern Puerta de los Jerónimos.
The Museo del Prado tickets are available beneath the northern Puerta de Goya, as you reach inside, collect the free map and plan your visit to the gallery that has Prado's most famous works.


Collection of Masterpiece
Masterpieces by great artists like Velázquez, Goya, Durer, El Greco, and Rembrandt. This Madrid museum houses another Spanish painter, Diego Rodriguez de Silva y Velázquez who is known for his Las Meninas artwork amongst others.
Rooms surrounding Las Meninas have many more fine works of renowned artists like Felipe II, Felipe IV, Margarita de Austria, El Príncipe Baltasar Carlos, and Isabel de Francia. Other famous painters include Dürer, Rafael, Tiziano (Titian), Tintoretto, Sorolla, Gainsborough, Fra Angelico, Tiepolo.
If you are amazed by the works of Spanish painters then you should check out some of the surreal works from the 16th century by renowned artists like Bartolomé Esteban Murillo, José de Ribera, Peter Paul Rubens (Rubens paintings), Francisco de Zurbarán.
Thyssen-Bornemisza Museum
Also known as Piero di Benedetto, this Madrid museum is known for its showcase of European art. If Prado or Reina Sofía immerses you to know more about your favourite artist in depth, then Thyssen is a place where you get to know more about artistic styles. It's part of Madrid's "Golden Triangle of Art."
The Thyssen-Bornemisza Museum features artists like Hans Holbein, Hans Baldung Grien and Albrecht Dürer. A huge collection of American abstract expressionism along with impressionist and post-expressionist pieces by the likes of Monet, Renoir, and Degas.
Reina Sofía
This national art museum is the third Madrid museum in the golden triangle and features a collection of contemporary Spanish art. The Renia Sofia museum showcases art from the 20th century with artists like Picasso (Guernica artwork), Eduardo Chillida, Juan Gris, Joan Miro, and Dalí. The opening hours are from 10:00 AM to 9:00 PM.
Things to do in Madrid Spain with family
Parque del Buen Retiro Park (Also known as El Retiro)
Madrid's Parque del Retiro park lies close to Prado and is from the 19th century. Buen Retiro Park is close to Prado and has elegant gardens. If you are visiting with family, Parque del Retiro has a grand pond next to the monument of Alfonso XII. You might enjoy this good Sunday afternoon activity.
El Retiro park also has an iron glass pavilion built for philippine exhibitions. El Retiro Madrid also has the oldest tree in the city, Montezuma Cypress.
Santiago Bernabéu
If you're a true supporter of football then the Real Madrid stadium which is Europe's most successful Madrid soccer team with a record-breaking 11 European cups is the place you ought to be. Take a tour of the Madrid soccer Santiago Bernabeu stadium.
You will be delighted to see panoramic views along with the football stadium background. Get to witness the interesting stuff like the trophy collection and presidential box at the Real Madrid next game.

Palacio de Los Deportes Madrid
The Madrid arena, Palacio de Los Deportes was a former sports centre. The building seats 18,000 spectators and can be used for several sports including athletics, basketball, handball, tennis, and boxing. It also serves as a venue for Pop and rock concerts.
Warner Brothers Park
The park can be divided into themed areas namely, Superheroes which is every comic lover's dream and the fantasy land of Gotham City; The Wild Wild West is devoted to Hollywood westerns of the John Wayne era. Touring the replicated film sets of the Warner brothers Studio should go on top of your fun things to do in Madrid list.
Visit the Royal Palace Madrid
The Madrid Royal Palace was built for King Phillip, this is the largest palace with a blend of baroque and neoclassical styles in western Europe.
Zoo Aquarium
The Madrid zoo is considered the best in Europe. There are over 6,000 animals from 500 spices including the endangered white tiger. Children will have a blast spotting koalas and free-flying birds of prey.
In addition to Sharks and other creatures of the deep lurking in the Aquariums. Under the best things in Madrid, the dolphin show tops the charts.
Parque de Atracciones
Be part of 40 stomach-churning rides and other diversions like a puppet show, magic show, and a virtual reality zone. Los Rapidos is your chance to experience white water rafting. Boat, train rides and merry-go-rounds are the other attractions here.
Xanadu
Fun with snow, the Xanadu park combines a ski school with a vast shopping center. Other amenities include restaurants, bowling, and go-karting.
Sporting Venu: Jogging Venues
Visit Retiro, the Sabatini Gardens and the Madrid Rio Manzanares for a quick jog with breathtaking views.
Flamenco Music
Watch the Flamenco show in Madrid La Taberna de Mister Pinklenton. Flamenco is a dance that originated in Andalusia. Listen to Flamenco music and watch a live performance. Enjoy the Flamenco dance by a famous Flamenco dancer. It is centrally located near Plaza Mayor Madrid and Plaza del Sol.
Templo de Debbie
This is the only intact Egyptian temple in Madrid, Spain. Templo de Debbie is similar to Ancient Egypt. Templo de Debbie is over 2,200 years old. Don't miss the spectacular sunset from this temple
Mercado de Vallehermoso
Taste the international cuisine served at traditional markets. Visiting restaurants and bars like Prost Chamberí, Graciana and Craft 19 are fun things to do in Madrid at night.
Here, several stalls sell authentic food using artisan and sustainable processes. As a result, this is one of the best things to do in Madrid. Tropea is one of the best market stalls. There's fusion cuisine in the whole of Madrid.
Views of the City from Circulo de Bellas
Views from one of the most complete cultural centres in the city, from inside a building. The Círculo de Bellas Artes is considered one of the best things to do in Madrid. This view plays a vital role in the city's artistic life.
Don't skip the famous rooftop terrace, it is the best place to admire a gorgeous sunset.
DiveXO
With a stunning interior and unique menu, DiveXO is one of the best restaurants in Madrid. It is the only three Michelin starred restaurants among all the Madrid restaurants.
CaixaForum
Situated in Madrid's Art Triangle, CaixaForum is a cultural center. Historically, this site was a power plant.
The CaixaForum is extraordinarily tall and it greets visitors at the entrance with its 24-meter-high vertical garden.
The garden features over a variety of 15,000 plants and 250 different species. At CaixaForum, day to day events is suited for all ages. The views from the vertical garden are spectacular with diverse exhibitions.
Palacio de Cristal (aka Crystal palace)
The Crystal Palace, with its spectacular glass architecture, is a sight to behold. The palace is situated in Retiro gardens. At the Crystal Palace you can walk around the lake.
The Crystal Palace building originally consisted of tropical plants from the Philippines. Having said that, now there are a lot of exhibitions hosted here. Most of the exhibitions are by popular Spanish painters at the art museum Reina Sofia. Here's where you can witness abstract art under a glass dome.
Have Some Wine In Madrid
Catalonia Wine
Did you know that Spain is the world's largest wine-producing countries? Well, now, we all know what that first item on your things to do in Madrid list should be. From the famous sherries of southern Spain to the sparkling wines of Catalonia. You can enjoy the many fine wines made here.
Go Shopping in Madrid
From the city market to the upmarket district of Salamanca, shopping is everywhere! Above all, you will love Madrid's homegrown fashion outlets. If you are in search of fancy and most trendy streetwear Chueca area is your place to be. Don't miss the El Rastro flea market on Sundays.


Gran Via Madrid
Walk along the Gran Vía, Madrid's entertainment hub. Enjoy shopping and performing venues. In the evening, explore the nightlife at popular Madrid nightclubs in the area. Here, one of the most eye-catching buildings is the Telefsónica Building.
Mercado San Miguel
Europe's largest municipal market with 200 stalls. Mercado San Miguel is a beautiful art marketplace walkable distance from Plaza Mayor.
Salamanca district
To excite your heart, just three world-class museums and two royal palaces alone are enough. The fashion boutiques at Salamanca district in Madrid portray top designers. This is just the tip of your shopping iceberg. A lot more awaits at the El Rastro market.
Matadero Madrid
Here, you will see the 48 buildings of Matadero Madrid dedicated to art and contemporary culture. Matadero is where it all converges on the bank of the Manzanares, Madrid's Cineteca.
Enjoy your trip to Madrid! Have a great Spanish vacation.