15 Best Things to Do in Ronda, Spain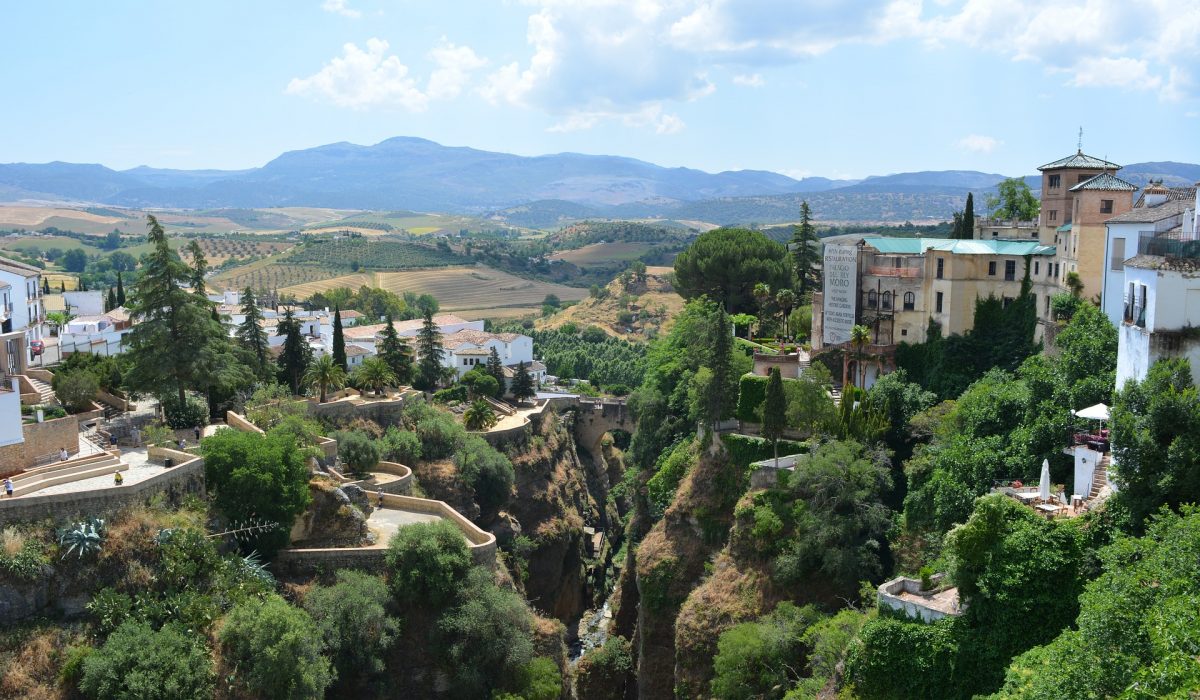 If you are looking for stunning places to visit in Europe, you definitely have to include Ronda, Spain, in your itinerary. Located in the Andalusian region, Ronda, Malaga, is one of the best places to visit in southern Spain. Aside from satisfying your tastebuds with its unique take on the best tapas in Spain, it will also satisfy your other senses with its enormous collection of preserved remnants of the past.
In Ronda, you will not just hear folklores, instead, you will hear real stories — stories that are not just a word of mouth, but stories told by their walls, caves, mines, and bridges. Indeed, Ronda, Spain, is such a bizarre place that you will never get tired of indulging in your curiosities.

Where is Ronda?
In the mountainous area of Andalusia, you will find Ronda, a surreal city located on top of the canyons in the province of Malaga, Spain. The city is linked by massive bridges and is home to an impressive collection of centuries-old heritage dating back to the Phoenicians.

How to get to Ronda?
Contrary to how Ronda looked like — it defied the time with its preserved fortress and medieval bridges — you can still get to the city easily just like other cities in Spain.

By Train
Renfe Trains only offer one train ride from Malaga to Ronda. Usually, it costs around US$18.60 per way and you need to transfer to another train at Antequera Santa Ana, which will make your travel time last for four hours. If you are coming from other cities in Spain, you can check the Trainline to compare prices and schedules
By Bus
Taking the bus is the most convenient and recommended way of traveling from Malaga to and from Ronda. Damas buses offer four schedules, with the first trip at 9:30 AM and the last trip at 6:30 PM. The ticket only costs €10.79 or around US$13 per way, but we recommend buying a two-way ticket because it's only €20 or around US$23. In addition, it only takes two and a half-hour of travel.
If you're taking a bus at a much later hour, you can also check Avanza buses because their only trip from Malaga to Ronda is at 10:30 PM. The ticket costs a bit more than Damas buses at €12.84 or around US$15, and it will take you around two hours and 45 minutes.
You can still check on both buses' websites if you are coming from other cities aside from Malaga. Or, you may also head to Omio to compare prices and schedules without switching tabs.
By Car
If you are traveling with a family or a group of friends, renting a car can be more cost-efficient. Head to the Booking website to see various options that will give you comfort within your budget.
Renting a car for 24-hours with a pick-up and drop-off point at Malaga Airport, a five-seater SUV only costs US$18.02. It's very affordable, just don't forget to secure an International Driver's Permit from AAA or AATA before flying to Spain.
However, if you're a solo traveler and you are not confident with your driving skills, you can also check BlablaCar to carpool with locals going in the same way. Just make sure to check on their pick-up and drop-off points because sometimes it can be too far from your pinned points. Also, since you will be sharing the ride with strangers, you can practice your un poco de Español before coming to Spain.

When to visit Ronda?
Planning your itinerary should always include checking the best time to visit Spain to maximize your vacation. Since Ronda is situated in Malaga in southern Spain, you might have expected that it has all-year balmy weather. However, since it is located on top of the mountain, it receives a generous amount of snow every winter. On average, in January, the temperature can drop to 7.8°C, while during the hottest month of August, it can go as high as 32°C.
Although most of the tourist destinations in Ronda, Spain, are indoor, you can pretty much visit Ronda anytime of the year. But if you want to stroll in its cobblestone roads and get a feel of the historic town, we recommend that you visit Ronda around April to May. The temperature is only around 12°C to 25.3°C, so you can still feel the balmy weather in the day but with some cool wind blows in the evening.

What to do and see in Ronda, Spain?
1. Learn about Puente Nuevo at the Interpretation Museum
Opening hours:
Autumn and Winter: Monday to Friday (10 AM to 6 PM), and Weekends and Public Holidays (10 AM to 3 PM)
Spring and Summer: Monday to Friday (10 AM to 7 PM), and Weekends and Public Holidays (10 AM to 3 PM)
Admission Fee:
Initially built by the architects Jose Garcia and Juan Camacho in the 18th century, Puente Nuevo was a response to the need for wider mobility. Although there were already two small Ronda bridges, the Puente Romano and Puente Arabe, that linked the two Canyons, the people wanted a direct route between the bustling areas of El Mercadillo (the little market) and La Ciudad (the city). After 34 years of tragedies and triumphs, the renowned architects Domingo Lois de Monteagudo and José Martin de Aldehuela, finally completed the bridge. Today, many travelers visit Puente Nuevo because of its enormous and mighty beauty. In addition, you can also see a museum called Interpretation Museum on the lower floor of the bridge, where you can see both the interesting history and brutal folklore.
2. See the Bullfighting Legacy at Plaza de Toros
Opening hours:
January to February: 10 AM to 6 PM
March: 10 AM to 7 PM
April to September: 10 AM to 8 PM. However, schedules may vary during the feria in the first week of September.
October: 10 AM to 7 PM
November to December: 10 AM to 6 PM
Admission fee:
Adult: €6.50 or US$8
Adult free with audio guide: €8 or US$9
Plaza de Toros is one of the important landmarks in Ronda, Spain. Apart from being Spain's oldest stone bullring, its Rueda, the bullring's center covered with sand, is also the largest in the country. During the 18th century, this bullring used to be filled with gamblers cheering for their bets and spectators shrieking in excitement every time a bull pounced on the muleta. But today, the bullfighting only happens once a year, every first week of September, during the Feria Goyesca. However, if you are visiting Ronda, Spain, outside Feria Goyesca, you can still see the bullring and learn about its vibrant celebration through the Bullring Museum daily.
3. Explore La Casa del Rey Moro
Opening hours:
October to April: 10 AM to 8 PM
May to September: 10 AM to 9:30 PM
Admission fees:
Adult: €7 or US$8
Children below 12: €3.50 or US$4
Built in the 18th century, La Casa del Rey Moro used to be a Moorish Palace. However, over time, it was owned by different families with a different style. Currently, it flaunts a Neomudejar architecture that is a fusion of the Hispanic-Muslim technique with Christian aesthetics. Today, although La Casa del Rey Moro is under renovation, many travelers still include this in their trip to Ronda, Spain. Apart from the exterior and the garden, visitors can also descend the steep stone staircase leading to the Water Mine. The Water Mine is said to be where the prisoned Christians were inhumanely chained and forced to pass containers from the Guadalevin river. Don't forget to download their app for their free audio guide of the Water Mine.
4. Marvel at the Baños Árabes
Opening hours: Monday to Friday (10 AM to 6 PM), and Weekends and Public Holidays (10 AM to 3 PM)
Admission Fee:
Adult: €3.50 or US$4
Children below 14: €2.75 or US$3
Group of 10: €2.75 or US$3
Free: Tuesday (3 PM to 5:30 PM)
Ronda has one of the highly-preserved Arab baths in Spain. Baños Arabes (Arab Baths) are a remnant of the impressive medieval Arab baths with original brick columns and dome ceilings with star-shaped vents. These vents are used not only for ventilation but also to illuminate the underground chambers. Baños Arabes also have changing rooms, a cold room, a warm room, and a hot room that served either the religious, relaxation, and socialization purposes of the then-Moors. Today, the baths are no longer operating, but travelers can still enter Baños Arabes to see the bath's similarities with the modern baths.
5. Get an Exciting View of Alameda Park from Balcons Coños
Along the Parador Hotel, Park Blas Infante, and Paseo Hemingway, you will see a railed platform overlooking the plains of Ronda, Malaga. These are called Balcons Coños because once you step into the balcony and look 150 meters below, you will find yourself grasping on the railings and stepping back while saying the vulgar expression, "Ayy, coño!" Among the balcons coños in Ronda, travelers usually flock the one near the Plaza de Toros to get a picturesque view of the valley and the gorge.
6. Eat Local Rondeña Dishes
It is no secret that Spain takes pride in its flavorful and varied tapas choices, and Ronda is a place that can prove that. Being under the control of the Moors for centuries, they spice up their Jamon with Mediterranean flavor. Make sure to drop by De Locos Tapas, a first-class tapas place that fuses modern Spanish and international flavors. It's a small restaurant so a reservation is quite obligatory. However, if you want a more elegant-looking tapas restaurant, you can head to Bardal. It is a Michelin Star restaurant that serves a typical Rondeña dish but with hearty twists.
7. Visit the Church of Santa María la Mayor
Opening hours: Open every day, but are only closed on Sunday (1 PM to 2 PM)
April to September: 10 AM to 8 PM
March and October: 10 AM to 7 PM
November to February: 10 am to 6 pm
Admission Fee:
Devotees and Residents: Free
Tourists: €4 or US$5
Located at Ronda's Town Hall, the Church of Santa María la Mayor is often mistaken as a city hall because of its exterior. But interestingly, this church has a long and rich history. Archeologists found out that this used to be a Roman temple in honor of Diana, which was built by Julius Caesar. During the rule of Visigoths, the temple became a church. Then, when the Moors took over, the church became a mosque. Today, it is one of the biggest churches in Ronda, Spain. You can visit the church for free, but if you are going to take photos inside and you want to see the artifacts, you just have to pay €4 or US$5.
8. Indulge in the Local Rondeña Wine
Ronda, Spain, has a reputable wine industry. You can find various vineyards in the city that offer tours that include wine tasting. One of the vineyards that you can visit is the Bodega La Melonera. Owned by one of the prominent wine families, Bodega La Melonera produces wines based on the ancient Phoenician tradition. Make sure to book a tour with them to level up your wine standards.
9. Watch a Sculpture Show at Palacio de Mondragón
Opening hours:
Winter: Monday to Friday (10 AM to 6 PM), Weekends and Public Holidays (10 AM to 3 PM)
Summer: Monday to Friday (10 AM to 7 PM), Weekends and Public Holidays (10 AM to 3 PM)
Closed: January 1 and 6, and December 25
Admission Fee:
Adults: €3.50 or US$4
Reduced Price: €2.75 or US$3. This is only for students below 26 and seniors.
Free: This is only for children below 14 and disabled persons. Also, European citizens can access it for free every Tuesday (3 PM onwards).
Palacio de Mondragón is another Moorish palace in Ronda, Spain, that used to be the residence of the son of the Morrocan Sultan, King Abbel Malik. Even though it was just a ruin when it was renovated, much of its golden days are still apparent. Its ceilings are adorned with Mudejar architecture and much of its floorings still has the original tilings. But what makes travelers come by is the water gardens that are quite similar to the ones in Granada's Generalife. Today, the palace is used as a museum and language school, and oftentimes it is also used as an event place for outdoor sculpture shows and weddings.
10. Make a Wish at Iglesia del Espíritu Santo
A Baroque-style edifice, Iglesia del Espíritu Santo is the unofficial Catholic cathedral of Ronda, Spain. When it was built in the 15th century, it was heavily fortified in case of any wars in the future. With this, it looked more like a fortress than a church. But still, a lot of people come to this church, especially during Semana Santa.
11. Explore the Ancient City of Acinipo
If you are a history buff, this is a place for you to visit near Ronda, Spain. Although it's 30 minutes away from the center of Ronda, visiting Acinipo will make you appreciate Ronda more. Acinipo is an ancient city in Ronda that dates back to the first century AD. Aside from the boulders and ruins that you will see along the way, the enormous Roman theatre will definitely give you goosebumps. Imagine how exciting it must have been to see actual structures in its centuries-old original form!
12. See Stone Age Wall Carvings at Cueva de la Pileta
Opening Hours:
Winter: Weekdays (11:30 AM to 4:00 PM) and Weekends and holidays (11 AM to 5 PM)
Summer: Weekdays (10:30 AM to 6:00 PM) and Weekends and holidays (10 AM to 6 PM)
Admission Fee:
Adults: €10 or US$12
Children: €6 or US$7. This is only for children aged 5 to 10.
Discovered in 1905, Cueva de la Pileta is a family-operated tour destination owned by the Bullón family. Similar to Acinipo, Cueva de la Pileta is also outside the heart of Ronda, Spain, which is about 30 minutes away. Regardless, we are sure that it will be worth it because in their English-speaking torch-lit tour, they will lead you to the cave where you can see Stone Age wall carvings of animals surrounded by stalagmites and stalactites.
13. Take Photos at Puerta de Almocábar
Ronda used to be a heavily fortified city that can only be accessed by two gates. The most important gate is the Puerta de Almocábar, which is the main gate to the palace. Today, most travelers never miss taking a souvenir photo at this epic landmark.
14. People watch at Plaza Duquesa de Parcent
Surrounded by two convents, Ayuntamiento de Ronda (Ronda Town Hall), various cafes, and the Church of Santa María la Mayor, this idyllic town square is a usual hub in Ronda, Spain. From being a military prison in the 18th century, today many travelers visit this place to relax under the shades of the towering trees. There are also cafes and restaurants if you want to dine.
15. Be mesmerized at Jardines de Cuenca
Since Ronda, Spain, is peculiarly situated in a gorge, don't forget to see more mesmerizing cliffs adorned with flowers at Jardines de Cuenca. Beyond the stone ledges similar to the fortress balconies, you will see lush greeneries with some spots of vivid and blooming flowers.
Final Thoughts
Ronda, Spain, is a paradise for history buffs. The historic town has a lot of fascinating places to see and things to do that will keep you quenching your thirst to compare how the books described the places and how the actual place looks like. If you're not a history buff, visiting this place might convince you to be one.