Best Time to Visit Vietnam: A Complete Guide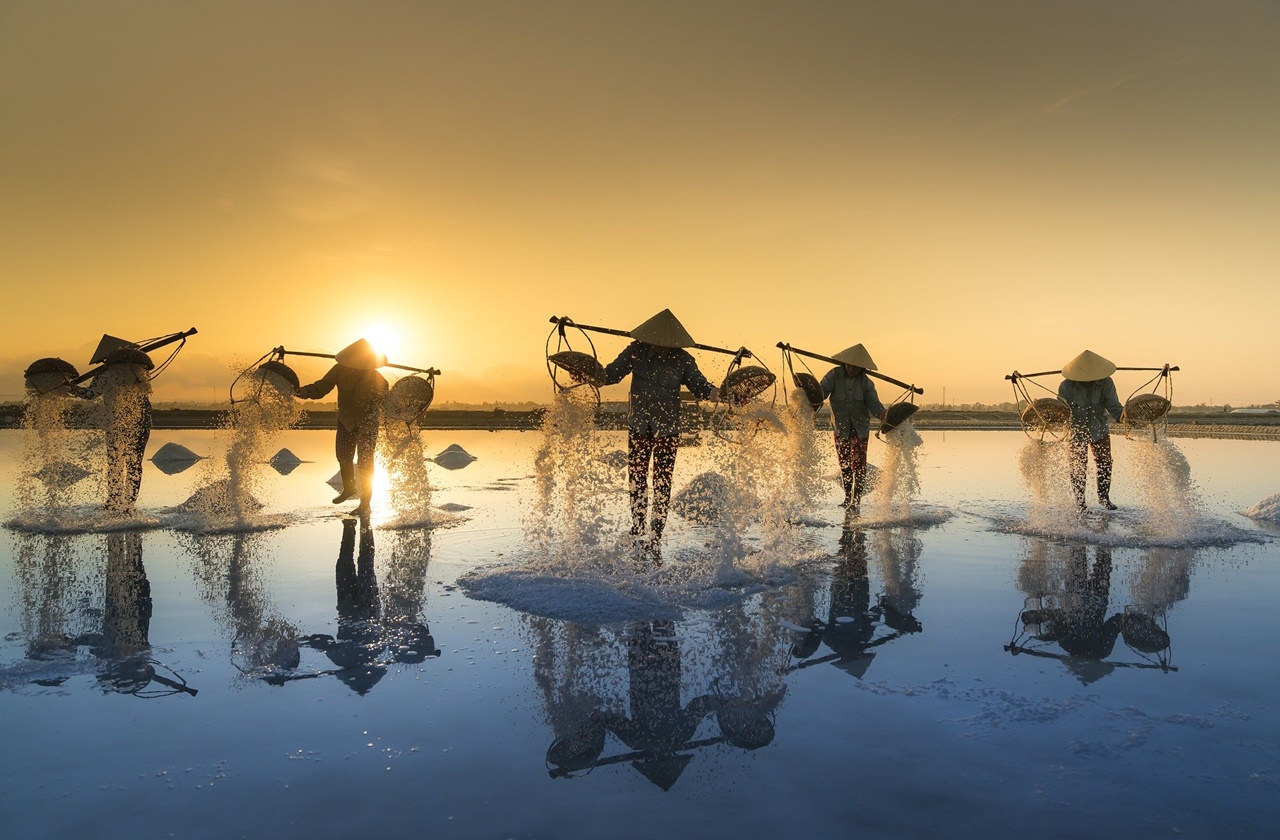 With its floating markets, stunning natural landscapes, and rich culture, Vietnam is a must-visit destination in Southeast Asia. Every year, the country welcomes millions of visitors and last year, 18 million tourists visited Vietnam, proof that it is one of the most beautiful countries in Asia. It is also home to several UNESCO World Heritage Sites, making it a perfect destination that balances culture and nature. Now that you know that Vietnam is a must-visit country, you're probably asking, "when is the best time to visit Vietnam?"
If you're planning to visit Hạ Long Bay or if you want to sink your teeth into delicious pho and other Vietnamese food, continue reading! Here's everything you need to know about Vietnam's weather, travel seasons, and festivals you shouldn't miss.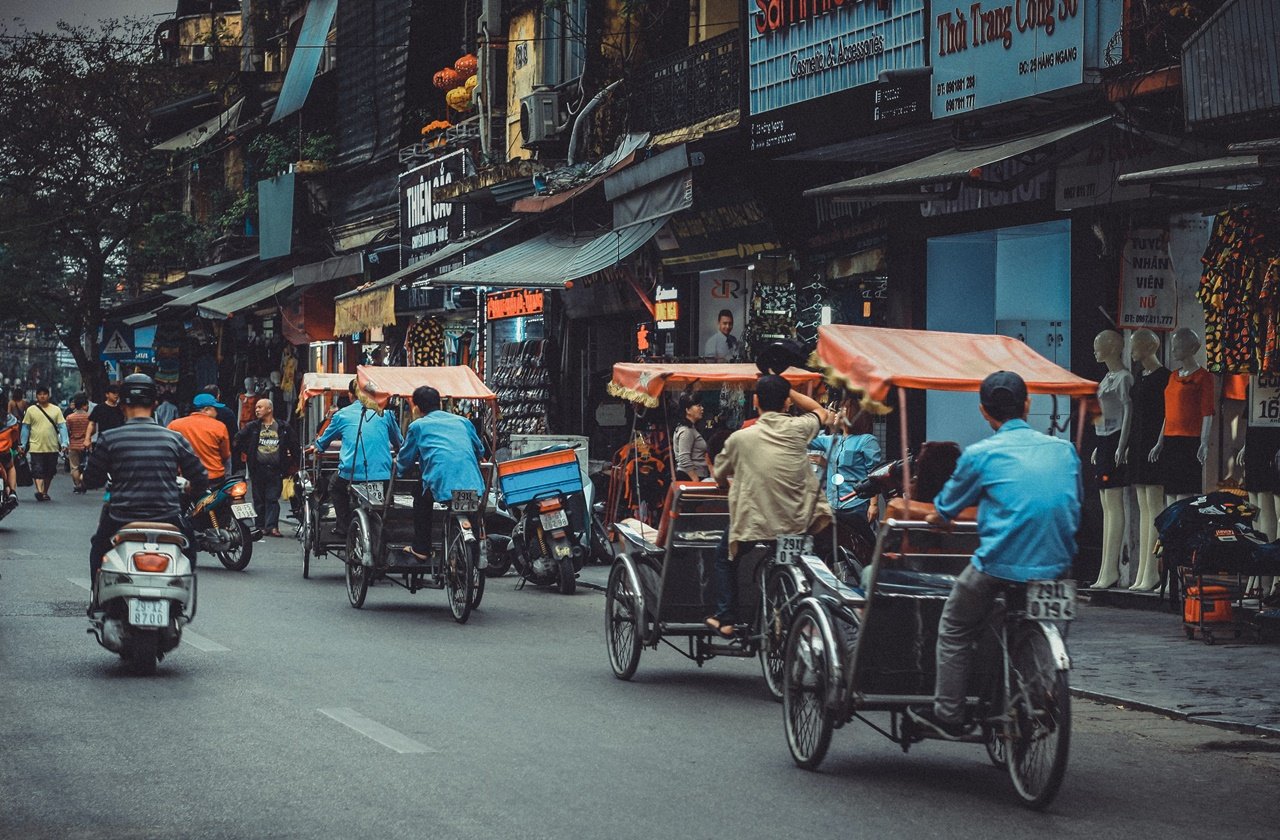 Photo by Tran Phu on Unsplash
Vietnam is an S-shaped country in Southeast Asia and on the easternmost area of the Indochinese Peninsula. It is located in the Northern and Eastern hemispheres just below the Tropic of Cancer.
It is bordered by China on its north, Cambodia and Laos on its west, and the South China Sea on its east and south. The Gulf of Thailand (Gulf of Siam) is found on its southwest border. Additionally, China's island of Hainan Dao is on the northeastern side of Vietnam.
What's the Weather and Climate Like in Vietnam?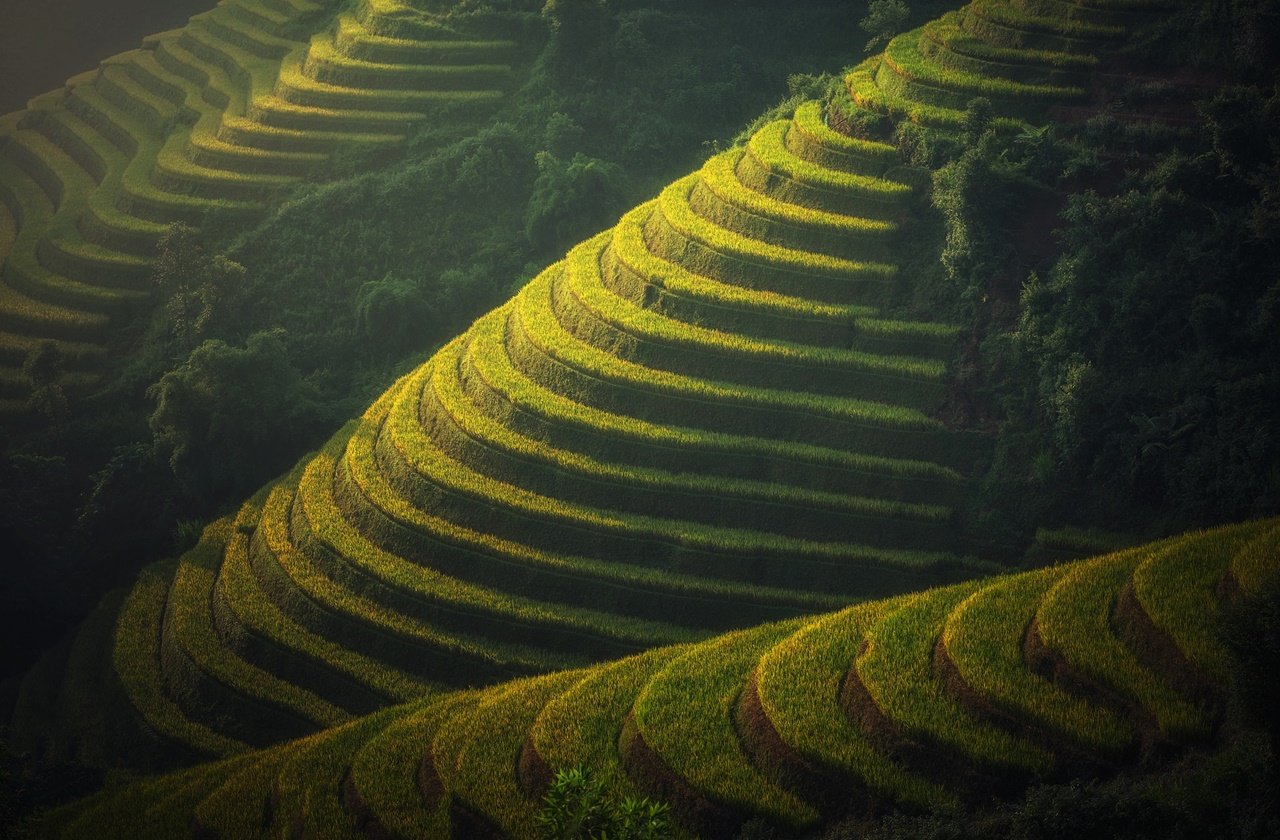 Photo by sasint on Pixabay
Because of its long and narrow shape, Vietnam's weather is dependent on its three regions: the North, Central, and South regions. Each of the regions experiences different weather and climate situations. For example, there can be snow in the far north, but sunny days in the beaches of the southern region.
North Vietnam
North Vietnam includes Hanoi, Sapa, Ha Giang, Hạ Long Bay, and more. These areas experience four seasons: spring, summer, autumn, and winter. Winter in these areas occurs from November to March, spring in April, summer from May to September, and fall in October. Additionally, spring and fall are the transition months.
The northern regions of Vietnam have cold and cool winds due to the northeast monsoon during winter and has warm to hot wet season. The average temperature ranges from 5°C to 6°C in winter to up to 35°C in summer. Generally speaking, the further to the north the area is, the colder it gets. Some areas in the farther north regions experience below zero temperature. The hottest month for this area is July while the wettest month is September.
Central Vietnam
Cities in Central Vietnam include Hoi An, Da Nang, Hue, Dalat, Quy Nhon, Nha Trang, and more. Generally, Central Vietnam weather is a combination of the weather in the north and south regions.
These areas of Vietnam experience hot and dry weather from January to late August or early September. During these months, temperatures can reach up to mid-30°C and there is little to no rainfall. On the other hand, rainfall increases from October to December. In some instances, heavy rainfall leads to typhoons, especially in November.
South Vietnam
While North Vietnam experiences four distinct seasons, South Vietnam, on the other hand, only has two seasons: wet and dry. Some of the popular cities and destinations in South Vietnam include Ho Chi Minh City, Mekong Delta, Mui Ne, and Ho Tram. The wet season occurs from March to October, while the dry season lasts from November to April.
During the dry season, South Vietnam's temperature can reach up to 33°C, with April being the hottest month. Rainfall occurs most especially during May to October but often occurs late in the afternoon. Heavy downpour also occurs, however, these are short. Additionally, there are high levels of rainfall from June to September. The best time to visit Vietnam in the south is normally from December to May when the weather is cool and dry.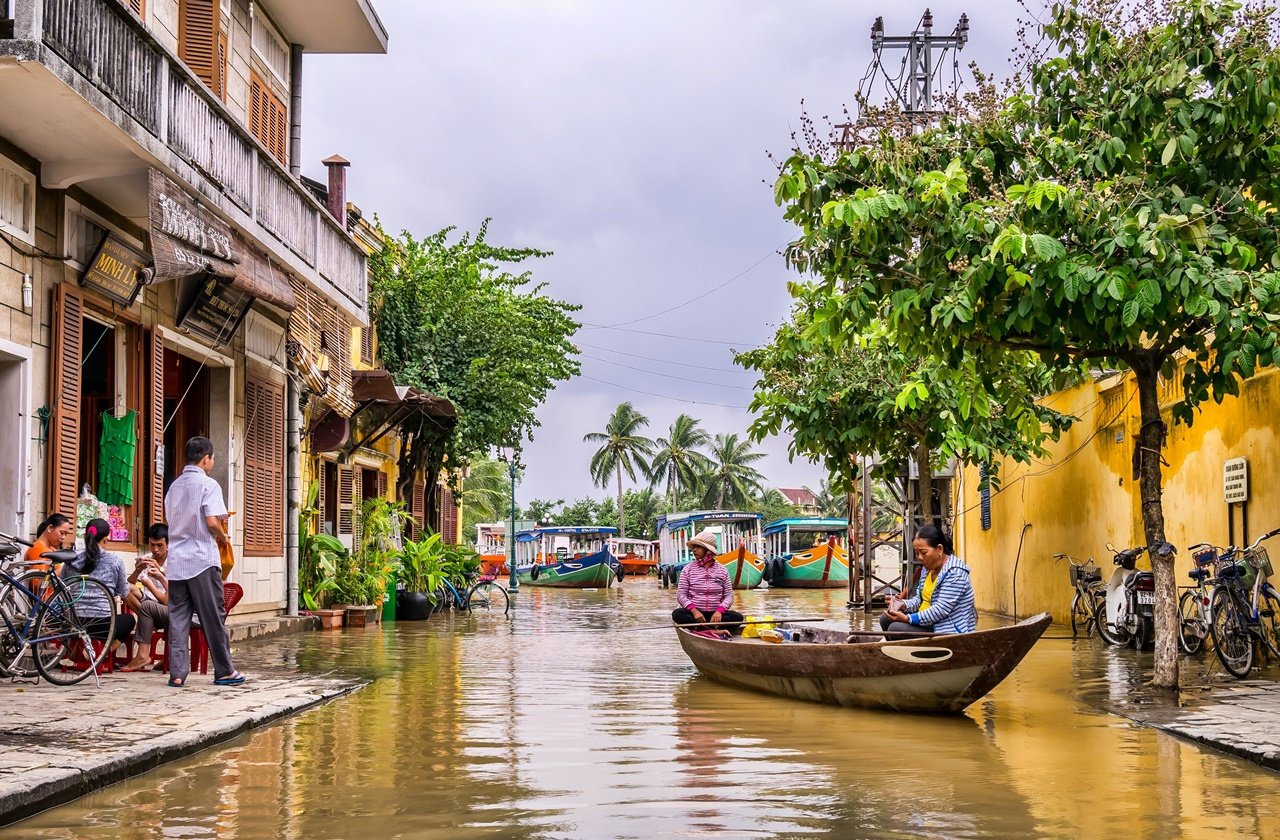 Photo by Toomas Tartes on Unsplash
January
January is the coldest month of the year in mountainous areas like Sapa; while in the south, it is in the dry season. If you're visiting the northern areas, expect lower temperatures and even rare chances of snowfall. This may not be the best time to visit Ha Long Bay since mist and haze can obstruct your view of the limestones. However, this is a good opportunity to go hiking in the mountains.
If you're looking to escape the cold breeze of winter, South Vietnam is the perfect destination. Cruises along the Mekong Delta and Red River are perfect during this time because of the warmer weather. Since January marks the last few months of the dry season, this is also a good time to explore cities like Ho Chi Minh. You can also visit the beaches and go diving in Phu Quoc.
February
The best time to visit Vietnam if you want to experience a festive atmosphere is in February. In North Vietnam, the temperature is much cooler but the days are sunny and bright. Fog can hinder your views of Ha Long Bay still, but conditions are perfect for outdoor activities like hiking and trekking.
In Central Vietnam, February offers pleasant and warm temperatures. This is the best time to visit Vietnam beaches between Hoi An and Da Nang because of the warm water.
Meanwhile, in Southern Vietnam, there is plenty of sunshine during this month and you can definitely feel the festive environment in the city. With its sunny weather, you can freely explore the streets of Ho Chi Minh and sample the best Vietnamese dishes.
March
When it comes to weather, March is arguably the best time to visit Vietnam! Enjoy warm temperatures and clear skies no matter your destination. The month is not as cold or as dry as the first months in the north, and this is a good time to visit Ha Long Bay. Weather conditions are also good for exploring the highlands and mountains.
On the other hand, southern and central areas can still enjoy dry and warm weather. March is also the best time to visit Da Lat, Nha Trang, and its neighboring cities in Central Vietnam. Additionally, it is also the best month to visit Ho Chi Minh City and explore the famous Binh Tay Market. Take note that beaches and resorts in South and Central Vietnam tend to be crowded with tourists and locals during this month.
April
Vietnam weather in April tends to lead towards the dry season, with North Vietnam experiencing less cold days. Temperatures will also start to rise in the country. In the northern regions, outdoor activities like hiking and biking are still ideal. Do take note that rain can be common during the last days of the month. In some areas, you can see colorful spring flowers in bloom.
On the other hand, its central and southern areas still enjoy blue skies and sunshine. You may also notice the crowds getting thicker since there is pleasant weather throughout the country. This is also a good time to visit Central Vietnam cities like Hoi An, with Nha Trang at its best weather. There may be chances of rainfall in South Vietnam, but coastal areas remain ideal for beachgoers.
May
May is another best time to visit Vietnam since prices are lower compared to April. In North Vietnam, temperatures start to rise and are starting to see more cases of rainfall in the afternoon. Other than that, it's still a good time to visit and explore the area.
Central Vietnam is the most ideal place to be during this month with its sunny weather a great alternative to South Vietnam's wetter one. The country's beaches are still a popular destination, especially those in Da Nang, Nha Trang, and Phu Quoc. In South Vietnam, rain starts to pour but not as frequently as in the north. Take note that it can get very humid in May so make sure to pack light clothes and bring plenty of water.
June
June marks the start of the rainy season in Vietnam, most common in the northern and southern regions. Outdoor activities are discouraged in the mountainous regions of North Vietnam due to regular rainfall and thunderstorms. There may be warnings for landslides and flash floods, so June isn't the best time to visit Vietnam in the north.
Like North Vietnam, South Vietnam experiences daily rainfall, but this occurs usually in the later afternoon. This is also the middle of the wet season in the area. On the other hand, Central Vietnam is still perfect for visiting the beach and still has plenty of dry hours. There is little to no rain in the area, and it is a good time to visit the beaches of Hoi An.
July
Vietnam weather in July is similar to the weather in June, with Central Vietnam having the most pleasant weather in the country. Although the average temperature in the north reaches up to 30°C, the region is still prone to frequent rain and thunderstorms. Trekking and other activities in the mountains are still unadvisable especially in Hanoi as July is the wettest month.
The average temperature in Central Vietnam is at 31ºC, but it is still an ideal destination. Despite the summer heat, there is little rain. Da Lat and other areas in the Central Highlands are prone to a higher volume of rain, so it's best to avoid these areas. South Vietnam is in the middle of its wet season, so expect daily rainfall especially in the Mekong Delta. Despite the downpour, you can still enjoy bright and sunny days in South Vietnam.
August
Temperatures in Vietnam for August remain high, but frequent rains can cool down the heat. This month is also the peak rainy month for North Vietnam, so it's best to avoid the mountain areas because of possible landslides and flooding. Visiting Ha Long Bay and going on boat tours during this season is also highly discouraged.
Meanwhile, Central Vietnam still experiences pleasant yet rainy weather. This is also the best time to visit Vietnam's central regions, especially Nha Trang. Storms and rain showers are more common during the last days of the month so expect some activities to be unavailable. Expect more rainfall in the southern area, heavier than in the previous months. August is also not the best time to visit the Mekong Delta because of the flooding.
September
North Vietnam will start to see a decrease in rainfall towards the end of the month. Weather conditions improve, making it possible for trekking and hiking. The average temperature falls at 28°C and drops as October approaches. This is also the best month to visit the rice fields of Mu Cang Chai.
September is the last month to catch sunny skies in Central Vietnam before the rainy season starts. The temperature will start to drop and storms are more likely to occur in the last days of the month. Attractions like Phong Nha Cave may be closed due to the flooding. Like North Vietnam, rainfall will start to decrease in South Vietnam, and although the temperature still remains high, expect some days of bright daylight.
October
October is the best time to visit Vietnam in the north, with its weather conditions perfect for trekking in Sapa and exploring Mai Chau Valley. Expect clear skies, less rainfall, and lower temperature in the region as well.
In Central Vietnam, October is the peak rainy season so it may be difficult to navigate around the area. Hoi An is prone to severe flooding, so it's best to avoid visiting the city during this month. South Vietnam's weather also improves, and it is a good time to visit the Mekong Delta after its flooding season. Rainfall also decreases and average temperature ranges between 24-31°C.
November
Temperate weather makes it good to visit North and South Vietnam. At an average temperature of 24°C, expect low humidity with a significant decrease in rainfall. You can also go trekking in Sapa or explore the regions of Ha Giang. November is also the best month to visit the emerald waters of Ha Long Bay.
Unlike its northern counterpart, Central Vietnam is still in its rainy season and heavy storms may occur. Hoi An is still prone to flooding and the riptides in Da Nang are dangerous. However, in the Central Highlands and Da Lat in particular, there are clear skies and little rainfall. Summer starts in South Vietnam so expect warm weather. Beaches and islands in the south offer warm waters and sunny skies, perfect for summer activities.
December
December is one of the driest months of the year in North Vietnam, but temperatures can drop at night. Snowfall occurs every now and then so make sure to pack layers of clothing especially if you're heading up to the mountainous areas. Outdoor activities are perfect during this month due to the moderate temperature.
Central Vietnam still experiences stormy weather in the first days of December, but this decreases as the days pass. The average temperature is about 24°C, although there is more rain in Hue than in Hoi An. Beach season is also starting to resume in South Vietnam, especially in the Côn Đảo and Phú Quốc islands. If you are planning to visit Vietnam in December, South Vietnam is the best choice.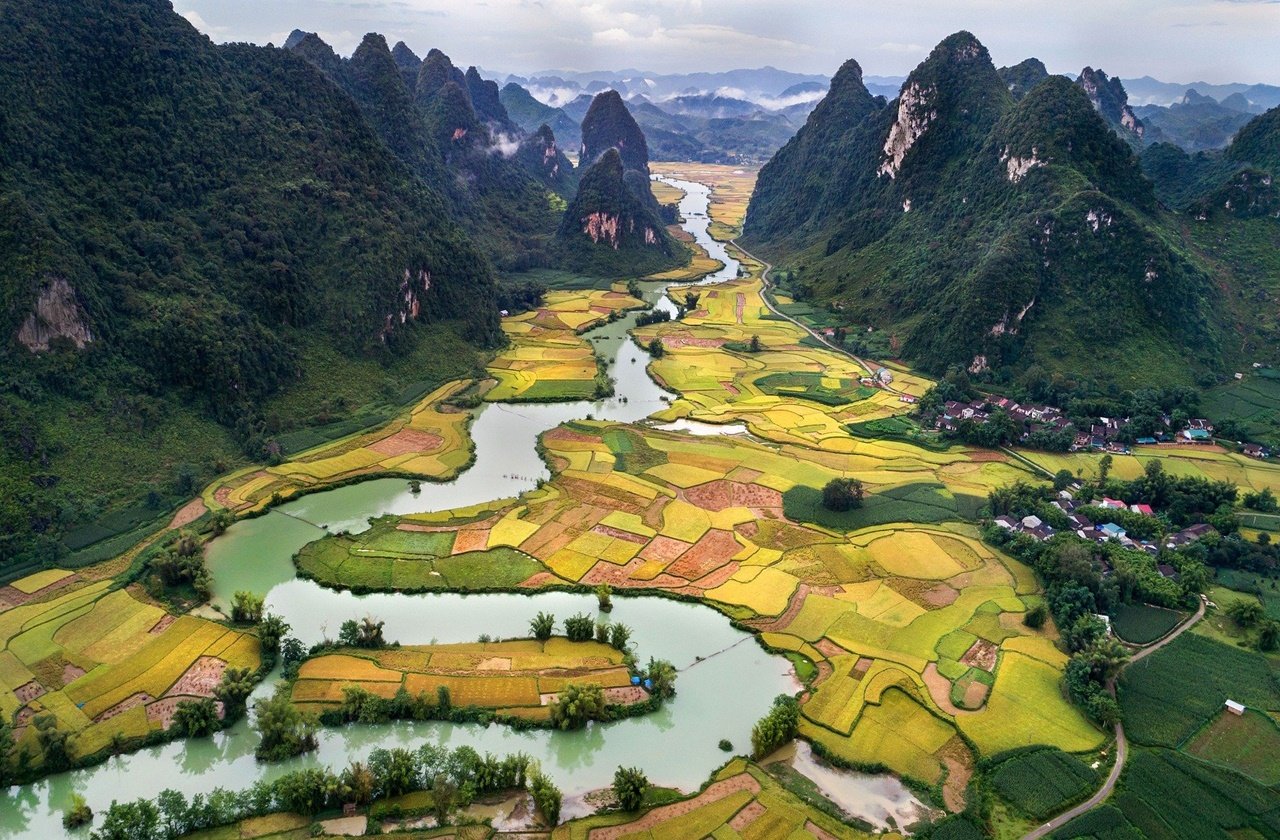 Photo by ThuyHaBich on Pixabay
Like all countries, Vietnam has seasons where plenty of visitors visit, and seasons with fewer visitors. Here's everything you need to know about Vietnam's travel seasons so you can plan accordingly.
High Season
Vietnam's high season is from December to March, offering the most comfortable weather. The humidity isn't at its peak yet so you won't have to worry about excessive sweating. You can also attend different festivals including the popular Tet, Vietnam's Lunar New Year celebration, in January or February.
The high season often has the best weather conditions and you can see Vietnam's beauty at its peak. Almost all tourism services and tours are available during this time as well. Since this season has the best weather and tourism conditions, expect that there will be more tourists. Most accommodations will be fully booked by this time, so make sure to plan and book ahead if you plan on traveling during this time.
Shoulder Season
April to August is Vietnam's shoulder season, with warm to humid temperatures in the country. The days are hotter than the high season, but still bearable no matter your destination. Expect blue skies and fewer clouds, although June marks the start of the rainy season in North and South Vietnam.
Shoulder season brings fewer tourists, although not as few as during the low season. Hotels are also priced cheaper and since there are less tourists, you can book them at the last minute. Take note that the high temperature can be unbearable for tourists and since the rainy season is approaching, sudden downpours can occur.
Low Season
From September to November, Vietnam experiences a low tourist season. This mainly due to the weather situation in both Central and South Vietnam. Meanwhile, in North Vietnam, there is less rainfall and conditions are perfect for outdoor activities.
During the low season, you may be able to score cheaper accommodation and tour rates. Because there are fewer people at most tourist attractions, you can plan at the last minute. On the other hand, the low season often coincides with difficult weather conditions. There are cases where some sites will be closed due to the weather.
When Is the Best Time to Visit Vietnam?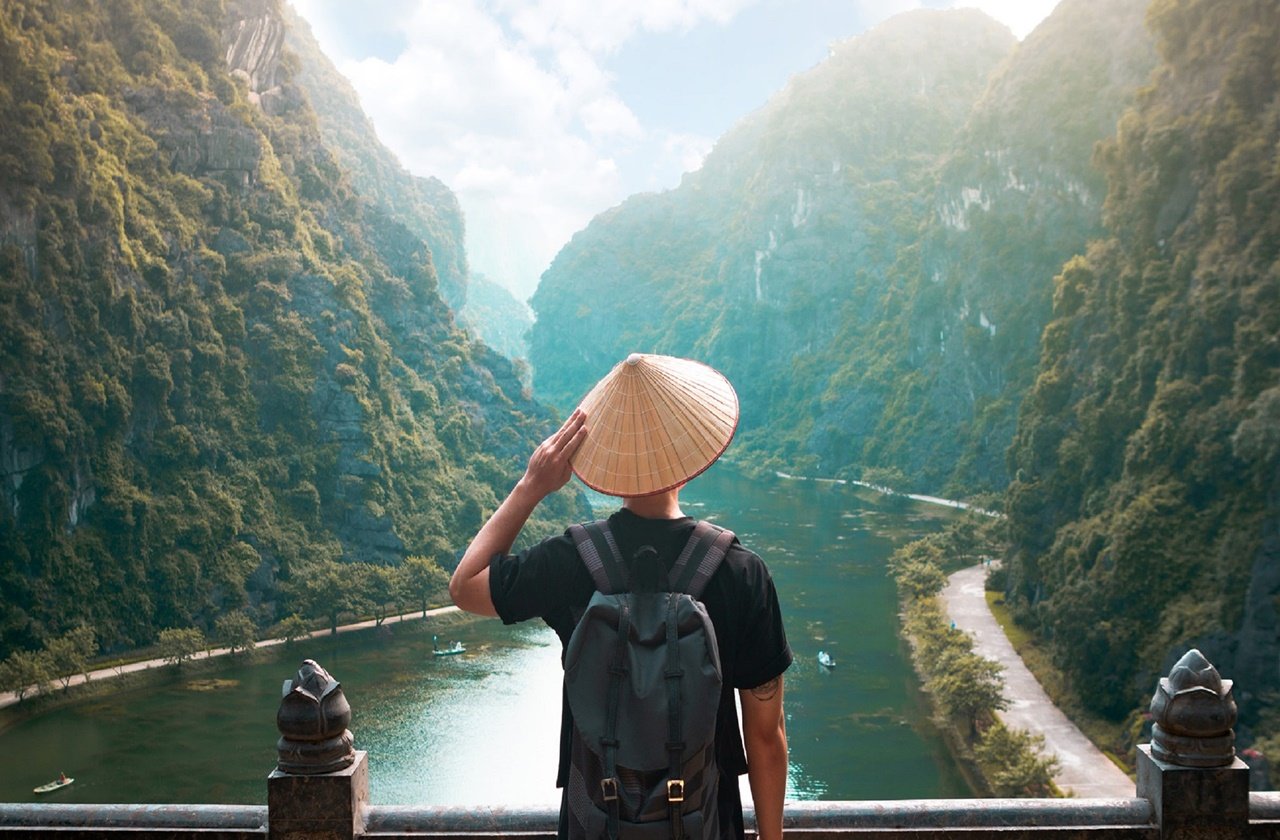 Photo by Giau Tran on Unsplash
If you plan to visit most regions in Vietnam, September to December and March to April are the best times to visit. Otherwise, each region has different favorable times to visit.
North Vietnam
If you plan on visiting Hanoi, Ha Long Bay, and the northern areas of Sapa, consider visiting from March to April. You can also plan your visit from September to November when weather conditions are suitable for trekking. From March to April, you'll get a tranquil atmosphere, perfect for either heading to the mountains or going for a boat cruise in Ha Long Bay. You can also catch the stunning spring blooms at Moc Chau or visit Cuc Phuong National Park in these months.
September to November boasts the most pleasant temperature in Northern Vietnam, with cool and dry breeze all around. The weather is cold, but not like in winter. This is also the perfect time to visit the Old Quarter and French Quarter in Hanoi, speckled with vibrant fall foliage. You can also visit Ha Long Bay without the thick crowds unlike in spring.
Take note that March and April are the peak months for travelers, so visit in the latter half of the year if you want less tourists.
Central Vietnam
The best time to visit Vietnam's central region is from February to May when the weather is pleasant and warm. There are less chances of rain and the weather is perfect for either sightseeing or visiting the beach. The UNESCO World Heritage-listed city of Hoi An is especially beautiful from February through the early days of July, so be sure to visit within this window.
Central Vietnam experiences rainy weather until February, so this is the best season to start hitting the beaches. Make sure to avoid visiting Central Vietnam from August to November since this is the rainy season. Flooding may also cause an issue and water levels rise between these months.
Since this is the peak tourist season, make sure to book hotel accommodations and activities ahead. That way, you can secure better rates and avoid missing out on tours and excursions.
South Vietnam
The best time to visit Vietnam in the south is from December to April. Unlike North Vietnam with its four seasons, South Vietnam only has dry and wet seasons, making it easier for one to find the best time to visit. The dry season offers warm and sunny weather, and during this time visitors flock to Mekong Delta and the nearby beaches. You can also explore Ho Chi Minh and visit religious sites and neighboring flower villages.
The average temperature during this time can reach up to 40°C, which can be unbearable for some travelers. From June onwards, South Vietnam will get plenty of rain and humid weather. During monsoon season, flooding can occur which can be difficult to predict. As a safer option, avoid traveling during the wet season.
Vietnam Festivals Breakdown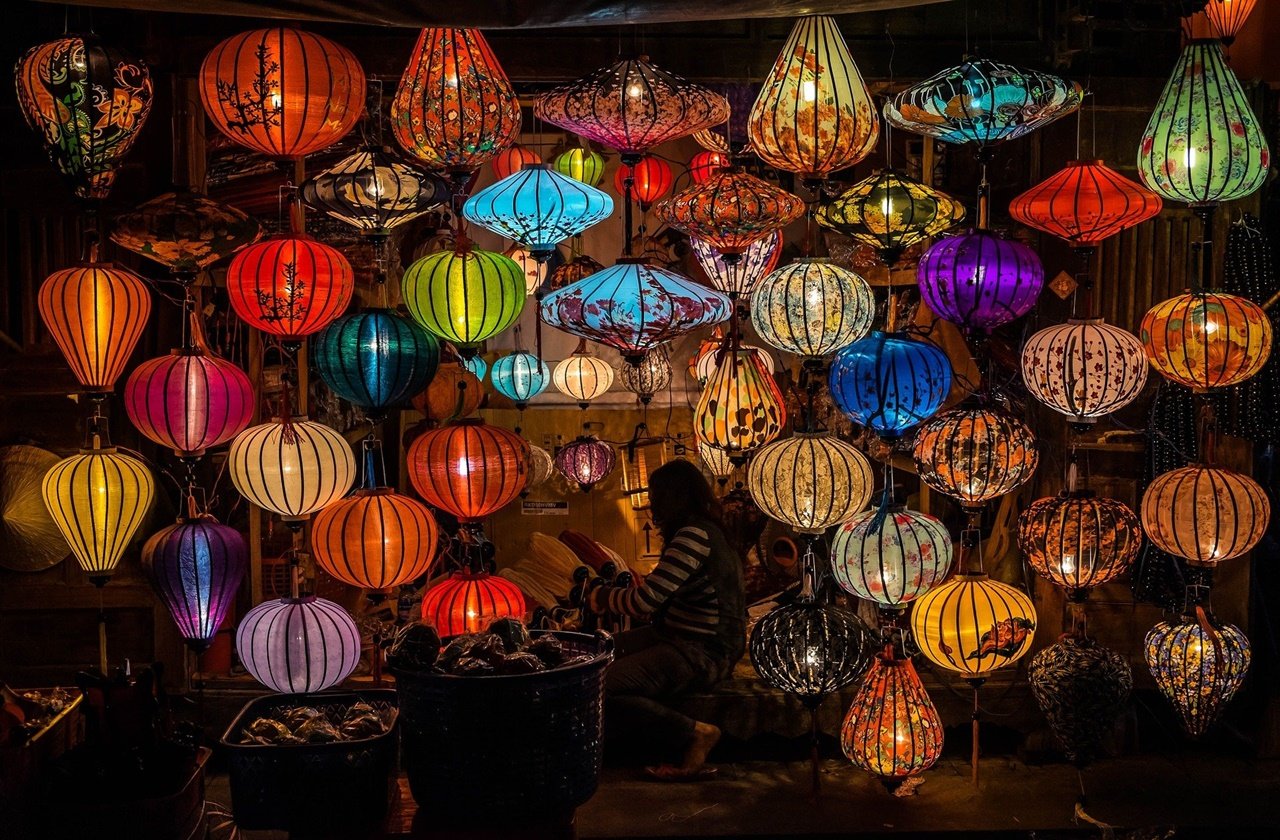 Photo by mailanmaik on Pixabay
Tết Festival
Frequency: Annually in either January or February
Best place to celebrate: Hanoi
The Tết Festival, officially called Tết Nguyên Đán, is the Vietnamese Lunar New Year celebration. This is also arguably the most popular and widely celebrated festival in the country, held in either January or February. Tết Festival marks the start of spring and the start of the new lunar calendar. Families gather together and the streets are filled with red and gold decorations and the scent of incense. Join the Tết festivities in Hanoi and witness the colorful fireworks from a rooftop bar, or mingle with the locals at a street party.
Hue Festival
Frequency: Every two years in either April, May, or June
Best place to celebrate: Hue
Hue's festival celebrates the city's history as the former capital city. Although it's a relatively new festival, first celebrated in 2000, it quickly became one of the country's most popular celebrations. During the Hue Festival, various events happen at venues around the city including calligraphy exhibitions, kite flying, boat racing, and more. The festival also includes reenactments of historical events and royal ceremonies, giving you a glimpse of Hue's culture and heritage.
Mid-Autumn Festival
Frequency: Annually on the 15th day of the 8th lunar month
Best place to celebrate: Hanoi or Ho Chi Minh
Mid-Autumn Festival, locally known as Tết Trung Thu, is an annual celebration that is a favorite among children. Weeks before the celebration, you'll find lion dancers practicing on the streets and colorful lanterns and masks start to fill the city's markets. Main activities include worshipping the God of the Earth, lion dance parades, and carrying carp-shaped lanterns on the streets. If you're visiting Vietnam during this festive period, don't miss the chance to sample mooncakes, traditional cakes filled with lotus seeds.
Hoi An Lantern Festival
Frequency: Monthly on the 14th day of each lunar month
Best place to celebrate: Hoi An
See colorful lanterns along Hoi An's streets during the monthly lantern festival. The Hoi An Lantern Festival celebrates the full moon, one of the most important times in the Buddhist calendar. At night, most of the city lights are turned off, so the floating lanterns illuminate the river. As you stroll past the idyllic town, find different street performances and poetry readings along the river. You can also release a lantern into the river and go on a picturesque sampan (Vietnamese traditional canoe) ride.
Ghost Festival
Frequency: Annually on the 15th night of the 7th lunar month
Best place to celebrate: Hue
During the Ghost Festival or the Wandering Souls Day, locals believe that spirits of their ancestors and deceased loved ones are able to visit their homes. Additionally, it is also the same day where ghosts with no families also roam around can only be fed. If they are hungry, they might cause trouble. That being said, families perform prayer rituals and offer food, clothes, and other items to appease these souls.
Visit the Land of the Ascending Dragon!
Because of Vietnam's narrow S-shape location, its weather depends on its three regions. The north experiences four distinct seasons while its southern and central counterparts have a more tropical one. That being said, the best time to visit Vietnam entirely depends on where you are going. If you plan on visiting North Vietnam, March to April and September to November are the best months to visit. February to May is the best time to visit Central Vietnam while December to April is the best time to visit South Vietnam.
Ready to visit Vietnam? Get your Vietnam visa and uncover the beauty of this Southeast Asian destination!