Ultimate Guide To The Stunning City of Hoi An, Vietnam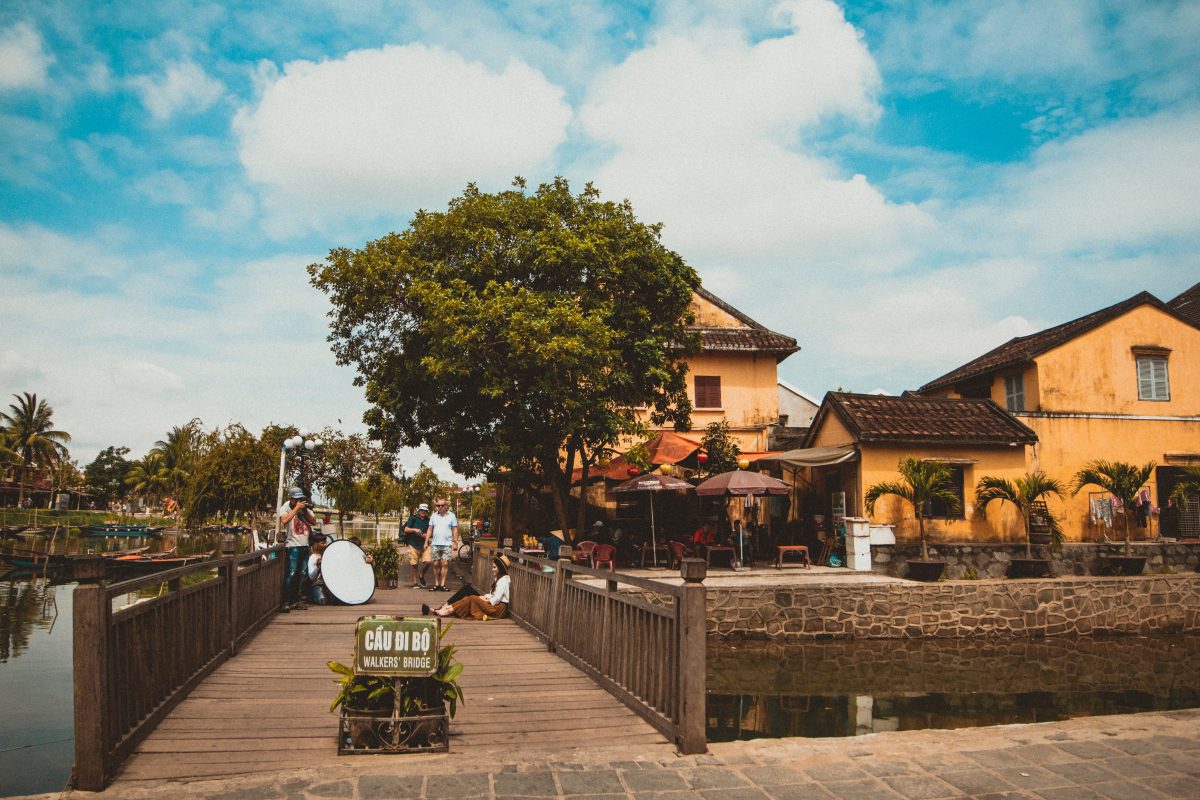 Straddling a lazy river between rice paddies and the South China Sea, Hoi An continues to capture the imagination of all who pass its way. An ancient trading port that grew to prominence as a center for spices and silks in the 15th century, it's now one of Vietnam's top draws. Yep – you only need a glance at the amazing range of things to do in Hoi An to see what an eclectic and enthralling place it really is.
This guide offers insights of all sorts into Hoi An, its history and its weather. You'll get the best tips on where to stay in Hoi An, ideas for what to do, and a little cultural introduction to boot…
A brief history of Hoi An
Way back in the 900s AD, Hoi An was a small trading outpost for the Cham peoples. They controlled import and export routes for spices coming out of Southeast Asia and China. The town grew and grew until it hit its zenith as a merchant forum in the 1400s. By that time, it had pulled in influences from all across the region. Most notably, there were large contingents of both Chinese and Japanese settlers.
Under Nguyen's control in the centuries that followed its official establishment in 1592, the city was transformed into an important stop on east-west silk roads. Ships docked and loaded here from afar afield as Britain and Holland. In the meantime, neighborhoods of hutong houses, Japanese cottages, and Chinese Buddhist temples began to fill the streets.
Sometime in the 1700s, the Thu Bon River became silted and sea trade was forced to stop. That put the attention on the newly identified French colonial port of Da Nang to the north. The focus moved away from Hoi An, leaving the city in the untouched state you can still see today. More recently, UNESCO recognized Hoi An for its unique past. It's now a World Heritage Site that pulls in thousands of visitors per day.
Where exactly is Hoi An?
Hoi An sits almost midway down the length of Indochina. It straddles the Thu Bon River just a stone's throw from where the water enters the South China Sea. The nearest main city is Da Nang, which is also the main gateway to Hoi An from the air and by rail. To the west of the town are the jungle-dressed rises of Vietnam's Central Highlands. To the east are lengths of sandy beachfront and a speckling of tropical islands.
How to get to Hoi An
Because Hoi An is such a hit on the tourist map of Vietnam, it should never be too hard to find your way into town. Oodles of long-distance buses make the journey here from all over the country. They are known locally as VIP buses. And while the name might imply comfort, don't come expecting first-class services. You should be able to find tickets in from major cities like Ho Chi Minh for around $40 each way.
These days, more and more people are making use of Vietnam's great railway links to get to Hoi An. Departures run primarily on a north-to-south, south-to-north basis throughout the country. Popular routes like the Reunification Express stop nearby. Just be aware that Hoi An itself has no train station. Instead, the city of Da Nang is served by the main Vietnamese line.
The same goes for flights. The nearest airport to Hoi An is the all-new and swish Da Nang International Airport. It gets short-haul links on budget carriers from all over Southeast Asia and beyond. The trip from the arrivals hall to Hoi An itself is usually just under an hour. Taxi transfers with a pick-up usually cost in the region of 15-20 USD.
What's the language and currency in Hoi An?
Hoi An has the exact same currency as the rest of Vietnam: The Vietnamese Dong (VND). Some establishments may also accept payment in USD. Vietnamese is the official language in Hoi An. However, given that this is such a popular stop-off for foreign tourists in Southeast Asia, combined with a colonial history, it's not uncommon to hear English and French boot.
A guide to Hoi An weather and the best time to visit
Because Hoi An sits just on the southern side of Vietnam, you can expect the seasons to be different from what it is in cities like Hanoi. Instead of four seasons, the town has two. There's the wet season from fall until mid-winter. And then there's the dry season, running from February to August. That's the prime time to come and explore, with the least amount of rainfall and steady temperatures in the high 80s.
That said, even the months of the monsoon can be pleasant. Nights might be chilly, but days can see thermometers reading 90 or more, with storm clouds passing through to cool things down most afternoons. November is probably best avoided on account of storm risks. That's when floods can often affect the surrounding rice paddies and cause the Thu Bon River to overflow.
Where to stay in Hoi An
If you're wondering where to stay in Hoi An, get ready to be spoiled for choice! Ever since travelers discovered this immersive little speck on the Vietnamese map, more and more options have become available. These days, that means there are all sorts of accommodations, ranging from sleek Hoi An hotels with five stars to traditional Indochinese homestays and low-key hostels.
And while you won't be short of establishments, the main thing is that you get the area right. There are plenty of different sides to Hoi An, each with its own unique character and buzz. Use the neighborhood insights below to pinpoint the perfect place to go a-searching for your Hoi An hotels and hostels this year…
Hoi An Old Town
This is where the action is. With its low-rise bungalows and charming paint-peeling workshops, the Old Town is Hoi An at its most photogenic and lively. It's here that you'll catch the carved Japanese Covered Bridge. This is the stomping ground of the famous tailors and coffee roasteries. And it's brimming with Buddhist shrines and temples. The streets closest to the river tend to be the most energetic of the lot. They play host to street stalls, food markets, and night bazaars. They're often jam-packed with strollers and rickshaws. The Hoi An hotels there are sure to put you right in the thick of things.
Cam Pho
Just a whisker to the west of the Old Town of Hoi An is the district of Cam Pho. Go here and you'll instantly notice that the streets widen up and the buildings become a little more modern. There are plenty of hotels available in the area, which is also right next to the local bus stop with its links to Da Nang. For the most part, they are cheap and cheerful lodgings that might be best suited to budget backpackers.
An Hoi
You'll need to stroll across the busy footbridge from the Old Town to an island on the Thu Bon River to find An Hoi. Even if you're not in search of a Hoi An hotel, it's a trip worth making. That's because this vibrant and sleepless district hosts the town's famous night market. Come across after dark to hop between trinket stalls, fortune tellers, henna artists, and ceramic hawkers.
The sidewalks will be beating with beer bars and chatting travelers. The restaurants will be serving pots of broiling cao lau (local noodles) and soy-infused BBQ skewers.
An Bang Beach
There was a time when An Bang Beach was the quieter of Hoi An's two beachfront. But, as little Cua Dai Beach has suffered from hefty coastal erosion in recent years, this is now the place to go for a taste of salt and sun. It's a short cycle or taxi ride to the east of the center. Cut off from the main town by rows of rice paddies and grazing water buffalo, it has a much more chilled, holiday vibe. There are B&Bs, villas, and eateries lining all of Nguyen Phan Vinh street just behind the main beach.
Tra Que Vegetable Village
Last but certainly not least on this list of the top areas to go a-searching for Hoi An hotel is Tra Que Vegetable Village. It straddles a small islet between two waterways just outside of Am Bang Beach. The whole place is like one huge allotment. As you delve in, you'll be lost in neat rows of zucchini, spring onions, watercress, chicory – you name it. In short, if you're wondering where to stay in Hoi An that's peaceful and quiet – this is surely it!
A guide to the top things to do in Hoi An
From munching on home-cooked noodle broths to lazing on the beaches of the South China Sea, Hoi An has loads of activities up its sleeve. In this part of our ultimate guide, we take a look at some of the must-do, must-see attractions and draws that the town has to offer. It takes you from the coffee-scented Old Town to the buzzing beach walks of An Bang Beach, through verdant rice paddies, and even into the local tailor's…
1.
Explore and lose yourself in the Old Town
There's really no better way to kick start your travels in Hoi An than with a jaunt to the immersive Old Town. It's atmospheric in the extreme. Look one way and you see rickshaws creaking up cobbled alleys. Turn another to find pastel-painted cottages with dragon-wreathed roof gables. On one road, there are lines of artist's workshops. On another, acclaimed tailors spin cloths and three-piece suits out of nothing.
There are oodles of sights to see in the Old Town of Hoi An. Typically, walking tours will include a visit to the riverside, where boat bars serve coffee by the quays. You'll also want to delve into the narrow alleys to the north of that. They are especially moody at nighttime when swinging lanterns glow red in the alcoves and the scents of lemongrass and mint issues from the food vendors.
2.
Chill out on An Bang Beach
There's no doubt about it – An Bang Beach is the top beach in all of Hoi An. Long, wide, tinted gold and white, the sand is lovely for lazing on. The water's not as clear as other Southeast Asian paradises, but there are sloshing swells that bring a bit of power to the ocean. Behind the beachfront is little An Bang Village itself. It's a charming corner of the town, hosting chilled beer bars, pizza joints, and cozy B&Bs for those who want a stay right on the sea.
3.
Get something tailored
Something that tops the list of things to do in Hoi An for many a visitor is a trip to one of the town's tailors. Ever since it was a powerful silk trading outpost in the 15th century, the city has been known for its top-quality fabrics and clothes makers. These days, tailors like BeBe's can make anything you ask for, whether you're after a handmade skirt or a swish pinstripe three-piece. And that's just in a matter of days!
4.
Sample the local cuisine
Food and Vietnam are a match made in heaven. In Hoi An, that even goes one step further, thanks to a local delicacy that's really only available in the town itself. That's the cao lau noodle soup.
It's said to be made using noodles pressed by one family living in Hoi An, using water from an ancient well hidden somewhere in the Old Town. Order yours in any of the central taverns and get ready to dig into a broiling medley of bean sprouts, sliced pork, and mountains of different garden herbs.
There are more coffee roasters and little cafes in the Old Town of Hoi An than you can poke a stick of lemongrass at. Most of them will serve up Vietnam's own Robusta beans, while others specialize in imported and hand-roasted coffees and cold brews. Either way, they are top places to go to learn all about coffee cultivation in Southeast Asia. And you might even get a chance to try traditional Vietnamese egg coffee while you're at it!

If you're Hoi an is not necessary your ideal travel destinations. We got you covered. Find out more travel destinations in Vietnam including Hanoi, Nha Trang, Danang, Hue and more… Don't worry, it's free.