Things To Do In Halong Bay, Vietnam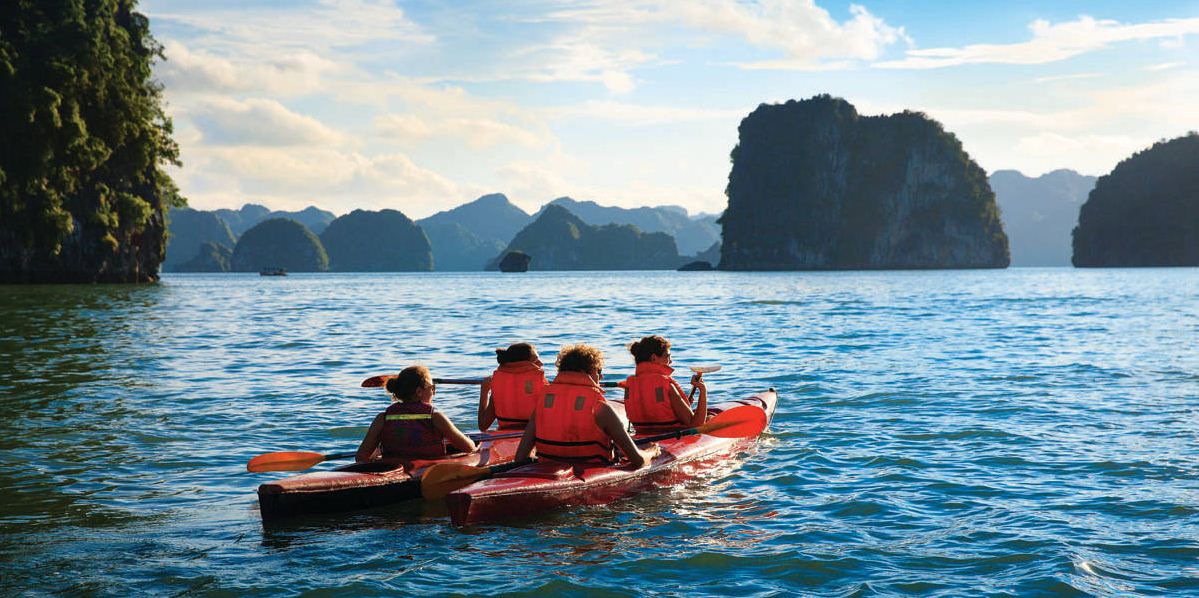 If you have set your foot down in Vietnam and have no plans of visiting this gigantic landscape, you are missing one of the seven natural wonders of the world, the magnificent Halong Bay in Vietnam. Your heart can pound really fast from a distance at the sight of this Limestone beauty, perched in the soothing blue water, which is one of Vietnam's major tourist attractions.
How to get to Halong Bay
Numerous mini buses and trains are at your service, from Hanoi to Halong Bay. You can also avail for a package tour from any of the Halong Bay tours and travels from Hanoi, for a convenient hassle-free drive and stay in the island. Most of the tours from Hanoi to Halong Bay, have a pick up from the hotel and also drives you back. Regardless of which tour operator you choose, I can guarantee you for an out of the world experience at the very sight of this enchanting beauty.
WHAT TO DO IN HALONG BAY, VIETNAM?
1.
Take a Halong Bay Cruise
If the gigantic Halong Bay's beauty needs to be explored in its complete potential, hire a cruise, that can take you to the remotest of the islands. Most of you would be pondering on where to stay in Halong Bay? Nothing can beat the feeling of spending your time in an overnight Halong Bay cruise.
Some Halong Bay cruises can even offer you the best Vietnamese meals and late evening expeditions inside the islands. The Halong Bay overnight cruises come with a package of 2 days and 1 night or 3 days and 2 nights. They also provide a guide who can give you elaborate explanations on the history and rich culture of Halong Bay and the islands that it encompasses.
The Halong Bay overnight cruises can be the best options for families, especially when you do not have time to meddle with so many options instantaneously.
A proper well-planned package tour from Hanoi can be your saviour, because they can run you through the major attractions of this Vietnam bay and even give due importance for your safety when you opt for a Halong Bay cruise. You can relish the moment by sitting at the sun deck of this Halong Bay cruise, as it slowly takes you through the different islets unravelling the steep, gigantic limestones that leave you dazed.
The best Halong Bay cruises are at your disposal from Hanoi if you scan around the city. Solo travellers, you can opt for a boat ride and stuff some snacks and food in your backpack and get ready for the adventures that can help you tick off your bucket list.
2.
Visit the biggest Vietnam cave – Hang Sung Sot Cave
A chamber with numerous formations and strides, that has withstood the sands of times with pride and might. Located in Bo Hon island at the centre of Halong Bay, this cave in Vietnam is known to have discovered by the French in 1901.
The hard platonic movements of Halong Bay, along with heavy rainfall and floods are the reasons for these rock formations and underwater mountains that surprises us with its unusual appearance. The formations have been accentuated with bright coloured lights, so that it is clearly visible inside this really dark cave. This is the biggest cave of Halong Bay which has almost 59 caves registered in the island.
This wonder cave in Halong Bay is filled with unusual rock formations that can leave you speechless when you encounter a Buddha or a large tortoise or even a Penis shaped rock which symbolises fertility. As the name itself denotes 'A cave of Surprises'.
Stormed with tourists who yearn for more understanding of the Vietnam caves and guides who efficiently answers the numerous questions, this Halong Bay cave holds the credit for being the most popular cave too. For all those who believe this cave was a major tourist attraction since a very long time, you are wrong! It paved the way for the tourists only in 1993 after UNESCO gave the world heritage status.
The biggest island in the islands of Halong Bay! Nothing comes close to the experience of renting a cycle or motorbike and exploring the countryside. Riding outside the main town or having a sumptuous afternoon Vietnamese meal by resting in the ancient fisherman's port, is truly an enlightening experience in the Cat Ba island of Halong Bay.
The roads are confusing, but all you need to do is be very meticulous while riding through these roads of Halong Bay. You may witness some potholes and herds of goats and cattle running around in its full zeal. Make sure not to bump into them.
4.
A short hike up to the Cat Ba National Park
Tour the Cat Ba National Park located at the Cat Ba island, by hiking all the way up to Ngu Lam Peak in Halong Bay. It might take around 40 minutes to reach you there. The best thing about this place is that you don't need a guide to take you through the narrow trails, since they have clearly marked on how to find your way up there.
Make sure to reach there by 8 am, the opening time of the Cat Ba national park in Halong Bay, so that you can avoid the crowd that musters in full force during the afternoon. Also, you can beat the heat that drains out your energy in full swing.
5.
Tour the Cat Ba Hospital Cave
The Cat Ba Hospital Cave in Halong Bay is for you, if you have a special interest in the Vietnamese history and the infamous Vietnam war. It isn't an interesting piece of art that can help you relish about some good moments. There is no scope for any natural light in this hospital, so it's dark and depressing.
The main aim of this Halong Bay hospital during the war was to accommodate the wounded. You have the mannequins of the soldiers which reminds you of the bitter past of Vietnam. Yet, you find a swimming pool and a cinema inside this Halong Bay's cave hospital that makes you ponder on how well they could strike a balance with the sorrow they endured those days.
This is one of the quickest places to be if you are in Cat Ba island of Halong Bay, because it takes lesser than 30 minutes to reach this destination. Hire a guide if you need to know more about it, because there isn't much information available at the cave. Yes, you have an entrance fee too.
6.
Loitering around the Monkey Island
Monkey Island of Halong Bay, also well known as Cat Dua, is well popular for its lonely island beach, to swim and snorkel deep down, until you have had enough of it. It has close to 400 islands that belong to Cat Ba island in Vietnam. Most of the Halong Bay tour operators are known to take you directly to this island to get a sneak peek of these dawdling monkeys.
Be very careful when you are about to flash your cameras on them, because they can get really ferocious or even throw anything easily accessible for them at you. Some can even scare the hell out of you by making some intimidating noises. For all the passionate animal lovers, I can guarantee this is the only place in Halong Bay where you can fetch in some memorable moments from this mischievous troop. They can imitate you by taking some sips from the leftover beer bottles or intimidate you by even throwing them at you.
So wait, it's not just about the monkeys, you can even endeavour in some small treks and reach a zone that can actually mesmerise you with the beauty of the Halong Bay island itself. If you want to stay in Monkey Island, you can even book a stay in the one-floor wooden houses and cherish the view of the splendid sunset.
7.
How about some cliff hopping in Halong Bay?
Cliffs have always been a source of excitement for many. The Cat Co 3 in close proximity to the Cat Ba town is the cliff you need to go if you are in Halong Bay. Mainly, if you don't want to drain out your leftover energy after the hikes in the long treacherous pathways.
This cliffside has a walking trail that can take you to other Halong Bay beaches of the island. This can be a good walk for you because the trails are not hard for walks.
You can also stand here and reminisce the beauty in front of you or even take a dip in the water. Spend an enchanting evening here, thinking of this natural wonder of the earth that can help you carry a memory for a lifetime.
8.
Stride up to the Ti Top Island
Located at the heart of Halong Bay, this island got its name from Ho Chi Minh, the legend himself, when he visited the island for the very first time. An island in its rarity amidst many other alluring islands; mainly because it has a beach that is perfect for so many beach activities in Halong Bay.
If you are hell-bent on getting a better top view of the Halong Bay island then make sure you are at your health's best, when you climb up the 428 steps, because I tell you, it's not easy! The steep narrow steps can be really tedious to ask for when you have Halong Bay as your dream destination to relax. But, hey it's worth the effort, because what awaits you atop the Ti Top Island is not just an ordinary view, it's the breathtaking view of the entire Halong Bay.
9.
Some Kayaking in Halong Bay to chill thrill
A trip with adventure excites some globe trotters, and what if it's kayaking in Halong Bay? Hop on to a junk boat and swallow in some real views of karst cliffs, floating villages and caves in the calm and serene Halong Bay island.
Some of the Vietnam caves and beaches cannot be accessed with a boat, so the best option out there in Halong Bay is Kayaking, especially when your heart calls out to follow the tunnel to the secret bay at Luon Cave. The adventurer in you can also sit back and enjoy the mild aqua green waters of the island and the soft breeze of Halong Bay that brushes your face mildly in Kayak.
10.
Snorkelling in the aqua green waters of Halong Bay
The sheer sight of the island has already revealed the magnificent beauty Halong Bay holds. But, what if there is more left to explore underneath the deep waters of Halong Bay. Hop on to a boat or approach one out of the many diving schools in Hanoi to get the underwater experience of the visible waters in Halong Bay.
The underwater experience in Halong Bay is a totally different whole new world that you can relish upon forever. This is not an experience you get in your everyday life, so make sure you derive the best out of it. The marvellous coral reefs inside the dazzling sea life is a marvel in itself. The different underwater creatures you have never been adhered to before in your entire life is in abundance here. You can shake a leg with the octopus or swim with the mollusks until your body relinquishes.
There are several Halong Bay cruises that come with a package of snorkelling or diving. So, you can select them as per your convenience. Make sure you get to snorkel in the Cat Ba island in Halong Bay, which is home to colourful shoals, diverse coral reef system, pastel coloured pearl and brown abalones.
11.
Eat yummy lobsters and oysters in Halong Bay restaurants
Since Halong Bay is home to different shell lives, it's high time you make your tummy thrive on some of them. The different kinds of lobsters, prawns, squids and oysters can come in different forms and shapes in Halong Bay restaurants.
Be sure that you are not allergic to seafood, you can just taste a bit and see if it causes any allergic for you. If not, then let it be a battlefield with the food options out there in Halong Bay.
Squid sausages also know as Cha Muc can be so delicious with a great aroma that makes you go for it any hour of the day. It's the perfect combination with any kind of rice, let it be boiled rice or sticky rice. Yes, you are not to ignore Cha Much with steamed rice cakes too.
The wide variety of options in Prawns can often make you go bewildered on "Which food to order in Halong bay restaurants?" But, let it be a white pearl shrimp or tiger shrimp the steamed lobster or the breaded frying lobster, nothing can disappoint you in Halong Bay. The steamed lobsters of Vietnam go through a tradition of steaming them using beers, lemongrass or tubers simply because people love to devour them this way. The oysters which are also considered as highly nutritious can equally enrich your tastebuds and make you want for more in Halong Bay.