Vietnamese Food: 12 Vietnamese Dishes You Must Try Before You Die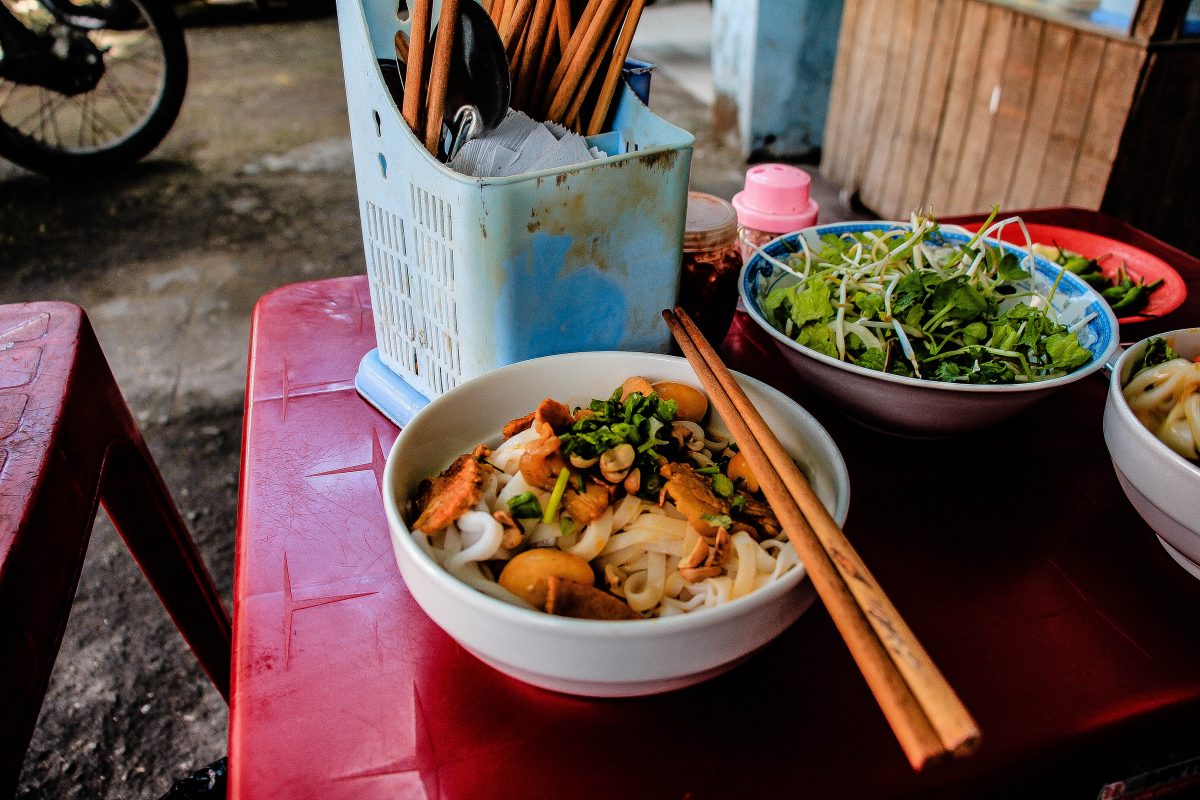 In many Southeast Asian countries, food is considered to be the heart and soul of the people. In the land of natural beauty and busy cities, Vietnam is no exception. Whether it's street stalls or 3-star Michelin restaurants, each cook has their own way of capturing the flavour of Vietnamese food.
So, in order for you to be a 'true' fan of Vietnamese food, we made a list of must-try dishes. The list gets even better if you're visiting Vietnam anytime soon. Just remember to add our recommendations to your itinerary!
The classic piping hot bowl of broth with rice noodles is often accompanied with a few slices of chicken or beef. This daily staple is labour intensive and can take hours to create that clear and savory broth. It is usually then topped off with bean sprouts and a variety of herbs.
Hidden away in the alleyway of 524 Nguyen Dinh Chieu street, Pho 524 is a family-run restaurant. It only serves breakfast or until they run out. It proves to be the embodiment of Vietnamese food, where you get to experience and appreciate authentic home-cooking.
Pho 524 is located at 524 Nguyen Dinh Chieu, Phuong 4, Quan 3, Ho Chi Minh, Vietnam.
2.
Vietnamese Sandwich (Bánh Mì)
The baguette stuffed with local ingredients is another Vietnamese food known worldwide. Typically, it contains different cuts and types of meat, pickled vegetables, coriander, fresh chilli and homemade pâté spread onto it.
The great popularity of bánh mì has made sourcing for the best one in Vietnam a daunting task. But luckily for us, one stall stood out from the rest. Nicknamed the Bánh Mì Queen, Madam Khanh started the business in 1975. She stuck to her homemade recipe for the various components of the sandwich.
You can find her at 115 Tran Cao Van, Phuong Minh An, Hoi An, Quang Nam, Vietnam.
3.
Savory Vietnamese Crepe (Bánh Xèo)
Eating bánh xèo should be an artform itself. From cutting your folded rice crepe into perfect pieces, and then putting it together with veggies and herbs to eventually. And lastly, rolling your masterpiece tightly inside a rice paper wrap.
Like most Vietnamese food, bánh xèo has a balance of flavours and textures. Moreover, the sauce plays a big part in cutting through the oily taste with a combination of fish sauce, sugar, lime juice, garlic, and chilli.
Banh Xeo 46A or also known as Banh Xeo Dinh Cong Trang is one of the well-known locations to satisfy your Vietnamese crepe cravings. Their bánh xèo and other items were also featured by Singaporean food blogger, DanielFoodDiary.
You can find Banh Xeo 46A at 46A Dinh Cong Trang, Tan Dinh, Quan 1, Ho Chi Minh, Vietnam.
4.
Vietnamese Spring Roll (Gỏi Cuốn / Chả Giò)
This Vietnamese food has two different variations. The fresh ones wrapped with translucent rice paper are commonly known as Gỏi Cuốn, while those deep fried are known as Chả Giò. Either method of cooking, both are usually stuffed with different ingredients such as meat or prawns, vegetables and (of course) herbs!
A crucial detail to take note of when eating spring rolls is the sauce that accompanies it. The peanut hoisin sauce is a great combination of sweet, salty and incredible umami flavours!
Eating these crisp and addictive appetisers are only half the fun. The process of making spring rolls can be a great bonding moment and a lot of fun to master. But, if the process is too complicated for you, try the spring roll sets at Bun Cha Ta to enjoy their gỏi cuốn or chả giò at a great price.
Bun Cha Ta is located at 21 Nguyen Huu Huan, Hoan Kiem, Thanh Po Ha Noi.
5.
Spicy Vietnamese Noodle Soup (Bún Bò Huế)
Bún bò huế is often overlooked when compared to phở. Instead of having flat noodles, they use vermicelli-like rice noodles that can't seem to stay in your spoon! The biggest difference between the two would be the broth. This broth is spicy, robust, and keeps your body warm.
Following the traditional bún bò huế recipe, the bowl is often served with beef shank, pig trotters and the best part – coagulated pig's blood. There are also a bunch of herbs and bean sprouts to accompany your noodles, so as to not overdo the meaty texture and taste.
Since this Vietnamese food originated from Hue in Vietnam, it only makes sense that the best bún bò huế can be found there. At Bun Bo Hue Cam, there is no set closing hour for them. If you're planning on trying their specialty, it's best if you wake up early and head down before the soup runs out.
Find Bun Bo hue Cam at 45 Le Loi, Phu Hoi, Thanh Pho Hue, Thua Thien Hue, Vietnam.
6.
Grilled Pork With Vermicelli (Bún Chả)
Fatty grilled pork served with noodles. This simple dish focuses on the separate elements and does them well, but the key to a good bún chả is in the broth (or dipping sauce). The balanced sweet and sour combination pairs perfectly with the ground and sliced pork.
With such flavours, there are two ways to truly enjoy your bowl of bún chả: First, wrap your vermicelli noodles, herbs and pork with a huge lettuce leaf, dip it into the sauce and enjoy! The second and much simpler way would be combining all the elements of the dish into the broth, mix it together and simply slurping it up.
So, the next time you visit Hanoi, remember to stop by Bun Cha Huong Lien – an eatery where they have preserved the table and memorable image of their encounter.
Bun Cha Huong Lien is at 24 Le Van Huu, Phan Chu Trinh, Hai Ba Trung, Ha Noi, Vietnam.
7.
Egg Coffee (Cà Phê Trứng)
Among all the food we have recommended, cà phê trứng has snuck its way onto this list. Being the second biggest coffee exporter in the world, Vietnam is no stranger to serving amazing and unique brews, one of it being egg coffee. This drink starts off a little different compared to your usual morning coffee. By whisking up egg yolks and condensed milk, it creates a creamy and fluffy mixture to top off your Vietnamese black coffee.
Whether it's sipping cà phê trứng on the sidewalk or enjoying it in a kick-back hipster cafe, the experience of having egg yolks in your coffee is mind-blowing. Even though it is a drink known and served throughout Vietnam, it was first created by Nguyen Van Giang.
He then opened a cafe and started selling cà phê trứng to the public. So, in order to taste the original creation, head down to Cafe Giang where they serve you a secret family recipe that seems to impress everyone.
Head on to 39 Nguyen Huu Huan, Hang Bac, Hoan Kiem, Ha Noi, Vietnam.
If you're the adventurous type when it comes to food, Vietnam proves to be one of the best places to try assorted seawater or freshwater snails and shellfish. This Vietnamese food is not only popular with the locals but tourists as well – it is cheap and deliciously fun to dig into.
Popular quán ốc (snail eateries) can be located at Vinh Khanh (Vĩnh Khánh) street in District 4. Known as the "Seafood Street", just wander around and pick somewhere to settle down – chances are the stalls sell a similar range of snails to choose from.
9.
Crab Claws With Chilli Salt (Càng Ghẹ Rang Muối)
Another popular dish that can be found along Vinh Khanh street in District 4 is càng ghẹ rang muối. The crab claws are roasted and perfectly coated with chilli, salt and pepper. Also, the heat may seem like nothing at first – but beware as it slowly builds up in your mouth, leaving you with tears of joy.
Ốc Oanh is one of the restaurants along District 4 that serves up a mean càng ghẹ rang muối. They prepare the claws with a simple process while imparting loads of flavour into it. All that's left to do is pair the crab claws with a cold beer!
10.
Vietnamese Pork Sausage (Chả Lụa)
Don't let the appearance of chả lụa intimidate you – this pork sausage is not only popular in Vietnam, but also in Thailand. While it can be eaten alone, chả lụa is supposed to be a side dish or paired together with noodles.
What makes this so special is the pounding process. Instead of using knives and machines to chop them, lean pork is pounded until a paste like consistency is formed. The process is crucial to giving chả lụa its bouncy texture when you bite into it. Afterwards, potato starch, garlic, nước mắm (fish sauce) and other spices are added to flavour it.
By the time it is sold to you, they would have already wrapped the paste in banana leaves and boiled them until they are fully cooked! While it's common to see chả lụa in your dishes, finding stores that sell homemade ones might be challenging. Giò Chả Minh Châu is one of the places that sells them, so definitely drop by when you can.
Visit them at 76 Ly Tu Trong, Ben Thanh, Quan 1, Ho Chi Minh, Vietnam.
11.
Broken Rice (Cơm Tấm)
When cooked correctly, broken rice has a different texture and taste in comparison to your normal rice grains. They are softer in texture and easily take on the flavours cooked with it. The people of Vietnam have taken this 'reject' staple and turned it into a popular dish, cơm tấm.
The slab of barbequed pork, fried egg and other condiments pair with the broken rice, giving you the perfect hearty meal. While there are shops selling cơm tấm at every part of Saigon, Cơm tấm An Dương Vương is a stall that has been doing so for 15 years.
Check their food out at 500-502 An Duong Vuong, Phuong 4, Quan 5, Ho Chi Minh, Vietnam.
12.
Vietnamese Sweet Dessert (Chè)
Since it's the end of this list, our last must-try Vietnamese food is a dish called chè (which literally means any traditional Vietnamese dessert soups, puddings and sweet beverages).
They often contain delightful elements such as fresh fruits, sweetened beans, glutinous rice, tapioca pearls, flavoured jellies and always topped off with coconut milk. While chè can be served hot or cold, many people prefer to enjoy the latter to beat Vietnam's sorching weather.
If you're new to this sweet treat, it's best if you visit Che mam Khanh Vy. They offer patrons a "sampling tray" of 15 different types of chè!
Find them at 32 Su Van Hanh, Phuong 2, Quan 10, Ho Chi Minh, Vietnam.
Final Thoughts
Considering the rich food culture Vietnam has, this list has barely scratched the surface. But we hope it helped you along the way! In the end, just remember to keep an open mind and try new dishes along the way.