What To Expect From A Trip To Mekong Delta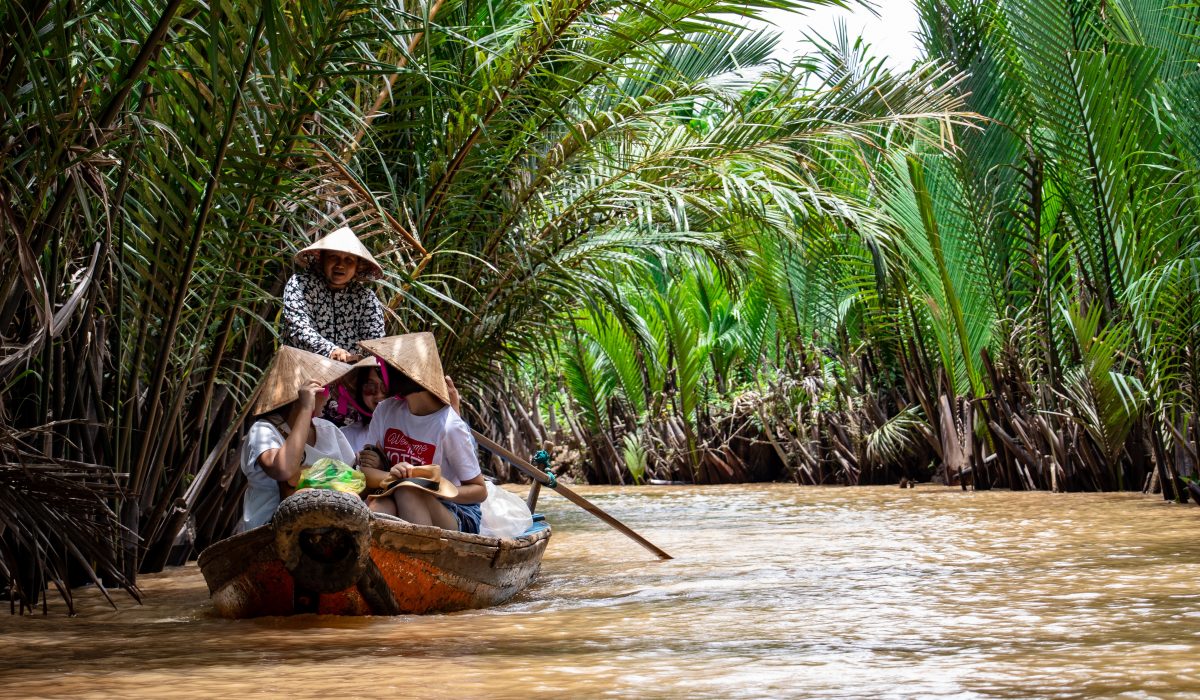 Beyond the dazzling cities in Vietnam, there lies a water world — The Mekong Delta. The region is a huge maze of islands, rivers, swamps, outlined by a variety of lush lands. Being mostly surrounded by water means life in the Mekong Delta is all about boats, houses on stilts, and floating markets. This simply makes a trip to this region truly unique and memorable. Aside from a floating world, what else can one expect from a visit to Mekong Delta?
Here's a guide on the top things to expect — from places, activities, structures, to delicacies — in Mekong Delta.
Top Things To Expect from Mekong Delta
1.
The Longest River in Asia
A trip to the Mekong Delta wouldn't be complete without experiencing the mighty Mekong River. Spanning over 2,700 miles (4,350 km), the Mekong River is the longest river in Southeast Asia, the 7th in Asia, and the 12th in the world. The Mekong River tour is among the most popular day or overnight excursion outside of Ho Chi Minh City. The boat tour will allow you to learn about Vietnam's past and present. You will also see iconic villages, rice paddies, and stilt houses as you move along this long river. It's an excellent way to forget city life for a while!
Aside from the amazing sights, travelers can feast on the traditional Vietnamese lunch, fresh fruits, and honey tea for snacks. There are also sunset Mekong River cruise packages for those looking to inject romance into their trip to the river.
2.
Authentic Vietnamese Floating Markets
The Mekong market is not just a crowded and busy trading place. More than that, it's a unique representation of Mekong culture. Here, you will experience unique floating markets. They're one of the highlights of any Mekong Delta trip. Locals and tourists can either enjoy sightseeing or buy from the cheap and fresh produce in various floating markets. Bring a handy money belt for your shopping convenience.
To fully enjoy your trip, the ideal time to visit the Mekong River to see the best of the floating market is between September and November. These months cover the floating season. It should give you many interesting things to see and experience. However, you might want to avoid the rainy season, which is from May to August. So, before deciding on when to visit Mekong Delta, consider the floating season.
There are plenty of markets to chose from in Mekong Delta. These are the ones that top the list.
Top Floating Markets to Explore
Cai Rang Floating Market: This is the largest floating market in the Mekong Delta. Cai Rang market mainly offers agricultural products, wholesale fruits, and specialties from Chau Thanh District and other near areas. The busy market also has clothes, cosmetic supplies, motorbike repair parts, and mobile cards. Apart from products, they also serve Vietnamese dishes, such as Pho, Hu Tieu, and Viet coffee.
Cai Be Floating Market: Because it's close to Ho Chi Minh City, Cai Be is more popular for tourists to visit. Unlike other floating markets that finish early, this one stays open much later. This allows Cai Be to cater to more travelers, especially tourists who prefer to visit during sunset. The popular goods here are abundant and come in a variety. Choose from fresh fruits, seafood, meat products, and other commodities.
Nga Nam Floating Market: What makes Nga Nam stand out from others is its strategic location. It lies on the convergent point of five rivers, namely Cau Mau, Vinh Quoi, Long My, Tanh Tri, and Phung Hiep. This means the market is always busy with sellers, locals, and tourists. For a busy market as Nga Nam, the best time to visit is at dawn. You can find almost anything here, from rice, meat, fruits, to even electronic goods.
Nga Bay Floating Market: Nga Bay is just like any general market on a river. However, what may catch your attention is the supply of snakes, tortoises, birds, and iguanas for sale. The products you can find here are fresh fruits, vegetables, meat, seafood, and other non-food items. Aside from that, some sampans sell Banh Cuon, Pho, Banh Xeo, and different kinds of drinks.
3.
Enjoy The Unique Day-to-Day Transportation
Cars, buses, and bicycles are the common rides in the villages of Mekong Delta. Aside from these, sampan rides are what most tourists look forward to. These skinny boats are an essential part of the Mekong Delta culture. This is because most of the main attractions here are on the water.
Sampan rides will let you explore the wilderness of the mangrove forests lining the river. The boats are also your only ride when exploring the great Mekong River and floating markets. Aside from that, some small sampan rides also serve as food stores and café shops.
If you're ever in Mekong Delta, don't miss the chance of experiencing the sampan rides. Sit back and enjoy being paddled while sipping a nice iced coffee or noodle soup.
4.
Open Green Fields On The Water
Mekong Delta isn't just known for its rivers and swamps. The region is also home to magnificent paddy fields. This means Mekong Delta has a wealthy supply of tropical fruits, vegetables, and flowers. In Dong Thap province sits Sa Dec where you can find the largest flower village in the southwest area of Vietnam. The region is also proud of its national parks that provide shelter to many endangered animals. Tram Chim National Park is home to thousands of rare birds. Meanwhile, the nearby Phu Quoc National Park has impressive trekking trails.
5.
Access to Phú Quốc Island
There's a paradise island sitting off the coast of Cambodia. It's known for its white-sand beaches, tropical waters, and lush mountains. If you're planning a beach trip in Vietnam, put Phú Quốc on top of your list. Phú Quốc Island is home to idyllic beaches, evergreen forests, serene atmosphere, and romantic sunsets. All these make the island the perfect beach destination in Vietnam. In fact, National Geographic has even listed it as one of the best winter trip destinations in 2014. Phú Quốc also has plenty of uninhabited remote islands and unspoiled beaches. If you want the best, head to Sao Beach, the crown jewel of Phú Quốc. It's most famous for having the whitest sand.
When it comes to food and accommodation, Phú Quốc has a lot in store. There's a variety of quirky bars and restaurants to suit every palate. Plus, a lot of luxury hotels and resorts have started occupying the coast. This gives the island an upmarket touch.
If you're into marine activities, Phú Quốc won't disappoint. Aside from swimming, travelers can enjoy scuba diving and snorkeling, among other activities. Even wildlife enthusiasts will enjoy as the island is home to unique marine species. Spot some dugong, green turtles, and hawksbill turtles under the fresh waters.
6.
First Mangrove Biosphere Reserve in Vietnam
Cần Giờ is one of the 24 districts of Ho Chi Minh City in Vietnam. It is listed as the first Mangrove Biosphere Reserve in the country. With approximately 72,000 hectares, the district is valuable for its wetland ecosystems and rich mangrove forests. This makes it an ideal tourist spot for nature lovers. Aside from its thick greenery, Cần Giờ also lets you experience an up-close encounter with the resident wild monkeys. You also get to see some flying fox bats, the world's largest bat.
After a long day of exploring Cần Giờ, you can feast on seafood meals that are very budget-friendly. In this area, there's an abundance of shrimps, crabs, wild ginger, shellfish, and more.
7.
Expect A Laid-Back Vibe Around The Traditional Villages
Mekong Delta's culture is very much alive and thriving. This is evident in how traditional Mekong villages showcases local art, craftsmanship, specialties, and livelihood. This not only maintains local traditions but also allows travelers to learn more about the Mekong Delta life.
Mekong Villages Worth a Visit
Rice flour-making village in Sa Dec: The town of Sa Dec is one of the largest providers of food in the Mekong Delta. It's also popular as a traditional rice flour-making village of over 50 years. Aside from supplying rice flour locally, they also export to the other countries in Southeast Asia.
Lai Vung fermented pork-making village: A district of Dong Thap Province, Lai Vung is famous for the traditional type of fermented pork. This pork is very tasty due to the many meticulous processes it undergoes before cooking.
Long Dinh sedge mat-weaving village: Mat-weaving is a traditional craft passed on from generations after generations in this village. With over 50 years of experience, Long Dinh has been supplying sedge mats locally. This is greatly contributing to the economic growth and development of the entire region.
Conical hat-making village: There are three popular conical hat-making villages in Chau Thanh district. They are Than Cuu Nghia, Tan Ly Tay, and Tan Ly Dong. They're all well-known not just locally, but also worldwide. These villages also export to foreign regions, thus bringing economic benefits to the whole country.
8.
Exotic and Delectable Dishes
It's interesting to learn that Mekong Delta cuisine reflects their beliefs and culture. It is said that food in this region must meet three basic qualities: delicious, attractive, and healthy. You will learn more about this in many culinary tours in Mekong Delta. They will share with you which dish is good for the kidney, the bones, the heart, and so on.
Must-Try Mekong Delta Food
Bee Worm Salad in Ca Mau: Ca Mau is located in the coastal northern-most area of Vietnam. This proximity endows Ca Mau with an abundant source of food supply from the tropical forests and the sea. Bee worm is taken from U Minh tropical forest and is famous for its buttery, greasy, and delicious flavor.
Hu Tieu Noodle Soup in Sa Dec: A trip to Sa Dec is incomplete if you don't try Hu Tieu noodle soup. This tasty soup is made with either seasoned and sautéd beef or pig bones. What makes the unique and tasty flavor are the other important ingredients. These include ground lean meat, sliced lean meat, meatballs, and others.
Banh Canh Ca Loc: Another popular soup, Banh Canh Ca Loc has thick noodles and cooked with snakehead fish meat. This noodle soup has a delicious taste, perfect for mid-morning meals or afternoon snacks.
Coconut Mouse: Mouse dishes are known as a delicacy in Mekong Delta. There are many ways to cook mice in the area. Some of these include steamed rats, grilled rats, curry, and more. However, the star of the menu is steamed coconut rats, which is made in a rice cooker.
Bot Loc Cake: This cake is mostly enjoyed as a light meal. Many shops on Truong Dinh and Nguyen Van Cu Street sell this popular dessert. Bot Lok cake is made from rice flour, filled with roasted pork or shrimp, then steamed to perfection.
Banh Xeo: Banh Xeo is a popular Vietnamese savory fried pancake. It's made of rice flour, water, and turmeric powder. The filling depends on individual preferences and is served with veggies or meat.
People in the Mekong Delta have a profound spiritual belief. This is why it's no surprise this region is home to many temples and pagodas.
Must-See Pagodas in Mekong Delta
Bat Pagoda (Mahatup Pagoda): Bat Pagoda is the most famous temple in the Mekong Delta. It boasts stunning architecture, tranquil atmosphere, and scenic landscapes. Aside from that, it has a very large roof that is home to tens of thousands of bats.
Vinh Trang Pagoda: The huge Buddhist statues boasting unique styles are what make this pagoda very impressive. Vinh Trang also showcases both European and Asian architectural styles. This pagoda is designed with a Romanesque style, French decorative patterns, and Japanese tiles.
Chen Kieu Pagoda: Built in the 19th century, Chen Kieu is most impressive for its Khmer style. Upon entering the pagoda, you will be greeted by 16 large pillars, all decorated with Khmer legends. Buddhist history is also illustrated all over the pagoda's walls.
Cave Pagoda: This cave lies towards the west of Sam Mountain. Stunning natural landscapes surround it, making this pagoda incredibly serene. The grottoes are the highlight of this pagoda. A 1000-arm and 1000-eye goddess is one of its eye-catching statues.
Sail on a Sampan at Mekong Delta!
Mekong Delta is truly one of the gems of Vietnam. With Mekong life revolving around the river, hopping on a boat is the best way to understand the region. This alone makes a trip to Mekong Delta very interesting and exciting. However, aside from sailing through the river, there's more to expect from Mekong Delta.
Paying closer attention to their architectural structures, local crafts, cuisine, and traditions makes your trip to the Mekong Delta a trip go beyond leisure. So, get ready to hop on a sampan and experience the water world of Vietnam.