10 Best Things To Do In Hanoi, Vietnam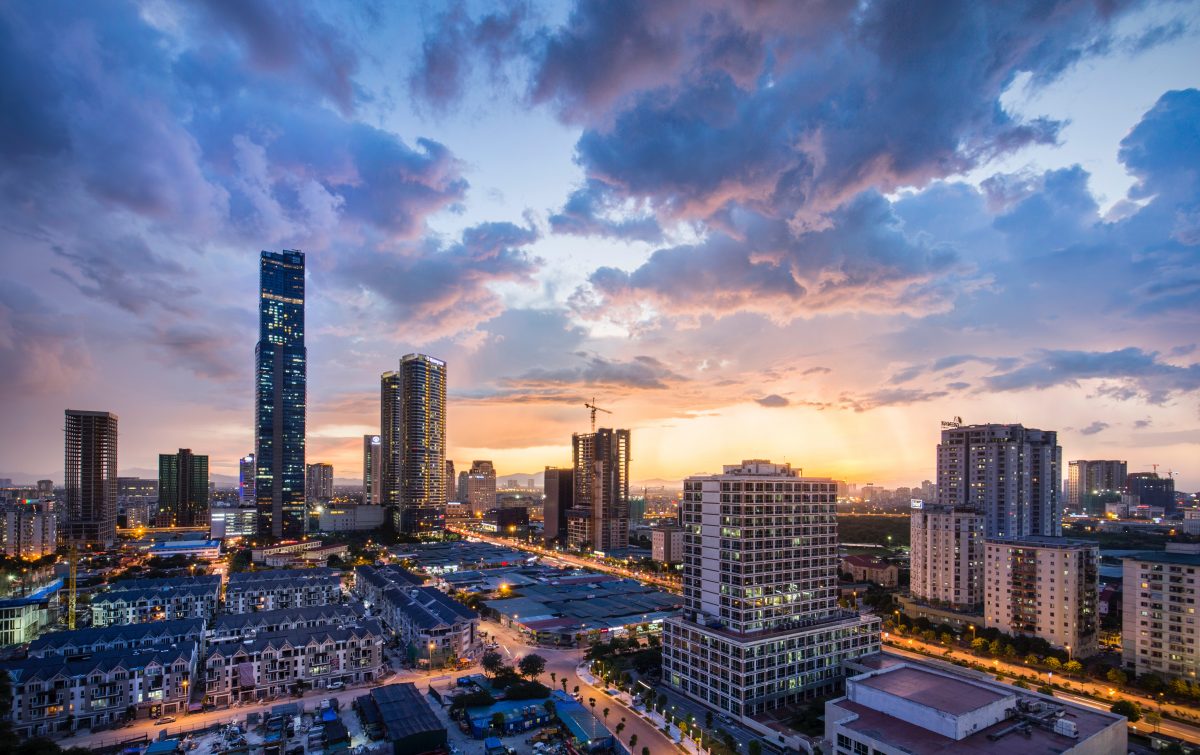 Without a doubt, when we were questioned with the whereabouts of Vietnam's capital city, your answer is always Ho Chi Minh City. While many travelers were bewildered by the fact that Hanoi is the capital city of Vietnam, Hanoi continues to surprise us with many never revealed secrets. Known to be the second-largest city by population, Hanoi offers a wide array of attractions that you've never seen or done before. From water puppet shows, exotic culinary experiences to stunning architectures, Hanoi has them all.
Hanoi— literally means "City Inside Rivers" lies on the bank of Red River. Besides the French-colonial influences that are mirrored on the city's architecture, there is so much more to Hanoi. Dubbed as one of the best cities in Vietnam, you'll find surreal mountains and scenery engulfing Hanoi. While many travelers visited Vietnam for the unique Vietnamese culture, no one leaves without experiencing the exotic food here! As you might already know, the Vietnamese national dish is Pho. But, this noodles dish in Hanoi is nothing you've tasted anywhere else. So, why wait? Buckle up and follow our journey to explore this amazing city.
Here are some of the things to do in Hanoi that you don't want to miss.
1.
Take a leisure stroll around Hoan Kiem Lake
Try asking a local for things to do in Hanoi, visiting the Hoan Kiem Lake always appear on top of the list. Besides its peaceful atmosphere and the giant turtles, Hoan Kiem Lake is more than just a place to relax.
If you dig deeper into the history of this lake, you'll easily trace its roots back to the legendary story. The name Hoan Kiem a.k.a 'Lake of Returned Sword' is inspired by the legendary story dating back in the 14th century. Particularly when a magical sword was retrieved by the emperor Lei Loi and returned to the Dragon King through a giant golden turtle. Located in the heart of Hanoi's city center, Hoan Kiem Lake is a perfect place for you to take a break from the vibrant city to appreciate the pace of life in Hanoi. If you're good with chess, don't bother to join the elderly for a Chinese chess match.
Pro Tips: During a sunny day, we recommend taking the shady path along the river. As it's more comfortable to walk even though it's slightly more crowded.
2.
Explore the Ngoc Son Temple
Not too far from Hoan Kiem Lake, Ngoc Son Temple is a key landmark to Hanoi. Built-in the late 18th century on Jade Island, this religious site adds a touch of beauty touch to the lake. Famous for the wedding's photography, you wouldn't want to miss taking your perfect Instagram shot too.
Marvel the temple's architecture and take your time to explore the intrigue artifacts displayed all around the are. If you're lucky, you'll see and heard the chants from the monks during an auspicious day. Take your time to hike to the top of the temple for a panoramic view of Hoan Kiem Lake. While many travelers prefer to visit this temple during the day, we recommend visiting this religious site at dusk for the golden reflection of the sun on the lake. We promise you'll forget about Photoshop when you see the natural beauty of this lake.
Pro Tips: The best spot to take the perfect shot of the Ngoc Son Temple is at the bright red Huc Bridge.
3.
Visit the water puppet theatre at Thang Long
Believe it or not, the best way to discover Vietnam's culture is by watching the water puppet show. Known to be one of the country's curious highlights, Hanoi is possibly one of the best destinations all across Vietnam to watch the water puppet show. While Thang Long water puppet theatre itself is not traditional, however, you'll easily unlock the Vietnamese traditional art through a series of creative storytelling. Unlike any other types of puppetry, the Vietnamese transformed the conventional wooden puppet into a series of interesting performances. Particularly by adapting different elements like the water and old folks music as a background.
Commonly, the puppet show starts with a short traditional musical constitution played by to the side of the pond. Featuring one of the most famous characters— Chu Teu, acts as a humorous action for the audiences. Along with the show, you'll witness the historic events and stories performed by the colorful wood puppets reflected on the water surface.
Pro Tips: Thang Long water puppet show is crowded during the month of October and April. We recommend making a reservation in advance to secure a spot in the theatre.
4.
Wander around the Hanoi Old Quarter
A trip to Vietnam's capital is not completed without exploring the Hanoi Old Quarter. Best represented for its ancient culture and east-meets-west architecture, Hanoi Old Quarter a.k.a the '36 old streets' is the heart and soul of the city. Set a few streets away from Hoan Kiem Lake, this old quarter preserve its originality the way it was at its best. With the history that spans over 2,000 years, Old Quarter Hanoi is the best place for you to savor the rich history and to truly understand the Hanoian's lifestyle.
As you stroll around the Hanoi's Old Quarter, you'll see many families owned shops and street-carts laying on the street selling embroidery, silks to knock-off items. Besides, tucked away in the corner of the alleyways, there are plenty of quirky shops selling items ranging from women's accessories, kitchen tools to Chinese joss papers. Bring along your bargain friend to haggle your way for the best deal. And trust us, you'll exploring the labyrinth of little streets here has never been that fun.
Pro Tips: Haggling is a common sight here, if you're not comfortable with the price, just be polite and walk away. You'll find many other stalls or shops that are selling the same thing.
5.
Don't miss the Imperial Citadel of Thang Long
Regardless of your interest in religion, the Imperial Citadel of Thang Long has to be on your travel list when you're in Hanoi. Listed to be the UNESCO World Heritage site since 2010, this historical site is a perfect representative for the old Hanoi. Though it has recently opened for the public visitor, this stunning architecture, it houses many archaeological finds throughout Hanoi. Mainly to display the history of the Vietnamese monarchs and preview a little sneak-peak of the antiquity of the Vietnamese War. As a foundation of many relics and icons, you'll also come across the strong trading correlation between the Vietnamese and the Chinese dated back in the 938 AD.
Pro Tips: The Imperial Citadel of Thang Long opens daily except on Monday. Expect to pay 1.30USD (VND 30,000) per entry. Visitors should pay attention to the dress code as an act of respect. If not, bring a scarf to cover up the revealing part.
6.
Mesmerize the Perfume Pagoda
Without a doubt, Perfume Pagoda is the best representation of Hanoi. Known for its surreal landscape and its deeply rooted Vietnamese religious culture, this sacred site is Hanoi's most important Buddhist temple. Located 50km away from Hanoi's Hoan Kiem Lake into the undulating hills and across the majestic limestone formation, you'll find this holy place worth every second of your time.
Despite the breath-taking view, one of the highlights of the journey to this Pagoda. In order to get there, first, you must travel from Hanoi and proceed with a boat ride bypass through a series of scenic waterways. Upon arrival, travelers will be greeted by the Tien Tru Pagoda that will teleport you back in those ancient historic days. And one of the highlights here is the gilded shrine and the blossoming fruits and flowers. We recommend you come early for a good shot of the pagoda.
In order to get to the actual Perfume Pagoda, travelers have to make an effort to hike the steep hill and make your way to the cable car. Here, you'll cruise over the lush jungle, from far, you'll also see hikers making their way up to the hill through the pave ways. Arriving after a long journey, the astonishing view of the natural cave formation with stalactites and stalagmites totally worth it. Wander around the cave and see how worshippers pay respect to their God.
Pro Tips: The cable car does not operate during the low season. Also, we recommend wearing a good pair of hiking shoes as the pave way can be quite slippery. Do expect a long boat ride to Perfume Pagoda as its manually rowed by the local villagers.
7.
Explore the Ba Vi National Park
Craving for some off-the-beaten-path attractions in Hanoi? No worries, we have you covered. Ba Vi National Park is one of Vietnam's most famous areas, particularly for its alluring natural beauty. Originally a French hill station, Ba Vi National Park offers a great escape from the bustling Hanoi's city for peace and tranquillity.
Encompassed by the lush mountains, you'll find many gems hidden away under the greens. One of them being the Thien Son's waterfall and Bac Ho temple that gracefully resting at the pinnacles of 'Dinh Vua' mountain. The best way to explore the Ba Vi National Park is to overnight in a spa resort at the foot of the mountain. Since you're already here, pamper yourself with a series of wellness therapies. These include the hot springs, mud baths, and local herbal baths. Fuel up with a bowl of soothing Pho, continue your hiking journey, and ready to immerse in the panoramic view of the Red River Valley and beyond when you're at the peak of the mountain.
Pro Tips: We recommend you to overnight at this national park to fully discover the area. While Ba Vi mountains offer a pleasant climate all year round, it's best to visit this place between April to September when it's dry and cool. Otherwise, come here during December for the blooming flowers.
8.
Admire the Ancient Architectures at the Temple of Literature
Adjoining an endless amount of history and legends, Hanoi is Vietnam's true gem that offers both serenity and liveliness. Apart from the French colonial influences in Hanoi, one of Hanoi's treasures is the Temple of Literature. Based on ancient history, this first national university was built to honor Confucius.
The temple is segregated into five courtyards for different purposes particularly for academy, relaxation, and hosting the auspicious Stelae of Doctors. According to the legends, students who wish to get good grades should rub the head of the turtle for luck and wisdom. Also, take your time to marvel at the intricate architecture and the ancient Chinese inscriptions. As of today, the temple is used to honor Vietnam's finest scholars and as a memorial to education and literature.
Pro Tips: The entrance fee for tourists is at 1.50USD (30,000VND) in cash only. While children under 15 can access for free. Avoid taking any photo of the worshippers at the sanctuary as respect.
As you may already know coffee production is a major source of income to Vietnam, it's just a shame to leave this country without trying them out. Unlike your ordinary, Hanoi offers a unique coffee experience to your palate. While some argue Saigon is the birthplace for the famous egg coffee, the fact states otherwise.
So what's special about the egg coffee? To solve your mystery, the best description for the egg coffee is meringue in a coffee. It tastes sweet, smooth, creamy, and bitter at the same time. The indigenous use of egg yolk as a replacement of milk makes Hanoi's specialty something that you don't want to miss. While many coffees in Hanoi is serving these iconic drinks, we recommend Giang cafe, Dinh Café, and Old Quarter Café. Don't be surprised that some of these cafes might look sketchy or unassuming, but we all agree that the best always hidden away from plain sights.
Pro Tips: Don't forget to try the egg coffee with coconut, it adds a unique touch to the creamy coffee. A cup of egg coffee normally ranges from 0.90USD-1.70USD (20,000VND-40,000VND).
While many travelers flocks into Hanoi for its architecture but one of the highlights is the street food culture here. Known for its culinary expertise, Hanoi offers a wide array of award-winning dishes. With its astounding mix of tastes and flavors, no wonder Vietnamese food is suitable for many food lover's palates.
If you're skeptical of eating by the street side, afraid not. You'll see many street vendors carefully prepared your food right before your eyes. If you spot something unusual, just tell them, they'll cook it the way you like them. We recommend trying the Hanoi's comfort food— Xoi aka the glutinous rice with ming bean paste and it is best paired with a Hanoi's beer. Sit down on the iconic Vietnamese plastic chair for a bowl of Bun Bo Nam, served generously with grilled slices of beef and Vietnamese herbs for a guilty pleasure. Don't forget to slurp a bowl of Hanoi's Pho too.
FAQ:
Where to Stay in Hanoi?
It's important to know exactly where to stay in a city to make the most out of your holiday. That's especially when you're new to this foreign city. To make your holiday hassle-free and to avoid overspending on transportation to get from one place to the other, we narrowed down some of the areas and districts you could stay in Hanoi.
Hanoi City Centre (Hoan Kiem)
As a commercial center, you'll find most of the attractions congregate around this area. That said, if you're in search of accommodation that'll give you easy access to the street markets, Ngoc Son Temple, National Museums, and more, this district is ideal. There are plenty of cafes and restaurants surrounding this area, so you won't have to worry about convenience at all. The upshot? There are a variety of hotel choices that range from luxury five-star hotels like the Sofitel Hanoi to backpacker hostels that suits your budget. The down part is you'll be surrounded by the hectic and loud traffic noise day and night.
Hanoi West Lake (Tay Ho)
Take a break from the bustling city in Tay Ho. Situated around 25 minutes' drive from Hoan Kiem District, here, you'll immerse yourself with the more laid back vibe. Though it might not offer as many hotel or restaurant choices, you'll still find pretty decent lakeside accommodation. Tay Ho is particularly a good option if you're into exploring and sampling authentic Vietnamese cuisine.
Is Hanoi Safe to Travel?
Hanoi is one of the safest cities in Vietnam to travel in a group or solo. Vietnamese are generally friendly and helpful. As a country that boasts of tourism, extreme crimes are very rare. Though travelers are best advised to be cautious about petty crime such as pickpocketing and phone theft in crowded and touristy areas. Try to avoid dark and shady back lanes during the night at notorious activities that usually happen at night.
Bonus: Tourist Secrets
– Representing the spirit of Vietnam's learning and education, the Temple of Literature is proudly illustrated on the back of 100,000 VND.
– French colonial architecture is everywhere in Hanoi. Many agreed that Hanoi is the French city of Vietnam.
– The Long Bien Bridge and the Eiffel Tower in Paris share the same French architect— Alexandre-Gustave Eiffel.
– Hanoi's beer can be as cheap as the water and sometimes even cheaper.
– While the transportation here in Hanoi can be quite overwhelming, cyclo in Hanoi is a great option to cruise around the city.
Travel Away to Hanoi Today
If you're ever stuck deciding a Vietnamese city to visit, we don't have to scream it out loud. Hanoi's charm is will do its magic to make sure it's on top of your travel list. Whether it's a family vacation or you're backpacking, this city never ceases to amaze you. Don't worry, it's definitely safe and budget-friendly to visit Hanoi.