Visit The Top 10 Amazing Winter Getaways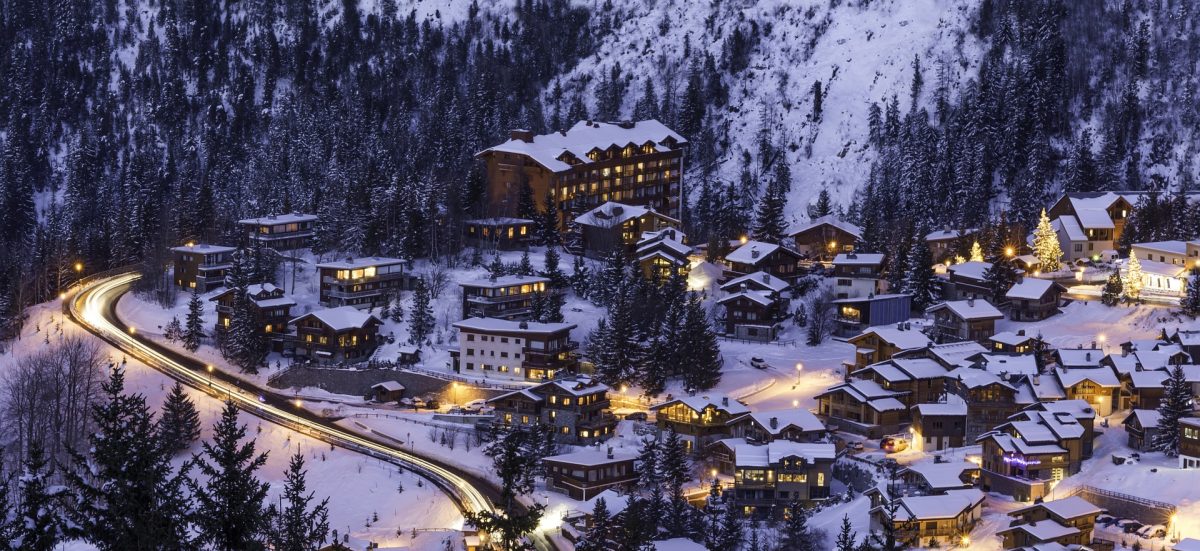 When looking for a place to go on vacation, timing is everything. Most think the summer months are the best travel time. However, winter getaways are never a bad idea. The long winter months, when the weather is grey and drab, can sap the soul of even the most joyous of us.
So why not break the monotony of this time of the year with a winter break? Outside the peak Christmas travel time, winter travel is often less expensive. This means that with advanced planning and good timing, you can visit some of the best vacation spots in the world for less in winter. And when you get there, you'll find fewer crowds, too!
With winter getaways, you have two ways to go, two schools of thought to consider; travel somewhere cold, or travel somewhere hot. You can embrace winter and go somewhere that takes the best of the festive season or somewhere that takes your winter blues away; a tropical wonderland to make you forgot the gloomy weather at home.
Whatever kind of winter break you're looking for, the 10 options below represent the best places around the world to visit during the cold months. So let's look at them:
1.
See the Amazing Skyline In Lapland
Stretching across the northern parts of Norway, Sweden, and Finland, no list of winter getaways could be legitimate without mentioning Lapland; the most wintery winter destination of them all. Also the home of Santa Claus himself, it's perfect if you have children.
However not only for children and families, but Lapland also offers the romance and nostalgia of winter. It's everything you can imagine on the cover of a Christmas card; pine trees, reindeer, sleighs, log cabins, snow, and cute husky dogs.
Great for families, in Finnish Lapland, there's the Santa Claus Village near the town of Rovaniemi. Here, it is where all those letters children send to Father Christmas end up. You'll get the whole (Christmas) package here. Additionally, you can also stay in an igloo hotel. The magic of Christmas is alive and well here, no matter how old you are.
Lapland is also one of the best places to experience the Northern Lights. From September to March, this natural phenomenon colors the sky in neon colors. Glimpsing the Northern Lights is never a guarantee. However, near-zero light pollution plus high latitude (much of Lapland sits above the Arctic Circle) gives you great odds.
Lapland is easy to reach nowadays. Direct flights from all over the world service Finland's capital, Helsinki, and then you take a short hop up to Rovaniemi. Some charter airlines also fly direct from major European cities into Rovaniemi.
2.
Have A Warm Winter In Costa Rica
Costa Rica offers a wonderful winter break for those who want sunshine and heat with their adventure. The months of December, January and February are some of the driest months of the year in Costa Rica. This means hot sunshine all the way, with a small chance of rain.
Costa Rica is the eco-tourism and adventure capital of the world. It has a vast array of activities for friends and family. For example, tourists can enjoy rain forest hiking, river rafting, zip line canopy tours, surfing, waterfall rappelling and more to keep their adrenaline buzzing.
If you want a tropical vacation to break up the monotony of winter which involves more than sitting on a beach, then Costa Rica is perfect.
Also, Costa Rica compares well, price-wise, with most Caribbean islands, which are often the first choice of people thinking of a tropical break. Also, Costa Rica is now very easy to get to. Direct flights fly into both San Jose and Liberia airports from all over the United States, Canada, and Europe.
3.
Explore The Christmas Market In Austria
There are two reasons Austria will be one of the best winter vacations you'll ever enjoy. The first reason is Vienna, Austria's capital city. Of all Europe's capitals, Vienna might be the most festive. Christmas seems to bring out the best in the Viennese. The Christmas market tradition dates back over 700 years and since then they've learned how to put on a good one.
However, nowadays Vienna has over 20 official Christmas markets. Imagine cozy stalls selling chocolate cake and hot drinks. Think gifts galore and delicious food. There's even the chance of schnapps to warm the cockles of the heart. All this is surrounded by some of the most beautiful buildings you'll ever see. The stately, imperial architecture will blow you away.
The other reason Austria is one of the best winter getaways is because of the Alps. These mountains are home to the most spectacular scenery you'll find anywhere.
If you ski, snowboard, snowmobile, or skate, you'll find a spiritual home in the Austrian Alps. Check out Innsbruck, two-time host of the Winter Olympics, or St. Anton for hard slopes and hard parties. For a bonus in Austria, you can't miss the city of Salzburg, home of Mozart and a UNESCO World Heritage Site. Traveling to Austria for a winter vacation is easy. Vienna is a global city, linked to airline routes from all over the world.
4.
Take A Smooth Boat Ride In Thailand
December, January and February are the best months of the year, weather-wise, in Thailand. So if you want to escape the winter rather than embrace it, and you want to escape on a budget, then Thailand is for you. Yep, we said budget. The Land of Smiles is still one of the great cheap places to travel in the world. Thailand has everything.
A huge alpha city metropolis in its teeming capital of Bangkok, one of the greatest cities in the world. Tropical beaches and turquoise seas galore, fascinating culture and history with great food. Thailand is more than a winter break, it's a place that will get under your skin and you'll return to again
Most people come to Thailand for at least two weeks to get the most out of it. However, a three-week trip would allow you to experience the northern highlands of Chiang Mai and the Golden Triangle, the southern beaches, and Bangkok.
But if you don't have that long, don't worry, you'll definitely come back! A place for winter getaways, many go to the beaches that banish seasonal affective disorder; just what the doctor ordered.
Check out Phuket for a resort experience, Koh Samui for a more romantic, upmarket experience, or Koh Phangan to party like a rock star. These islands might have different vibes, but they all share white sands, swaying palms, and perfect temperatures.
Thailand is easy to get to and travel around – Bangkok has a major international airport servicing most global airlines.
5.
Breckenridge, Colorado, United States
Once a mining town in the Rocky Mountains during the gold rush, experienced another kind of boom in the 1960s when it started creating its own ski trails. Now some fifty-something years later, the Breckenridge Ski Resort is one of the most popular, most visited ski resorts in the world, and the town for which they named it is synonymous with winter sports.
However, Breckenridge offers much more than alpine activities for a winter break destination. You'll find a beautiful little town in its own right, all restored Victorian architecture which looks spectacular in the snow.
There's also a film festival in February and an international snow sculpture competition in January. Breckenridge embraces the season and even the most hardened winter hater will warm up to the cold months after a break-in Breckenridge. Even the most ardent opponent of winter, snow, and ice might take ski lessons rather than dreaming of tropical beaches.
The other great thing about Breckenridge is that they're trying to go car-free. Public transport, in the form of a trolley/bus service called Breckenridge Free Ride is, as the name suggests, free. Getting to Breckenridge, with or without a car, is easy. The town sits about 1.5 hours west of Denver and its international airport.
6.
Have An Adventure In Oman City
Another winter destination for people needing to get away from the cold, Oman promises sunshine in spades. There's so much sunshine here you'll be dying to get back to the cold, grey, sleet, and snow! And the winter months aren't too hot, either. We're talking a more-than-pleasant temperature range in the 20s celsius. On the southeastern corner of the Arabian Peninsula, Oman is welcoming and laid back.
Oman doesn't have the brash commercialism of Dubai and Abu Dhabi, rather a more chilled out, relaxed feel. If you want to relax on a beach with the warm waters of the Arabian running between your toes, you can do that, sure. however, you can also become cultural.
For example, explore Muscat, Oman's capital, with its mosques and the muezzins calling the faithful. Get lost in the souks with their handicrafts and ancient spices like frankincense. Check out centuries-old fortresses. Go to the desert and camp under the stars like the Bedouin.
Oman also offers some of the best diving and snorkeling in the world, with unspoiled coral reefs, turtles, and whale sharks.
This country will soon count as one of the best vacation spots in the world. We know you'll want to say you've already been there when it does. Oman is easy to reach with most major airlines flying into Muscat, or nearby Dubai or Abu Dhabi.
7.
Explore The Modern Modena, Italy
Whatever time of the year, Italy is a wonderful country to visit. But during the winter, Italy's magical and no place more so than Modena. You might not have heard of Modena. However, this little city in the Po Valley of northern Italy is famous for other things rather than tourism.
Balsamic vinegar comes from Modena, and if you own a classic Italian sports car like a Lamborghini or Ferrari, that's from Modena too. You might now think Modena is some industrialized wasteland full of car factories. You'd be wrong.
Although not as famous as nearby Bologna, or cities like Venice, Florence, or Pisa, Modena is beautiful. Also, it's less crowded and cheaper. We'd go as far as to say that Modena might well become one of the best winter vacations you'll have.
Modena offers a taste of real Italian life without the hustle and bustle of mainstream tourism. During winter, the mists rise out of the River Po shrouding the stately buildings of the Piazza Grande like a fuggy, foggy blanket. Also, the Piazza Grande is a UNESCO World Heritage Site.
Cuisine-wise, Modena has more than balsamic vinegar. The food here is amazing. Once you've eaten, get back into those back streets and get yourself lost. You'll love wandering the misty streets, and if it's Christmastime, the gold and silver lights will look like stars.
The closest international airport to Modena is in Bologna, 50 km away. From there it's easy to get a train or rent a car. Modena has easy access to the rest of Europe by train.
8.
Visit The Tropical Land Of Bermuda
Many people think Bermuda's in the Caribbean and a winter break on this island is all sunshine, heat, and beaches. You'll get the sunshine and beaches, but not the heat. Bermuda sits in the Atlantic Ocean around the same latitude as North Carolina; a balmy, fresh climate with temperatures in the low 20s celsius. And unless you're a hardy soul, you'll need a wetsuit to swim in the ocean.
So why would you visit Bermuda in winter? Well, it's simple. You're visiting a beautiful island with no other tourists on it;o hordes from the summer cruise ships, and no stepping over sweaty bodies on the beaches. A winter getaway in Bermuda means you'll have the place to yourself.
Although you'll need a wetsuit to swim, you'll find amazing underwater visibility in winter. Far more than the peak summer months. They call Bermuda the shipwreck capital of the Atlantic, and with hundreds of wrecks around its shores, they're not wrong.
Scuba enthusiasts will find a plethora of undersea treasures with crystal-clear clarity. Also, outside the water is a golf course. With more courses per capita than anywhere else, Bermuda attracts golfers from all over; and most golfers come in the summer. However, the smart golfer comes in winter and enjoys near-empty links.
While Vienna might be the most festive of Europe's capitals, the Czech capital is the most scenic. And that goes doubly so in winter. Summer might show off the bright red rooftops of the old town, but add snow and ice, and the result is spellbinding.
Prague in winter is less crowded with tourists, unlike some other capitals. The bachelor parties and tour groups come in the summer. This means you can take those iconic shots of the Charles Bridge swathed in the mist without drunken revelers photo bombing you.
Also, food is a good reason to come during winter. Czech food is quite "heavy". Lots of soups and dumplings and stews. Deliciously perfect in winter, imagine finding a little cafe and tucking into something hot and meaty at a window table where you can watch the snowflakes dance in the light of old-style Victorian gas lamps.
Prague also has its quaint Christmas markets, selling handicrafts and serving hot mulled wine. You'll love exploring the main market in Old Town Square, but venture further afield and you'll find others. For an affordable and yet more unique way to experience Prague, winter offers the most for a visitor looking for romance and authenticity. Easy to come and go, flights arrive from all over the world and there's easy train access from everywhere in Europe.
10.
The All-Time Favorite, New York City
Saving the best for last, no city in the world winters like New York City. Summers in New York can swelter, leaving you feeling drained and sweaty. Winters in New York can invigorate you. The air is crisp and cold – well, freezing! – and you can rock your best winter gear you bought in the Black Friday sales. New York is the best city in the world for shopping, and the period between Thanksgiving and Christmas throws up bargains like you wouldn't believe.
If you don't want to buy items, you can window shop instead. The stores on 5th Avenue throw up the best window displays you'll ever see. Similar to European Christmas markets, you can also get winter markets too; the Union Square and Columbus Circle Holiday Markets.
You cannot understate the romance of New York during the winter. Walk across the Brooklyn Bridge or ice skate, hand in hand with your loved one, at the Rockefeller Center. Here, you won't fail to miss the massive Christmas tree, either.
Someplace else that's touristy is Central Park, but New Yorkers love it. Especially after a snowstorm when everyone gets out to build snowmen and frolic with their friends. The snow brings out the best in New York and the atmosphere is joyous. There are also other things to do in the Big Apple.
For example, you can take in a Broadway show whose ticket prices often drop in February. This then gives you another excuse for an NYC winter break. New York City is the most exciting city in the world, at all times of the year; spring, summer, and autumn. However, during the winter you can take that excitement and add a touch of sparkle to make it magical.
Whether you're taking the kids for some festive fun in Lapland, looking for some tropical winter sun with your loved one, or seeking a cozy, Christmas break full of hot drinks and shopping, these destinations offer some of the best winter vacations available today. The winter getaways listed above will banish those seasonal blues and tide you over until springtime arrives. And that's when you can start planning your next summer vacation.