25 Amazing Day Trips from Seattle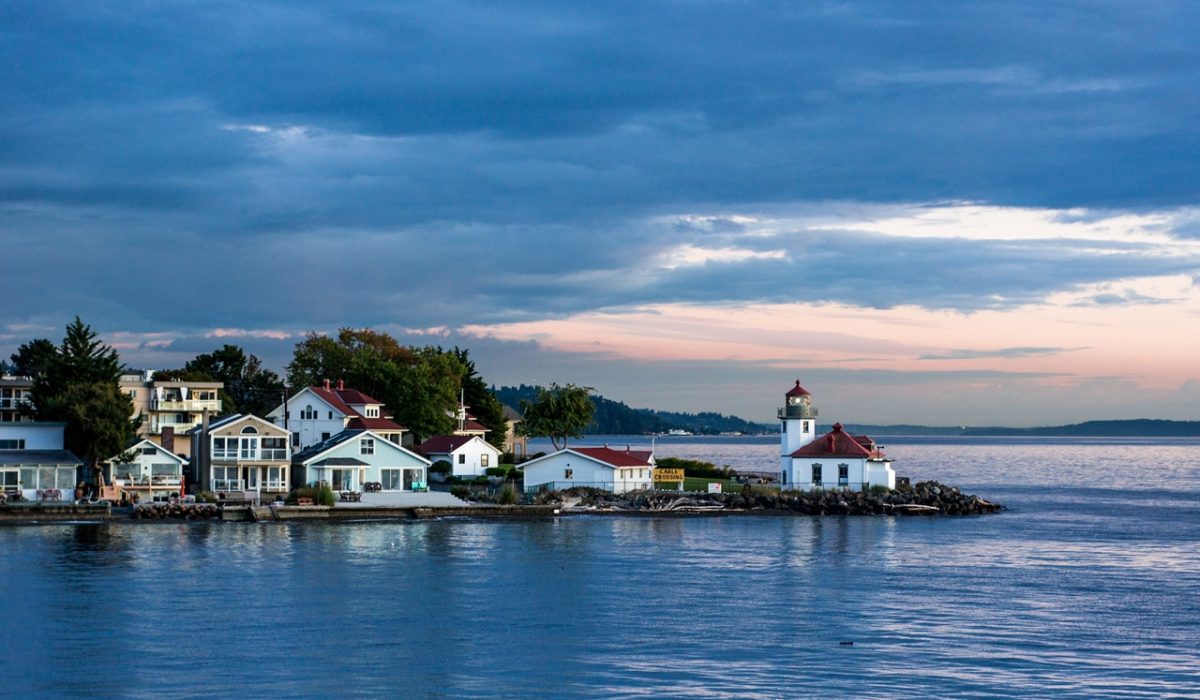 Seattle is a city famous for its music scene, coffee culture, and lush forests. Although there are plenty of things to do and places to visit in Seattle, there are destinations that offer a change of scenery outside the city. These day trips from Seattle let you see a different side of Washington, and you may even visit neighboring cities in Canada. Whether you're looking to extend your vacation for a few days or you're a local looking for a trip outside the city, you have several cities and parks within your reach.
So if you're looking for day trip ideas from Seattle, we've compiled a list of cities, parks, and other places you can visit.
(Take note that travel times listed depend on the mode of transportation and are subject to change depending on traffic and weather conditions.)
Day Trips From Seattle (Less Than an Hour)
Snoqualmie Falls
Visiting Snoqualmie Falls is one of the best day trips from Seattle where you can fully immerse yourself in the grandiose of nature. This 268-feet tall waterfall is featured in the hit TV series Twin Peaks and is listed in the National Register of Historic Places because of its association with local beliefs. In addition, it is also one of the popular waterfalls in the country because of its easy hike as compared to other waterfalls.
From the parking lot, go on a short hike to the top of the waterfalls. Two observation decks are easily accessible by car or by foot. Near the wheelchair-accessible upper observation deck are a gift shop, picnic area, and a restaurant. And if you walk or drive to the lower observation deck you'll get a different perspective of the falls.
Travel Time: 30 minutes
TouristSecrets Tip: For fans of Twin Peaks, join a Twin Peaks-themed tour of Snoqualmie. Aside from Snoqualmie Falls, the tour also visits Double R Diner, Ronette's Bridge, Roadhouse Bar, and more.
Wenatchee National Forest
Wenatchee National Forest boasts more than 1,739,000 acres of alpine forests and glacier-fed lakes. It also has six designated wilderness areas, including the Alpine lakes Wilderness and Glacier Peak Wilderness. Together with Okanogan National Forest, they form one of the large national forests in the US.
This national forest caters to different tourists offering a variety of outdoor activities for all seasons. Gorgeous shades of gold, red, and yellow make hiking more memorable in autumn and summer is ideal for kayaking and canoeing. Its snow-frosted roads and slopes are perfect for snowshoeing, skiing, and snowmobiling in winter. Meanwhile, pick berries and get a chance to watch hawks and raptors migrate via a special program in partnership with Hawk Watch International.
Travel Time: 48 minutes
TouristSecrets Tip: The Fern Lake Trail is a popular trail ideal for first-time visitors as it takes you through scenic paths and snow-capped peaks ending at Fern Lake. Other popular hikes in the forest include the Pacific Crest Trail, Foggy Dew Creek, and Colchuck Lake.
Boeing Factory
Visiting the Boeing Factory is one of the unique day trips from Seattle, offering a different environment from the natural lakes and sprawling national parks. The factory gives its visitors a glimpse into how planes are made as well as the history and future of the aviation industry.
Join their Future of Flight Aviation Center tour and get a better knowledge of the production, assembly, and maintenance of different Boeing planes. The tour is also 90 minutes long and is set in a working assembly plant, so it can get noisy and busy depending on the schedule. Additionally, the Boeing Future of Flight facility is wheelchair accessible and accepts service dogs. Interactive, informative, and engaging, this tour will impress all kinds of travelers.
Travel Time: 30 minutes
TouristSecrets Tip: After your trip, stop by the Pike Place Market and have a meal at one of its family-owned restaurants. Wander through the market and find antique shops, stalls selling comic books and collectibles, and plenty of fresh produce stands.
Lake Washington
Lake Washington is one of the nearest day trips from Seattle, only 15 minutes away from the bustling capital. This massive freshwater lake is the second-largest in the state and is a perfect destination for anglers or those who prefer a quick yet tranquil place to unwind. Fishing is available all year round, and anglers can catch salmon, smallmouth bass, trout, and rainbow trout.
Other than fishing, visitors can enjoy different activities in Lake Washington. There are several grounds around the shore where you can bring a picnic mat, snacks, and soak up the warm sunlight. In addition, there are cruises that head to Bellevue or Kirkland where you can enjoy the panoramic views while having a meal.
Travel Time: 15 minutes
TouristSecrets Tip: There may be zone-fishing closures and a minimum size regulation in spring to protect the steelhead trout. Make sure to check local advisories regarding closures and regulations.
Tacoma
Despite its reputation as a small industrial city, Tacoma offers a lot of activities and places to see. For art enthusiasts, several museums range from contemporary art to historical artifacts. Its park, zoo, and gardens are also a hit among families.
Famed for its glass sculptures, this city has two must-visit places to admire these works of art. See the shimmering wonders in the Museum of Glass and cross the Bridge of glass, a walkway showcasing glass sculptures by Dale Chihuly, a well-known American glass sculptor.
Also make sure to spend some time in Point Defiance Park and see the tigers, otters, and elephants at Point Defiance Zoo.
Travel Time: 40 minutes
TouristSecrets Tip: Enjoy free or discounted admission to select museums every third Thursday of the month. Make sure to check individual museum websites for more information.
Gig Harbor
The small town of Gig Harbor makes it one of the romantic day trips from Seattle. Most destinations are within a short drive or walking distance away, making it easy to go around and explore the city.
Explore Gig Harbor on a day trip and see the restaurants and boutiques along the waterfront. Hop on a gondola and admire the city from a different perspective as your gondolier serenades you. Otherwise, you can rent a kayak or stand-up paddleboard and cruise at your leisure. Back on the land, visit the Harbor History Museum or follow different trailheads that take you through lush forests and quiet landscapes.
Travel Time: 45 minutes
TouristSecrets Tip: Driving from Seattle to Gig harbor is the fastest way, but taking a ferry offers picturesque views of Mt. Rainier and the Seattle waterfront.
Bellevue
Bellevue is a small yet emerging city less than 30 minutes from Seattle. It is most famous for its arts scene, natural spaces, and shopping districts. Because of its proximity to Seattle, locals and visitors would visit Bellevue for a small change of scenery.
Start your trip to Bellevue by visiting the Bellevue Botanical Garden, a 53-acre space teeming with cultivated gardens and conifer forests. Then, see the exhibits of the Bellevue Arts Museum or follow the Downtown Bellevue Art Walk and view more than a hundred art pieces. Go on a short hike at Mercer Slough Nature Park and reward yourself with a delicious meal at one of the restaurants in Bellevue Square.
Travel Time: 20 minutes
TouristSecrets Tip: For penny-pinching travelers, Bellevue Arts Museum offers free admission to the museum every first Friday of the month.
Woodinville
The Napa Valley and Sonoma area in California may be the more prominent wine regions in America, but Washington also has its fair share of wine regions. Woodinville in particular is a popular day trip for wine lovers and enthusiasts because of its hundreds of wineries and proximity to Seattle, less than 30 minutes away.
For first-time visitors, don't miss Chateau Ste. Michelle, the oldest winery in Washington famous for its Eroica Riesling. At the Betz Family Winery, sip on a glass of cabernet sauvignon as you learn about its history and winemaking process. There are also plenty of other wineries that offer group or private winery tours with wine tasting sessions.
Travel Time: 25 minutes
TouristSecrets Tip: For wine enthusiasts, you may also get a Passport to Taste which grants you wine samples from select wineries for a single fee.
Lakewold Gardens
For a quaint countryside retreat, visit Lakewold Gardens, a 10-acre non-profit garden. Lakewold Gardens feature well-manicured lawns and picture-perfect flower beds. Additionally, it was designed with different gardening styles ranging from boxwood parterres seen in most European gardens and shade gardens which are common in Asia.
Only less than an hour from the metro, Lakewold Gardens makes for a romantic day trip. Walk around the rock gardens, shade gardens, and marvel at the colorful rhododendron bushes and courtyards. Lakewold Gardens also host soirées every summer, fall, and winter to celebrate the beauty of the change in season.
Travel Time: 45 minutes
TouristSecrets Tip: Depending on the season and availability, Lakewold Gardens also offer classes on gardening, sculpture, pruning, and garden photography.
Day Trips From Seattle (Less Than Two Hours)
Bainbridge Island
Take the ferry from downtown Seattle and head to Bainbridge Island, a small yet charming community within Puget Sound. The island is filled with acres of hiking trails, natural spaces, and several wineries and distilleries showcasing the island's best wines and beers. Although visiting Bainbridge Island makes for a good weekend getaway, a day trip to the island is also a good option.
Start your trip at the Bainbridge Island Museum of Art and see its rotating exhibits featuring local artists. Then, learn a bit of the island's history at the Bainbridge Island Japanese American Exclusion Memorial. Enjoy a change of scenery at Bainbridge Gardens or the sprawling Bloedel Reserve. Continue your trip by visiting state parks, historic sites like Fort Ward Park, and plenty of wineries and distilleries.
Travel Time: 1 hour
TouristSecrets Tip: Tourists can easily navigate around Bainbridge Island by public transportation. However, it's best to bring or rent a car for those who want to visit places like Fort Ward or Bloedel Reserve.
Skagit Valley
With its colorful tulip fields, Skagit Valley is Washington's answer to the tulip fields in the Netherlands. It features acres of gorgeous tulip fields that bloom in spring (peak blooming dates vary every year), accompanied by the lively Skagit Valley Tulip Festival. Here, locals gather for a fun-filled celebration with music, art, and special events that commemorate the blooming of these flowers.
But aside from its tulip fields, there are other things to do in Skagit Valley. Spot the great blue heron on a birdwatching trip or join a whale-watching cruise. Explore downtown Skagit Valley and browse through its antique shops for vintage finds and trinkets. Although not as popular as Malibu or Napa Valley, tourists can also visit wineries and sip locally produced wines.
Travel Time: 1 hour 10 minutes
TouristSecrets Tip: Since Skagit Valley's highlight is its tulip fields, expect heavy traffic in the area during the tulip season. Make sure to leave Seattle early to avoid the surge of tourists.
Whidbey Island
Whidbey Island is a popular weekend getaway from the city, but tourists can also explore the island on day trips from Seattle. This island has a diverse terrain from beaches to forests and lakes so you're bound for an endless adventure. Apart from the beautiful natural places, there are also many lovely coastal towns filled with boutiques and cafes.
Visit the galleries, browse the boutiques, and enjoy a meal at one of the restaurants in Oak Harbor. Then, explore Deception Pass State Park or Fort Casey State Park. Finally, end your day by heading to one of the wineries for a relaxing wine tasting session overlooking the sea.
Travel Time: 1 hour 10 minutes
TouristSecrets Tip: Although there are buses and shuttles available at Whidbey Island, it's recommended to bring a car. Driving is less expensive than taking the ferry from Seattle and the scenic coastal drives are absolutely breathtaking.
Blake Island Marine State Park
Looking for an even more active outdoor trip? Black Island Marine State Park is one of the best day trips from Seattle for you! Rich in natural sights, history, and culture, it offers a much-needed change of scenery from the towering skyscrapers of Seattle. The state park is one of the islands in Puget Sound and can only be accessed by a tour boat or private watercraft.
Explore Blake Island Marine State Park through the hiking and biking trails around the island. Visit Tillicum Village and enjoy a Native American meal, admire the intricate totem poles, masks, and other tribal artifacts, or witness traditional storytelling and dancing performances. Kids will also love scavenger hunts around the island, searching for different kinds of berries, bugs, and rocks.
Travel Time: 1 hour 5 minutes
TouristSecrets Tip: Hunting, fishing, and shellfish harvesting at Washington state parks like Blake Island Marine State Park require a recreational license. To purchase a permit, head to the Washington Department of Fish and Wildlife website.
Bellingham
Bellingham is a beautiful university town located in the northernmost end of the contiguous United States. It offers plenty of outdoor activities and a lively arts and culture scene. Bellingham is also an ideal jump-off point for tourists who want to visit the San Juan Islands and the North Cascades because of its proximity to the city.
Visit Bellingham and discover the charm of this coastal city. See works of art at the Whatcom Museum of History and Art and learn about the history of railroading in Whatcom County at the Bellingham Railway Museum. Chase waterfalls at Whatcom Falls Park or hike through the trails at Larrabee State Park. Noted for its craft beer industry, don't forget to pay a visit to a brewery and sample the city's finest beers.
Travel Time: 1 hour 30 minutes
TouristSecrets Tip: Bellingham hosts several events and concerts throughout the year. Don't forget to check which events fall under the time of your visit to make the most out of your stay in the city.
Cle Elum Lake
This lake and reservoir is the perfect destination for fishing enthusiasts and anglers. It is also a favorite destination for outdoor enthusiasts because of the number of activities you can enjoy in the lake. Swimming, fishing, kayaking, windsurfing, rafting—you're guaranteed to have a fun day at Cle Elum Lake.
Bask under the sun and spend a warm summer afternoon at Cle Elum Lake. Throughout the year, get the chance to catch different trout species like rainbow trout and brook trout. Sockeye salmon and mountain whitefish are also common in the lake. For those who prefer a different activity, enjoy different water sports or simply relax near the shore.
Travel Time: 1 hour 25 minutes
TouristSecrets Tip: The drive to Cle Elum Lake has plenty of worthwhile stops including Cle Elum town, Twin Falls Natural Area, and Snoqualmie Pass.
Darrington
The small rural town of Darrington is one of the best day trips from Seattle. It is surrounded by mountains and rivers, offering countless activities for outdoor enthusiasts. From spring to winter, tourists can enjoy a plethora of activities and attend different festivals.
In summer, go horseback riding, spot different birds, and hike along different trails. Drive along the highway in autumn and admire the colorful foliage dotted around the mountains. By winter, explore the forests on a snowmobile or try snowshoeing. But for the ultimate Darrington experience, take a sightseeing tour of the city on a helicopter!
Travel Time: 1 hour 20 minutes
TouristSecrets Tip: Because of its location in the mountains, Darrington boasts several scenic drives. The Cumberland Pass Drive gives you gorgeous views of Whitehorse Mountain while the Gold Hill has a breathtaking view of Sauk River Valley.
Day Trips From Seattle (More Than Two Hours)
Olympic National Park
Olympic National Park is one of the most beautiful UNESCO World Heritage Sites in the USA, boasting diverse ecosystems. From wildflower meadows, snow-capped mountain peaks, and the moss-covered Hoh Rain Forest, the national park boasts unparalleled natural scenery. It is also one of the best day trips from Seattle, accessible by car, bus, and ferry.
Aside from camping, hiking, and fishing, visitors can also go birdwatching and spot hundreds of different bird species at Olympic National Park. In addition, it is one of the few dog-friendly national parks in Washington, so guests can bring their furry companions with them to the trails, on the beach, and select campgrounds.
Travel Time: 2 hours 30 minutes
TouristSecrets Tip: The weather conditions in the Olympic Peninsula can be unpredictable despite the season. Before visiting the national park, make sure to check trail conditions in advance.
Mount St. Helens National Volcanic Monument
Mount St. Helens National Volcanic Monument is one of the must-visit day trips from Seattle for hiking enthusiasts. The volcano went down in history for the deadliest and most devastating eruption in the US in 1980, leaving a horseshoe-shaped crater in its wake. But despite its turbulent past, Mount St. Helens remains to be a popular tourist destination.
At Mount St. Helens National Volcanic Monument, follow hiking trails that take you around lakes and wildflower fields. Its interesting geological history is also worth learning more about, so make sure to join a guided tour to learn more about the significant events before and after its eruption. For a truly memorable experience of the monument, embark on an aerial tour over Mount St. Helens and nearby Mt. Rainier.
Travel Time: 3 hours 15 minutes
TouristSecrets Tip: Get a close-up view of the crater of Mount St. Helens at Windy Ridge Viewpoint, accessible via a 368-step sand ladder.
North Cascades National Park
Near the Canadian border is North Cascades National Park, another must-visit national park in Washington. Its rugged landscape and pristine lakes have earned its spot on the list of the best day trips from Seattle, only a two-hour drive from the city. In addition, its proximity to the Canadian border makes it a favorite day trip from those in Vancouver.
Start at the visitors center where you'll get a brief overview of the park, its history, as well as current trail closures. From there, visitors are free to roam around the park and explore on their own. Follow different hiking trails, see its gorgeous lakes, and go on a scenic drive along Highway 20 and stop by the breathtaking Diablo Lake.
Travel Time: 2 hours
TouristSecrets Tip: Like Olympic National Park, weather in North Cascades National Park can be unpredictable, especially during winter. Make sure to wear warm and waterproof clothing as storms are common in the park.
Mount Rainier National Park
Established in 1899, Mount Rainier National Park is one of the first national parks in America. It also hails as the tallest mountain in Washington and one of the tallest in America. Only two hours away from the Washington capital, Mount Rainier National Park is one of the best day trips from Seattle.
Spanning more than 236,000 acres, there are countless things to do in Mount Rainier National Park. Go hiking and enjoy the views from the trails, ranging from easy 20-minute hikes to more strenuous ones that take more than an hour. On the other hand, those who prefer more relaxing activities can go fishing or relax at the picnic areas around the park.
Travel Time: 2 hours
TouristSecrets Tip: Don't forget your U.S. National Park Pass or Senior Parks National Pass as it covers the entrance fee for Mount Rainier National Park.
Victoria, British Columbia
From Seattle, you can easily visit Victoria in Canada. Best of all, you don't have to drive too far since you can hop on a ferry to get to this beautiful city in Canada. In addition, the Victoria Clipper Ferry offers daily round trips to and from Victoria. All you need is your passport or other valid forms of identification to be able to cross the border.
In Victoria, spot whales on a whale-watching trip, tour the Parliament Buildings or have tea at the Fairmont Empress Hotel. Don't forget to explore and see the beautiful flower beds at the Butchart Gardens, a gorgeous National Historic Site that changes its appearance according to the season.
Travel Time: 2 hours 45 minutes
TouristSecrets Tip: The Inner Harbour is a great starting point for sightseeing in Victoria since it is near most of the popular sights and attractions like the Parliament House, the Royal BC Museum, and Fisherman's Wharf Park.
San Juan Islands
Although visiting the San Juan Islands is one of the longer day trips from Seattle, it is one of the most exciting. There are 172 islands in the archipelago, but only four islands are accessible by ferry: San Juan Island, Lopez Island, Orcas Island, and Shaw Island. Each island offers fun activities and a beautiful natural landscape, perfect for those looking for a respite from the busy streets of Seattle.
At San Juan Island, explore the Lime Kiln Point State Park to see the orcas or stroll around Friday Harbor's quaint boutiques and waterfront restaurants. On the other hand, bike around the shoreline of Lopez Island or go kayaking in Orcas Island. Shaw Island may be the smallest, but it packs a lot of scenery and you may even get a chance to meet the nuns that inhabit the island.
Travel Time: 3 hours
TouristSecrets Tip: To make the most out of your trip to the San Juan Islands, join pre-arranged guided tours of the islands. You can cover as many sites and gain additional knowledge about the place through your guide.
Leavenworth
Leavenworth is a small but charming village east of Seattle. It resembles a Bavarian village with its Tudor revival architecture, half-timbered houses, and horse-drawn carriages roaming around. No matter what time you visit, you'll feel as if you've traveled across the globe and arrived in Rothenburg.
From spring to winter, Leavenworth offers all kinds of activities. Stroll around Waterfront Park and soak up the fresh spring breeze. In addition, it back and enjoy the show at the Leavenworth Summer Theater held at two outdoor venues. In October, don't miss the fun and lively Oktoberfest celebrations and drink a mug of beer as you dance with the locals.
Travel Time: 2 hours 30 minutes
TouristSecrets Tip: Although June is a great time to visit Leavenworth because of the weather, spending Christmas here is also a great idea. The village turns into a fairytale-like setting with its colorful illuminations and markets reminiscent of most German Christmas markets.
Vancouver
Another cross-country destination, Seattle to Vancouver is one of the common day trips from the city. You can reach Vancouver by car, bus, train, ferry, and plane, and all modes of transportation offer their pros and cons. Since you'll also go to a different country, make sure to bring your passport, a valid driver's license, or the necessary travel documents.
Head to the top of the Vancouver Lookout for a 360-degree view of the city, cycle around Stanley Park, or visit the Museum of Anthropology. For those who want to spend time with Mother Nature, visit the Capilano Suspension Bridge Park and Lighthouse Park or hike at Lynn Canyon and the Grouse Grind trail.
Travel Time: 2 hours 30 minutes
TouristSecrets Tip: Despite its reputation as "Raincouver", visitors can enjoy mild yet comfortable weather in spring. This is also one of the best times to visit Vancouver since this marks the start of the whale-watching season and there are different flower festivals worth checking out.
Portland
Just south of Seattle is Portland, a foodie's paradise and one of the main cities in Northwestern America. It combines natural spaces and modern architecture and as compared to Seattle, Portland is relatively more laid-back yet quirky. The city also hails as one of the Food Truck Capitals of the World thanks to the hundreds of food trucks seen around the city.
Whether you're an avid foodie, a curious traveler, or just looking for the next day trip from Seattle, a visit to Portland is a must. Discover its local eats and delights through its food trucks, walk around Pioneer Courthouse Square, and admire the art at its museums. Don't miss Pittock Mansion, a French Renaissance mansion, and the Crystal Springs Rhododendron Garden, a botanical garden in the heart of the city.
Travel Time: 2 hours 45 minutes
TouristSecrets Tip: Aside from its food, Portland is also known for its tax-free shopping. From vinyl, electronics, clothes, and vintage items, shop 'til you drop at the boutiques and specialty stores in Portland.
Choose Your Kind of Adventure
Breathtaking natural wonders, cross-country cities, sleepy seaside towns, and island getaways—these are just some of the best day trips from Seattle. These cities, parks, and islands are also perfect for those who want a change of scenery or an escape from Seattle's city life. Best of all, you can visit these places on your own or you can join pre-arranged tours that come with a guide and transportation fees.
Once you've crossed out all your must-see Seattle tourist attractions, pack your bags, plan your itinerary wisely, and get ready for a memorable trip outside the city!