Tulip Fields in The Netherlands: Everything You Need to Know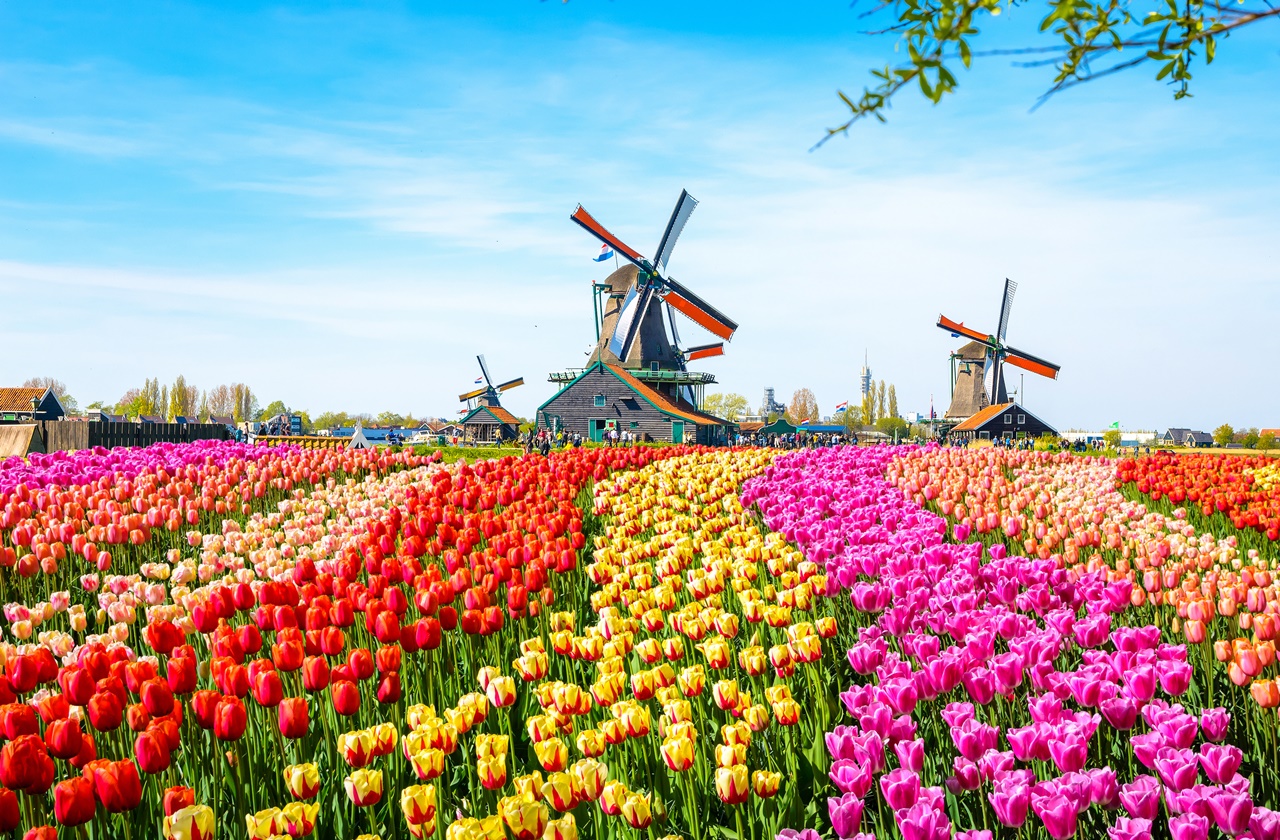 The tulip fields in The Netherlands are one of the best sights in the country. From an aerial perspective, you can see rows and rows of tulips in shades of red, purple, yellow, and other colors. For a certain season, you can get to see these blooming tulips perfectly lined up on vast hectares of land. Seeing the tulip fields are also a great way of spending time in the country aside from exploring the canals of Amsterdam or shopping at the Christmas markets. Travelers looking for the next picture-perfect shot shouldn't also miss seeing the tulip fields, and it makes the perfect background for your next Instagram photo.
Unfortunately, not all things good are meant to last as the tulip season runs for a limited period of time. But don't worry! You can still admire the beauty of Holland tulips as long as you know when to go and which places you should visit. Here's a lowdown on the tulip season as well as which are the must-visit tulip fields Netherlands.
Why Is The Netherlands Famous for Its Tulips?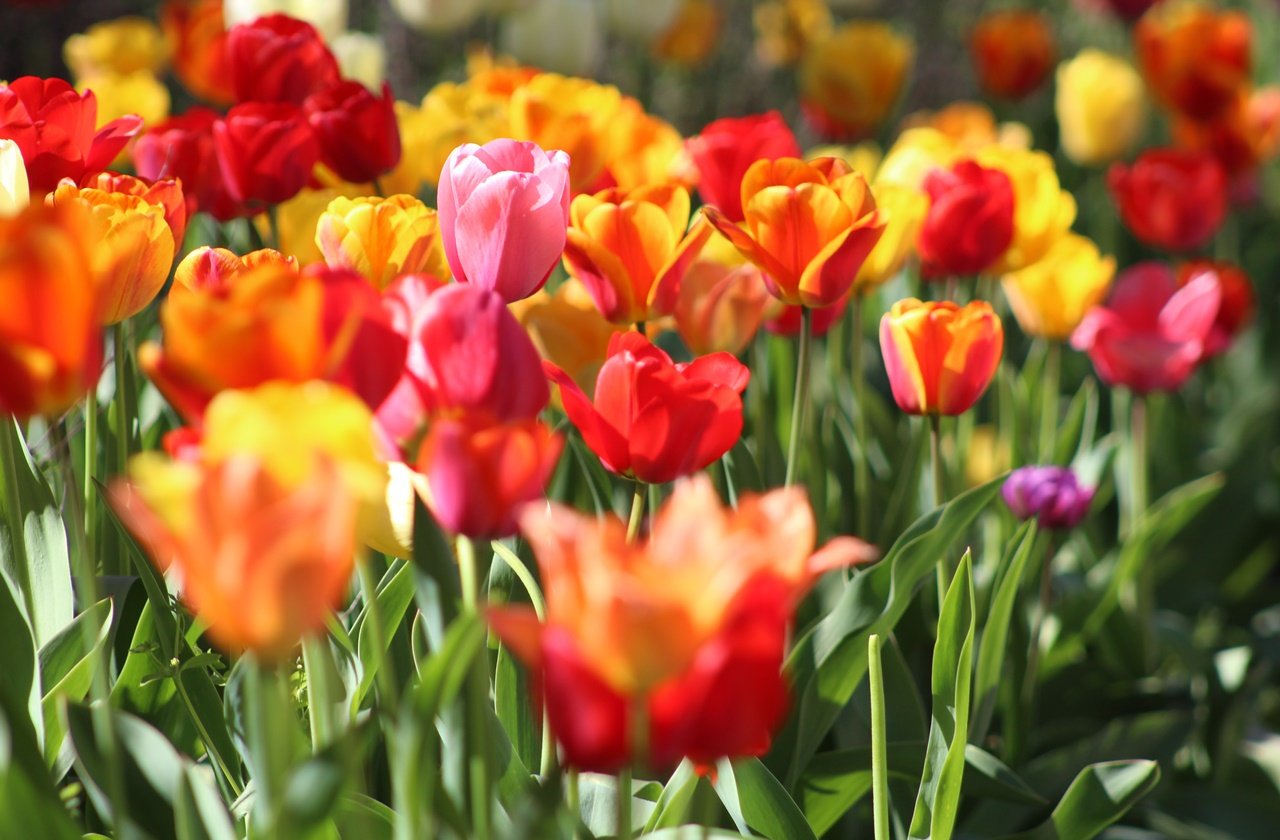 Photo by krystina rogers on Unsplash
Although the tulip is the national flower of The Netherlands, the flower didn't originate in the country. Instead, the tulip originated from the Ottoman Empire, which is now known as Turkey. The flower was a symbol of wealth for the empire, and many of the rich Ottomans wore tulips on their turbans. The flowers were then imported to the Netherlands in the 16th century.
Tulips rose to prominence when Carolus Clusius, a botanist, planted a few tulip bulbs and experimented with them. The results of his experiment brought about tulips with new colors. This discovery led to the boom of the tulip breeding industry in the country, also known as Tulip Mania. Everyone profited from selling tulips and soon, prices for these bulbs began to soar. Tulips became a status symbol for the Dutch people and became a popular figure in paintings and festivals. In the 17th century, tulips became The Netherlands' fourth-largest export product.
The Tulip Mania mellowed down starting 1637 when prices for the flowers started to crash, but entrepreneurs still saw an opportunity in profiting from tulips. There was still a demand for tulips overseas despite the price, and traders began to develop the industry into what we know now. Holland Tulips are still a sought-after flower worldwide, and the country exports almost two-thirds of the world's tulips.
Aside from exporting tulips, they also utilized tulips for tourism. Tulip fields Netherlands are a popular attraction and millions of people come to the country to visit the colorful flower fields. Every year, Amsterdam celebrates the beauty and significance of these flowers at the Tulip Festival. Other cities with a Dutch heritage like Quebec and Montreal also join in on the tulip festivities and celebrate their own tulip-centered festivals.
Best Time to See the Tulip Fields in The Netherlands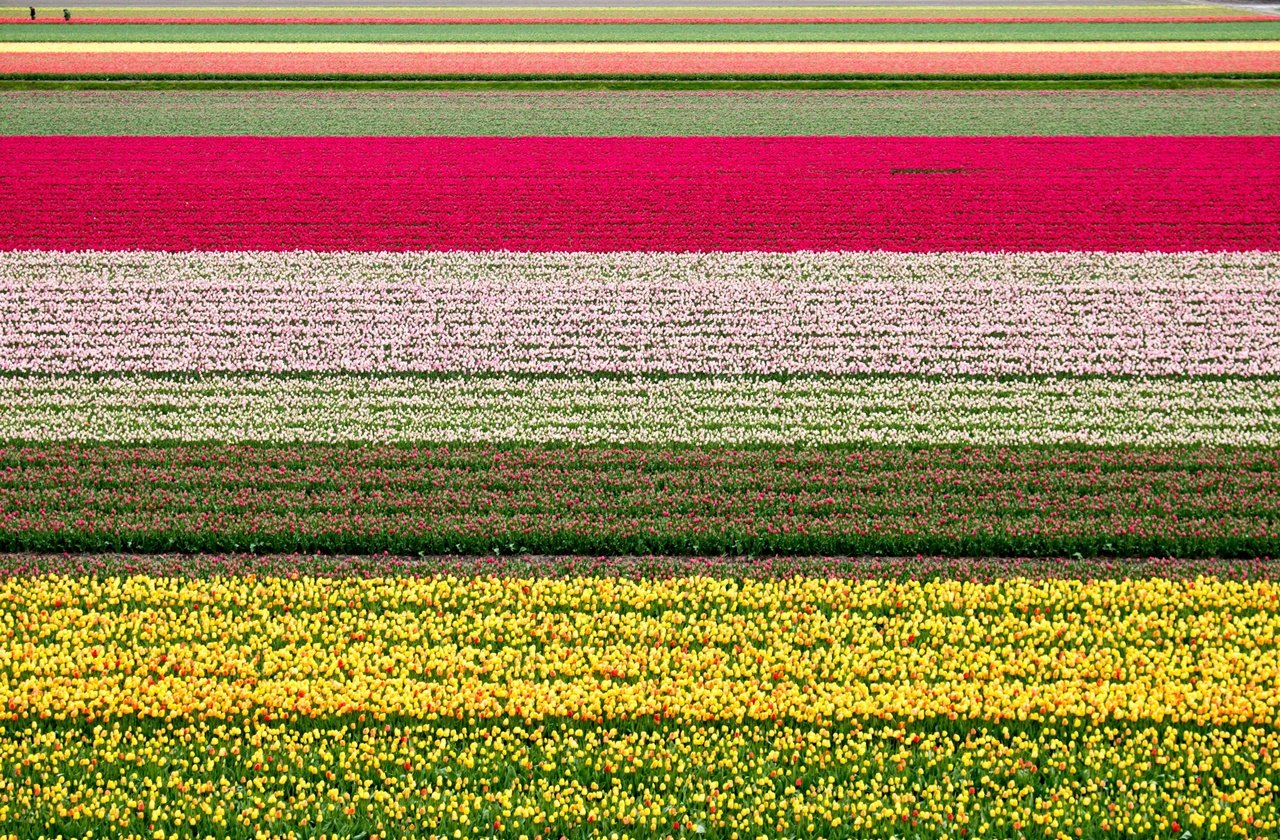 Photo by Marnee Wohlfert on Unsplash
One of the best times to visit Europe is in spring. The weather is cool as part of the transition from the cold months of winter, and there are fewer crowds. That being said, the best time to see the tulip fields Netherlands is during mid-April. Take note that the peak tulip season may change, but the season in general runs from mid-March to the end of May. Flowering time also varies depending on the weather conditions, but they usually start from the last week of March until mid-May.
Springtime is also a great time to visit The Netherlands since you also get to see other flowers in bloom. You can see gorgeous wisterias, daffodils, hyacinths, and carnations around town and in the countryside.
Where to Find Tulips in the Netherlands
Keukenhof Gardens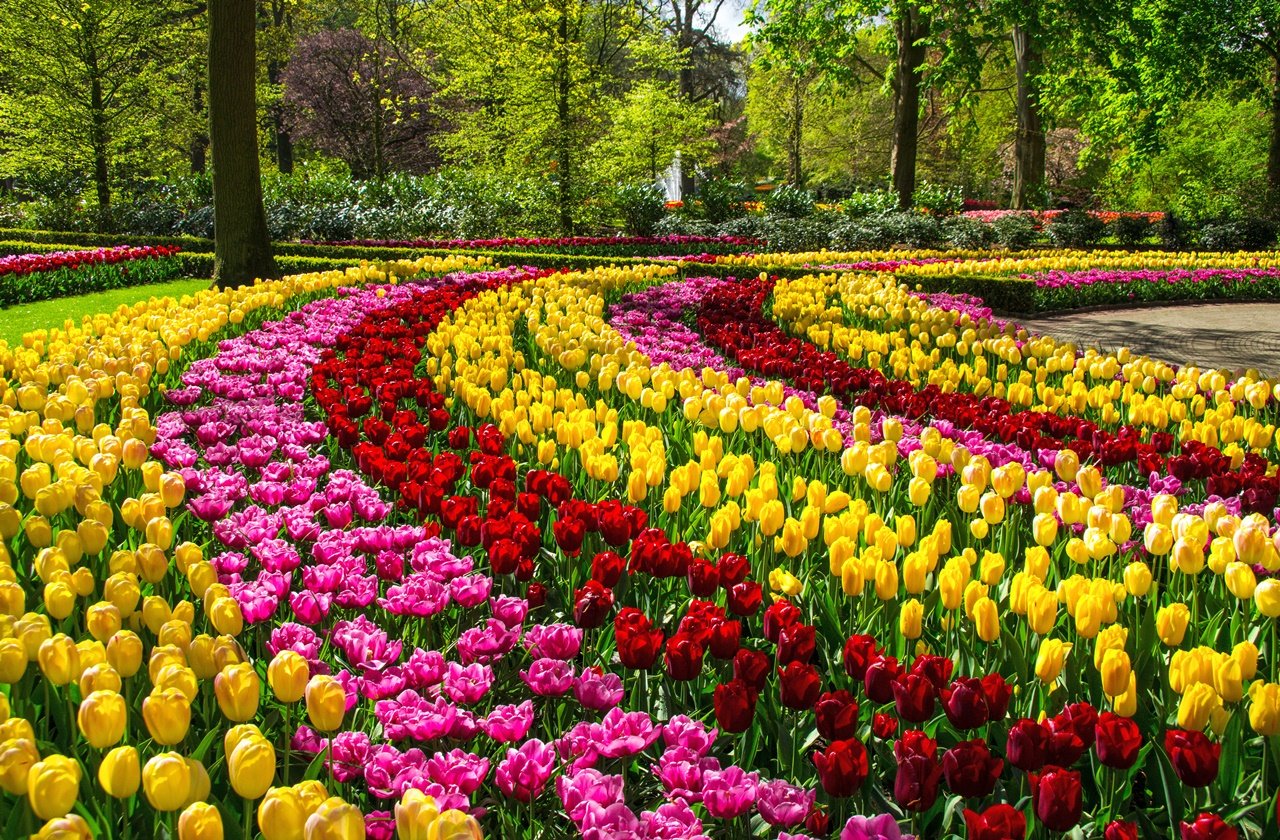 Photo by Iuliia Sokolovska on Adobe Stock
Address: Address: Stationsweg 166A, 2161 AM Lisse, Netherlands
Price: 18.50 EUR (adults), 9 EUR (children 4 to 17 years old), free for children below 4
When you mention tulip fields Netherlands, Keukenhof Gardens is one of the first places that locals would recommend. After all, it is one of the world's largest and most popular flower gardens. The park is open for a limited time from April to May, so visiting Keukenhof is still a must on your stay in Holland. Every year, thousands of tourists and locals visit the garden and see the gorgeous tulip fields. With well-maintained gardens and picture-perfect scenery, this is the best place to take an Instagram-worthy shot! Find tulips in all sorts of colors: from clean white bulbs, vibrant yellows, and unique tulips with two colors.
You can head to Keukenhof on your own, but you can find plenty of tour operators offering fast-track tickets to Keukenhof complete with transportation. These tours may also include a canal cruise or a sightseeing bus tour before or after your visit to the gardens. Since Keukenhof Gardens is a seasonal attraction, it's best to secure your tickets ahead of time and visit in the morning when there are fewer crowds.
Where to Stay:
Hotel Restaurant de Engel – a charming restaurant, cafe, and hotel that is only a 10-minute drive away from Keukenhof. Bike rentals are available so you can visit other nearby attractions conveniently. (Prices start at 90 USD per night)
Hotel Villa Flora – the hotel offers spacious and comfortable rooms with an on-site cafe and restaurant. Keukenhof is located 3 kilometers from the hotel, and its location makes it ideal for both walking and cycling tours. (Prices start at 79 USD per night)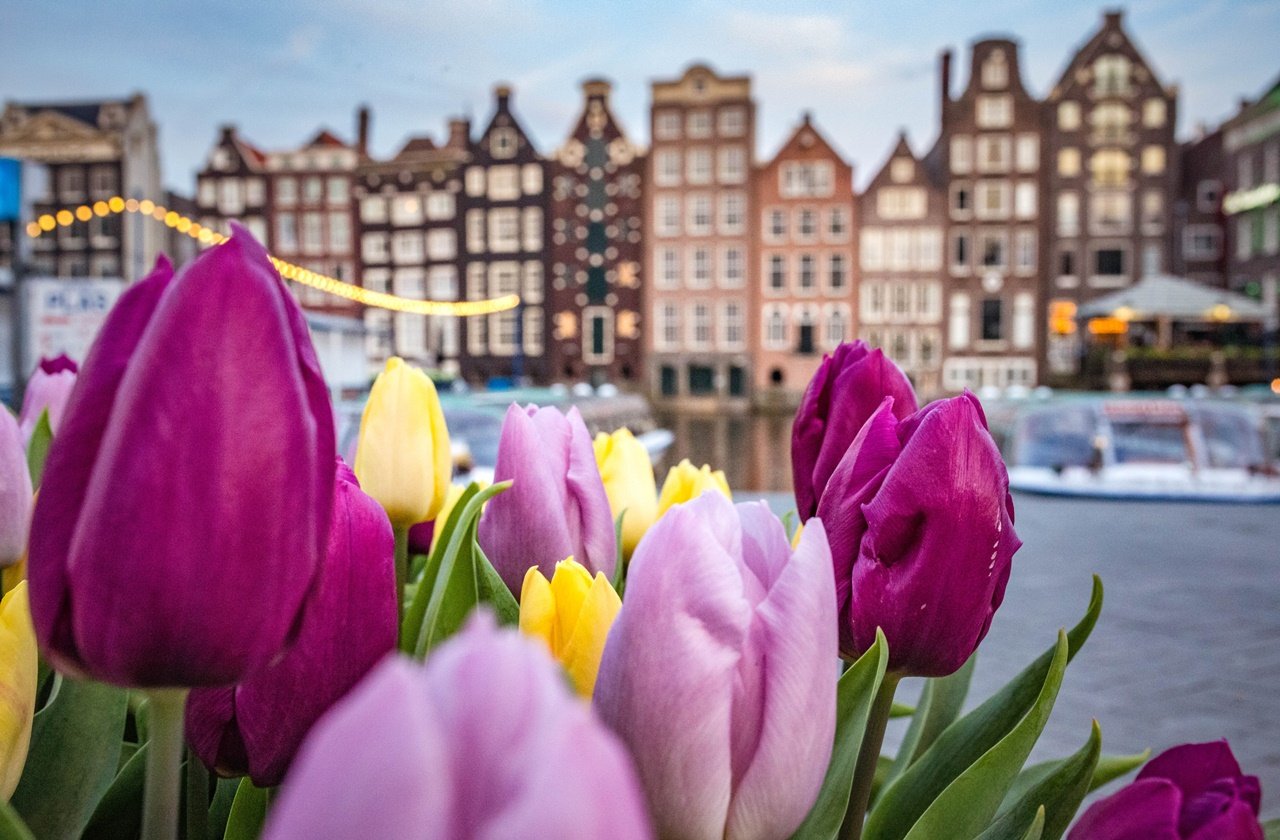 Photo by Catalina Fedorova on Unsplash
While most people visit Keukenhof to take a day trip to neighboring cities, Amsterdam in itself is a great place to view the tulip fields Netherlands. Although they're not as huge and as vast as the fields in the provinces or in Keukenhof, they're still as beautiful. Tour companies also offer tulip sightseeing tours across the city by bus or by bike. Additionally, the Amsterdam Tulip Museum is also a must-visit for those eager to see the tulips. The museum features an in-depth history of tulips in the country and you can take home your own tulip bulbs.
Tourists can also visit the Flower Market, locally known as the Bloemenmarkt, to find rows of gorgeous tulips. During spring, you can also find a wide variety of fresh flowers for sale. Amsterdam also hosts the annual Tulip Festival, one of the country's most anticipated events. During the festival, find the city blooming with gorgeous tulips. Houses, private institutions, buildings, and museums decorate their spaces with tulips and other flowers. This is a great time to go sightseeing and appreciate the beauty of Amsterdam.
Where to Stay:
Ambassade Hotel – a boutique hotel located in a 17th-century mansion along the famous canals. The hotel is also near popular tourist destinations like Dam Square, Royal Palace, Anne Frank House, and the shopping district of Kalverstraat. (Prices start at 138 USD per night)
Hotel Estheréa – another boutique hotel located within a walking distance from Dam Square. The hotel offers classic yet stylish designs with colorful wallpapers and wooden paneling. Its quiet yet beautiful location makes it a favorite among tourists. (Prices start at 118 USD per night)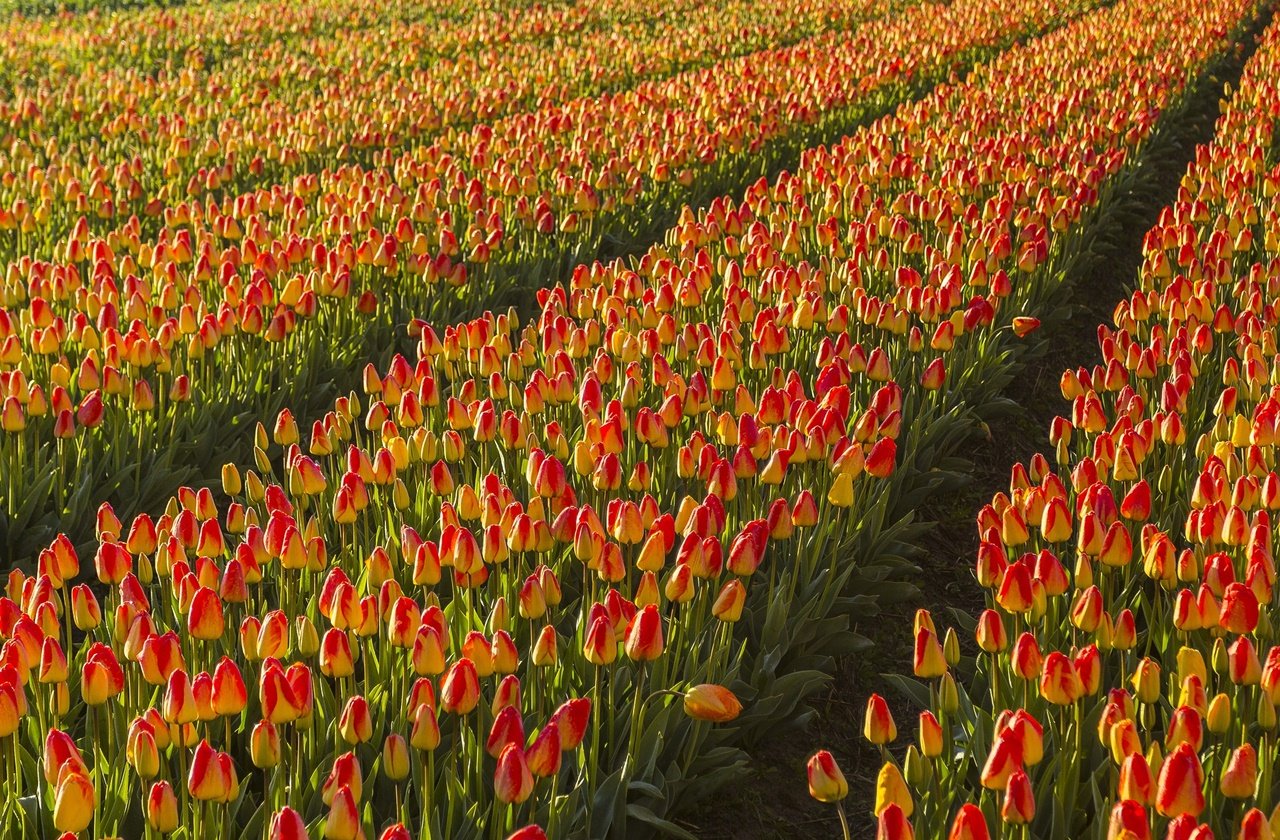 Photo by RobVanDerMeijden on Pixabay
Lisse is another tourist hotspot for viewing the blooming tulip bulbs. While Keukenhof is found in Lisse, there are other places in town where you can see the tulip fields. The town is a 40-minute drive from Amsterdam and you can either enjoy a day trip here from the capital or stay in town at one of the many hotels. What makes Lisse a top spot for seeing the tulip fields Netherlands is because there are plenty of farms where you can stop by and admire the flowers. Most of the time, entrance to these farms is free although one has to adhere to the farm policies.
Rent a bike or go for a leisurely drive across the fields of Lisse. Most hotels offer bike rentals that charge by the hour or you can rent one in town. Stop by a flower field, take pictures, or grab the chance to go on a tulip picking experience and take the flowers home. You can also enjoy the often crowd-free tulip farms and marvel at the gorgeous scenery. Due to its proximity to Keukenhof Gardens, you can combine a sightseeing drive around the tulip fields with a stopover at the world-famous gardens.
Where to Stay:
Boutique Suites Lisse – Schiphol – located 800 meters away from Keukenhof, the hotel has a great location in the town center. All rooms are spacious and have views of the city. (Prices start at 115 USD per night)
De Zonnehoed – a bed and breakfast situated in the countryside. Rooms have a chic English country-style decor and a terrace that overlooks a garden. Breakfast is included along with a free high-speed WiFi connection. (Prices start at 91 USD per night)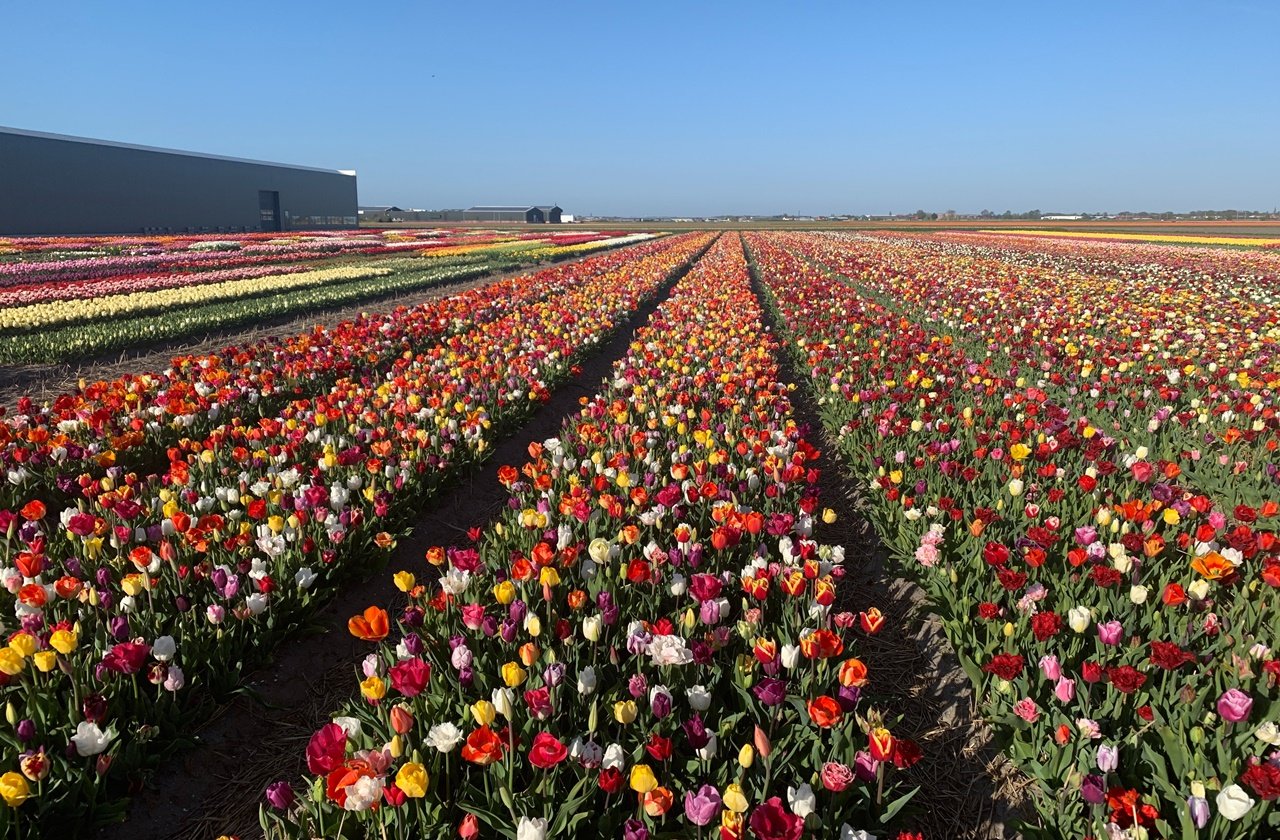 Photo by Christian ter Maat on Unsplash
Located in the western part of the country, Noordwijkerhout is a quaint town that boasts beautiful countryside villages and vast tulip fields. It is also part of the so-called Dune and Bulb Region (Duin- en Bollenstreek), an area known for its floral industry. At the height of the flowering season, plenty of tourists come to visit and admire the tulip fields Netherlands. Aside from tulips, the area is also famous for its daffodils, hyacinths, and dahlias.
Like most towns, the best way to appreciate the tulip fields is by renting a bike or by going on a sightseeing drive. You can stop by and pose for photos and in some areas, run and frolic in between rows of blooming tulips. Other farms and establishments also offer tulip-picking activities if you fancy bringing a bulb or two home. If you're coming from Amsterdam, Noordwijkerhout is only 40 minutes away and there are bus lines that travel to and from the two places. But for a hassle-free tulip-viewing experience, join organized group tours from Amsterdam that take you around the best tulip fields in Noordwijkerhout.
Where to Stay:
NH Noordwijk Conference Centre Leeuwenhorst – a 4-star hotel located near Noordwijk beach, Keukenhof, and the tulip fields of Noordwijkerhout. Enjoy spacious rooms and depending on your chosen room, you may get to see a splendid view of the tulip fields Netherlands. (Prices start at 98 USD per night)
Het Wapen van Noordwijkerhout – the hotel features modern rooms equipped with a flat-screen TV, free toiletries, and private bathrooms. A continental breakfast is served daily and guests can enjoy drinks at the bar downstairs. (Prices start at 103 USD per night)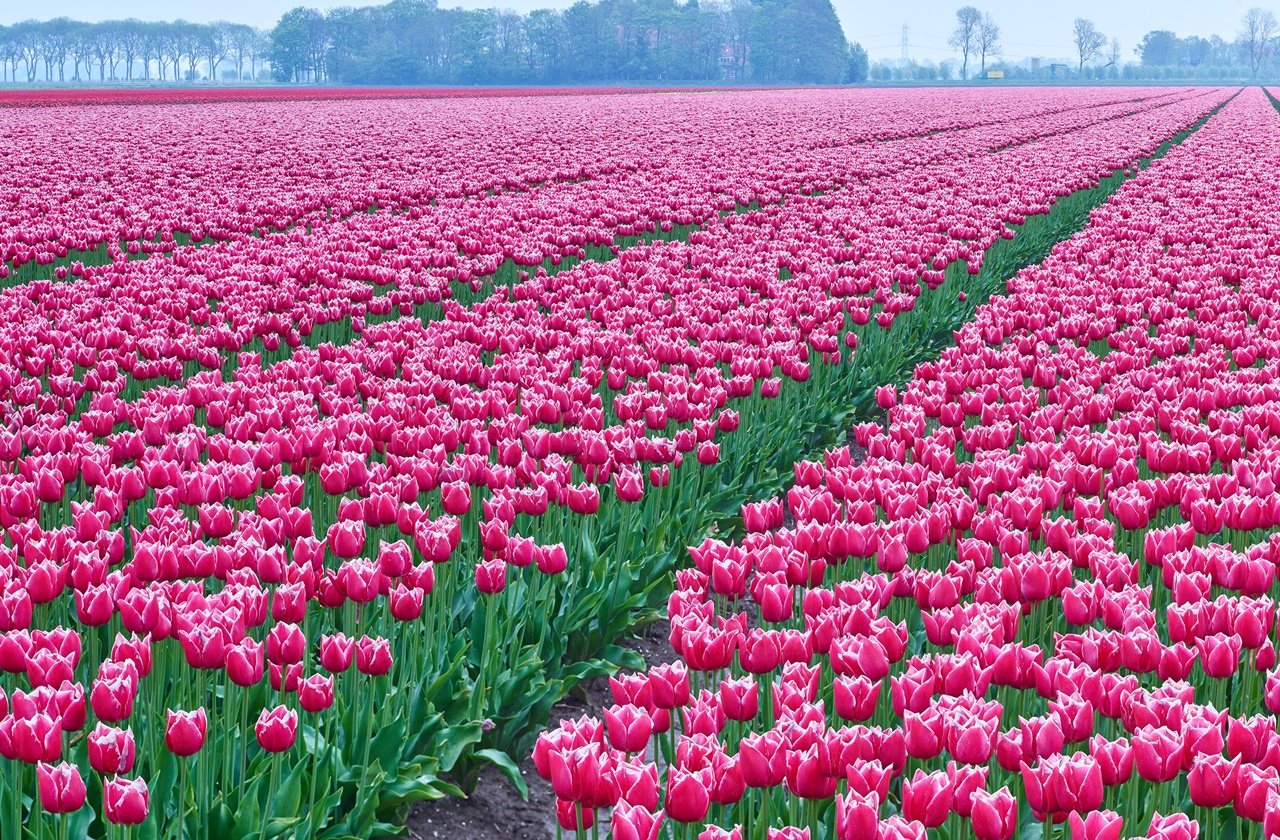 Photo by Judy Doherty on Unsplash
Noordoostpolder is an under-the-radar destination to see the tulip fields in The Netherlands, but it is one of the best. It used to be submerged until it was reclaimed sometime during the 20th century. Now, the area is filled with flower fields and is one of the highly recommended places in the country to visit during tulip season. Most of Noordoostpolder is bike-friendly so you can enjoy cycling tours around the farms.
From mid-April until the first days of May, Noordoostpolder celebrates its tulip festivals. Additionally, the area prides itself on having one of the largest tulip fields in the country, so expect to see a riot of colors as you visit one field and another. Every year, the festival also introduces a tulip route that takes you around the most breathtaking tulip fields. These routes are good for those traveling by bike, by car, and even by walking. The sea and windmills add to its rural charm and make a perfect background for your photo. After seeing the tulip fields in Noordoostpolder, you can make a stopover at Giethoorn before returning to Amsterdam.
Where to Stay:
Boetiek Hotel Kampen – situated 20 minutes away from Noordoostpolder, the hotel offers clean and comfortable rooms in the heart of Kampen. Guests can enjoy the nearby walking or cycling routes and a view of the river, garden, or city, from their room. (Prices start at 115 USD per night)
Hotel Restaurant Grandcafé 't Voorhuys – the hotel offers 37 rooms complete with private bathrooms, air conditioning, and flat-screen TVs. In addition, the hotel is near the city center so there's plenty of options for dining and shopping. Bike rental is also available for guests who want to explore the tulip fields Netherlands by bike. (Prices start at 96 USD per night)
Tulip Fields Netherlands FAQ
Where Are the Tulip Fields in Netherlands?
There are plenty of locations in the Netherlands where you can view the tulip fields. Keukenhof Gardens arguably has the most famous tulip fields in the country, visited by millions of visitors every year. On another note, you can also find other tulip fields outside of Keukenhof. The Bulb Region is a famous region in the country that has most of the tulip fields Netherlands. Some of the cities included in the region are Lisse, Noordwijk, Leiden, and Noordwijkerhout.
Aside from the Bulb Region, the Kop van Holland region is another ideal place to see the tulip fields. Cities in the said region include Den Helder, Schagen, Hoorn, and more. As compared to the cities in the Bulb Region, those in Kop van Holland have fewer crowds, so you can enjoy uninterrupted views of the fields.
Where Are the Best Tulip Fields?
Without a doubt, Keukenhof Gardens has the best tulip fields in the country. You can view up to 7 million of these stunning flowers and discover hundreds of varieties of tulips. However, entrance tickets to Keukenhof may be expensive for the budget traveler. Tickets to Keukenhof are limited and are subject to time constraints, so visitors may not be able to make the most out of their stay in the gardens. Additionally, the gardens can be crowded with both tourists and locals during the peak tulip season.
For those who want to avoid the crowds at Keukenhof, they may head to the Bulb Region or in Kop van Holland to see the tulip fields Netherlands. Most tulip fields outside the city don't charge an admission fee. In addition, since there are plenty of fields in one region, there's a small chance that you'll encounter large groups of visitors.
Can We Pick Tulips at the Fields?
Yes, you can pick and create your own tulip bouquet, however not all fields and farms allow this. There are designated picking gardens where you can visit, walk through the fields, pick your own bunch of tulips. You may not find picking gardens in Amsterdam, but there are plenty in Lisse and other towns outside the capital. Tulip fields that don't charge admission fees also allow tulip picking, but make sure to confirm on your visit if they allow picking of flowers. If they don't allow picking tulips, respect their decision and just admire the tulip fields Netherlands.
Additionally, tulip picking also comes with a price, although not all picking gardens do this. In most farms, they charge 0.25 EUR for every flower. Some charge higher, while some don't. If you're joining an organized tour, you may confirm with your tour operator if tulip picking fees are included in the overall tour price.