10 Airbnb Seattle Rentals To Consider For Your Trip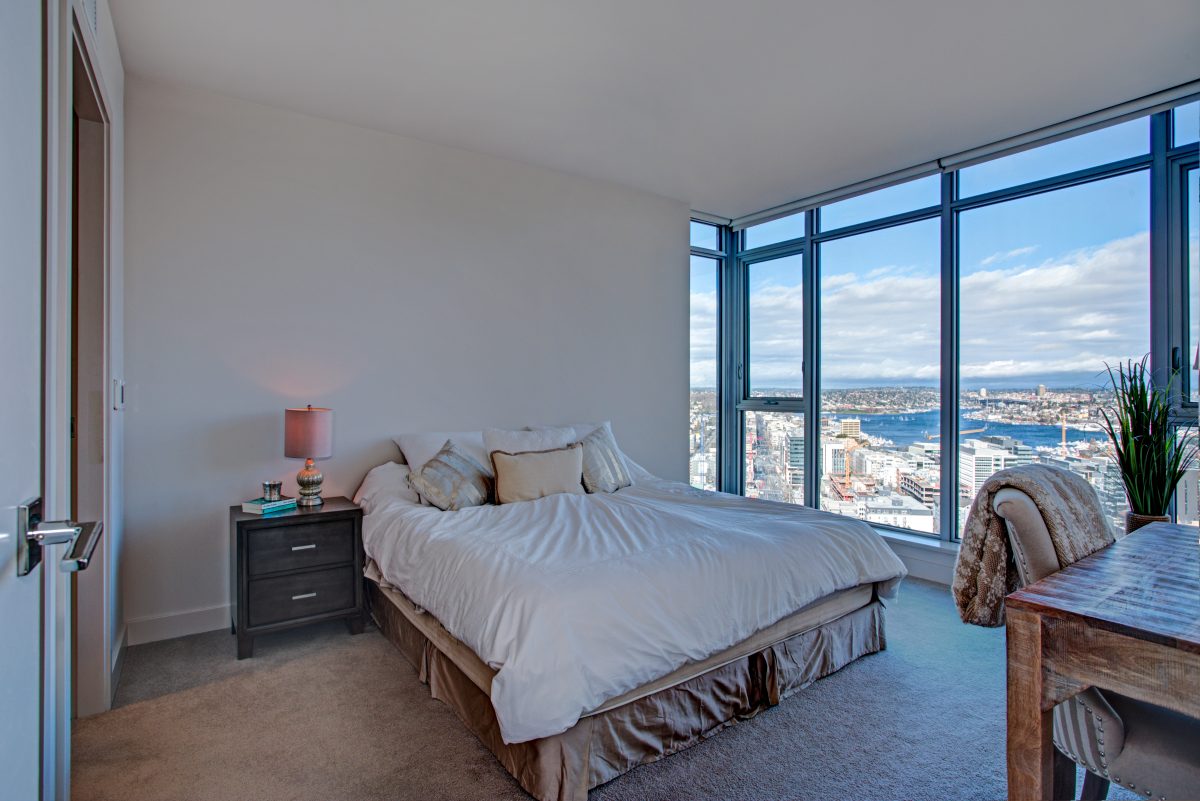 An exciting urban city with loads to discover, Seattle has it all. From sightseeing and cultural events to some of the best shopping and dining experiences around, there's plenty to do in Seattle. Also nicknamed the Emerald City, it's no coincidence that Seattle is surrounded by the great outdoors, giving way to great hiking, kayaking and other water sports in the area.
What better way to start and end your day of adventure in a place to call home (at least for a couple of days)? These are our top Airbnb Seattle picks, with something for every budget and traveller!
Airbnb Seattle Rentals For Those On A Budget
Just because you're tightening your purse strings doesn't mean you have to compromise on comfort or style. We found these Airbnb Seattle rentals that are super affordable and have plenty of great reviews, giving you peace of mind when you book your stay!
1.
Airbnb Seattle Hideaway
This Airbnb Seattle rental is the perfect fuss-free accommodation for up to four guests. Located in the quiet neighbourhood of Rainier Beach in South Seattle, it's the perfect mid-point distance to go up north for downtown Seattle, or south for hikes and other outdoor activities.
For those that prefer to eat out and have no use for a kitchen, you would still have a mini-fridge and microwave, ideal for heating up leftovers or for a simple breakfast. Coupled with a spacious living and dining room, master bedroom and private bathroom, this place has all the essentials you'll need for US$43 a night.
2.
Vintage Airbnb Seattle
Close to the International District, this cozy Airbnb Seattle rental is perfect for those who just need a personal room but are open to sharing spaces like the living room and kitchen. Think of it as a homely hostel where you can make new friends with fellow travellers before retreating to your own comfortable bedroom!
They even have a piano, guitar and other instruments which you're welcome to play with. When the sun's out, relaxing on the deck will have you not wanting to leave the house at all. Rates start from US$55 per night.
Airbnb Seattle Rentals For Large Groups
Sometimes travelling in a big group makes it difficult to find a place to stay. Fret not, because we've found these homes that are perfect to accommodate everyone (while making sure they all have a proper bed to sleep in!)
3.
Airbnb Seattle with Rooftop Views
This gorgeous townhouse is part of Airbnb Plus Seattle – which means this place is verified for its quality and design – and offers beautiful views from the heart of the trendy neighbourhood of Capitol Hill. The location is also home to amazing shopping, entertainment and dining venues which are all only a few blocks away.
With three bedrooms, two and a half bathrooms, a full kitchen, and a rooftop patio, this is the space to have your friends or family together. Many reviews also rave about its walk-in rain shower, perfect after a long day of exploring the city. For $229 a night, you can enjoy all these amenities for US$297 a night.
This central and upscale Airbnb Seattle rental not only provides the best location in the heart of Seattle, but it also sleeps up to nine guests in four bedrooms! Recently remodelled, the spacious living room and fully stocked kitchen make this the perfect home away from home. At just US$199 per night, this home is budget-friendly for group vacations.
5.
Airbnb Seattle with Wet Bar
This one-storey Airbnb Seattle rental is designed for entertaining. Gather everyone around the fireplace in the open living room and select drinks from the wine cooler or make your own at the dedicated wet bar.
Enjoy peaceful surroundings and views of Elliot Bay while staying minutes away from all the shopping, dining and entertainment the city has to offer. Rates start from US$255 a night.
Unique Airbnb Seattle Homes
These unique picks offer travellers a little something more than a couple of nights stay. Staying in these rentals is an adventure in itself!
6.
Airbnb Seattle Canvas Cottage
Try glamping it out in this Airbnb Seattle rental that will make you feel like you're staying in nature! This huge canvas tent can sleep two and comes equipped with a mini kitchen, toilet, and a barrel sauna for you to relax in.
This is outdoor living with all the comforts of staying indoors and for US$60 a night, we think it's a steal. Chill outside on your hammock or play with the owner's two dogs (Arlo and Zuko!) after a day's adventure in the city.
7.
Tiny Airbnb Seattle Home
Ever wanted to know how it's like to live in a tiny house? Well, now you can in this Airbnb Seattle rental. The queen bed on the upper loft and a sofa bed that can be opened up down below will sleep up to a party of four.
The tiny house even comes with all the modern amenities you would need like a toilet, kitchen, and even a washer and dryer. For only US$65 a night, this is a fun experience to be had!
8.
Airbnb Seattle Houseboat
Be the captain of this Airbnb Seattle rental and experience the tranquillity of living on water! It comes complete with everything you expect in a traditional home like a toilet and kitchen but with added fun. With all the natural sunlight that this houseboat gets, you'll feel that it's super spacious.
In the evening, have a barbeque on the deck while watching the sunset over the city. Rates start from US$255 a night.
Luxury Airbnb Seattle Homes
Leaving the best for last, these Airbnb Seattle rentals are for those seeking a little bit of indulgence and will take your breath away when you first arrive.
9.
Airbnb Seattle Plum Modern
This sun-filled Airbnb Seattle rental will have you wishing you live there. A glass door opens up a wall in the living room to the back deck and to the enormous rooftop deck where a hot tub and gas barbeque awaits for your enjoyment. The home even features a media room, perfect for late-night movies!
With five bedrooms that can sleep up to 14 guests, 3.5 bathrooms, two kitchens as well as a backyard, this is how to travel in style. For US$375 a night, you can have a taste of luxury and you'll wish you didn't have to leave.
10.
Airbnb Seattle Pike Place Penthouse
Treat yourself to this Airbnb Seattle luxury penthouse that boasts unobstructed views of Puget Sound, the Olympic Mountains and downtown Seattle. With over 50 feet of windows, it'll make you feel like you're on an observation deck!
The building also comes with amenities like an indoor pool, hot tub, fitness centre, club room, outdoor patio with a barbeque, and even a Target store in the basement.
What to do in Seattle
Now that you've settled where to stay, here's what to check out on your trip to the Emerald City!
Space Needle
Built in 1962 for the World Fair, the Space Needle has recently been transformed to continue awing its visitors. Now, it showcases two viewing levels with floor to ceiling windows and the world's first revolving glass floor. There's even a cafe and wine bar on the upper observation level to enjoy some small bites or even a meal, along with the view.
With just one admission ticket, you can explore both viewing levels, have free digital photos to bring home, and a thrilling virtual reality bungee jump experience waiting for you!
Chihuly Garden and Glass
Dedicated to the work and career of Seattle born, world-renowned glassblower Dale Chihuly, the Chihuly Garden and Glass museum holds the most comprehensive collection of his art to date.
Explore the inner galleries before heading to the garden where more sculptures await amongst colourful flora. Also not to be missed is the 100 foot long suspended sculpture in the glasshouse. End your visit to the Bookstore where you can bring home memorabilia relating to Dale Chihuly's artworks.
Pike Place Market
Established in 1907, Pike Place Market is Seattle's original farmers market and today, hosts visitors from all over the world. Over 225 local artisans sell speciality foods, crafts and collectibles in the market. There are even highstalls which operate in the market daily selling fresh produce and catches to the locals.
The historic MarketFront also features an open-air plaza where many buskers perform throughout the day and offers amazing views of Elliott Bay. Too overwhelmed? Discover the market with a walking tour and let your guides show you the way with cooking classes to boot!
Ending off
With a wide variety of things to explore and experience, Seattle offers everything for everyone. These Airbnb Seattle rentals will have you living like a local for a few days while giving you easy access to major areas and tourist attractions. There's no better reason for booking your next trip now!