17 Best Travel Bassinets for Safe Family Vacations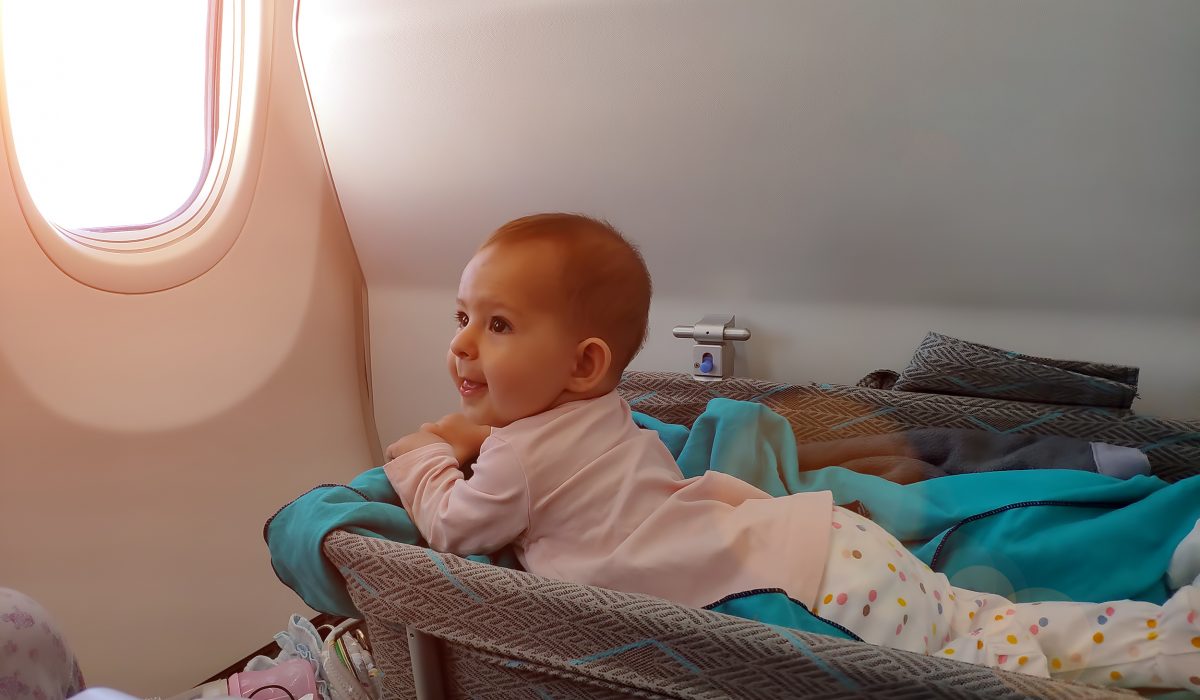 A travel bassinet is an essential for families with infants who love to travel. Whether you're going on short, cheap weekend getaways or long holiday vacations, you'll want your little ones to feel safe, secure, and comfortable. While some hotels and other accommodations offer cribs and bassinets for babies upon request, having a familiar place to sleep in can help avoid restless nights — both for the baby and the parents.
So, what should you look for in a travel bassinet for a baby? The best travel bassinet is portable, secure, and easy to use. Here's a rundown of the 17 best travel bassinets that will provide your baby a safe place to sleep while on the road.
1. Best Overall: Besrey 3-in-1 Bassinet for Baby
The 3-in-1 travel bassinet from Besrey is our top pick as the best bassinet for babies for several reasons. First, it is certified by the Consumer Product Safety Commission (CPSC) and ASTM International. Meeting these safety standards means you are guaranteed that its aluminum-alloy frame and other components are sturdy, high-quality, toxic-free, and safe for the baby. Furthermore, it's a foldable bassinet that's incredibly easy to set up — no tools required!
This top-rated bassinet features two modes — Sleep Mode and Rocking Mode. Switch on Rocking mode to lull your little one to sleep, and then Sleep mode once they've drifted off. This rocking bassinet for baby comes equipped with a mosquito net that will protect them from insect bites. Its four-sided mesh sides not only provide ventilation and breathability but also allow visibility for parents. Moreover, it has a storage basket at the bottom, which can hold baby essentials such as diapers and wipes. Lastly, it's reasonably priced, as well! The only downside to Besrey's infant bassinet is the thin mattress. You may want to opt for extra padding to ensure ultimate comfort.
Pros:
Equipped with rocking mode
Meets CPSC and ASTM safety standards
Storage basket
Cons:
Get the Besrey 3-in-1 Bassinet for Baby on Amazon
2. Best Airplane Bassinet: Lulyboo Indoor/Outdoor Cuddle & Play Lounge
Frequent fliers will surely appreciate the Lulyboo infant bassinet. This lightweight baby sleeper weighs less than four pounds and conveniently folds into a backpack in just seconds. When laid out, it measures 32 inches in length and fits across two people's laps. Admittedly, though, it is rather small, so the baby could quickly outgrow it. The padding is another drawback; while it is waterproof, it isn't removable and is not the easiest base to clean. On the other hand, it has a machine washable cover that you can just throw in with other loads.
Besides being a travel bassinet, parents can also use it as a changing station or playpen when the baby is awake. The removable activity bar and two toy loops is such a convenient feature that can easily keep your little one entertained throughout the flight. The adjustable canopy comes in handy in protecting babies from bright lights.
Pros:
Suitable for air travel

Innovative backpack-like design

Comes with a toy bar and adjustable canopy
Cons:
Small for some babies

Hard to clean mattress
Get the Lulyboo Indoor/Outdoor Cuddle & Play Lounge on Amazon
3. Best Co-Sleeper Bassinet: Mika Micky Baby Bassinet
If you want your newborn within arm's reach, choose a co-sleeper bassinet. Also called a bedside bassinet, this type of baby sleeper allows parents to quickly attend to their infants while still providing them their own separate space. Our top pick for the best bedside bassinet is the one from Mika Micky. It comes with hooks and straps, which lets parents securely tether this portable bassinet to their beds. In addition, it has seven different height adjustments, so you can adjust the height of your baby's bassinet to the same level as your hotel's mattress.
It takes some time to assemble it, though, and there is a slight wobble when it is not attached to a bed. Nevertheless, it's still an excellent option for parents who want a greater sense of closeness with their newborns. Finally, a feature you'll certainly love about the Mika Micky bassinet is the built-in wheels that lock the bassinet in place.
Pros:
Convertible into a co-sleeper

Safety straps and hooks

Adjustable frame
Cons:
Feels wobbly when not attached to a bed
Get the Mika Micky Baby Bassinet on Amazon
4. Best Pack and Play With Bassinet: Graco Pack 'N Play On The Go Playard
In the market for a portable bassinet with a play yard? If so, then the Graco Pack 'N Play On The Go Playard is exactly what you need! From one of the most trusted baby gear companies in the US, this Graco portable bassinet grows with your child. The full-sized bassinet can be utilized as a safe sleeping space as well as a changing table. It even has a toy bar that will keep them distracted when changing their diapers. When your little one is big enough for the bassinet, you can transform it into a playpen. The best part? With just a press of a button, it collapses quickly for easy storage.
The Graco travel bassinet is rather bulky, especially compared to other options on this list. Despite this, it's still among the best pack and plays with a bassinet available within its price range.
Pros:
Bassinet and playard combo

Easy to disassemble and pack
Cons:
Get the Graco Pack 'N Play On The Go Playard on Amazon
5. Best Newborn Bassinet: Baby Delight Snuggle Nest
On the hunt for the best bassinet for newborn babies? Whether you're at home or staying at the best Big Sur hotels, the Snuggle Nest bassinet from Baby Delight will provide your newborn with a safe place to sleep in and lounge on. The waterproof mattress comes with a fitted, machine-washable removable sheet, so you can just throw it in the washing machine. Moreover, it folds in half and has handles for easy pack up and storage. Albeit, this feature seems to be a double-edged sword. While it makes it convenient for travel, unless it's on a bed that is extremely firm, it may not stay entirely flat.
Pros:
Folds in half for easy storage and portability

Machine washable
Cons:
Lack of support in folding joint
Get the Baby Delight Snuggle Nest Portable Infant Lounger on Amazon
6. Best for Small Spaces: Babybjorn Cradle
Depending on where you're staying, you won't always have the most spacious accommodations. When staying in small hostel rooms, you'll need the best bassinet for small spaces. Measuring only 26 inches in height and 31 inches in width when assembled, the Babybjorn Cradle is a fairly small bassinet that won't take up much space. Boasting a sleek design, parents can fold it up into a mere five inches. Thus, making it easy to store and travel with.
Despite this, it has an incredibly solid frame with anti-slip padding that guarantees it won't move around. Additionally, it's easy to clean too since the components are machine washable. The gentle rocking capability is an added feature that parents will love about the Babybjorn Cradle. Admittedly, though, it's considerably more expensive than other travel bassinets.
Pros:
Sleek design

Rocking feature

Machine washable components
Cons:
Get the Babybjorn Cradle on Amazon
7. Best Budget-Friendly: Munchkin Brica Fold N' Go Travel Bassinet
Finding the right travel bassinet for your baby doesn't mean spending hundreds of dollars. The Munchkin Brica Travel Bassinet is a no-frills portable bassinet with an affordable price tag. It's lightweight, incredibly portable, and easy to use. The four-point locking system ensures safety and provides peace of mind to parents. The durable sidewalls come with mesh panels that enhance air circulation, thus keeping your baby cool. It likewise allows you to see them at all times. Meanwhile, you can easily move this portable bassinet anywhere since it is equipped with integrated handles.
Just note that this relatively cheap bassinet is not meant to be used on elevated surfaces. Instead, it's meant for when you're having picnics at the park or at the beach and your baby's nap time beckons. Simply place it on top of your favorite beach blanket and your baby can safely and securely enjoy naptime anywhere. It's worth noting that it is only recommended for infants up to three months old.
Pros:
Affordable

Four-point locking system

Integrated carry handles
Cons:
Not meant for elevated surfaces

Not suitable for babies three months old and above
Get the Munchkin Brica Fold N' Go Travel Bassinet on Amazon
8. Best Rocking Bassinet: Fisher-Price Rock with Me Bassinet
Looking for a travel bassinet that rocks and lulls your little one to sleep? The Fisher-Price Rock with Me Bassinet is certainly among the best rocking bassinet for babies. Just give it a gentle nudge and it will safely sway back and forth, soothing your baby until they drift off. It's a breeze to set up too. All you need to do is unfold it then lock it into position.
When folded up, the Fisher-Price rocking bassinet measures about four inches and weighs around two pounds. While the frame is relatively lightweight, the bulky size makes it unsuitable for air travel. However, it's a fantastic option if you're traveling cross-country in a car or in an RV motorhome.
Pros:
Gentle rocking motion

Extremely lightweight
Cons:
Not suitable for air travel
Get the Fisher-Price Rock with Me Bassinet on Amazon
9. Best with Wheels: Skip Hop Baby Bassinet
The Skip Hop bassinet takes the spot as the best portable bassinet with wheels. A two-in-one portable baby bed, it serves as a bedside sleeper and stand-alone bassinet. Nursing mothers will especially appreciate the sliding door panel that allows them to reach out to their babies for late-night feedings. Although, it's important to note that the sidebar doesn't go down completely, which can be a deal-breaker for some.
The pivot-and-lock system allows portability while ensuring that it won't accidentally roll away. If you're still worried even after locking the wheels in place, use the handy straps to safeguard it to your bed. In addition, the lightweight design of this portable baby bassinet means you can wheel it from room to room with ease. Another commendable aspect of the Skip Hop bassinet is the eight fully adjustable height positions. Because of this, it will surely match the height of the beds regardless if you're in a hotel or in one of the Airbnb Chicago rentals.
Pros:
Pivot-and-lock wheel system

Slide down sidewall

Security strap attachments
Cons:
Sidewall doesn't lower all the way down

Expensive
Get the Skip Hop Baby Bassinet on Amazon
10. Best Ease of Use: Dream On Me Traveler Portable Bassinet
The Dream On Me Traveler Portable Bassinet is extremely easy to set up with its snap-on legs and one-piece top structure. On top of that, its lightweight frame is easy to fold. Traveling with it is a breeze too, thanks to the convenient travel bag included. Just note that it may not be the easiest to wash. Another possible deal-breaker for most is that while it comes with two mesh side panels, it doesn't provide full visibility of your baby from all angles. On a more positive note, the Dream On Me bassinet can hold up to a maximum weight capacity of 25 pounds, which is a lot more than what most travel bassinets could carry.
Pros:
Easy to assemble and fold up

Greater weight capacity
Cons:
Not machine washable

Poor visibility
Get the Dream On Me Traveler Portable Bassinet on Amazon
11. Best with Storage: Milliard Bedside Bassinet
If you're looking for a travel bassinet with easy storage, look no further than the Milliard bassinet. It has several side pockets to keep the baby's essentials organized and within reach. Besides being a portable crib, it acts as a bedside bassinet, making it a suitable option for breastfeeding moms. The included fitted sheet is machine washable, while the waterproof mattress cover only needs to be wiped down with a damp cloth.
The biggest drawback to this bassinet is its sidewalls. Since it's not made from mesh or other sheer fabric, you won't have any visibility from the sides. On the bright side, it is simple to put together and is one of the baby bassinets that rocks with just a gentle push on the handles.
Pros:
Multiple storage pockets

Rocking mode
Cons:
Get the Milliard Bedside Bassinet on Amazon
12. Best with Diaper Bag Backpack: Happy Luoka Diaper Bag Backpack with Changing Station
At first glance, the Happy Luoka diaper bag looks just like any other mommy backpack. But it can easily double as a travel bed for infants. This 3-in-1 backpack is a must-have for parents always on the go. Its ultra-roomy exterior can hold all baby essentials. And when it's time to change your baby's diaper or midday nap, simply unfold and expand it to use as a changing pad or a lounger. There's even a secret pocket on the backside to store valuables. What's more, it comes with insulated pockets to keep the baby's milk warm. The tissue and wipe side pocket is also a handy feature for nursing mothers. Along with its stroller attachment clips and charging port, it's certainly among the best diaper bags for families who love to travel.
Note that while it is relatively easy to assemble you may find it difficult to fold it back up, especially if you have your child in your arms. There is a learning curve in figuring out how to transform it back into a diaper bag from changing station or lounger. Moreover, the zippers can be rather delicate, so take extra care when zipping and unzipping.
Pros:
Multi-functional

Insulated pockets

Roomy inner compartment
Cons:
Can be difficult to fold back up

Fragile zippers
Get the Happy Luoka Diaper Bag Backpack with Changing Station on Amazon
13. Best for Outdoors: KidCo Peapod Travel Bed
Planning to take your youngster on an outdoor adventure? Or maybe just your backyard? The KidCo Peapod is definitely a must-have camping gear. Designed for kids aged one to three years old, the KidCo Peapod is a tent-like pop-up travel crib for toddlers. The protective canopy and mesh linings keep insects out, while still promoting proper ventilation. Since the material is UV coated and fire retardant, you don't have to worry about it overheating.
A downside to this product is that it can be challenging to clean. Furthermore, while it is relatively easy to set up, there's a learning curve to folding it back up. Once you do learn to set it up, though, you'll have a compact travel sleeper that can fit into carry-on luggage. This means you can bring it with you during air travel.
Pros:
UV protection

Suitable for air travel
Cons:
Difficult to fold back up

Hard to clean
Get the KidCo Peapod Travel Bed on Amazon
14. Most Durable: Chicco LullaGo Anywhere Portable Bassinet
Constructed from a blend of steel and aluminum, the Chicco LullaGo Anywhere Portable Bassinet is made to last. Despite the durable materials, it's surprisingly lightweight, coming at only 12 pounds. Admittedly, it is still heavier (and bulkier) than other entries on this list. However, its well-built snap-on metal legs that can carry up to 20 pounds make it a breeze to assemble and disassemble. It folds flat and comes with a carry bag for enhanced portability and convenience when traveling.
Other highlights of the Chicco LullaGo portable bassinet you'll love include its mesh pocket, mesh sidewalls, and streamlined design. The waterproof mattress, fitted sheet, and zip-off fabric are all machine washable, making it an easy-clean option!
Pros:
Durable materials

Snap-on legs

Machine washable components
Cons:
Heavier and bulkier than most models
Get the Chicco LullaGo Anywhere Portable Bassinet on Amazon
15. Best Bassinet Crib Combo: KoolerThings 3-in-1 Folding Portable Crib
This bassinet crib combo can be used as a standalone crib, bedside bassinet, and playpen. Breastfeeding moms can simply pull down the zippered side to convert it from a crib to a bedside bassinet before feed time. It features five adjustable heights so you can easily match it to your hotel room's bed frame. It's likewise a suitable option for older babies and toddlers since it functions as a play yard.
The built-in wheels of this travel crib for babies and toddlers make it easy to move around, but at 25 pounds, it isn't the most lightweight option out there. Moreover, it leans on the bulkier side compared to other options. Another negative aspect of this product is its sidewalls. When in crib mode, only one side comes with mesh paneling. However, in playpen mode, you have a mesh lining on all sides.
Pros:
Multi-functional

Equipped with wheels

Adjustable height
Cons:
Heavy and bulky

Poor visibility in crib mode
Get the KoolerThings 3-in-1 Folding Portable Crib on Amazon
16. Best Value: Evenflo Loft Portable Bassinet
Looking for the best baby bassinet that won't break the bank? The Evenflo Loft Portable Bassinet offers all the essential features you will need in a travel baby bed and more. It's equipped with advanced features such as a Bluetooth speaker, which parents can use to play lullabies or other soothing sounds. Meanwhile, the built-in nightlight and room temperature monitor help create the coziest atmosphere possible for a peaceful night's sleep. Its sleek design and easy-to-fold construction make it great for travel.
Although, the lack of a carry bag means you may have a difficult time lugging it around. The mattress pad is firm yet can be too stiff for some. Moreover, since the mattress itself folds in the middle, there's a defined crease that may sink under weight and pressure. You can remedy this by adding a second layer of padding, or a bassinet mattress.
Pros:
Bluetooth speaker

Built-in nightlight

Room temperature monitor
Cons:
Poor mattress quality

Doesn't come with a storage bag
Get the Evenflo Loft Portable Bassinet on Amazon
17. Best with Mosquito Net: LuckyDove Travel Bassinet
The LuckyDove Travel Bassinet is a great option when spending a day outside or going out on a night camping. Its mesh panels and canopy promote airflow while also serving as a mosquito net to protect your baby against pesky insects. Boasting a firm yet comfortable mattress and soft fitted sheet, it's an excellent baby bed for afternoon nap times or just a simple lounger. Unlike other options, the sidewalls are not all made from mesh. Thus, you don't have visibility on all sides. In terms of how easy to clean this product is, the mattress isn't waterproof and the sheet it comes with is not machine washable. Moreover, you will need to wipe the fabric of the sidewalls with warm water and soap to clean them.
Rest assured that your little one is secure thanks to the sturdy locking frame and extra-high sidewalls. Setting it up and folding it back is super easy, too. After using it, simply press the release buttons then fold it flatly. There's even a travel bag included! Finally, since it weighs less than three pounds, it's extremely lightweight and portable! It can easily fit in most carry-on luggage bags!
Pros:
Mesh canopy acts as a mosquito net

Extremely lightweight

Extra-high sidewalls
Cons:
Hard to clean

Not all sidewalls are sheer
Get the LuckyDove Travel Bassinet on Amazon
How to Choose the Best Travel Bassinet
Size and Weight
When traveling, you'll want to pack as light as possible. That said, a small, lightweight bassinet will be easier to travel with. Opt for one made from lightweight material and can be folded up as small as possible. The size of your bassinet can depend on your mode of travel. A road trip from Phoenix to Sedona in the family SUV might not need the most compact travel crib out there. Although, for air travel, the smaller and lighter, the better.
Maximum Weight Limit
Babies grow fast and you should always check the maximum weight limit of the travel bassinet you're purchasing. Different manufacturers have different recommendations for their bassinets' height, weight, and age limits. Some options can only be used until your baby is three-months old, while others can be used until they reach toddler age. It's important to note that once a baby is old enough to roll over and sit by themselves, they are too old for your standard standalone bassinets.
Material and Comfort
Your child's comfort and safety should be your top priority when choosing a travel cot. While soft and plush materials can be extremely comfortable, they are also suffocating hazards. Instead, opt for a travel bassinet for babies with mesh sides since they provide better air circulation and breathability. Plus, a mesh bassinet makes it easier to always keep an eye on the baby. Since babies' skins are delicate, make sure to check the quality of the fabric used in a bassinet and avoid those that are treated with chemicals.
Safety and Durability
All travel bassinets and portable cradles sold in the U.S. must adhere to the safety standards set by the Consumer Product Safety Commission. As a rule of thumb, the safest bassinet comes with a sturdy frame with a wide base and smooth surface. The best travel bassinet for babies should be lightweight and compact, yet they also need to be durable and hard-wearing enough to withstand collapsing and re-assembly over time. If you're looking for a portable bassinet with wheels, make sure the wheel locks are strong and sturdy to keep it safely in place. What's more, a firm yet comfortable mattress that fits snugly into the bassinet is a must — there should be no gaps between them. The sheet it comes with should be tight-fitting, as well.
Portability
As the name suggests, travel bassinets are meant to be travel-friendly. That said, the best portable bassinet is lightweight, collapsible or foldable, and compact. Some options are small enough to fit into a weekender bag! You can find some portable baby bassinet options with built-in handles for easy transport, while others come with a carry case.
Ease of Use
After an exciting day of visiting the must-see landmarks in New Orleans, your baby is probably tired. And a tired baby can oftentimes be a cranky baby. All they'll want is to get some rest and relaxation. When this happens, you wouldn't want to spend more time trying to figure out how to set up a bassinet. As such, it's important that the travel bassinet you invest in is easy to assemble and disassemble. Furthermore, make sure that the bassinet comes with simple and clear instructions. Practice setting and dismantling it as well when you're at home.
Extra Features
The main purpose of a travel bassinet is to have a safe place for your child to sleep on while traveling. However, there are some extra features that can make you and your baby's sleep routine while on vacation much easier. Bassinets with side pockets or lower storage space are great for keeping diapers and other baby essentials within easy reach. Bedside bassinets with adjustable heights and lockable wheels come in handy when you want to keep your child close. Meanwhile, some newer models even have advanced, smart features that can help your child fall asleep faster. This includes the likes of such as fancy lights, built-in sound machines, and vibrations.
The Best Travel Bassinet for Holidays
A travel bassinet is a comfortable, familiar, and safe place for your baby to sleep in while on vacation. It's also a convenient way to keep your baby close for late-night feedings and nighttime comforting. Families who love to travel need a portable bassinet for your baby that isn't just lightweight and compact, but snug and cozy too. And of course, it goes without saying, travel bassinets should prioritize your baby's safety. With these things considered, we hope we were able to help you pick the best travel cot for your little one.