Road Trip from Phoenix to Sedona: What to Expect?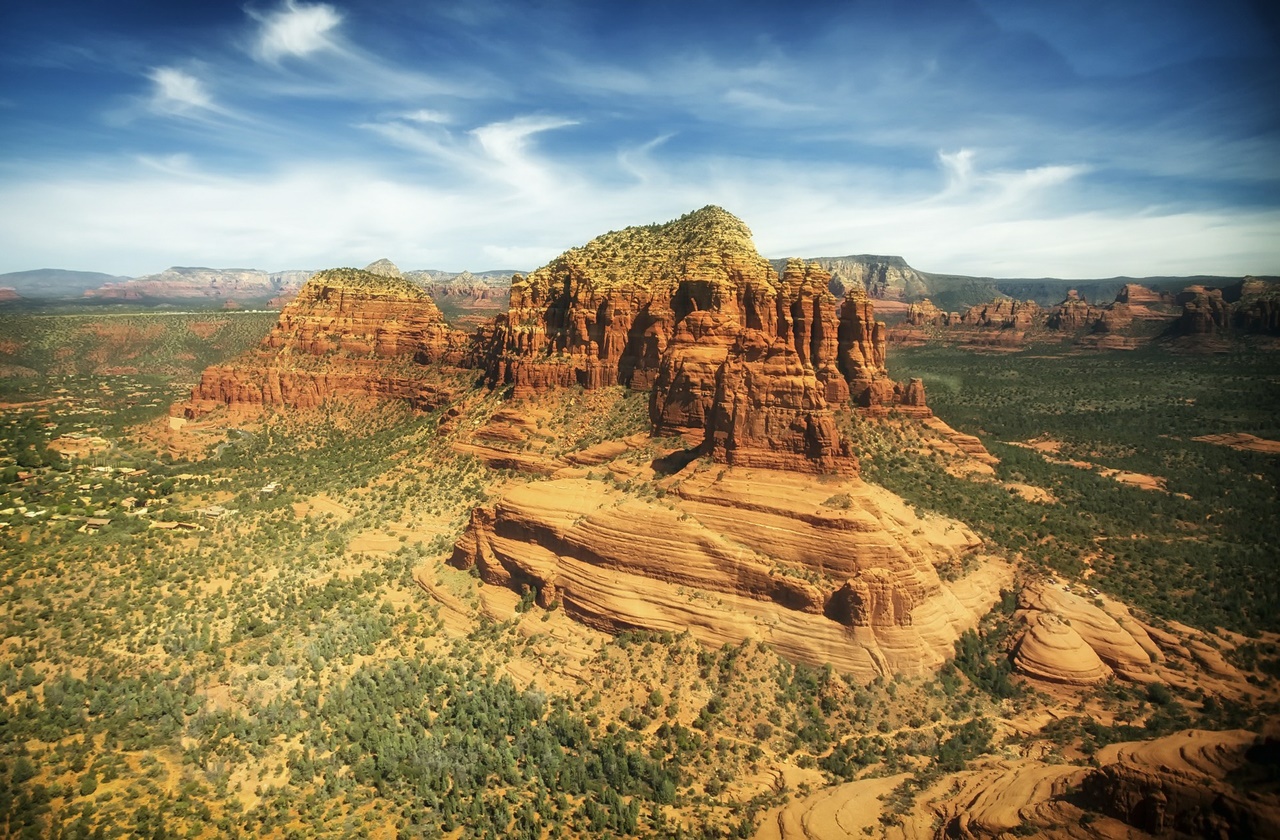 There's more to Arizona than the Grand Canyon and vast deserts. It also boasts stunning must-visit national parks, mountain ranges, and mystical vortexes. To see what The Copper State has to offer, it's best to take a road trip from one city to another. A drive from Phoenix to Sedona is among the most popular trips in Arizona. It takes you through red rocks, vast landscapes, and more. Drive past Phoenix's buildings and houses and find a pleasant change of scenery as you arrive at Sedona.
The travel time from Phoenix to Sedona is 2 hours, but if you have plenty of time to spare, you can stop by quaint cafes or visit national monuments along the way.
How Far Is the Drive From Phoenix to Sedona?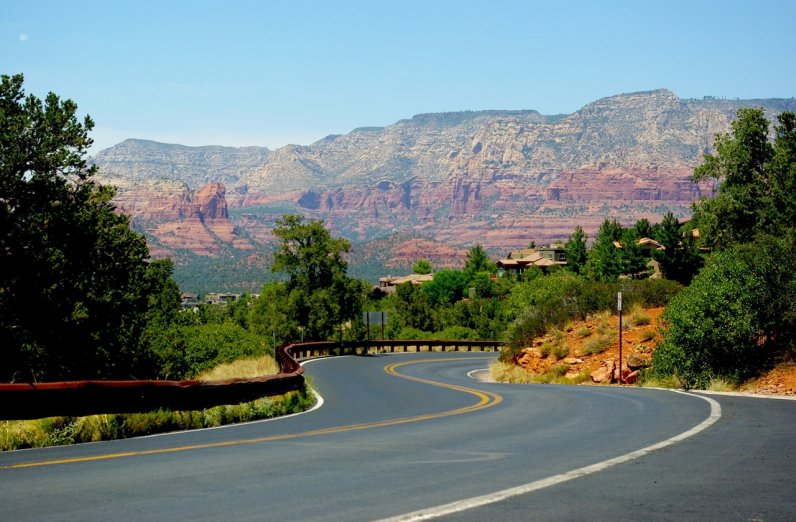 Photo by marc70 on Pixabay
The average drive time from Phoenix to Sedona is more or less 2 hours. The distance from these two cities is approximately 116 miles or 187 kilometers. Although you can drive without making any stops, it's better and more interesting to stop along the way. You can also discover something new, perhaps a small restaurant or a monument you might overlook. Most travelers recommend stopping for at least an hour or two on every landmark or attraction. If you plan on bringing an RV camper, there are campsites along the way as well.
On your trip from Phoenix to Sedona, you'll pass by one of the most scenic drives in the country. Described as a "museum without walls", the Red Rock Scenic Byway takes only 20 minutes to drive along. However, this is where you can find the best and most iconic sights on the road. As you drive past scenic roads, find Bell Rock and Cathedral Rock, two of Sedona's vortexes, and famous tourist sites.
What to Expect From Sedona?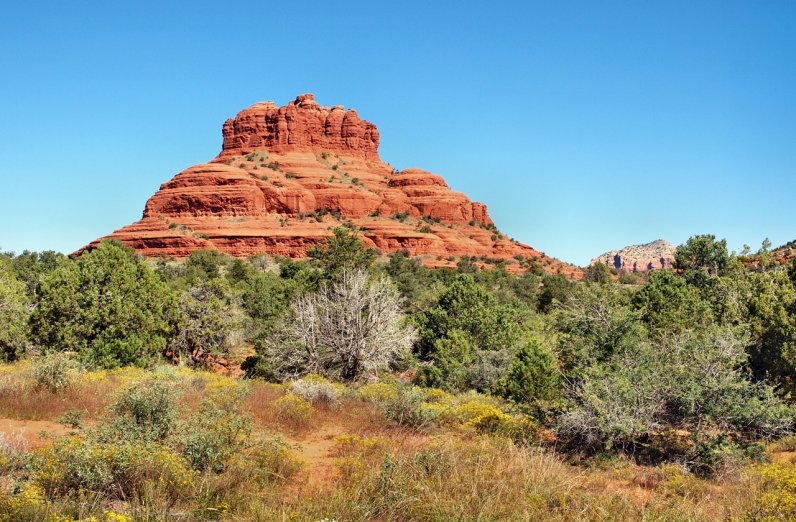 Photo by Christiane1956 on Pixabay
There are more than a hundred hiking trails in Sedona with different levels of difficulty. From beginner-friendly hikes to challenging ones, you'll find a perfect trail for you in Sedona. Despite their differences in difficulty, they are the same in the sense that they give you the best views of the town. Most hiking trails in Sedona are not as hot as the trails in Tucson or Phoenix, but the overall temperature is perfect for hiking at any time of the year.
Follow the Fay Canyon Trail for an easy hike with minimal elevation gain. This trail is perfect for families with children because of its short distance. The Cathedral Rock Trail is the most popular trail, giving you the best views of Sedona. Although it starts off easy, some sections are steep and will require using both hands and feet to climb.
Sedona is home to four vortexes, areas with a high concentration of spiritual energy. People claim to feel inspired, rejuvenated, and even recharged after visiting a vortex. Regardless if you believe in these, these vortexes are must-see. The most visited sites are Airport Mesa, Cathedral Rock, Bell Rock, and Boynton Canyon.
If you visit a vortex, you'll find people meditating, doing yoga, or performing rituals. Activity providers also offer vortex tours featuring healing practitioners as guides.
Also called the Red Rock Country, Sedona is famous for its towering rock formations. These sandstone creations glow bright orange and red when illuminated by the sunrise or sunset. At night, these formations provide a stunning background to the stars. You can explore these rock formations by hiking, mountain biking, and even by joining a Jeep Tour.
Visit Bell Rock and Cathedral Rock, arguably the most photographed Sedona attractions. Get a bird's-eye view of the city from Airport Mesa, a must-visit when viewing either the sunrise or sunset. Some of these rock formations are also best seen on a hike. On the other hand, for a relaxing time, enjoy a picnic at one of the parks overlooking these breathtaking formations.
Sedona is also one of the best small cities for aspiring artists. In town, you can find galleries within walking distance from each other. In residential and commercial areas, there are various sculptures and art installations around. Because of its landscapes that are works of art in itself, artists find inspiration in Sedona's breathtaking natural wonders.
Whether you're an art enthusiast or you're looking for something to do on a sunny afternoon, visit one of the galleries in town. At Tlaquepaque Arts & Shopping Village, you might get the chance to see a sculptor finishing his work at a gallery. During the first Fridays of the month, don't miss the chance to see exclusive collections and new works.
Best Time to Visit Sedona
Photo by Detlef Weiss- Photography on Flickr
With warm yet temperate weather throughout the year, the best times to visit Sedona are spring (March to May) and fall (September to November).
In spring, the weather is the most pleasant, making it the best time for outdoor activities. Small desert flora in different colors speckles the terracotta-hued hiking trails and rock formations. The temperature is warm, but not as scorching as Tucson. However, expect that the city will be crowded with other tourists since this is the most popular time to visit Sedona. If you're planning to visit during this season, make sure to book your accommodation and tours ahead.
September to November is also a good time to visit Sedona. The temperature is milder and cooler, but still comfortable for hiking and exploring outdoors. Trails and forests are colored with vibrant hues of red, orange, and gold, giving it a nice pop of color. Evenings are also crisp and cool, so pack extra layers if you plan on visiting Sedona in the fall season.
What's Between Phoenix and Sedona?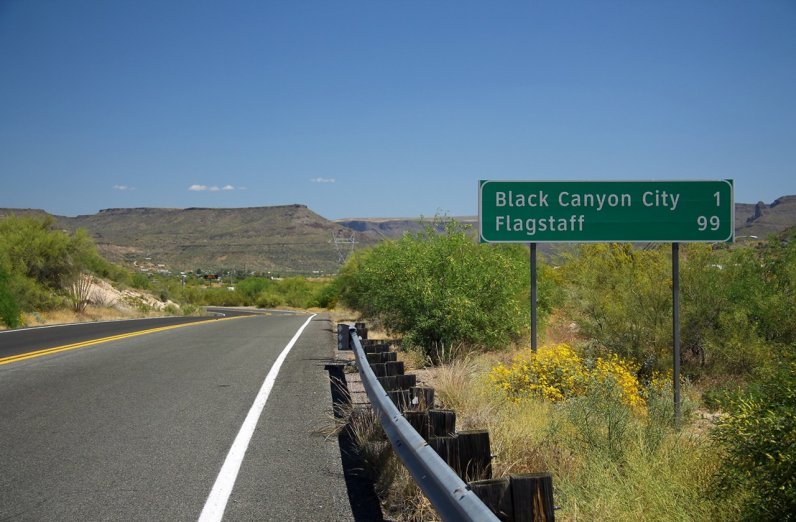 Photo by formulanone on Flickr
Less than an hour from Phoenix is Black Canyon City, a small town reminiscent of the Old West. With several historic properties and interesting history in itself, it makes a good stopover on your way to Sedona. Visitors also visit Black Canyon City to see the ruins of the Swilling residence, a ranch house built by Jack Swilling, one of the founders of Phoenix.
Aside from its historical significance, Black Canyon City is a popular stopover from Phoenix to Sedona because of its food. Travelers flock to Rock Springs Cafe for its homemade pies and biscuits and gravy. Refuel with a hearty meal and take a box of their famous cherry crumb pie. If you have plenty of time to spare, you can also hike along the Black Canyon Trail and see expansive views of the Sonoran Desert.
Address: AZ 85324, USA
Operating Hours: Open 24/7
Agua Fria National Monument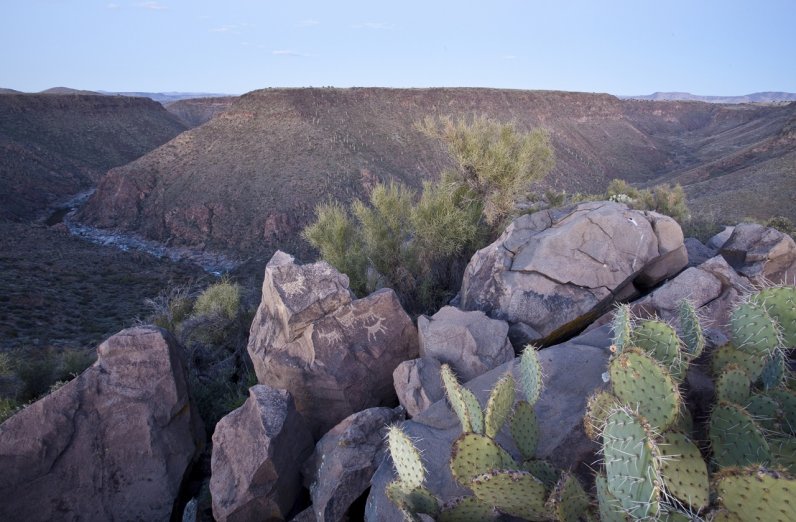 Photo by Bureau of Land Management on Flickr
Agua Fria National Monument may not be the most accessible stopover, but it is definitely worth checking out. This 71,000-acre monument borders two mesas and the canyon of the Agua Fria River. Several animals also reside in the monument, including bobcats, antelopes, coyotes, and more. Agua Fria National Monument also houses more than 400 Native American structures, some of which are pueblos with hundreds of rooms.
Follow the Pueblo La Plata Trail, an easy and short hike that takes you to the largest ancient Indian ruin in Agua Fria. Along the way, watch out for prehistoric petroglyphs, rock art carvings that are thousands of years old. If you prefer a relaxing activity, have a small picnic as you take in the spectacular views.
Address: Black Canyon City, AZ 85324, United States
Operating Hours: Open 24/7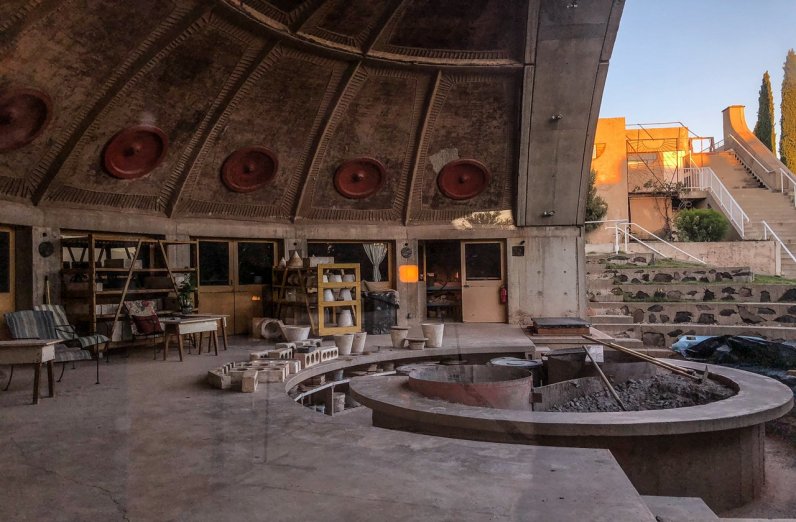 Photo by Roͬͬ͠͠͡͠͠͠͠͠͠͠͠sͬͬ͠͠͠͠͠͠͠͠͠aͬͬ͠͠͠͠͠͠͠ Menkman on Flickr
Discover a small town straight out of a sci-fi film, Arcosanti. A brainchild of the Italian architect Paolo Soleri, the town's main concept is arcology, combining architecture and ecology. True to its theme, the small city features huge round windows, open spaces, and rust-colored walls. There are little to no roads and the town serves as a model of sustainability. While it may look like a city untouched for years, Arcosanti is one of the places to visit from Phoenix to Sedona.
Join a tour and explore this futuristic town with an expert guide. Learn more about its history, how Soleri conceptualized it, and its significance in modern architecture. Visit its iconic structures, including the Amphitheater, the Ceramics Apse, and the foundry. Specialized tours on architecture and Arcosanti's construction process are also available for those who want an in-depth experience. After the tour, grab a bite at the cafe and enjoy the view of Valletta Canyon.
Address: 13555 S Cross L Road, Mayer, AZ 86333, USA
Operating Hours: Open 09:00 – 17:00 daily except on major holidays
Montezuma Castle National Monument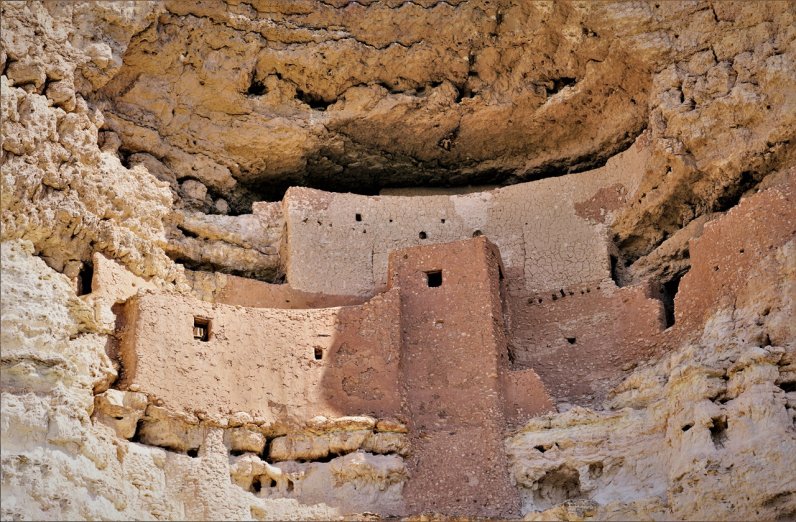 Photo by Donald Teel on Unsplash
The Montezuma Castle National Monument may not be an actual castle, it is a well-preserved set of dwellings in Arizona. Built by the Singaua tribe, these dwellings are estimated to be constructed between approximately 1100 and 1425 AD. Its main structure, a five-story building with at least 20 rooms, looks more like an apartment, but it is still a sight to behold. On your journey from Phoenix to Sedona, visit this ancient monument for a dose of history.
Discover Arizona's rich history as you go on a guided tour of the monument. Along the way, spot different species of plants and small crawling creatures. Take note that you can't go inside the structure; you only get an up-close view of the dwelling. Additionally, if you have a National Parks Pass or a Senior Parks National Pass, you can enter the monument for free.
Address: Montezuma Castle Rd, Camp Verde, AZ, USA
Operating Hours: Open 08:00 – 17:00 daily except on major holidays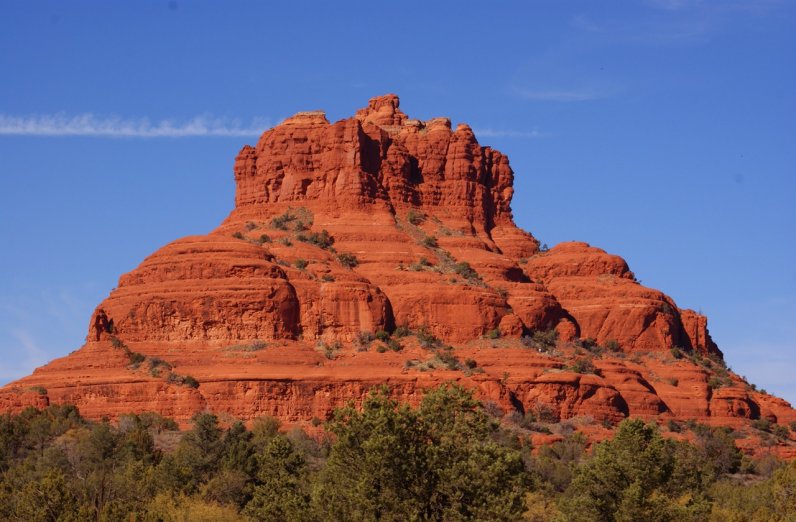 Photo by justincb123 on Flickr
On your drive along the Red Rock Scenic Byway from Phoenix to Sedona, be welcomed by the imposing Bell Rock. A Sedona photo staple, this rock formation is shaped like a bell that stands out against the blue skies. It can also be visible from the trails in other rock formations and parks. Bell Rock is also a popular destination because locals believe that it is a vortex, an area with a high concentration of spiritual energy.
On your visit to Sedona, don't skip Bell Rock! Follow one of the hiking trails and get an up-close view of this majestic formation. Its winding roads are also perfect for mountain biking. If you plan on visiting other areas, you can also join Jeep tours and explore other sites in town. Don't forget your cameras and make sure to take snapshots of Bell Rock!
Address: AZ 86351, USA
Operating Hours: Open 24/7
Is It Worth Driving From Phoenix To Sedona?
With only just 2 hours of uninterrupted travel time, a drive from Phoenix to Sedona should be on your bucket list. Discover the beauty of Arizona as you make your way from one city to another. On your way, you'll find futuristic towns, ancient monuments, and iconic landmarks that truly represent the state.
Sedona is also the perfect destination for spiritual travelers because vortexes are present in the city. When you visit any of them, expect to find individuals meditating or performing some kind of ritual. Whether or not you believe in these mysticisms, there's no doubt that every site will leave you breathless.
On your next getaway, take a trip from Phoenix to Sedona and unravel the natural wonders of this small town!