Where To Stay in Charleston, SC: Best Areas and Hotel Guide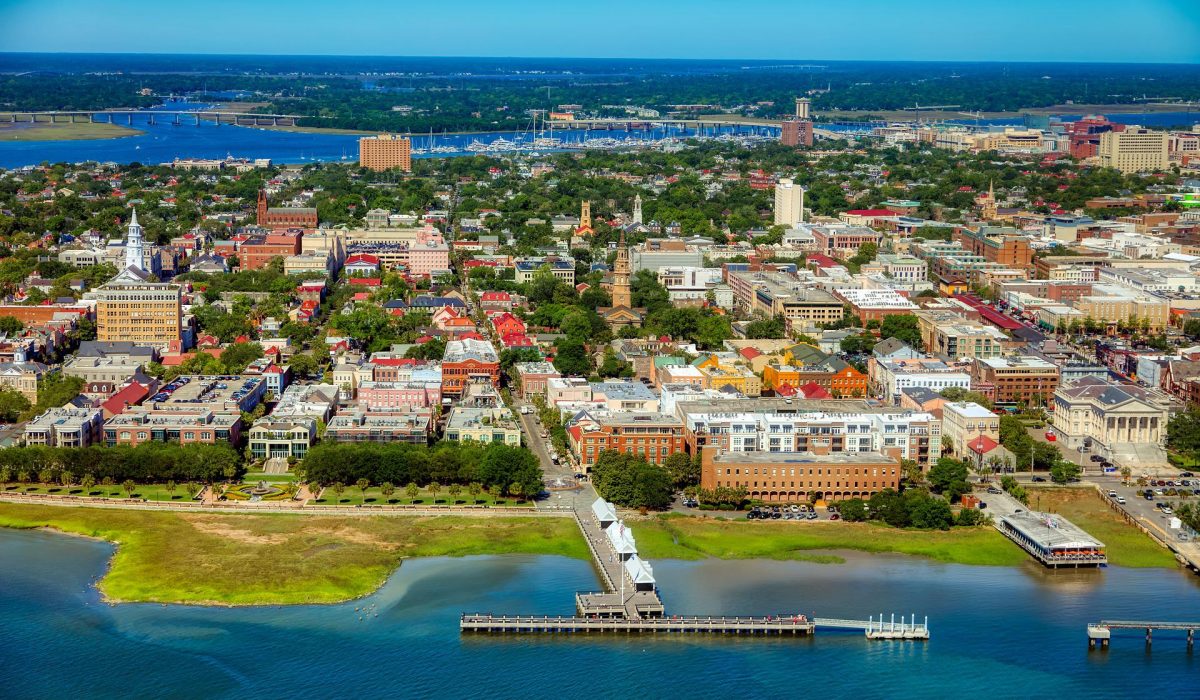 Wondering where to stay in Charleston, SC? The Palmetto State's largest city is among America's top destinations thanks to its Southern charm, unique culinary experiences, and historical background. With the multitude of things to do and sights to see, it's impossible to enjoy and appreciate the Holy City in just one day! Luckily, there are a plethora of lodging options for extended stays. Historic inns, beachside resorts, boutique hotels, and cozy bed-and-breakfasts are some of the best places to stay in Charleston, SC. Regardless of your vacation style and budget, the city offers plenty of accommodation options for every single type of traveler. The best part? The finest Charleston hotels and lodgings are all perfectly within a short walking distance from the city's top attractions!
Read on to learn about the best neighborhoods and hotels to stay in Charleston, South Carolina, for your next getaway.
Where to Stay in Charleston, SC
Downtown Charleston is one of the top areas to stay in the Holy City. The neighborhood is where you'll find some of the city's most well-known landmarks and attractions. It's also littered with bars and nightclubs, making it the best area to stay in Charleston, SC for nightlife.
History buffs will love staying in the Charleston Historic District with its cobblestone streets, meticulously preserved historical landmarks, monuments, and buildings. It's the ideal area to stay in if you want to discover Charleston's unique history and culture.
Want a seaside adventure? Head over to sites such as West Ashley and Mount Pleasant to escape the buzz and crowd of the city's center. Both areas have waterfront landscapes with calmer and more quiet scenes. Nevertheless, there are still plenty of scenic sights, great restaurants, and amazing attractions. In addition, accommodations tend to be more budget-friendly.
Another great alternative is North Charleston. While it is rather far from Charleston's iconic attractions, you will find cheaper lodging options here. What's more, the Charleston International Airport is nearby.
Downtown Charleston
Best For: First-time visitors.
The city center is a lively and charming neighborhood with plenty of things to do. The majority of the city's famous landmarks and attractions are all clustered in Downtown Charleston. As such, it's a great place to stay for first-time visitors who want to take in the city's culture and history without venturing too far from their hotel and accommodation. Moreover, the downtown area is packed with bars, restaurants, and clubs for those wondering where to stay in Charleston, SC for a nightlife. Just note that since it is a rather touristy area, prices for Charleston, SC hotels downtown can get expensive.
Where to Stay in Downtown Charleston
Charleston Marriott
Right on the western edge of Downtown Charleston, the Charleston Marriott offers its guests quick access to all of the city's top attractions, including The Citadel. Thanks to its location, you get picturesque vistas of the Ashley River, which you can marvel at while enjoying a drink at the hotel's rooftop bar. All the guest rooms feature stylish modern décor and modern hotel amenities, such as high-speed WiFi, 55-inch flat-screen TVs, and coffeemakers. Other perks you can enjoy when staying at this Charleston hotel include 24-hour room service, access to the outdoor pool, 24-hour gym, and 24-hour business center.
Francis Marion Hotel
The Francis Marion Hotel is one of the hotels in Downtown Charleston, SC situated along the historic King Street. It's also just across from Marion Square Park, home to weekly farmers' markets. Established in 1924, the hotel is a historic landmark, boasting classic 1920s style and grace but complete with 21st-century amenities. It has 235 guestrooms and suites, all of which feature marble and granite bathrooms. This elegant accommodation has an on-site restaurant and bar that serves classic Southern cuisine. There is a fitness center available on the premises, as well.
Hotel Bennett
Unparalleled luxury greets you when you book a stay at the Hotel Bennett. All of its 179 guest rooms and suites are decked out with furnishings and designs that reflect the charm and beauty of Charleston. In this luxury hotel, guests will receive top-notch amenities such as pedestal tubs, plush bedding, and marble vanities. Don't forget to visit the outdoor swimming pool and bar on the rooftop to enjoy the sweeping views of the Charleston cityscape. Want to unwind and recharge both your mind and body? Book a session at the spa or head over to the fitness center. Furthermore, the Hotel Bennett is where to stay in Charleston, SC if you're looking for pet-friendly hotels in the city.
The Mills House Wyndham Grand Hotel
The bright pink facade of the Mills House Wyndham Grand Hotel along Meeting Street is hard to miss. Taking a step inside this full-service luxury hotel, you are instantly immersed in its Southern charm and vintage opulence. Of course, you still get today's contemporary luxury during your stay. This includes access to high-speed internet, a 24-hour fitness center, a 24-hours business center, and a seasonal outdoor pool and sundeck that overlooks downtown Charleston. Nearby attractions include the Dock Street Theater, the Battery, the Charleston City Market, and the Heyward-Washington House. Looking to unwind after an exciting day of exploring Charleston? Head up to the lush and colorful courtyard for some peace and tranquility right in the heart of the city.
Charleston Historic District
Best For: For sightseers
Cobblestone streets, horse-drawn carriages, Antebellum homes, and magnificent old structures from the 18th and 19th centuries greet you when you step foot within the Charleston Historic District. While the district itself occupies Downtown Charleston, it's far enough from rowdy bars and clubs to offer the district atmosphere of an earlier Charleston. If you're interested in historical sightseeing, the district is where to stay in Charleston, SC. The district houses the colorful Rainbow Row, the Charleston City Market, and Charleston's Museum Mile, which is a one-mile section lined with six museums, five historic buildings, and four scenic parks.
Where to Stay in Charleston Historic District
Wentworth Mansion
Wentworth Mansion is definitely the place to stay in Charleston if you're looking to indulge in the height of luxury. Located in the heart of the Historic District, the ornate mansion boasts a highly eclectic style that emits glamor and grandeur, paying tribute to the city's gilded age. It houses 21 guest rooms and suites, all featuring king-sized beds, oversized whirlpool tubs, and fireplaces. Some rooms even have crystal chandeliers, Tiffany stained glass windows, and private porches with sweeping city views. Fresh flowers, house-made chocolates, and afternoon wine with hors d'oeuvres are delivered daily to guests. This luxury boutique hotel features a full-service spa and restaurant. Furthermore, Wentworth Mansion welcomes canine companies for an additional fee. Note that pet-friendly rooms are limited, so be sure to contact them beforehand to reserve a room.
Holiday Inn Charleston Historic Downtown
One of the newer hotels in the city, the Holiday Inn Charleston Historic Downtown, is where to stay in Charleston, SC for families looking for inexpensive lodging right in the middle of downtown. A modern option for modern travelers, it has spacious rooms with standard amenities, such as free Wi-Fi, blackout shades, mini-refrigerators, flat-screen TVs with cable and satellite, and many more. You get access to the inn's fitness center, business center, and two outdoor swimming pools. Another perk that the hotel offers is that kids aged 18 and under can stay for free when sharing a room with a parent. Moreover, kids 11 and under can eat for free at the on-site restaurant, as long as one paying adult accompanies them.
Andrew Pinckney Inn
The Andrew Pinckney Inn is a quaint hotel nestled between the streets of the French Quarter neighborhood of historic district. The 19th-century structure with a striking yellow exterior is a sight to behold and once you step inside, you are greeted with exposed brick walls and distinctive decor. Choose from 36 guest rooms, three townhouse suites, and two luxurious suites to stay at, all of which emanate old-time charm with modern-day comforts. Wake up to a complimentary continental breakfast each morning of your stay that you can enjoy from the glass-enclosed rooftop solarium.
West Ashley
Best For: Budget travelers.
The West of the Ashley, or simply West Ashley, is a residential suburb situated on the west of the Ashley River, hence the name. It's where to stay in Charleston, SC if you're looking for more inexpensive lodging options. Scenic waterfront vistas and centuries-old moss-draped oak trees flank the area, creating a picturesque sight. Just a short 15-minute drive from Downtown Charleston, its location is far enough from the hustle and bustle of the city center, but still near enough to conveniently enjoy the city's finest attractions. The area is also home to several historical sites, including several plantations and Charles Towne Landing, the birthplace of South Carolina.
Where to Stay in West Ashley
Town & Country Inn and Suites
Town and Country Inn and Suites have everything you need for a comfortable stay at Charleston, SC. It has 105 rooms and suites with your choice of a single king bed or two queen-sized ones. The plush beddings come with Egyptian cotton sheets and pristine white duvets. All rooms are spacious and decked out with cherry wood furnishings with granite tabletops. You'll find standard amenities such as microwaves, mini-fridges, and coffeemakers inside. The inn sports both an outdoor swimming pool and a small fitness center. What's more, it's one of the hotels in Charleston, SC that has an on-site restaurant that serves Lowcountry cuisine. Guests can enjoy free parking during their stay.
Holiday Inn Express
Located five miles away from the city center and six miles from Charleston International Airport, the Holiday Inn Express provides convenience to its guests. It's among the simple places to stay in Charleston. Guestrooms include triple-sheeted bedding, a 32-inch flat-screen TV, microwave, and mini-fridge. The hotel also has free parking with lots large enough to accommodate people traveling with RVs. Before venturing out onto the Holy City for a day of sightseeing, don't forget to stop by the complimentary breakfast buffet! Traveling for business? Then you'll surely find the business center and free wireless internet useful. Additionally, there's an outdoor pool and fitness center on the grounds.
Quality Inn Charleston
Another great and affordable lodging option is the Quality Inn. Just a short drive from downtown Charleston, the hotel offers guests close proximity to the city's top attractions but far enough from the crowds and typical urban noise. Staying here means you are nearby both the cobblestone streets of the historic district and shores of Folly Beach. You are, likewise, just a few short miles from Charleston's number of historic plantations. Before you head out into the city, wake up to a free continental breakfast and coffee each morning of your stay. After a day of exploring Charleston, unwind and relax in the hotel's simple yet cozy rooms. It's also one of the few hotels that offer designated smoking rooms.
North Charleston
Best For: People who want to escape the bustle of the city.
Like West Ashley, North Charleston is where to stay in Charleston, SC if you want peace and quiet while on a budget. Just nine miles outside Downtown Charleston, it boasts all the charm and history of Charleston but without the bustling crowds of the city center. The tranquil neighborhood is home to beautiful parks, lush gardens, and historical sites. Famous attractions include several museums with Civil War and maritime exhibits, art galleries, and entertainment complexes. It's also a great place to stay if you're on the hunt for inexpensive accommodation options. The Charleston International Airport is also just a short drive from the area.
Where to Stay in North Charleston
Hampton Inn & Suites Charleston Airport
This hotel is just a stone's throw away from the Charleston International Airport for those who want to remain close to the airport. Hampton Inn and Suites Charleston Airport offer its guests 139 rooms and suites, all with comfy beds, a work desk, a flat-screen TV, and a private bathroom. Visitors get access to the hotel's outdoor swimming pool, fitness center, business center, and lush courtyard. A free, hot breakfast is available in the morning before you head out on your adventure. Don't forget to take advantage of the complimentary shuttle service that will take you anywhere within a five-mile radius.
Hyatt Place North Charleston
Hyatt is one of the major hotel chains in the world, and its North Charleston hotel certainly lives up to the chain's reputation of providing its guests with modern luxuries, cleanliness, and comfort. The spacious guest rooms of the Hyatt Place North Charleston come with plush bedding, an entertainment center, and a work desk. Bathrooms are complete with luxurious granite countertops. While this hotel doesn't offer an on-site restaurant, it does have a 24-hour marketplace with packaged grab-and-go items. Looking for a pick-me-up before starting your day? The on-site bar serves specialty coffee on top of the usual beers, cocktails, and wine. The Hyatt Place North Charleston highlights include a large indoor swimming pool and free airport shuttle services.
SpringHill Suites Charleston Airport & Convention Center
SpringHill Suites is a Marriott hotel brand that offers all-suite guest rooms, making it an ideal option for traveling families and large groups. Its location in North Charleston provides its guests with stylish and comfortable accommodations with contemporary amenities. Each suite comes with free wireless Internet, dedicated workstations, a separate living area, a mini-refrigerator, and a microwave. It has an outdoor swimming pool and a 24-hour fitness center. Nearby attractions include the North Charleston Coliseum, Performing Arts Center, and the Charleston Area Convention Center.
Mount Pleasant
Best For: Families with kids.
Traveling with the family? Consider staying at one of the hotels and inns at Mount Pleasant. Located east of downtown, just across the Cooper River, the suburban neighborhood houses some family-friendly lodging options. And since it is a more residential area, it has a calmer and quieter ambience, away from the buzz and crowds of Downtown Charleston. You'll find several kid-friendly attractions, with historical museums, heritage houses, lush green parks with children's playgrounds, and great restaurants littered throughout the area. Furthermore, Mount Pleasant is well known for its rich naval and maritime history with several museums and monuments. It's a getaway to the historic Fort Sumter National Monument too.
Where to Stay in Mount Pleasant
The Beach Club at Charleston Harbor Resort
This luxury waterfront resort is where to stay in Charleston, SC if you're looking for a coastal getaway. Sat along Patriots Point Road, guests of the Beach Club at Charleston Harbor Resort can soak up some sun on the private beach or lounge by the two pools, including a tranquility pool. The resort offers several activities for the entire family, such as playing bocce or chess on a life-size outdoor chess board. Meanwhile, couples can head to the resort's full-service spa for a relaxing couple's massage. There's even a 33-seat indoor movie theater! Planning on venturing out to the city center? Take advantage of the resort's water taxi and free shuttle services! After a day of seaside adventure, unwind at one of the 92 guestrooms, all with upscale furnishings painted in nautical accents that exudes a tranquil ambience.
Shem Creek Inn
For those on a budget, the Shem Creek Inn is a 51-room waterfront boutique hotel that sits right next to the famous creek it was named after. A laid-back lodging option with quick waterfront access, it's where to stay in Charleston, SC, for watersports enthusiasts. You can find kayaking, paddle boarding, and sailing rentals a few feet away. The simple accommodations feature a Lowcountry vibe and have views of either the creek or marshland. Note that due to its premier location along Shem Creek, it can get noisy at times.
Cambria Hotel & Suites Mt. Pleasant
Situated in the heart of Mount Pleasant, Cambria Hotel and Suites Mount Pleasant is an upscale hotel that provides family-friendly guest rooms and suites with plenty of amenities. Rooms and suites are simple, stylish, spacious, and cozy. Hotel facilities include an outdoor swimming pool, a 24-hour fitness center, and free parking. A bar and restaurant on the property also serves up local dishes and craft beers. The hotel is only a few miles away from Patriots Point and the Historic Charleston City Market. Moreover, it's also just a short drive from the pristine beaches of the Isle of Palms and Sullivan Island.
Best Places to Stay in Charleston, SC for Couples
Looking for places to stay with romantic atmospheres? Here are the best romantic hotels for couples in Charleston, SC.
Planters Inn
Nestled between Market and Meeting Streets in the heart of Charleston Historic District, the Planters Inn sits in a premier location. Many consider it one of the best luxury boutique hotels for couples in the city, and for good reasons. With only 64 rooms, guests are guaranteed an intimate and private stay. Spacious rooms and suites exude a romantic atmosphere, complete with four-poster beds, silk drapery, and fireplaces. Selected rooms even have views of the hotel's hidden courtyard.
French Quarter Inn
A flute of champagne will meet you when you step into the cozy lobby of the French Quarter Inn. Dubbed by many locals and tourists as one of the most romantic hotels in Charleston, it provides guests unparalleled luxuries while also making them feel at home. The hotel exudes charm and refinement with its grand decor and deluxe amenities. Guests can cap off their evenings with either warm cookies and milk or wine and cheese. And the inn certainly knows the importance of getting a good night's sleep. All of its rooms and suites are equipped with sound machines and a selection of sleepy tea. Attractions such as Charleston City Market and Waterfront Park are just a few minutes away from the inn.
The Spectator Hotel
The Spectator Hotel is among the best boutique hotels in Charleston, SC. The allure of this particular hotel is its top-notch service that will have you feeling like royalty. After all, it is the only hotel in the city that provides a personal butler for each guest! Besides this, visitors will love the hotel's rooms that take inspiration from the 1920s. Each room features comfy beds, spacious spa-like bathrooms with white marble vanities, and other standard amenities. Selected rooms even come with sweeping views of the historic State and Market Streets.
Best Places to Stay in Charleston, SC on the Beach
Here is where to stay in Charleston, SC, near the beach for those on the hunt for a seaside escape.
Harborside at Charleston Harbor Resort and Marina
Harborside is the city's premier waterfront hotel at the Charleston Harbor Resort and Marina. Choose from traditional, deluxe, and suite options, all of which are equipped with contemporary amenities, including 42-inch flat-screen TVs, coffee makers, and mini-fridges. Selected rooms and suites come with fireplaces and balconies with stunning vistas of the harbor and Downtown Charleston. The property boasts a private beach with sandy shores and an outdoor swimming pool with a large deck. Both kids and parents will appreciate the number of on-site facilities, such as a seaside court, restaurant, and spa.
Tides Folly Beach
This oceanfront property sits on Folly Beach, which is famous for its laid-back atmosphere. As such, it's a great seaside escape for many who want to get away from the hubbub of the city center. At the Tides Folly Beach hotel, all rooms come with breathtaking views of the Atlantic Ocean and you can choose from one with either private balconies or patios. Moreover, since it's just steps away from the beach, it's where to stay near Charleston, SC if you plan on fishing, surfing, kayaking, snorkeling or participating in other water sports. There's also a heated outdoor pool that's open all year round.
The Palms Oceanfront Hotel
Another oceanfront hotel to consider when deciding where to stay in Charleston, SC on the beach is the Palms Oceanfront Hotel. Set on the shores of the Isle of Palms, it's a favorite among vacationing families and couples for its guest rooms and quick access to miles of pristine white sandy beaches. It houses 68 guest rooms with cool coastal colors while the bathrooms have granite accents. Hotel facilities include an outdoor pool and sundeck with outdoor showers. Seasonal farmers' markets, Lowcountry restaurants, golf courses, and many more attractions are just a short walking distance away from the hotel.
Where to Stay in Charleston, SC for a Bachelorette Party
Planning on a girls' weekend to celebrate a bachelorette party? Here are the best options where you can readily enjoy the Charleston nightlife!
Belmond Charleston Place
The understated beauty and elegance of Belmond Charleston Place is popular among women. Because of its location in the heart of downtown, you can easily walk around in order to visit the city's top attractions. Besides its standard rooms and suites, the hotel provides next-level privacy with first-class amenities and luxuries in its Club Level suites. Moreover, it's where to stay in Charleston, SC, if you're looking to indulge in self-care and pampering. Hit the fitness center to get your heart pumping, then unwind at the on-site spa while getting a full-body massage and facial. Afterwards, treat yourself to a haircut or manicure at the on-site salon. Don't forget to take a dip in the rooftop pool that overlooks downtown.
Grand Bohemian Hotel
Looking to use or earn Marriott rewards points? Consider staying at the Grand Bohemian Hotel. Right in the heart of the Charleston Historic District, this pet-friendly luxury lodging option is just a few minutes away from all the city's best things to do and sights to see. But before you go out on the town, you might want to take advantage of the hotel's on-site facilities and amenities. This includes a dedicated art gallery, an outdoor fire pit, and 24-hour fitness center. There's even a rooftop bar and a restaurant wherein you can indulge in botanical cocktails and European-inspired dishes. If you want a more intimate setting, reserve the private wine tasting room for you and the gals.
Market Pavilion Hotel
From the waterfront and magnificent Antebellum homes to art galleries and museums, the Market Pavilion Hotel is just a few steps away from the very best of Charleston! This grand luxury hotel exudes opulence while making you feel right at home. It offers guests accommodations with countless amenities, lavish facilities and excellent service. Rooms and suites feature old-world style while bathrooms come with Italian marble baths. The hotel also houses one of the most popular steakhouses and bars in town! However, the true highlight of the hotel, though, can be found on the rooftop. Here, you'll find an outdoor pool and rooftop bar, where you can marvel at spectacular sunsets while sipping on signature cocktails.
Where to Stay in Charleston, SC for Families
Thanks to their kid-friendly amenities and proximity to family-friendly fun, here are the best places to stay for families visiting Charleston.
Hyatt House Charleston
Hyatt House Charleston is an all-suite hotel with modern accommodations with plenty of amenities. All guest rooms even come equipped with fully furnished kitchens! This combined with the spacious suites makes it an ideal place for an extended stay. Directly in the center of the city's Upper King Historic District, staying here means you are just within walking distance of Charleston's best restaurants, bars, beaches, and attractions. But before you begin your day of adventure, enjoy a complimentary hot breakfast. In addition, the hotel chain is among the best hotels with indoor pools in the U.S.! Another Hyatt hotel to consider when picking where to stay in Charleston, SC when traveling with the family is the Hyatt Place Charleston, which is conveniently located next door. Both hotels are just a few minutes away from attractions such as the South Carolina Aquarium and Marion Square.
HarbourView Inn
The HarbourView Inn is the only waterfront luxury boutique hotel in Downtown Charleston. It offers the best of both worlds — an intimate retreat with a calm and quiet atmosphere just a few steps from the city's very best attractions. And if you don't want to walk around the city, the inn has bikes that's available for borrowing. When night falls, kids can enjoy complimentary milk and cookies while parents can unwind with a glass of wine and a cheese plate.
Where to Stay for Cheap Hotels in Charleston, SC
Budget travelers, here are the best cheap hotels in Charleston, SC that don't sacrifice comfort and amenities despite the affordable rates.
Meeting Street Inn
Situated in Downtown Charleston's historic district, the Meeting Street Inn offers affordable accommodations for all types of travelers. This 56-room bed-and-breakfast-style property boasts old Southern charm and hospitality with plenty of modern comforts. Choose from traditional rooms or deluxe suites that exude a charming and intimate atmosphere. And for those visiting in large groups, you'll be glad to know that groups of five and above staying here qualify for group discounts!
NotSo Hostel
The NotSo Hostel is an affordable hotel in the middle of downtown. Here, guests get access to comfy living spaces. It offers two lodging options — shared dorms and private rooms. The shared dorms are great for travelers on a budget who don't plan on staying long. It features communal bathrooms, kitchens, and a lounge area. Kitchens are well-stocked and equipped with a full-size fridge. Meet and talk to new people while you enjoy the free cereals, bagels, and muffins during breakfast time at the shared dining area. What's more, the hostel has free parking and wireless internet.
Best Places to Stay in Charleston, SC
It's impossible not to be charmed by Charleston's rich history, impressive architecture, and stunning urban and coastal areas. As such, it's easy to see why the Holy City is a must-visit for many travelers. Similar to how you'll never run out of things to do in the charming city, you'll never be out of lodging and accommodation options. With this list of the very best Charleston, South Carolina hotels, districts, and neighborhoods, you can start planning your next dream getaway!