Top 10 World's Major Hotel Chains and Brands You Must Know
Have you ever indulged in the unmatched excellence of major hotel chains? From world-class services and rooms to the best locations, the world's biggest hotel chains and brands will deliver nothing less than luxurious. As the world adjusts to new travel norms and expectations, hotels around the world are redesigning hotel experiences to better suit travelers and guests. Leading this change are the biggest hotel chains and brands worldwide. These hotels guarantee not only luxury but cleanliness and comfort too!
Out of the thousands of hotel names, you might have heard of Hilton or Marriott, but there are plenty out there. If you're wondering which ones are worth splurging on, read on to find out which major hotel chains and brands you can book with confidence.
Hotel Categories:
Hotels around the world are labeled based on rates, amenities, and services, among other factors. Major hotel chains fall under luxury, upper-upscale, and upscale. These levels correspond to hotel ratings of 5 stars, 4 stars, 3 stars, respectively.
Luxury (5 stars): This means first-class rooms along with a wide range of amenities, services, and other perks. Luxury hotels almost always include spas, business centers, and local transportation. The average daily rate (ADR) is usually more than US$210 for luxury hotels.
Upper Upscale (4.5 stars): Upper upscale hotels also offer a full range of on-property amenities and services, but not on the same level as those in luxury hotels. ADR for these hotels is from US$145 to US$210.
Upscale (4 stars): Meanwhile, upscale hotels offer above average and deluxe services. The ADR normally falls between US$110 and US$145.
Upper Midscale (3.5 stars): Hotels in this class offer quality, comfort, and style. You can expect high service and added amenities. The ADR is usually in the range of US$90 to USD110.
Midscale (2.5 to 3 stars): Midscale hotels will meet your basic needs. They offer clean, comfortable, and affordable services. The breakfast is limited, but expect value out of your money. The ADR normally falls between US$65 and US$90.
Economy (1.5 to 2.5 stars): Expect simple rooms with basic amenities in economy hotels. This is the hotel class where the budget meets basic needs. ADR is usually less than US$65.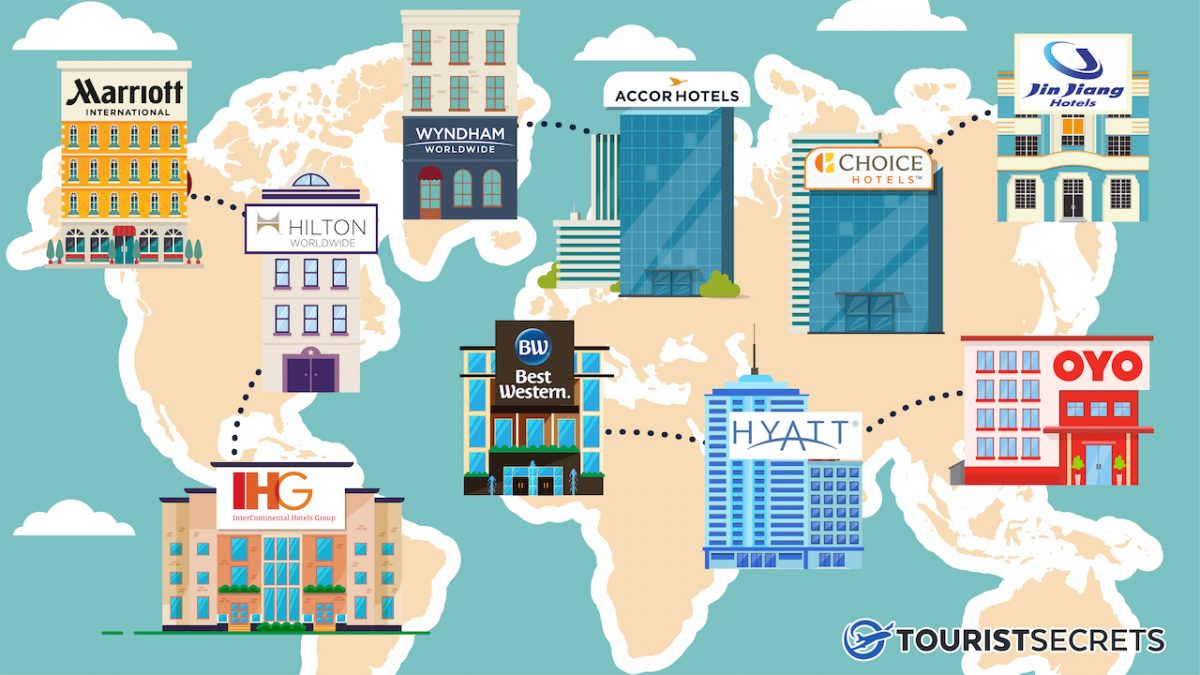 What Are The Biggest Hotel Chains In The World?
The biggest hotel chains on the planet encompass a large number of hotels and brands under one name. Some of the biggest chains include Marriott International, Wyndham Worldwide, Hilton Worldwide, and Best Western Hotels. Marriott has over 6,900 properties in 30 different hotel brands worldwide. With a total of 1,286,723 rooms from all of its properties, the Marriott has claimed the top spot of having the biggest hotel chain in the world.
With 9,221 hotels and 697,607 rooms, Wyndham Worldwide snags the second spot. Not far behind is Hilton Worldwide boasting over 6,100 properties worldwide. Best Western is also among the biggest with 4,196 hotels and motels around the world.
What Are The Most Luxurious Hotel Chains?
Of course, luxury is subjective. But by the international standard of a luxury hotel, it should provide you with superb services, glitz, and glamor. These hotel chains include brands and hotels that have five-star and even six- and seven-star ratings. Their impeccable hotel living experiences are simply unparalleled. Some of the most luxurious hotel brands include St. Regis, Park Hyatt, One&Only Resorts, and Belmond among others. These hotels are so luxurious that staying in them is a vacation in itself!
Top 10 of the World's Major Hotel Chains
1.
Marriott International
Marriott International is the biggest hotel chain in the world today. Its extensive portfolio includes luxury brands, such as the Ritz-Carlton and St. Regis. But this hotel chain is also not short on budget-friendly brands, such as the Four Points by Sheraton. There are around 6,717 hotels under Marriott.
What makes Marriott hotels stand out is how each property is designed to cater to specific needs. The business traveler is well taken care of with high-speed Internet access. Meanwhile, those looking for an upscale experience are offered first-class dining options, rooms, and amenities. Aside from that, Marriott also has a wide selection of programs and deals for its guests. The Marriott Bonvoy, its latest loyalty rewards program, is also the biggest rewards program for hotels today.
Here are some of the hotels under Marriott:
Luxury: W Marriott, St. Regis, W Hotels, The Ritz-Carlton
Upper Upscale: Marriott Hotels, Sheraton, Westin
Upscale: Courtyard, Residence Inn
One of the newer players in the hospitality market, Wyndham Worldwide started its business in 1981 in Dallas, Texas. Today, it has over 9,000 hotels under its wings and more than 40,000 employees globally. The hotel giant is currently based in New Jersey.
Wyndham is among the major hotel chains every frequent traveler must know. Not only does it offer luxury vacation experiences, it also caters to budget-friendly hotel needs. Holding true to its mission "to send people on the vacation of their dreams," Wyndham doesn't just promise but deliver. From their vast array of services to their fine selection of accommodation options, Wyndham is truly among the best hotel chains globally.
With a big presence in approximately 110 countries, you can easily book a room here on your next trip. Some of the brands under this hotel chain include:
Upper Upscale: Wyndham Grand
Upscale: Wyndham Hotels and Resorts
Midscale: Baymont, Ramada
The Hilton is a household name for many reasons, as it's the fifth-largest hotel chain in the world. Hilton has 18 brands tailored to meet different styles and tastes. From luxury to midscale, you're bound to find a room in the Hilton to suit your needs.
The Hilton targets both business and leisure travelers. With its strategic locations in major city centers and near airports, it's no wonder why Hilton is among the best and biggest hotel chains.
Some of Hilton hotel brands are:
Luxury: Waldorf Astoria Hotels & Resorts, LXR Hotels & Resorts, Conrad Hotels & Resorts
Upper Upscale: Curio Collection by Hilton, Hilton Hotels & Resorts, Hampton
Upscale: DoubleTree by Hilton, Embassy Suites
4.
InterContinental Hotels Group
Whether you have a family vacation or romantic getaway in mind, the many brands of the InterContinental Hotel Group have something to suit your preferences. With over 5,431 hotels globally, there's one to fit your budget. What makes IHG special is how each of its properties exhibits its own personality and reflects the architectural tradition of its location. Some are even housed in historic buildings, which only adds to the hotels' character.
Holiday Inn and Crowne Plaza, IHG's two biggest brands, have also recently expanded. Offering more than 600,000 rooms worldwide, IHG is among the major hotel chains today.
Some of IHG's popular brands are:
Upper Upscale: Crowne Plaza, Kimpton, Holiday Inn, Holiday Inn Express
Upscale: Crowne Plaza Hotels and Resorts
Earning over $6 billion in annual revenue, Accor Group is without a doubt among the largest hotel chains today. While it operates 4,283 hotels globally, it still strives to expand its reach. In Asia and the Pacific, Accor is the largest and most diverse hotel group.
Aside from that, Accor remains active when it comes to its programs and initiatives. It is recently looking into embarking on digital transformation. It also intends to expand services and enhance booking platforms.
Some of Accor's hotel brands include:
Luxury: Swissotel, Raffles, Orient Express, Sofitel
Upper Upscale: M Hotel, Grand Mercure, Hyde
Midscale: Novotel, Adagio
Economy: Ibis, Greet
The Best Western may be based in Phoenix, Arizona, but the chain has a huge presence worldwide. With more than 4,200 hotels around the world, it's hailed as one of the best hotel chains today. Whether you prefer traditional hotels, unique boutiques, or upscale options, the choices with Best Western are plenty. Aside from its global presence, Best Western is also famed for its attractive rates, great loyalty programs, and award-winning brands.
Best Western offers 18 brands that cater to the various needs of guests in every market. Each brand stands out with their own style, but all share the same goal of providing excellence and customer satisfaction. In 2008, Best Western opened to the world its first 5-star property in Prague called Premier.
Best Western Hotels brands include:
Upscale: Bestwestern Premier, Sadie
Upper Midscale: Best Western Plus
Midscale: Best Western, Glo
American company Choice Hotels International has 6,627 hotels and 525,573 rooms to offer its guests. Ranging from countless economy options to luxury hotels, the company makes hotel reservations easy and convenient. Choice-branded properties guarantee either limited service or full-service in the luxury, upscale, midscale, and economy hotel segments.
Choice Hotels provide business and leisure travelers with a range of high-quality and high-value lodging options in the United States and the rest of the world.
Upper Midscale: Comfort Inn, Comfort Suites
Midscale: Quality
Economy: Econo Lodge
8.
Jin Jiang International
Jin Jiang International is one of the largest hotel chains in the world. Mainly engaged in hotel operations, the leading hotel group in China is also making waves in franchising, restaurants, transportation, and travel agency.
Jin Jiang International has a wide range of brands under its wings. From full-service hotels to budget-friendly options, the company caters to a wide market. In fact, it has 382 hotels in 10 countries of North America, Asia, and Europe. With more than 7,000 hotels worldwide, Jin Jiang makes the competition tough in the hospitality industry.
Some of Jin Jiang's hotel brands:
Luxury: Jin Jiang Hotel, Peace Hotel, Wuhan Jin Jiang International Hotel, Beijing Kunlun Hotel
Upper Upscale: Park Hotel, Jian Guo Hotel, Cypress Hotel
Economy: Jin Jiang Inn, Jinguang Inn, Bestay Hotels Express
With more than 10,000 hotels across India, OYO is definitely among the major hotel chains today. Meanwhile,
OYO Hotels & Homes is a fairly young hotel startup that offers both hotels and homes across the globe. The first international OYO Home just opened in Dubai in 2018. Now operating in 80 countries, OYO has over 43,000 hotels and over 1 million rooms. The OYO Home program is one of the initiatives that made the group famous and loved. It's a short-term rental service that is perfect for travelers and city dwellers.
What makes OYO a standout is how it revives and remodels old properties to fit a more modern vibe. Aside from that, OYO offers a faster and easier booking process that allows guests to book their stay with just a single tap on their phone. You never have to pick up a phone and call a hotel with OYO. This means doing away with long phone calls to book a room.
10.
Hyatt Hotels Corporation
With its 60 years in the hospitality industry, Hyatt is considered to be one of the biggest names in hotel management. This hotel giant has a huge global presence, with all its hotels and properties committed to caring for guests.
Hyatt Hotels and Resorts are mainly located in urban centers, making them accessible to businessmen and frequent travelers. There are over 900 Hyatt hotels under 20 premier brands in over 65 countries.
Hyatt's first hotel outside the United States–Hyatt Regency Hong Kong–opened this magnate's doors to global domination. Since then, Hyatt has established a stronger presence in Asia as well as around the world.
Some of Hyatt hotel brands:
Luxury: Andaz, Alila, Thompson Hotels
Upper Upscale: Hyatt Centric, Regency
Upscale: Caption by Hyatt, Palace, Hyatt House
What Are the Major Hotel Chains in the USA, Europe, and in Asia?
USA Hotel Chains
Aside from Marriott and Hilton, the major hotel chains in the US include:
Four Seasons Hotels & Resorts: With more than 102 properties, Four Seasons Hotel is among the biggest chains in the U.S. This Canadian company is known for luxurious interiors and excellent hotel services.
Omni Hotels & Resorts: Based in Texas, Omni Hotels also dominates in the U.S. hotel industry. Operating 60 different hotels, golf courses, and spa resorts, the company promises an authentic luxury living experience.
European Hotel Chains
Accor: This French company is hailed as the largest hotel chain in Europe. Managing over 2,000 hotels under various brands, there's no stopping Accor from expanding.
Best Western: With franchise agreements with 1,316 hotels in Europe, the Best Western's distinct adaptation to continental design is poised to dominate the European hotel industry.
Whitbread: British company Whitbread enjoys increasing growth in Europe, which mainly comes from its Premier Inn budget hotels.
Asian Hotel Chains
Accor also dominates in Asia with 248 hotels in the continent, followed by Marriott International with 198 hotels and InterContinental Hotel Group with 148 hotels. These major hotel chains account for 40% of guest rooms in Asia. Meanwhile, Indian Hotels Company is among the medium-chain hotels, and the Oberoi Group, the Aman Group, and the Pan Pacific Hotels Group make it to the small chains category.
Which Hotel Chains Are Pet-friendly?
Traveling with a pet can be challenging. Part of the challenges is certainly in finding a pet-friendly hotel that lets your furry friend stay the night with you. To find the best hotel for your pets, here's a list of pet-friendly hotel chains:
Marriott Hotels: Not all Marriott hotels allow pets, but there are more than 1,500 of its hotels that do. On your next trip with your pet, pick from any of these Marriott brands: Autograph Collection, Renaissance Hotels, SpringHill Suites, Fairfield Inn & Suites, among others.
Best Western: Best Western is adored all over the world by guests and pet lovers alike. With thousands of locations, there's always a perfect option for you and your pet.
Choice Hotels: With over 2,500 pet-friendly hotels around the world, Choice hotel is a great choice for your furry friends.
InterContinental Hotels: The giant hotel chain has a wide selection of hotels that are pet-friendly. Take note that these locations have different pet policies, pet fees, and the number of pets allowed. You can look for the nearest InterCon pet-friendly hotel here.
Fairmont Hotels and Resorts: When it comes to pet-friendly hotels, Fairmont does it best. The luxury hotels chain loves pets so much they have their own Canine Ambassador at the lobby. You can meet dogs on-duty at Fairmont Copley Plaza and the Fairmont Hotel Vancouver, among others. Of course, this also means you can bring your own pets!
Kimpton Hotels: The famous boutique hotel chain in the U.S. is very pet-friendly. In fact, they will allow any pet that can fit through the door. With 59 properties in the U.S., Kimpton allows pets in their hotel for free. Aside from that, guests can enjoy pet-centered amenities, such as pet beds and pet-friendly restaurants.
Safer Stay With These Hotel Chains
While hotels and resorts are beginning to reopen worldwide to meet guest demand for comfort and cleanliness. With these biggest hotel chains and brands, you are guaranteed not only safety during your stay, but also a luxury that's worth every penny. When you're ready to travel again, the big hotel brands will be ready to welcome you!