What is A Boutique Hotel and Its Concept?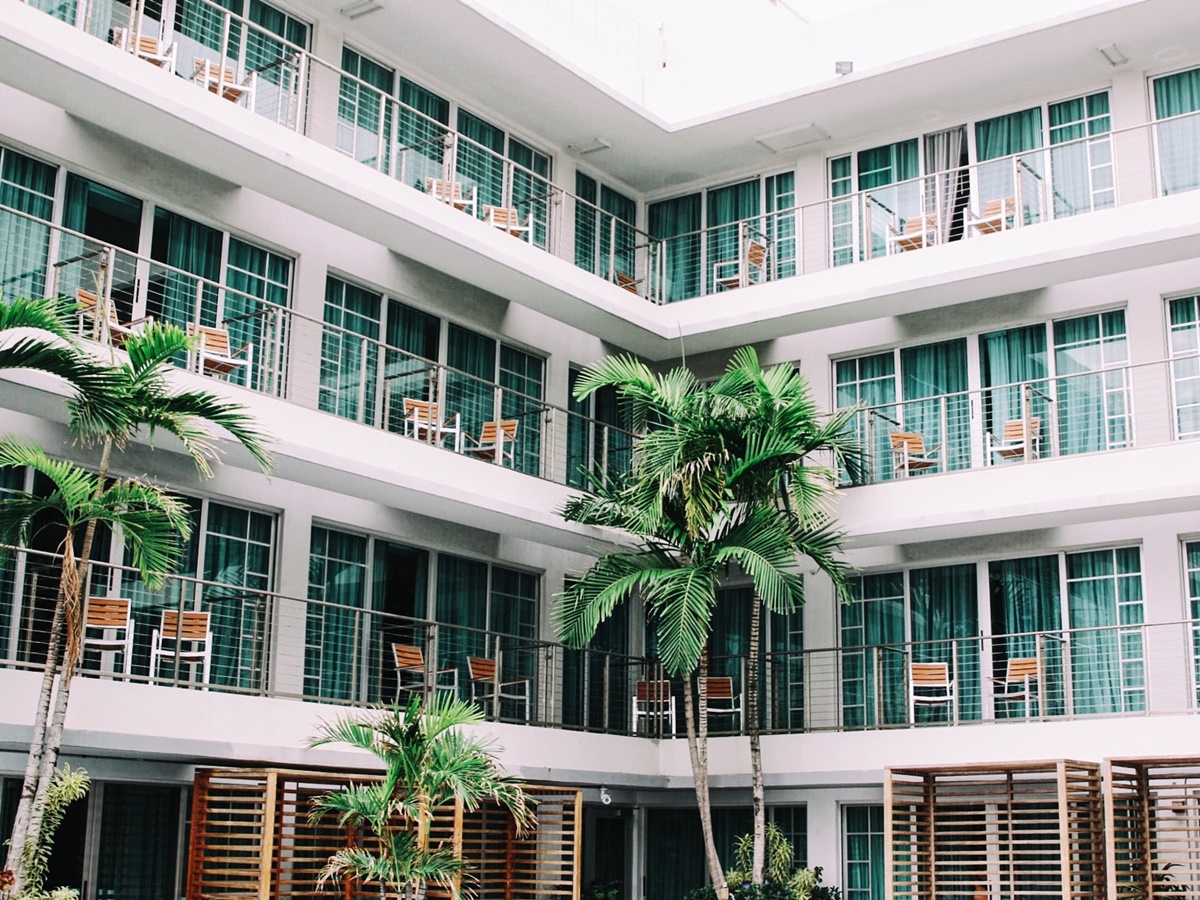 Hotels, hostels, guesthouses, and BnBs are just some of the accommodation you can choose from. However, if you're in search of something unique and more customer-oriented type of lodging, consider staying at a boutique hotel. These hotels often come at different price points and what they share are the surprising elements you can't find anywhere else in a resort. Whether is its quirky decor or hotel theme.
What is a Boutique Hotel?
Unlike a typical hotel or hostel, a boutique hotel is smaller in size and is independently owned in contrast to other hotels. They are usually not part of a hotel chain, although nowadays some luxury hotel chains have established their own boutique hotels. Boutique hotels are more stylish in terms of decor and interiors and are often themed. They are commonly found in a city's trendiest districts but offer a more personalized service since it has fewer rooms.
Boutique hotels are believed to have started in London and San Francisco in the 1980s. Some of the first boutique hotels include the Blakes Hotel in London and the Bedford in San Francisco. But it wasn't in 1984 when entrepreneurs Ian Schrager and Steve Rubell opened Morgans and compared it to a boutique. Since then, boutique hotels have been a popular choice for lodging among tourists.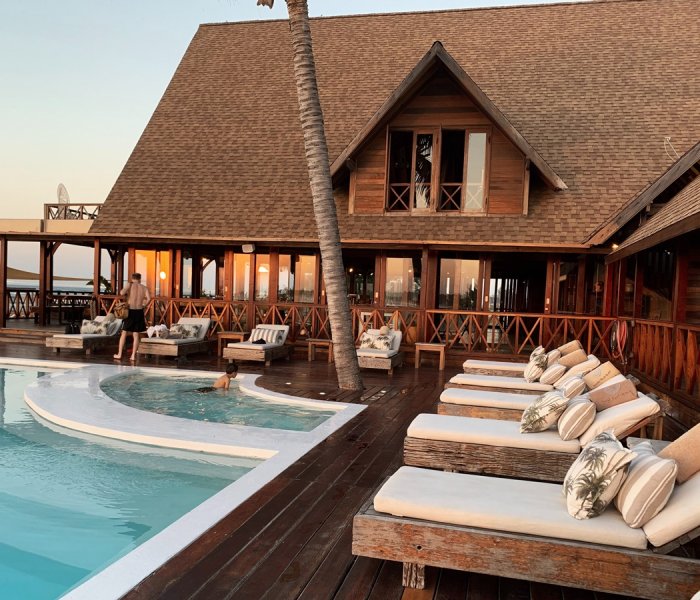 Photo by Edvin Johansson on Unsplash
Characteristics of a Boutique Hotel
If you are wondering what makes a boutique hotel unique, here are some definitive characteristics of a boutique hotel:
Size
A boutique hotel is smaller compared to most luxury hotels, with the former consisting of 10 to 150 rooms. Boutique hotels have fewer rooms to create a more intimate atmosphere where clients are personal guests rather than occupants. Having fewer rooms also gives a cozy and warm environment, and it may provide guests a chance to interact with each other.
Location
Boutique hotels are mostly located in trendy urban areas and are accessible from the city center. Although they are commonly found along the main streets, you can also find boutique hotels in residential areas. Boutique hotels make it a point to be at locations where guests have the option to seamlessly travel to and from the city's attractions, shops, bars, and restaurants.
Design
Design easily sets apart a boutique hotel from standard and luxury hotels and is one of its defining characteristics. Boutique hotels feature unique designs, whether it be vintage, modern, or a combination of both. They also pay attention to the smallest details, giving importance to furniture and decor to give it a character that is one-of-a-kind. In some cases, boutique hotels are designed according to a theme, like the Petit Ermitage Hotel in California which pays homage to Russia's Hermitage Museum.
Culture
One can say that a boutique hotel is an extension of the local culture. Because these hotels are not part of a franchise, locally-sourced materials are used and incorporated into the hotel's design. Some hotels also like to serve local specialties as part of its menu. Regardless of the location, a boutique hotel gives you a sense of pride in its city and location.
Service
Boutique hotels pride themselves in giving top-notch service. Because a boutique hotel has fewer rooms, staff will be able to focus and dedicate time and effort to its guests. It is also common for a boutique hotel staff to know your name on your first day. Staff also cater to your needs and will go the extra mile to guarantee that you enjoy every day of your stay.
Boutique Hotels in the U.S.
1. The Inn of the Five Graces, New Mexico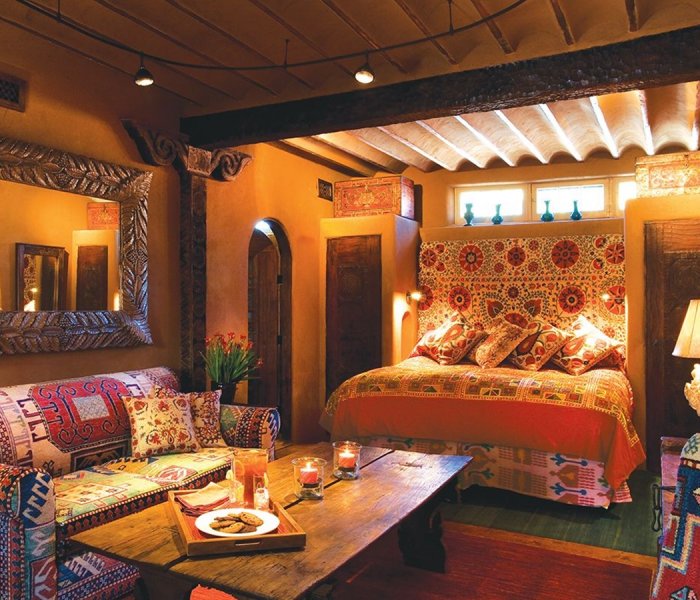 Official photo from The Inn of the Five Graces website
The Inn of Five Graces features a blend of East meets West, and its decor includes colorful tapestries and mosaic tiles from the Middle East and Asia. It has only 24 rooms which are all uniquely designed, cozy, and bursting with color. Although the Inn of the Five Graces doesn't have an on-site pool, it compensates with a full-service spa with treatments inspired by East Indian and Tibetan treatments. If you want to go sightseeing, the boutique hotel is conveniently located just a few blocks away from Santa Fe Plaza.
Number of rooms: 24
Address: 150 E De Vargas St, Santa Fe, NM 87501, United States
Phone Number: +1 505-992-0957
2. The White Barn Inn, Maine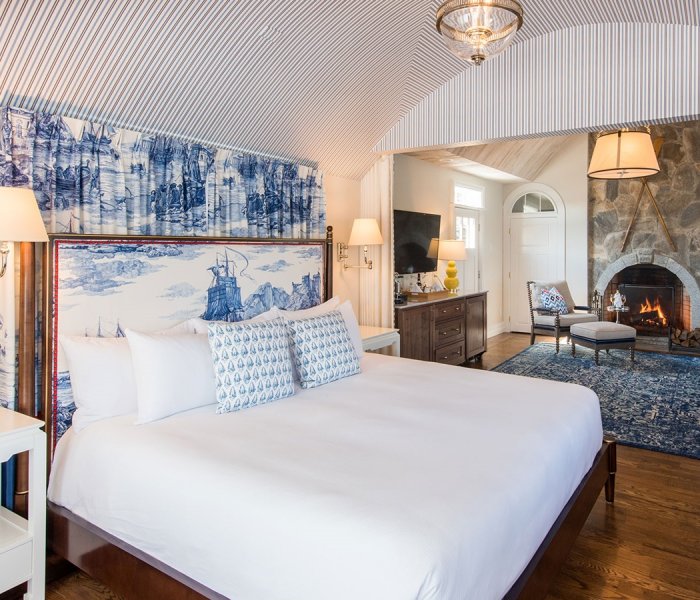 Official photo from the White Barn Inn website
Located near sandy beaches, the White Barn Inn is the perfec t summer getaway in Kennebunk, Maine. Choose between the guestrooms, cottages, and suites and enjoy perks such as heated floors, rainfall showers, and whirlpool tubs. Aspiring chefs can take part in the inn's private cooking classes while foodies can enjoy the fresh cod, lobster roll, and other local specialties at its award-winning restaurant. If you choose one of the cottages, you can have access to your own canoes and enjoy your waterfront patio.
Number of rooms: 26
Address: 37 Beach Ave, Kennebunk, ME 04043, United States
Phone Number: +1 207-967-2321
3. The Attwater Hotel, Rhode Island
Official photo from the Attwater Hotel website
The Attwater Hotel is a reflection o f the nautical charm of Newport, Rhode Island. Its 17 rooms all have a pleasant coastal-chic design in hues of blue and green. They also managed to incorporate driftwood into its furniture such as dining and bedroom tables. The Attwater is also conveniently located within the city center, making it easy for its guests to access its beaches, restaurants, and shopping centers. Guests receive an iPad with information and local attractions, although one can always approach the concierge for a more hand-picked set of recommendations.
Number of rooms: 17
Address: 22 Liberty St, Newport, RI 02840, United States
Phone Number: +1 401-846-7444
4. 1 Hotel Brooklyn Bridge, New York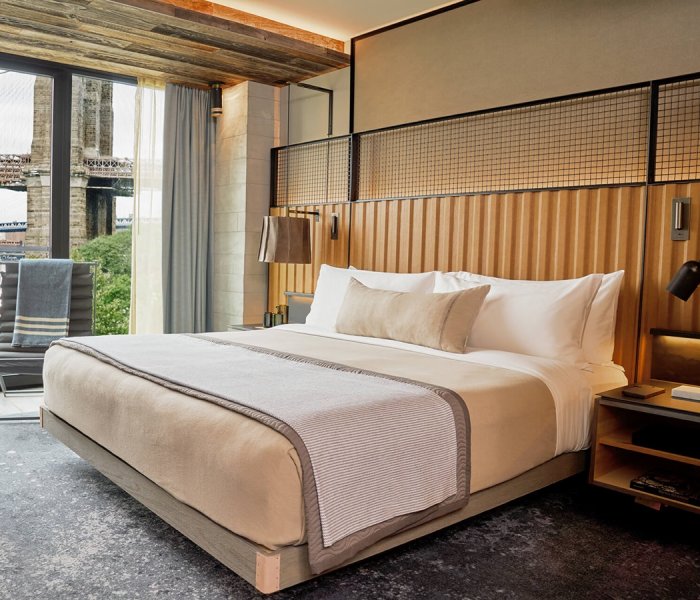 Official photo from 1 Hotel Brooklyn Bridge website
1 Hotel Brooklyn Bridge is an eco-friendly boutique hotel with the best views of Lower Manhattan and the famous bridge. It is run on wind power, uses reclaimed beams, making it one of the leading sustainable hotels in New York. Find a harmonious blend of nature and elements of industrial elements in its rooms, lobby, and restaurant. Head up to the rooftop bar and have a few drinks as you marvel at the cityscape, enjoy the free yoga classes, or simply treat yourself at the spa. This boutique hotel is also the flagship property of 1 Hotel, one of the leading names in sustainable hospitality.
Number of rooms: 194
Address: 60 Furman St, Brooklyn, NY 11201, United States
Phone Number: +1 347-696-2500
5. Avalon Hotel Beverly Hills, California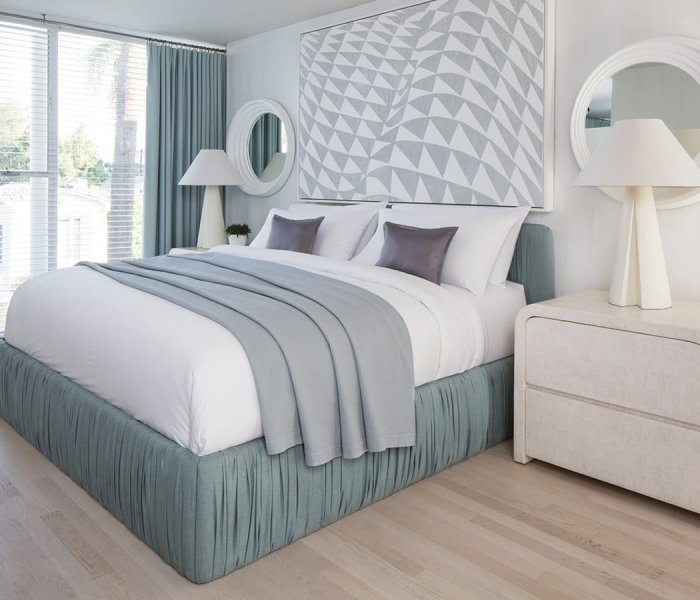 Official photo from Avalon Hotel Beverly Hills website
The Avalon Hotel is a retro-style getaway located in the more quiet residential areas of Beverly Hills. Designed by Kelly Wearstler, its interiors remind you of 1960s Hollywood, with brightly colored furniture and whimsically-painted walls. The restaurant also showcases modern Californian cuisine prepared with fresh and premium ingredients and allows alfresco and indoor dining. Although it is located in a residential area, it is within walking distance from most of Wilshire Boulevard and is 30 minutes away from Hollywood.
Number of rooms: 84
Address: 9400 W Olympic Blvd, Beverly Hills, CA 90212, United States
Phone Number: +1 310-277-5221
Is It Safe to Stay in a Boutique Hotel?
Like standard hotels, boutique hotels are safe and are guaranteed to have complied with national standards. Because the hotel is smaller, there are fewer people and more efforts on security can be done.
Is It Worth to Stay in a Boutique Hotel?
With fewer rooms and more personalized service, it is definitely worth staying at a boutique hotel. You get luxury-class facilities, a more attentive staff, and crew, and you get a glimpse into the local culture and scene through the small details in the hotel. Not only do you get accommodation, but you also get a one-of-a-kind experience when you stay at a boutique hotel.
Conclusion
A boutique hotel is a form of accommodation that was coined in the early 1980s. Since then, it has become a popular choice for travelers due to its uniqueness and quality of service. Most boutique hotels are not part of a hotel chain and are purely local. Some boutique hotels also revolve around a theme, usually based on local culture.
Because these hotels are smaller than most hotels, they are known for having exceptional and personalized service. They also take time to pay attention to the smallest details: from the decor to the food served, staying true to its theme. Staying at a boutique hotel may come at a heavy price tag, but you pay for the service and experience.