Best Romantic Hotels Around The World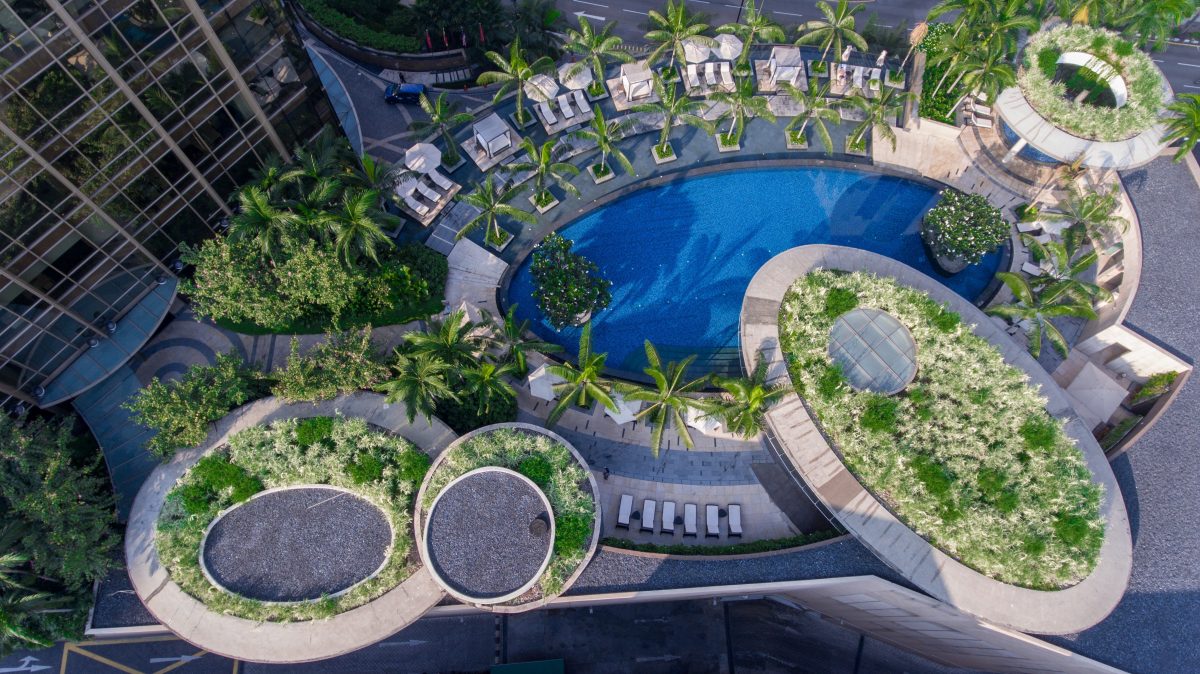 Romance is subjective. Some people's minds drift to luxury resorts with all the extras. And some just want to be alone with the one they love. No matter what your ideal image of a romantic getaway is you will want to find the right accommodations. Picking the right one can be very stressful. After all, you are trying to pick for two people and want to make it a memorable vacation for you and your special someone.
So in this guide, we are going to help you get your romance on. We are going to look at some of the most romantic hotels around the world. These romantic hotels range from quiet jungle solitude to romantic beach getaways to a trip to some of the most romantic cities in the world. So light those candles and get those roses ready because we are about to get romantic.
Romantic Hotels
Finding the perfect romantic hotel that has everything you want and is located in a dream location is difficult because there are just so many to choose from.
Here are twelve of the most romantic hotels for your consideration:
The Gritti Hotel is over 500 years old and is by far one of the most romantic hotels in Venice. Located in the La Serenissima section of the floating city, it offers a five-star luxury experience. It will serve to elevate the romance that abounds in this magnificent canal strewn city. Taking space in one of the best locations on the Grand Canal, you are close to many of the must-see sights of Venice.
The hotel sits across from the Santa Maria Della Salute church and one of the most beautiful Palazzo restaurants — the Palazzo Venier Dei Leoni. This is where you can also find the amazing Guggenheim Museum. The rooms in and of themselves are masterpieces of the most romantic style. Decked out in antique Venetian furniture and art, the decadent silks and overall interior design of the room immediately screams romance. It also comes with a spectacular dining experience in its world-class and very intimate restaurant, Club del Doge.
2.
Rosewood Baha Mar (Bahamas)
Even though this resort may seem close to the action including the airport, the Rosewood Baha Mar still offers a beautifully romantic and secluded getaway. The lush jungle landscaped grounds are located on the quietest and secluded part of Cable Beach. This romantic hotel complex is laden with beautiful pools landscaped to look like lagoons. Plus there are other amazing features that make this easily one of the most romantic hotels around the world.
Hot tubs and small little corners that allow you time to relax and enjoy the company of your loved one add to the level of intimacy. You have your choice between rooms and villas and no matter which you choose you are set up for success in the romance department. Both options have a distinct beach house ambience with the common areas having a sense of luxurious beauty.
3.
Royal Mansour (Morocco)
Live in the lap of luxury just like the kings of old by staying at the Royal Mansour in Marrakech. Built by King Mohammed VI, this former palace is now an opulent hotel that oozes romance even as you walk through the door. The hotel is divided into 50+ riads (private residences).
Strewn with beautiful and quiet courtyards as well as some romantic restaurants, this hotel is located within walking distance from some of the best sights to see in Marrakech. The rooms look like they are ready to receive royalty with beautiful silk carpets and plush sofas. You will feel like royalty in this hotel. And if you really want to get romantic, have a look at the suites that include a private spa.
4.
Soneva Kiri (Thailand)
Thailand is a beautiful majestic location for any romantic getaway and one of the most romantic hotels you can stay at is the Soneva Kiri. This resort is in the less touristy Koh Wood and is built within the lush jungle just minutes away from one of those spectacular beaches Thailand is so famous for. Comprised of 3 dozen villas you will feel as if you are the only two people in the world.
Each thatched-roofed villa has its very own infinity pool, indoor/outdoor bathroom, and deck. If you want to get a little more romantic, you must make sure you head down to the Cinema Paradiso. This is the resort's outdoor movie theatre that is surrounded by the jungle landscape that sits above a beautiful lagoon.
5.
Four Seasons Maui (Hawaii)
This resort is by far one of the island's most luxurious hotels and with its stunning scenery and excellent location, it is one of the most romantic hotels in the world. Who doesn't dream of a Hawaiian getaway with that very special someone? With beautiful beaches and amazing natural beauty, the Four Seasons Maui expands by bringing you amazing suites and rooms.
Aimed at making your romantic vacation that much more special, this resort offers couple's excursions and activities. You can take a helicopter ride over the island or simply relax with a couple's massage. Then top your day of amazing adventures with a beautiful and romantic dinner by candlelight next to a stunning pool which is yours for the evening when you book this deal.
6.
Marquis Los Cabos (Mexico)
The Marquis Los Cabos is a picturesque all-inclusive couple only resort built on the stunningly beautiful Sea de Cortez. There are so many fun things to do at the romantic hotel that you will have to pencil in relaxation. This report concentrates on giving plenty of options like dance lessons and couples massages which will give you one of the best times of your relationship.
Soaking the sun and enjoying the crystal blue waters of the beaches will make you feel relaxed. Enjoy feeling even more enamoured with your special someone. You have access to not only beautiful beaches but also several infinity pools. You can enjoy any number of water activities as well. The rooms offer stunning ocean panoramic vistas and comfort that may have you simply staying in for the evening.
Tucked away in the beautiful mountains of Utah is a romantic hotel that is a great place to take your sweetheart for a romantic getaway. Amangiri offers multiple suites that are stylish and comfortable. With the amazing desert vistas and stunning sunsets you can enjoy from your private courtyard you will be awe-inspired and at total peace.
There is no wonder that celebrities find this place relaxing and a great way to get away from their hectic lives. This resort offers an outstanding Native American inspired spa and an amazing pool. Wrapped around a mountain butte, this resort is stunningly breathtaking. And it is a great option for one of the best romantic hotels around the world.
8.
Lani's Suites Deluxe (Spain)
Taking in the stunning Atlantic views as you watch the sunset on the waters of Puerto del Carmen is a great way to experience the romantic atmosphere of Lani's Suites Deluxe. Luxurious and close to many great restaurants and sights, you will be wrapped in romance as you relax in one of their beautiful suites.
With a view of the ocean, you will be able to enjoy with your partner by taking long walks on the beach or even a couple's massage at the outstanding spa. No matter how you decide to spend your day, the elegance and luxury you will experience in this resort will leave you wanting to come back again and again.
9.
The Kayon Resort (Indonesia)
Tree of Life! The secret that grows from the earth toward Heaven! The name of this resort could not be more fitting. Why? Because it is wrapped in the arms of a vibrant tropical rainforest. The Kayon Resort is located on the side of the amazing Ubud Hills and is bordered by a spectacular river. It is also close to the centre of Ubud.
This eco-resort is truly a five-star resort and is one of the most romantic and secluded hotels anywhere in the world. Relax while you are taking the stunning scenery by enjoying the pols or even taking a little spa time. This resort will allow you and that special person in your life to truly enjoy each other's company and build memories that you will never forget.
10.
Maison Souquet (France)
Paris is one of the most romantic cities in the world. And that means that it must have several romantic hotels. One of the most romantic hotels in Paris is the Maison Souquet in the Montmartre district of Paris. Known for its windmills and the Moulin Rouge, this district is laden with amazing restaurants and stunning art.
But if you are looking for accommodation that matches the mystique and romance of this area, then staying in a hotel that used to be a brothel during the height of the Belle Epoque is an amazing idea.
This hotel has a history and amazing décor. Take time to see the sites of Paris and the Montmartre. Then return to the hotel for a five-star meal and perhaps a little visit to the spa. You will want to relax those muscles after a long romantic day of touring the streets of the lover's city.
11.
Nayara Springs (Costa Rica)
Situated near a volcano, the Nayara Springs Resort is surrounded by the stunning beauty and is one of the most romantic hotels you will ever stay in. With multiple villas, you can take advantage of the individual pools that are filled with water from the volcano. This water is some of the cleanest, clearest, and purest in the world. Otherwise, you can relax with a yoga class.
You can spend your days soaking in the beautiful Costa Rican sun and then dine at one of the amazingly delicious restaurants. Live entertainment is even offered at night. This eco-conscious resort has so many relaxing and romantic offerings you will be asking yourself why you hadn't booked a stay here before! You will leave refreshed and possibly just a little more in love.
12.
Anastasis Apartments (Greece)
Santorini is a beautiful and romantic destination that many couples venture to. The beautiful blue Mediterranean waters and the stunning traditional Greek architecture is just the first of many things that makes the Anastasis Apartments a great place to stay for your romantic getaway. These villas look out over the beauty that is Santorini and offer some comforts others on this list does not.
Each apartment comes with a kitchenette and a private terrace. You are close to some of the amazing site and restaurants in the village that sits at the base of the terraced steps. Allow the staff to help you set up excursions or spend some time in the awesome spa.
Having the perfect romantic accommodations ready to go when you surprise your partner is a great way to start your romantic vacation. So look at the options above and see which one will work for you and your romantic needs.
Final Thoughts
Romance can be, as we said, subjective. Thus, in this guide we tried to curate a list where there was something for everyone. With the selections above, you have secluded tropical jungle getaways and romantic hotels in a few of the most romantic cities. But you also have some off-the-beaten-path options as well.
Hopefully, you feel better able to make this very important decision on which of the romantic hotels from around the world will be just right for that very important person in your life. Taking the time to craft the perfect romantic holiday will show that person just how much you love them and that is the best feeling in the world.
After seeing which hotel is best-suited for your significant other, be sure to check out our list on the best Caribbean vacations for couples.