The 10 Amazing Cities In Vietnam You Must Visit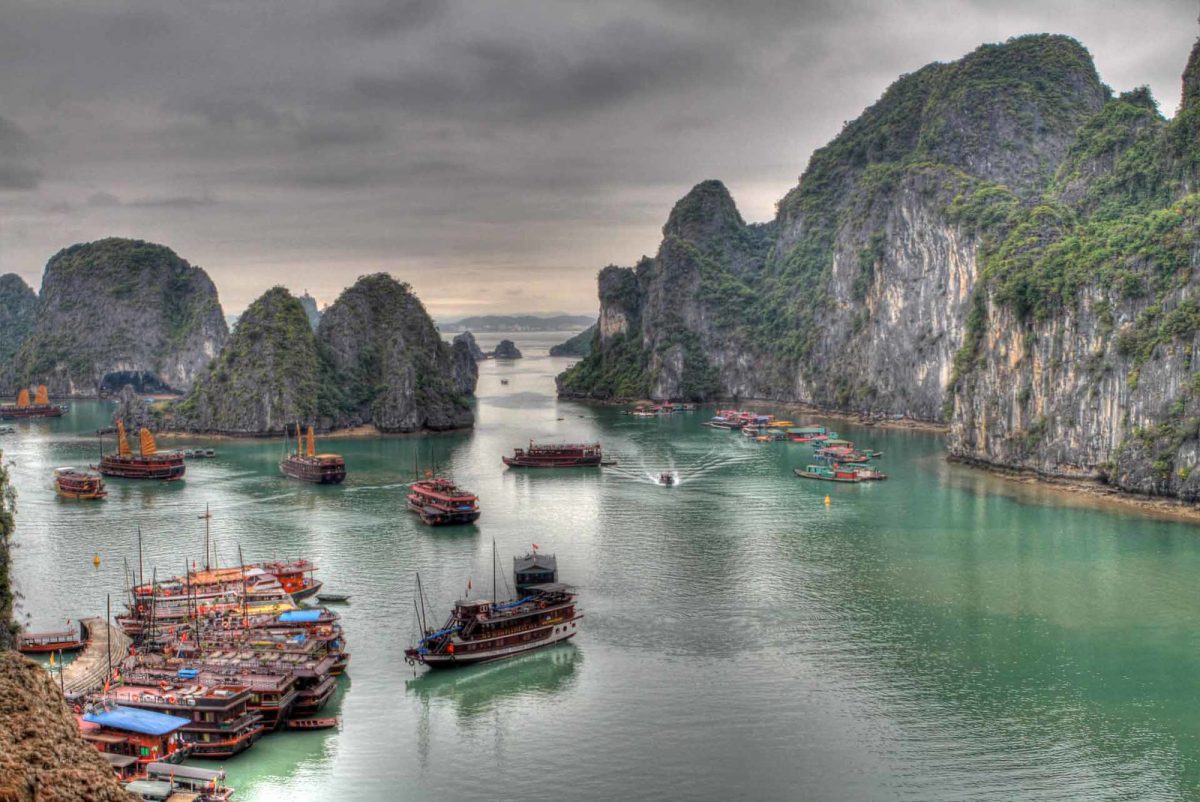 The cities in Vietnam are the windows to the many things the country has to offer. Each city has its own unique flavor waiting to be tasted. From vibrant Ho Chi Minh City to mesmerizing Hanoi, exploring the cities in Vietnam makes for a perfect adventure.
If you need a little more convincing, here are the 10 best cities in Vietnam worth a visit.
1.
Get A Taste of Serenity & Authenticity in My Tho
My Tho is a market town situated on the north bank of the famous Mekong River. This allows tourists coming here to take in the magnificence of the 7th longest river in Asia. After busying yourself in the market, a stroll along the river is a great way to end your day.
My Tho Market
Located on the eastern side of My Tho's city center, My Tho market is an excellent start to explore the town or a side trip from Ho Chi Minh City. Feast on fish of all shapes and sizes, as well as different kinds of tropical fruits and vegetables. After shopping, don't forget to try the famous and delicious My Tho soup. My Tho market is a great way to spend time in a city thin on interesting things to do.
Vinh Trang Pagoda
Vinh Trang is a large Buddhist temple that exudes peace and serenity. If you're in town, the best time to visit is in the morning when prayers happen. Aside from Vietnamese, Vinh Trang Pagoda brings together Khmer, Chinese, and European architecture.
Mekong Delta Boat Tour
One of the most popular things to do in My Tho is the Mekong Delta boat trip. This tour lets you take in the beauty of some of the islands along the Mekong Delta. You also get to enjoy a lovely lunch set in an orchard garden. Meanwhile, for your entertainment, the locals will give you a dose of Vietnamese folk music.
2.
Get Close Up With The Nature at Ninh Binh
Ninh Binh is one of the must-visit cities in Vietnam. While it's a fascinating place to explore, it's less visited compared to other destinations. Life in this Vietnam city is centered around farming. This explains the breathtaking natural landscapes enveloping the city. When it comes to the best time to visit, May is a great month as this is when the rice fields turn green.
Trang An Grottoes
Trang An Grottoes is one of the most popular places in Ninh Binh. Take a boat ride to fully enjoy its stunning complex of Crosswater caverns and valleys. From natural landforms, riverside temples, to hidden caves, no wonder it's called an outdoor geological museum.
Tam Coc
Tam Coc is hailed as one of the most picturesque spots in the north. Both locals and tourists would agree that it's hard not to swoon over Tam Coc's mystical, watery beauty. The best way to appreciate the charm of this place is on a boat ride.
Hang Mua Peak
Also known as Mua Cave, Hang Mua is another spot to enjoy in Ninh Binh. The hundreds of stone steps up the mountain are definitely worth the effort. Arriving at the top gives you a panoramic view of the Tam Coc Valley and rice paddies in Vietnam.
3.
Experience The Bustling Trading Hub in Can Tho
Can Tho is one of the major cities in Vietnam. It's mostly known for its floating markets, making it a popular trading hub. Life in this city may be centered around the rivers, but there's more to explore in this city.
Cai Rang Floating Market
Cai Rang Floating Market is the biggest floating market in Mekong Delta. Being the biggest, the best time to visit is early morning to beat the crowd. Cai Rang has hundreds of wooden rowboats offering all sorts of items. From rice, exotic fruits and vegetables, to clothing and other items, shopping in Cai Rang won't disappoint.
Ong Temple
Ong Temple sits strategically facing the Can Tho River. The temple is decorated with constantly burning incense coils. Meanwhile, fragrant smoke fills the halls of the temple. All these make for one peaceful and enjoyable experience.
Can Tho Grand Prison
Can Tho Grand prison is a historical site worth a visit in this Vietnam town. The place has mannequins depicting what life may have been in prison. The Can Tho Grand Prison houses 21 detention rooms, a church, and a pagoda. It's an excellent place to learn more about Vietnamese history.
4.
Get Your Dosage of Vitamin-Sea in Nha Trang
One of the major cities in Vietnam is Nha Trang. Known as the beach capital, expect to see gorgeous beaches with crystal clear waters surrounding this Vietnam coast. Aside from that, the untouched Vietnamese mountains outlining the city make the place incredibly scenic. The beach may be its best lure, but there are other amazing things to do in Nha Trang.
Tran Phu Beach
Among the many pristine beaches, Tran Phu Beach is the most popular in Nha Trang. Aside from its beauty, the beach can be accessed from almost anywhere in the city. Here, you get to relax on the beach and in luxury beachfront resorts. There are various water activities to enjoy as well.
Po Nagar Cham Towers
Dating back from the 7th to the 12th centuries, Po Nagar Cham Towers have stood the test of time. To this day, this historical site is still being used as a place of worship. Its pyramidal roof adds a remarkable touch to the towers. With its impressive interior masonry, this magnificent tower is a sight to see.
Go Diving
Diving is perhaps the most popular activity to enjoy in Nha Trang. It's not a surprise given the endless beaches the coastal city is home to. Swim offshore or take a boat of the islands to fully enjoy diving.
5.
Get Away From The Hustle & Bustle in Hue
Located on the banks of the beautiful Perfume River, Hue is certainly one of Vietnam's most charming towns. The city was once Vietnam's capital and home to the Nguyen dynasty. This makes Hue one of the most historical spots among the major cities in Vietnam.
Tombs of the Ancient Emperors
If you're interested in ancient architecture, the Tombs of the Ancient Emperors are not to miss. The tombs date back from the 19th and 20th centuries and were built in honor of the emperors of Hue. The must-see tombs are the Tomb of Khai Dinh, the Tomb of Minh Mang, and Tomb of Tu Duc.
The Perfume River
The Perfume River is one of the most popular landmarks in Hue. Spanning approximately 80 kilometers, the river flows from Truong Son Mountain through the Hue City Centre. The river was called as such due to the scent of the flowers that dropped on the river. The strong floral scent may not be evident anymore, but the river is still a sight to behold.
The Food
Hue is often claimed to have some of the most delicious food among the cities in Vietnam. With that, make sure to try some of their best offerings. From Crispy banh khoai (pan-fried crepe) to a bowl of bun bo Hue, this city is ready to fill your belly.
6.
Experience The Unique French Vibe in Da Lat (Little Paris)
Da Lat was once a French hill station. With European structures and influence evident in the town, it gained the title "Little Paris." From French colonial villas to horse-drawn carriages, Da Lat lets you enjoy a Parisian vibe. Aside from that, Da Lat has year-round cool weather compared to other Vietnam cities.
Datanla Waterfalls
A roller coaster in the forest? Why not! For the adventurous souls, there's an adrenalin-filled ride you shouldn't miss. Datanla Waterfalls has a small roller coaster that takes you from the summit all the way down the falls. If that's too much for you, you can simply walk along the trails.
Linh Phuoc Pagoda
Linh Phuoc Pagoda is very impressive in its aesthetics and size. Boasting stunning mosaics that cover its surface, it also has the tallest bell tower in Vietnam. Aside from taking gorgeous photos, this spot is perfect to learn more about Buddhism's history.
Da Lat Flower Gardens
Da Lat is also known as the "City of Flowers." The garden houses an extensive collection of exotic and native flowers. When visiting Da Lat, stroll along the beautiful 7,000 sqm stretch of flowers on display.
7.
Explore The Magical Land & Sea of Da Nang
Among the major cities in Vietnam, Da Nang is the third largest. For a big city like Da Nang, visitors are treated to a mix of traditional and modern experiences. Apart from some good shopping and visits to historical sights, a trip to the beach is popular here.
Ba Na Hills
Ba Na Hills is one of the most exciting spots to visit in Da Nang. It's a resort that looks like a medieval castle sitting atop the mountain. However, you will find modern accommodations, restaurants, and Fantasy Park with exciting rides.
My Khe Beach
My Khe was once listed as one of the "World's Most Luxurious Beaches" in Forbes Magazine. With its 20-mile stretch of white sand and high-end resorts, it's no surprise why it bagged this title.
The Marble Mountains
For nature lovers, the Marble Mountains are a sight to see. It's a cluster of limestone and marble hills full of tunnels, caves, and Buddhist shrines. You can also climb the summit to enjoy the breathtaking view.
8.
Light Up Your World In Hoi An
Many people hail Hoi An as one of the prettiest among the cities in Vietnam. The town is proud of its pagodas, colonial villas, and Chinese shophouses. Aside from its impressive architecture, Hoi An is famous for its delicious dishes.
Lantern Market
Walking along the Old Town at night is a beautiful experience. This is when vibrant lanterns of different shapes and hues light up the market. Enjoy shopping, sight-seeing, or simply taking in all the beauty along the river. A trip to the lantern market is one of the most laidback experiences for tourists.
The Old Town
Hoi An is home to many historical buildings that have been spared from the Vietnam War bombings. The well-preserved ancient town is also home to Vietnamese, French, Chinese, and Japanese influences, giving visitors a unique atmosphere. Hoi An is now a UNESCO World Heritage Site and continues to attract more visitors each year.
Sample Cao Lao
When visiting Hoi An, the various items for sale, the different smells, and the appealing food can easily captivate you. For instance, don't pass up the chance to try Cao Lao, one of Hoi An's specialties. Cao Lao is brown rice noodles, mixed with lye water, and topped with pork and fresh herbs.
9.
Experience The True City Life in Ho Chi Minh City
Ho Chi Minh City, also known as Saigon, is among the major cities in Vietnam. The big city is a melting pot of locals, tourists, and expats who live and work here. Being the busiest and the largest city in Vietnam, it's a place brimming with things to do and see.
A Bowl of Pho
You can't come to Ho Chi Minh City and not enjoy a bowl of pho, a traditional Vietnamese noodle soup. The tasty soup comes with a meat of your choice and a variety of toppings to suit your taste. If you're not sure where to get your first bowl, Pho 24 and Pho 2000 are popular chains.
Giac Lam Pagoda
Giac Lam Pagoda is the oldest temple in Ho Chi Minh, dating back to 1744. Set in a lush garden, the pagoda gives you a picturesque view and a serene atmosphere. Visiting Giac Lam Pagoda graces you with peace amid the bustling vibe of Ho Chi Minh City.
Cu Chi Tunnels
Crawling the Cu Chi Tunnels is a must-try experience in Ho Chi Minh City. This network of connecting tunnels offers visitors a glimpse of the underground life of Vietnamese soldiers back then. However, the space is very small, which is not a good idea for claustrophobics.
10.
Feast On The Best Food in Hanoi
Hanoi is the capital and second-largest city in Vietnam. In 2019, the population of Hanoi is around 8.1088 million. This explains the busy and vibrant life in this city. In addition, the vibrant Vietnam capital has plenty in store for both tourists and locals. These include mouth-watering street food, natural beauty, and historical structures. Aside from that, there's a long list of amazing things to do in Hanoi.
Hoan Kiem Lake
Hoan Kiem Lake almost always tops the list of things to do in Hanoi. Why wouldn't it be? With its peaceful atmosphere and lush trees enveloping it, the lake is a great escape from the city life.
The Old Quarter
The Old Quarter is the core of Hanoi. Its presence has made it the most traditional city in Vietnam. Here you can find interesting small shops, cafes, and restaurants fill the streets. This makes a stroll along the quarter truly worth your time.
Banh Mi Sandwich
Make sure to grab Banh Mi when you are in Vietnam. This famous sandwich offers a perfect mix of Vietnam's local ingredients and French elements. If you want to sample the sandwich, head on to Banh Mi 25. This should tell you why Anthony Bourdain described it as a symphony in a sandwich.
These Cities In Vietnam Are Waiting For You!
A land of natural beauty, historical structures, hill-tribe villages, and megacities, Vietnam makes for one exciting destination in Southeast Asia. To fully appreciate the country, one city is never enough. The cities in Vietnam has many offerings that will suit every need and preference. So, next time you visit Vietnam, make sure to explore its many wonderful cities.