Ultimate Guide To The Best Things To Do In Cambodia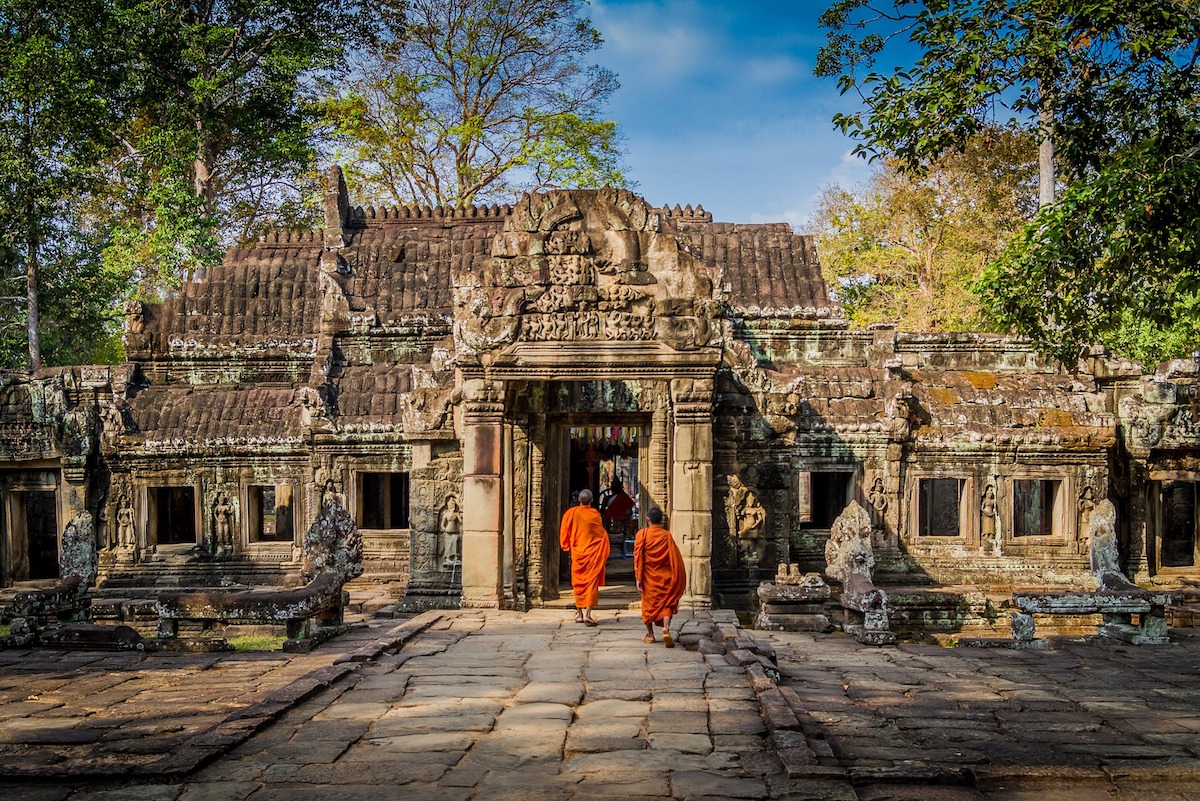 Visiting Cambodia is like uncovering hidden treasures. From the ancient temples, museums, to the countryside to beaches, there are many places to visit in Cambodia. Aside from the scenic sites, there are many things to do in Cambodia. Whether you want to discover its culture or taste its food, Cambodia has something in store for everyone.
Here is the ultimate guide to help you enjoy the best things to do in Cambodia:
Where Is Cambodia
Cambodia is one of the gems of southeastern Asia. The Gulf of Thailand borders it in the southwest, while in the east lies Vietnam. Laos borders it in the north, while in the northwest sits Thailand. Surrounded by other beautiful countries in Asia, Cambodia is a star on its own.
Cambodia capital Phnom Penh has been the country's national capital since the French colonized Cambodia. Since then, it has become the center of economy, industry, and culture. Aside from that, Phnom Penh is the largest city in Cambodia. Meanwhile, other cities in Cambodia include Battambang, Siem Reap, and Kâmpóng Cham.
When Is The Best Time To Visit Cambodia
To fully enjoy the many things to do in Cambodia, take note of Cambodia weather. Cambodia is generally a warm country year-round. The best months to visit Cambodia is from November to April. These months are not as humid and rainfall is less frequent. Meanwhile, the wet season is from May to October due to the southwest monsoon. The wettest months, however, are from July to September.
Cambodia Quick Information
Getting Around Cambodia
Going around this gem of a country is part of the adventure. While there are buses, minibusses, and private cars, the "tuk-tuk" is the most fun ride to explore Cambodia tourist spots. Tuk-tuks are two-wheeled carriages pulled by motorbikes. These rides are spacious enough to fit an entire family. What makes this ride fun is how you can enjoy the fresh air and see the sights along the way. You can ride a tuk-tuk from one point to the next or rent it for a day. If you don't want to explore Cambodia on your own, there are plenty of organized tours to choose from.
Cambodia Visa
Getting in Cambodia requires a 30-day tourist visa. But don't worry, it's not troublesome to get one. You can get a visa on arrival in Siem Reap, Phnom Penh, or Preah Sihanouk. You just need to present a passport-sized photo. An easier way is to get your Cambodia visa via the Cambodian government website before traveling there.
Cambodia Currency
Cambodia currency is the Riel. However, the country also uses the US dollar. Most of the items in Cambodia are priced in US dollars. Take note, however, that you might receive Riel as change.
Cambodia Language
You call the Cambodian people as Khmer, but it's also the country's official language. About 90% of the country's population speak the Khmer language. The dialect slightly varies depending on the area, but most especially in the small villages. However, English is spoken well by the locals in the bigger cities in Cambodia, such as in Siem Reap.
Is It Safe To Visit Cambodia?
Cambodia is generally a safe place to visit. Aside from that, Cambodian people — the Khmer — are very friendly and warm. Cambodian people are very welcoming to tourists. This alone reveals a lot about Cambodia culture.
Now, it's time to explore this magical country! Here are the best things to do in Cambodia:
1.
Explore The Magnificent Temples
One of the best things to do in Cambodia is to explore its temples. Cambodia is home to many magnificent temples that will leave you in awe. Don't forget to take a trip to Angkor Archaeological Park. This UNESCO World Heritage site is sprawling with hundreds of temples and religious structures. You can explore this amazing site on foot or bike.
Visiting Angkor Archaeological Park allows you to see the Angkor Wat, a Cambodia famous temple. Aside from this, there are other temples in this park worth marveling at such as Ta Prohm and Bayon. Allot at least half of your day to fully experience this historical place.
Outside the park also treats you to other stunning temples. A great option to fully enjoy the site is to book one of the tours. Tour guides will help you maximize your visit to these temples. They can tell you which temples to begin your tour best, what time, and what to expect.
Take note, though, that a trip to these stunning temples comes with a price — overcrowded sites! This is especially true during peak season. This is when the expertise of tour guides comes in. They can tell you the best times to dodge the crowd and how best to shake up your itinerary.
Trying street food is among the best things to do in Cambodia. Not only are they tasty, but most of them are not available on market stalls.
Cambodian dishes usually use sticky rice or fried noodles that come with meat and vegetables. Try the Lorta Char (noodles with beef and fried egg). If you're into some delicious fish meal, get the Amok. This is a fish soup in red curry paste and coconut milk.
You don't need to go far to sample street food in Cambodia. Cambodian people love their food, which is evident in how the streets are lined with street food vendors. You can hop from one stall to another to explore and enjoy their local delicacies.
In fact, at any time of the day, you can see the pavements filled with plastic tables and chairs. Dining out on the streets is a fun experience for tourists.
Trying out street food in Cambodia wouldn't be complete if you don't try snacking on some insects. This is the best way to truly feel like a local here. Cambodian people love to munch on insects cooked in various ways.
Fancy some fried spiders? These creatures are defanged and then deep-fried in chili and garlic. This is most famous in Skuon in Kampong Cham, a town midway Phnom Penh and Siem Reap. Its popularity even gained its label as "Tarantula Town."
Meanwhile, if you want a different roadside snack than deep-fried tarantulas, try some grasshoppers, silkworms, and crickets. Head on to Phnom Penh at night and choose among the many street vendors selling these edible insects. You can sample some on Riverside or at Pub Street in Siem Reap.
In addition, when the sun sets in Siem Reap, a new excitement begins. After 5 pm, many locals and tourists head to Road 60 outside the town to shop and eat. on the outskirts of town. At this time, many vendors line up to streets to sell food, clothes, and other items until 10 pm. This is among the fun things to do in Cambodia come night time.
4.
Drink Beer With The Locals
If you love beer, then you've visited the right place. Cambodian people love beer. This is evident in the many beer ads plastered on the towns, villages, and cities. If you want to try the popular brands, Angkor, Anchor, and Cambodia Beer are the top three names.
You can enjoy a cold beer anytime in Cambodia. This is a great refreshment after long walks around the city on a hot day. Meanwhile, a typical beer session setting at night is usually held in pubs or beer gardens. The latter is a favorite among tourists as they can enjoy some cool breeze while sipping on a local beer. Most beer gardens also have live bands or entertainment. It is worth noting that the locals love to "cheers," so don't be surprised at how often they do this.
5.
Bike Around The Countryside
Exploring the city on a bike is one of the best things to do in Cambodia. Not only is it fun, but it's also less tiring. It's also an excellent way to navigate through narrow streets or bumpy and steep grounds. You can rent a bike around Cambodia. Aside from that, it makes for a cool photo around town.
However, if you want company while you're riding a bike, go for quad biking. Discover the beauty of Cambodia with your family or friends while quad biking. You can rent the bikes for a few hours or go full swing for some serious offroading.
Depending on what package you choose, you can visit the temples, villages, and rice paddies all in the comfort of a bike. You may want to bring your selfie stick to capture the best moments.
6.
Relax At Sihanoukville Beach
Among the relaxing things to do in Cambodia is to hit Sihanoukville beach. This unspoiled paradise is the gateway to other stunning Cambodian islands such as Koh Rong and Koh Rong Samloem. Sihanoukville Beach is home to luxury resorts, beach bungalows, restaurants, and bars. Aside from that, it's close to Cambodia's beautiful beaches, namely Otres, Victory Beach, Independence, and Serendipity Beach.
A day or two in Sihanoukville Beach is an excellent way to relax and unwind from your trip to this country. It's among the relaxing places to visit in Cambodia. Aside from that, when Cambodia weather is very favorable, it's great to just lounge by the beach while sipping some fresh juice.
7.
Feel The Rush By Trying Flyboarding
If relaxing by the beach isn't enough for you, Cambodia has something for the water sports junkies. Flyboarding is one of the most exciting things to do in Cambodia. This water sport involves riding on water jets that will take you high above the water. This is the closest experience you'll have to soaring like Ironman!
This futuristic technology is developed by French jet ski champion Franky Zapata. Lucky for the adrenaline junkies, it is now available in Sihanoukville's Otres Beach.
8.
Learn More About Khmer Culture
Cambodia boasts a rich culture that's worth learning about. Khmer culture's major source of inspiration is religion, and this is evident in most of their activities. A common cultural activity among the Cambodian people is Apsara dancing. Dating back to the 7th century, Apsara dancing traces its roots from Buddhist and Hindu mythology.
Apsaras are said to be female creatures that come from Heaven. They visit Earth to entertain kings and gods through dancing. You can watch this enchanting dance in Phnom Penh and Siem Reap, including The Fou-Nan in Siem Reap and Angkor Village Resort's Apsara Theatre. Watching a show treats you to intricate and colorful costumes and slow hand gestures that each tell a story.
Cambodia Living Arts have been actively working to keep the Cambodian culture and traditions alive. The organization puts on shows held at the Cambodia National Museum, the country's dedicated theater. This is an excellent effort to not only keep the culture alive but also to let others learn more about Cambodia.
9.
Sail Along The Mekong Delta River
The Mekong River is definitely among the famous Cambodia tourist spots you can't miss. Snaking its way through six countries in Southeast Asia, booking a Mekong Delta River cruise is a must. You can choose among the many trans-country cruises available, such as from Cambodia to Vietnam or Laos to Cambodia.
Alternatively, you can simply enjoy a sunset cruise along the mighty Mekong River in Phnom Penh. These cruises include food and drinks and even some music entertainment. It's a beautiful experience to sail along the river while the sun is setting. The river also lights up with boats at dusk, making for one romantic and memorable view.
10.
Ride the Bamboo Train
The bamboo ride was originally built as a means of transportation for villagers in remote areas. Today, it has become a big hit among tourists who visit Cambodia. The bamboo train or nori is one of the exciting things to do in Cambodia, especially for foreigners. How can it not be when it's not every day you get to ride a rail vehicle like this?
The bamboo train is a bamboo-based platform elevated a few feet above the ground. It runs on a small motor that lets it move on the rail. It's a fun and effortless alternative to view the beautiful rural Cambodian neighborhood.
11.
Watch The Sunrise At Angkor Wat
There are many exciting things to do in Cambodia. However, when it comes to mesmerizing, nothing beats watching the sunrise at Angkor Wat. Dating back to the 12th century, Angkor Wat is said to be the oldest temple complex in the world.
Watching the sun rises as it bursts into auburn-orange colors against the majestic Angkor Wat is truly magical to watch. It's no wonder, this dramatic scene is on top of the list of travelers visiting Cambodia. It's so beautiful that even seasoned travelers are still left amazed.
Visit Cambodia!
There are a plethora of things to do in Cambodia. From places to visit, sites to see, to foods and things to try, a long list awaits travelers. What makes this gem in Southeast Asia special is how Cambodian people are so friendly and welcoming. This is a big plus for travelers, especially for first-time visitors in the country.
To fully enjoy your stay in Cambodia, make sure to plan ahead. Take note of the things you want to do and don't miss out on Cambodia tourist spots. For such a culture-rich country, Cambodia has many reasons to be visited, explored, and appreciated.