25 Best Things to Do in St. Thomas, US Virgin Islands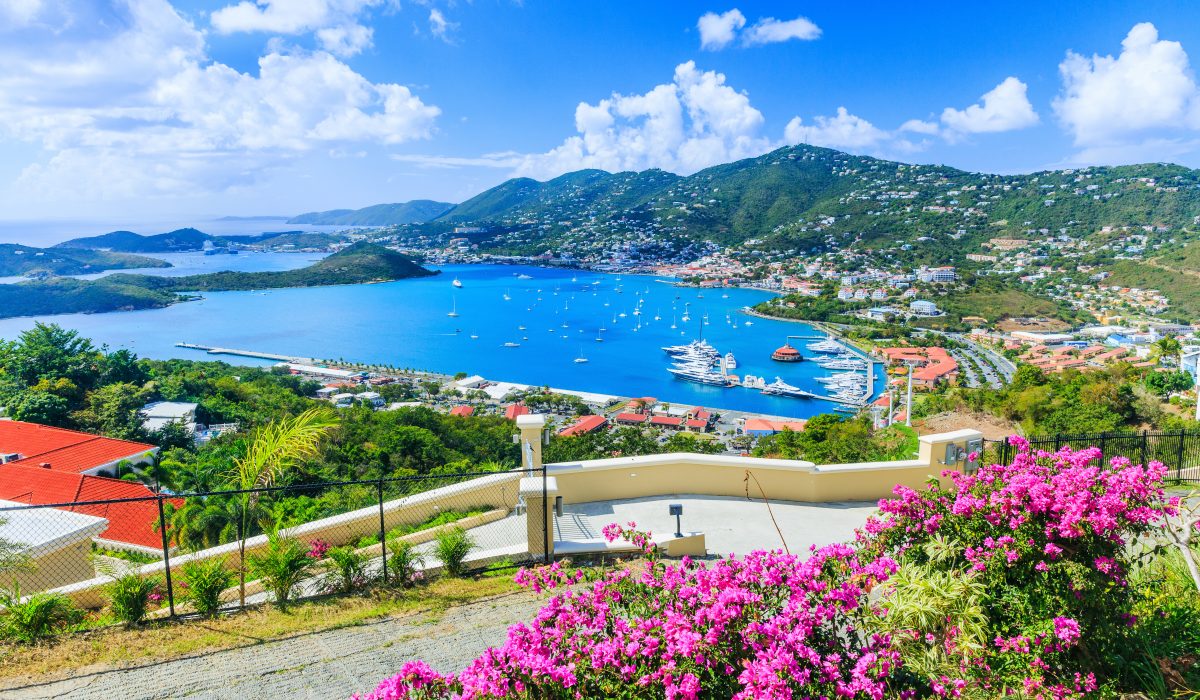 Wondering what to do in St. Thomas? With its dazzling beaches, bustling cities, tropical landscapes, and rich cultural history, this Caribbean island is a mecca for those seeking both adventure and peaceful relaxation. Truly, you'll never run out of things to do in St. Thomas!
The best part? You don't need a passport to get there! Just like Puerto Rico and the rest of the US Virgin Islands, St. Thomas is an unincorporated territory of the United States, making it one of the best places to travel without a passport for American citizens.
Pack your bags and discover all the top attractions of this island paradise!
Family-Friendly Things to Do in St. Thomas
1. Sunbathe at Magens Bay Beach
If you're strapped for time and can only visit one beach while at Saint Thomas, let it be Magens Bay Beach. Considered one of the most beautiful beaches in the world, the Magens Bay white sand beach flaunts pebble-free shores and turquoise waters. Located on the Northside of the island, and surrounded by rolling green hills and swaying palm trees, it stretches 1.5 kilometers and is the perfect place to soak up the sun on your favorite beach blanket.
2. Scuba Dive at Coki Point Beach
Scuba diving should be part of everyone's itinerary of things to do in Saint Thomas, Virgin Islands. The island boasts several diving spots, but Coki Beach is among the best, thanks to its calm and crystal clear waters. Swim next to fishes and turtles and marvel at the live coral reef of St. Thomas' water.
Didn't bring any diving gear with you? Not a problem! With its reputation as a top diving spot, you can easily find facilities that provide diving and snorkeling gear rentals. A nearby diving school offers lessons and guided dive tours. After time spent in the water, sample delicious Caribbean snacks from one of the local vendors scattered along the area.
3. Encounter Marine Life at Coral World Ocean Park
Looking for more aquatic encounters? Adjacent to Coki Beach, one of the best things to do in St. Thomas is to get up close and personal with the creatures of the Caribbean Sea at the Coral World Ocean Park. The whole family can explore five acres worth of aquariums with creatures like sharks, sea turtles, sea lions, stingrays, and dolphins.
There's also an underwater observatory — the only one of its kind in the Caribbean — that takes you 15 feet below surface level. Here, you can view marine creatures in their natural habitat. Besides aquatic life, the facility has many nature trails that house native terrestrial animals such as iguanas and tortoises.
4. Be a Pirate at the Pirate Treasure Museum
At the Pirate Treasure Museum, kids can marvel at treasures recovered not just from the waters of the West Indies but also other parts of the world. The two-story museum houses artifacts retrieved from shipwrecks during several deep-ocean explorations. From weapons used to protect their bounty to coins from Ancient Rome and China, the whole family can get a glimpse of the pirate life. Meanwhile, the hands-on and interactive exhibits will further immerse you into their exciting and dangerous world. What's more, kids can learn all about modern-day technology used to locate all these treasures!
5. Explore Blackbeard's Castle, St. Thomas
Head on over to the castle of one of the most notorious pirates that sailed the Seven Seas if you're looking for some more pirate adventures. Standing proudly in the center of St. Thomas, Skytsborg Tower provides its visitors a 360-degree angle view of Charlotte Amalie and its harbor. This 40-feet-tall tower erected in the late 1600s served as a vantage point for soldiers to spot enemy ships. Legend has it that in the 18th century, Edward Teach, better known as Blackbeard, used the tower as a lookout point. Nowadays, tourists from all over can climb the tower and marvel at the majestic view of the harbor. Afterward, take a dip into one of the three swimming pools of the estate.
6. Shop Along the Streets of Charlotte Amalie
Saint Thomas is known as the shopping mecca of the US Virgin Islands. Start your St. Thomas shopping tour along Main Street in Charlotte Amalie. Here, you can find all sorts of bargains on jewelry, clothing, and toys. You can even find some of the best chocolates, rum, and cigarettes in the Caribbean along these streets. And the best part? U.S. citizens have a duty-free shopping allowance of $1600! A family of four can easily bring home $6,400 worth of duty-free purchases.
7. Zip Across the Island at Tree Limin' Extreme Zipline
Looking for fun things to do in St. Thomas with kids? Well, what's more fun than soaring across a tropical rainforest on the only zipline in St. Thomas? At the Tree Limin Extreme Zipline, families with kids aged five and above can soar high above the canopy of St. Peter Mountain. A two-hour adrenaline-inducing experience features six ziplines, two sky bridges, and eight aerial platforms. Enjoy a bird's-eye view of the island and get a glimpse of St. John and the nearby British Virgin Islands.
8. Marvel at the Panoramic View at Drake's Seat
You'll never run out of sightseeing opportunities at St. Thomas. One of the spots you and the entire family shouldn't miss is Drake's Seat. Situated on top of Skyline Drive, this lookout point is named after Sir Francis Drake, the first English explorer who circumnavigated the globe in a single expedition. Local folklore claims that this was where Sir Francis went to look out for the enemy ships of the Spanish Fleet. Whether this story is true or not is still unclear. However, what is certain, is the stunning views of the Caribbean Sea and the Atlantic Ocean.
9. Enjoy More Underwater Fun at St. Thomas Scuba Diving Spots
We've already mentioned Coki Beach as one of the top St. Thomas scuba diving spots on the island. But, there's still a plethora of other locations to enjoy more underwater fun.
Located off the south side of St. Thomas, Cow and Calf is a popular site for beginner and intermediate divers with its shallow depth and calm waters. The area offers divers' canyons, ridges, swim-throughs, tunnels, and arches. Another great spot for beginners is the relatively shallow waters of Ledges of Little St James. This site is popular for snorkeling and night diving, as well.
Meanwhile, you'll find Congo Cay and its dramatic ridges and rock formations on the north side of the island. The area's abundance of colorful coral and pelagic creatures makes it a popular spot for underwater photography, so don't forget to bring your best underwater camera! Note that the area is more geared towards advanced divers due to its brisk currents. As such, novice divers may want to avoid this spot.
10. Tour Nearby Islands
While there are plenty of fun and exciting St. Thomas excursions, a day trip to nearby islands should undoubtedly be part of your itinerary. Start your island-hopping adventure by heading over to Water Island. Just a ten-minute ferry ride from downtown Charlotte Amalie, visitors can enjoy a relaxing day on the famous Honeymoon Beach or ride away on a bike tour throughout the island.
A little further away, less than 30 minutes by ferry, you'll find St. John. Famous for being the most pristine of the US Virgin Islands, you can enjoy a day hiking along the nature trail of the Virgin Islands National Park or be a beach bum on the white sands of Trunk Bay. Meanwhile, a little over 30 minutes away from St. Thomas, you'll find the largest of all US Virgin Islands — St. Croix. Home to a subtropical rainforest and two of the Caribbean's bioluminescent bays, it's the ideal island for those looking for a thrilling adventure in nature.
11. Play Beach Volleyball at Morningstar Beach
One of the least crowded St. Thomas beaches, Morningstar Beach, is a favorite spot for those looking to play a match of beach volleyball. At the east end of the white sand beach, you'll find a volleyball court that is free to use for visitors. Go up against friends and family or make new friends with other beach-goers. You can also find a water sports booth in the area that offers jet ski and kayak rentals.
What's more, since it's located just two miles east of Charlotte Amalie, it's the perfect spot to catch cruise ships sailing in and out of the harbor. Visitors can also marvel at the magnificent views of the British Virgin Islands and St. John. Moreover, the beach is home to St. Thomas's all-inclusive beach resorts and beachside bars.
Romantic Things to Do in St. Thomas
12. Traverse the Phantasea Tropical Botanical Garden
On the hunt for romantic St. Thomas activities to do? You certainly can't go wrong by strolling through Phantasea Tropical Botanical Garden paths. What was once a woman's passion project is now one of the most beautiful botanical gardens in the Caribbean. With thousands of tropical flowers and plants native to the island, it's among the top eco-attractions on the island. Take a seat at one of the gazebos or benches to simply be at peace with nature. You might even catch a glimpse or hear the sweet sounds of hummingbirds. In addition, this two-acre garden boasts stunning views of Magens Bay, the cruise ship harbor, and the nearby islands of St. John and Tortola.
13. Wine and Dine Around Red Hook
Located on the East End, Red Hook is a foodie's paradise. Famous for its plethora of dining options, this area is a popular destination for couples looking to spend a romantic dinner on St. Thomas island. You can choose from a number of trendy restaurants that feature different cuisines, ranging from local Caribbean dishes to authentic Italian and Mexican food. Couples looking to experience the St. Thomas nightlife can party with locals at one of the bars in the area.
14. Sip a Banana Daiquiri at Mountain Top
Indulge in a glass of banana daiquiri with your partner as you gaze at a panoramic view of the Caribbean Sea. Located 1,500 feet above sea level, Mountain Top sits atop the highest point of St. Thomas. It features one of the best restaurants in St. Thomas, duty-free shops, and a bar that serves the world-famous banana daiquiri. In fact, local stories claim Captain George Soule, a British sea captain, invented this cocktail on the island. Nowadays, you can find almost every bar serving it. However, the ones served at the bar are certainly among the best, with over three million visitors each year enjoying it.
15. Dine at Yacht Haven Grande
There's no shortage of eateries on the island that exudes a laid-back atmosphere. But if you want an elegant experience for your date night, head over to one of the fine-dining restaurants at the Yacht Haven Grande. Just a short walk from the cruise ship docks, you'll find a 120,000 square foot village that's lined with restaurants and boutiques. Enjoy a five-course meal at one of the waterfront restaurants, including coastal cuisine, creative cocktails, and indulgent wines.
16. Hit the Water at Sapphire Beach
Sapphire Beach is one of the best beaches in St. Thomas, boasting a blend of laid-back atmosphere and adventurous thrill. Enjoy action water sports within the turquoise waters. You'll find the best snorkeling spot along the east side of the beach, with its shallow and rocky outcrops— a combination that provides the perfect place to spot plenty of fishes and colorful coral. Windsurfing and kayaking are popular water-based activities, as well. Head over to the Sapphire Beach Marina if you're looking to rent jet skiing or parasailing equipment. Besides the marina, there's also a booth that offers a variety of water sports rentals.
17. Watch the Sunset at Secret Harbor Beach
A romantic Caribbean getaway for couples isn't complete without catching at least one of the amazing sunsets. Located on the East End, Secret Harbor is one of the smaller St. Thomas beaches and is much less crowded than Magens Bay and Coki Point Beach. As such, it's a great place for those looking for uninterrupted romantic moments. Soft white sand, swaying palm trees, and crystal clear waters await you and your partner on this beach.
What makes Secret Harbor one of the top romantic spots, though, is its breathtaking view of the sunset. Enjoy a romantic meal and cocktail at one of the restaurants and bars at the Secret Harbor Beach Resort to complete the experience.
Unusual Things to Do in St. Thomas
18. Explore the Historic Sites of Hassel Island
Hassel Island is an often overlooked part of the U.S Virgin Islands, a small isle nestled south of Saint Thomas. It was once part of the mainland but was separated in the 1860s by the Danish government to improve the water circulation of the Charlotte Amalie harbor. History buffs can learn all about the island's rich history by exploring ruins of sites and structures dating back to the 17th century. Ruins include remnants of shipping and coal stations and the oldest steam-powered marine railway in the Western Hemisphere. Here, you can find the ruins of military quarters and barracks used during wars.
19. Step into the Wilderness at Buck Island
If you want to unplug from the modern-day, head over to the Buck Island National Wildlife Refuge. Situated two miles south of St. Thomas, this 45-acre uninhabited island is covered in rocky cliffs and sheltered coves with grasslands teeming with shrubs and trees. The island is home to several creatures, including Caribbean-native reptiles. It also serves as a safe nesting habitat for different migratory birds. Exploring the island is certainly one of the best things to do in St. Thomas for nature enthusiasts. The only sign of civilization you will encounter is the historic Buck Island Lighthouse.
20. Skyride to Paradise Point
Paradise Point is among the premier attractions in the US Virgin Islands. It houses unique shops and some of the best restaurants in St. Thomas, all the while offering breathtaking views of the harbor. While these alone don't seem like one of the unique things to do in St. Thomas, getting there, however, is a one-of-a-kind experience in itself. To get there, you will need to hop on a tram that will whisk you and 23 other passengers up 700 feet above the hustle and bustle of Charlotte Amalie. This seven-minute ride to paradise offers panoramic sights with no shortage of photo opportunities, so don't forget to bring your camera and selfie stick.
21. Fly with Caribbean Buzz Helicopters
Create unforgettable and exciting memories when sightseeing aboard one of the H145 choppers of the Caribbean Buzz Helicopters. You and seven other passengers can marvel at the beauty of the West Indies from above with a 30-minute aerial tour. Your sightseeing journey will start at the East End of Saint Thomas island and will soar through the islands of St. John, Tortola, and Jost Van Dyke. Plus, all the cays in between!
Furthermore, the company offers charters and day trips for some island hopping. Enjoy a morning hike along the rolling hills of St. Croix and experience delicious Puerto Rican food for lunch afterward! Meanwhile, if you're looking for more thrill, book a heli-adventure that will take you kiteboarding, paddleboarding, and more.
22. Climb the Historic 99 Steps
Climbing a bunch of steps doesn't sound like the most exciting thing to do. However, this steep flight of steps is one of the most popular landmarks on the island. Located in Downtown Charlotte Amalie, the Danes built these steps in the mid-1700s. Made of bricks bought over from Denmark, the steps were built to make navigating the island's steep hills easier. Nowadays, the staircase, which actually consists of 103 steps, is among the top attractions of St. Thomas. Flowers and other tropical plants surround both sides, so you can enjoy a scenic stroll and capture colorful photos when catching your breath during the climb. Blackbeard's castle, along with stunning views, awaits you atop the staircase.
23. Travel to the Past at Fort Christian
Built in the 16th century, Fort Christian is one of the oldest surviving structures on St. Thomas island. Since its erection over 300 years ago, it has served as a military base, a town center, and a police headquarters. Today, it's home to the St. Thomas Museum, which holds exhibits on the history of the US Virgin Islands. What's more, there's a natural history section with local flora and fauna on display. Visitors can browse the museum's collection of furniture from the Dano-Norwegian period and an art gallery. Take in Charlotte Amalie's panoramic views from the fort's roof.
24. Hit A Hole-In-One At Mahogany Run Golf Course
Playing a round of golf doesn't sound like the most exciting activity. However, it's certainly among the list of unusual things to do in St. Thomas. After all, you don't typically include trips to golf courses when planning island getaways.
As the only golf course on St. Thomas island, you shouldn't miss the chance of hitting a hole-in-one at the Mahogany Run Golf Course. The golf course, spanning almost 100 acres, offers challenging courses, including the infamous Devil's Triangle that's perched atop a 200-feet cliff. Conquer the exciting greens while surrounded by tropical foliage and amazing wildlife, and a stunning view of the Atlantic ocean.
25. Try Your Luck at Winners Circle
Gambling is an activity that you don't usually include when planning a vacation to an island paradise. But the Winner's Circle at St. Thomas island is truly one of the spots that will put you in a thrill.
Winner's Circle is the premier casino on the island, and thanks to its location on the outskirts of Charlotte Amalie, it's a favorite among cruise shippers with a penchant for gambling. Boasting state-of-the-art equipment, it provides guests with an entertainment experience like no other. Additionally, Winner's Circle also hosts karaoke and open-mic nights every Wednesday and Saturday.
Discover the Island Paradise of St. Thomas Today
Craving for a thrilling adventure in the water alongside sea turtles and sea lions or up in the sky over glittering waters? Want to experience exquisite dining and vibrant nightlife? Or maybe you need a lazy day at the most beautiful beaches? St. Thomas offers all of these and more! Whether it's a stopover while on a Royal Caribbean Cruise or your family's next vacation destination, St. Thomas is an island paradise you should visit. We hope this list of things to do in St. Thomas helps you plan out your next tropical getaway.