15 Puerto Rican Foods You Must Try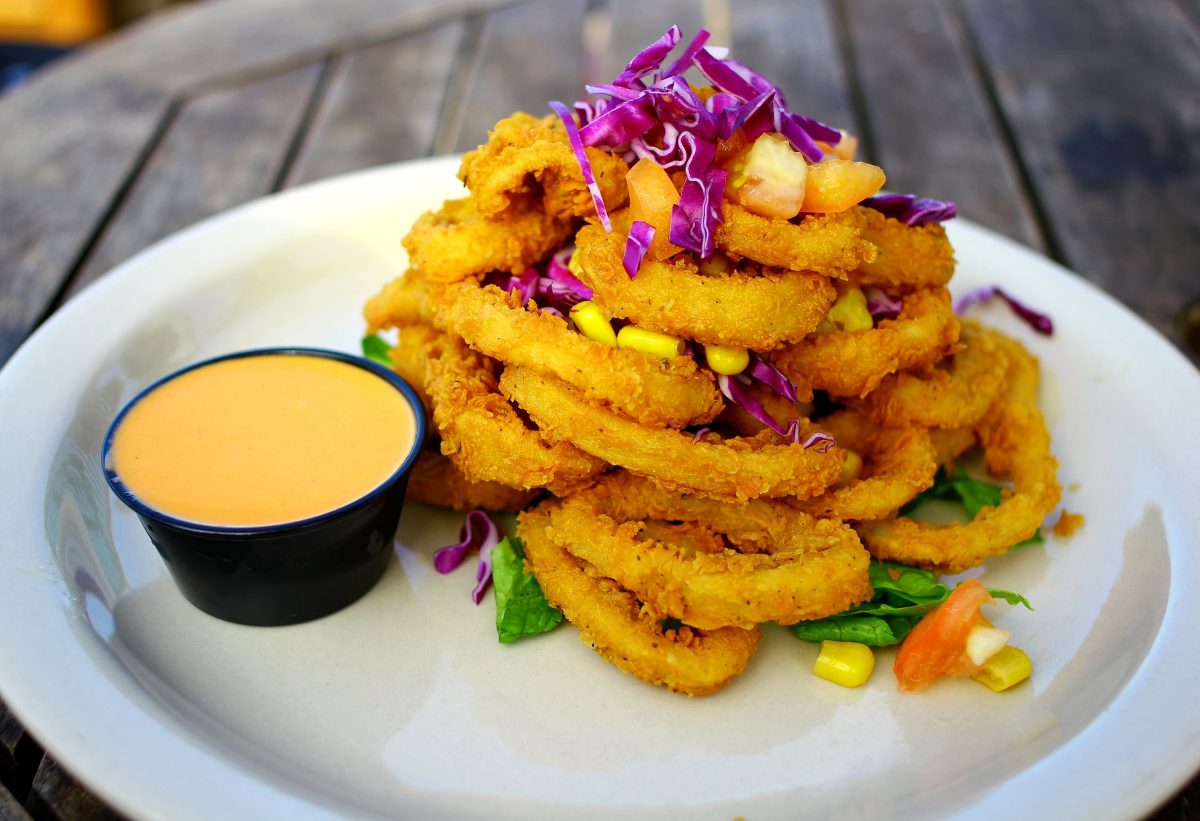 Thinking about visiting exotic Puerto Rico?
Here is a list of Puerto Rican foods that should be on your must-eat list.
Dreaming about the sunny beaches and the Spanish vibe of Puerto Rico? Planning on taking a trip to the exotic island soon? Wepa! Don't forget that one of the main attractions of the gorgeous island is the mouthwatering Puerto Rican food.
Regardless of the places you pick to dine in, it's super important you try local delicacies and experience the best Puerto Rican food and dishes at the island's many restaurants and bars. With influences from Caribbean and Spanish cuisine, Puerto Rican food is known for its rich flavors and scrumptious hot spices, that are guaranteed to have you licking your fingers and asking for seconds.
Ready to enter food heaven? Here is a list of 15 mouthwatering Puerto Rican foods you must try when you are visiting this beautiful island.
Let's begin with the basics. Your trip to Puerto Rico will be incomplete if you don't try mofongo.
Unofficially crowned as the king of Puerto Rican food, this dish is pretty common all over the island, and you can find it in every local restaurant and street corner. A mishmash of garlic and fried plantains with a choice blend of warm, homey spices, the mofongo can be customized with the filling of your choice. Whether you are a vegetarian or a carnivore, you will enjoy this scrumptious delight and keep coming back for more throughout your stay in the country.
Just got done with a swim and craving something filling, spicy, local, and oh-so-delicious? Hit a bar at the island and order some hearty pernil off the menu.
To prepare this dish, a pork shoulder is slow-roasted to perfection with a special secret seasoning – legend says it's a blend of pepper, garlic, and oregano. The result is soft, fall-off-the-bone pork meat that is juicy on the inside and crisped up on the outside. The fatty cut of spicy pork with some fluffy rice on the side will reignite your taste buds like never before. And yes, don't forget to order some Puerto Rican rum with this dish for that complete experience!
3.
Arroz Con Gandules (Puerto Rican Rice with Pigeon Peas)
Did you know that arroz con gandules is the national dish of Puerto Rico? Yes, this is one of the most common dishes you will find on the island and will leave you happy and full without a dent on the budget. Any and every restaurant on the island will serve this dish to you, so there is no way you can miss it.
You can call it the local version of fried rice – but the unique flavor of this dish comes from sofrito – an authentic sauce base of this region made out of tomatoes, peppers, onions, and cilantro. The rice is tossed and flavored with capers, olives, pigeon peas, and the sofrito sauce and is super yum.
Pro-tip: Ask your server if he can serve it with some spice-rubbed, tomato-ey pork on the side. Mmm…
A local delicacy, Pasteles are considered a holiday essential in Puerto Rico and are usually found on Christmas tables all over the island.
The dish is a labor of love – it is made with a starchy dough of green bananas, grated green plantains, yautia/ malanga (a root vegetable like yuca), milk with pumpkin, and potato, and is then filled with a meat or vegetable stew.
All the goodness is then wrapped in a banana leaf and steamed away, till the sofrito or achiote seasoning goes all the way through. This holiday treat should not be missed when you are in Puerto Rico.
Did someone say snack? All hail to these little half-moon shaped turn-overs that will be all the rage when you are looking for a quick bite.
The pastry shells are filled with a mix of boiled potatoes and ground beef flavored with sofrito, and then either baked or fried till they are all golden and toasty. This savory and crunchy dish is a perfect snack to munch, especially while you are taking a stroll on the beach. For all seafood lover, you can find them filled with shrimps or lobster filling as well. If not, vegan options are available as well.
6.
Arroz y Habichuelas (Rice and Beans)
Locals swear by this homey combo of rice and beans, all spicy and delectable with that classic sofrito delight. If you're craving for a starchy diet or simply just want to enjoy some Puerto Rican comfort food, Arroz y Habichulas is what you need! Walk into any local restaurant and you will find this dish commonly appears on the menu.
Who cares about carbs when you are vacay-ing in a tropical paradise? Please give us more fried food – and in Puerto Rico, you order the Rellenos de papa when you want something oozing with love and crunch.
These deep-fried potato croquettes are stuffed with ground beef and are one of the most popular street foods in Puerto Rico. The flavor combo of garlic powder, oregano, olives, tomato sauce, sofrito is a match made in heaven. Top it with fresh onions and tomatoes, this Puerto Rican food for sure brings you to heaven in no time.
8.
Pastelon (Puerto Rican Lasagna)
This Puerto Rican's version of lasagna with delectable layers of ground meat, tomato sauce, olives, sofrito, cumin, and oregano sandwiched between thin layers of plantains and baked to perfection with a generous helping of delicious cheese.
Unlike your typical lasagna, this Puerto Rican dish offers a unique taste: it's not just salty but also sweet. Make this Puerto Rican food on your must-try food list, you'll be grateful to find them nearly every restaurants and cafe in Puerto Rico.
Now that Puerto Rican food is out of the way, let's move to the more important part – the drinks to wash all the spices down! Instead of getting a beer or a glass of wine, why not go with something traditional and festive?
Coquito is a very popular drink in Puerto Rico, and we are sure you will love it. It is the Puerto Rican version of eggnog, only more delicious. This coconutty drink is mixed with a generous amount of rum and is served chilled. You can also have it splashed with condensed milk and cinnamon if you like your drinks on the sweeter side.
For the more adventurous, we recommend the guava and pistachio flavored versions. And chocolate. Yum! Coquito is the most popular alcoholic drink in Puerto Rico and is easily available.
If you want a non-alcoholic beverage to go with your meal, Coco Rico is the way to loco. This drink is the coca-cola of this island nation, though it tastes nothing like coca-cola.
The coconut soda has beach written all over it and will be a perfect companion on a hot sunny day. You can even get a Coco Rico mojito if you want to add a bit flavor to it. This drink is very popular and can be found all over the island, including local stores, restaurants, and gas stations. Believe it or not, almost every house in Puerto Rico have them chilling in the fridge especially for the blazing hot days.
To make the best our of the Puerto Rican food, following by a cup of freshly brewed coffee is essential. Puerto Rican coffee is something else entirely. The caffeine lover in you will be spoiled for choice, but if you are looking for authentic Puerto Rican coffee blend, we highly recommend and love 787 Coffee Co. Their rich blend of flavor and the perfect zing of bitter-sweet warmth will have you coming back for more.
Moist and delicious Tres Leches in Puerto Rico will have you floating on cloud nine. The sponge cake is drenched in coconut milk overnight, which makes it so soft that it dissolves in your mouth instantly. Spiked with coconut rum and frosted with whipped cream, the spongy delight is a must-have after a day at the beach and a spicy meal. If you need to choose a Puerto Rican food to be on your list, this dessert is a must!
Flan is loved and devoured all over Puerto Rico and is available in a ton of variants. Some people match the taste of flan de queso with a cheesecake, while others say it tastes like pudding. Well, you will have to get one to judge for yourself. It is available in many Puerto Rican restaurants. Try out the more tropical flavors like guava or coconut for a different yet royal experience! Not only kids who love them, but this Puerto Rican dessert also perfect for anyone with a sweet tooth.
Mouthwatering rice pudding Arroz con dulce is a specialty of the region. Flavored with cinnamon, cloves, raisins, nutmeg, and coconut milk, this dessert will tickle your taste buds and will surely leave you giddy with joy. Though this is not an easy dessert to make, Puerto Ricans excel in whipping up this delicious pudding. Trust us, this Puerto Rican food itself is worth hailing a flight to the island.
If you go to Puerto Rico and not try this dessert, you have probably missed out on perhaps one of the tastiest treats of all time. These oven-baked or fried sweet dough often filled with coconut or filled with a savory filling. You'll find this common street food everywhere in Puerto Rico You, whether it's in a cafe or even a street-side cart. However, some prefer to have them as it is without any fillings.
Takeaway
There you have it, folks! These amazing foods are a must-try when you are in Puerto Rico, and will definitely leave you full of joy. Trust us when we say this – food is perhaps the best memory you have of a vacation so make sure you try out all the local delicacies of the beautiful, tropical island.
Bon appetite!
Apart from the stunning vibrant culture and stunning architectures in Puerto Rico, don't forget to savor these amazing Puerto Rican food. If not, get yourself a Puerto Rican Cookbook and make it at home. Let us know how you like these dishes in the comment box down below!