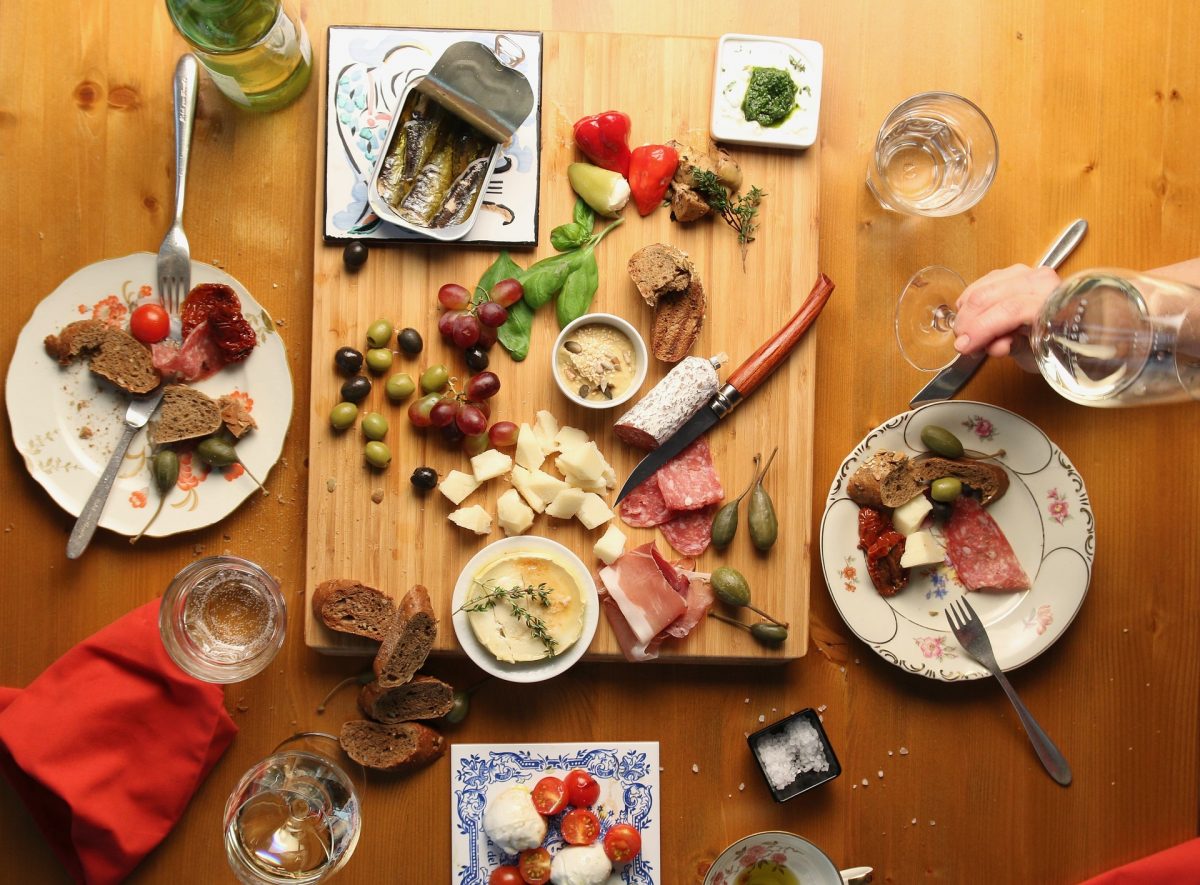 Tapas are the specialties of Spain that conquered the world more thoroughly than Conquistadors did by the end of the Middle Ages. Tapas are delicious appetisers and snacks that come in many varieties based on their region of origin.
Although many eateries serve tapas as starters, a great many travellers and gourmands don't manage to advance to the main dish once they start eating them!
Many tapas eaters take part in a cultural activity while delighting their taste buds. The tapas tradition requires gourmands to share their tapas among the people sharing their table and even with those at the neighbouring tables.
Having tapas while visiting Spain is as essential as drinking wine in France. Just make sure to visit bars and eateries serving tapas on the side streets for the premium experience.
Those located in touristy areas often inflate the price of tapas that aren't as delicious as in the establishments visited by locals.
1.
Tapas Experience In Jaén, Andalucia
Surrounded by endless olive groves, Jaén is the Spanish olive capital, and olive oil is an essential ingredient of the local tapas. It gets even better when you take a seat at a bar and order a drink since you are very likely to get tapas for free.
In Jaén, you can eat tapas sandwiches served with crisps, seafood, and olives among other ingredients, while the welcoming extras are gazpacho (tomato soup-) and a summer pipirrana salad. If you need to continue driving and, thus, avoid drinking too much, order a plate of tapas.
The price of a small plate for one person is about €1.5 at tapas bars. You will find that heir tapas menus are quite extensive, so take your time while choosing.
2.
León Tapas, Castilla Y León
Just like in Jaén, Andalusia, you benefit from free tapas in León, Castilla y León, with every drink that you order. In this atmospheric city, they tend to keep things simple when it comes to tapas, although creative solutions do exist.
So if you're looking for imaginative tapas, visit Barrio Romantico. While if you find that you're a traditionalist, go to Barrio Humedo. Or satisfy your curiosity by indulging in both!
The secret of the "tapas capital of Spain" is the strong resemblance of traditional tapas with those served a few centuries back. Albeit traditional tapas dishes tend to be quite simple, the portions are very big to the amazement of many tapas eaters.
On top of that, many local bars specialise in their own 'signature' tapas, which make tapas bar-hopping in León especially enjoyable and rewarding.
Cheese, fried potatoes, and Chorizo (pork sausage) are a few components of León tapas. Besides large tapas portions and various flavours, be prepared to enjoy the unequaled tapas culture in León, Castilla y León.
3.
Unwind At Granada Tapas Bars
León in the Castilla y León province may be the "Spanish tapas capital," but Granada in Andalusia is the "Spanish capital of free tapas."
Arrive in Granada with an elephant-sized appetite and order a drink first no matter how hungry you are. Every round of drinks comes with different types of tapas at Granada tapas bars. So you can imagine how content and well-fed you're about to end up!
It's no secret that Granada will spoil you for a choice of tapas that span every culinary delight that comes to mind. Granada tapas comprise of various vegetables, seafood, cheeses, and types of meat.
If you are more hungry than thirsty, keep ordering "caña" (small beer) instead of "tubo" (big beer). This way you can ensure that you won't fill up on alcohol when you should be saving space for delicious tapas.
Also, try to determine what tapas the staff is serving when you arrive at a Granada tapas bar. Usually, the bar serves the same tapas at a time, so postpone your order a bit if you prefer something else.
4.
Pintxos Of Bilbao, País Vasco
Pintxo is a Basque term for tapas, and pintxos of Bilbao, País Vasco, are works of art as much as they are culinary delights. If you just can't contain your appetite when you arrive in Bilbao, go straight to Calle Ledesma, a local hotspot for a pintxo crawl.
Basque versions of tapas are typically small slices of bread with a wide variety of toppings. Expect anything from caramelised foie gras, calamari, mushrooms, fried cheese, cherry tomatoes, stewed veal, ham and crab among other ingredients.
You will find Bilbao pintxos designed so well that you might feel sorry about eating them. However, once you tuck in you'll find that it was definitely worth ruining those tiny pieces of art.
5.
Play Tapas Russian Roulette In Santiago De Compostela
Santiago de Compostela in Galicia offers a unique tapas experience. When you start eating tapas, you may notice nothing out of the ordinary at first.
Sooner or later, though, you will take a bite of hot Pimientos de padrón peppers. You see, this one hot bite out of 20 mild bites gives credit to Santiago de Compostela's "Russian Roulette of tapas."
Besides devotees of spicy food, tapas of Santiago de Compostela are paradise for vegetarians. Many tapas menus seem to abound with various types of meat, there are a few noteworthy vegetarian tapas in Santiago de Compostela.
Even if you're a meat lover, you shouldn't overlook them. Santiago de Compostela might even convert you! Check out the Patatas Bravas tapas, which include a paprika sauce drizzled over fried potatoes.
Most tapas dishes in Santiago de Compostela cost up to €4, and most eateries offer free tapas if you order a drink.
6.
Logroño, La Rioja – The Best Tapas Bar-Hopping Destination In Spain
For probably the densest concentration of tapas bars in Spain, visit Logroño, the capital of the La Rioja province. Dozens of tapas bars serving many varieties of this Spanish dish are crammed within an area that isn't much larger than a few tennis courts.
What this means is that you can expect a smorgasbord of flavours. Think of it as the best trip your tastebuds will ever take!
Every tapas bar in Logroño has a signature tapas dish, and we promise that you need to try each and every one of them. Take tapas with cod fritters, Chorizo with paprika or patatas bravas as a main dish, and treat yourself with cheesecake and brownie tapas for a dessert. Yes, they even have dessert tapas! Definitely a dream come true for those of you with a sweet tooth.
7.
Almeria Is Home To Free Tapas That You Get To Select
Expect to find that every tapas in Almeria, Andalusia to be elevated to a whole new level. While everywhere else in Spain, you get free tapas with a drink, in Almeria you get to choose which tapas you get. Sounds good, right?
As a seaside city, Almeria excels in seafood and fish tapas, with tapas with octopus from the Mediterranean Sea being the top choice. If you are a vegan, seek out tapas served with quinoa, tofu satay, and basmati rice. When in Almeria you don't have to miss out just because of your dietary restrictions.
8.
Counting Sticks In San Sebastian, País Vasco
Eating pintxos in San Sebastian, País Vasco, is a sort of different ritual. Pintxos typically aren't free there, so you need to keep the sticks you found in them. When you finish eating, an employee counts how many sticks you have, charging you accordingly.
San Sebastian pintxos are pieces of bread with veggies, meat, cheese, fish, and seafood secured by these sticks. There are many varieties available, including roasted cod with cheese risotto, mushrooms with stuffed peppers, and anchovies with fish eggs.
For the premium dining experience, combine San Sebastian pintxos with Txakoli, a local white wine. Those two are definitely a match made in culinary heaven.
9.
Endless Tapas Bar-Hopping In Seville
In Seville, you can expect to find as many tapas bars as there are types of tapas. Still, the most delicious tapas in Seville are probably the simplest – Jamon Iberico, or Iberian Ham.
Puntas de Solomillo, or simply "punta," is Iberian pork sirloin prepared in olive oil. Finally, Croquetas, filled with all sorts of fillings, are small, but delightful Seville tapas. The best things truly do come in the smallest packages.
While doing your round of tapas bar-hopping in Seville, visit places (over)crowded with the locals. The locals, do after all, know best. Also, don't refrain from squeezing through them to get your tapas since doing so is an ordinary thing according to the Seville tapas culture.
If you plan to visit Seville during your trip, learn the Spanish names of some traditional tapas. Many Seville tapas bars don't have menus in English and English-speaking staff. Finally, tapas bars with the "autoservicio" sign are self-service bars, so don't expect a waiter to come to you in one of those.
10.
Delight Your Taste Buds With Malaga Tapas
Being near the mountains and the Mediterranean Sea, Malaga is blessed with an outstanding array of ingredients. This is clearly reflected through Malaga tapas.
Therefore, you will find various skewered seafood and fish prepared in olive oil at many a Malaga tapas bar. If you aren't particularly fond of seafood, Malaga tapas also involve ham, chicken meat, vegetables (tomato, lettuce, artichokes), and various condiments (mayonnaise, for example).
Stew Croquettes are among the most delicious Malaga tapas that you will ever try. Peppers stuffed with cod are always a safe bet, while some other types of tapas include tuna and sausages. Gourmands that don't experiment too much will always have ham tapas as a good option.
Depending on how many people are in your group (and how hungry you are), you can opt between a few portions – Tapa (a small portion), Media ración (a half portion) and Ración (full portion).
Some chefs advise tapas eaters to combine tapas with Txakoli and Albariño wines while they are in the north of Spain. In the south, Sherry is what you should drink with tapas.