The Best Things You Can Do in Cat Ba Island, Vietnam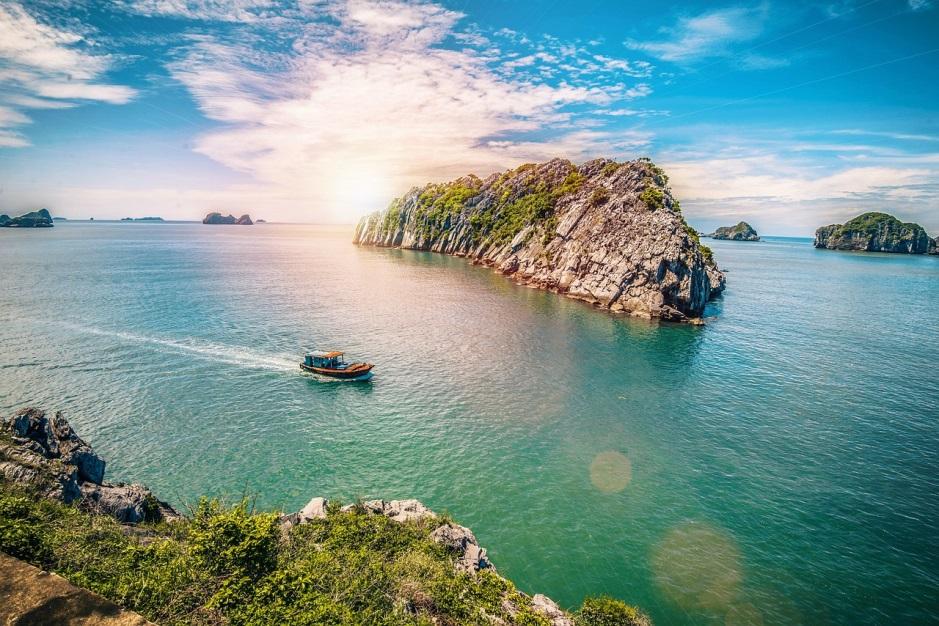 There is more to Vietnam than Halong Bay, pho, and floating markets. This Southeast Asian country is a place that features gorgeous natural landscapes and proud celebrations of local culture. It is a must to explore beyond Hanoi or Ho Chi Minh to get a clear and complete sense of this country's beauty.
If you're up for something different, we recommend visiting Cat Ba Island. Going to this island is easier on the pocket than a trip to Halong Bay. The island is just as scenic, and the activities you can do are endless. It includes eating delicious Vietnamese food, seeing the best of the country's marine life, and learning about their rich culture.
We've compiled a list of things you can do at Cat Ba Island, so you know what to expect when you get there. By the end of this guide, we're sure you'll be booking your next flight to Vietnam just to experience what this island has to offer.
Where is Cat Ba Island?
Cat Ba Island is the largest island in Halong Bay. It is located in Northern Vietnam, and it features many hotels, bars, and restaurants to cater to tourists. There are travel agencies and tour companies that can accommodate your trip to Cat Ba Island. With their help and the help of this guide, you'll be able to safely explore the best things to do in Cat Ba Island.
Though the place now has many concrete buildings, the rest of Cat Ba island is deemed as a national park. Because of this, Cat Ba island is well-protected, and some areas are left untouched.
How To Get To Cat Ba Island from Hanoi?
There are many ways to get to Cat Ba Island, and they all include different kinds of transportation to match your preference.
1. Plane
Fly to Cat Ba Island by taking a flight from Hanoi to Tuan Chau Island. Do note that your airline may be using a seaplane, so you should inquire first about the plane they're using.
Once you arrive at Tuan Chau, it's only 10 kilometers to Cat Ba Island by boat or ferry.
2. Bus
Take a bus from Hanoi to Cat Ba Island through Cat Ba Express. The bus ride lasts for 3.5-5 hours and will take you across the Tan Vu-Lach Huyen bridge to get you to your ferry. The ferry ride from Got Port to Cai Vieng Port is 15 minutes long. Taking the bus is by far the cheapest way to get to Cat Ba Island.
3. Train
Board a train from Hanoi and travel to Hai Phong. The train ride takes two and a half hours. Once you arrive in Hai Phong, take a speedboat from Pha Binh Port to Cat Ba Pier. This boat trip will add another hour to your itinerary, so plan accordingly.
How To Get to Cat Ba Island from Halong Bay?
The travel time to Cat Ba Island from Halong Bay depends on the mode of transportation you will take. There are two ways to get to the island. One is through a speedboat while the other is via a ferry.
If you take the speedboat from Halong Bay, it will only take you 20 to 30 minutes to get to Cat Ba Island. If you take the ferry, it will take you around 2 to 2.5 hours. Riding a speedboat, however, is more expensive than taking the ferry. You will also appreciate the views better if you take a ferry, as the views will just pass you by when you take a speedboat.
Whichever you choose, both the speedboat and ferry are convenient options to get to Cat Ba island in Vietnam from Halong Bay.
1.
Relax Around Cat Ba Beaches
Vietnamese beaches are known for their azure waters and pristine beaches. The Cat Ba Island beaches are no different. Mountains surround many beaches in Cat Ba Island, which gives the place a relaxed and cozy feel. The waters are invitingly clear as well. It's best to get up early, watch the sunrise, and enjoy the beach by yourself.
To get to the Cat Ba Island beaches, we recommend that you rent a motorbike. Motorbikes are standard in Cat Ba Island, and this is how tourists usually go around the place.
Cat Ba Island named its main beaches Cat Co 1, 2, and 3. These three beaches serve as hotel beachfront, so when you get there using a motorbike, be prepared to pay for parking. Beach loungers, chairs, and umbrellas are also available to rent. Restaurants are also available in the area.
How To Get There: Cat Co 3 is the first beach you'll see. Follow the Harbor Road West or check the map for Sunrise Resort. You can pay for parking at this resort. You can head directly to the beach since it's open to the public despite being attached to one of the Cat Ba Island hotels.
To get to Cat Co 1, just continue west to Harbor Road, but turn left before Harbor View Hotel. If you turn to Cat Co Beach Resort, you'll find Cat Co 2.
A walkway connects Cat Co 1 and 3. It's an easy-to-follow trail if you're in for a stroll. The best beach out of the three is Cat Co 2, which is highly recommended because it's quieter.
2.
Explore Cat Ba Hospital Cave
The Cat Ba Hospital Cave on the island is one attraction that's worth a visit, especially if you're a history enthusiast. This cave served as a secret hospital in the Vietnam War and a bomb-proof safety cave for Viet Cong leaders. It was built between 1963 and 1965 and lasted until 1975.
This attraction is quite grim and depressing as it is reminiscent of the times during the war. But even though its history is dark, the cave is still impressive because it houses a swimming pool, a cinema, and 17 rooms. It is a 3-story complex by itself. Watch out for the creepy looking mannequins while you're there.
Instead of exploring the cave on your own, you should hire a local tour guide to enjoy this attraction fully.
How To Get There: On the way to Cat Ba National Park's entrance, you'll spot the Cat Ba Hospital cave 10 km north. The Cat Ba Hospital Cave is open from 8 am to 5 pm. Rent a scooter to be able to visit this attraction.
3.
Cruise Around Lan Ha Bay
Cruising around Lan Ha Bay is probably the highlight of visiting Cat Ba Island. One of the reasons people visit Cat Ba Island is that it offers an alternative to the more popular and expensive Halong Bay cruises.
But just because Halong Bay is more popular does not mean that Lan Ha is not as beautiful. Lan Ha Bay is actually a seamless extension of Halong Bay, but it is just located in a separate province. Like Halong Bay, Lan Ha Bay has the same attractive limestone rock formations and emerald waters.
The best way to visit Lan Ha Bay is by going on a Cat Ba Island cruise. The cruise will tour you around the different islets, isolated beaches, and majestic landscapes. You get to see everything up close. The best part of visiting Lan Ha Bay is that it's more affordable than cruising Halong Bay.
Lan Ha Bay tours include staying on the boat for 2 to 3 nights. You'll see the most beautiful sunsets and wake up to a gorgeous sunrise as well. Activities include kayaking and swimming on the secluded beaches. Though overnight cruises are also available, we recommend staying for at least two nights on the cruise.
How To Get There: Head to Ben Beo port at Cat Ba Island and rent a boat to take you around Lan Ha Bay. It is best to book your tour before heading to the port.
Check out this day-long Cat Ba Island cruise offered by Viator. The tour company also provides longer cruises based on your preferred itinerary.
4.
Swim and Snorkel on Monkey Island
If there's one place to go for the best of the underwater world, it's Monkey Island. This place is abundant with coral reefs, fish, and many more marine species. Its rich biodiversity is why Monkey Island is ideal for swimming, diving, and snorkeling.
Monkey Island is also known as Cat Dua Island. As you can already guess, there are monkeys on this island. Tourists are highly discouraged from giving them food, or else monkeys will be encouraged to scavenge your belongings. You should also not place your phone or snacks on your bag's outside pockets because the monkeys will snatch them.
Hiking at Monkey Island is also a must. Visiting Monkey Island's peak gives you a stunning view of Lan Ha Bay.
If you've booked a cruise, chances are that Monkey Island is already included in your itinerary. Check your tour package and consult with your guide if a visit to this island comes with the cruise.
How To Get There: If Monkey Island isn't part of your cruise itinerary, you can get there through a 15-minute ferry ride from Ben Beo port.
Swimming and enjoying the beaches aren't the only things you can do at Cat Ba Island. The Cat Ba National Park, which UNESCO recognized as a World Biosphere Reserve in 2004, is an excellent place for a hike.
One popular hiking trail leads you to Ngu Lam Peak. The hike to the peak is 3.6 kilometers long, and it takes hikers around 45 minutes to reach the summit. Going down the mountain is faster, as it only takes around 30 minutes.
Despite the national park looking like a jungle, it's still a great place to hike since the trails are clear, and there's no need for a guide. If you want to explore trails off the beaten track, it's best to have a park ranger assist you.
Keep an eye out for the endangered Cat Ba Langur. The park is home to these golden-haired, long-tailed small monkeys. It's almost impossible to spot one in the park, so on the off chance that you do, be sure to take some pictures.
The park opens at 8 am. As of December 2019, the entrance fee is 80,000 VND for adults and 60,000 VND for kids. Don't forget to apply mosquito repellant and sunblock during your hike. You should also wear your most comfortable hiking attire and shoes.
How To Get There: From Cat Ba Town, ride a bus or taxi to Cat Ba National Park. Car rentals and motorbike rentals are also available if you want to head there by yourself.
6.
Cai Beo Fishing Village
Witness how local fisherfolk and their families live at Cai Beo Fishing Village. This ancient community has grown to have numerous families with markets and schools, all floating along the water. Since the early 19th century, families in the Cai Beo Fishing Village have lived off the ocean and sold fish and squid to earn their livelihood.
Though there are only a few activities in Cai Beo Fishing Village, dropping by the area is still worthwhile. It's an educational tour stop that lets you see how the people in this floating village go about their daily lives.
How To Get There: Take a small boat from Cat Ba town to Cai Beo Fishing Village. If you're taking the Lan Ha Bay cruise, check your itinerary if a stop in Cai Beo Fishing Village is included in your chosen tour package.
7.
Enjoy the Serenity at Viet Hai Village
Another village to check out while you're in Cat Ba Island is Viet Hai Village in the Cat Hai district. Located in the middle of the sea and surrounded by high mountains and deep jungles, the Viet Hai Village offers a unique experience of nature. The experience of an idyllic rural life in the village is also part of what attracts tourists. The Viet Hai Village is also an excellent place for a hike or to go on an excursion with your bike, as one of the ways to get to the village is through the jungle. It's best to visit Viet Hai Village from April to September, so you can also enjoy the sunny weather.
How To Get There: To reach the Viet Hai Village, take a 45-minute boat ride from Ben Beo Port to Viet Hai Port. The Viet Hai Village is 5 kilometers away from the island's port. Still, you will have no problems getting to the village since the roads leading to it are already paved with concrete.
Those looking for an adventure can also hike to the Viet Hai Village from the heart of the Cat Ba National Park. However, this hike is only for the experienced since the route is 8 kilometers long and passes through the lakes and forests. You will need a guide for this trek.
8.
Eat Seafood at Vien Duong
Get a taste of the local Cat Ba Island cuisine by heading to Vien Duong restaurant. They're famous for their hot pots, crabs, and squid. The seafood they serve is certified fresh, so don't miss out on a chance to dine at Vien Duong for authentic Vietnamese food.
How To Get There: Vien Duong restaurant is located at 12 Nui Ngoc Street. The active nightlife in Nui Ngoc Street can get rowdy, so if you're looking for a quiet place to dine, this area may not be for you.
9.
Go Kayaking with Friends
Many places in Lan Ha Bay are off-limits to big boats, so kayaking may be a great choice for you if you want to explore these areas. Kayaking around Cat Ba Island is one of the most common and exciting activities you can look forward to. The surrounding views are equally stunning as Ha Long Bay but with the exception of the tourist crowd.
There are plenty of kayak rentals on the island, and several rentals already come with a guide to help you navigate secluded areas. Don't worry, most of these rentals are fairly priced and the water is quite calm on a typical day. Though lifejackets are required during kayaking, this activity is much safer and more enjoyable knowing that you'll be safe at all times.
How To Get There: Some tours already include kayaking activities. If you'd like to have kayaking as a separate activity, you can check out kayak rental options here.
10.
Wind Down At Cannon Fort
After all the cruising, snorkeling, trekking, and dining in Cat Ba Island, it's time to head to the Cannon Fort to see the best view the island has to offer. Cannon Fort served as a lookout post over the Lan Ha Bay in both World War II and the Vietnam War. Today, it's visited for its history, architecture, and scenery. It is also the perfect spot to enjoy the sunset in Vietnam.
To enter Cannon Fort, you need to pay an entrance fee of 40,000 VND per person. Be sure to keep your ticket with you at all times since there are points at Cannon Fort where they ask you to show your ticket.
Well-labeled paths guide visitors past underground tunnels and two well-preserved gun emplacements. You will also be guided out to two viewpoints overlooking the island. Inside Cannon Fort, there is also a tiny museum and a cafe with more impressive views from its terrace.
How To Get There: Start your hike at Cat Ba Town up to the entrance gate of Cannon Fort. From there, just follow the path signs that lead you to your Cannon Fort.
Things To Take Note at Cat Ba Island
Now that you're ready to go on a trip to Cat Ba Island, Vietnam, there are a few important things to note that will come in handy during your vacation.
Attire
Cat Ba Island, just like the whole of Vietnam, has a tropical climate. When visiting the island, your attire should be comfortable, light, and loose to help keep you cool. Don't forget to bring your most comfortable shoes for hiking or trekking. Bring a pair of flip flops or beach shoes when you're going swimming. Pack light for your trip to Cat Ba Island to save room in your luggage for some souvenirs.
Mosquito Repellents
You've probably heard that some parts of Cat Ba Island are almost jungle-like. It's true. Some parts of the island are untouched, and trees and shrubs often fill some areas. There are also a lot of mosquitoes and other insects in the area. Be sure to bring your mosquito repellent and to apply it on exposed skin every few hours to prevent mosquito-borne diseases, like malaria. If you want to avoid the hassle of reapplying the lotion, you can also buy patches that you can just stick to your clothes to protect your from insect bites for at least 36 hours.
Tour Guide
It's nice to go on an adventure on your own. But without a tour guide, things can get a little confusing. Before you head to Cat Ba Island, it's recommended to book your tours ahead of time. This is to ensure that you have a guide when you get there and that your itinerary is set. Check the reviews of the tour you're about to sign up for to know if it's safe and worth it.
Water
Whether it's swimming or hiking, activities in Cat Ba Island can be quite exhausting. Make sure to stay hydrated by bringing your own water with you. Tap water in South East Asia is not recommended for consumption. Try to get your water from the local convenient store or refill it from a water filter.
Sunblock
Protect yourself from the harsh rays of the sun while hiking up to Cannon Fort or sunbathing at the beaches of Cat Co 1, 2, or 3. Bring sunscreen that's at least SPF30 to protect yourself from getting a bad sunburn. Just like the mosquito repellant, be sure to apply on all exposed areas of your skin before heading out to your activities in Cat Ba Island.
Money
Cash is still king at Cat Ba Island. Though some establishments offer credit card payments, most merchants still require payments by cash. ATMs are also available on the island, but always having cash on hand will save you numerous trips to the ATMs. The currency in Cat Ba Island is the Vietnamese Dong (VND).
Medicine
While traveling, remember to bring your first aid kit. It should include basic wound and ache remedies, such as adhesive bandages, disinfectants, and pain relievers. Since you'll be traveling a lot in Cat Ba Island, it's best to have a first aid kit in hand in case you run into any minor accidents.
Where to Stay on Cat Ba Island?
The best places to stay on Cat Ba Island are cruise ships, budget accommodations, and luxury hotels. These Cat Ba Island hotels and cruises should guide you on where to stay.
1. CatBa Sunrise Resort
This family-owned resort will make you feel at home when you're in Cat Ba Island. The rooms are spacious and comfortable. The amenities include free wireless internet access, a swimming pool, and a Vietnam spa. Indoor activities are also available if you're too tired to head out. They have a 4-star restaurant to cater to your needs as well.
CatBa Sunrise Resort also helps you book tours for Cat Ba National Park and more.
2. Little Cat Ba
Little Cat Ba is an ideal place for those looking for an affordable stay. It's 2.5 kilometers from Cat Co 2 beach if you're looking for accommodation closest to where this beach is. This homestay has free wifi, a bar, a garden, and a restaurant.
Free parking is also allowed at Little Cat Ba, which is a big help if you arrive with a motorbike. They also allow pets, though they charge a small fee.
Little Cat Ba is best suited for solo travelers. If you're one who goes on backpacking adventures, check out this homestay resort. Little Cat Ba is located at TT. Cát Bà, Cát Hải, Hai Phong, Vietnam.
3. Orchid Cruises
Since the best way to explore Cat Ba Island and Lan Ha Bay is through a cruise, you may want to check out Orchid Cruises. They're well-known for providing excellent itineraries for a cruise around Lan Ha Bay. They have 2- to 3-day packages, so you can fully enjoy your trip. This cruise ship also has a spa inside, so if you decide to stay indoors, you can try out a Vietnamese spa inside the cruise ship itself.
Orchid Cruises will have all your ideal activities down and ready for you should you book with them. This can surely make your stay with their cruise line hassle-free and memorable.
What's are you waiting for?
Explore this northern Vietnamese island with the help of this guide. The best things you can do in Cat Ba Island are numerous, but these top 10 activities will get you started on the right track. Whether it's being on land or underwater, you'll have a lot of things to do. Remember to pack light, book your tours, and bring your camera with you to take pictures of your memorable vacation on Cat Ba Island.