Things To Do In Kauai, Hawaii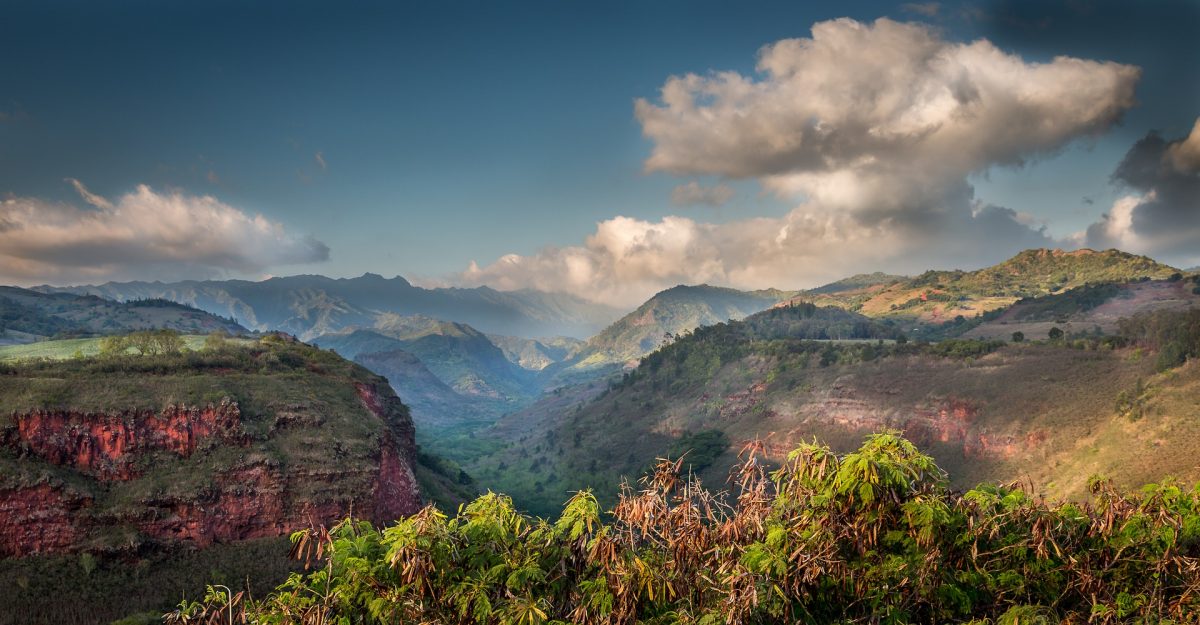 Kauai, Hawaii, is one of the oldest islands within the Hawaiian Archipelago. Rightfully dubbed "The Garden Isle", the peaks and pinnacles of Kauai are blanketed by lush, tropical rainforests.
If you're looking for a great vacation spot in Hawaii that is less tourist-ridden than the likes of Oahu and Maui, Kauai is the place to be!
While not as popular as the aforementioned, you certainly won't be faced with a lack of sights, activities, and flavours to immerse yourself in.
1.
Finding The Perfect Place To Stay In Kauai, Hawaii
While planning your vacation The Garden Isle of Hawaii you are definitely going to need somewhere to rest your weary head. After all, you've probably had a full-fledged day of snorkelling, hiking, and exploring all that Kauai has to offer.
As with the rest of hospitable Hawaii, Kauai provides a healthy list of options when it comes to accommodations. Depending on the budget you have set, you have the option of staying at anything from a 5-star hotel to a cosier Airbnb.
If you're willing to splurge to find paradise within a paradise, the Grand Hyatt Kauai Resort & Spa is the perfect option for you. Room prices start at roughly USD$500 a night and give you access to spectacular beachfront views of Kauai's Poipu beach.
The Grand Hyatt Kauai Resort & Spa expands over 50 acres of greenery, a fitting complement to Kauai's tropical rainforests.
As you would expect from any luxury resort, the Grand Hyatt is fully equipped with all the necessary amenities. You will find a variety of restaurants, a gym & spa, and pools that are picture perfect slices of all things Hawaiian.
Are you the type of traveller that would rather skimp on accommodations and splurge on experiences? If so, there are plenty of Airbnb options in Kauai to satisfy both your desire for affordable accommodations in Kauai and the thirst for knowledge of a new skill.
Find decent villas, apartments, and rooms for rent in Kauai on Airbnb starting from about USD$90 a night. With rates this low, you can afford to extend your trip to give yourself an ample amount of time to experience all that Kauai, Hawaii has to offer.
Airbnb also offers a plethora of activities to keep you stimulated while on holiday if you're on the hunt for unique things to do in Kauai.
Learn how to paint jellyfish with alcohol ink or take up a cooking class and take home some authentic Hawaiian recipes for the next time you entertain guests.
2.
When In Hawaii Do As The Hawaiians…Try Some Of The Best Hawaiian Food
Hawaiian food is heavily influenced by many different cultures. You'll note hints of Japanese, Chinese, Portuguese – just to name a few.
While many of us may be familiar with pokè bowls, Hawaiian food is so much more than just that, and Kauai is teeming with options.
Here are some of our favourite options for the best local food on Kauai Island.
Be prepared to have your tastebuds tantalised by spam in a way you've never imagined. Musubi, as it is known in Hawaii, is pan-fried spam with teriyaki sauce.
It is served the way you'd expect to eat sushi – atop rice and wrapped in seaweed. Try Sueoka Store in Kauai for some top-notch musubi – the perfect post-swim snack.
If you've worked up a serious appetite, we suggest you grab yourself a Hawaiian plate. A full meal enjoyed widely by the locals. Typically, you will find scoops of white rice, macaroni salad, and barbecued sweet pork.
Koloa Fish Market in Kauai has been praised for their Hawaiian plates, stop by and grab a plate (or two) before you hit the beach!
3.
Experience Everything That The Na Pali Coast In Hanalei Has To Offer
Hanalei is a small town located on the North Shore of Kauai. As with the rest of Kauai, Hawaii, Hanalei is breathtaking. With the picturesque Na Pali Coast serving as a backdrop, there is a myriad of activities for you the to take part in.
What's a trip to Hawaii if you don't snorkel at least once during the trip? The Na Pali Coast in Hanalei, Kauai has a number of snorkel tours for you to check out.
Should you want to make the most of your day, we suggest you check out the Hanalei Bay Kayak & Snorkel Tour. Tickets are priced just under USD$100.
This tour combines both activities, starting at Hanalei River, you paddle down and through to Hanalei Bay. After which, you get to snorkel in Bay Reef Lagoon before ending the tour with a picnic lunch as you feast your eyes on Makana Peak.
However, if you've managed to set aside an entire day for snorkelling, we recommend Na Pali Coast Tours.
They offer two different snorkel tours that take you along the coastline, through sea caves, and by waterfalls.
Alternatively, Na Pali Coast Tours also offer a sightseeing tour sans snorkelling. Where in contrast to actually snorkelling, you will have the chance to travel through the aforementioned sea caves and waterfalls all from the comfort of your boat!
Keep your eyes peeled for the chance to see dolphins, turtles and the other inhabitants that are lucky enough to call the Na Pali Coast home.
Tickets for the various tours offered by the Na Pali Coast Tours start at USD$180.
4.
Take The Road Less Travelled By Tubing Down An Old Sugar Plantation
Another interesting activity to do while you're in Kauai, Hawaii would have to be tubing. It's an experience that few can compare to.
What was once an irrigation system vital to the survival of the sugarcane crops in Kauai has been transformed into a must-try activity for many visitors.
The irrigation system, which is essentially your tubing route, runs through various tunnels. One of these tunnels is almost a mile long! Fret not, you will be equipped with a helmet and light for safety and easy-viewing.
The water throughout your sugarcane irrigation journey will be roughly knee-deep. While the water is relatively calm, it moves fast enough to carry you without you needing to paddle.
The entire experience lasts about three hours and ends with a much-needed picnic lunch at a natural swimming hole. Tickets are priced at USD$116.
5.
Explore The Many Beaches Of Kauai Island
You can imagine that Kauai, being a part of Hawaii, must have about a million beaches. You are not wrong! Kauai has a beach for everyone.
If you're on holiday with your kids, head down to Baby Beach. Aptly named, this quiet, little beach is located along Poipu. Both monk seals and sea turtles call Baby Beach home, so don't be too surprised if you spot a couple of them lounging about.
Calm waters of shallow depth make this beach perfect for children. Baby Beach is great for tidepooling and snorkelling. We should warn you that the area lacks public facilities so you will have to come with your own snorkel gear.
However, the lack of public facilities means that it is less populated than many other beaches that you'll find in Kauai. Perfectly ideal if you're someone who likes to avoid the crowds.
If calm beaches aren't quite your thing and you're looking for a little more adventure, Shipwreck Beach has your name written all over it.
Popular amongst surfers and bodysurfers due to the crashing waves. Only attempt these activities if you're more experienced as Shipwreck Beach is known for its strong currents!
You can find a good compromise to the two at Kauapea Beach, also known as Secret Beach.
Locked away from the world, with barely any signs or indication as to where to find it. A 10-minute hike is required to reach the beach. The trail is relatively steep and may be slippery when wet, so watch your step!
During the summer months, the beach is deemed safe enough to swim. During the winter months, however, the water is said to be more dangerous and preferred only by advanced surfers.
6.
Celebrate Your Love With Kauai's Honeymoon Packages
Whether you're a couple of newlyweds or are well past your silver anniversary and are just looking to have your second honeymoon, Kauai does not disappoint.
As with regular hotel accommodations, Kauai's honeymoon packages vary greatly. Mostly depending on the type of holiday you and your partner are looking for.
There are websites dedicated to helping you customise the honeymoon of your dreams. With everything from the hotel, to the number of nights, and the activities that you and your other half wish to partake in being tailored to your preferences.
Choose from one of the many luxury hotels that dot Kauai Island. With big, international names such as The Sheraton, The Grand Hyatt, and The Westin being touted as some of the best resorts for your honeymoon, we know you will be spoilt for choice.
Alternatively, there are also cosier options when it comes to the honeymoon packages available on Kauai Island.
For example, the hauntingly, beautiful black sand beaches of Kauai are home to the Waimea Plantation Cottages. You couldn't ask for a better backdrop for a romantic evening stroll on the beach in Kauai, Hawaii.
Depending on the length of your honeymoon and the type of activities you wish to do while you're there, you can find honeymoon packages in Kauai starting at approximately USD$1000 per person.
7.
Appreciate The Beauty Of Kauai With A Hike Through Waimea Canyon
If it's even possible that you need a change of scene with all the beaches within Kauai, consider a hike at Waimea Canyon. Sometimes referred to as the "Grand Canyon of the Pacific", Waimea Canyon is just under one-mile wide and 3,600 feet deep.
Take the Waipo'o Falls Trail and hike through Waimea Canyon. The 3.6-mile trail will end at the tiered waterfalls known as Waipo'o Falls. The cascading water against raw rock formations makes for the perfect picture while you treat yourself to a much needed post-hike dip.
Admission into the park is free and the canyon has plenty of hiking, Waipo'o Falls being just one, and hunting trails.
However, many of the hiking trails are known to be rather challenging. As a result, if you're new to hiking we suggest you opt for one of the guided tours. Tours for hiking, cycling, and general sightseeing start at USD$72.
Another must see while you're at Waimea Canyon is Kauai's, Spouting Horn. There may be many saltwater geysers but Spouting Horn is known for the almost unnerving, guttural noise produced before it erupts. As a result, Spouting Horn is pretty unique and definitely worth a visit.
Legend has it that Spouting Horn is home to a large lizard that terrorised locals until a brave boy challenged him. Skillfully wedging a stick into the lizard's mouth. The noise you hear is thought the be the cries of the trapped lizard.
8.
Soar Above Tree Tops When You Zipline At Koloa, Kauai
Since most of your holiday in Kauai will revolve around relaxing and unwinding, perhaps you've found yourself craving a rush of adrenaline. Get your fix in Kauai with Hawaii's original headfirst zipline.
As with any other zip line, you will be attached and secured to a cable that is pulled taut over a distance. What makes this zip line special is that instead of being in a seating position, you are essentially lying on your stomach.
We reckon that this is probably the closest you will get to feeling like you're flying. That being said, this is an opportunity not to be missed if you are planning to visit Kauai. Hawaii Zipline in Kauai is proud to bring you its Waita Zipline which is a ½ mile long.
If you're still not satisfied, amplify your adrenaline rush by opting for the sunset or night zipline tours! All the fun and excitement of the regular zip line routes but in the dark!
Koloa Kauai's Zipline tours require about three and a half hours if you want to be able to ride all 8 of their ziplines. Tours are priced at USD$149.
9.
Satisfy Your Sweet Tooth At Lydgate Farms
If you just about thought your Hawaiian adventure couldn't get any better, we're here to inform you that you are quite wrong. You're invited to give in to temptation at Lydgate Farms, also known as Kauai's Premier Chocolate Farm.
Take a tour and see how chocolate is made at the Lydgate Farms. You will even get several opportunities to taste the delicious chocolate along the way. Lydgate Farms even produces a decadent chocolate tea!
If you're looking for a rainy-day activity in Kauai, put this on your list, as Lydgate Farms tells us chocolate trees love the moisture. Most importantly, this is a great family-friendly activity whilst on your Kauai Island holiday. Which kid doesn't like chocolate?
Tickets to the Lydgate Farms Tour will set you back USD$95 per adult. Children (under 12), on the other hand, enter for free.
10.
Hit Koloa Rum Company For A Taste Of Hawaii's Very Own Rum
For a more adult-friendly activity, head on over to the Koloa Rum Company. Duck in out of the sun and into one of Koloa Rum Company's Tasting Rooms. Here you will be presented with the opportunity to sample their flavoured rums.
The flavours change daily and the samplings happen every 30 minutes. Keep a lookout for rich, lush flavours like coffee or coconut.
While samplings are free, once you've had a taste we doubt you'll be able to leave without stocking up for when you get back home.
Their dedicated "rumtenders" provide you with an informative and boozy tasting. The Koloa Rum Company limits its samplings to 16 people at a time so you won't have to worry about your session being rushed or overcrowded. You might just leave feeling inspired enough to create your own cocktail!
Kauai, Hawaii A Garden Isle For All
There you have it, Kauai Island in all its glory – it doesn't matter whether you're looking for adventure, romance, or even a secret escape. We're sure that Kauai will leave you pleasantly surprised.
We hope you check out the many activities that we have listed! Let us know which ones were your favourites.