Everything You Need To Know About San Antonio Zoo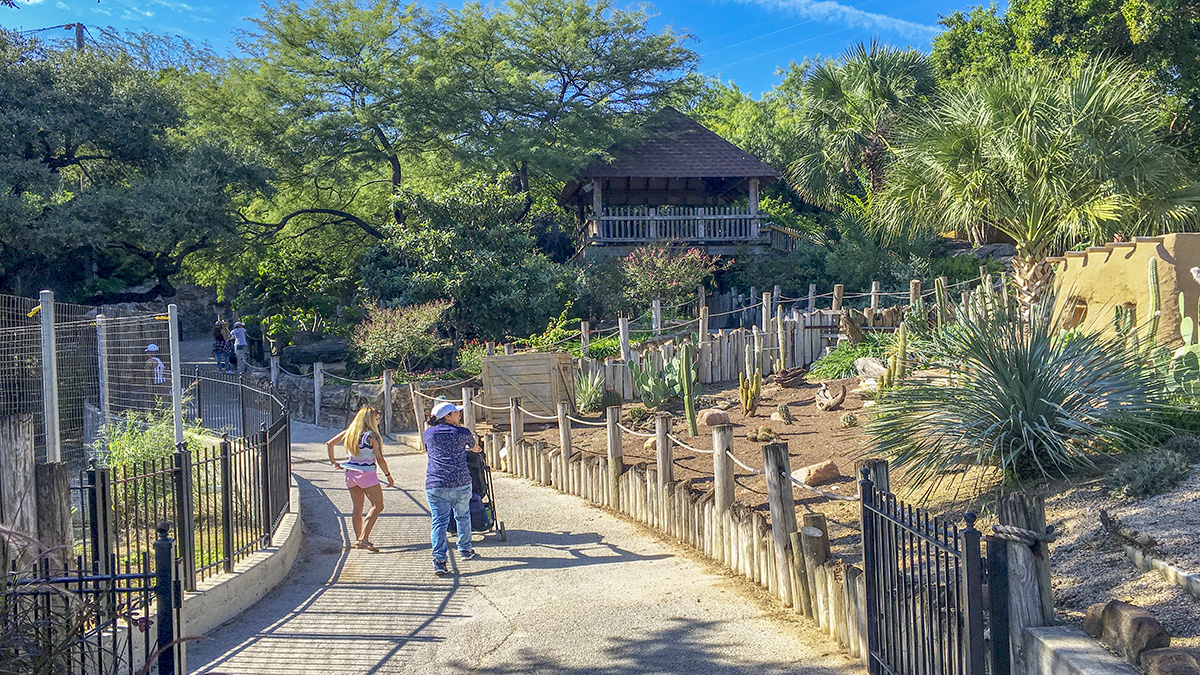 Who doesn't love a good day out in the zoo? There is no such thing as being too old to enjoy wildlife and, whether you are coming with family or solo, San Antonio Zoo promises you the best experience you will ever have!
It all started back in the 19th century when a collection of animals was assembled in San Pedro's Park and soon after, the colonist George Brackenridge brought exotic animals to his land which later became the first ever collection of the San Antonio Zoo. Nowadays, San Antonio Zoo holds one of the world's largest birds collection, it is home to 750 species and more than 3,500 animals from all over the world. The mission of San Antonio Zoo is to educate the community about wildlife and animal conservation.
San Antonio Zoo is open all year-round featuring unbelievable experiences and exhibitions such as the Big Cat Valley, Outpost Amazonia and the most recent Africa Live where you will encounter lions, jaguars, hippos, giraffes, zebras, exotic birds, and several feeding and petting stations. Want to know more? We have you got you covered with a list of main attractions, must-see animals, where to eat, parking and even nearby hotels if you are planning to stay a bit longer, – you can thank us later!
San Antonio Zoo Main Attractions
Africa Live!
San Antonio Zoo's most recent exhibition is all about African wildlife. Trek your way into Africa with underwater views of hippos and Nile crocodiles and trails that will lead you to experience magical encounters with okapis, African wild dogs, dwarf mongoose and many more!
Tip: check out the Savanna exhibition to get fully immersed in the old continent's wildlife.
Zoo Eagle Train
What would be of a visit to San Antonio Zoo without a good old train ride? Hop in and rest your feet whilst enjoying this scenic tour covering up to 3.2 miles around the park. This exciting 30-minute guided ride will take you and your family to unspoiled areas of the zoo, into the forests and jungles and featuring stops at the Witte Museum and the Japanese Tea Gardens.
Price: $4 per person. Under 3's go free.
Giraffe Feeding
Nothing can compare to the once in a lifetime experience of feeding the friendly trio of giraffes: Cosmo, Alan and Brayden. This attraction is lead by San Antonio Zoo's giraffe experts who will teach you all about the world's tallest land mammal. You will be given 3 fresh lettuce leaves for feeding.
Price: $7 per person bookable near the giraffe desk on the day of your visit.
San Antonio Zoo's Most Popular Animals
Spectacled Bear
The spectacled bear is the last remaining species of bear native to South America. Its name is a reference to the light colouring on his chest, neck and face. Learn more about this endangered creature and its natural habitat at the Bear's Corner as you pass San Antonio Zoo's main entrance.
Clouded Leopard
This native to the Himalayan foothills can be recognised at distance for its gorgeous fur patterns and long canine teeth. Although being called 'leopard', the clouded leopard is classified as a wild cat and not directly related to leopards. Discover more about this amazing animal at the Cat Grotto exhibition in San Antonio Zoo.
Gibbon
Head down to the Gibbon Forest to get a closer encounter with these natural gymnasts hanging off ropes and vines in one of San Antonio Zoo's best simulated forests. Unlike most apes, gibbons form long term pair bonds that frequently last for a lifetime, how sweet is that?
San Antonio Zoo Dining Options
Whether you are hungry as a lion or fancying a little snack, the San Antonio Zoo serves amazing food for every taste and occasion. Check out the options below:
Longnecks Bar & Grill: African inspired open-air cafe serving American classics with a Southwest touch.
Riverview Restaurant: Enjoy a range of light meals, burgers, sandwiches and ice-cream.
Beastro Restaurant: Eat with a view! Serving a delicious range of burgers and pizzas.
Lory Cafe: Aussie Snacks, Fun Farm Snacks and Dear Den serve light bites, hot and cold drinks.
San Antonio Zoo Tickets & Packages
Standard ticket
Adults (+12): $18.99
Children (3-11 years old): $15.99
Under 3's: FREE
Fun day ticket
Includes 1x standard admission plus 1x carousel ride and 1x entry to the Butterflies Caterpillar Flight School.
Wheelchairs and strollers are available for rental, please book in advance. Groups of 10-49 people qualify for a $2 discount per person off the standard admission. Book online only.
Parking
San Antonio Zoo does not display of in-built parking lots. Instead, you are advised to park in one of the nearby areas below:
Brackenridge Park: Free parking
Alpine Park: Free parking
San Antonio Water System: $5 parking from 10am to 5pm on selected weekends
San Antonio Zoo Opening Hours
Monday to Friday: 9am to 5pm
Saturday and Sunday: 9am to 6pm
Hotels Near San Antonio Zoo
Embassy Suites by Hilton San Antonio Riverwalk-Downtown: Located on the banks of San Antonio Riverwalk, this hotel is just a few minutes away from San Antonio Zoo.
Marriott Plaza San Antonio: Sitting on Texan landscape, relax after a long day exploring the cities' major attractions in this lovely hotel. Marriott Plaza is just two blocks away from the city centre and a step from the San Antonio Zoo.
Menger Hotel: Budget-friendly hotel for those looking to save an extra bit of money but are still looking to stay in the downtown area.
Tourist Attractions Near San Antonio Zoo
Thinking of staying a bit longer in the historical town of San Antonio? Find below some of the must-sees to make your trip even better.
San Antonio River Walk
Probably the city's most iconic landmark. Make your way through its charming walkways, bridges, shops and authentic Texan style eateries feeling the blissful warm breeze of the South.
The Alamo
Also known as Mision San Antonio de Valero, The Alamo is a fortress dating back to the 18th century when the infamous Battle of Alamo was fought inside the fort between the Republic of Texas and Mexico. Only a short walk from downtown, the Alamo is a great place to visit with kids and family.
Historic Market Square
The Historic Market Square is the largest Mexican market in the US, with a three block market plaza featuring more than 100 stalls and shops portraying the rich Mexico-American culture of San Antonio. Indulge yourself in delicious margaritas, and tacos, dance to the sound of mariachi, discover the wonderful art alleys of La Villita to make the most of your stay in the beautiful town of San Antonio.