Things To Do In Palm Springs, California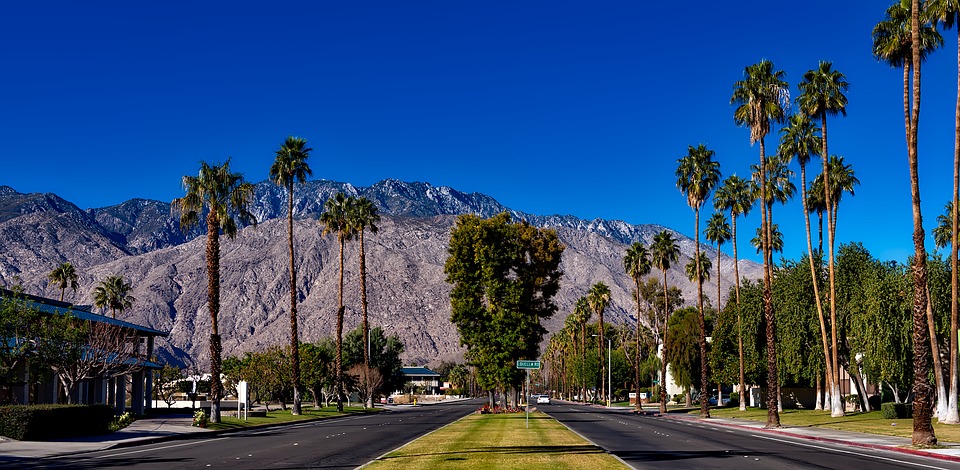 A stone's throw away from Indio, California a.k.a. Home Of Coachella is where you will find Palm Springs, California. What used to be known simply as retirement city has, in recent times, become so much more than just that.
Depending on what you're looking for, Palm Springs offers an array of activities for many a curious traveller. With everything from hiking to grabbing a bite and a snapshot with some larger-than-life dinosaurs, Palm Springs should definitely be on your list of places to visit.
1.
Touch The Sky In More Ways Than One With The Palm Springs Tram & The Palm Springs Air Museum
The Palm Springs Aerial Tramway will take you over 8500 feet into the air above Mount San Jacinto. The 10-minute, 2.5-mile ride ends at Mountain Station where you will find a couple of restaurants, a cocktail lounge, and a museum amongst other things.
If you're feeling up for it, you will also find over 50 miles of hiking trails, guided nature walks, campsites, and family-friendly snow-related fun. With the numerous activities available for you to experience, we'd say that a trip to the Palm Springs Aerial Tramway is worth your while.
Tickets for the Palm Springs Aerial Tramway are priced at $25.95 (Adult), $16.95 (Child), and $23.95 (Senior).
Is your head still in the clouds? Jet on over to the Palm Springs Air Museum to have a look at their impressive collection of aircraft from World War II. Feast your eyes on beauties like the Lockheed T-33 Shooting Star and the Boeing B-17 Flying Fortress.
The museum is kid-friendly and even allows children to sit in the cockpit. So bring your future pilots down for a day they will never forget!
Tickets to the Palm Springs Air Museum $16.50 (Adult), $9.50 (Child), and $14.50 (Senior/Military). If you're going as a family, you can also check out their family passes that admit 2 adults and up to 3 children for $36. You'll be pleased to know that children below the age of 5 get in for free.
2.
Wine, Dine, and Instagram At Some Of The Best Restaurants In Palm Springs
These Palm Springs restaurants ooze ambience and character. You may not have started as that person who photographs your meals but you might just leave these joints as one!
Duck into one of the many eateries along Palm Springs, California. The shade will provide a welcome break from the heat and you'll be content knowing you will soon be recharged and ready to keep going.
Take a trip back in time at Mr Lyons Steakhouse in Palm Springs. Plush, suede, booth seats, black & white marble floors and dimmed lights help set the scene.
The perfect setting to wolf down a plump, juicy burger or a classic plate of steak fritès. Remember to hit, Seymour's, the bar and ask for a martini or an old-fashioned, we bet you will find yourself expecting to see the likes of Al Capone to walk right through the doors.
For a completely contrasted feel from Mr Lyons, check out every vegan's dream – Chef Tanya's Kitchen. Fresh food that your body will thank you for later with names like "Coachella Forever" and "Pastrami Mami" that will keep you coming back for more.
Hankering for some good ole' Mexican food? We suggest you check out El Jefe at The Saguaro Palm Springs. Prided for their generous servings of meat in their tacos and their crunchy, spicy nachos.
The Saguaro Palm Springs on its own is an explosion of colour with each block being painted a different colour of the rainbow, all surrounding a bright blue pool, its perimeter dotted with bright yellow umbrellas. Definitely worth a couple of shots for the gram.
3.
Hike To Tahquitz Canyon, A Literal Desert Oasis
While cosy restaurants definitely act as a metaphorical oasis, perhaps you'd like to pull on your hiking gear and check out Tahquitz Canyon in Palm Springs.
Bear in mind the Tahquitz Canyon hiking trail is relatively difficult and requires good balance, as well as the will to get through a 1.8-mile hike with a 350 foot gain in elevation. The hike will eventually lead you to a 50-foot waterfall tucked away from the world.
Alternatively, ranger-led hikes are available for those of you who want the experience but aren't confident enough to go in alone. Admission to the trail will cost you $12.50 (Adult), $6 (Child), admission is free with a U.S. Military I.D.
Located within the Agua Caliente Band Of Cahuilla Indians Reservation you will also find a cultural museum, a golf resort, a casino, and a spa resort. Meaning you definitely won't find yourself faced with a lack of things to do!
You can also check out the Coachella Valley Preserve for an easier hike that doesn't charge an admission fee. There are more than 25 miles of hiking paths where you will be able to see wild flora and fauna that grace the desert.
4.
Try Your Luck At A Casino In Palm Springs
There are a number of casinos located around and about Palm Springs, just in case you feel a stroke of luck coming on.
If you're coming from that hike that we just mentioned, you are just around the corner from the Agua Caliente Resort Casino.
With every amenity you could ask for, the Agua Caliente Resort Casino seems like the perfect place to head to after a long day of hiking.
If you've slipped away for a romantic weekend at Palm Springs, check out the range of "Just For Two" spa treatment options. Feel every trouble, every worry melt away. Be prepared to be polished and pampered with your other half.
Another great casino in Palm Springs is the Fantasy Springs Resort Casino. Known for its bowling alley, their wide selection of restaurants, and live performances that are reason enough to spend the weekend!
With names like Don McLean, Mary J. Blige, and Howie Mandel – you'll be spoilt for choice at the Fantasy Springs Resort Casino in Palm Springs.
5.
Unleash Your Inner Child At The Palm Springs Comic Con
Do you have a passion for cosplay? A streak of creativity that just can't be caged? The Palm Springs Comic Con is just the place for you to show off your God-given talents!
Are you wondering what to expect at the Palm Springs Comic Con 2019? Prep yourself for 5 full days of various events and screenings! There's even a speed dating session, a blood drive, and a zombie walk.
With such an extensive list of things to see and do at the Palm Springs Comic Con, you're going to want to be there for all 5 days.
Tickets start as USD$15 and go up to USD$500. So depending on how much of a hardcore fan you are, you are provided with quite a range of options. There are also discounted prices for group purchases, so rally up the gang.
Keep updated with the upcoming Palm Springs Comic Con dates via the official website: http://comicconpalmsprings.com/schedule/
6.
Travel Back In Time With The Cabazon Dinosaurs
Talk about a larger than life experience, the Cabazon Dinosaurs are regarded as one of the most iconic roadside attractions. In other words, if you went to Palm Springs and didn't check out the Cabazon Dinosaurs – did you ever really go to Palm Springs?
The site boasts over 50 dinosaurs and a chance to climb inside of the dinosaurs adorably named Mr Rex.
If you're travelling with kids, it is worth getting them to take part in the dinosaur dig where they get to find a stone with a dinosaurs name on it. They can then take this stone to the gift store and redeem a prize. A great souvenir for the little ones.
Admission to the Cabazon Dinosaurs is priced at $13.00 (Adult), $11.00 (Child), and $10.00 (Senior/Military).
7.
Hit The Palm Springs Art Museum & Palm Springs Film Festival To Get In Touch With Your Creative Side
The Palm Springs Art Museum is home to a wide collection of different mediums of art by an array of artists. You'll find both modern art and architectural and design pieces.
The Museum also conducts art classes for adults, teenagers, and children – if you're looking to discover your inner artist. There is also a pop-up store during certain exhibitions and a regular store the rest of the time, stop by and pick something up to commemorate your visit to the Palm Springs Art Museum.
You can purchase a ticket at $14.00 (Adult), $6.00 (Student/Teacher), and $11 (Senior). There are also days where admission to the Palm Spring Art Museum is free – visit their website for more information.
If you're more into films then the Palm Springs International Film Festival is probably already on your checklist of things to do while you're there.
The Palm Springs International Film Society hosts two different events annually. There is The Palm Springs International Film Festival along with ShortFest. The former features both American and international films while the latter is the largest short film event in North America.
Awaken the film buff inside of you and check them both out if you happen to be in Palm Springs during the duration of the festivals. ShortFest will take place between June 18th to 24th and you can get your hands on tickets from USD$13.
As for the upcoming Palm Springs International Film Festival, it will take place from January 2nd till January 13th. Tickets are also going for USD$13.
8.
Support Small, Local Business Owners At The Farmer's Market & VillageFest
Are supermarkets and shopping malls just too mainstream for you? Or do you just feel you get produce and trinkets at the likes of flea markets? We suggest you check out the Palm Springs Farmers Market for some of the freshest produce around!
The Palm Springs Farmers Markets operates between 9am to 5pm on Saturdays. You can rest assured knowing that you are getting quality produce from organic farmers and vendors from Palm Springs.
You can also head downtown to Palm Canyon Drive and check out the Palm Springs VillageFest for a huge variety of food and knick-knacks.
Every Thursday evening from 6pm (7pm during Summer, due to high temperatures) to 10pm the street is closed off to traffic and vendors set up shop.
Be prepared to find everything from vintage jewellery to horse-drawn carriage rides, all while being serenaded by live music! What's not to love?
Palm Springs VillageFest has been running for over 20 years and is proud to host over 200 vendors. We guarantee there's something for everybody.
9.
Turn The Heat Up With A Hot Air Balloon Ride Over Palm Springs
If you're looking for romantic things to do in Palm Springs then this should definitely be at the top of your list! Take your relationship to new heights quite literally by taking a ride in a hot air balloon over Palm Springs and Coachella Valley. This is quite possibly the best way to appreciate the beauty of the desert and your blushing beau.
There are several companies that offer hot air balloon rides in Palm Springs, each ride lasts between 40 to 90 mins and as tradition dictates, you get to enjoy a glass of bubbly during the flight. In general, ticket prices will cost you about USD$200 per adult.
Surprise your partner by planning the perfect romantic adventure during your trip to Palm Springs!
10.
Pledge Your Support At The Palm Springs Pride Parade
Take a stand and show your support for our friends of the LGBTQ+ (Lesbian, Gay, Bisexual, Transexual, Queer) community by heading down to the Palm Springs Pride Parade.
You can add this to your list of free things to do in Palm Springs as the Pride Parade does not charge an admission fee. Get ready for a fun-filled, day in the sun with an expected 60, 000 turnout!
The parade kicks off in the Uptown Design District and ends in front of the Hyatt Palm Springs. Parade-goers line the street to catch the themed floats and support local organisations that rally together in lieu of the Palm Springs Pride Parade.
The Palm Springs Pride Parade is due to commence at 10am on the 3rd of November 2019 and typically lasts for just under 2 hours. So we suggest you get dressed in your funkiest outfits and head down early if you don't want to miss the festivities!