The Best Things To Do In Savannah, Georgia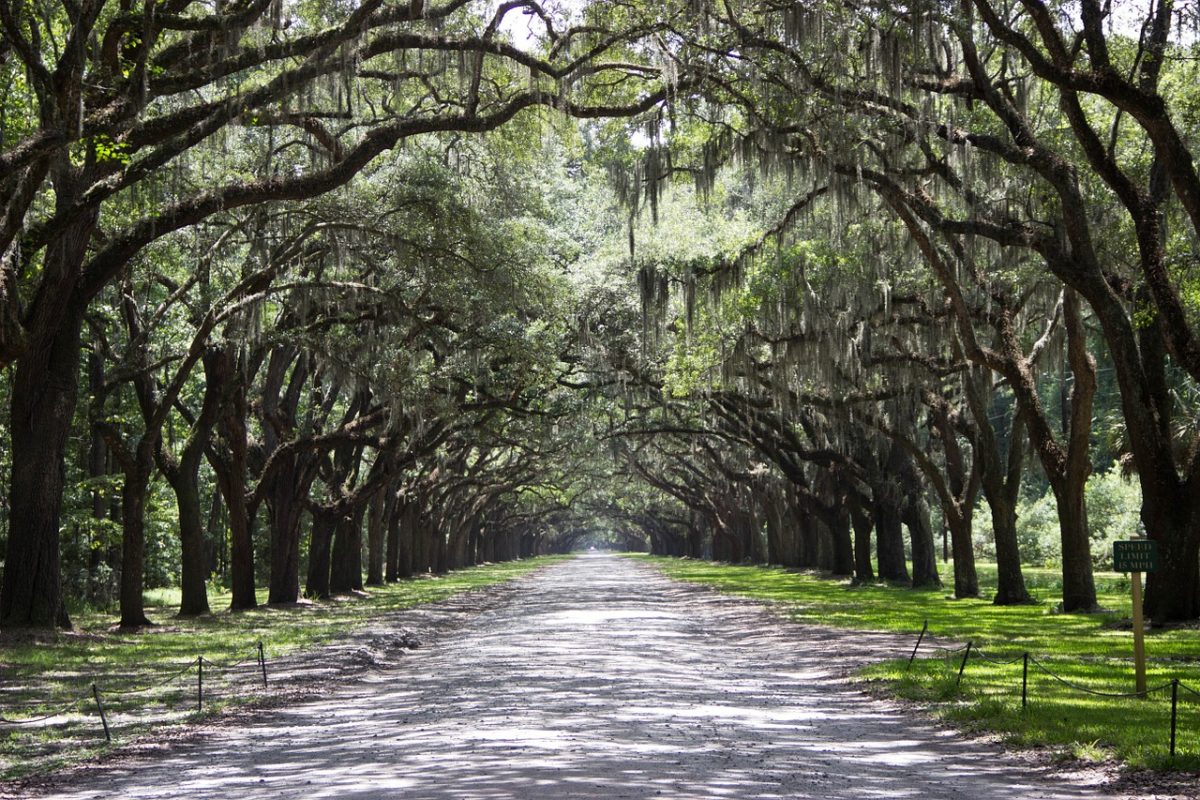 Welcome to Savannah, Georgia. Savannah is a coastal city of Georgia, separated from South Georgia by the Savannah River.
While many know Savannah for its picturesque horse-drawn carriages and near perfect parks, Savannah also has a darker, slightly spooky history.
In this list, we will cover all the things to do while in Savannah. We guarantee there will never be a dull moment in Savannah what with all the delicious food, rich history, and magnificent parks!
1.
Get To Know Savannah Through Its Food
What better way to get to know a city than by taking your taste buds on a journey they will never forget? Savannah, Georgia is overflowing with options that will satiate and satisfy all of your cravings.
As with any part of the South, you will find a wide variety of all things fried and delicious. Savannah is no exception, and we recommend you check out some of the best restaurants Savannah has to offer.
Over on Habersham St in Savannah, you will find Narobia's Grits & Gravy. Described as a hole-in-the-wall joint that serves up truly delicious Southern meals for cheap, Narobia's Grits & Gravy does not disappoint.
If you manage to brave the crowd and the queue, you absolutely must try the shrimps, grits & gravy (of course), the seafood omelette, and the biscuits!
Another one of Savannah's best restaurants would have to be Wiley's Championship BBQ located a little way off from Bonaventure Cemetery.
If you haven't had your fill of good ole' Southern cuisine we recommend you order the exceptionally tender beef brisket and the beer battered onion rings that Wiley's Championship BBQ is known for!
2.
Learn All About Savannah's Darker Past And Its Hauntings
To understand why Savannah has significantly more reported cases of supernatural experiences than most other states, it would do well to look into the city's past.
Savannah, Georgia played host to many less than pleasant events. With everything from civil wars to disease epidemics to unsolved murders. Therefore, it is no surprise that Savannah is home to many a restless spirit (if you believe in that sort of thing).
Regardless as to whether you're a sceptic or a believer, Savannah's hauntings make for interesting tours and a unique way to learn about the city's past.
There are countless of tours that take you around Savannah that focus on the slightly more morbid and supernatural facts of the city.
Hop on the Ghosts & Graveyards trolley ride that will take you on a 75-minute drive through some of Savannah's most iconic supernatural spots. You'll get to see infamous cemeteries and derelict mansions filled with all kinds of stories, amongst other things.
We recommend this tour for those of you who are curious about Savannah's creepy past but don't want to lose sleep afterwards. While you will be visiting cemeteries and the like, expect more thrill than fear. Prices for The Ghosts & Graveyards trolley tour start from USD$33 per person.
If you're the kind of person who requires some liquid courage to help you get through one of Savannah's ghost tours, Nightly Spirits (pun intended) has just the thing for you!
Get on one of their haunted pub tours, which essentially is a pub crawl with all the best of Savannah's spooky secrets! Tickets to haunted pub tours start at USD$20.
3.
Explore The Bonaventure Cemetery
If you find that the ghost tours merely scraped the surface of your fascination with the morbid and the supernatural then you should definitely take the chance to explore the Bonaventure Cemetery more.
The Bonaventure Cemetery is open to the public daily from 8 am to 5 pm. However, if you wish to see the cemetery after dark you can get on a nighttime tour dedicated to providing you with the most enticing and creepy secrets of the Bonaventure Cemetery.
The Bonaventure Cemetery After Hours Tour will take you from your hotel to the cemetery and back again after. This super convenient tour requires 2.5 hours of your time and will set you back USD$55. In our opinion, it is entirely worth the money!
4.
Discover Savannah's, City Market
If you're the kind of traveller who loves to grab a little something to take home from each and every place you visit, you should definitely check out Savannah's City Market.
Savannah's City Market is located between Ellis and Franklin Square and stretches across four blocks.
You can expect to be met with lively, vibrant vibes as you wander through the four blocks that encompass Savannah's City Market.
Vendors of all crafts display their wares and you can get anything from homemade candy to tasteful pieces of art, right up to things for your beloved fur babies! Definitely, worth a stop during your trip to Savannah, Georgia.
5.
Spend The Day At The Beach Day On Tybee Island
What's a holiday without at least one trip to a beach? Pack some food, your swimsuits, and head down to Tybee Island, which is also known as Savannah's Beach. Talk about iconic!
Getting to Tybee Island is easy enough as it is located only 15-minutes from Savannah if you've rented a car and are planning to drive. Otherwise, there is a daily shuttle that will take you to Tybee Island for USD$20 per person.
Additionally, you have the option of spending the night at Tybee Island. On the island, you can find an array of places to stay such as quaint inns and homey cottages. This is one for the list if you're looking for things to do in Savannah with the kids.
Remember to check out the Tybee Island Light Station and Museum, Georgia's oldest and tallest lighthouse. Tickets are priced at USD$10 (Adult) and USD$8 (Senior/Child/Military). There are also group discounts offered.
6.
Catch A Show At The Historic Savannah Theatre
Have you always preferred catching a play at a theatre to watching a movie in the cinema? You're in luck! Savannah's theatre has a great lineup of plays for you to choose from. If you happen to be in Savannah during the festive period, their Christmas play is sure to bring on that warm, fuzzy holiday feel.
The Savannah Theatre was originally built in 1818, making it Savannah's oldest theatre – and it is still going strong!
Having been struck by fire in 1948, the theatre underwent restoration and made its debut with stunning art deco inspired interior. The restored interior makes you feel like you've been thrown into a different era entirely, making it the perfect spot for some pictures!
7.
Visit The Cathedral Of St. John The Baptist
It doesn't matter if you're particularly religious or not, the Cathedral of St. John the Baptist is a remarkable structure. With breathtaking high-ceiling and stunning stained glass windows, a visit to the Cathedral of St. John the Baptist will not be something you regret.
Located on Lafayette Street in Savannah, Georgia, the current structure was erected in 1874 although the cathedral was originally founded in the 1700s.
The Cathedral of St. John the Baptist is a popular stop during many of the historical tours that you can find in Savannah. You can visit this architectural masterpiece for free although a small donation of USD$3 is requested.
The cathedral makes for magnificent photographs with its French-gothic design, so if you're an amateur photographer looking to add to your portfolio this is the perfect place to hone your skills!
8.
Go For A Stroll Along River Street
Simply being on River Street will take you back in time with its cobblestone walkways separating the river from old shophouses that line the opposite side of the street.
While you're at River Street, take the opportunity to stop by Huey's Restaurant and load up on their piping hot beignets. They are said to be one of the best in the whole of Savannah!
Get ready to shop till you drop when you visit River Street, Savannah. With shop names such as Fannie's Your Aunt and Mad Hatter, we guarantee you will find something to take home. At the very least, we know you will have a laugh appreciating the creatively named shops.
Hop on one of River Street's riverboat cruises and appreciate the street from an entirely fresh perspective. Riverboat cruises set sail several times a day and give you the option of choosing from a variety of different types of cruises.
Depending on what you're looking for, you can select anything from moonlight cruise to a sightseeing cruise. Tickets to the various riverboat cruises start at around USD$50, each cruise takes roughly 90 mins.
With so much to see and do along River Street in Savannah, we recommend you set aside a full day if you don't feel like rushing through the numerous activities or having to forego some.
9.
Head Over To Forsyth Park For A Picnic
Located in the Historic District of Savannah, Forsyth Park looks like it was pulled straight out of the movies. Stretching over 30 acres of land, Forsyth Park blankets the city in lush greenery.
Head towards the North end of the park and you will find what is probably its main attraction, the Forsyth Park Fountain. Standing tall with clear Parisian influences, the fountain is a popular backdrop for proposals and any tourist's must-have Instagram picture.
Forsyth Park sets the perfect scene for a romantic picnic, with shade provided from its lush overhead canopy. Pack all your favourite nibbles, a picnic mat, and head down to Forsyth Park and start making memories!
Alternatively, you could also have a family picnic with your little ones in tow! Forsyth Park has a playground that we know the kids will love.
10.
Surround Yourself With Nature And History At The Wormsloe Historic Site
What comes to mind when you picture the South? A seemingly endless dirt driveway, rows of trees on either side as far as the eye can see, intertwined branches overhead.
This is exactly what you'd expect to see when you visit the Wormsloe Historic Site or Wormsloe Plantation in Savannah.
Within this extremely lush 500-acres of land, you'll find that almost every nook and cranny is overflowing with history. If you take the time to explore the Wormsloe Historic Site, you will even find the ruins of the home of an English noble who once owned the estate.
We suggest you join one of the guided tours of the Wormsloe Historic Site if you don't want to miss anything along the way. Admission to the Wormsloe Historic Site is USD$10 (Adult), USD$9 (Senior), USD$4.50 (Youth), and USD$2 (Child). The first tour kicks off at 10 am, so get there early!
11.
Visit The Coastal Empire Beer Co. For A Boozy Afternoon
Live. Relax. Savour. A very wise and incredibly apt tagline by the Coastal Empire Beer Co. Hop on a tour that will take you through the Coastal Empire Beer Co.
You will learn about the various processes that go into making your favourite alcoholic beverage, and get to sample a variety of beers! Tours take place on Thursdays, Fridays, and Saturdays at various timings.
Coastal Empire Beer Co. also hosts regular barbeques and cookouts on their outdoor pit. We honestly can't think of a better pairing than an ice cold beer and crispy meats cooked over a flame.
You'll be happy to know that the Coastal Empire Beer Co. brews all kinds of beer! With everything from stouts to pale ales to lagers – we're sure you'll find something that tickles your fancy.
Have We Left Anything Out?
There you have it, our list of the best things to do in Savannah, Georgia. Do you have something that you don't see here that you absolutely must recommend? Drop us a comment and let us know!
We hope you have a fantastic time when in Savannah – there's so much to see, do, and experience that we know there's something for everyone in this gorgeous city in Georgia!