Must-Try Tokyo Sushi Joints In Japan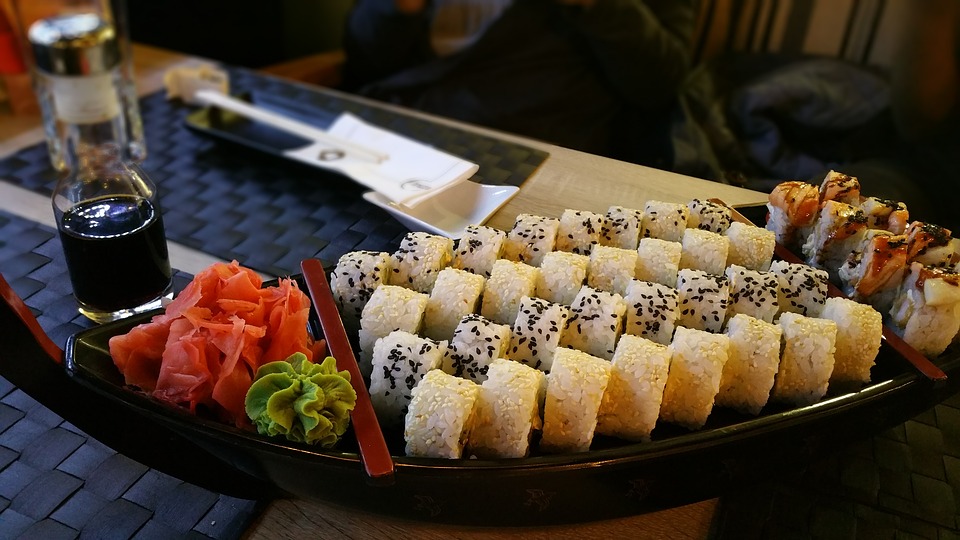 Sushi is more than just a flavorful dish. It is a cultural phenomenon. From roadside stalls to Michelin-star restaurants, sushi joints are everywhere.
But nothing beats the true taste of Tokyo sushi. In fact, Tokyo streets are the home of the sushi we love so much. The fish-on-rice variation is known in Japanese food culture as Edomae sushi. Edo stands for the old name of Tokyo and Mae means "in front". Furthermore, this tradition of sushi "in front of Tokyo" traces back to 200 years.
Edomae sushi or Tokyo sushi was invented by a chef named Yohei Hanae. He loved flavorful Japanese cuisine and saw its potential.
Hence, he experimented with sushi until he found the perfect Japanese cuisine. Meanwhile, Tokyo instantly fell in love with this raw fish on rice variation.
Today, Edo sushi is evolving. Likewise, creative fusions are in the mix. The authentic taste is, however, still in Tokyo streets. Moreover, Japanese people delight in their tradition while travellers fall in love with Tokyo sushi. If you are new to Japanese sushi tradition, start in Tokyo. After all, the seasoned rice and fish combination is at its finest here: the home of sushi. Besides, Tokyo is the ultimate haven for food connoisseurs. The sprawling metropolis will certainly inspire sushi love. After arriving in Japan, discover sushi in Tokyo. After all, the city is bustling with popular districts and delectable Japanese cuisine. Learn where to eat in Tokyo with our guide below.
Top 8 Picks Just For You
1.
Sushi Iwase (Shinjuku)
Shinjuku ranks high among Tokyo districts. The busy city ward also has some of the finest Tokyo sushi joints. Sushi Iwase offers authentic Edomae sushi. Moreover, the price is also affordable. The food menu changes depending on the available ingredients. But the taste of Tokyo sushi is unwavering.
Where: 6F Shinjuku Youth Building "PAX" 4-1-9 Shinjuku, Shinjuku, Tokyo
Menu's Best: Chirashi Sushi lunch set
Price: ¥ 15,000 ~ ¥ 19,999
2.
Sushi Gonpachi (Shibuya)
Tokyo's top fashion district, Shibuya, is known for being a youth hub. The entertainment destination has more to offer than just pretty sights. Additionally, the city ward presents Japanese food at its best. If you are in Shibuya, do not miss out on Sushi Gonpachi. The restaurant inspired the cult hit film, Kill Bill. Hence, great Tokyo sushi and picture-perfect settings, Gonpachi has it all.
Where: 3-6 Maruyamacho, E Space Tower 14F, Shibuya 150-0044, Tokyo
Menu's Best: Gonpachi Nori Temaki
Price: ¥ 8,000 ~ ¥ 10,000
Ginza sports the biggest names in fashion and luxury. And of course, the best Tokyo sushi joints. As a result, Ginza is known as the premium Tokyo shopping district. While in Ginza, why not experience Japanese fine dining? Kyubey often appears in lists of the best restaurants in the world. The upscale sushi joint is likely the ultimate zenith of food in Japan.
Where: 8 – 7 – 6, Ginza, Chuou-Ku, Tokyo
Menu's Best: Kaiseki
Price: ¥ 20,000 ~ ¥ 25,000
4.
Kizuna Sushi (Akihabara)
Heard of Japan's otaku (diehard fan) culture? Akihabara lies in the centre of this phenomenon. Because of its love for anime and manga, the district has risen in popularity. Forge your sushi love by visiting Kizuna Sushi in the district. The all-you-can-eat sushi buffet is a hit among locals and tourists alike. Besides, Kizuna Sushi is open 24 hours. That's why, for those who love food in Tokyo, this spells bliss.
Where: Okuyama Bldg. 1F, 2F, 1-15-18 Sotokanda, Chiyoda, Tokyo
Menu's Best: All-you-can-eat sushi buffet
Price: ¥ 2,000 ~ ¥ 3,980
5.
Aoyama Sanaka (Harajuku)
Harajuku is the birthplace of outrageous Japanese teen culture. Thus, it is perhaps the most outlandish of Tokyo districts. The area is not particularly known for Japanese cuisine. But some sushi joints are truly hidden gems in the city.
Aoyama Sakana offers Tokyo sushi that is true to its Edo heritage. For the solo traveller, locating the store can be quite the treasure hunt. After all, there are no signs outside it. But the delicious quality and affordable price make up for it.
Where: 6-14-1 Jingumae 3f, Jingumae, Shibuya 150-0001 Tokyo Prefecture
Menu's Best: Omakase
Price: ¥ 3,000 ~ ¥ 4,000
Akasaka is the commercial centre of Tokyo. Home to many corporate headquarters, the area bustles with wealthy expats. Why not take a cue from their book on where to eat in Tokyo? Located in Ritz-Carlton Hotel, Hinokizaka offers Tokyo sushi in an upscale setting. Hence, if you are on a business trip, it is the best of situations. While tasting authentic Edo sushi, you can also meet like-minded Japanese people.
Where: 9 Chome-7-1 Akasaka, Minato City, Tokyo 107-6245
Menu's Best: Kaiseki
Price: ¥ 4,800 ~ ¥ 15,000
7.
Sushi Isshin (Asakusa)
Craving the old-timey appeal of ancient Edo? Asakuka is keeping the tradition alive. The sights, as well as the Japanese food, is an ode to the past. Japanese people love Sushi Isshin as do the tourists. The edomae joint is simple and rustic, letting the savoury Tokyo sushi speak for itself.
Where: 4-11-3, Asakusa, Taito-ku, Tokyo
Menu's Best: Nigiri sushi
Price: ¥ 8,000 ~ ¥ 10,000
Tsukiji is known as one of the world's largest markets. Home to the freshest seafood and produce, restaurants get the best of deals. Needless to say, the variety of Tokyo sushi is endless. Yes, Tsukiji is chockfull with sushi joints. Yet Sushi Dai is a distinct crowd favourite. At all hours, the place is simply packed with those seeking quality Tokyo sushi.
Where: 6-chōme-21-2 Tsukiji, Chūō-ku, Tōkyō-to 104-0045, Japan
Menu's Best: Omakase
Price: ¥ 2,600 ~ ¥ 5,000
Taste True Tokyo Sushi
While in Tokyo, you will find plenty of sushi joints flaunting their Michelins. It is renowned as the sushi capital of the world and it doesn't disappoint. Certainly, tourists flock in and the locals don't hold back either. Thus, the love for Tokyo sushi brings them all together. The list above only tells of 8 of the best sushi joints in Tokyo districts. However, there are countless more. Explore Tokyo, in all its glory, for yourself. Choose your own favourite Tokyo Sushi joint. Undoubtedly, the gastronomical experience will be rewarding. If you want to take home something cool from Japan, there are tons of Tokyo souvenirs to choose from. Sayonara!