10 Best Things To Do In Tokyo, Japan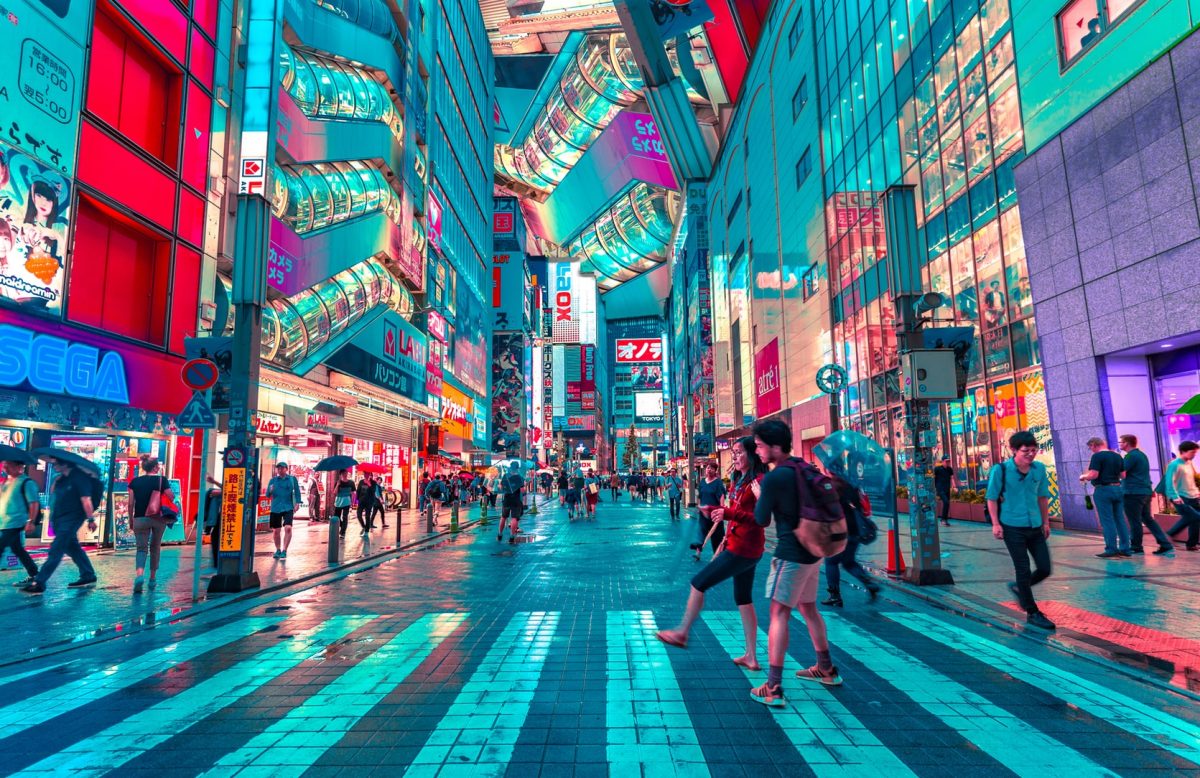 Tokyo is the first name that comes to mind when anyone dreams to visit Japan, the land of the rising sun. Drifting away to this exotic locale is a vacation no other place can promise. Tokyo city has something for everyone, an exciting nightlife, famous attractions, vibrant culture, and delicious food. It's no wonder that this Japan capital has been featured in blockbuster hits for its lively personality.
Japan's Most Populous City
Tokyo may be famous for being Japan's most populous city, but there's still room for the curious traveller to explore the best things to do in Tokyo city. Whether you have 3 days in Tokyo or a week to explore the city, you'll still have enough on your travel plate because the list of Tokyo attractions is endless!
Much To See in Tokyo
Embrace the local culture at Tokyo fish markets, marvel at how modern Japan really is from up on top of Tokyo Tower. Experiment with Japanese food by eating at the best tonkatsu station or tasting spicy ramen in Tokyo central. Ride in the world's famous bullet train, glance at Mt. Fuji from Tokyo Skytree. Shop till you drop in Akihabara or Shibuya, and live those magical must-dos on the fun things to do in Tokyo with kids at Disneyland Tokyo and Tokyo Dome City. If you're confused about the best of Tokyo, we're here to tell you about all the fun things to do in Tokyo city and the best places to visit in the Japan capital. Fret not, we've handpicked the best things to do in Tokyo, just for you:
1.
Start at Toyosu Fish Market
Live Bluefin Tuna Auction
When in Tokyo, be truly Japanese and take a fish market tour! Do it right at Toyosu Tokyo, the most famous Japanese fish market in Tokyo city. Hordes of people awake before dawn to arrive at the bustling Toyosu Fish Market to experience a live Tokyo tuna auction of the Bluefin tuna and later, to explore more on the popular Toyosu fish market tour. Tokyo Bluefin Tuna gets high bids at the Toyosu auction. Fresh Bluefin Tuna is a local favourite and bidding for it makes relishing more exciting for Tokyo locals.
Go to Toyosu Market, not Tsukiji
Take note that earlier, these world-famous Bluefin tuna auctions took place at the Tsukiji Fish Market, but the market could not bear the outpour of tourists. Hence, Tokyo tuna auctions are now proudly conducted at Toyosu Market, the new Tokyo fish market. Toyosu Fish Market is located in Odaiba Island, so you may have to wake up a little earlier if you want to get to all the action on tuna auction in Toyosu Tokyo, just in time!
2.
Admire Asakusa District in Tokyo City
Asakusa Tori-no-ichi Fair
The Asakusa District is a wonderful blend of traditional Japan and the modernity of Tokyo. You can make your base at the popular Asakusa Ryokan Toukaisou hotel, while you explore the Tokyo's most-visited Sensoji Temple, an 8th century Asakusa shrine that is the oldest standing structure in Tokyo.
Another Asakusa temple like the Sanja-Sama, a Shinto shrine is also flocked by travellers. Japan's supremely traditional Asakusa Tori-no-ichi Fair occurs every November. Asakusa tori no ichi is where travellers flock to see the Japanese pray for good luck and celebrate prosperity.
Hop onto Tokyo Skytree
Don't forget to hop onto Tokyo Skytree to enjoy the cool Tokyo weather, as it is a must-do in Tokyo, and will show you aerial views of Asakusa's food paradise, Nakamise street and Sensoji temple at night. Also, pretty cherry blossom sightings can be seen at Sumida Park, in downtown Tokyo in April. Undoubtedly, Asakusa Tokyo is the place to be when you want to witness the best of Tokyo come together.
3.
Be a Kiddo at Disneyland Tokyo
Get a Disneyland Fastpass Ticket
Located in Chiba on the shores of Tokyo Bay, Tokyo Disney is a 115-acre happiness paradise, that takes the fun to a whole new level! And that's precisely why Tokyo Disneyland is one of the best things to do in Japan! But, we're here to help you do it right. If you forget to browse the Tokyo Disneyland crowd calendar, a cool hack to beat the crowd or queues would be to get the Tokyo Disneyland Fastpass Ticket. No Tokyo Disneyland package is ever complete without the Disney Fastpass ticket! Research well about Tokyo Disneyland tickets before your day of the visit.
Tokyo DisneySea Waterpark
After you have explored the castles, played with your favourite Disney characters and seen the most famous Tokyo Disneyland attractions, head to enjoy the splash at Tokyo DisneySea Waterpark and Aquarium. Ride the high wave, because Disneyland Tokyo, Japan's most sought after Disney park will spoil you silly. Spend the late evening unwinding at Tokyo Disney Resort with your kids, rest well with fairytale dreams!
4.
Shop at Tokyo's Electric Town Akihabara
Best of Akihabara
The liveliest of all of Tokyo city's shopping districts, Chiyoda Tokyo's Akihabara District in is easy to reach, because of its proximity to Akihabara Station. Akihabara District is so vibrant, spunky and alive, which is called Tokyo's Electric Town. There are loads that feature in the best of Akihabara. Aside from buying affordable electronics, like your very own Yodobashi Camera, cool knick-knacks and peppy Tokyo t-shirts. There's enough to interest an otaku; a term that means anime fan or manga fan, you can also shop for cool anime pop collectables and find your favourite manga characters in this Manga town. If you're bored with cartoon shopping, you can play Sega games in the many arcades, that throng the streets of Tokyo Akihabara.
5.
Visit a Maid Cafe in Tokyo
Another typically Japanese crowd pull to Akihabara is to drink and eat at Tokyo's maid cafes. More cute, than sexy, the Akihabara District Maid Cafes are popular for their staff who adorn maid outfits and greet guests to delicious Japanese food. If you want to do the most trending things in Tokyo, then head to a butler cafe in Akihabara. Tokyo butler cafes are a new trend, where men are dressed to perfection as butlers. There are two famous butler cafes in Tokyo city, Swallowtail and Butlers Cafe! A bizarre entertainment like Japan Maid Cafes and the new rage, Butler Cafe Japan is possible only in a cool city like Tokyo! Do not miss Akihabara electric town!
6.
Take a Tour of Tokyo Imperial Palace
Tokyo Imperial Palace in Marunouchi District is one of the many top spots in Japan. This Tokyo palace is the residence of the Emperor of Japan. The Japanese monarchy is known to be the oldest hereditary monarchy in the world! You will need to make a tour reservation in advance to visit the Tokyo Imperial Palace. If not, you can tour Tokyo royal palace, exploring the lush grounds and the scenic outer moat, which is a popular photo spot for wedded couples in spring, during the Tokyo cherry blossom season, when the cherry flowers are in full bloom.
Explore Tokyo Palace
Tokyo Imperial Palace free walking tours are frequently conducted to allow visitors to glimpse into the lives of the Japan royals. You could also explore on your own, as the grounds of the royal palace are massive, with multiple gardens like the Kitanomaru garden, Kokyo Higashi Gyoen garden, and also the Kokyogaien garden. Tokyo palace architecture is quaint and regal. Standing here in the royal gardens the Tokyo crowd wave and cheer for Emperor Naruhito and Empress Masako, upholding their love for the Japanese monarchs.
7.
Taste the Best Tonkatsu in Tokyo
What is Tonkatsu?
Tonkatsu is a breaded, deep-fried Japanese cutlet dish, mostly made with pork. The poultry variant Tokyo Chicken Tonkatsu is equally famous for its crispy bounties. Tokyo's cheap eats like the tonkatsu, tonkatsu ramen, chicken katsu rice, pork katsu rice, Japanese pickled cucumbers, and the popular customized bento box, are found all over Tokyo City. You may have tasted Japanese food at Little Tokyo in LA, but eating local Japanese food in Tokyo is an entirely different experience. Tokyo cheap eats will never go out of style. So update your top things to do in Tokyo, and have some tonkatsu! If you're a newbie in Japan and want to know what to eat in Tokyo, and where, we're here to introduce your Tokyo food guide to the best tonkatsu in Japan!
Eat at Cafe Tonki
But, Cafe Tonki is famous for the best tonkatsu in Tokyo, because they have made the best tonkatsu sauce for over 80 years!! At Tokyo Tonki you can be assured to have a traditional Tonkatsu experience of the best value. It's easy to spot Tokyo Tonki's food outlets, as they are always packed with katsu lovers. So go on, be a curious foodie, and don't leave the Japan capital without sampling Tokyo's best Tonkatsu!
8.
Visit the Sumo Museum in Sumo Town
If you think you have shortlisted all the cool things to do in Tokyo, well, think again. The excitement of a live Sumo Match in Japan is waiting for you. Sumo is the national sport of Japan, and Tokyo city is always bustling with sumo matches. Watching Sumo is the favourite hobby of Tokyo locals and tourists in Japan.
Head to Sumo Town
Wondering where to see a sumo fight in Tokyo? The best place to spot a Sumo Fight is at the famous Sumo Town in Tokyo, Ryogoku Kokugikan, aka Ryogoku Sumo Hall in Sumida. At Tokyo Ryogoku, prepare to meet a lot of real-life sumo heroes. This Sumo hall is also a Sumo museum, where people can understand the history of Sumo in Japan. The Sumo museum is free to enter.
Select a Sumo Tournament Package
At Ryogoku district, you can choose a Sumo Tournament package to understand the game better with the help of a guide! There are tons of online sumo fighters in online Sumo fight games in Japan. These Sumo games are played by every teenager in Tokyo and Japan. Also, when you visit Japan, ensure you play a Japan Sumo game too!
9.
See Cherry Blossom Festival at Yasukuni Shrine
Find 600 Cherry Blossom Trees
Of all the places to visit in Tokyo, a definite must-do is visiting Yasukuni Shrine. Yasukuni Imperial Shrine is a wonderful Tokyo attraction that displays the beauty of sakura or cherry blossom season from March to May. Aside from being one of the best things to do in Tokyo city, Yasukuni Shrine is also the epicentre of Sakura festival in Japan. As a result, Yasukuni Shrine is the only place where you can see 600 cherry blossom trees in full bloom in Tokyo. For more trivia on Japan, walk inside the Tokyo Yasukuni Shrine to explore the Japanese military and war museum built in the memory of soldiers. If you wondered what your Tokyo vacation in Sakura would look like, you can now confidently rejoice that it will be pretty pink!
10.
Walk on the World's Busiest Shibuya Crossing
If you want to feel the energy of Japan in your veins and cover everything on the best things to do in Tokyo, and explore the best of Tokyo in just one night, you must visit Shibuya District. The Shibuya Scramble crossing or Shibuya Crossing line is the star attraction of Tokyo. Walk over Shibuya crossing to feel the madness of the crowds, or take a Shibuya Crossing Wallpaper for a souvenir from a local store.
Tokyo's Best Shopping District
In addition to being on top of all Tokyo attractions, Shibuya is also well-known for Tokyo's shopping district. Having said that, do remember that shopping in Shibuya can be almost an endless affair! The nightlight of Shibuya is always bustling with entertainment! At Shibuya, you can go to clinking pachinko parlours. Eat at sushi train restaurants, that present sushi on a conveyor belt. Go party hopping. Drink up at Nonbei Yokocho or try other local bars. Dance your time away. And, play manga. It's almost a ritual to meet a friend at the popular Hachiko statue, or even relax in your very own unique capsule hotel! We can vouch that you'll find quirky Japanese capsule hotels in abundance here.
Feel the Energy
Ranking high on the best things to do in Tokyo is the busiest intersection in the world! The Shibuya Crossing in Tokyo is a record-breaker with the world's best of most things, like how Shibuya District houses the two busiest railway stations in the world. The Shinjuku Station and Shibuya Station. Don't miss out on the good stuff at Shibuya district. It will keep Tokyo City alive in your heart for a long, long time. So go on, explore Tokyo and make your Japan travel out of this world.