10 Best Things To Do In Tokyo, Japan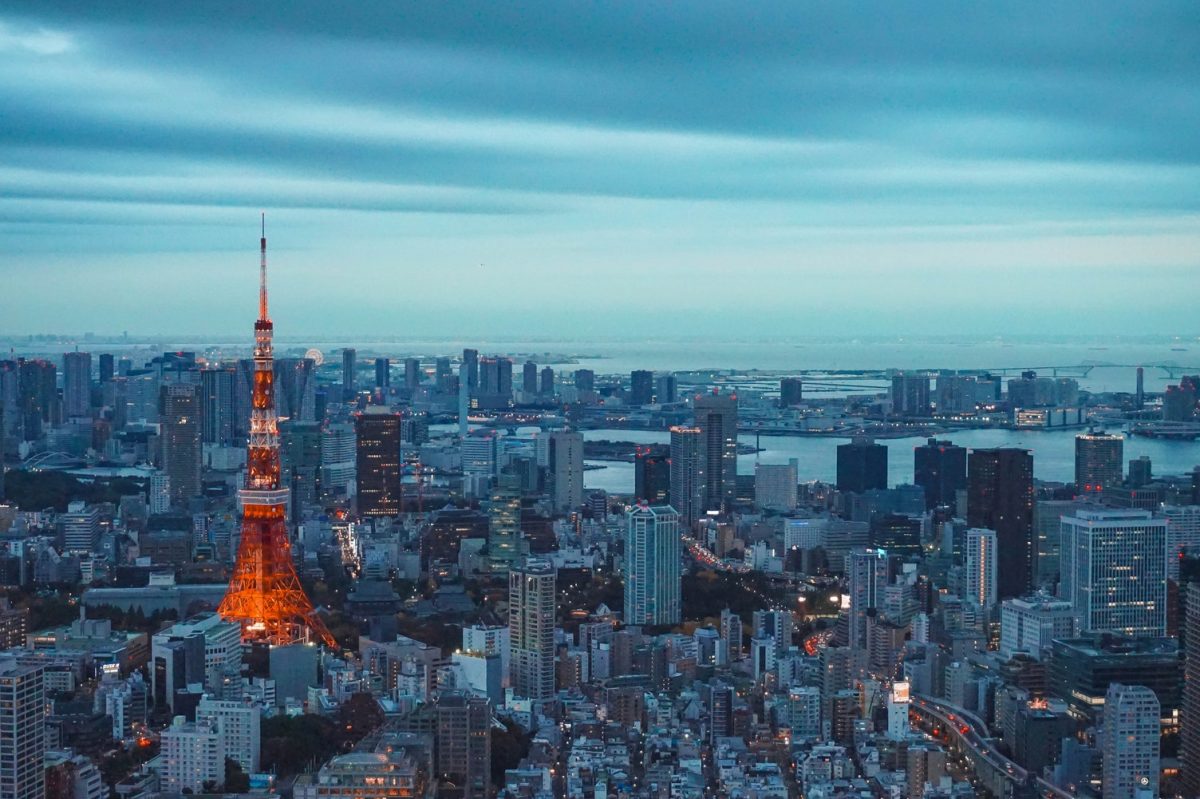 Tokyo is the first name that comes to mind when anyone dreams to visit Japan, the land of the rising sun. This exotic locale promises a vacation beyond anything you can imagine. Tokyo city has something for everyone–an exciting nightlife, famous attractions, vibrant culture, and delicious food. It's no wonder that this Japan capital has been featured in blockbuster hits for its lively personality. With so many things to do in Tokyo, you might be a little at a loss at where to start. But worry not, as we'll guide you through the top 10 things you can do in this incredible city.
1.
Start at Toyosu Fish Market
Live Bluefin Tuna Auction
When in Tokyo, be truly Japanese and take a fish market tour! Do it right at Toyosu Tokyo, the most famous Japanese fish market in Tokyo city. Hordes of people awake before dawn to arrive at the bustling Toyosu Fish Market to experience a live tuna auction of the Bluefin tuna and later, to explore more on the popular Toyosu fish market tour. Bluefin tuna gets high bids at the Toyosu auction. Fresh Bluefin tuna is a local favourite and bidding for it makes relishing more exciting for Tokyoites.
Go to Toyosu Market, not Tsukiji
Take note that earlier, these world-famous Bluefin tuna auctions took place at the Tsukiji Fish Market, but the market could not bear the outpour of tourists. Hence, tuna auctions are now proudly conducted at Toyosu Market, the new Tokyo fish market. Toyosu Fish Market is located in Odaiba Island, so you may have to wake up a little earlier if you want to get to all the action on tuna auction just in time!
2.
Admire Asakusa District in Tokyo City
Asakusa Tori-no-ichi Fair
The Asakusa District is a wonderful blend of traditional Japan and the modernity of Tokyo. You can make your base at the popular Asakusa Ryokan Toukaisou hotel, while you explore the city's most-visited temple, Sensoji Temple, an 8th century Asakusa shrine that is the oldest standing structure in Tokyo. Another famous Asakusa temple, the Sanja-Sama, is also a Shinto shrine flocked by travelers. Japan's supremely traditional Asakusa Tori-no-ichi Fair occurs every November. Asakusa Tori-no-ichi is where travellers flock to see the Japanese pray for good luck and celebrate prosperity.
Hop onto Tokyo Skytree
Don't forget to hop onto Tokyo Skytree for aerial views of Asakusa's food paradise, Nakamise street, and Sensoji temple at night. Also, if you visit in April, you'll be able to get a bird's eye view of the pretty cherry blossoms blooming over at Sumida Park. Undoubtedly, Asakusa is the place to be when you want to witness the best of tradition and modernity come together.
3.
Be a Kiddo at Disneyland Tokyo
Get a Disneyland Fastpass Ticket
Located in Chiba on the shores of Tokyo Bay, Tokyo Disney is a 115-acre happiness paradise that takes the fun to a whole new level! And that's precisely why Tokyo Disneyland is one of the best things to do in Tokyo! But, we're here to help you do it right. If you forget to browse the Tokyo Disneyland crowd calendar, a cool hack to beat the crowd or queues would be to get the Fastpass Ticket.
DisneySea Waterpark
For a bit of a more adult fun, head to enjoy the splash at Tokyo DisneySea Waterpark and Aquarium. Ride the high wave of child-like pleasures of thrilling rides combined with some good ol' alcohol. You can get alcoholic drinks in multiple shops all over the theme park, from outdoor food kiosks to dine-in restaurants.
4.
Shop at Tokyo's Electric Town Akihabara
Best of Akihabara
The liveliest of all of Tokyo city's shopping districts, Akihabara district is easy to reach, because of its proximity to Akihabara Station. Akihabara, also known as Tokyo's Electric Town, is vibrant, spunky, and alive. It is the mecca of high technology mixed with kawaii. Aside from buying affordable electronics, like your very own Yodobashi Camera, cool knick-knacks and peppy Tokyo t-shirts. Essentially an otaku (anime fan or manga fan) paradise, you can also shop for cool anime pop collectibles and find your favourite manga characters in this Manga town. If you're bored with cartoon shopping, you can play Sega games in the many arcades that throng the streets of Akihabara.
5.
Visit a Maid Cafe in Tokyo
Another typically Japanese crowd pull to Akihabara is to drink and eat at maid cafes. More cute than sexy, maid cafes are popular for their staff who adorn maid outfits and serve cutely decorated Japanese food and desserts. Some of the more well-known maid cafes in Akihabara are Maidreamin and Cure Maid Cafe. At Maidreamin, you can enjoy pop idol-style live performances by the maids while Cure Maid Cafe will calm you down with their dignified services.
One of the most trending things to do in Tokyo now, however, is visiting a butler cafe. Butler cafes are a new trend, where men are dressed to perfection as butlers. There are two famous butler cafes, though they are not located in Akihabara itself. Swallowtail is found in Ikebukuro, also a great place for anime and manga fans, while Butlers Cafe lies in the fashion hub, Shibuya.
6.
Take a Tour of Tokyo Imperial Palace
Tokyo Imperial Palace in Marunouchi District is one of the best historical spots in Japan. This Tokyo palace is the residence of the Emperor of Japan. The Japanese monarchy is known to be the oldest hereditary monarchy in the world! Free walking tours of the Imperial Palace are frequently conducted to allow visitors to glimpse into the lives of the Japanese royals. However, you will need to make a tour reservation in advance to visit the Imperial Palace.
You can also explore on your own, as the grounds of the royal palace are massive, with multiple gardens like the Kitanomaru garden, Kokyo Higashi Gyoen garden, and also the Kokyogaien garden. Don't forget to check out the scenic outer moat surrounding the grounds. It is a popular photo spot for newly wed couples in spring during the cherry blossom season, where the sakura will turn the moat a lovely shade of pink on both sides.
7.
Taste the Best Monjayaki
What is Monjayaki?
Monjayaki is Tokyo's iteration of the famous okonomiyaki in Osaka. Just like okonomiyaki, it is filled with a mix of vegetables, seafood, and meat. Unlike the thick pancake style of a typical okonomiyaki though, monjayaki is thin and runny. It doesn't exactly look appetizing, but trust us, the taste is phenomenal. Full of umami from the dashi stock, you'll enjoy the complex flavors this runny pancake brings with every bite. And as you get to the end, you'll taste the most delicious part of monjayaki, that is, the okoge. Okoge is actually the burnt parts of monjayaki towards the end of cooking it. Yes, you get to cook your own monjayaki is most restaurants, which is an absolutely unique and fun experience not to miss!
Go on Monjayaki Hunt in Tsukishima
There is no better place to try this iconic pancake than in Tsukishima. At Tsukishima, there is a street called the Monja Street where you can find over 70 monjayaki restaurants! You can get to the street easily via Exit 7 of Tsukishima Station. It is especially enchanting at night when all the restaurants are lit up, so head there for a late supper of Tokyo's very own savory pancakes!
8.
Visit the Sumo Museum in Sumo Town
If you think you have shortlisted all the cool things to do in Tokyo, well, think again. The excitement of a live Sumo Match in Japan is waiting for you. Sumo is the national sport of Japan, and Tokyo is always bustling with sumo matches.
Head to Sumo Town
Wondering where to see a sumo fight in Tokyo? The best place to spot a Sumo Fight is at the famous Sumo Town, Ryogoku Kokugikan, aka Ryogoku Sumo Hall in Sumida. At Ryogoku, prepare to meet a lot of real-life sumo heroes. This Sumo hall is also a Sumo museum, where people can understand the history of Sumo in Japan. The Sumo museum is free to enter.
Select a Sumo Tournament Package
At Ryogoku district, you can choose a Sumo Tournament package to understand the game better with the help of a guide! There are tons of online sumo fighters in online Sumo fight games in Japan. These Sumo games are played by every teenager in Tokyo and Japan. Also, when you visit Japan, ensure you play a Japan Sumo game too!
9.
See Cherry Blossom Festival at Yasukuni Shrine
Find 600 Cherry Blossom Trees
Of all the things to do in Tokyo, a definite must-do is visiting Yasukuni Shrine. Yasukuni Imperial Shrine is a wonderful Tokyo attraction that displays the beauty of sakura or cherry blossom season. The best time to visit Tokyo is when cherry blossoms bloom, and the best place for hanami is undoubtedly Yasukuni Shrine. After all, this shrine is also the epicentre of Sakura festival in Japan. In fact, it is the only place where you can see 600 cherry blossom trees in full bloom in Tokyo. For more trivia on Japan, walk inside the Yasukuni Shrine to explore the Japanese military and war museum built in the memory of soldiers.
10.
Walk on the World's Busiest Shibuya Crossing
If you want to feel the energy of Japan in your veins and cover everything on the best things to do in Tokyo, and explore the best of Tokyo in just one night, you must visit Shibuya District. The Shibuya Scramble crossing or Shibuya Crossing line is the star attraction of Tokyo. Walk over Shibuya crossing to feel the madness of the crowds, or take a Shibuya Crossing Wallpaper for a souvenir from a local store.
Tokyo's Best Shopping District
In addition to being on top of all Tokyo attractions, Shibuya is also well-known as Tokyo's top shopping district. Having said that, do remember that shopping in Shibuya can be almost an endless affair! The nightlight of Shibuya is always bustling with entertainment! There is endless amount of things to do in Shibuya. Check out pachinko parlors. Eat at conveyor belt sushi restaurants. Drink up in the tiny izakaya (local bar) at Nonbei Yokocho. Sing your heart out at a karaoke parlor, or play games all night long at an Internet cafe. It's almost a ritual to meet a friend at the popular Hachiko statue, or even relax in your very own unique capsule hotel! We can vouch that you'll find quirky Japanese capsule hotels in abundance here.
Much to See and Do in Tokyo
Whether you have 3 days in Tokyo or a week to explore the city, you'll have enough on your travel plate because the list of Tokyo attractions is endless! So go on, explore Tokyo and make your Japan travel out of this world.