10 Best Things To Do In Shinjuku, Tokyo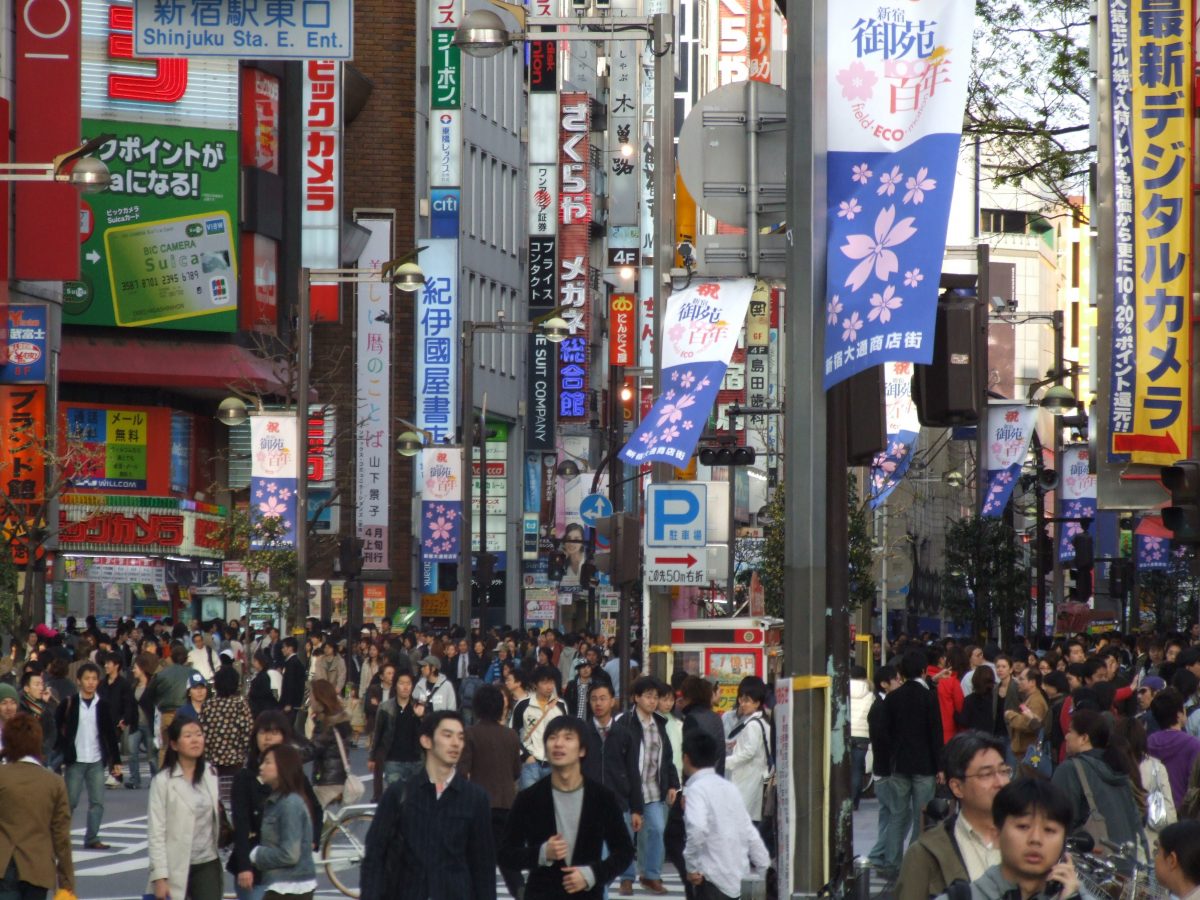 Of all the things to do in Tokyo, Japan, one of the most popular among visitors is a trip to Shinjuku. But you don't want to look up Shinjuku, Japan – it's not a separate town, but rather the name of a wickedly fun district of Tokyo. So, what are the best things to do in Shinjuku? Pretty much everything that you think of when you think of Tokyo – from love hotels to karaoke to shrines, ramen bars, and insanely efficient bathroom experiences.
You'll want to think of the Shinjuku district in Tokyo as East Shinjuku and West Shinjuku. Shinjuku Station is right in the middle of it all. This list of ten things to do in Shinjuku assumes you're arriving in the district via train or metro. First, you'll head to the west side for a couple of sites. Then the rest of your day (and hopefully late into the night) will be on the east side. Let's get started!
1.
Explore The Shinjuku Station
One of the first things to do in Shinjuku happens right when you get there – it's the Shinjuku Station! If you're in Tokyo for any amount of time you'll probably be hitting the station several times. It's a major hub for trains and subways, serving almost four million people every day.
Its exterior looks like a cross between an airport and a shopping mall. But you're not here for the architecture! Take some time to get acquainted with all of the station's offerings – from department stores to restaurants to fast-food joints and more. It's a great place to pick up a snack if you're feeling peckish. Or, you can get some quick shopping done before heading back on the train. Either way, it's a sight to behold – especially during the crush of rush hour.
If you want to visit Shinjuku right off the plane, not to worry. The Narita Express train from the airport also stops at this massive transit hub. The Narita Express is easily the best way to travel to and from the airport – a great travel tip.
2.
Marvel At The City Below From The Tokyo Metropolitan Government Center
Let's start your bucket list of things to do in Shinjuku to the west of Shinjuku Station. Here, you can visit the Tokyo Metropolitan Government Center. This part of the district is full of office buildings and skyscrapers, but these two towers have the view you want. Head to the 45th floor of either building – it's totally free! – and check out a bird's eye view of the entire city of Tokyo.
Generally speaking, you can go to the south tower's observation deck from 9:30 AM to 5:30 PM, and the one in the north tower until 11 PM. They're each closed on specific alternating days of the month, so check which one is open when you're there and you won't go wrong.
3.
Say Hello To The Future At Toto Showroom
Ok, this is one of those things to do in Shinjuku might seem a little bit more off the beaten path than you were expecting. But Shinjuku is all about indulging in your most Japanese obsessions, and let's face it – we've all heard about how futuristic the toilets are here.
Well, you can see what the fuss is all about on the west side of Shinjuku at the Toto showroom. Take a look at all of the heating, cooling, rinsing, and even musical features that these Japanese toilets have to offer. Grab a cup of free coffee or tea and enjoy!
This showroom is not on the ground floor. It's one of those things you have to know about. Head up to the seventh and eighth levels at the address. It's open during regular business hours and is closed on Wednesdays.
4.
Get Lost In Omoide Yokocho – Memory Lane
You know how when a movie shows a kind of strange, dystopian urban future? It's always set in a cramped alley with Asian writing. All of the bars and restaurants look like they are fronts for secret societies. Omoide Yokocho, also known as Memory Lane, is where those production designers got the idea for that look. And it's easily one of the most fun things to do in Shinjuku.
Built shortly after World War II under the tracks on the west side of Shinjuku Station, Omoide Yokocho couldn't be more fascinating if it tried. Get lost in the rabbit warrens of this small neighborhood, and pop into whatever sushi spot or ramen bar gets your stomach rumbling. You won't be disappointed!
5.
Relax At The Shinjuku Gyoen National Garden
Moving on down our list of things to do in Shinjuku, now we venture to the other side of the tracks. On the east side of the district, visit the Shinjuku Gyoen National Garden. Shinjuku Gyoen is a prime spot for cherry tree photos in springtime. But its massive grounds are an oasis of calm, beauty and relaxation in this otherwise chaotic district.
Walk off your lunch, sip some green tea at the Taiwanese tea house, or let the kids run off their energy. There is a fee to enter, as there are a conservatory and manicured gardens within the space. But it's a paltry amount and more than worth it for stealing away from the world for a little while.
This is one of our favorite things to do in Shinjuku – even if we just pop off the subway to go here!
6.
Have A Drink AT Shinjuku Kabukicho – The Sleepless Town
New York may be the city that never sleeps. But Kabukicho, the red-light neighborhood of the Shinjuku district, has the nickname the sleepless town – and for good reason! At any hour of the day or night, you can find about a million ways to satisfy any number of vices. There are gambling rooms, brothels, bars, restaurants, and even love hotels – the kind you check into for a quickie!
It should be noted that this is not the most savory part of Tokyo. And there are nine other things to do in Shinjuku on this list that are probably going to be more up your alley, so to speak. But Kabukicho is a place that needs to be seen to be believed and is one of the top things to do in Shinjuku. Just watch your drink being made, and your wallet at all times. Or perhaps just a stroll through the area would suffice.
7.
Take Futuristic Photos At Robot Restaurant
In the Kabukicho neighborhood is the Robot Restaurant, another thing you have to see to believe. There's no point in lying here – the Robot Restaurant is a tourist trap. It isn't the kind of place you're going to want to while away the hours. That being said, it's safer for foreigners than the rest of Kabukicho.
Robot Restaurant is all about the kind of Japan you see in everything from anime and manga to game shows. It's like if Dance Dance Revolution became a place you could visit instead of an arcade game. Truth be told, it's one of our favorite things to do in Shinjuku whenever people visit Japan, especially for the first time.
Everything is neon, everything is loud, and everything is more fun than you're probably going to want to admit. Come for the chaos of it all, and stay for the performances. Your Instagram followers will think you visited the future!
8.
Check Out The Bars At Shinjuku Golden Gai
In Shinjuku Golden Gai is another area that, much like Memory Lane, looks like it was lifted straight out of Blade Runner. There are literally hundreds of bars in Golden Gai. You're sure to fall in love with at least one of them.
Of all the things to do in Shinjuku, the Golden Gai is perhaps the most evocative. There are tourists here, sure – but there are plenty of locals, too. Everyone's slurping up noodles or clinking glasses or bar-hopping the night away. It's the kind of place where you have a night you can't remember with people you'll never forget.
9.
Take In The Magnificent Beauty of The Hanazono Shrine
Time for a rest again! The Hanazono Shrine is a bit more urban feeling than Shinjuku Gyoen. It has more concrete and not as much of a secluded feel. The Hanazono Shrine is kind of like the Japanese version of the neighborhood church in Italy. It's the main spiritual center of the Shinjuku district. You'll often see businessmen worshipping here, as well as neighborhood residents.
The Edo-era shrine is a real stunner – and even better, it's open 24 hours a day. The large area around the shrine often hosts festivals all year long, and on Sundays, there is a flea market until 4 PM. Make sure not to miss the Tori gates. This is a long tunnel of red poles that is one of the most magical things to do in Shinjuku.
10.
Have Fun At Karaoke-Kan
You might see Karaoke Kans in other places in Tokyo. But you're so deeply immersed in Japanese pop culture already! We couldn't let a list of things to do in Shinjuku end without a visit to the district's location of this premier karaoke chain.
Now, this isn't your local bar's karaoke night. In the traditional style – like in the movie Lost in Translation – you don't perform for a crowd. Instead, you rent a private room, which comes in various sizes from a single to one that holds large groups.
Hopefully, this list will help you fill out your itinerary of things to do in Tokyo, Japan! Make sure you explore as much as you can and also grab some cool Tokyo souvenirs to remember your trip by. But don't miss this vibrant district. Do it all in a day if you must, but a full weekend here is much more fun.