Best Things To Do In Tokyo At Night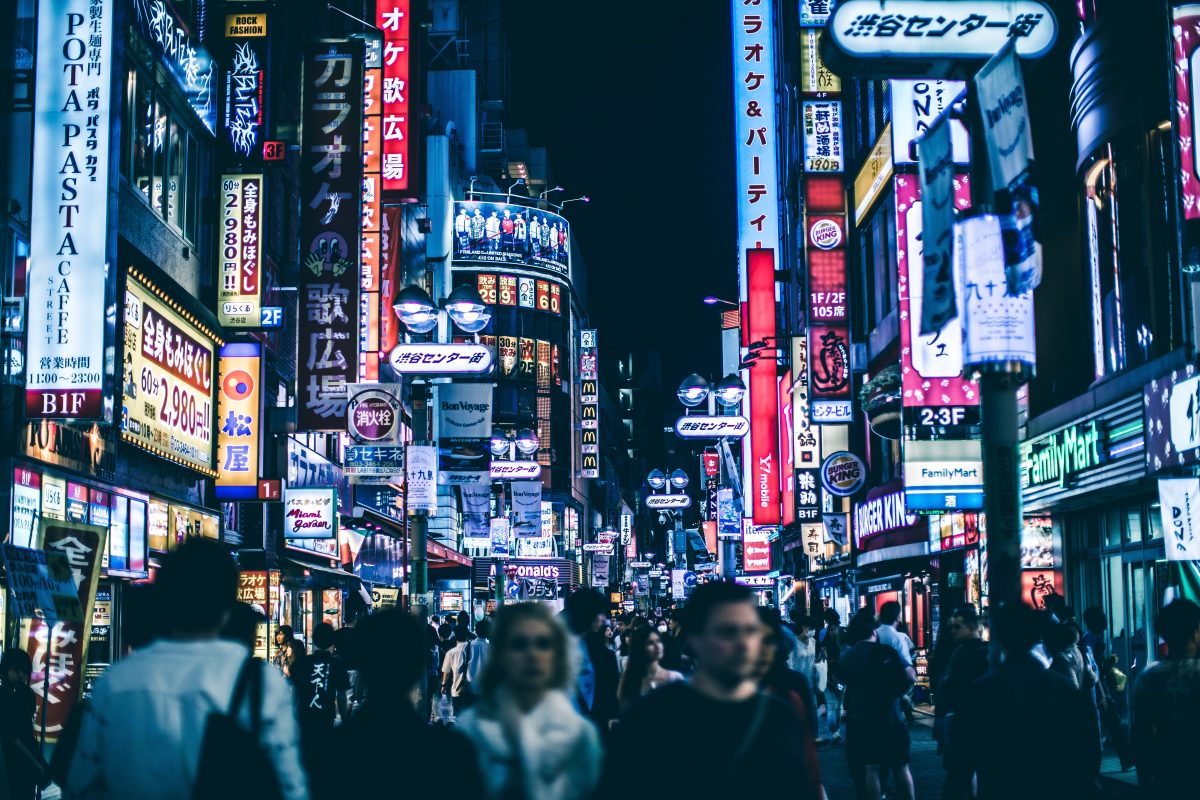 Tokyo is a city unlike any other on the planet. Seething and sprawling, it's a colossal mass of people and concrete, with a population that soars over 38 million in its greater metro area. The neighborhoods and wards here spread out in a patchwork of mystical Shinto shrines and ancient Shogun castles, going from age-old Taito to the electrifying areas of sleek Ebisu and beyond. Daytime reveals some unmissable bucket-list draws, whether that's the grand Imperial Palace and its cherry-blossom gardens or the revered green spaces of the Meiji Shrine. However, Tokyo skyline at night is a whole different beast.
A neon haze issues from the billboards of Shibuya. Gritty beer bars spill into the alleys of Shinjuku. Slick business folk clink sake bowls over steaming ramen holes of Ginza. Yep, when the sun dips and Tokyo turns dark, you can look forward to hedonistic Bopper dives, soy-scented sushi bars, vibrant noodle courts, and a whole load more.
This guide focuses specifically on the nocturnal draws of the Japanese capital. It hops between the most happening areas for Tokyo nightlife and other post-sunset hotspots, helping you put together that an amazing itinerary for seeing Tokyo at night.
1.
Take in the bright lights of Tokyo at night from the Roppongi Hills Mori Tower
There's no question about it – Tokyo at night looks stunning. It's a sea of bright lights, neon-flicking adverts, and traffic-clogged lanes that spreads right to the horizon. And just like in the daytime, getting a good vantage point can make all the difference. Cue the Roppongi Hills Mori Tower, which soars 238 meters above the ground. On its 52nd and 53rd floors are acclaimed observation points. Known as Tokyo City View, they open onto 360-degree panoramas of the Japanese capital.
You can check the dedicated website ahead of your visit to time your arrival for sunset. That's when the haze of the evening descends on the metropolis. The forest of skyscrapers that surrounds the building glows red, yellow, and orange as the light fades. And you can see all the way out to Shibuya, Minato City, and the green spaces of the Imperial Palace in the distance.
Regular special events also take place on the high-perched platforms of the Roppongi Hills Mori Tower. There are stargazing evenings for most months. There are telescope workshops. And you can even dip into the Mori Art Museum. That occupies the 53rd floor of the tower, offering collections of cutting-edge modern art, Japanese ceramics, and thought-provoking photography.
2.
Go partying in the Golden Gai
As night falls on the Shinjuku ward of Tokyo, something begins to pulse in a few alleys just east of Shinjuku Station. Under the gaze of the gabled roofs of the Hanazono Shrine, the so-called Golden Gai comes to life. It's a gritty mix of shanty bars, beer halls, and rock clubs. The whole lot is wedged into a claustrophobic maze of narrow lanes that run parallel to each other. From twilight onwards, crowds gather in the alcoves, chatting, guzzling drinks, and wallowing in the heady atmosphere.
Don't expect large-scale drinking holes with plenty of seating. On the contrary, this fizzing quarter of Tokyo at night is a place to delve into the shadows. It's a place to find your spot at a busy bar. It's a place to make friends with the locals. In fact, many of the establishments found in Shinjuku's Golden Gai started out as locals-only spots. These days, the popularity of the area on the Tokyo nightlife scene means most open their doors to strangers, too.
Some of the most enticing options that travel guides will mention include haunting Zucca. That's strewn with ghostly images and Halloween paraphernalia. (It's enough to leave you thinking it's the 31st of October all over again!) And you won't want to miss Blue Square, a curious mishmash of pub and S&M fan club set on a second story.
3.
See the Sensoji Temple at night
Most people visiting the Japanese capital will swing by the amazing Sensoji Temple when the sun's a-shining. However, if you're keen to dodge the crowds and love the moody atmosphere that Tokyo at night brings to the mix, heading here after dark is an option. In fact, the complex is open 24 hours a day. You're free to wander its serene lanes and tree-lined paths whatever the hour. From sunset until 11 pm, the gardens are also illuminated by traditional lanterns and fairy lights, lending an ethereal air to the already-ethereal shrine.
During the daytime, the surrounding lanes of Nakamise-Dori pulse with souvenir vendors. They close up for the evening, though, leaving atmospheric rows of shuttered shops. Many have interesting artworks strewn across their doors. Some display murals depicting the yearly cherry blossom and various religious rituals.
4.
Shop till you drop at Don Quijote Shibuya
MEGA Don Quijote Shibuya takes the meaning of megamarket to all new and dizzying heights. Open 24 hours a day, seven days a week, it's always beating with action. People watchers will love it for the sheer variation in characters that pass through its doors on late-night shopping sprees. Retail buffs will love it for the menagerie of weird and wonderful items that are stacked high, spill from the shelves, and dangle overhead. In short, this is a heady overload of selling and buying that really comes into its own after sunset.
To find Don Quijote Shibuya, cross the bustling Shibuya Crossing (more on that one later) and make towards the huge 109 building. It's hard to miss the bright lights, signage, and crowds at the megastore as it spills on to the street.
Don't miss the hidden sushi bars in Tokyo at night
5.
Don't miss the hidden sushi bars in Tokyo at night
It's possible to enjoy the salty-fresh flavors of Japanese cuisine at any time of the day. However, Tokyo at night is high time to dine like a local. Believe it or not, that's when all the top-rated sushi bars are in action. They serve up all sorts of curious concoctions of seafood, veg, rice, and seaweed (nori). Some are downright luxurious, with Michelin stars and fine-dining ratings. Others are down-to-earth affairs that feel more like you've dropped into a local's kitchen for some chow.
You could start your search for amazing sushi bars in the area of Ginza. This is a sleek and stylish corner of the capital. And it's a veritable must-see part of the city for anyone exploring Tokyo at night. As far as grub goes, you won't want to miss Haneda Ichiba Ginza 7. The restaurant has made its name on offering uber-fresh fish cuts, flown in from all corners of the Japanese archipelago. (Oh, and there's unlimited sake options for just a little extra on the bill!).
The uber-famous Sugita is another iconic seafood spot. It's infamously hard to get a table at, so you'll need to book early. What's more, it's reserved for lovers of Haute food. That means the cost of platters here can be much higher than in local joints. However, paying extra means enjoying one-star Michelin service from world-famous chefs, along with cutting-edge sashimi dishes that have the rarest fish of all.
6.
Bathe in a Japanese onsen
Whoever said Tokyo at night had to be stressful? Not a chance in a traditional onsen spa. These are Japan's answer to Morocco's hammams or Finland's pine saunas. For centuries they've harnessed the soothing power of the country's natural hot springs. Water is pumped up from deep below the city into various pools and spa areas. The result is a collection of bathing houses and splash spots where you can unwind and relax after a long day's sightseeing through bustling Shibuya, Ginza, and Shinjuku.
These days, there are several onsens within reach of downtown Tokyo. They come in all shapes and sizes. Some mimic the classic look of mountain spa resorts from the Shogun period. Others are slick, modern affairs. Opening hours are often from late morning until early morning the day after, which means much of the chilling in these establishments is done during the twilight hours. What's more, options like the Bade and Natural Onsen and others have no-kids policies. They are perfect if you're looking for something romantic to share with your travel partner in Tokyo at night.
7.
See the Tokyo Sky Tree
You really can't miss the Tokyo Skytree. And that's not only because it's a bucket-list draw of the capital. It's also because it's massive. Yep, this is the second-highest structure on the planet and the tallest structure in Japan. It soars a mind-boggling 634 meters above the metropolis, sprouting from the modern streets of Sumida City on the east side of the city. At night, it is glazed in hues of blue, green and red. That's also when its upper observation platform really comes into its own. For nocturnal types, it rises 1,480 feet up, beckoning with unforgettable views of the town, its people-filled districts, and mountain surroundings.
8.
Join the partying crowds in Shibuya
No exploration of Tokyo at night could possibly be complete without straying through the buzzing lanes of Shibuya. This area of the capital is one of the most photographed of all. It gleams with bright lights. It's topped with lanky skyscrapers. And its sidewalks are a steady stream of thousands of people, all moving between bars, boutiques, and ramen holes.
Top of the bill for most travelers will be the iconic Shibuya Crossing. It's said to be the busiest single pedestrian interchange on the planet. You can find it just outside the Shibuya station, often bursting with big crowds of walkers who all wait patiently for the lights to change. You can take your place in the line-up. Or you can simply watch as seas of humans move this way and that across the road.
Beyond that nerve center of Shibuya is a maze of little alleys and streets. They pulse with Tokyo nightlife. From raucous karaoke bars to bopping pop clubs that rock to cheesy 90s hits, there's all sorts to get through. A great place to begin is the drinking hub of Nonbei Yokocho. It's similar to the Golden Gai area of Shinjuku, being laced with emotive beer taverns illuminated by swinging paper lights.
9.
Try your hand in the Tokyo arcades
The Tokyo arcades are a quintessential part of Tokyo at night. In a country that's nothing short of mad for computer gaming, they never sleep and are always busy, right up until their closing time (that can sometimes be as late as midnight!). Most are set over several stories in huge complexes. They come complete with all sorts of twinkling gaming machines, picture booths, VR portals, pinball stations – you name it.
If you're ready to try your hand at the joystick, think about dropping by one of the many locations of Club Sega. They are in Meguro and Ikebukuro, but the most popular is in lively Shinjuku. Classic Sega titles are the name of the game inside, and you can get the real vintage Tokyo arcade experience. Other retro gaming is on offer in Mikado, where regular e-sports tournaments also take place.
10.
Stay in a traditional ryokan
For culture-hungry travelers, seeing Tokyo at night is an opportunity to stay in a traditional ryokan. These are centuries-old Japanese inns. Some of the very oldest can trace their history back 1,000s of years! All will follow Japan's strict hospitality etiquette, promising an accommodation experience you're not likely to forget in a hurry.
Don't expect to find Hilton-style amenities and mod cons, though. Instead, ryokans are housed in age-old buildings that often evoke the feel of an alpine chalet. They make use of natural materials like rough wood, pine, and real stone. They have interiors with austere timber floors and papered wall dividers. Beds tend to be classic Japanese futons, while rooms are minimalist and designed in line with the principles of feng shui.
The cost of a night in a ryokan can vary greatly. Simple homestay ryokans like award-winning Sawanoya can cost around $60/night. However, there are luxurious ryokans that can whisk you away from the pulsing Tokyo nightlife to a place of calm and serenity in the midst of the big city. They might bear the names of famous architects, contain intriguing pieces of calligraphy art, or have sumptuous evening menus of Haute sashimi. Expect to pay upwards of $150 USD/night or more for those.
Takeaways
Who says you need to stay in the hotel during the night and wait for the bright daylight to explore Tokyo? Our guide proves that nightlife in Tokyo is equally great for exploration! Have you visited any of these attractions during the night? Let us know your thoughts and we're happy to hear from you. Before you leave, check out our Tokyo travel guide to make the best out of your trip.