Skiing in France: What You Need to Know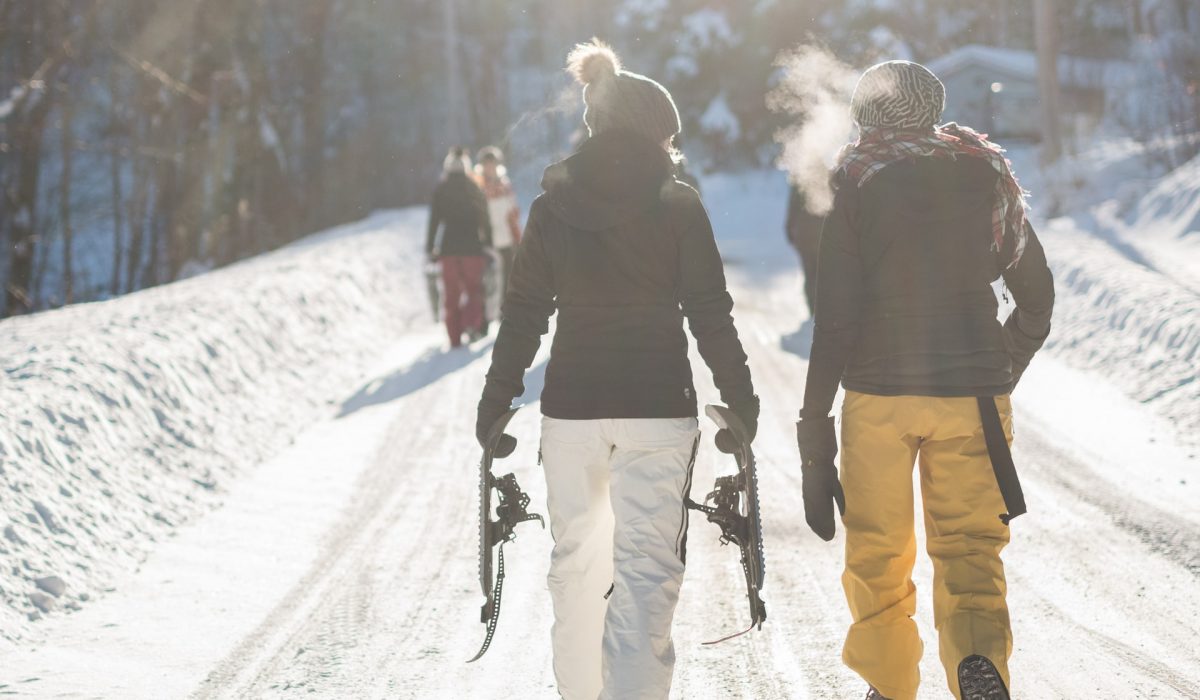 In 2019, France was named by the U.S. National Travel and Tourism Office as one of the top countries that most Americans visited. Whether it's to experience the incredible Parisian fashion scene, marvel at preserved historical sites, or get a glimpse of the majestic French Alps, a trip to France is on top of most travelers' bucket list adventures. With its year-round snow-capped mountains and white trails, it's no secret why the French Alps is part of the must-visit places in France. The French Alps allows a lot of tourists to choose from a wide range of activities, such as taking a scenic view through a cable car, waking up with a view from a luxurious chalet, and engaging in outdoor activities such as paragliding, hiking, and, of course, skiing in France.
Although the Northern French Alps almost gives you a whole year of white winter tale, make sure to book your flights between mid-December and April if you want to go skiing in France. Also, don't forget to prepare your best ski goggles for a thrilling French Alps experience.
But before we go into details of everything you need to know about skiing in France, let's get a general overview of the French Alps. This will help you plan on which part of the alps would you like to stay for your vacation.
Northern French Alps
Located on the border of Germany and Switzerland, the Northern French Alps is divided into three regions: Haute-Savoie, Savoie, and Isère (Dauphiné). Here you will find four big valleys and numerous megacities. From natural wonders and well-preserved historic sites to renowned ski resorts, the Northern French Alps is ready to satisfy the wanderlust in you.
One of the sought-after locations in the alps is France's tallest mountain, Mont Blanc. It boasts a colossal height of 4,808 meters above the sea level, which allows tourists to see it in many ways. But to get a better picturesque view of Mont Blanc, you can take the French Alp's oldest tourist railway built in 1924, the Funicular of St. Hilaire Du Touvet.
Then, you can also see Fort Barraux, a bastion-architecture fortress by Engineer Ercole Negro for Duke Charles Emmanuel I of Savoy, or learn about the edgy history of knives at Opinel Museum. But most of all, don't forget to try skiing in any of the renowned ski resorts to complete your French Alps experience!
Skiing Resorts in Northern French Alps
1. Megève Ski Resort
Address: 220 Route du Téléphérique, Megève, France
Price: starts at EUR229 or US$268 per adult for a six-day Evasion Mont Blanc pass
Megève is a charming village in the Haute-Savoie region. It is particularly well-known for its high-society ski resort built in the early 20th century. Today, although it's still the go-to place of the rich and famous as well as most locals, Megève Ski Resort also became accessible to people who are looking for less crowded skiing in France. Moreover, the slopes are also low based on the French standards that suit all levels of skiers. You can get the Evasion Mont Blanc pass to access eight different ski areas in Megève.
2. Les Grands Montets Ski Area
Address: 65 Chemin de la Glacière, Argentière, Chamonix, France
Price: starts at EUR45.60 or US$54 per adult for a one-day Chamonix LePass pass
Chamonix has a vast ski area that beginners to advanced skiers can enjoy. But the most popular one is Les Grands Montets Ski Area, which is also the largest ski area in Chamonix valley. With an expansive size that stretches out to over 1.8 hectares, it allows everyone to learn or master skiing in France. Avail the Chamonix LePass pass to access the beginners' skiing zones and other main areas in the valley, such as the Brévent-Flégère area, Grands Montets area (except the summit), and the Balme-Le Tour-Vallorcine area.
3. La Clusaz-Manigod
Address: 161 place de l'église, La Clusaz, France
Price: starts at EUR615 or US$722 per adult for a one-day the Clusaz seasonal pass
La Clusaz is a small and idyllic village that connects to five mountains. At La Clusaz-Manigod, you will be able to test your prowess with their nursery slopes and ungroomed terrains that will surely make your skiing in France a thrilling one. Aside from these, La Clusaz entices intrepid skiers and history buffs because they don't only have one of the biggest vertical drops in France but they also have operating Telemix lift, which is the first in the world. Make sure to get the Clusaz seasonal pass or annual pass to enjoy perks, such as a three-day pass to 74 resorts, entrance to the Aquatic area, the hamlet of the Alps, and Ice rink, 10 summer toboggan rides offered, and more!
4. Tignes-Val d'Isère or Espace Killy
Address: Maison de, Tignes, France
Price: starts at EUR62 or US$73 per adult for a one-day Tignes-Val d'Isère Ski Pass
Espace Killy or now called the Tignes-Val d'Isère is a ski resort joining the two valleys Tignes and Val d'Isère, making it the third-largest ski resort in France. It gets a considerable amount of snow every year, perhaps making it also the preferred ski place of most British. With the Tignes-Val d'Isère Ski Pass, you will be able to traverse in this vast ski area and enjoy different stimulating piste and off-piste locations. You can also choose different packages, such as a family pass or membership pass that will give you perks and discounts.
5. La Plagne Ski Resort
Address: 73210 La Plagne, France
Price: EUR30 or US$35 per adult for a one-day Cool Ski pass
Located a stone's throw away from the Vanoise National Park, you will find a multitude of traditional villages as well as ski resorts, including La Plagne Ski Resort. If it's your first time skiing in France, or you've been idle for a long time that you want to regain your skiing prowess, you can take the Cool Ski pass. However, if you are an intermediate skier who wants to explore La Plagne's 240-kilometer runs, you can take the La Plagne Pass. But if you are really looking for the most exhilarating skiing experience, get the Paradiski Pass. This pass will allow you to ski 425-kilometer runs crossing La Plagne, Les Arcs, and Peisey-Vallandry. Make sure to also take the Vanoise Express or the VertiGO Experience to get a panoramic view of the Les Arcs and La Plagne from the world's biggest cable car.
Southern French Alps
Nestled on the border of lower Switzerland and Italy, the Southern French Alps has more diverse weather. It experiences more than 300 days of sun in a year, which is twice of the Northern French Alps. In general, the climate in the Southern French Alps is a mix of alpine and Mediterranean climate zones. During summer, the weather can go up to 35°C, but it still feels colder because of the alpine winds.
Here you can spend much of your days strolling around the city marveling at the extensive religious history of Avignon. Perhaps, you would also like to sunbathe on the shores of Nice or relax in the beautiful town of Pézenas. There is so much to do under the sun in the Southern French Alps besides skiing.
But when winter comes, the Southern French Alps is still a go-to place for exciting skiing in France. You can choose from any of its six regions such as Alpes-de-Haute-Provence, Hautes-Alpes, Alpes-Maritimes, Drôme, Var, and Vaucluse. Moreover, although only a number of its mountains reach the 4,000-meter peak. Compared to the Northern French Alps, they have higher overall altitude.
Skiing Resorts in Southern French Alps
1. Serre Chevalier Vallée
Address: Le, Route de Pré-Long, 05240 La Salle-les-Alpes, France
Price: starts at EUR26.20 or US$31 per adult for a one-day Serre Chevalier Vallée Early Season Pass
One of Europe's largest ski areas, Serre Chevalier Vallée expands up to 4,910 hectares with 410 hectares of it being marked runs, which you will surely enjoy regardless of your level of skiing expertise. Also, an outspread of the ski area is covered by a profuse snowmaking system that guarantees you an all-out incredible experience of skiing in France. If you are not yet sure what you should do in a ski area, there is also a Snow Park and CoolZone that has ramps and courses that you can use for freestyle skiing. Whether you are a beginner or an expert, there is a zone for you. Make sure to get the Tribu package if you're coming with another adult and two children to save almost EUR50.
2. Saint-Véran Ski Resort
Address: Régie Syndicale des Stations du Queyras, Maison du Tourisme, FR-05350 Molines en Queyras
Price: starts at EUR31.30 or US$37 per adult for a one-day high season pass
The highest village in Europe, Saint-Véran is located at Queyras Regional Nature Park with an altitude of 2,042 meters. It displays a unique scenery with a well-preserved rural area that seemed to have defied the time. In Saint-Véran Ski Resort, you will be able to explore a vast 33 kilometer of a ski area that can be reached by 16 ski lifts.
3. Crevoux Ski Resort
Address: 05200 Crévoux, France
Price: starts at EUR23.20 or US$27 per adult for a one-day ski pass
Lodged at the Parpaillon massif, you will find the perfectly manicured Crevoux Ski Resort. Since it is located at a high altitude and receives a reliable amount of warm exposure, it is set apart for having a 100% natural snow. Similar to other ski resorts, it also has various slopes and ski lifts that will entice family travelers of different ski levels. On top of that, they also have a Snow Garden where little ones can be introduced to the joy of skiing. Make sure to avail their Season Pass to get more of your skiing in France!
4. Isola 2000 Ski Resort
Address: 06420 Isola, France
Price: starts at EUR35 or US$41 per adult for a one-day Isola 2000 Pass
Isola 2000 Ski Resort is one of the modern resorts located in one of the valleys in Alpes Maritimes. It has 20 lifts that can take you to any of its 45 pistes suitable for any level. Also, you can visit Tony's Snowland Snowpark wherein you can use many tracks to assess the level of your ski expertise. Isola 2000 is known for its accessibility for everyone, regardless if you're a beginner or an expert. But they upped the game by providing the Handiski, which allows handicapped skiers to also enjoy skiing in France. Either you want to stay with a guardian through a tandem ski wheelchair, or you want to learn independently with a specialized instructor, Isola 2000 is ready to help you feel the stirring action of skiing in France. You can learn more about this through the Handiski website.
Address: Cours Fontanarosa, 05560 Vars France
Price: starts at EUR35.30 or US$41 per adult for a one-day Special Offer Ski Pass
La Forêt Blanche Ski Area, also called the Vars-Risoul Ski area, is an expansive ski area that is made up of the linking slopes of Vars and Risoul valleys. In this ski area, you can explore its 185 kilometer long pistes through the various types of 103 lifts and one gondola. Moreover, it receives a considerable amount of snow and warm exposure, which gives more time for skiers to enjoy the snow before they turn to water. Once you are done enjoying the pistes, you can also just take the moment to appreciate the panoramic view of different mountain ranges, such as the scenic Alpes Maritimes to Haute-Savoie and the Mont Viso to Mont-Blanc. Whether you book from Vars or Risoul, one thing is for sure, a one-day ski pass will not be enough to satisfy your adventurous spirit while skiing in France.
The Dos and Don'ts of Skiing in France
1. Do wear sunscreen, but don't put on a moisturizer.
Even though you are going to wear a helmet, it's still important to put on sunscreen to protect yourselves from UV Rays. Since you will be at a high altitude, you can get more direct exposure to these harmful UV Rays. However, even though we know how you would want to keep your skin hydrated in the alpine climate, skip the moisturizer to avoid getting frostbites. Moisturizers can freeze your skin in the frigid weather, while with too much wind, you can also get frostbites.
2. Do test your fears, but don't forget your travel insurance.
Before you think about getting travel insurance as an additional expense, think about insurance as a means of safeguarding your present. The idea of skiing itself can already put your life in the line. Whether you're just starting or already an expert, accidents are called accidents because they're unexpected. If nothing bad happens to you, don't think that you wasted money on your insurance. You were just smart enough to anticipate that in case something bad happens to you, you will not spend an exorbitant amount outside your vacation budget. Also, make sure to check the scope of your travel insurance if it includes winter sports and off-piste skiing.
3. Do buy quality ski boots, but don't forget to break them in.
Ski boots are going to play a huge part in your skiing in France or anywhere in the world. So, you have to make sure that they perfectly fit you and they're comfortable. Avoid buying ski boots online that you haven't tried in person. Even though it's most likely included in the description of how they are made, their materials, and other important information. It still won't guarantee that they will work for you. Also, buy your ski boots at least two weeks before your trip since most of the ski boots take almost 10 days to break in. So, to maximize your ski trip, make sure that your ski boots are no longer stiff and ready to take the action.
4. Do distance yourself from others, but don't lower your guards.
The pistes are a vast area that will give you your own space when skiing. However, you have to consider skiing like driving a car. While you are careful not to bump into other cars, you should also be alert in the case that other cars would bump into yours. So in skiing, make sure that you give ample distance with other skiers, and always anticipate that you would bump into them so you have to be extra alert. Avoid suddenly stopping in the middle and slowing down when you are still unsure of the area. There might be uneven terrains covered with snow as well as icy patches. Also, be mindful of the on-ground rules because these may differ per ski area.
Final Notes
Apart from taking an iconic photo at the Eiffel Tower and savoring their national comfort food, Pot-au-Feu, skiing in France is also one of the reasons why people visit this stunning country. Whether you are a solo vacationer or you're coming with your family or friends, there are many ski areas in the French alps where you can learn or master skiing.
Also, there are lifts, cable cars, or free buses that will take you from the city to the ski resort and vice versa. This can also be an opportunity for you to also get a glimpse of the rural scene in France. Make sure to book a chalet, dine in restaurants, as well as visit tourist spots to complete your itinerary.