25 Best Day Trips from Tokyo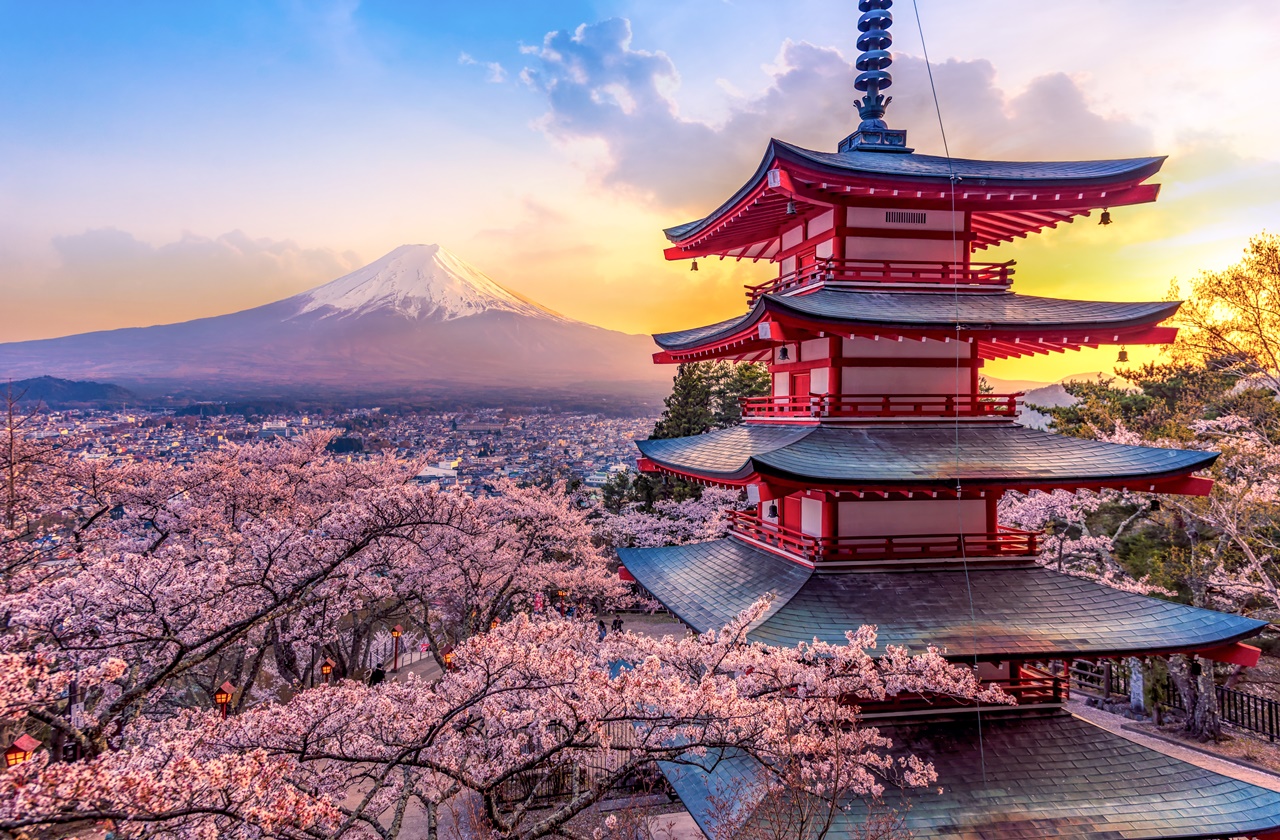 For tourists coming to Japan, Tokyo definitely tops the list of cities to visit. It is Japan's capital and the political and economic center of the country, home of the Emperor of Japan. As a tourist destination, Tokyo offers anything and everything you need to know about Japan: its cuisine, fashion, and the eclectic Tokyo districts that give the capital its charm. But outside the towering skyscrapers and busy streets, there are other popular day trips from Tokyo that are perfect for a quick getaway.
What makes day trips from Tokyo better and more convenient is its efficient Shinkansen (bullet train) and bus lines, making it conveniet for anyone to take one-day or half-day trips. On the other hand, tourists who want to avoid the stress of planning their own itineraries can join organized tours. These tours include transportation fees, entrance to tourist attractions, guided commentary, and meals.
With both private and DIY tours available, get a chance to explore the beautiful cities near Tokyo!
Best Day Trips from Tokyo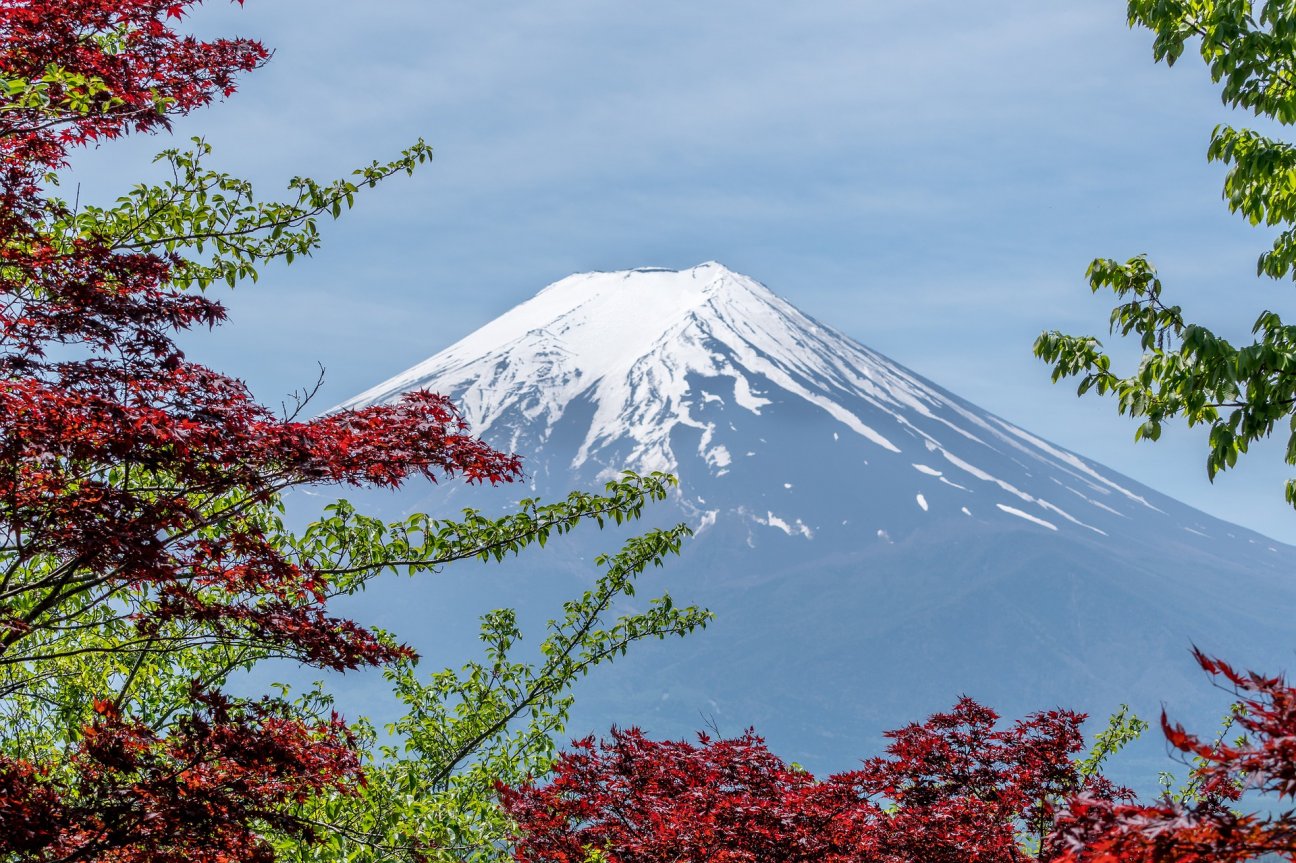 Photo by oadtz on Pixabay
1. Mount Fuji
A timeless icon of the country, seeing the majestic Mount Fuji is a must on your trip from Japan! Although you can see Mount Fuji's silhouette from certain vantage points, it's best to see the mountain up close. For those looking for an adventure, it's even better to climb it. The trip from Tokyo to the mountain takes only about 2 hours and 30 minutes if you're coming from Shinjuku or a 4-hour train and bus ride from Tokyo Station. Additionally, a side trip to its five lakes is also a must if you want to make the most out of your Mount Fuji visit.
2. Nikkō
For postcard-perfect temples and breathtaking scenery, Nikkō is one of the day trips from Japan one shouldn't miss. It is 2 hours and 30 minutes away from Tokyo via the train and less than 2 hours from Asakusa. This city in the Tochigi Prefecture is home to the famous Nikkō Tōshō-gū, a Shinto shrine dedicated to Tokugawa Ieyasu, one of the Great Unifiers of the country. Nikkō is also most beautiful during fall when the colorful foliage highlights the shrines, temples, and the natural beauty of the mountains.
3. Tokyo Disney Resort
For families with children, or the children at heart, a trip to Disneyland is one of the best day trips from Tokyo. It is only less than an hour away from Tokyo and provides a day's worth of fun and entertainment for visitors of all ages. Get a chance to meet Mickey Mouse and princesses like Cinderella and Sleeping Beauty and soak up the jovial atmosphere. The Tokyo Disney Resort complex includes the iconic Tokyo Disneyland and Tokyo DisneySea, a marine-themed amusement park. Because of the vastness of the resort, it's best to spend the whole day at Disneyland.
4. Yokohama
Yokohama is the second-largest city in Japan, home to more than 3 million residents. It is also one of the most popular day trips from Tokyo with only less than an hour of travel time. The laid-back city offers the country's largest Chinatown, a thriving art scene, and quirky museums dedicated to cup noodles and ramen, one of the most popular Japanese dishes. During the much-anticipated hanami season, Negishi Forest Park and the Sankeien Garden are popular among tourists and locals. At night, its waterfront district, Minatomirai, is the perfect place to cap off your day tour.
5. Kamakura
Kamakura is another great destination from Tokyo for travelers who want to steer away from crowded metropolitan cities. This seaside town is famous for its temples and shrines, also called the "Kyoto of the East" because of this. Its main star is the Giant Buddha at Kotokuin Temple, an 11.4-meter tall statue that watches over its visitors. Hasedera Temple is also a famous tourist hotspot for its ocean views and blooming hydrangeas. But aside from the giant Buddha and places of worship, Kamakura also has plenty of teahouses and well-marked hiking trails.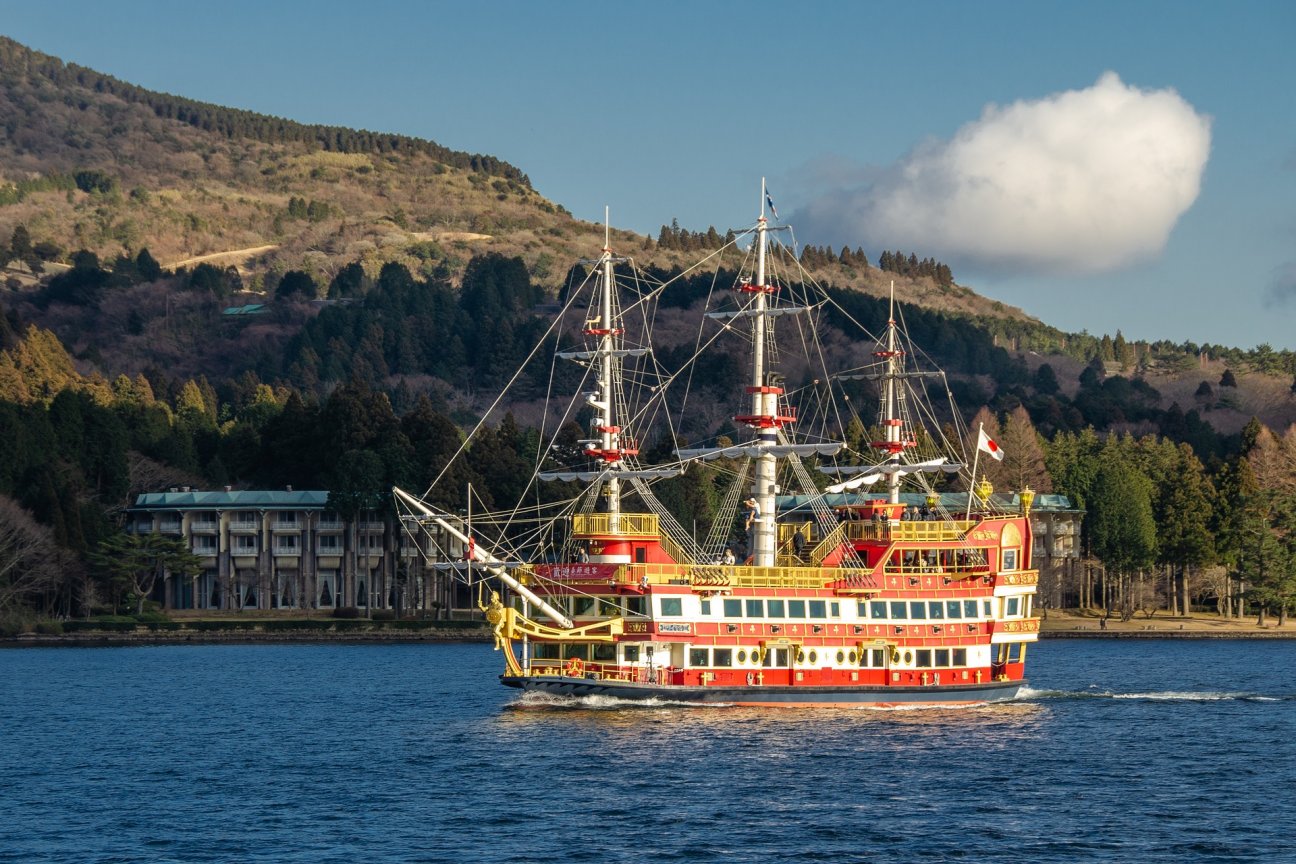 Photo by pen_ash on Pixabay
6. Hakone
A trip to Japan is incomplete without visiting its hot springs, and Hakone is one of the perfect day trips from Tokyo for those who want to experience this. Located less than 2 hours from Tokyo via train, Hakone boasts picturesque hiking trails, volcanic valleys, and the best hot springs. For a day trip in Hakone, don't forget to visit the Hakone Open Air Museum, cruise along Lake Ashi, and take a dip at its hot springs. If you're lucky, you may get a chance to see Mount Fuji peeking from the clouds!
7. Nagoya
Between Tokyo and Kyoto is Nagoya, Japan's fourth-largest city. It is most famous for Nagoya Castle, one of the most beautiful castles in Japan, and Legoland Resort, a modern, Lego-themed amusement park. Other highlights in the city include Osu Shopping District for souvenir shopping and food tours, Meijo Park for a quick afternoon break, and Atsuta Jingu for a tranquil escape from the city. Nagoya is only 1 hour and 30 minutes away from Tokyo by train and is a good stopover for tourists heading to Kyoto from Tokyo or vice versa.
8. Chichibu
Chichibu is one of the best day trips from Tokyo for travelers visiting during spring. At the Shibazakura Festival, the fields of Chichibu transform into different hues of pink due to the pink moss and moss phlox around the area. On the other hand, visitors in winter shouldn't miss the Chichibu Night Festival, an annual event that highlights the city's beautiful floats and palanquins. Chichibu is also famous for its parks and temples as it is the start and endpoint of the Chichibu Kannon pilgrimage route, a route that takes you through 34 Buddhist temples.
9. Kawasaki
Although smaller than Yokohama, Kawasaki is also a city in the Kanagawa Prefecture worth visiting. Adrenaline junkies will love the rides and rollercoasters of Yomiuriland, an amusement park situated on a hillside. The Daishi Temple, the Kawasaki Municipal Japanese Folk House Garden, and the Doraemon Museum are also some of the city's highlights. Additionally, Kawasaki hosts one of the more unique festivals in Japan, that honors the male reproductive organ, the Kanamara Festival.
10. Nagano
For the best day trips from Tokyo during winter, Nagano is the best city to visit. Its altitude of 371.4 meters makes it the perfect winter destination. Aside from its famous slopes and snow monkeys, Nagano also has several historical sites, including former samurai residences and battlefields. On your day trip, stop by the Zenkō-ji to learn more about the history of Buddhism in the country, chase the waterfalls of Karuizawa, and see the snow monkeys at the Jigokudani hot springs. Travel time from Tokyo to Nagano may take 3 hours, but it's definitely worth the visit.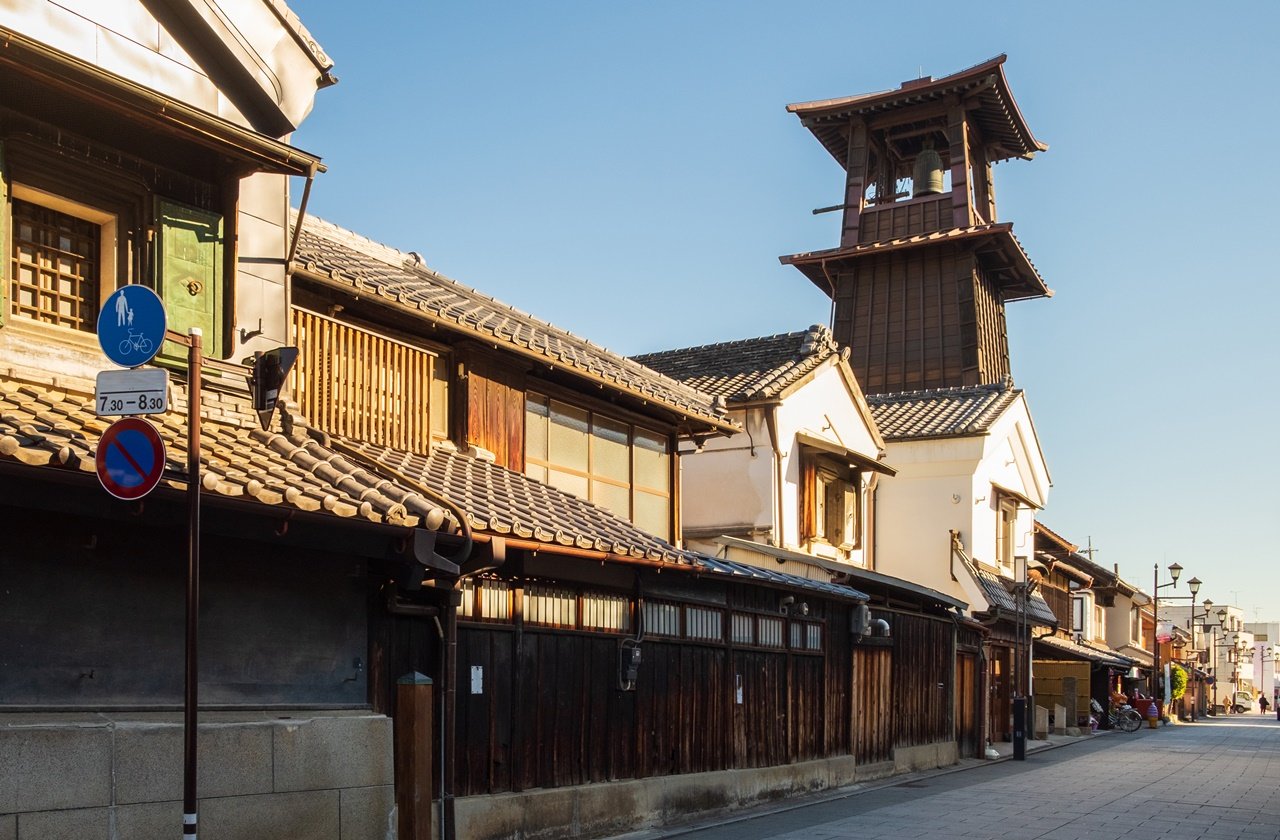 Photo by smk88 on Adobe Stock
11. Kawagoe
Step back in time and head to Kawagoe, also known as Little Edo because of its well-preserved buildings. A 30-minute train ride away from Tokyo, Kawagoe is the perfect destination for travelers who want to see Japan's old-world charm without going all the way to Kyoto. Along Kurazukuri Street, marvel at hundreds of warehouse buildings, notable for their clay walls and tiles. For those with a sweet tooth, take your time at the stalls along Candy Alley and discover the many local treats! On select days, you may get to see both locals and tourists donning dainty kimonos as special discounts are given to those wearing Japan's traditional clothing.
12. Odawara
While most people head to Himeji for its stunning white castle, Odawara in Kanagawa Prefecture also has a smaller, yet beautiful castle of its own. Odawara is the perfect combination of food, culture, and wonderful sights. Join a guided tour of Odawara Castle and see its artifacts and treasures. Enjoy a fresh serving of fish and donburi (rice bowl) at Odawara Fish Market Den or try making kamaboko (fish cakes) in a cooking class. In February and March, watch folk dances and horseback archery contests at the Odawara Plum Festival. Because of its proximity to Hakone, combining these two cities is easily one of the best day trips from Tokyo.
13. Chiba
One of the nearest day trips from Tokyo, Chiba offers both modern and traditional wonders. This is also the best destination for museum lovers as the city boasts several museums, each showcasing different forms and styles of art. The pristine Chiba Castle actually houses the city's folk museum while you can find dozens of Realism paintings and artworks at Hoki Museum. But aside from its museums, one shouldn't miss the hanami season in Chiba and witness this beautiful spring custom. For families with kids, get a chance to see red pandas, giraffes, and other animals at the Chiba Zoological Park.
14. Utsunomiya
Utsunomiya is the capital city of Japan's Tochigi Prefecture most famous for its gyoza, pan-fried dumplings. In the city, you can find more than 200 restaurants selling gyoza, each with its own take on the local favorite. Food and beverage enthusiasts can also enjoy the rows of dining bars at Utsunomiya Yatai Yokocho and enjoy a friendly chit-chat with the locals over a glass of beer. In terms of sightseeing, Utsunomiya also has temples and shrines worthy of a sightseeing tour. Learn about its history at the Oya History Museum and see the fascinating bas-relief carvings of the Tenkaisan Ōya Temple.
15. Hitachi Seaside Park
Be in awe of the colorful fields of Hitachi Seaside Park in the city of Hitachinaka. For photographers and travelers looking for their next Instagram post, the park provides dozens of photo spots. From April to May, don't miss the pastel blue Nemophila flowers blanketing the fields. In summer, sunflowers, poppies, and zinnias dominate the field. Meanwhile, Hitachi Seaside Park turns into an ethereal garden filled with scarlet red Kochia. Lastly, ice tulips are the highlight of the park in winter. There is also a giant Ferris wheel and several picnic spots to relax at and soak up the fresh seaside air.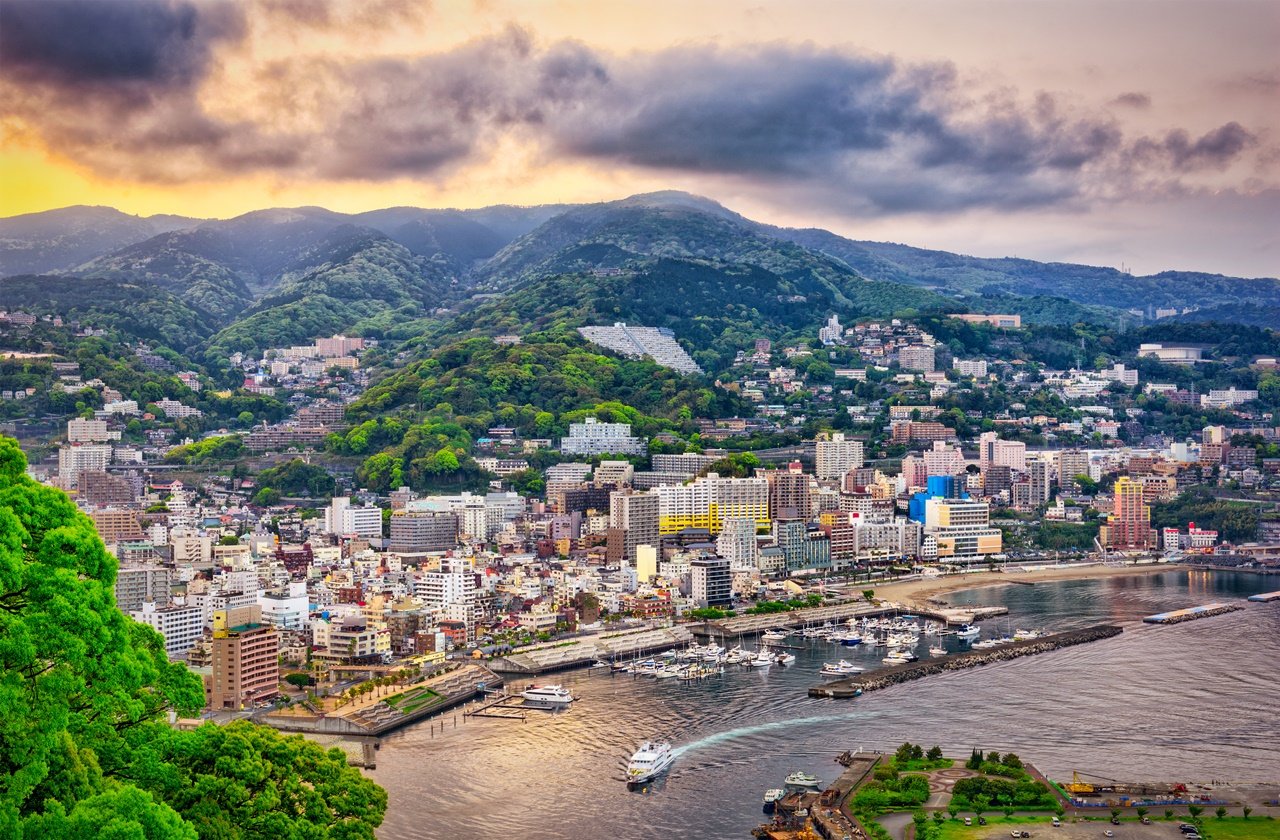 Photo by SeanPavonePhoto on Adobe Stock
16. Atami
The city of Atami is one of the day trips from Tokyo that offers picturesque views of Mount Fuji. Its Atami Castle is also a popular yet low-key cherry blossom viewing spot. The small seaside town is also famous for its hot springs, although not as well known as other towns. There are hundreds of natural and man-made baths where you can take a dip and relax, however, take note that not all Atami onsen allow guests with tattoos. On another note, Atami also has a variety of museums to keep its visitors entertained! Drop by the Museum of Art to see a wide collection of East Asian art while the Atami Adult Museum contains more mature artworks and exhibits.
17. Kusatsu Onsen Town
Visiting an onsen is a must when in Japan, and Kusatsu Onsen Town is arguably the best destination for onsen lovers in Gunma Prefecture. The mountainous region of Japan offers some of the country's best onsen and it is definitely worth the 2-hour bus ride from Tokyo. When in Kusatsu, visitors shouldn't miss watching the Yumomi performance, a daily performance where women would use large wooden paddles to cool down the hot spring water. Meanwhile, you can visit Lake Okushima and canoe your way across its sparkling blue waters while enjoying the mountain views.
18. Enoshima
Not far from Kamakura is another great day trip from Tokyo, Enoshima. The small island also has some of the best and most accessible beaches for those wanting to take a break from hot springs. Activities at Enoshima include walking along the coastline, tasting their specialty, shirasu (whitebait), visiting the aquarium, and more. Enoshima Shrine is also a must-visit on the island, a complex containing three different shrines dedicated to Benten, the patron goddess of Enoshima. In addition, Iwaya Caves are two caves along the island's southern coast where you can learn a bit of the history of Enoshima.
19. Kawaguchiko
Two hours away from Tokyo is perhaps the best place to view Mount Fuji, Kawaguchiko. It is part of the Fuji Five Lakes and is home to different attractions for every kind of traveler. For adrenaline junkies, scream your lungs out and challenge yourselves at the roller coasters of Fuji-Q Highland. Those who prefer a more relaxing activity can take a dip at the onsen or walk around the city's nature spots while admiring the views of Japan's iconic mountain. In November, the city also hosts its annual Autumn Festival where you can try local snacks and admire the view of Mount Fuji from different spots, highlighted by the red hues of the foliage.
20. Mount Takao
Less than an hour from the capital is one of the best day trips from Tokyo for hikers, Mount Takao. At 599 meters, it isn't the highest mountain but it provides panoramic views of Tokyo and Mount Fuji, depending on the weather conditions. Hiking at Mount Takao is relatively easy, with well-marked trails and various levels of difficulty, suiting every hiker. For those with limited mobility, a ropeway is available so no one is left out. Mount Takao is also closely associated with the tengu, a legendary creature found in Japanese folktales. Along your hike, you may find statues and structures depicting these creatures.
Photo by Stossi on Adobe Stock
21. Okutama
The mountains, rivers, and waterfalls of Okutama provide a haven for those wanting to escape Tokyo's hustle and bustle. Its lakeside view is postcard-worthy, most beautiful when highlighted by the red, orange, and golden hues of the trees in autumn. This is the perfect destination for travelers who want to bask under the cool sun while enjoying different outdoor activities. Follow different trails, go hiking, participate in an exciting whitewater rafting adventure at Tama River, or go canyoning. You can also fish for Nippara trout, see Ogouchi Reservoir, or explore Nippara Cave, the second-largest limestone cave in the Kantō region.
22. Fuji Five Lakes
Why only stop at Kawaguchiko when you can make the most out of your day trips from Tokyo and visit Fuji Five Lakes? Aside from Kawaguchiko, the famous Five Lakes include Yamanakako, Saiko, Shōjiko, and Motosuko. These are the best places to view Mount Fuji and are also good jump-off points for climbing the mountain. The lakes also offer different views of Mount Fuji and provide opportunities for water activities. Enjoy fishing, boating, windsurfing, and other water activities and sports.
23. Gotemba
Ginza, Shinjuku, and Harajuku may be Tokyo's most popular shopping destinations, but outside of Tokyo is another haven for shopping aficionados. Gotemba is home to the famous Gotemba Premium Outlets, a large shopping center with more than 200 shops. From sporting brands like Adidas and Nike to luxury names like Armani and Fendi, you can find them at Gotemba Premium Outlets. Best of all, Gotemba also has stunning views of Mount Fuji as you shop. You can visit the city on independent day tours or combine them with side trips to Mount Fuji, Lake Kawaguchi, and other sites on group tours.
24. Todoroki Valley
Only a 15-minute train ride from busy Shibuya, Todoroki Valley is perhaps the quickest and most tranquil getaway from Tokyo. It is the only gorge that remains in Tokyo and boasts a jungle-like scenery, a welcome change from the manicured Zen gardens of the city. The tall trees and bamboo trees provide a cool environment as you walk through the valley. Combined with the calming sound of the flowing river, it is surely the best place to relax. As you continue your nature walk along Todoroki Valley, you may find small shrines, temples, and even a teahouse where you can indulge in traditional snacks. Overall, its untamed beauty makes Todoroki Valley one of the best day trips from Tokyo.
25. Mount Nokogiri
For another hiking adventure, head to Nokogiriyama. The mountain boasts a large stone Buddha, twice the size of the statue in Kamakura. In addition, Mount Nokogiri is home to the famous "View to Hell", which is rather the opposite as its mountainside view is unparalleled. Like other mountains in Japan, visitors can reach the top by hiking or by a ropeway for visitors with limited mobility or those who want to skip the tedious hike. After admiring the summit view, visit the teahouse at Nihon Dera Temple for a cup of fresh green tea.
Day Trips from Tokyo FAQs
Is Kyoto a Good Day Trip from Tokyo?
Although the shinkansen makes day trips from Tokyo to Kyoto for more or less three hours, it's still best to explore Kyoto on a multi-day tour. In addition, travel time may affect your itinerary. Since Kyoto is a popular destination, a full-day tour won't be enough to explore the city. A good alternative to Kyoto is Kawagoe, which provides the same traditional allure but at a closer distance and with fewer crowds.
Should I Buy a JR Pass for My Day Trips?
The JR Pass, also known as the Japan Rail Pass, is a single multi-use ticket that allows unlimited travel on Japan Rail trains. Like hop-on hop-off bus tickets, JR Passes are sold in various validities depending on the length of your stay. These are available in 7, 14, and 21-day tickets. Shinkansen trains and Narita Express trains are included in the JR Pass.
Buying a JR Pass is convenient to use for day trips since you don't have to purchase tickets in advance, saving you time and sparing you from the pre-planning stress. JR Passes also saves you money as compared to booking a train ticket for each trip. If your Japan itinerary includes several day trips from Tokyo, buying the JR Pass is the best option. On another note, if you plan on traveling within Kyoto, Osaka, or other regions, it's best to get a regional rail pass.
Should I Join Organized Tours?
There are certain pros and cons of joining organized tours. One of the reasons why tourists join these tours is due to the convenience it brings. All you need to do is to book and pay via a travel agent, third-party booking site, or via your hotel and simply show up. Most tours include transportation, food, and a guide depending on the type of tour. The sites visited are also pre-planned and you can cover many sites in one day. Depending on your preference, you can join group tours or private tours.
However, organized tours also have their setbacks. For group tours, the number of participants may affect your overall tour experience. Since everything is pre-arranged, there are little to no opportunities for spontaneity. Your time at a site may be cut short due to scheduling and participants have no control over what sites are covered, unless it is a private tour.
That being said, organized tours are perfect for travelers who prefer a convenient and hassle-free way of exploring a city. Having a guide is also convenient as they give you insight into the history of a place that most sites of guidebooks don't cover. On another note, if you prefer the independence and spontaneity of traveling, it's best to create your own itinerary.