15 Budget GoPro Alternatives To Capture Your Wildest Outdoor Adventures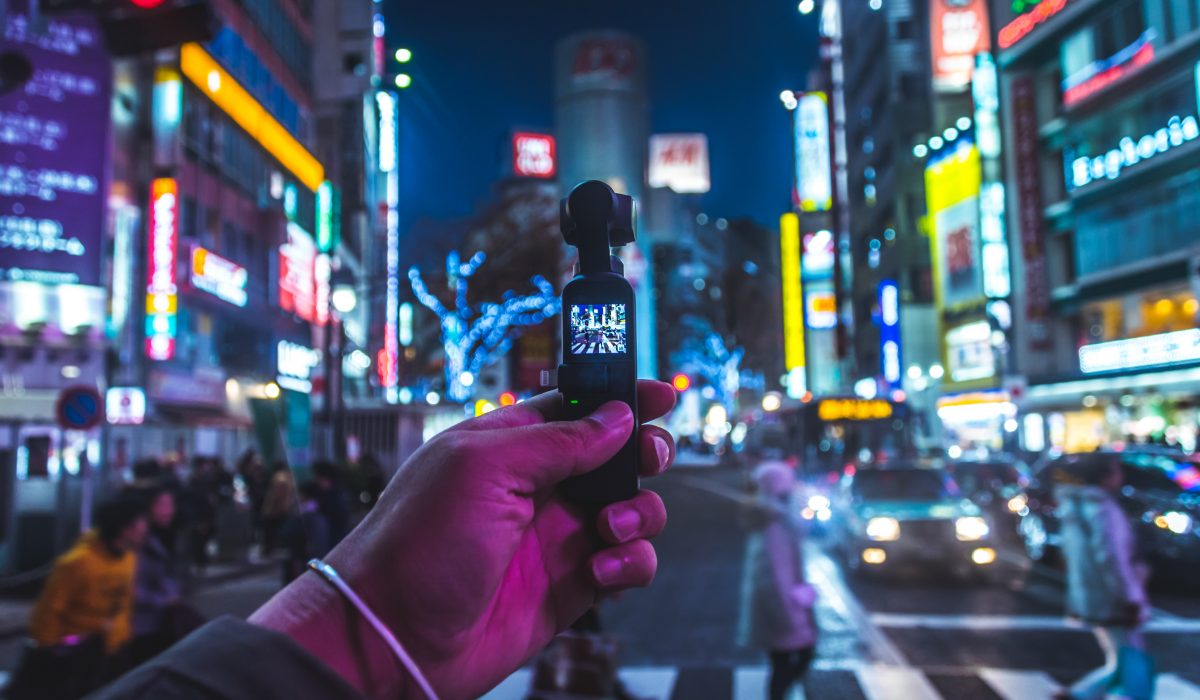 Looking for the best GoPro alternative out there? For years, GoPro cameras were the gold standard for being the best action camera available. After all, they boast impressive video quality, pocket-sized build, and other standout features that help capture spectacular moments from people's adventures when backpacking, traveling, or camping. However, not everyone is ready to splurge on the hefty price tag attached to these action cameras. In this article, we discuss all the best GoPro alternatives with budget-friendly price points, yet still come with similar features, such as voice control, image stabilization, and many more.
Our Top Picks: 15 Best GoPro Alternatives
1. Best Overall: AKASO EK7000 4K Ultra HD Underwater Camera
The AKASO EK7000 is an excellent GoPro alternative across the board that records 4K videos at 30 FPS and 1080P videos at 60 FPS. It has a 2-inch touch screen LCD display which is more than the usual screen for accessing the camera's settings and menus. The camera is also waterproof up to 100 feet perfect for shooting your underwater adventures. Furthermore, since this ultra HD camera is Wi-Fi enabled, you can instantly share your footage with your smart devices.
Of course, the Akaso EK7000 isn't without some downsides. For example, you can't use the touchscreen when it's inside the waterproof case and it struggles in low-light settings. Moreover, it doesn't come with a micro SD card, so you will need to factor that into its cost. Nevertheless, for the price point, this underwater camera does an excellent job and is a worthy competitor to the GoPro Hero.
Pros:
2-inch LCD touch screen

Remote control wristband
Cons:
Micro SD card sold separately

Struggles in low light
Get the AKASO EK7000 4K Ultra HD Underwater Camera on Amazon now.
2. Best Image Stabilization: AKASO Brave 7 LE
Another great GoPro alternative from Akaso is the Brave 7 LE, which has an outstanding image stabilization feature. Equipped with a 6-axis EIS, it produces smooth-looking video recordings, especially when shooting time-lapse and slow-motion videos. Its dual display comes in handy when monitoring and framing shots. While its video quality at 4K resolution at 30 FPS is pretty standard, its 20-megapixel resolution for photos is impressive for its price tag.
Other notable features of the Brave 7 LE include its wind noise factor and distortion calibration, which helps reduce sounds of strong air and correct the image distortion, respectively. Plus, you get two rechargeable batteries, a remote control, a waterproof case, and a multifunctional action camera head mount. Unfortunately, it doesn't record sound when housed in its protective housing. As a result, it's not the best camera to take underwater if you need to record actual underwater sound.
Pros:
Smooth-looking video

Dual-screen LCD display

Plenty of accessories included
Cons:
Microphone doesn't work when in a waterproof case
Get the AKASO Brave 7 LE on Amazon now.
3. Best 360 GoPro Alternative: Garmin VIRB 360 Action Camera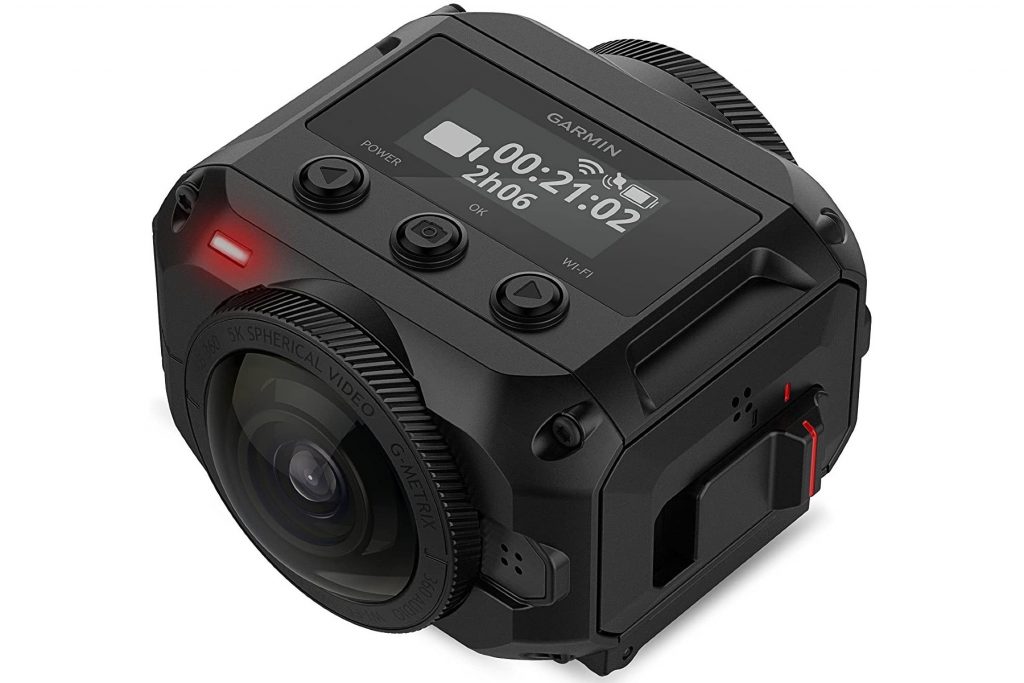 Shoot your exciting outdoor adventures from every angle with the Garmin VIRB 360 Action Camera. For those unfamiliar, the best 360 camera shoots footage or photos in 360 degrees, by using two 180-degree wide-angle lenses and stitching them together. This results in an immersive and almost VR-like experience when viewing. These types of cameras are a great way to capture one-of-a-kind imagery of you gliding down the mountains of the best Vermont ski resorts.
And one of the best ones you can get your hands on is this Garmin VIRB camera. A great alternative to the Go Pro 360, it delivers sharp and lifelike unstitched footage up to 5.7k resolution at 30 FPS and 15-megapixel resolution for photos. Meanwhile, auto-stitched shots are the standard 4K at 30 FPS. One of its major highlights is its spherical stabilization, which ensures smooth videos and photos, no matter how shaky movement is during recording.
Moreover, it features a full LCD screen, which displays battery life, storage, mode, and connectivity status. You can even use voice control to start video recording or take a photo. Its battery life is rather lackluster since a single full charge can only last roughly a single hour.
Pros:
Excellent quality for unstitched footage

Equipped with 4K spherical stabilization
Cons:
Get the Garmin VIRB 360 Action Camera on Amazon now.
4. Most Durable: Olympus Tough TG-Tracker
Tough by design, the Olympus Tough TG-Tracker is a robust action camera that's made to within even the most extreme environments and conditions. Besides being waterproof up to 100 feet, it can survive being dropped from up to seven feet and force up to 220 pounds. It can even withstand temperatures as low as 10 degrees Celsius!
In terms of actual performance and features, this Olympus camera comes equipped with an electronic 5-axis stabilization system and ultra-bright F2.0 high-speed lens. Both features equal crisp and smooth footage. Moreover, its 1.5-inch LCD tilt screen makes capturing all your adventures from every angle a breeze! Another commendable feature that this GoPro alternative boasts is its front LED headlight, which is great for shooting at night or low-light environments. A major drawback to the TG-Tracker is its lack of a zoom function.
Pros:
Robust build

Features a tilt-out monitor

Equipped with a front LED headlight
Cons:
Get the Olympus Tough TG-Tracker on Amazon now.
5. Best Budget: Dragon Touch Vision 3 4K Action Camera
Another great cheap GoPro alternative is the Dragon Touch Vision 3, which can record 4K videos at 30 FPS and 1080P at 60 FPS. Admittedly, it isn't the best 4K video camera out there, since the low FPS results in blocky footage. But the full HD video recording is on par with other more expensive options. Meanwhile, its 4X zoom range lets you get a closer look at the stunning landscapes and wildlife of the Kenya safari from afar.
Aside from the usual shooting modes, it is equipped with driving mode and image rotation, which makes it a great dashcam. Additionally, it has a loop recording mode, which allows it to shoot footage continuously and overwrites it when the SD card is full. Transferring videos and photos is relatively easy with Vision 3 since it has built-in Wi-Fi connectivity. It includes a built-in microphone, though the audio quality could be better. You may want to use an external microphone if you want to narrate your trips.
Furthermore, it features a handy wireless remote control you can strap to your wrist. Just note that while this GoPro alternative comes with a waterproof case, the remote is not waterproof. Coming with two rechargeable batteries, it has up to 90 minutes of battery life when recording in HD.
Pros:
WiFi connectivity

4x optical zoom
Cons:
Get the Dragon Touch 4K Action Camera on Amazon now.
6. Best Premium: Sony FDRX3000R 4K HD Recording Action Cam
The Sony FDR-X3000R is certainly among the most expensive GoPro alternatives out there, but trust us, it's worth it. It can record 4K video resolution at 100Mbps and its built-in stereo microphone ensures crystal clear audio recording. Although it promises wind noise reduction, it struggles with stronger gusts. So, it may not be the best option to take with you when parachuting down the best international skydiving spots.
But due to its advanced stabilization system, it guarantees smooth footage, even when exploring the rockiest terrains. You can also take it with you on your aquatic adventures since it can be submerged up to 197 feet underwater. A drawback when it comes to this Sony camera is that it requires a UHS micro SD card to enable 4K video recording at 100Mbps, which can get pretty expensive.
Pros:
Records 4K video at 100Mbps

Equipped with an advanced stabilization system

Waterproof up to 197 feet
Cons:
Expensive

Wind noise reduction needs improvement
Get the Sony FDRX3000R/W 4K HD Recording Action Cam on Amazon now.
7. Best Value: DJI Osmo Action
This DJI action camera is packed with all the bells and whistles you will need in a GoPro alternative, giving you the best value for its price. It's equipped with the RockSteady stabilization system and electronic image stabilization (EIS), which renders shake-free footage — perfect for when you're pedaling along the most thrilling mountain bike trails! You can even capture smooth 8x slow-motion footage in 1080p resolution and 240fps.
Furthermore, it's among the most remarkably robust sports cameras in the market, made to survive extreme temperatures and impact. The body is waterproof up to 11 meters, but it comes with a protective case that enhances its waterproof capability up to 60 meters!
Moreover, the case features heat dissipation grilles, so you don't have to worry about the camera overheating or fogging up. Another useful accessory that comes with the box is the floating handle, which will keep your camera afloat in water. Note that the microphone on DJI Osmo cameras is not as good as the ones on the latest GoPro 9. Thus, you will need to spring for an external microphone if you want better sound quality.
Pros:
Captures 8x slow-motion footage

Good image stabilization

Front-facing screen
Cons:
Audio quality needs improvement
Get the DJI Osmo Action on Amazon now.
8. Best Wide-Angle: SJCAM SJ4000 Air
Impressive cityscapes are best captured using action cameras with a 170-degree wide-field view. The SJCAM SJ4000 Air does a great job of minimizing any distortion that usually occurs with wide-angle lenses, unlike other GoPro competitors. As such, you can still record all the intense action of your outdoor adventures without the typical barrel distortion. It's able to capture 4K footage, but it doesn't have any image stabilization system. Though the color accuracy is rather impressive, its 12-megapixel camera for photos can be underwhelming, especially compared to other alternatives within its price range.
Other features of the SJCAM SJ4000 Air that make up for these drawbacks include its two-inch LCD screen and Wi-Fi connectivity. Take note, though, that this sports camera isn't waterproof out of the box. You will need to use its accompanying waterproof case if you want to take it with you during your next underwater adventure. Besides the case, the camera includes two rechargeable batteries and a single charge can last up to 90 minutes of continuous shooting.
Pros:
Minimal fish-eye distortion

Comes with two rechargeable batteries
Cons:
Get the SJCAM SJ4000 Air on Amazon now.
9. Best Entry Level: iON Camera 1014W Air Pro
For those just starting out with action cameras and may not need the bells and whistles just yet, opt for the iON Air Pro camera. The iON Camera 1014W Air Pro is the ideal entry-level GoPro alternative since it's easy to use, affordable, and boasts a number of useful features. The ultra-wide-angle lens can capture video recording up to 1080p and features three shooting modes; still, time-lapse, and burst. What's more, its sleek flashlight-like design ergonomically makes it easy to reach for the controls.
The camera is surprisingly durable for its price. It's waterproof up to 30 meters, even without the case. It features a waterproof microphone, as well, so you can record underwater sounds while diving beside manta rays. Unfortunately, its image stabilization isn't the best. As such, you will need to use an iON camera head mount or tripod to avoid overly shaky footage. It's worth noting that while this camera works well during bright, outdoor settings, it struggles in low-light scenarios.
Pros:
Easy-to-use interface

Built-in waterproofing

Decent battery life
Cons:
Poor image stabilization

Poor performance in low light conditions
Get the iON Camera 1014W Air Pro on Amazon now.
10. Best 4K Video Camera: YI 4K+ Action and Sports Camera
Hunting for the best affordable action camera with 4K+ resolution? The Yi 4K+ Action Camera is a relatively cheap GoPro alternative that supports video recording at 4K resolution with 60 FPS. The higher frame rate results in crisp ultra HD footage that can rival shots taken by the GoPro Hero series. Other notable features of the Yi 4K+ include voice command, RAW image capture, and both Bluetooth and WiFi connectivity.
However, take note that while the YI action camera does feature EIS image stabilization, it only works when recording in 30 FPS for 4K videos. The default color profile as well isn't particularly impressive, so you will need to configure the settings to achieve the color saturation you want. Unlike its major competitors, this GoPro alternative is not waterproof. Thus, you will need to keep it in waterproof housing, which is sold separately. Another drawback to the YI 4K+ Action and Sports Camera is its microphone. Its audio capture needs major improvement since there is plenty of audio distortion and noise.
Pros:
4K/60FPS video recording

Bluetooth and WiFi connectivity
Cons:
Not waterproof

Poor audio capture
Get the YI 4K+ Action and Sports Camera on Amazon now.
11. Best Motion Tracking: TomTom Bandit 4K Action Video Camera
Thanks to the TomTom Bandit action camera's GPS tracking, you can easily track the places you've captured all your best memories at. It's definitely the best GoPro alternative to take when you are running a mile, or going on a bike ride and you want to record your trail. On top of that, its built-in motion sensors automatically track and tag exciting moments involving an increase in speed, acceleration, G-force, altitude, and heart rate. Alternatively, you can manually tag highlights of your adventures with just a press of a button on the camera or on the remote control.
All of these make video editing footage using the companion smartphone app a breeze. You can edit together all the highlights of your bike ride without having to leave the trail! Moreover, since the camera has a built-in media server, transferring files to your mobile device is effortless. However, while the body of the TomTom Bandit is waterproof, it needs a separate dive lens to make it fully waterproof. It's relatively bulkier than other off-brand GoPros and alternatives, as well.
Pros:
Built-in GPS and motion sensors

Wireless file transfer

Allows for quick video editing
Cons:
Needs a separate lens for waterproofing

Bulky
Get the TomTom Bandit 4K Action Video Camera on Amazon now.
12. Best Waterproof: Crosstour CT9000 Action Camera
On the hunt for a waterproof action camera that can rival even the best underwater camera out there? Look no further than the Crosstour CT9000, which is waterproof up to 130 feet underwater and comes with a splash-proof remote. A decent sports action camera for watersports enthusiasts, it shoots videos up to 4K at 30 FPS and has a 20-megapixel image resolution for photos.
Its wide-angle lens spans up to 170 degrees, though it does produce some obvious distortion. Another downside to the CT9000 is that it doesn't have image stabilization, so you can expect shaky footage if you don't have a steady hand. Nevertheless, this waterproof camera still allows for some great underwater photographs and videos.
You can get about 90 minutes of battery life when filming in standard 1080p, though when recording at 4K, it lasts around an hour. Admittedly, the battery life isn't the best in the market, but Crosstour does include an extra battery when purchasing the CT9000, to easily switch batteries when you've run out of power. Both batteries are rechargeable with a charging time of two hours each.
Pros:
Waterproof up to 130 feet

Comes with two rechargeable batteries
Cons:
Get the Crosstour CT9000 Action Camera now.
13. Best Battery Life: XIAOMI Action Camera 4K
For those looking for a GoPro alternative to bring with you when touring the best cities in Southern Europe, look no further than the Xiaomi action cam. It boasts a relatively long battery life of around two to three hours, depending on the video resolution and frame rate you're shooting in. It can last up to two hours when shooting 4K videos at 30 FPS and extends up to three when recording videos at full HD at 60 FPS. If you need to shoot longer videos, you would have to buy extra batteries.
Aside from its impressive battery life, this Mi action camera boasts other features, including a 145-degree wide-angle and nine different shooting modes. This includes time-lapse and slow-motion for videos, and exposure delay, and high-speed burst for photos. On top of the standard JPEG format, it supports RAW format, as well, which offers more flexibility when post-processing photos.
Pros:
Supports RAW shooting

Nine different shooting modes
Cons:
Get the XIAOMI Action Camera 4K now.
14. Best GoPro Substitute for Kids: VTech Kidizoom Action Cam
Looking for an affordable alternative to the best GoPro for kids? Check out the VTech Kidizoom camera, — an action camera equipped with everything energetic and curious youngsters would need. The three mounting accessories included will help them capture their bike rides and skateboard tricks. While the camera itself isn't waterproof, it does have a waterproof case that can withstand depths up to six feet. Thus, kids can bring it to pool parties.
This GoPro alternative for kids sports a 1.4-inch LCD screen which lets them preview their photos and videos. Kids can even try their hands on editing thanks to the variety of funny effects, frames, and filters available.
Admittedly, the VTech Kidizoom does come with limitations. The image and video quality are underwhelming. It can only take videos up to 320×240 in resolution and photos at low 0.3-megapixel quality. Nevertheless, it's still a good starter camera for kids.
Pros:
Great starter camera for kids

Features fun editing and creativity tools
Cons:
Image and video quality are very low
Get the VTech Kidizoom Action Cam on Amazon now.
15. Best for Vloggers: Polaroid Cube
They say that the best things come in small packages, and the Polaroid Cube certainly lives up to such saying. Weighing just 49 grams and measuring 35 millimeters, it's certainly the most compact GoPro substitute out there. Its lightweight design makes it great for people who want to document their daily lives and activities.
For novice vloggers, the pocket-sized camera offers decent 1080p video recording and has a 124-degree wide-angle lens. While it can withstand shocks and even some water splashes, it's not fully water-resistant. As such, it won't be the sports camera you take with you snorkeling. But it is a splendid companion when skateboarding or bicycling, thanks to the mounting magnet on its bottom, which you can stick to virtually any metal surface.
In terms of connectivity, you can only transfer data using a micro USB cable, which can seem like a hassle for some people. Another downside of this GoPro alternative is its lack of internal memory. You will need to purchase a microSD card, otherwise, you won't be able to save any footage. In addition, it splits videos into five-minute clips.
Pros:
Compact and lightweight

Strong mounting magnet
Cons:
No internal memory

Splits footage in five-minute clips

No Bluetooth or WiFi connectivity
Get the Polaroid Cube on Amazon now.
How to Choose the Best GoPro Alternative
Video Resolution and Frame Rate
One of the top reasons GoPro cameras are so popular is their remarkable video and image quality. When looking for more budget-friendly alternatives, don't forget to check out its video resolution and frame rate. Nowadays, the standard for the best action cameras is 4K video resolution and 30 frames per second. This combination produces smooth and clear videos, but we are starting to see more and more brands releasing models that can shoot up to 240 fps.
Battery Life
Choose a GoPro alternative with a battery life that best suits how you use it. The 90-minute battery life may be enough for a quick day trip but an all-day hiking trip will need more. Video cameras tend to sacrifice battery life in order to shoot higher quality videos, with the average battery life ranging between one and three hours. Some brands do compensate for short battery life by including extra rechargeable batteries.
Ergonomic Design
Action cameras are typically smaller and lighter compared to other video cameras. After all, the more compact and lightweight it is, the easier it is to travel with and mount to any surface. With that said, the shape of the GoPro alternative you want to invest in plays a crucial role. Most GoPros come in cube shapes, but you can find action cameras in either cubical or bullet shapes. A cubical sports camera is more compact and portable, while a bullet-shaped option is easier to mount on helmets or bike handles. Regardless of which shape you choose, though, it's vital that you choose one with a user-friendly design, so you won't have trouble accessing its controls.
Image Stabilization
While a gimbal can typically help in stabilizing videos, it's still important to choose a GoPro alternative that features image stabilization to avoid shaky footage. Models with built-in electronic stabilization offer smoother footage compared to those with mechanical or optical image stabilization.
Build and Durability
Most action cameras are built to withstand extreme outdoor activities. Nevertheless, it's still important to check the build and durability quality of the one you're eyeing. You can find plenty on the market that is shockproof and waterproof. If you want added protection, you can opt to buy an action camera protector or case.
Extra Features
It's essential that you can transfer your files from your camera to your device or cloud storage platform. Be it via USB cable, Bluetooth, or Wi-Fi. For some, wireless connectivity is a must, since it takes less effort than connecting cables, but for others, this isn't an issue. Aside from file transferring and management, wireless connectivity also allows users to take remote photos and videos using their smartphones. Other extra features you should look for in a GoPro alternative are touch screens and voice commands. These two immensely useful features are becoming increasingly common in action cameras nowadays.
The Best GoPro Alternative for Your Next Big Trip
Whether you're lounging on the beach, taking in the landscape atop the Appalachian Mountains, or bungee jumping off a cliff, every breathtaking moment during your travel adventures deserves to be remembered. And what better way to capture each one than with the best GoPro alternative! These sports action cameras produce high-quality images and videos, all without breaking the bank. Take one of these GoPro camera alternatives with you on your next adventure, whether big or small and cherish each captured memory!