Mooney Falls, Arizona: Everything You Need to Know Before You Go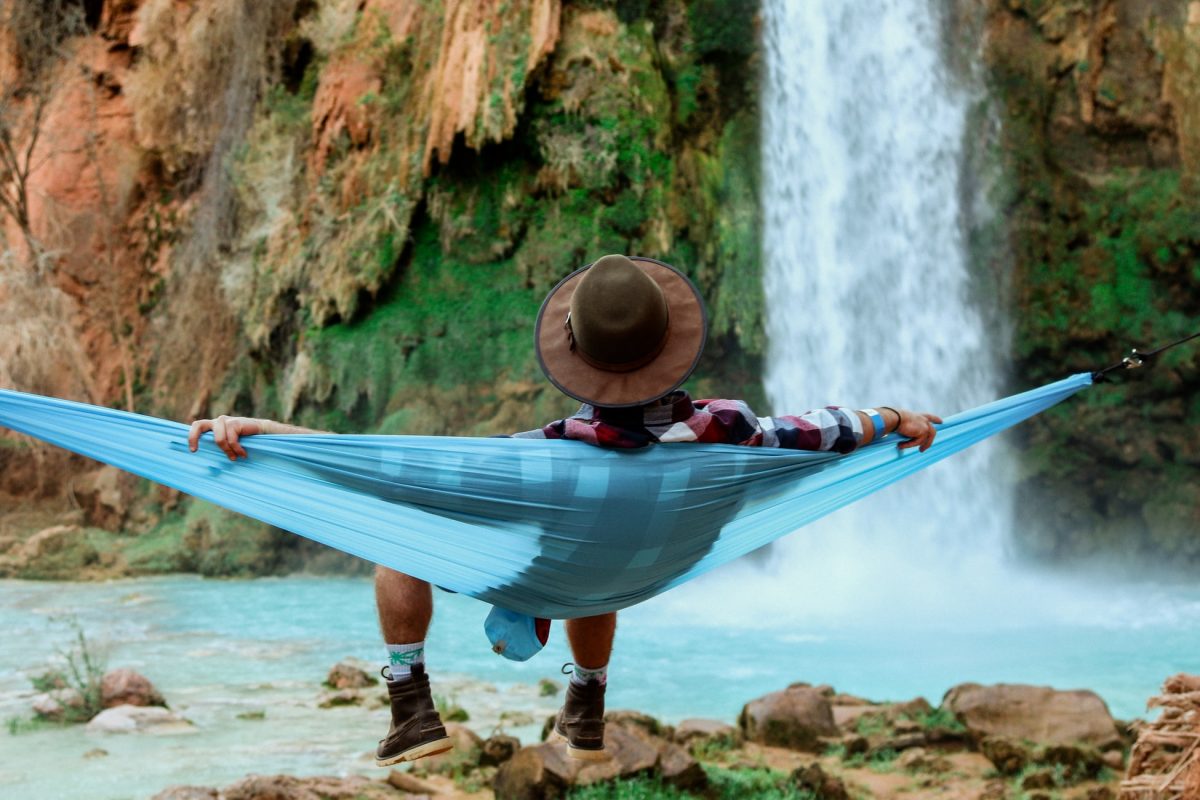 During your time in Arizona, you're sure to see plenty of incredible hiking and outdoor attractions, and Mooney Falls is no exception. This beautiful waterfall is located in the Grand Canyon, on the Havasupai Indian Reservation, and it's a must-see if you are planning on visiting this part of the state.
The bright blue waterfall is contrasted by the vibrant red terrain that surrounds it, and it's home to a challenging hike that will have you working up a sweat. Here's how to get to Mooney Falls, and everything you need to know if you're visiting Mooney Falls, Arizona for the first time.
How To Get To Mooney Falls?
Visiting Mooney Falls, AZ, and the Havasupai Indian Reservation requires some advance planning and can be challenging. You'll need to get a permit first, which you can do online on the official Havasupai Tribe Website. Permits ensure that there aren't too many people visiting the area at once, which helps maintain its incredible beauty. They do sometimes sell out, so be sure to start looking well before your trip.
Permits cost $100 per day for weekdays and $125 per day for weekends, and every reservation is for three nights and four days.
It's Close To Las Vegas
The closest big cities are to Mooney Falls, Arizona are Las Vegas and Phoenix, for those who need to fly. To get to the campground, you will need to make your way to Route 66 and then eventually to Indian Road 18. At the end of the road, you will find the Havasupai Trailhead, where you will begin your hike into the campsite and Havasu Falls.
The hike into the campsite takes approximately three hours, and from there you can camp anywhere along a one mile stretch of the Havasu Creek It's important to keep in mind that they do not allow day hikers, so if you want to do this hike, you need to plan to camp overnight or stay at the Havasupai falls lodge.
Camping In Mooney Falls
The Havasupai campground is not designated, which means you can pitch your tent anywhere between Havasu Falls, which you will encounter at the end of your hike in, and Mooney Falls. They are roughly one mile apart.
The Havasupai campground areas are on either side of the Havasu Creek. One of the best things about camping in this area is that there's plenty of space, and you can enjoy the beauty of getting out in nature and feeling secluded.
Hiking In Mooney Falls
The Mooney Falls hike is a challenging one, but it's one that you won't soon forget, with incredibly dramatic scenery that's completely unique to this area. Mooney Falls is 200 feet tall and very powerful, which adds to the difficulty and the allure of the hike. This isn't a hike for beginners, as it's very steep and requires a fair amount of agility.
Mooney Falls Is For The Brave
When you get to the trailhead for the hike to Mooney Falls, you will see the top of the waterfall and a sign that says 'descend at own risk' – again affirming that this is not a hike for the faint of heart. Shortly after you pass the sign, you will come across a small cave, which you'll need to go through to get to the rest of the trail. The cave may look intimidating at first, but it is completely safe to pass through. Just be sure to move slowly as it can be dark inside.
The Trail To The Cascade
After you pass through the cave, you'll continue your descent down some stairs built into the rocks. This part of the trail is very steep, but there are chains to help you maintain your balance as you go down. Keep in mind that the trail often gets very wet because of its close proximity to the waterfall, so be sure to wear appropriate shoes with good traction. There are several ladders that you will need to descend to reach the bottom as well. It's best to take this part slow and steady.
Once you get to the bottom, you can just relax and enjoy the true beauty of the waterfall. Since it's situated in the Grand Canyon, it looks particularly dramatic – be sure to bring a camera! If the weather is warm, you can also go for a swim in the pool at the bottom of the basin. The hike back up to the top is easier than going down, but since there's only one way in and out of the area, you may have to wait for others to descend before you can go back up.
What To Pack For Mooney Falls
Since camping and hiking in the Havasupai fall area is an overnight trip, you are going to need to pack appropriately. Here is what to pack for Mooney Falls, for a perfect trip.
1.
Pack Your Hiking Shoes
These are an absolute must since the terrain is varied on the hike to Mooney Falls and throughout the area. Don't wear running shoes or any other type of footwear that doesn't have appropriate protection against the elements, as this could lead to injury.
Since this hike is difficult, you'll need to wear clothes that you can comfortably move around in. You'll need an outfit that is very breathable, as it can get quite hot in the summer. You also may want to pack some warmer gear for nighttime, when it cools off.
You Need A Tent & Sleeping Bags
There's plenty of space for you to set up camp along the river. Cuddle up with your family and friends and enjoy camping!
You're in the desert, so you need to make sure you have enough water to stay properly hydrated. Keep in mind that there is no water station at the initial trailhead at the end of Indian Road 18, although there is a water station once you get to the campground.
5.
Pack Loads Of Sunscreen
You'll be in the desert with plenty of sun exposure, so make sure to protect yourself. Nobody likes being a baked peach.
6.
Carry Snacks For When Hunger Calls
While the Mooney Falls hike isn't the longest in the area, it's still always a good idea to have some fuel with you in case you start losing energy. Protein bars are typically a good choice.
These are very convenient to have at the campground since there are no campfires allowed in the area.
8.
Don't Forget Your Camera
Mooney Falls, AZ, and the entire area are so beautiful, and you'll want to take photos!
9.
Your Favourite Bathing Suit
Swimming in the falls feels incredibly refreshing on a hot summer day in the desert.
10.
A Towel To Keep Your Dry
You don't want to catch a cold, do you? Grab a towel after your soak to stay cozy and warm.
And, there you have it! You're all set for your waterfall adventure. Mooney Falls is one of the most stunning waterfalls in the Grand Canyon area, and you shouldn't miss it during your time in Arizona. With a challenging, yet rewarding hike and beautiful scenery, it's a perfect way to spend a day in the desert. If you'd like some more adventure and nature trails, there are some pretty amazing national parks in Arizona to keep you interested. If however, you want to let loose and explore the night city of Las Vegas, here are the top 10 Airbnb Rentals to consider on your trip!